BMW M3 and M4 Competition 2021 review
New rear-wheel drive saloon and coupé tested on UK roads
BEFORE I review the new BMW M3 and M4, here's a brief – and relevant – story. Last year I spent a day on track at Donington Park driving a number of BMW M cars, including the M2 Competition, M4 and M5 Competition. There have been worse days in this job, it's fair to say, but stay with me as there's a point to this brag. The fascinating thing was finding out from my fellow drivers which model was their favourite.
Most said the M2 – BMW's rear-wheel-drive pocket rocket, capable of whip-like changes of direction and blistering acceleration. Its 404bhp, from a 3.0-litre straight six-cylinder engine, feels significant in a relatively light shell, and its short wheelbase means it feels twitchy under your right foot – especially in the soaking conditions in which we were tasting its delights.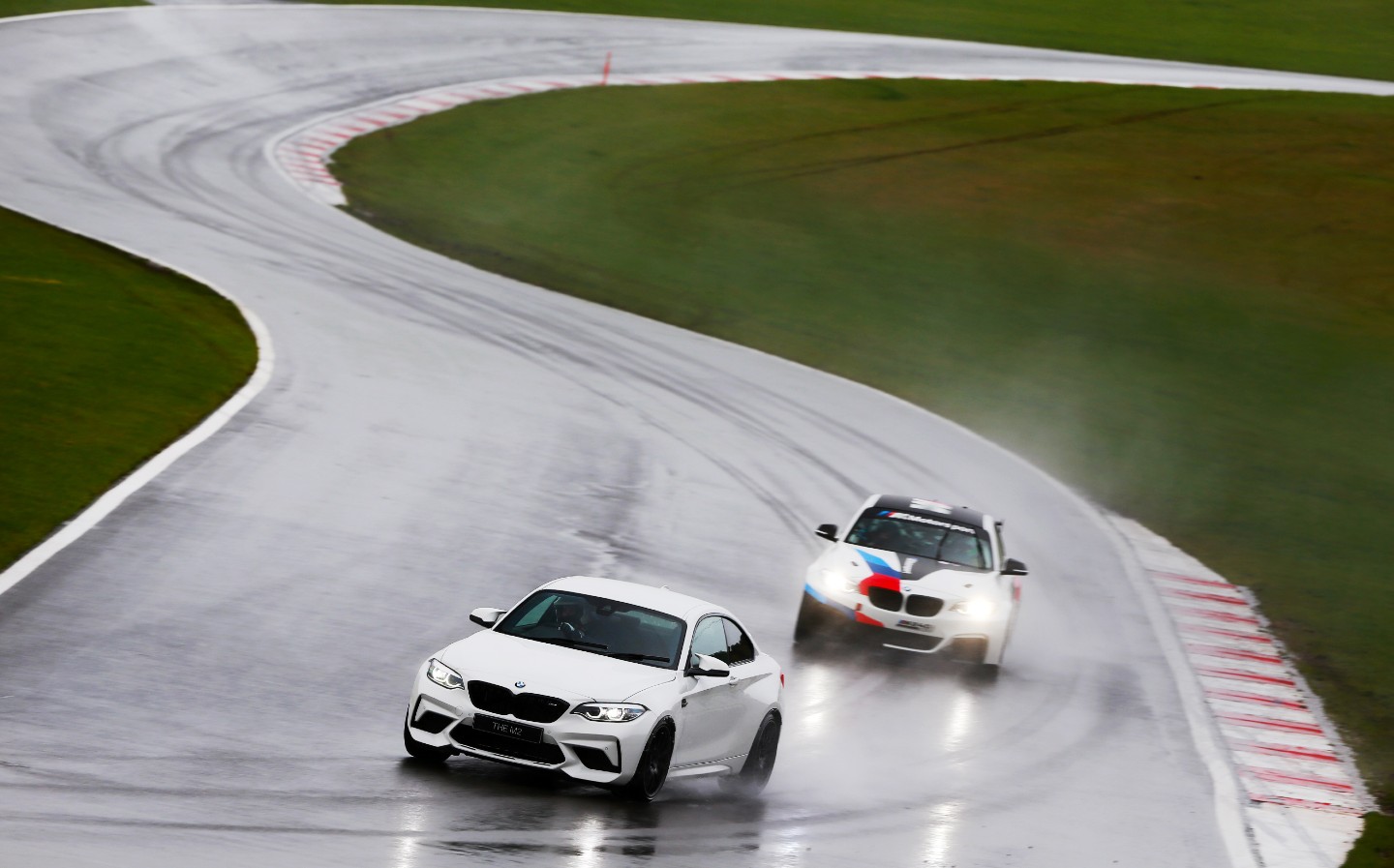 But I was a little surprised because for me, the F80 M4 was the sweetest of the bunch. Its extra length over the M2 meant it was far more predictable when pushed to the limit in those conditions, while the extra power hitting the rear wheels (almost exactly 100bhp more) imbued it with even more urgency.
And unlike the larger M5, which was blessed with four-wheel drive – giving it an instant advantage in the wet – the M4 had the classic BMW M set-up. That is to say, a big lump under the bonnet and all the horses going to the rear rubber.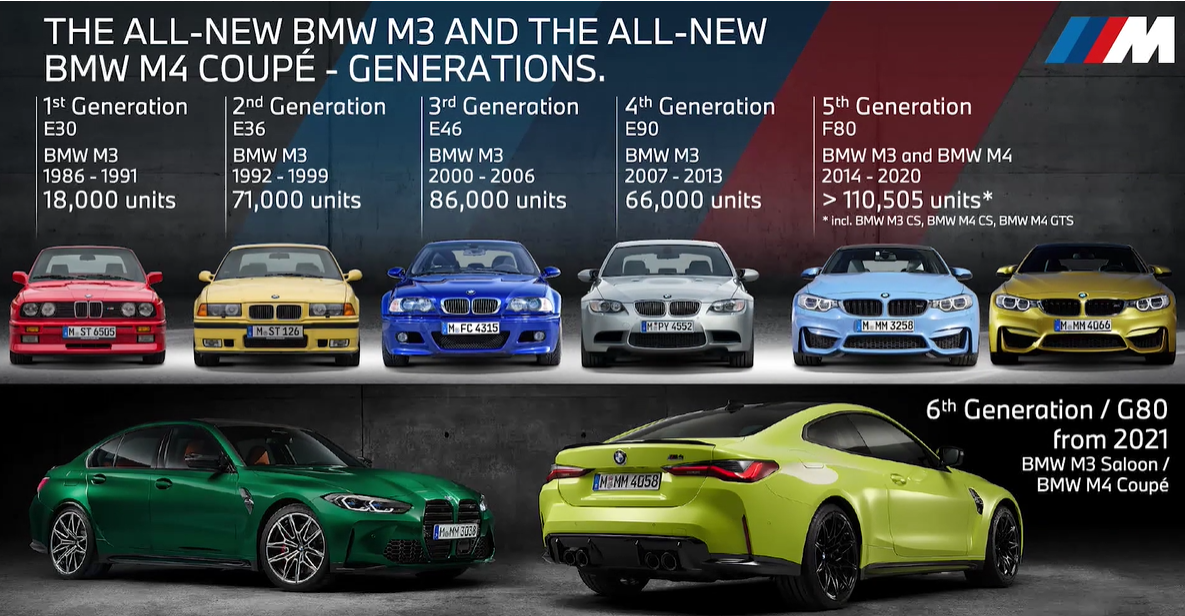 Well, that's old news now, as there a new M4 on the block, designated G82, along with its four-door saloon sibling, the M3 (G80), and both will be available with a choice of two- or four-wheel drive (the latter from summer 2021). Has BMW improved the formula with the sixth generation of the car, or removed the magic?
2021 BMW M4 and M3 review: Design and rivals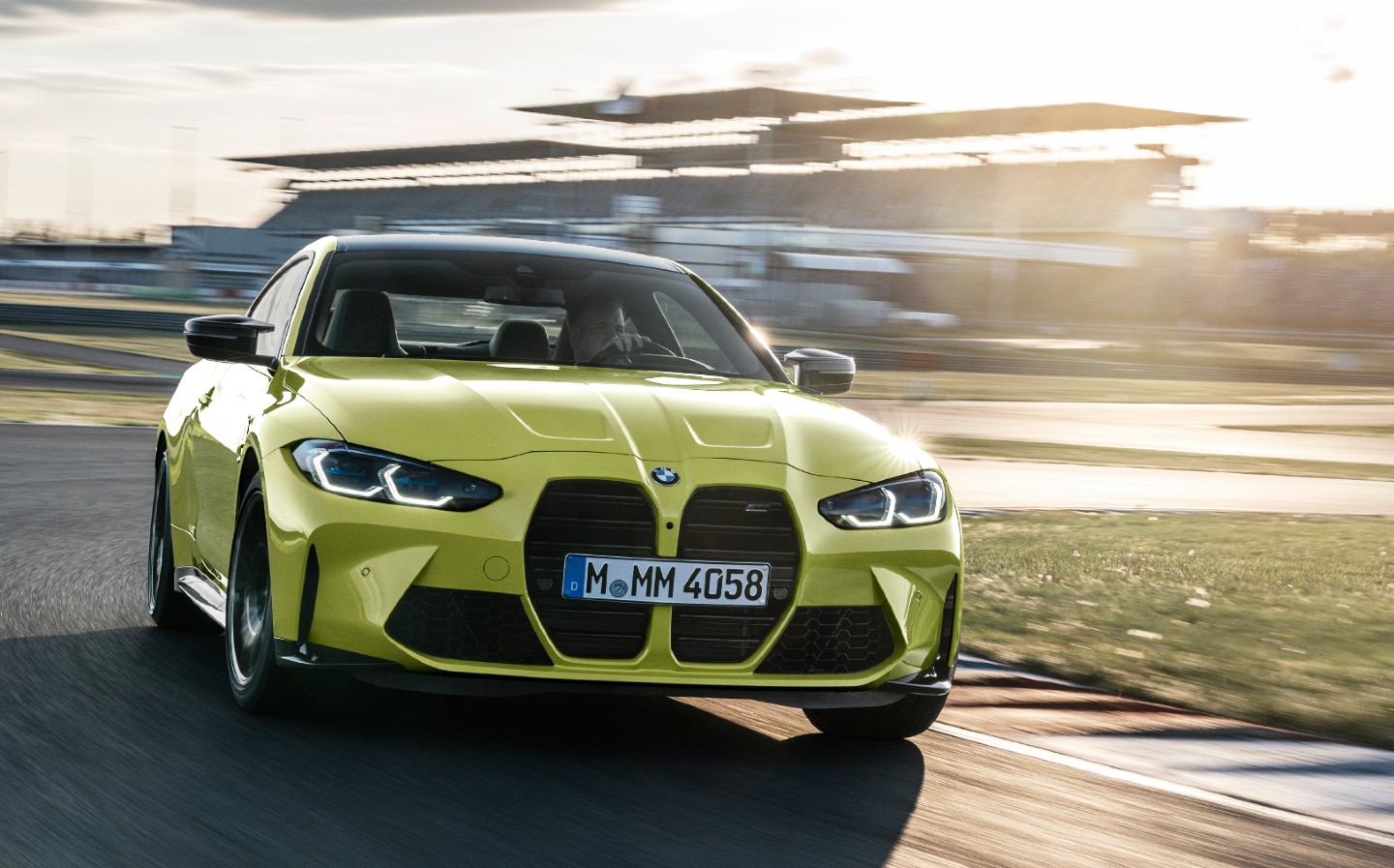 That marmite grille. Have you decided whether you like it or hate it yet?
In my review of the standard 4 Series, I likened it to the teeth on a mole-rat, scraping the asphalt. The 4er's grille differs from the current 3 Series deliberately – it's meant to clearly define the car as a distinct, more athletic model rather than simply a 3 Series in a sharper suit.
BMW has chosen to carry the pair of incisors over to the M3 saloon as well as the M4 coupé this time around, which make sense given they're the fastest iterations of the car.
The grille differs on the M cars, though, in that they have horizontal slats rather than a mesh pattern, and this helps enormously with the aesthetics of the front end – making the grille look wider. But there's form and function here, as the design improves cooling.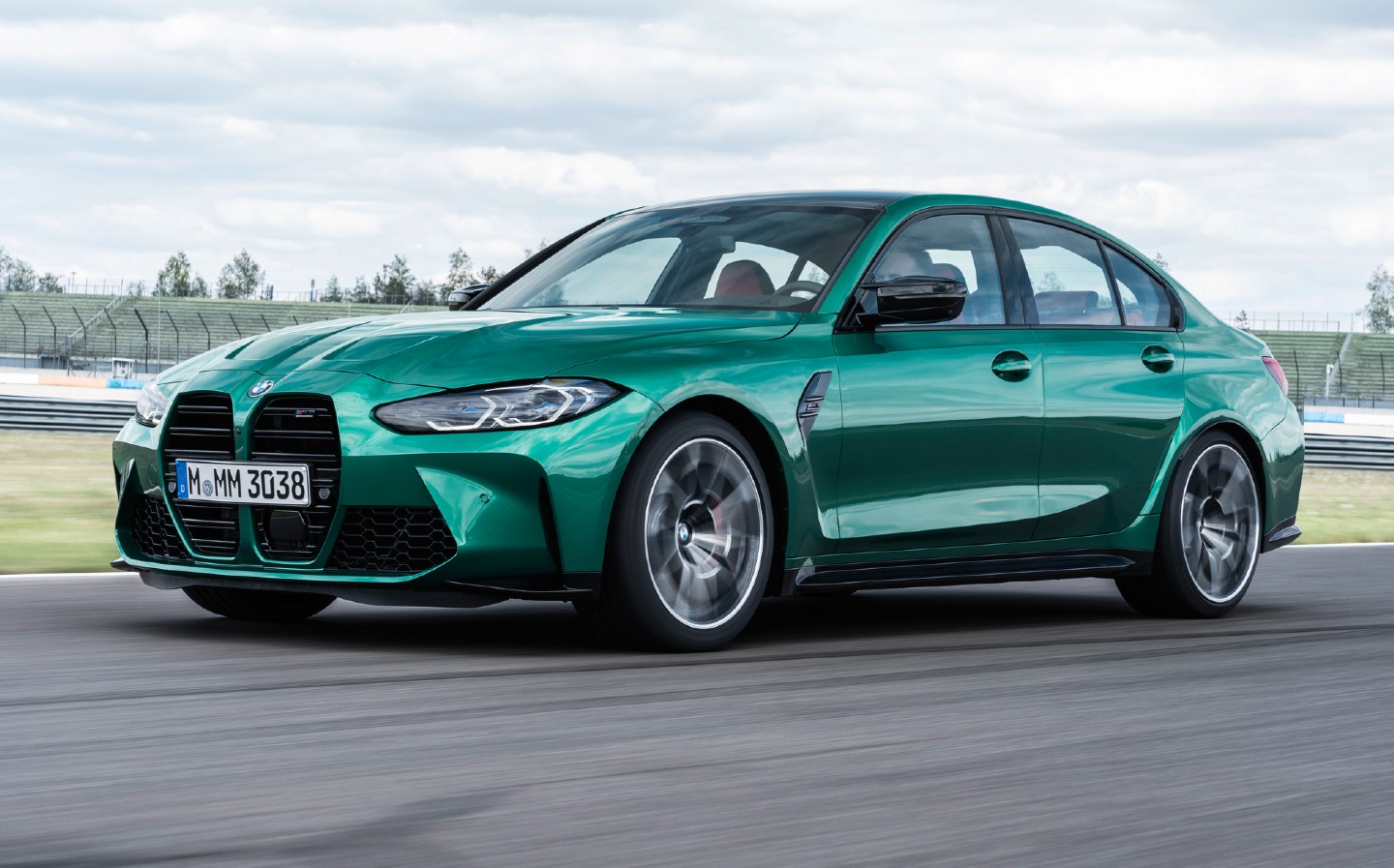 The more aggressive bodywork improves things further, including the large air intakes for the front brakes, as do the black headlight inlays – standard on UK-spec M3s and M4s. A carbon exterior package further improves the look. In fact, I prefer the bold styling of the M4 to the conservative Mercedes-AMG C63's exterior, and it stands out from the crowd a little more than the Audi RS5, too.
BMW offers 16 standard paints but taking into account the cost options, there are more than 100 colours to choose from, meaning you can make the new M3 and M4 as discreet or lairy as you like.
Interior, tech and practicality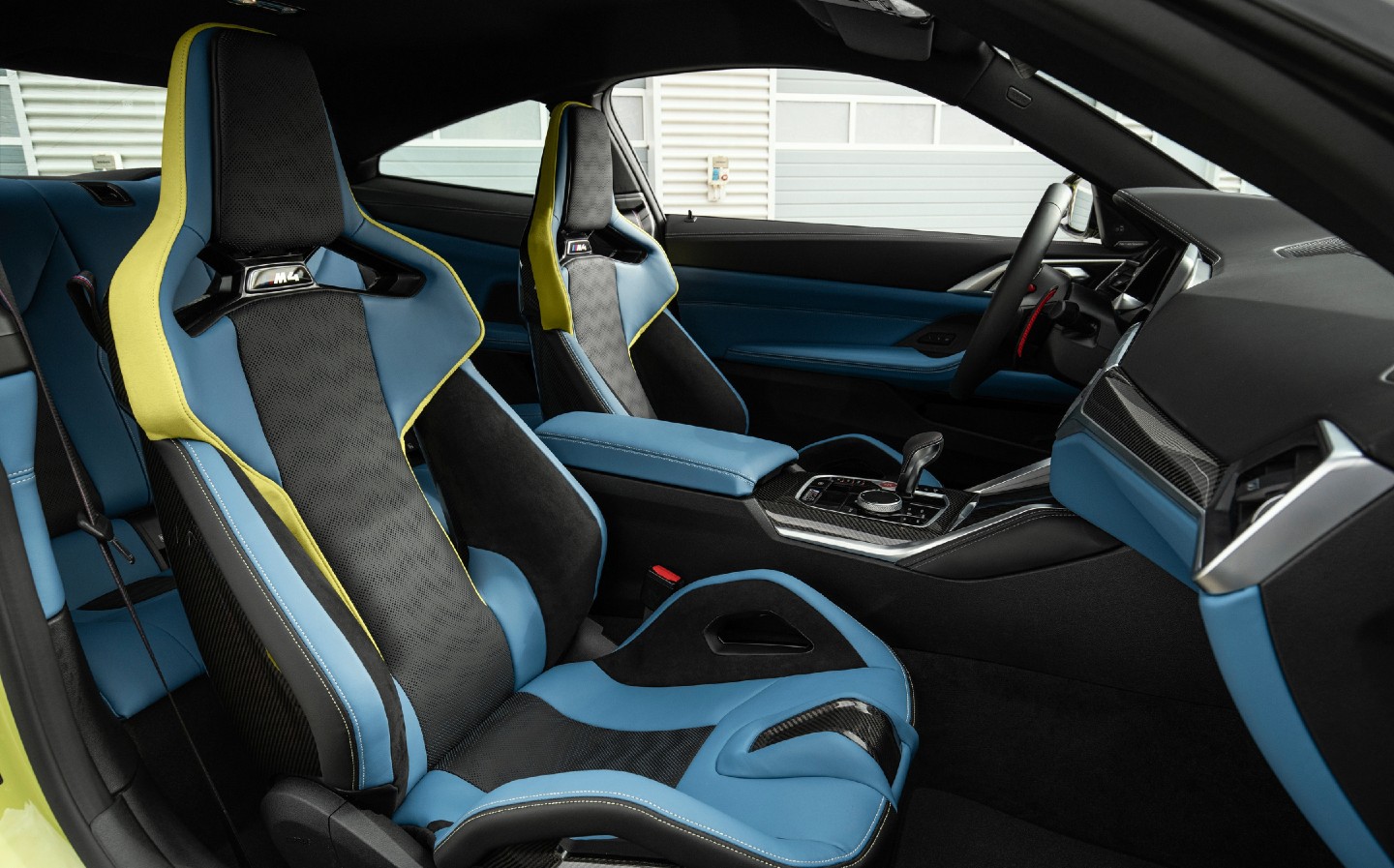 There's no danger of mistaking the M3 and M4 interiors for those of the standard 3 Series and 4 Series. The dashboard, touchscreen, wheels and centre console are similar, obviously, but the M3 and M4 now have carbon fibre interior trim as standard, which includes lovely carbon gear selector paddles behind the wheel, as well as the red M1 and M2 buttons, which can be customised to your preferred dynamic set-ups.
The centre cluster now has an M-stitched gear selector lifted from the M8, while the new 10.5in centre infotainment touchscreen is brilliantly simple to use in combination with the iDrive and voice controls.
There's also gesture control, but that's about as useful as a wind break in a hurricane. More than once I raised my left hand from the centre console only for the stereo (Harmon Kardon, since you asked) to mute, because the car interpreted the hand movement as an instruction.
I hope I never meet the engineer who came up with gesture control, as there would be a part of me that would want to blurt out, "What a waste of your career that was." And then we'd both feel sad.
Hopefully they'd also have designed the head-up display (standard on M3 and M4) and digital instrument cluster, which are both superb and satisfyingly customisable, meaning I could shake the engineer by the hand and we could walk away as friends.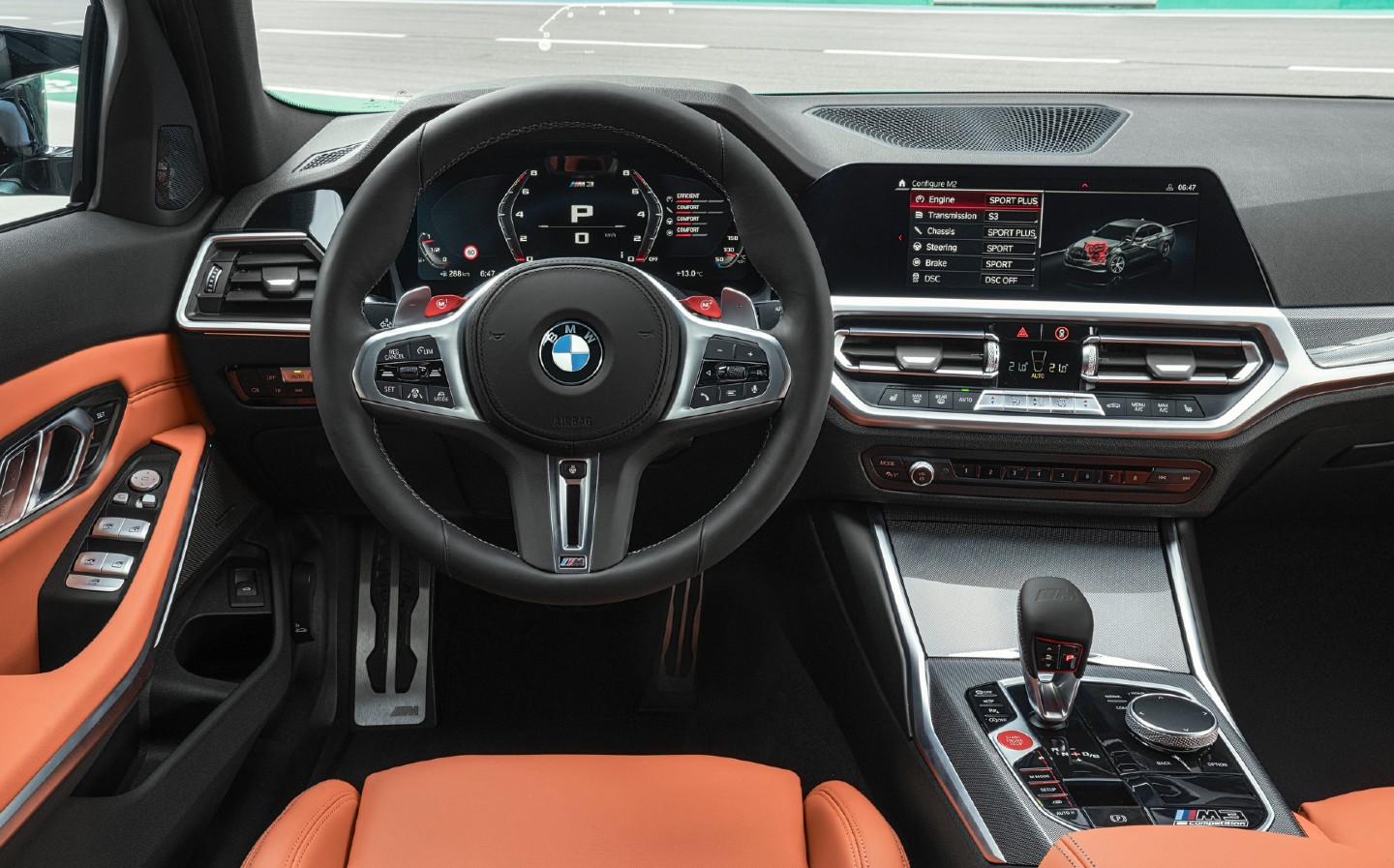 I've heard some people knocking digital instrument clusters but I don't understand that point of view. Drivers can personalise the look and feel depending on what mode the car is in, and change what information is displayed at the side from a G-meter to temperature gauges or tyre pressures checks.
A new Track mode simplifies the instrument cluster and turns off the centre touchscreen, as well as all the intelligent safety features of the car, for a purer, less distracting driving experience.  There's also a new M Laptimer app for track use, which links the phone directly to the car and allows you to record lap times and other stats on your handset.
Perhaps the car's party piece is the new M Drift analyser, which will record the length of your drifts and issue a star rating for it. Which in no way will encourage late night car park hooning.
For the more civilised owners, BMW now allows integration of both Apple CarPlay and Android Auto, and both can be connected wirelessly via Bluetooth, meaning no more messy cables. Of course, there's a wireless charging pad under the temp controls.
One of the ways the M3 differs from the M4 is that the saloon's front side windows have thicker glass, to reduce wind noise for rear passengers. Both cars have an extra pane of glass in the windscreen, for better sound insulation, ensuring the noise inside the cabin is more engine note than road roar.
The boy racer in you will love some of the colour options for the M3 and M4 interior. Black merino leather comes as standard but there are a number of two-tone choices, with bright colour combinations including a rather lurid Yas Marina and Black colourway. If you want to stand out, that should go well with either the Sao Paolo Yellow or Signal Green exterior paint. Something for the traffic cops to admire when they pull you over.
Our test cars were kitted out with the optional M Carbon bucket seats, which are 5kg lighter per pew, look seriously cool and will prove comfortable for most sizes of driver, as long as they're not too wide.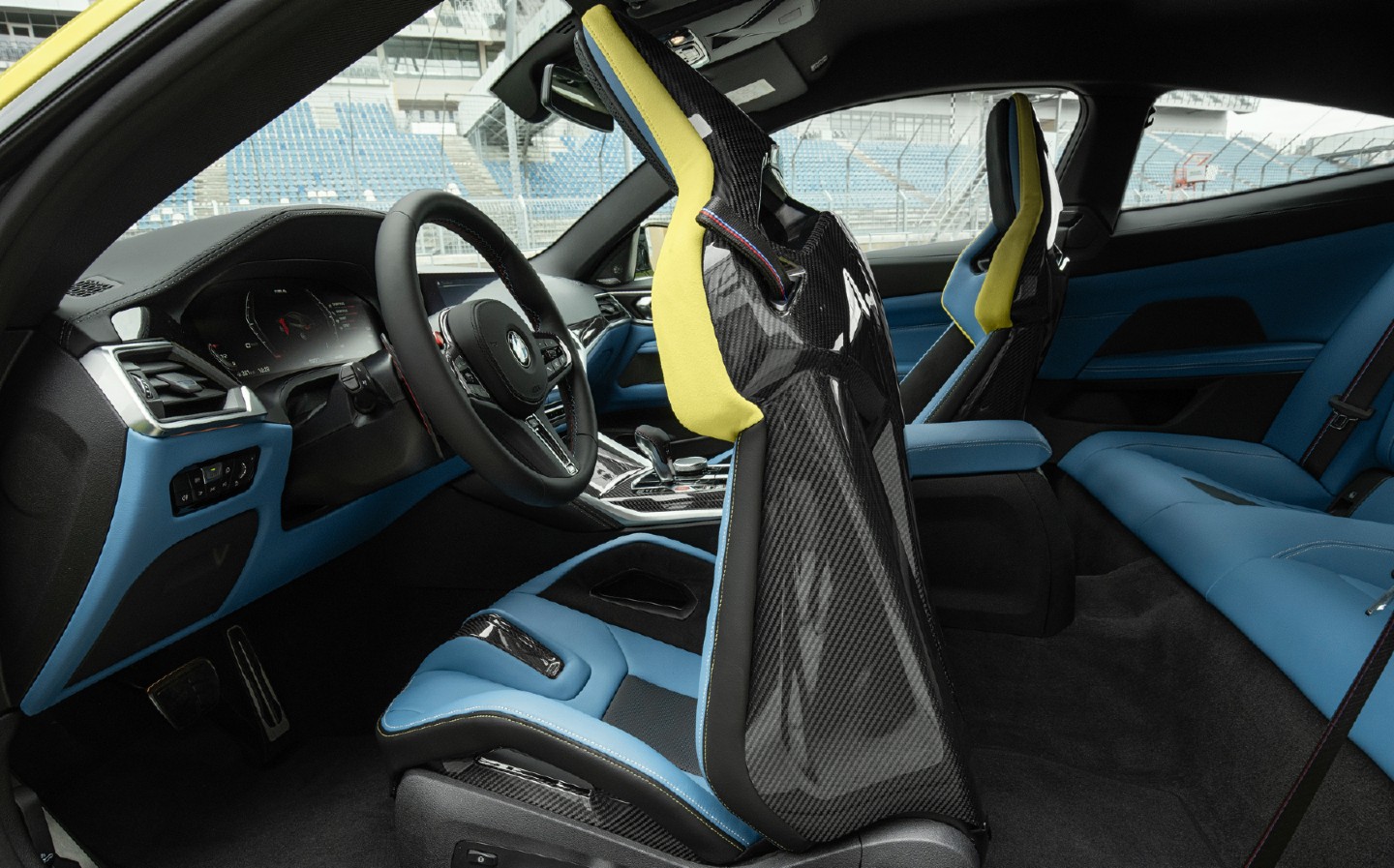 What's really smart about them though, is that despite looking like racing seats they have full electric adjustment, including forwards and backwards, up and down, and in terms of the angle of the seat base. You can even inflate the side bolders, making the seat more figure-hugging. They're heated too.
What was less impressive was the squeaking of the driver's seat in the M3 (the M4 had no such issue) — BMW's people were alarmed when I mentioned it, as that's just not very in keeping with the company's rock-solid reputation, and promised to get it checked out.
Of course, practicality depends on which model you go for. The M3 saloon has four doors compared with the M4's two, which makes it the much better choice if you're likely to be carrying more than one passenger on a regular basis. The coupé suffers not just in terms of ease of entry and egress but also headroom and – judging from my experience of climbing in the back of both myself – legroom.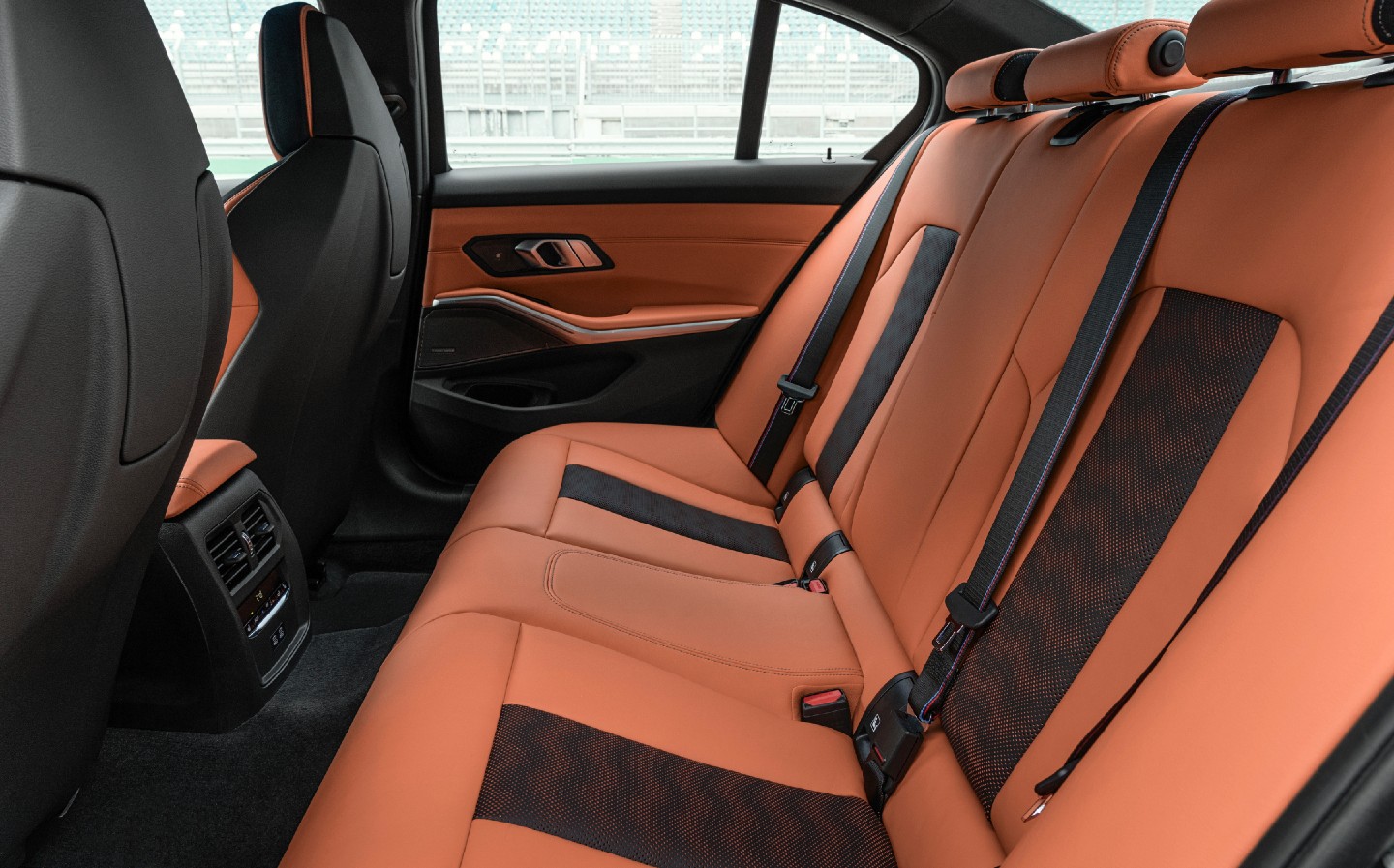 None of this will be shocking, of course. It's interesting that BMW sells 800 or so M3s every year but around 1,500 M4s, which suggests these are cars primarily for people who care more about performance and looks than practicality.
Before I move swiftly on, though, I'll throw some boot capacities at you: 480 litres for the M3 and 440 for the M4.
Ride and handling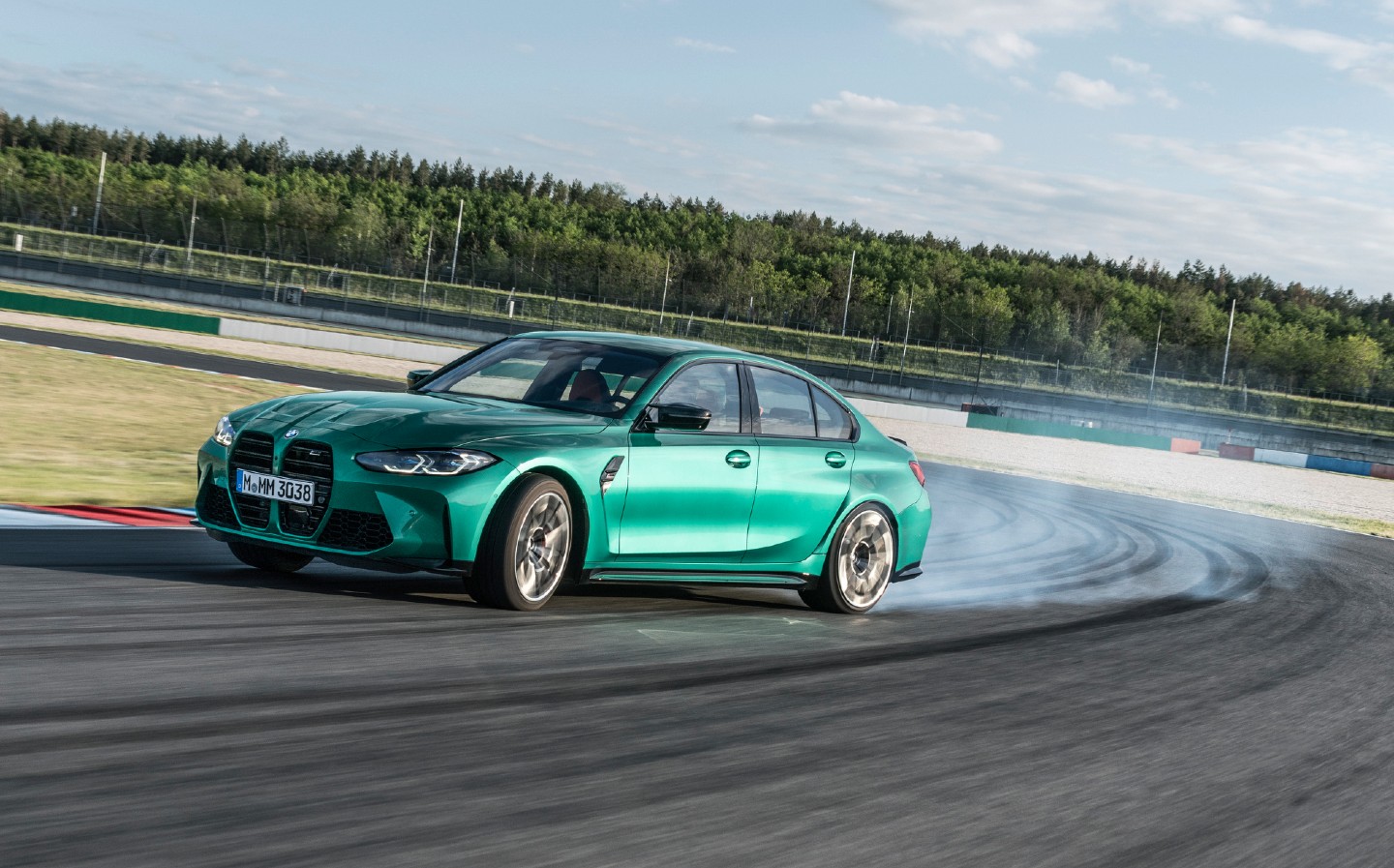 There should be no real difference between the new M3 and M4's ride, handling and performance, as the engineering and electronics control systems are identical. In fact, I was told that if you look at the two cars from underneath it'd be very hard to tell which is which.
They aren't exactly the same, of course – the M3 saloon is heavier due to the addition of the rear doors and the dab of extra steel in the roof, but amazingly it's a difference of only 5kg. If anyone claims to be able to feel the difference that, or the marginally different body structure, makes, I'd be quite dubious.
With both cars, the M Mode settings are even more customisable than before, and I spent some time tuning it to my tastes on different roads. Cruise through villages and you can leave the car in Road mode, with engine, chassis, steering, and now even brakes in the Comfort setting.
With the chassis set to Comfort, and the adaptive dampers therefore in their most pliant state, the ride is still firm but not bone-shaking.
BMW's product man said he wouldn't necessarily have used the previous M4 every day but the new one, he definitely would. You might expect him to say that, of course, and switching between chassis modes doesn't make the M4 as adaptable as larger sports saloons blessed with full air suspension, but it's passably comfortable as a daily driver.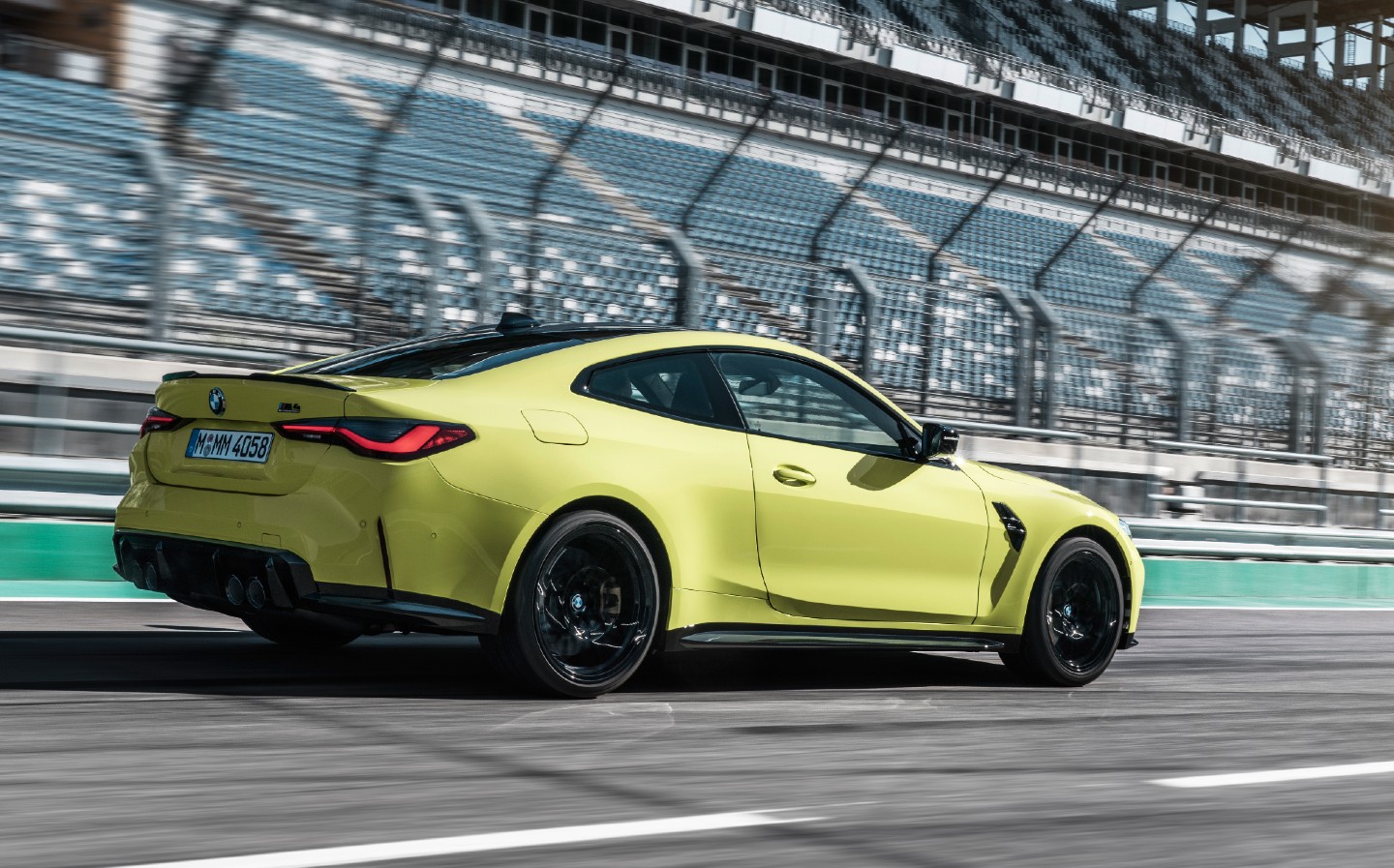 Out on an interesting, twisty road with a national speed limit, the car can be a completely different beast by switching into Sport mode and upping the ante on the engine, steering and brakes.
But put the chassis into Sport Plus and our broken British country lanes do render the ride intolerable; by the time you reach your destination your teeth are likely to have rattled loose of your skull.
For the most rewarding experience on interesting roads, I found Sport mode, tuned with everything maxed except the chassis, works best.
A new feature allows further adjustment of traction control. By turning off DSC you get access to a slider on the touchscreen that controls exactly how much slip you want to give the rear wheels, on a scale of 0 to 10, with 0 being full traction control and 10 completely off.
True helmspeople will want to switch everything off but somewhere in the middle will be the sweet spot for most enthusiasts, as it allows the car to show its true mechanic grip, response and performance potential without being a handful.
But for those with race experience, as mentioned above, there's a further setting besides Road and Sport: Track, which switches off all the driver aids for a purer experience. It's a serious deal, highlighted by the fact that you need to hold down the M Mode button to activate it.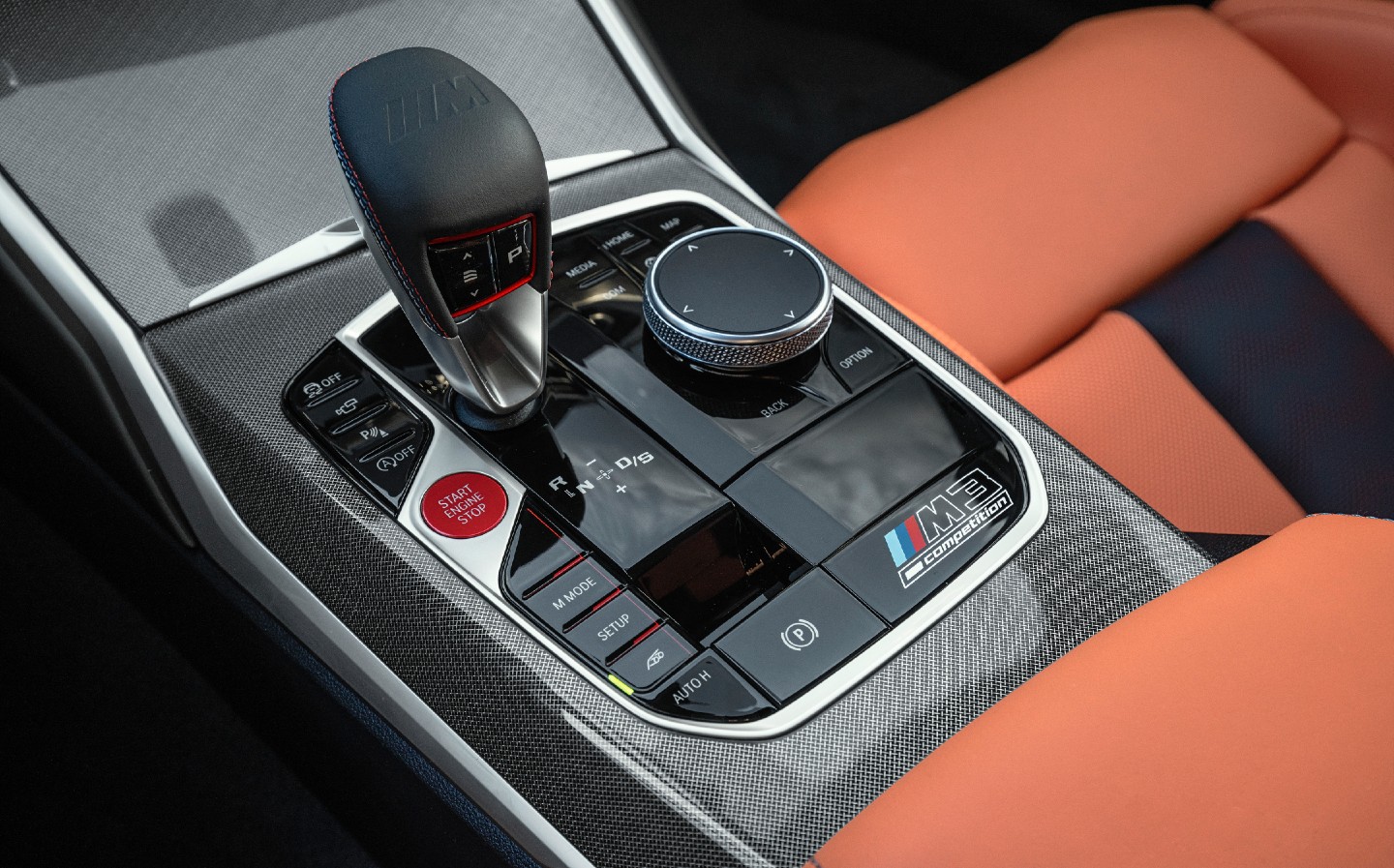 When it comes to the handling, the wheel doesn't feel overly heavy in Comfort mode, whereas – as you'd expect – Sport adds weight and directness, with the smallest of inputs resulting in significant movement at the front end. This means you can plant your hands at the quarter to three position and leave them there, even on the most challenging of roads.
And front end grip on both cars is astounding in the dry. The previous M4 was pretty astonishing in the wet, too, and although I didn't get to sample the new model in similar conditions, with a wider track this time around that's only going to have improved. You can lean on the brakes late into a corner and get away with it, and throw the nose at a corner and trust it'll pick up the scent with eager obedience.
Engines, economy, emissions and performance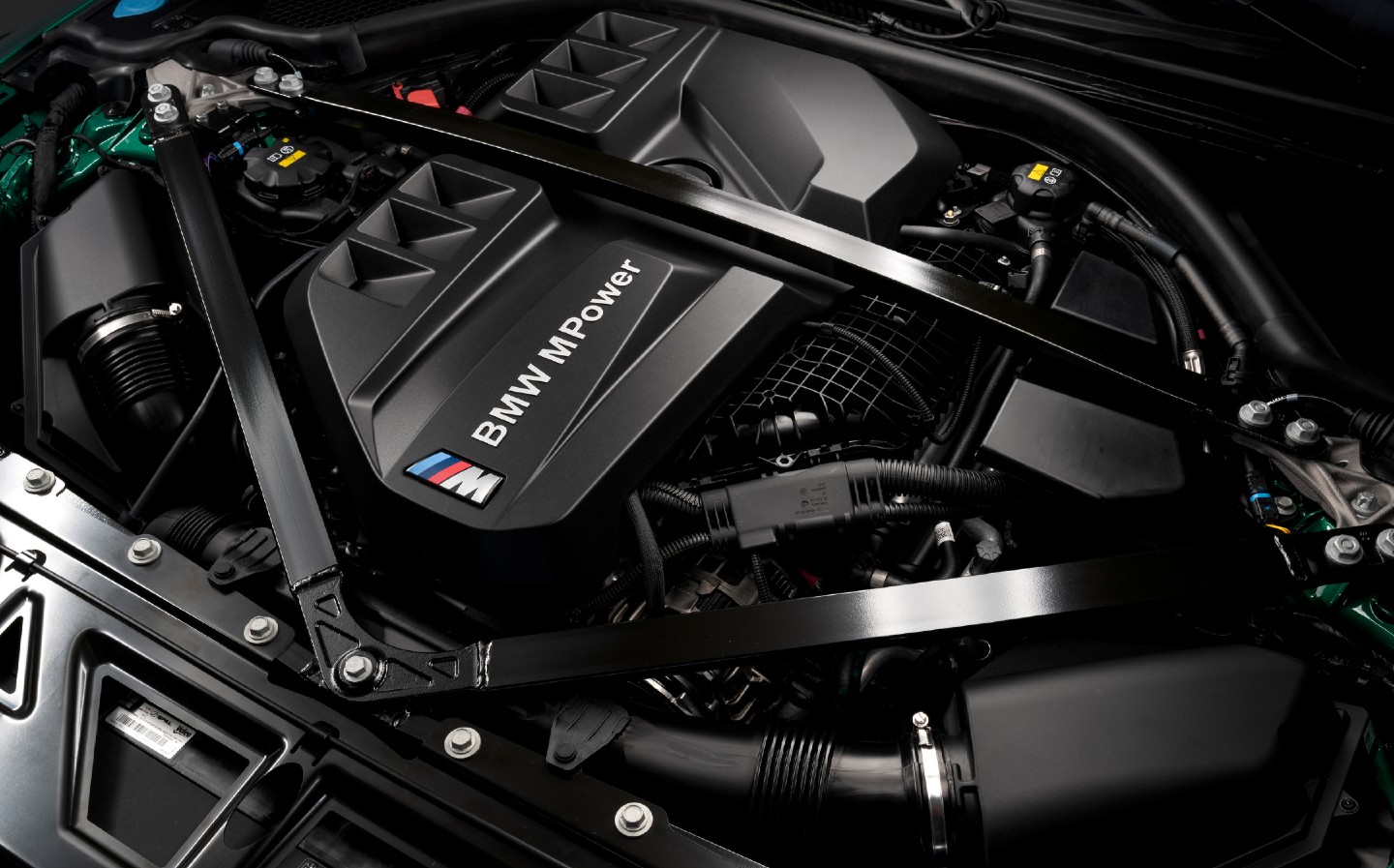 Given the UK's 2030 ban on sales on traditional petrol and diesel cars, will this be the last non-electrified petrol engine to go into a BMW M3 and M4? BMW says it's too early to say, but it was hinted that buyers of BMW M cars might not be as keen on electrification as the average driver, which suggests BMW will delay introducing a hybrid M3 or M4 for as long as possible. Just because Mercedes-AMG has gone that way with the C63, doesn't mean BMW will. Besides, those wanting a sporty electric coupé from Munich only have to wait for the 523bhp pure-electric BMW i4, which is due later this year.
If this is the swansong for BMW's twin-turbocharged in-line six cylinder petrol engine in the M3 and M4, then it's a fitting one. What a beauty it is – smooth, refined, oodles of power on tap right up to the red line.
The new S58 version of the engine has an extra 59bhp over the old unit, reaching 503bhp, while torque is up 74 lb ft to 479 lb ft. That more than compensates for the extra weight in the new car (the equivalent of a small adult, apparently due to the car's increased width, and improved safety and emissions reduction technology).
The improved power to weight ratio over its predecessor results in a 0-62mph time of under four seconds, while 50-75mph takes as little as 2.6sec. You can really feel that when you dial up the setting and let rip on an open road – the turn of speed is intoxicating, aided by a loud button for the exhaust.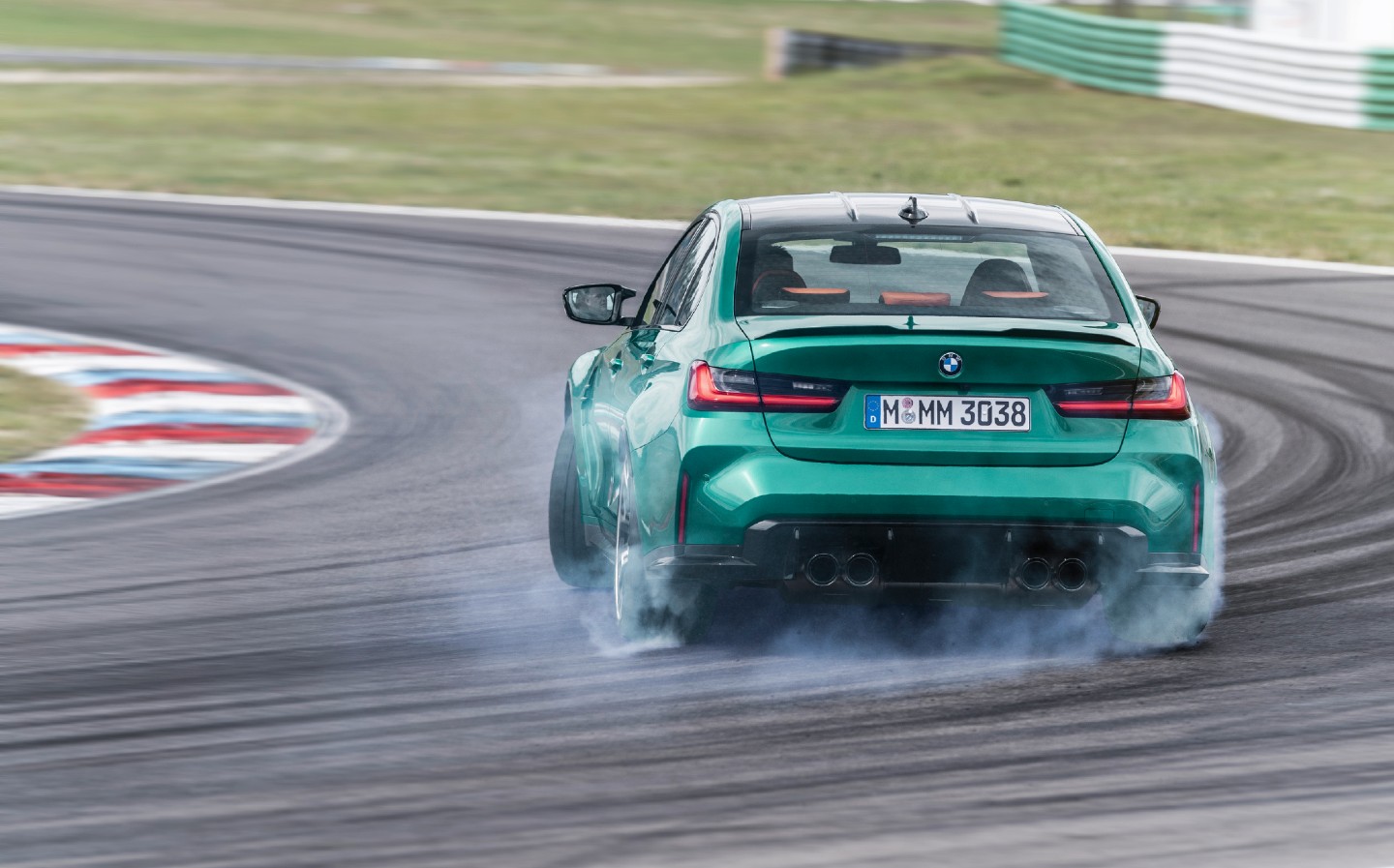 The power goes through an eight-speed M Steptronic automatic transmission (no manuals here). It's not a dual-clutch gearbox, but cogs shift amazingly quickly all the same – within around 150 milliseconds, apparently – so it's not something you'll miss.
A dual clutch system wasn't possible with the coming xDrive four-wheel drive version of both cars, due this summer. That could prove a popular version of the cars in the UK, given our rainy climate and potential for winter snow and ice, which has humbled many a BMW driver in the past.
BMW includes Drivelogic on the M3 and M4, which allows you to choose between three levels of responsiveness that affect the revs at which the gears change, when not changing up and down yourself via the paddles. It's another way in which the cars can be finely tuned to your preference.
Top speed is once again limited to 155mph, or 180mph if you pay for the M Driver's Package, though really, both are irrelevant unless you're planning a trip to the Autobahn. Or playing Top Trumps.
Oh, and this is what the new BMW M4 sounds like. pic.twitter.com/dsN9B7kok5

— Will Dron (@wdron) March 10, 2021
Despite the phenomenal performance, fuel economy is official 27.7mpg, which means it's not nearly as thirsty as one might expect. Of course, it's lower in the real world – I averaged just under 19mpg during my 2.5 hours with the M4. But then, I wasn't taking it easy.
If you care about CO2, it's 234g/km. But if you wanted a green car you've been reading the wrong review.
BMW M3 and M4 Competition 2021 review: The verdict
Both of these cars are just tremendous machines. If you can get past the divisive looks – or maybe even begin to like them – everything you'd want in a fast saloon or coupe is here. Power, noise, balance, control, grip… and did I mention power? There's the practicality over a sports car, too.
It would be overstating it to say I'd want one of these as a daily driver – they're just a little hardcore for that purpose, in my opinion, which explains why BMW sells twice as many of the less practical M4 than the M3 – but boy, do I want one as a weekend plaything.
And this could be the time to snap one up, before the tide of electrification reaches these exalted models' sandy shore, and the scythe comes down on BMW's beautiful in-line six. You might be buying a piece of history.