The 2021 Audi RS 3 is outrageously fast but there's a more important reason to buy it
In case you forget, the car tells you its name every time you unlock it
---
Published 05 November 2021
THE PINNACLE of any Audi model range is the RS version and the RS 3 — the hot hatch version of the A3 supermini — is no exception. It may be the smallest car in Audi's RS line-up, but its performance punch is as devastating as its visual impact.
While it may start out with the same basic underpinnings as the Audi A3, a stalwart of many a company car park, the RS 3 stands out with bulging bodywork, larger air intakes and a lot more attitude. Audi also isn't shy in what it puts onto the RS 3's colour palette, with hues including Python Yellow, Tango Red and Kyalami Green.
At the core of the car is the latest evolution of Audi's stonking 2.5-litre turbocharged five-cylinder engine, a seven-speed dual-clutch automatic gearbox and a quattro all-wheel-drive system that's enhanced to give the German pocket rocket added "driftability". With 395bhp and the ability to launch from rest to 62mph in the same amount of time as a Lexus LFA or Pagani Zonda C12 can manage, this is no ordinary hot hatch.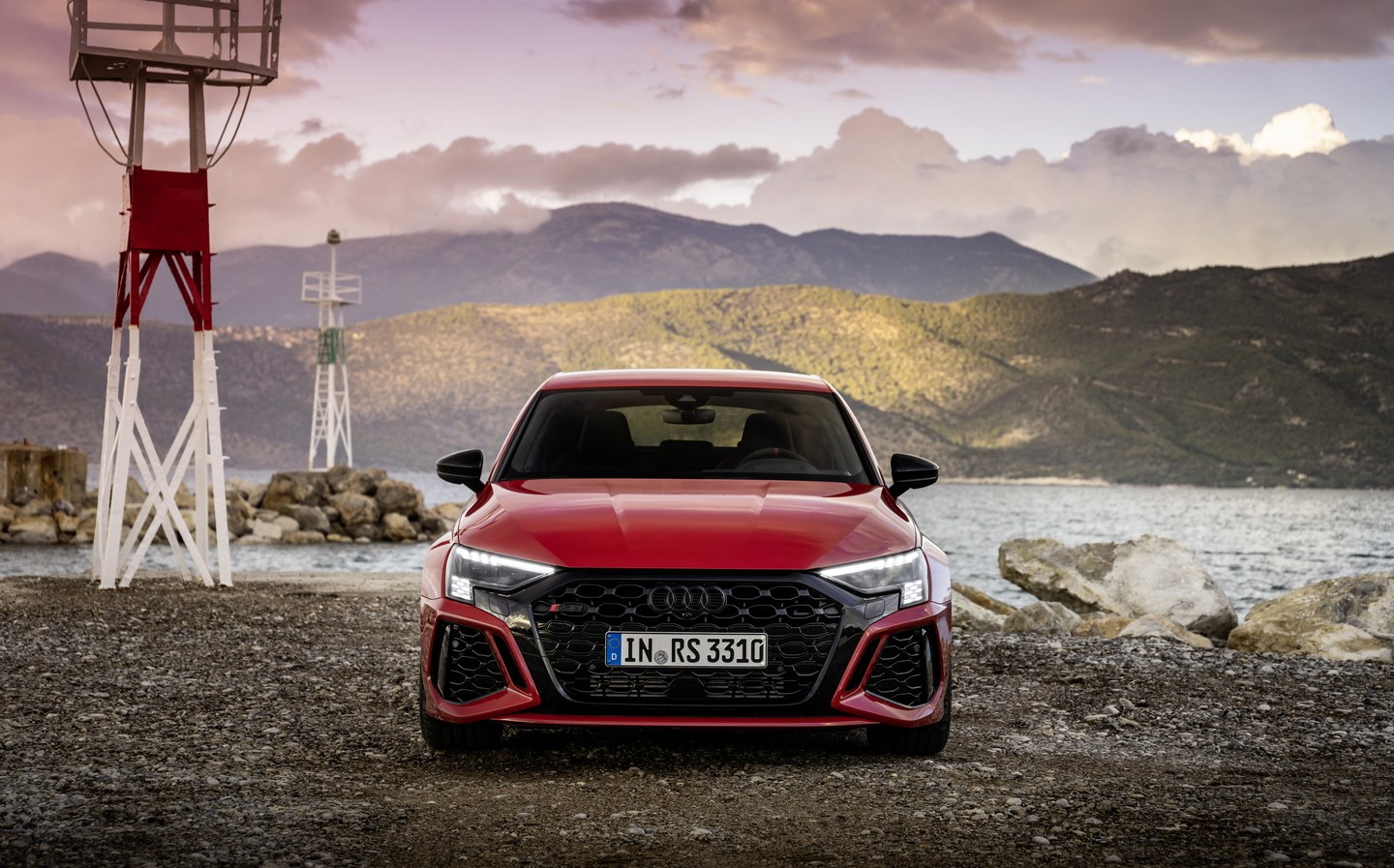 Exterior design and rivals
As both the engine and braking system need more cooling than the A3, the front of the RS 3 is opened up with honeycomb mesh barely covering the 'singleframe' grille and lower bumper inserts. The contrasting black detailing differentiates it from the milder Audi S3 and A3 S Line versions.
When you unlock the car, its Matrix LED headlights — standard on Carbon Black, Launch Edition and Vorsprung models — play an 'R', 'S', '3' animation on one side and a chequered flag on the other within the 15-piece LED panel. Is it a gimmick? Yes. Will you show every one of your friends? Also yes.
Adding some meat to the Audi's styling bones is a drop in ride height by 25mm compared to a regular A3, while the front wheel track is 33mm wider and wrapped in new arches. The Sportback – five-door hatch for those that don't speak Audi marketing — is widened by 10mm at the rear, but not the four-door RS 3 Saloon.
All versions sit on 19in wheels behind which lurk all-new 375mm steel brakes (310mm on the rear) gripped by six-piston calipers up front, while ducting is said to improve cooling efficiency by 20%. If you're keen to lighten the unsprung mass — and your wallet — Audi offers a carbon ceramic brake upgrade that shaves 10kg, and you get a choice of grey, red or blue calipers. The standard brakes get black calipers though you can also specify red ones.
Two vast exhaust outlets hang out from the rear bumper and there's a variable flap control system to change the exhaust note according to the drive mode. All of these features mean that from whatever angle you're looking at the RS 3, you'll know this isn't your average premium hatchback. The RS 3 Saloon is a touch more restrained.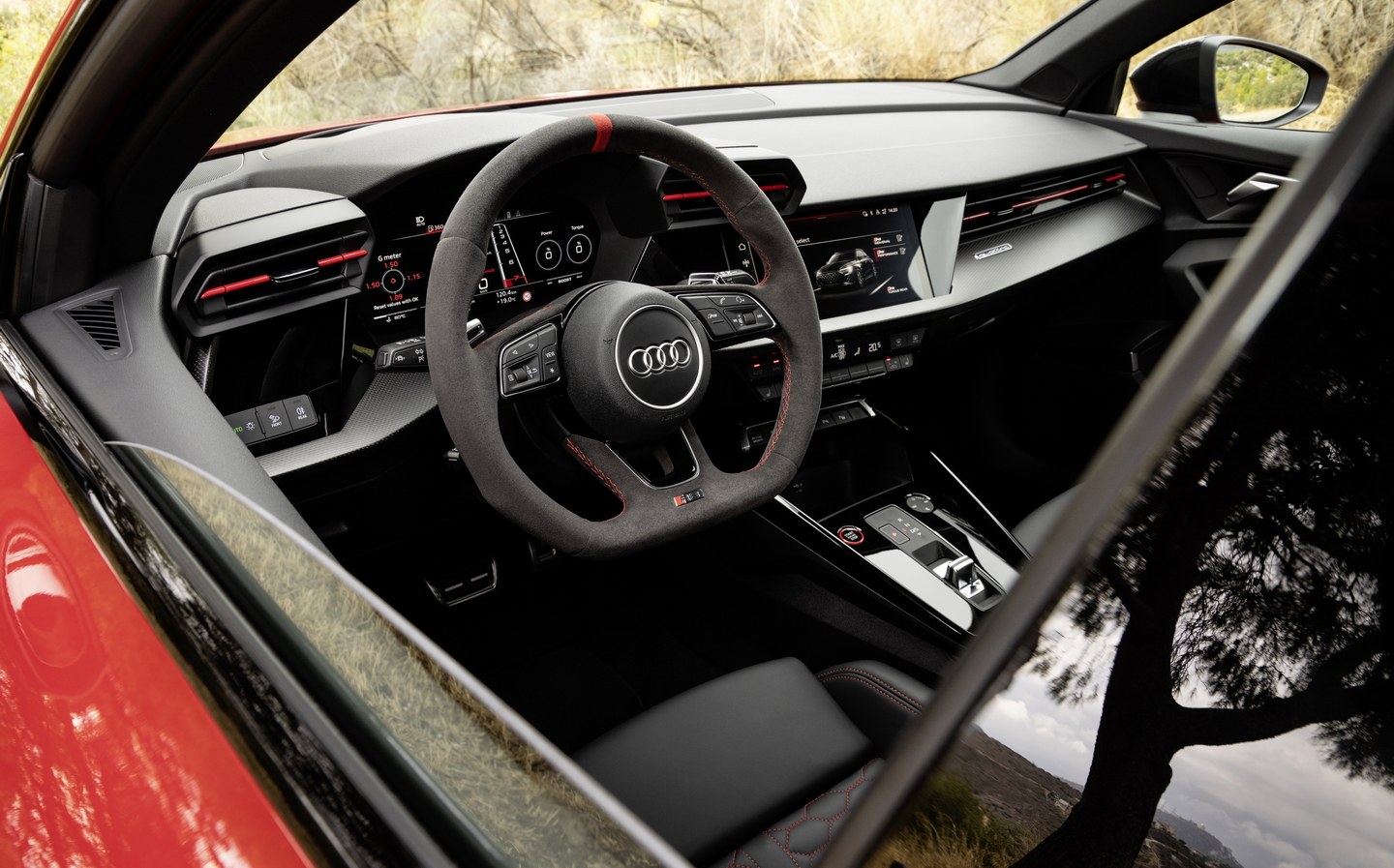 Interior and practicality
To give the A3's already upmarket interior more of that RS flavour, Audi's designers added some red striping to the varying shades of black and grey, resulting in a look that's part A-Team and part Knightrider. Flashes of red across the air vents add colour that ties in with the 12 o'clock marker that you can have on the optional Alcantara steering wheel, which does feel like it's from a proper racing car.
The Virtual Cockpit digital instrument display has some bespoke views and enough information to keep even the most avid of technophiles happy. A vast array of different parameters can be shown and there's also a head-up display, so you don't have to take your eyes off the road.
You can only have the RS 3 with an automatic gearbox, which uses a shift-by-wire system that allows for a much smaller stubby gear selector on the centre console. Its surrounding gloss black finish looks polished but will undoubtedly be a magnet for dust and scratches in no time. Nevertheless, the layout, combined with the electronic parking brake, frees up valuable space.
Better still is the discovery that Audi now fits zinc-coated shift paddles to the back of the steering wheel that have an action and feel that is much nicer than previous versions ever did.
However, one aspect that isn't quite as impressive, visually at least, is the design of the sports seats up front. Audi aficionados will recall the popular 'Wingback' seats of past RS 3 models that looked fantastic. Now the sports seats are more toned down and reflect the honeycomb pattern from the grilles throughout the seat inserts. Appearance aside they are quite comfortable and supportive in all the right places.
Rear passenger space is suitable for two adults in the outer seats, but middle-seat foot space isn't great due to the shape of the floor. That's because of the all-wheel-drive hardware underneath, which also has an impact on boot capacity. The RS 3 Sportback carries 282 litres of luggage versus 380 litres in a regular A3. Dropping the rear seats down does up boot volume to 1,104 litres, while the RS 3 Saloon has a little more boot space at 321 litres — though without the convenience of a hatch back, of course.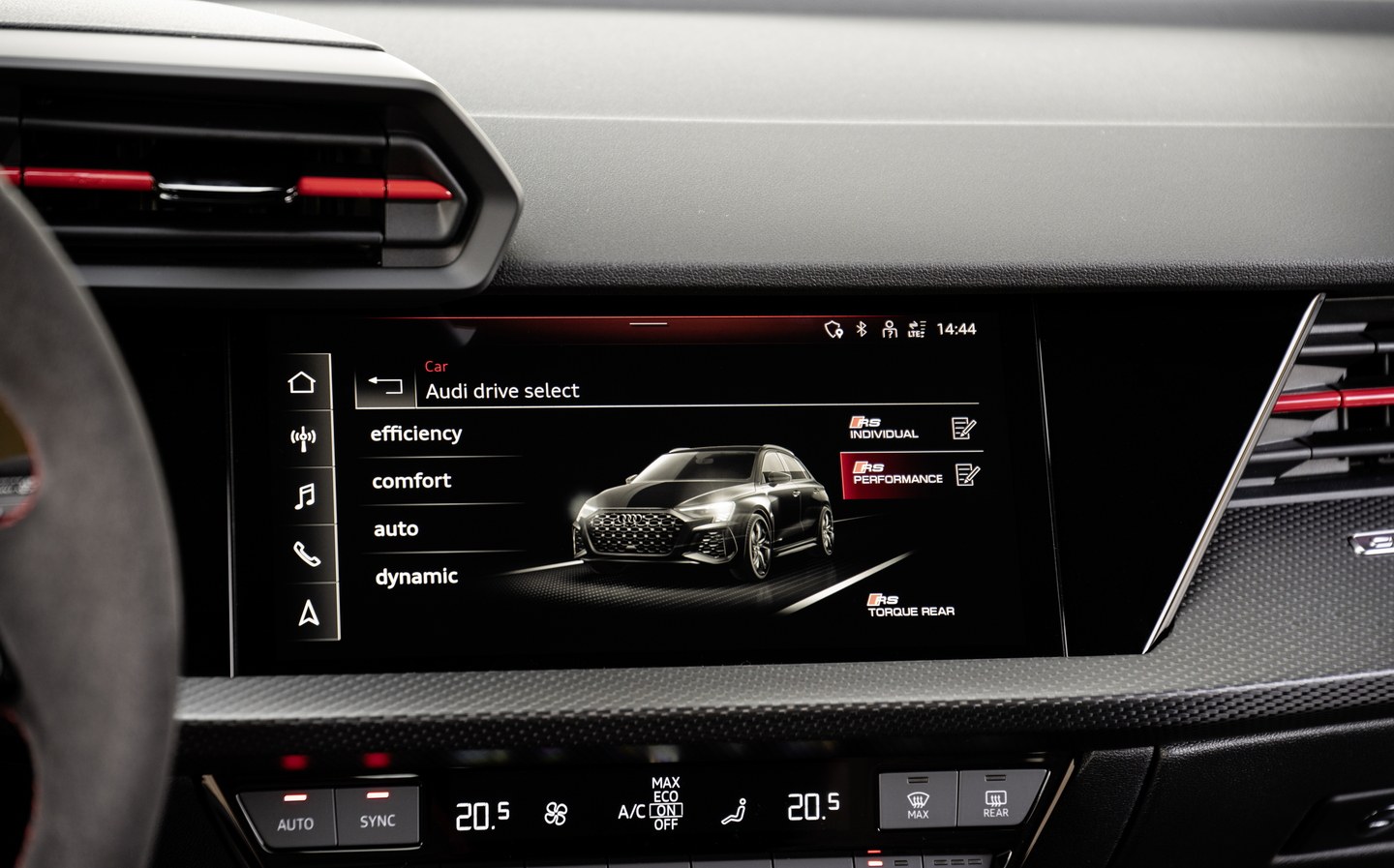 Technology and safety
To help drivers get the maximum from the RS 3's performance a suite of software-enabled functions is on hand. A launch control system can create the perfect getaway if you want to experience what 0-62mph in 3.8 seconds feels like, and operating it is easier than ever thanks to a traffic light system. A blinking shift indicator can also prompt the driver to pull the right-hand paddle to get each up shift absolutely right.
It might primarily be all about performance, but the RS 3 does come with a heap of safety systems, too. Collision avoidance can detect obstacles and help the driver to steer around them, while corrections to the car's path can also be made by the lane departure element of the adaptive cruise assist – at speeds of up to 130mph.
On the infotainment and entertainment side of things, both Android Auto and Apple CarPlay are available wirelessly and, keeping the cabin free of cables, there is also a wireless charging pad. When you tire if listening to the phenomenal engine (as if) there is a 680-watt Bang & Olufsen 3D surround sound system with 15 speakers.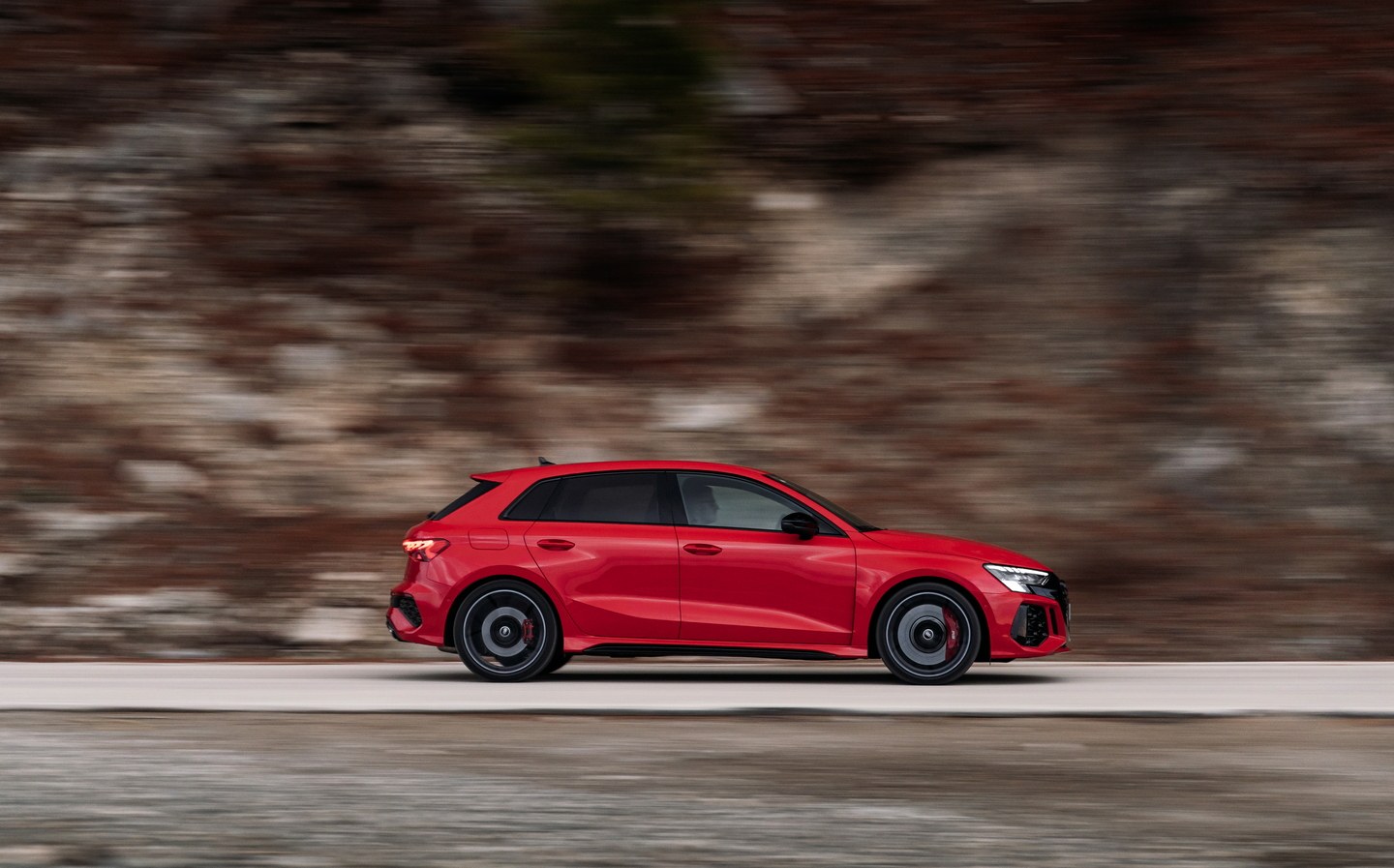 Performance, power output and acceleration
At the heart of the RS 3 is the latest iteration of Audi's 2.5-litre turbocharged five-cylinder engine. It has a maximum power output of 395hp, while torque peaks at 368 ft lb. The power figure now arrives earlier in the rev range than before and a new engine control unit enhances the responsiveness of the engine despite tightening emissions controls.
Channelling that power into the tarmac is a new version of Audi's famed quattro all-wheel-drive system. A new RS torque splitter on the rear axle can vary all of the power left to right and in its most extreme settings can be used to activate a full drift mode. Of course, it's not entirely about white-knuckle performance, as the RS 3 can be as sedate as you like and it is just as happy to be trundling along in everyday stop-start traffic, because let's be realistic; not every day is a track day.
But if you do get the opportunity to fully open the taps the RS 3 delivers incredible performance figures, reaching 62mph from rest in 3.8 seconds and going on to a top speed of up to 180mph.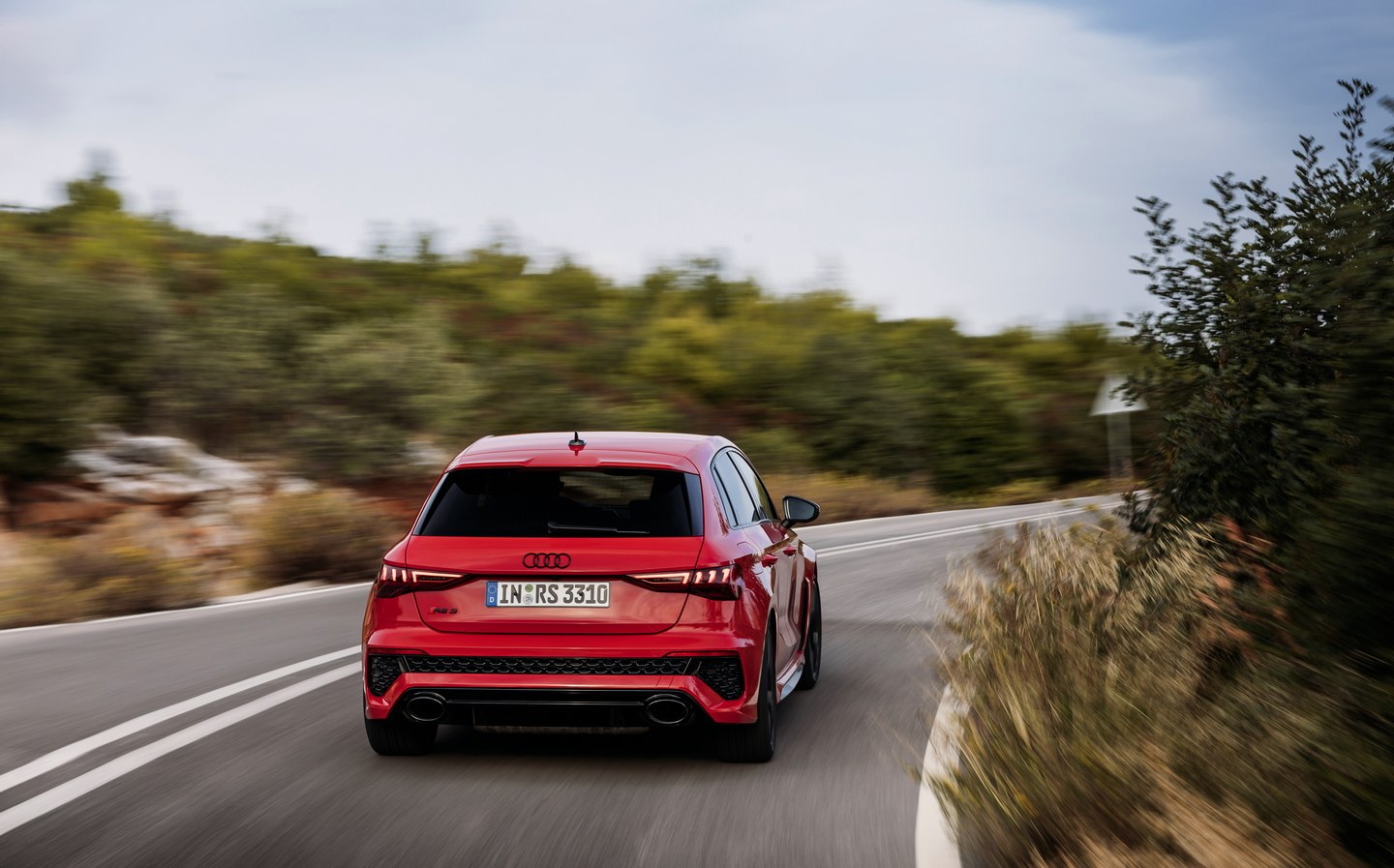 Ride and handling
It would be wrong to describe the Audi RS 3 as a Jekyll & Hyde type with regard to its performance. Yes, it can be quiet, comfortable and smooth, but that refinement hangs around even when the world appears to have engaged warp speed around you. There's not really any other way to put it; this is outrageously fast for a five-door hatchback the same size as a Volkswagen Golf.
Yet it behaves in a reassuringly planted and controlled fashion thanks in part to that quattro four-wheel drive and phalanx of assistance systems. The adaptive suspension offers a range of settings to optimise comfort or control. Interestingly, in the most focused 'RS' driving mode, the suspension is softened off from its firmest setting to improve surface grip, which is how it was done when Audi clinched a Nürburgring lap record time earlier this year.
The RS torque splitter may sound like a tool purely for practicing your donuts, but across some of the more twisting and undulating Greek roads of our test route the rear end was noticeably quicker at helping the car rotate around apexes and handle direction changes, almost to the point of it feeling as if there was some imaginary hand helping to push the car around from behind. This hardware combined with the addictive five-cylinder engine and the quattro transmission make the Audi a devastatingly fast car on a point-to-point basis.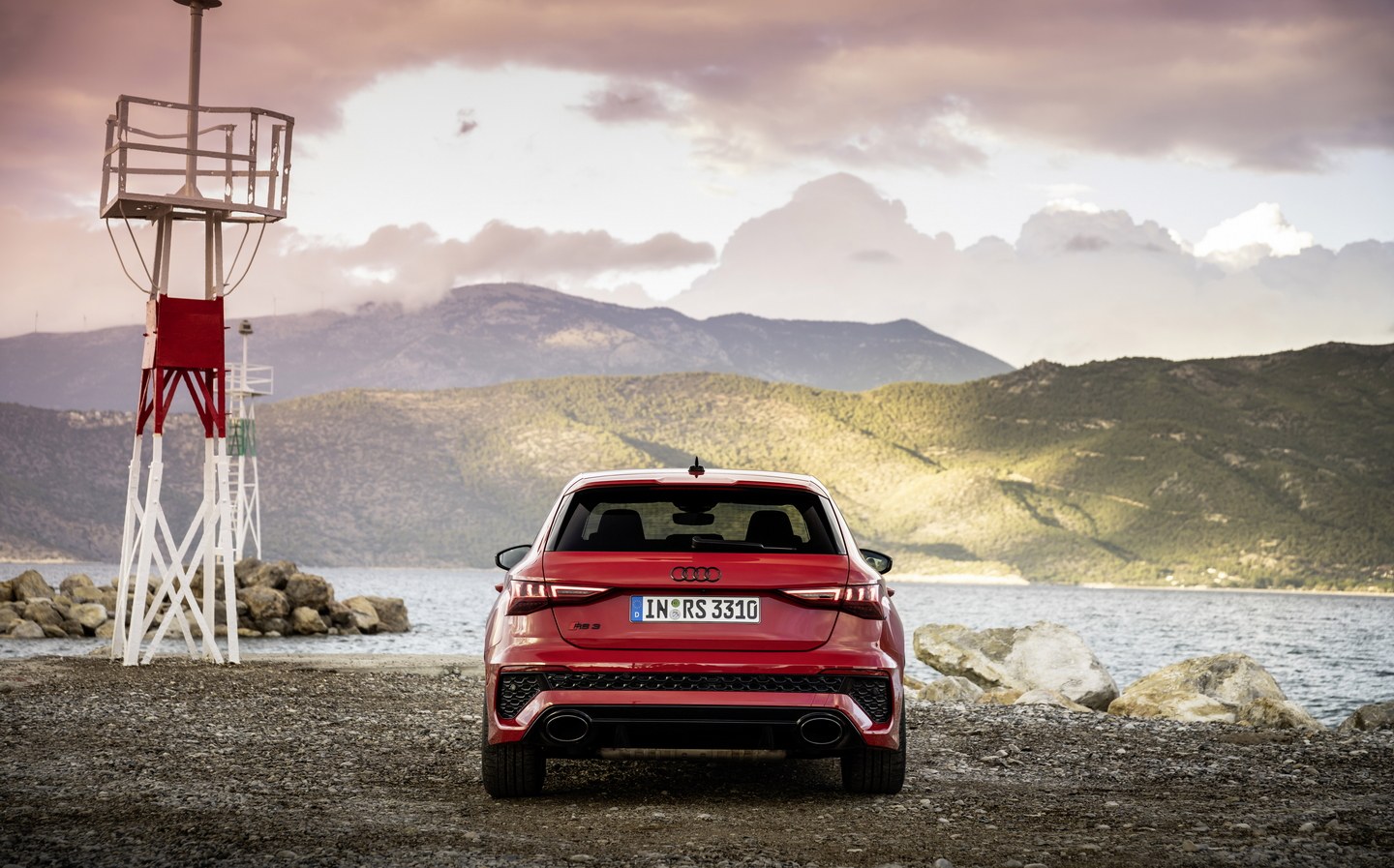 Pricing and on-sale date
The order books for the Audi RS 3 are now open, with a starting price of £51,475 on the road for the Sportback and £52,475 for the Saloon. Audi offers the basic car and then the Carbon Black for £4,650 more or Vorsprung for a £7,250 upgrade.
Verdict: Audi RS 3 review
The Audi RS 3 is an incredible car that is exceptionally competent and quick, although it is arguably a touch too good. There are some drivers that will wish it were a bit rougher around the edges from a dynamic standpoint, in order to make it feel a bit more extreme. That refinement, and the fact that electric cars in general are recalibrating our sense of outright acceleration means that, bizarrely, a 395bhp hot hatch doesn't seem all that wild anymore.
Still, the engine alone is worth celebrating as it is, surely, not much longer for this world. Enjoy what is most likely its last hurrah.
Tweet to @LordHumphreys Follow @LordHumphreys