Extended test: Volvo XC90 Recharge 2021 review
Times Luxx motoring editor David Green gets to grips with Volvo's big plug-in hybrid SUV
---
Published 28 December 2021
2021 Volvo XC90 Recharge specifications
Model 21-reg Volvo XC90 Recharge Plug-in Hybrid T8 AWD R-Design Pro
Price From £74,040 OTR (Includes Lighting Pack: Active Bending Headlights with Adaptive Shadow Technology; Headlight Cleaning System)
Price as tested (with options) £80,520 OTR
Cost options fitted Lounge Pack £1,500: Power glass tilt and slide sunroof with sun curtain; Park assist pilot – automatic parallel and 90o parking (includes front and rear park assist); Advanced interior air cleaner. Climate Pack (£575): Heated Rear Seats – 2nd Row, Outer Positions; Heated Steering Wheel; Heated Windscreen. Single options: Sensus Connect with Premium Sound by Bowers and Wilkins with Dolby Pro Logic II Surround Sound £2,150; Polestar Performance Software Optimisation £765; Parking Camera 360° Surround View £525; Wireless/Inductive Mobile Phone Charging £250; Metallic paint (Saville Grey) £715
Drivetrain 299bhp, 1,969cc, 4-cylinder petrol engine plus 86bhp electric drive motor and 11.6kWh li-ion battery
Transmission 8-speed automatic, all-wheel drive (petrol engine drives front wheels, electric motor drives rear)
Power output Up to 390bhp
Torque Up to 472 lb ft
Kerb weight (EU / DIN) 2,320kg / 2,250kg
Max trailer weight (braked / unbraked) 2,980kg / 750kg
Off road details Ground clearance 212-252mm; approach angle 21°; departure angle 21°; breakover angle 21.3°; wading depth up to the floor at walking speed
Dimensions Length 4,953mm; Width (folded mirrors) 2008mm; Height 1771mm
Boot capacity (third row seats in place / third row folded / second row folded) 262 litres / 640 litres / 1,816 litres
Top speed 112mph
Acceleration 0-62mph: 5.8sec
Electric range (WLTP) 27.3-30.4 miles WLTP (31 miles EAER)
Official consumption (WLTP) 83.1-100.9mpg combined
CO2 emissions 61-76g/km combined
Charging time (0-100%) 3 hours using 16amp wallbox; 4 hours using the 10 amp home charging cable
Road tax £15 for first year; £480 for years two-five; £145 thereafter
BIK tax payable (2021/22) 17%; £2,735 (20%) or £5,471 (40%)
Insurance group 45
Test details
Test period September 2021 – April 2022
Starting mileage 2,397 miles
Test updates
---
October 15, 2021: Introducing the Volvo XC90 Recharge T8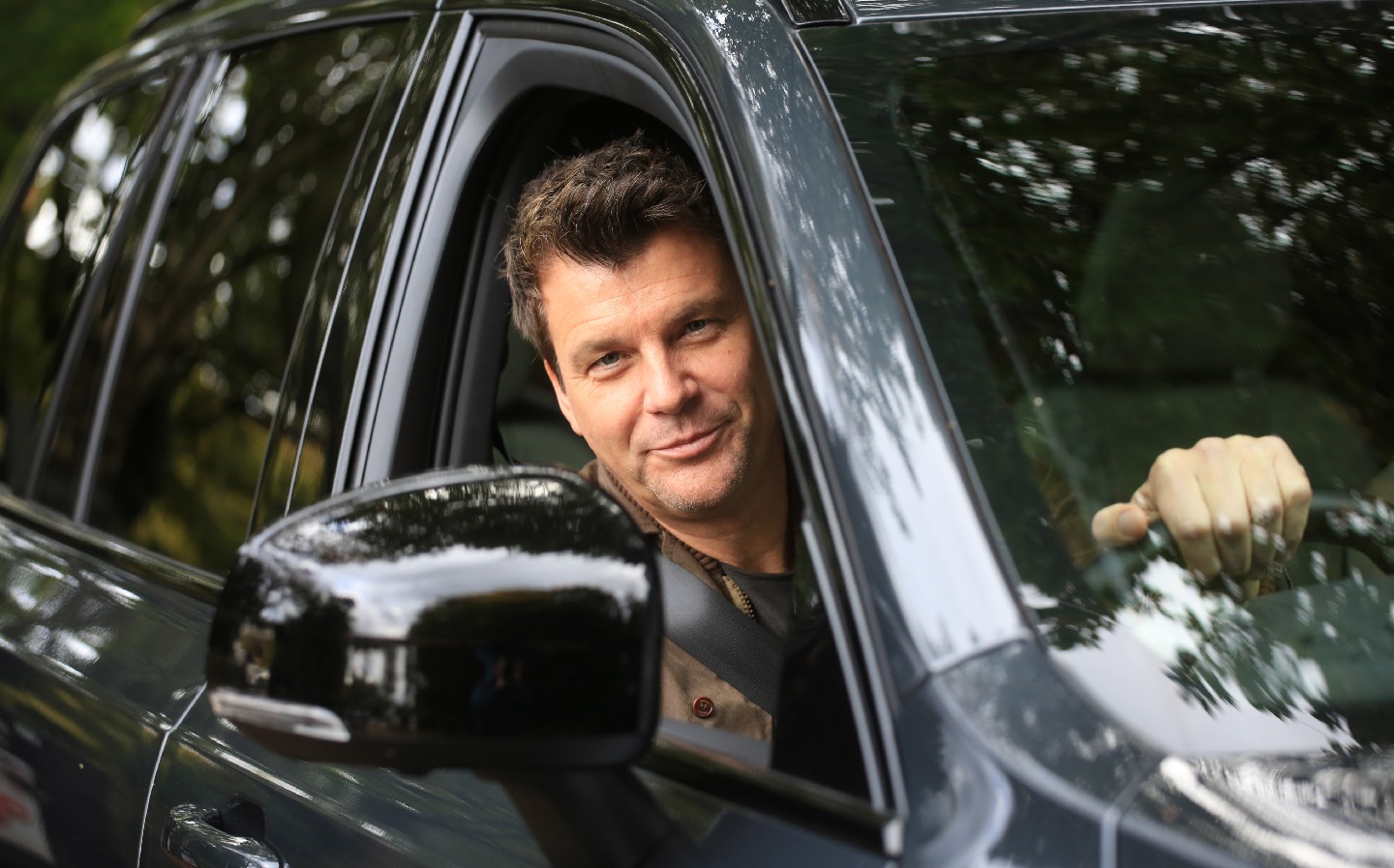 My first month with the XC90 Recharge has been a generally enjoyable experience. A trepidation about a risk-averse Volvo interfering in my life with nanny state beeps and bongs were forgotten after a day in the car, as the XC90 is decidedly rational in the way it interrupts your flow in the cause of safety. Initial impressions are of a car that's remarkably easy to jump in and drive.
This particular XC90 is an R-Design Pro model. There is a fork in the road of your XC90 purchasing: you can go down the 'Inscription' style route, which has an emphasis on luxury with traditional chrome exterior accents and a rather quirky crystal gear lever; but the R-Design route on the other hand is more 'Sport' focussed with glossy black trim instead of chrome, and the crystal shifter has gone in place of a more traditional leather-covered one. I'm fine with that.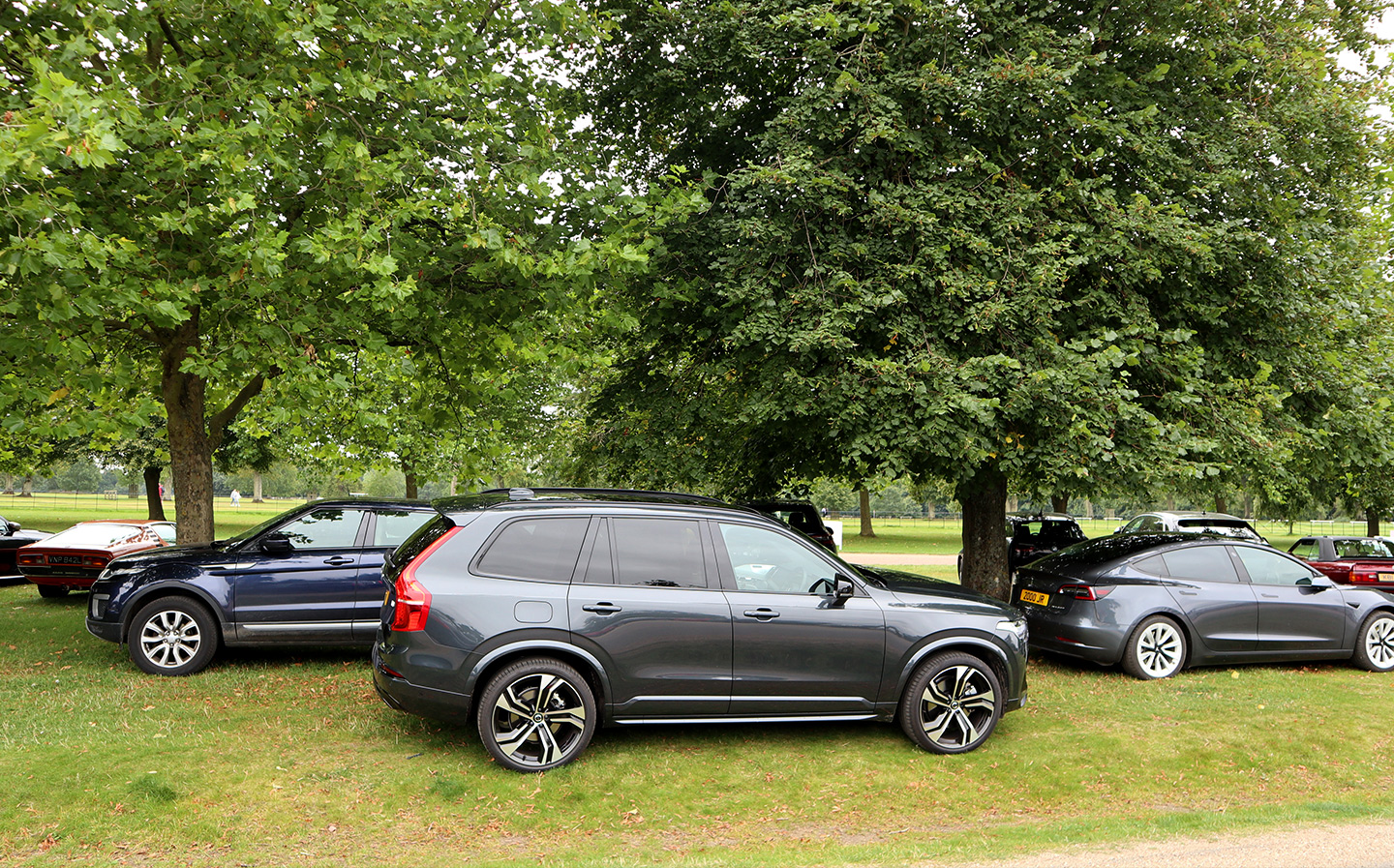 The exterior styling is more Cotswold gangster than Harlem, giving the car a more urban feel, but it still holds its own out in the sticks. The design of the car is growing on me and to my mind, it stands out from the crowd in just the right degree. Not embarrassed of its looks – but not too shouty either.
September is a month of car events such as Salon Privé and Goodwood Revival, involving driving into the country and parking in fields. The R-Design XC90 is perfectly at home moving from tarmac to mud and holds its own among the other SUVs vying for attention in the car park.
Inside, the blonde Nappa leather opens up the large cabin and is helped by an enormous sunroof – part of the £1,500 'Lounge' pack option.
Volvo has nailed its interiors lately. Clean and functional in a way the Scandinavians do well, but it still has an upmarket, luxurious feel. And the Bowers & Wilkins speaker system is a welcome optional extra, its crisp sound further creating a sanctuary from the outside world … and that includes the air.
Volvo's CleanZone system removes 95% of hazardous PM 2.5 particles. I'm not sure if it's psychosomatic but it seems to feel fresher inside than the outside London air. A week in and I regularly find myself taking in an exaggerated inhalation of healthy clean air once I am inside and have closed the door.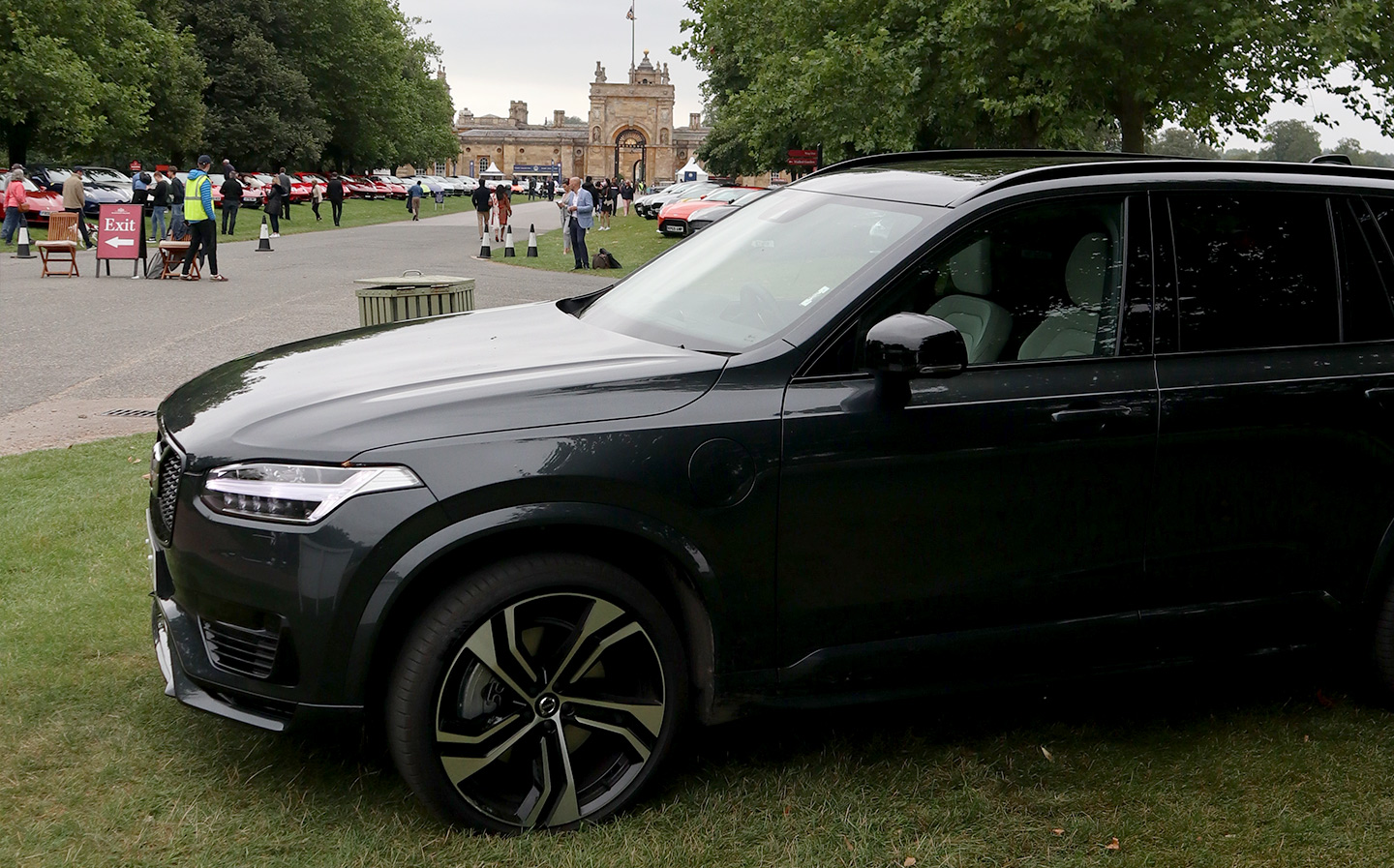 Other people have expressed an opinion of the car. A gas engineer visiting my house commented on the car "Nice. You must be an architect?" I'd always thought that was a Saab vibe but apparently the remaining, non-bankrupt, Scandinavian car company has taken on that mantle. I'm not sure how I feel about the assumption, but guess it could have been a lot worse.
I need to find a better petrol-electric balance going forward with this hybrid car, despite it proving very difficult for me to recharge in central London, without off-street parking. My mission has proven even more challenging due to three of my four nearby chargers being currently out of service.
However, I have managed to get the odd electric top-up and, though I never joined the smug brigade laughing at the queues outside of petrol stations, the XC90 Recharge did prove fantastically helpful around town. It may not go that far in full electric mode – around 25 miles in the real world – but there is a certain comfort in not having 100% reliance on fossil fuels.
Maybe a plug-in hybrid is the answer for these turbulent times? If only the bloody chargers would work.
Distance since start 1,139 miles
Average consumption 32mpg
As always with our extended tests, you can ask questions at any time via Twitter — fire them towards the @ST_Driving account— or drop a query into the comments box below.
Tweet to @ST_Driving Follow @ST_Driving
November 11, 2021: Hello practicality, safety and performance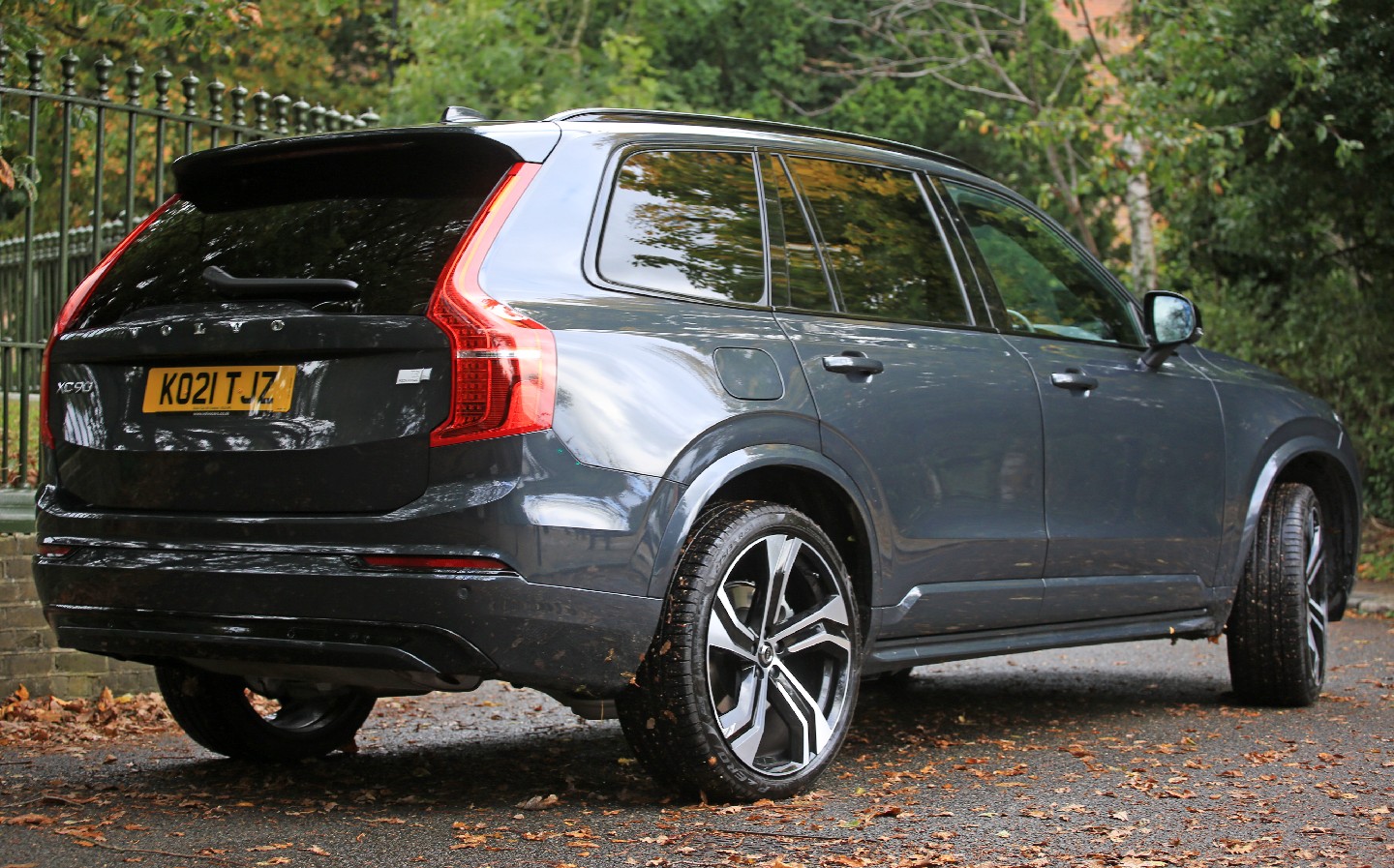 Month two in the XC90 Recharge and the breadth of its capabilities are coming to the fore.
Having had a bit of clear out we headed to the nearest waste centre with a huge amount of unwanted 'stuff'. Folding all of the seats reveals a 1,816 litres cavernous space that was more than enough for some serious load-lugging… or a trip to Ikea if you want to keep flying the Swedish flag.
I am also learning to appreciate the button on the rear hatch that both closes and then locks the car, allowing you to walk off with your hands full instead of dumping the contents onto the wet road and fumbling for your key fob. It's the little touches you often find that make you fond of a vehicle.
On the other side of the coin, when you want to lose storage space for seating, the XC90 also excels. Unlike some other plug-in hybrid SUVs, the XC90 retains its 3rd row of seats despite having to squeeze a battery into the package. You lose a small amount of height but those handy couple of seats in the rear are still there to emerge from the flat floor when you need them.
This month I got a chance to try it out as we picked up friends and their three young children. The kids were also entertained by the seats that move silently into position at the push of a button. Another plus is not losing all of the rear storage with the three rows of seats up – we had the usual wellies, umbrellas and coats in the boot, but even with the 3rd row, there is still some luggage space, unlike many seven-seaters. This car is huge.
I maybe wouldn't want to be an adult on a long trip in that 3rd seating row, but it's certainly a convincing seven-seater and the optional panoramic sunroof eliminates any sense of claustrophobia for the rearmost passengers.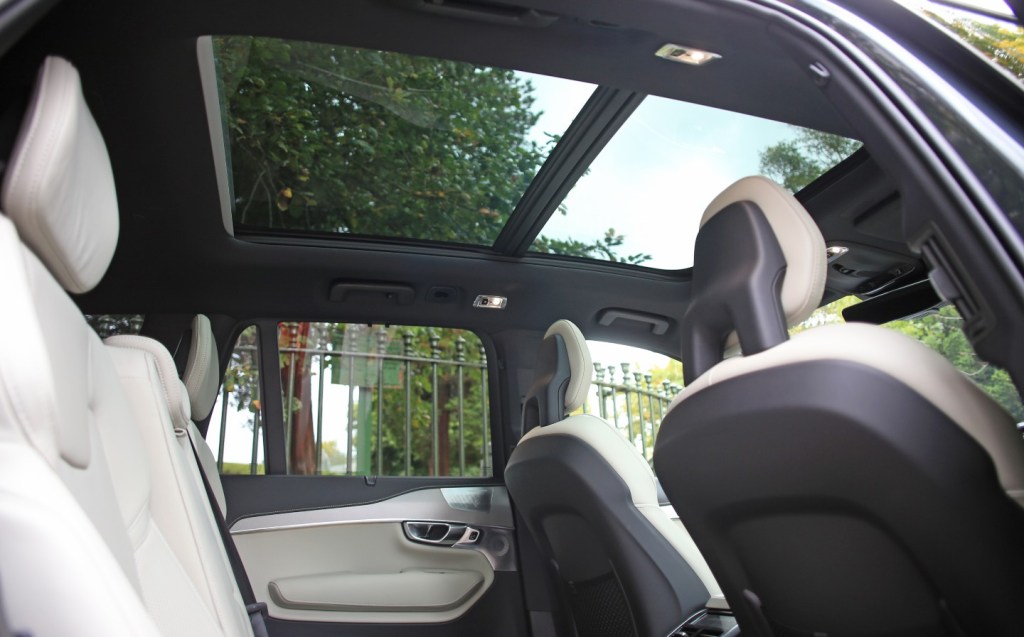 So the XC90 does more than a reasonable impression of both a van and an MPV/ people carrier (remember those?) when you want it to, while still maintaining the bearing of a smart, handsome SUV.
On the downside, I have had a couple of safety intrusions when the car has slammed on the brakes rather abruptly whilst parallel parking. I can only assume it was for a tree or large curb, but whatever caught the attention of the AI it certainly gave me a shock. One time the Volvo stopped so suddenly I was convinced I had hit something.
I applaud safety systems that could help you avoid hitting a pedestrian or dog that has inadvertently wandered behind the car – it's also genius when reversing out of a drive into a busy road. But I can't help being a little irritated at being stopped in my tracks, especially in London where your fellow motorist is not exactly the most patient, and ready to sit on the horn as soon as you indicated that you want to park.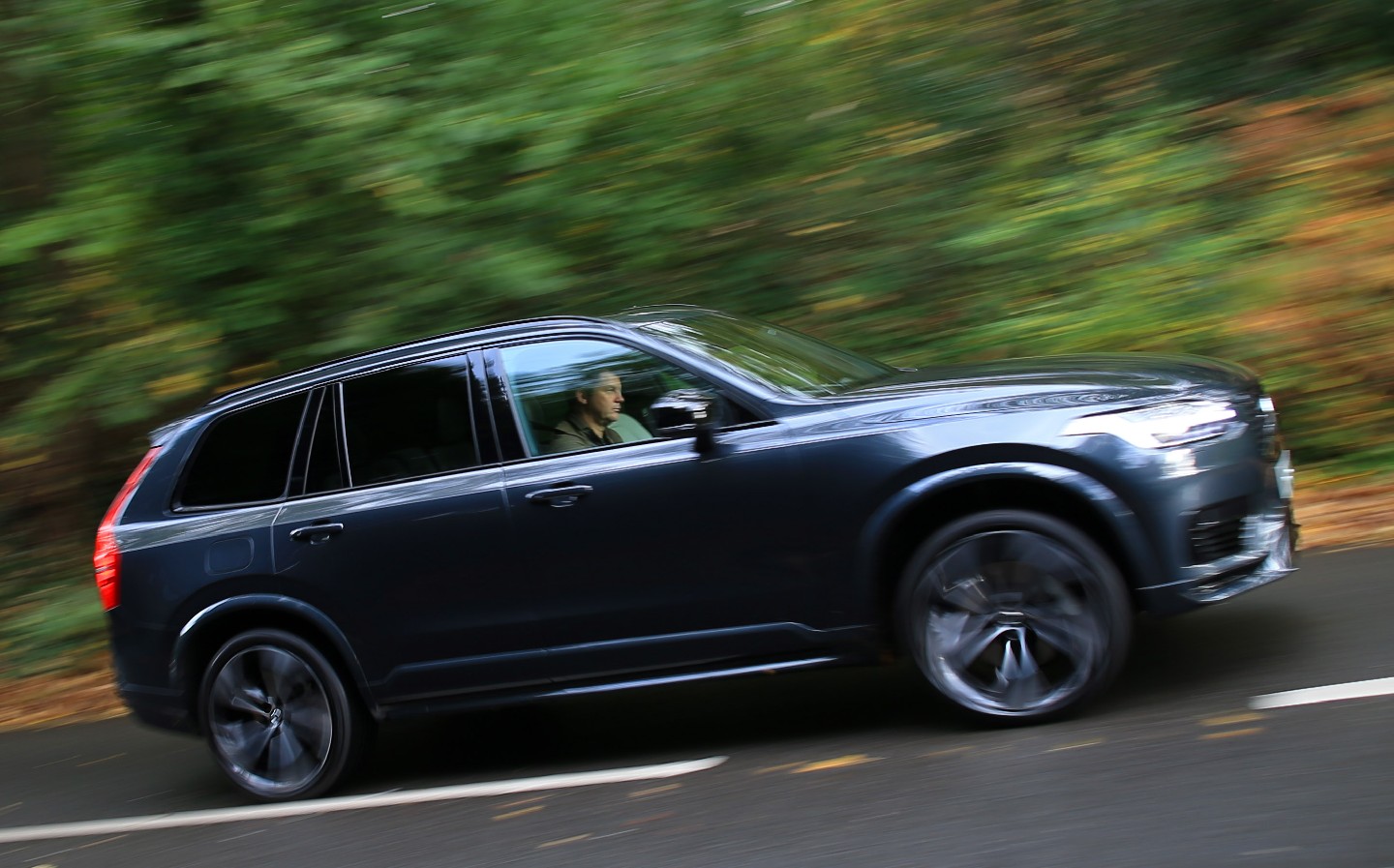 When not going back into a parking space, this car is certainly brisk going forwards. It's a fast(ish) car, at least for a large SUV. Its 5.5sec to 60mph time is impressive.
But while I like the idea of surprising fellow drivers when the lights turn green, when you hustle the four-pot engine it feels wrong in a car that feels like it is built around serenity and politeness. Also, that rapid acceleration drains the battery when you really should be using that for greater efficiency.
This car knows what it is – a luxurious, practical large SUV, with no pretensions for extreme off-road or dynamic behaviour. It's a balance that is winning over many fans.
I've got to start appreciating that and stop wringing its neck like the sports car it's trying desperately not to be. I must try to be as mature as my car. Maybe next month.
Distance since last update 1,109 miles
Average consumption 34mpg
As always with our extended tests, you can ask questions at any time via Twitter — fire them towards the @ST_Driving account — or drop a query into the comments box below.
Tweet to @ST_Driving Follow @ST_Driving
December 28, 2021: Shrugging off the British winter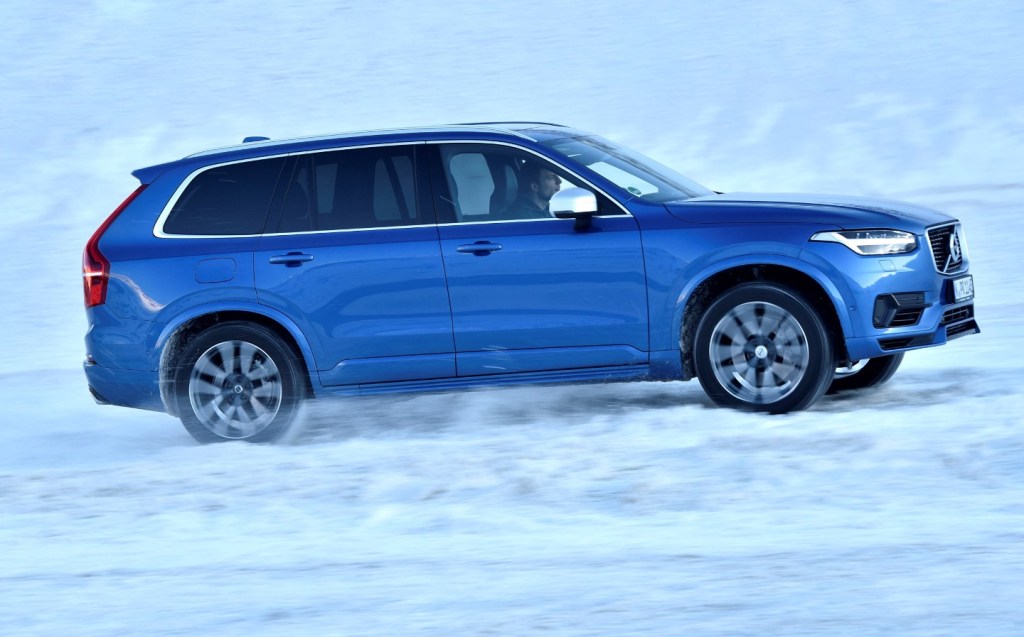 This month my Scandinavian SUV has been flexing its cold temperature credentials. The weather has turned frosty but one thing you can rely on when driving a Volvo is that it has got the icy weather covered. I have driven one in the Arctic Circle at -30° (as pictured in the stock image above) and from the inside I could just as easily been coasting along a Californian freeway … the trifling British climate is no challenge.
If I was a bit more organised I could pre-heat the car via the Volvo app, but even when I have forgotten that it is 2021, I can still jump in and be fairly toasty before I've put my seatbelt on.
A heated steering wheel is a tick box I would usually forgo on the options list … yet I'm always glad when I have it. And it is no exception in the XC90. Warm hands and warm backside via the heated seats and the bleak weather is quickly forgotten.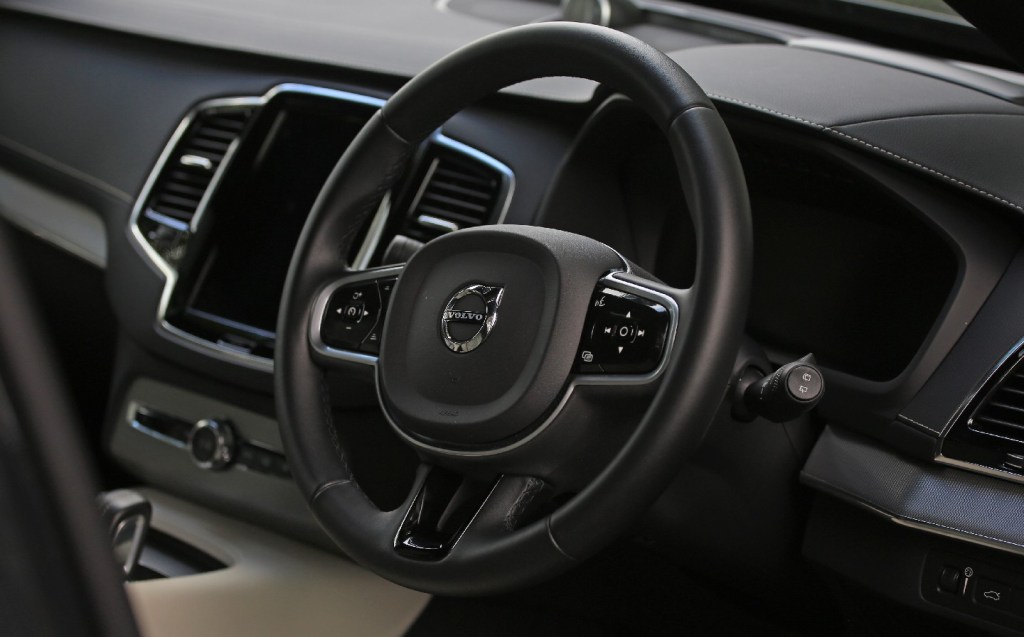 In terms of preparation, I have topped up the windscreen wash — the XC90 greedily consuming a full tub of the ready-mixed stuff. That's another tick in the plus box for this car. I have an irrational contempt of miserly windscreen wash reservoirs that need frequent topping up — sometimes on the same journey on a murky, wet British drive.
I have had a month of long drives and I have taken the opportunity to explore the Volvos adaptive cruise control. "Pilot Assist" is a semi-autonomous system that combines active cruise control with steering assistance to help keep the car in its lane and a safe distance from a car in front.
It achieves this with clever camera and radar technology, but the everyday benefit is when it is quietly working away to take a little of the strain away from a protracted journey. It enhances the state of calm already achieved by the serene cabin and you arrive from most trips relaxed and refreshed.
It has convinced at least one cruise control sceptic that the technology can indeed assist and is not trying to steal away your driving fun.
"I have an irrational contempt of miserly windscreen wash reservoirs that need frequent topping up"
One thing that is becoming apparent during my tenure with this vehicle is the ubiquity of XC90s, at least in my neighbourhood in London. The other day I was one of five parked in a row on the street. I have never had that with any other car. Somebody in the Volvo product department is getting a healthy end of year bonus as they have seemingly hit the sweet spot with this car when you way up all of its attributes such as design, practicality, economy…and of course cost.
The abundance of fellow owners may give a sense of comfort and safety in numbers. For others, it may find them running to the nearest SsangYong dealer for the chance to differentiate. The choice, as they say, is yours.
Finally, during the festive period the XC90 has been enrolled in Christmas errand duties. Presents, turkey and a case (…or two) of wine are, of course, no problem for such a big car, but would it pass the all-important tree test?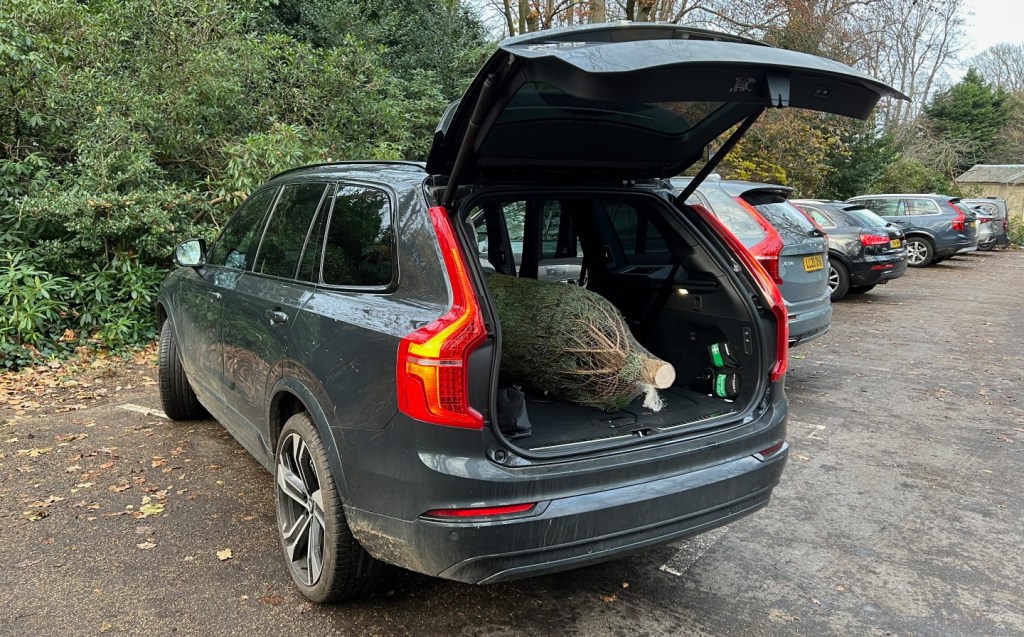 With flying colours, it turns out, as an 8ft fir effortlessly disappears into the back of the SUV. Two Swedish creations in perfect harmony.
Distance since last update 1,245 miles
Average consumption 36.5mpg
As always with our extended tests, you can ask questions at any time via Twitter — fire them towards the @ST_Driving account — or drop a query into the comments box below.
Tweet to @ST_Driving Follow @ST_Driving