Extended Test: 2020 Range Rover Sport PHEV review
Luxurious, sporty, rugged and economical? Can the Range Rover Sport P400e really tick all the boxes?
---
Published 08 November 2021
2020 Range Rover Sport PHEV specifications
Model 70-reg Range Rover Sport P400e HSE Silver
Price £75,580 OTR
Price as tested (with options) £78,035 OTR
Cost options fitted Hakuba Silver Metallic Paint – £895; Ebony Interior – no cost option; Ebony Morzine Headlining – £330; Three Zone Climate Control – £490; Heated, electric, power fold, memory door mirrors with approach lights; and auto-dimming driver side – £220; Drive Pack – Consists of: Blind Spot Monitor, Driver Condition Monitor, and Traffic Sign Recognition and Adaptive Speed Limiter – £520
Drivetrain 293bhp, 1,997cc, 4-cylinder petrol engine plus 141bhp electric drive motor and 13.1kWh li-ion battery
Transmission 8-speed automatic, permanent all-wheel drive
Power output 398bhp @ 5,500rpm (maximum combined)
Torque 472 lb ft @ 1,500-4,000rpm (maximum combined)
Kerb weight (EU / DIN) 2,539kg / 2,464kg
Max trailer weight (braked / unbraked) 2,500kg / 750kg
Off road details Ground clearance 278mm; approach angle 33°; departure angle 30°; ramp angle 25.7°
Boot capacity (rear seats in place / folded) 573 litres / 1,413 litres
Top speed 137mph
Acceleration 0-62mph: 6.3sec
Electric range (WLTP) 25 miles EAER
Official consumption (WLTP) 73.0-88.3mpg combined
CO2 emissions 72-87g/km combined
Charging time (0-100%) 2 hours 45 minutes using 32amp wallbox; 7 hours 30 minutes using the 10 amp home charging cable supplied as standard
Road tax £0 for first year; £140 thereafter
BIK tax payable (2021/22) 7%; £470 (20%) or £939 (40%)
Insurance group 21
Test details
Test period July – December 2021
Starting mileage 3,598 miles
Test updates
August 13: Introducing the Range Rover Sport P400e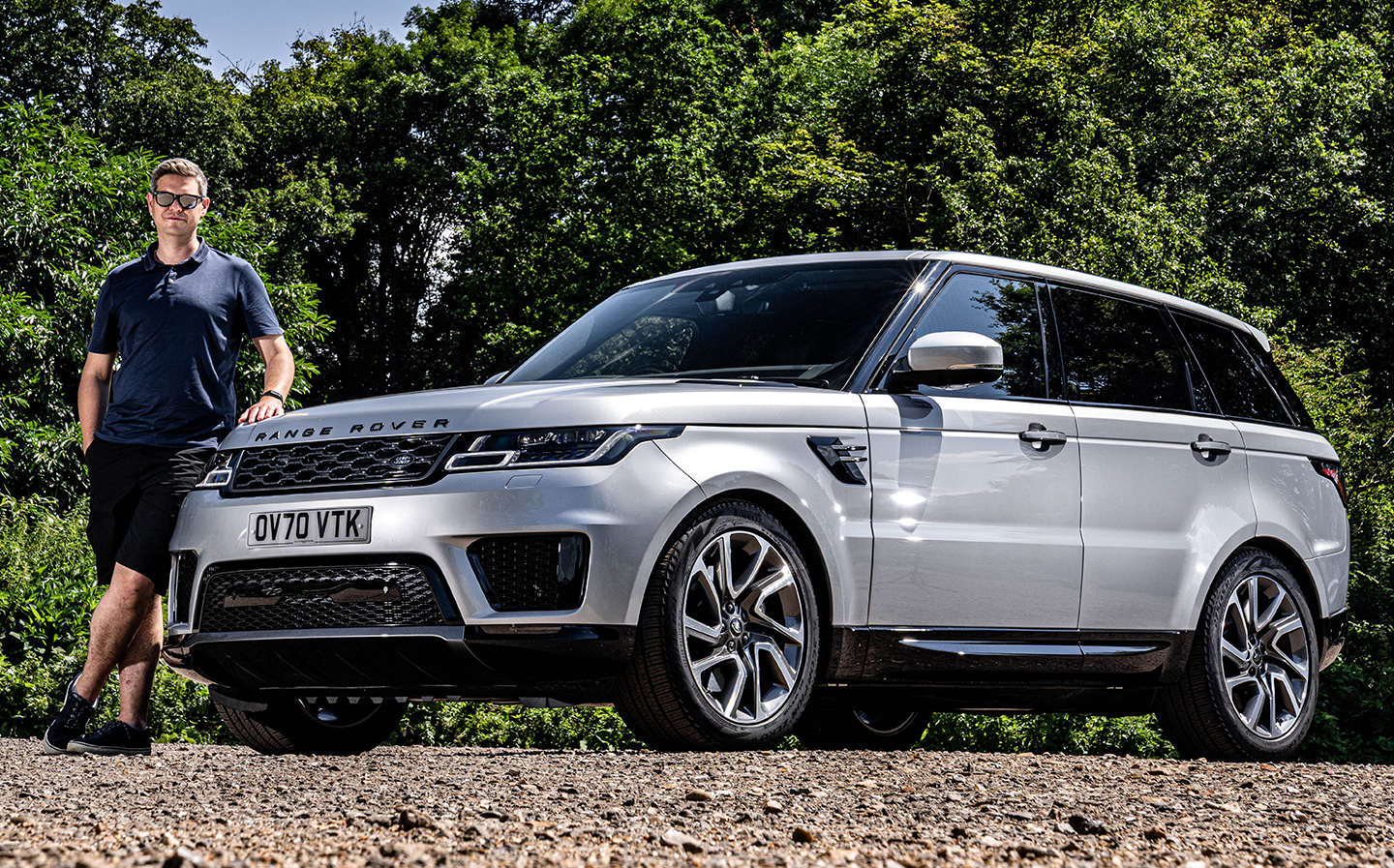 When is a big, powerful, luxury 4×4 not a gas guzzler? When it's a plug-in hybrid — that's the idea of the Range Rover Sport P400e, anyway.
Despite producing 400bhp from its combination of 2-litre petrol engine and electric motor, the fact that it can run on electric mode for 25 miles (officially), its average combined fuel consumption is rated at 73-88mpg, depending on the wheel size. Hmm, we'll see about that.
The Range Rover Sport is, as the name suggests, the full-fat Range Rover's more athletic younger sibling. It's smaller than the Range Rover but, as I realised when I parked next to one, not by much: the Sport's just 121mm shorter, 66mm lower (in the standard ride height setting) and actually the same width.
It's fair to say the Range Rover Sport is still a beast, and an imposing presence on the road. But, as I'll get to in a later update, having recently driven the regular Range Rover, too, the Sport does feel taughter and more responsive on the road. It provides a more entertaining driving experience, rather than all-out comfort.
It's not exactly a new model — my test car was registered last year and plug-in hybrid version was introduced in 2018, when the second-generation Range Rover Sport was refreshed — but as perhaps one of the most advanced and complicated versions of a Land Rover currently on sale, and one I hadn't tested, I wanted to see how it fared over a full six months.
I'm not saying I'm expecting faults to arise but this particular car maker has, let's say, a reputation — rightly or wrongly. Should issues occur, I'll not spare any blushes, and feel free to let me know about your experiences of owning a RR Sport in the comments below.
I could have ordered a shiny new model, of course, and Land Rover recently relaunched its online configurator to allow customers to not only buy online, but also get a full quote for trade-in without having to step foot in a dealership. I'll explore the configurator in more detail in a later post, when I look at the must-have options.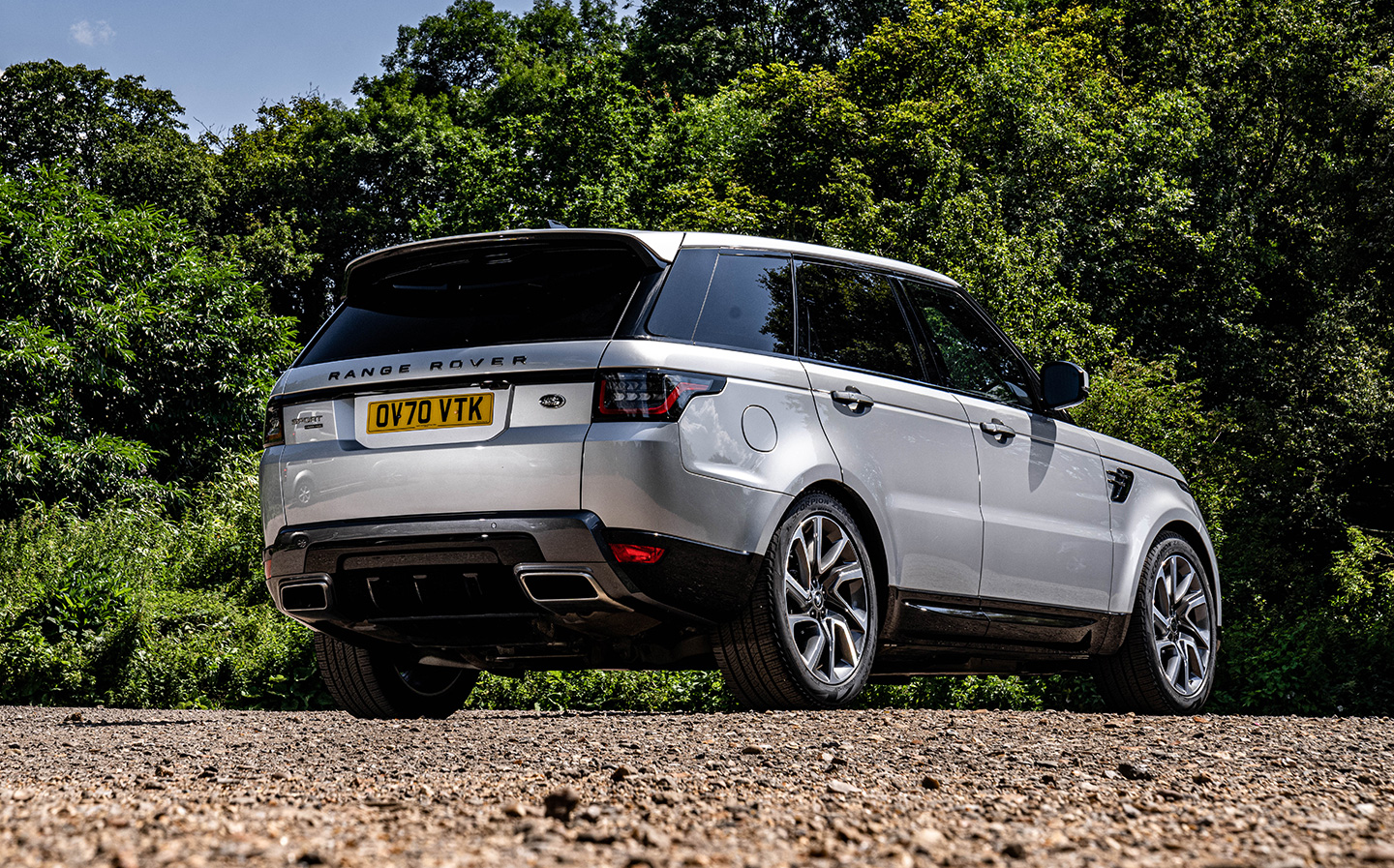 Ordering new would have meant a delay, though, so Land Rover found an example for me ready to go. It's in HSE Silver Edition specification, which is a step up from the entry-level HSE model and adds things like a panoramic glass roof, tinted rear windows, an upgraded Meridian Surround sound system (which actually you get on the P400, anyway), heated steering wheel and front coolbox under the centre armrest. It also includes a few cost options, including three-zone climate control.
One thing I asked for, though, is silver alloys as I'm planning to go off-road with it at some point — all customers are offered a half day 4×4 experience as part of the deal — and didn't want to scratch the black alloys that come as standard. What it means is that the car looks relatively un-gangster, which I like. As another motoring journalist said on Twitter, lose the privacy glass and "it might even have a bit of that old-money vibe of earlier Rangies".
Above HSE spec there's HSE Dynamic, HSE Dynamic Black, HST and Autobiography Dynamic, as well as the SVR and SVR Carbon Edition full-bloody sports versions. Prices start at £64,685, which seems like a lot of money but it's a long way off the price of an entry-level Range Rover, which costs upwards of £83,525, and it doesn't seem to put off buyers: Land Rover sells more Range Rover Sports in the UK than Volkswagen sells Passats.
Of course, if you buy the 400bhp plug-in hybrid, you're looking at a significant premium over the base HSE; the P400e HSE Silver starts at over £75,000, and with options my test car will set you back £78,035.
I've had the car for a month now, and put it straight to use on some long journeys up the motorway. Let's be clear, motorways are not plug-in hybrid territory, as you soon deplete the battery pack and are then asking the petrol engine to do much of the work, which rather defeats the point. PHEVs are best suited to short journeys and regular recharging.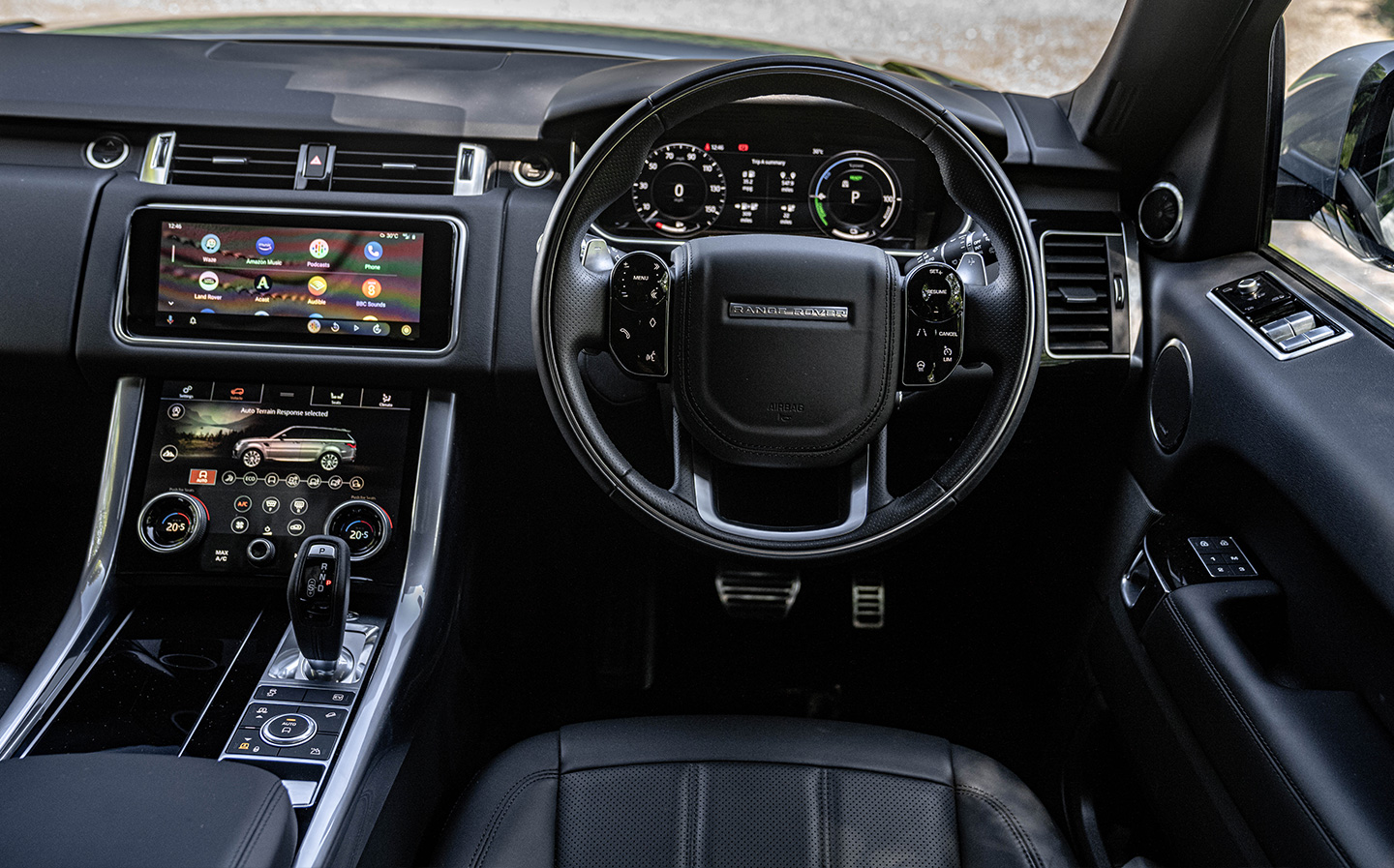 But I noticed fairly decent fuel economy, of 31mpg after a few hundred miles of motorway bashing, and I have since, through regular recharging and local journeys running on electric, got the fuel economy back up to an average of 47mpg.
My next update will be following a UK holiday with plenty of driving, so it will dip again. I'll report on that, as well as how practical the car is for family trips.
Also coming up during my time with the car will be reports on what it's like to drive, what it's like to sit in, some of the tech features including the phone app, recharging, and any issues or niggles. Stay tuned.
Mileage today 4,426 miles
Distance since start 828 miles
Indicated long term consumption 44.1mpg
If you'd like to ask me a question about the car, please do comment below; I try to check comments every week. I'm taking a break from Twitter until they get serious about the rampant misogyny, racism and general hate, which I've been fortunate to avoid but many others suffer.
September 6, 2021 Road trip: how does the RR Sport fare on a family holiday?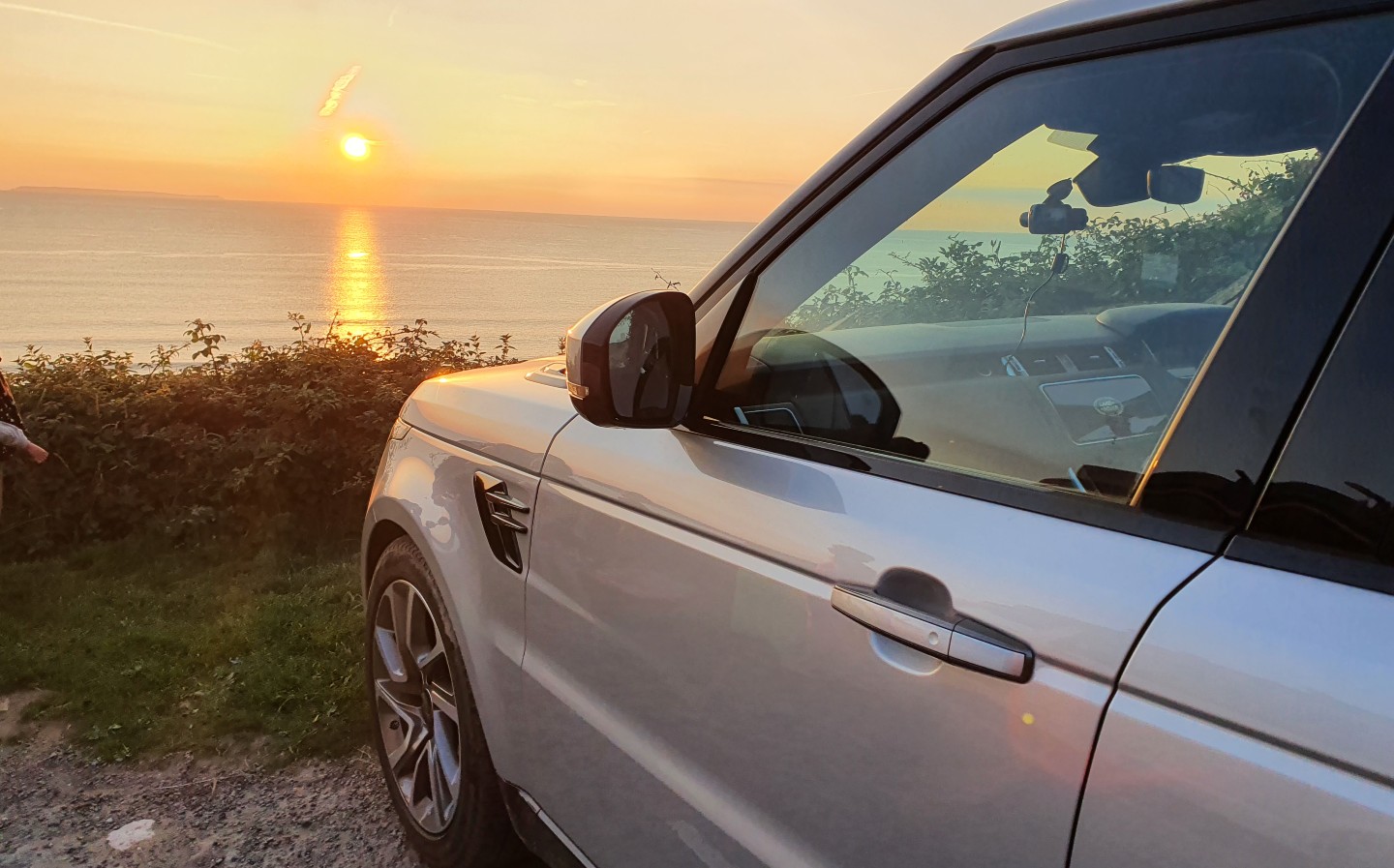 An eventful week with the Range Rover Sport on holiday in Devon and Yorkshire saw me not only add more than 1,000 miles to the odometer but also try out the car on some fairly challenging terrain, discover how good the car is with small children on board and find out what happens when you're forced to take evasive action at 70mph on the M1. We'll get to that.
Boot space
One concern before loading the car with luggage for four was whether we'd need a roof box. As we weren't camping, we didn't have all the extra camping equipment that comes with that, and my children are now seven and five, so we don't need pushchairs and the other kit that's required for smaller kids. With one large case, a medium-sized case and other bags, we just about managed to get everything we needed into the 703-litre boot, behind the second row of seats.
It's worth noting here that the P400e plug-in hybrid model doesn't come as a seven-seater, and sacrifices underfloor space in the boot (normally used for a spare wheel) in order to accommodate the lithium ion battery pack. In fact, the boot floor is 46mm higher than on petrol and diesel versions, resulting in a 79-litre reduction in overall capacity. There is a small underfloor area near the hatch, but it's only large enough for a space number plate, locking wheel nut and tyre goo/pump, in case you get a puncture.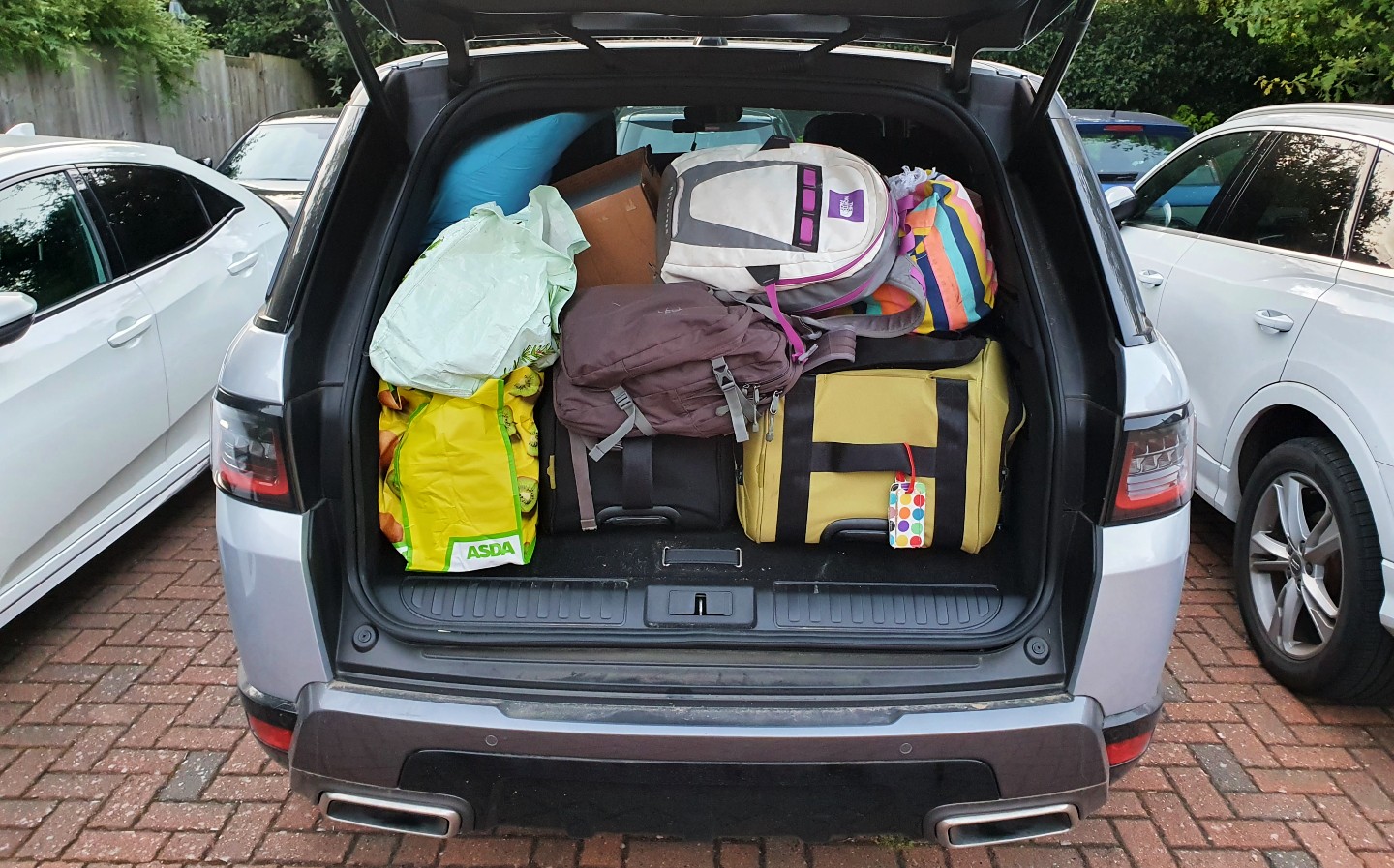 But everything we needed did fit, and the boot floor is still relatively flat, which means you can slide bags in easily. What's more, the space is deep and square, and you can lower the rear suspension using a button inside the boot, which further aids with loading and unloading.
One thing to watch out for, though, is that catching your head on the corner of the boot lid when it's open is very easy indeed, especially with the suspension lowered. It's happened to me a couple of times.
The boot cover is a soft, retractable material but the end flap is hard plastic and can be turned upright behind the rear seats, helping to bags from sliding from the boot into the cabin.
Before any of you comment about it, of course before loading up and setting off, I checked the proper tyre pressures for a fully-laden car, and adjusted them appropriately as part of the usual checks pre-long-distance motoring.
Other notes on practicality 
The holiday revealed a number of great features of the Range Rover Sport. We made full use of the optional refrigerated cool box under the armrest between the front seats, and I installed a couple of DVD players behind the headrests for my children, which were powered by the 12v socket in the rear.
They got used to adjusting the temperature in the rear, as our car is fitted with the optional three-zone climate control, and we kept the central rear armrest down for the duration of the holiday, as the kids found the cupholders and storage tray very handy indeed after stops at motorway service stations.
In fact, whoever designed that armrest clearly has their own children, as it has cutouts that allows relatively easy access to the belt buckles even when child seats are installed (depending on the seat design, that is).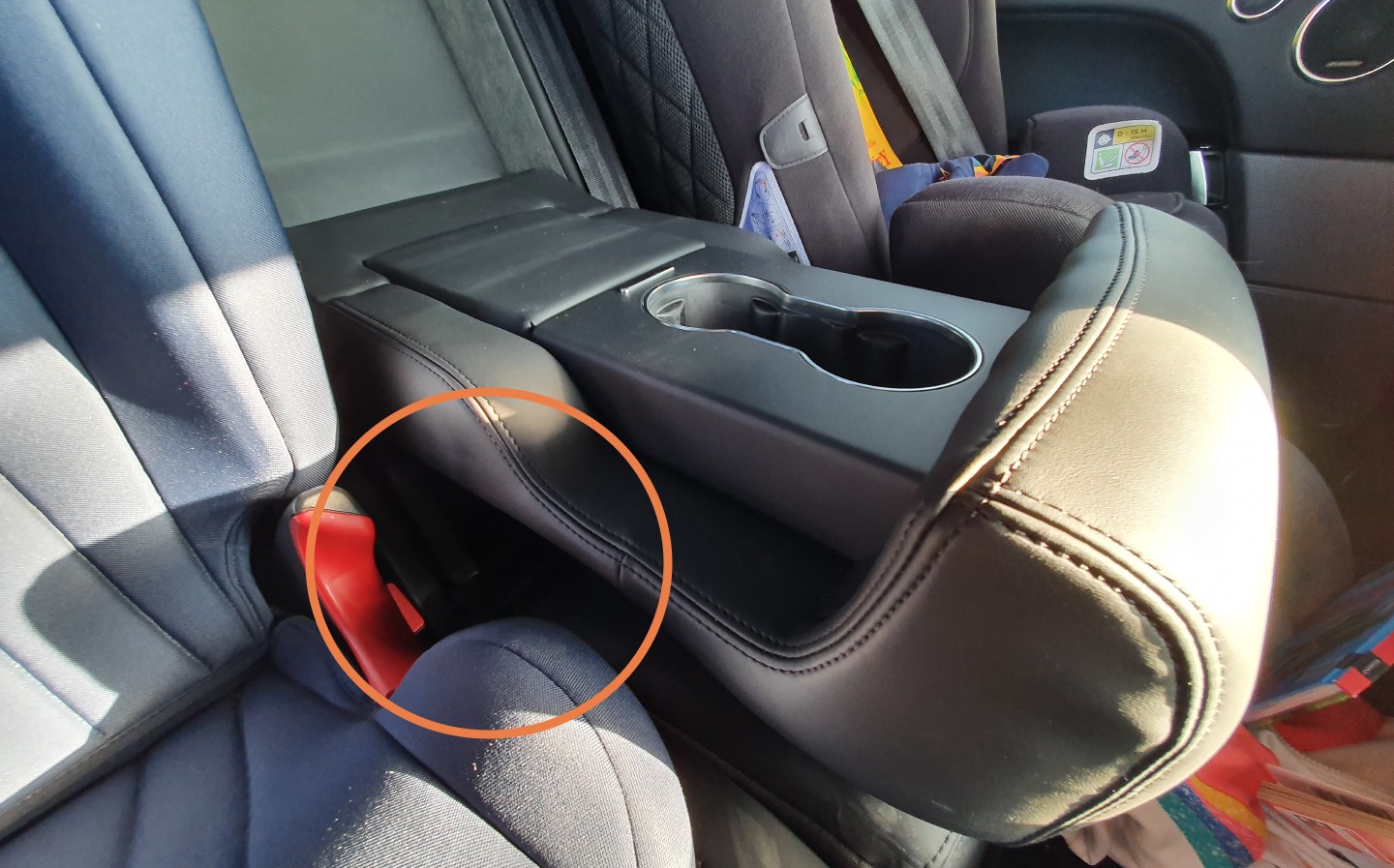 Space in the rear for the children was really good – I didn't hear a peep of discomfort from them over the entire 1,048 miles.
If there's a grumble it's that all four passenger doors are quite long, and they're deep, which means entry and egress is tricky if you're parked lose to another car or wall.
Driving notes
I would normally publish an update on what a car is like to drive before elaborating on other points, such as practicality, but the timing of my holiday means I'm doing things slightly out of sequence. Instead I will go into it in more depth over the upcoming posts, including what the car is like to drive off-road, and of course more than 1,000 miles of motoring across the UK did reveal a lot about the car's capabilities.
Firstly, and perhaps unsurprisingly, it's bloody brilliant for taking to the beach. The Northam Burrows car park at Westward Ho! is a mix of mud, sand and rock. Most cars can navigate it fairly successfully, but only a proper 4×4 like the Range Rover can traverse the worst ruts and muddy sections (the picture below doesn't show those ruts, which are nearer the other end of the beach), and I deliberately crossed sections of ground that would have beached a family hatchback, or had a two-wheel drive car's wheels spinning hopelessly. The Rangie was exceptional, especially in the raised-suspension off-road setting — as one would expect, of course.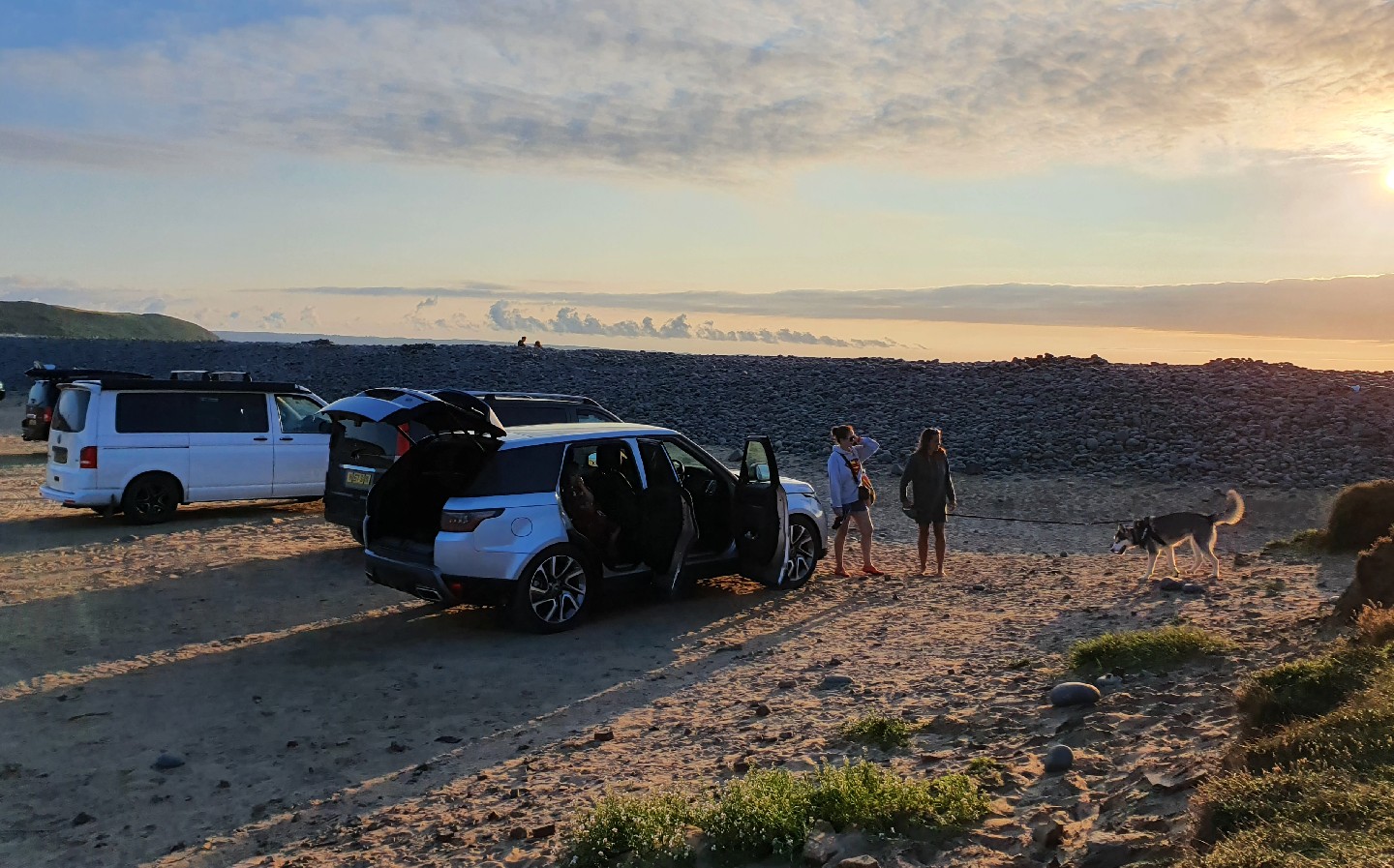 I'm not suggesting a beachside car park is a true test of the car's off-road ability (I'll be doing that at a later date), but Northam Burrows is probably the toughest challenge most owners will give their Range Rover Sport, and it passed with flying colours. Similarly, the raised stance means that potholed driveways that might defeat some estate cars and even some crossovers are no problem for the Range Rover.
Of course, a secondhand pick-up truck could do all this but with the RR Sport you travel in relative luxury and its air suspension means those in the cabin aren't bounced around all over the shop.
I found that the car is most at home on bumpy country roads. On the fairly smooth suburban surfaces near where I live, which are strewn with humps and speed cushions, the suspension feels firm, but show it the undulating, creased roads through the Yorkshire Dales and it irons them out beautifully, resulting in a calm, composed, relaxed journey. Not once did my children complain of nausea, even when they were reading puzzle books or watching movies.
I also got to experience the Range Rover Sports prowess in an elk test. Though I'd rather not have.
The M1 incident
Despite their high speeds, motorways are incredibly dull to drive on. Until they're not.
My dash cam captured the following moment while driving from Devon to Yorkshire on the M1. I was travelling at 70mph in the middle lane, overtaking a lorry, when the cars in the outside lane began to slow (hence me coming alongside) and then came to a complete stop.
The chap in the Dacia Duster next to me didn't have enough time to stop without hitting the back of the panel van in front, so dived into my path, forcing me to jink left and right to avoid making contact. I only just managed to get away with not hitting the lorry to my left, and fortunately — miraculously — the Range Rover Sport didn't pick up so much as a scratch.
As much as I'd like to pat myself on the back and put it down to driver skill, the car deserves much of the credit. If you look at the interior view, and the amount of input required from me to avoid what could have been a pretty serious crash, and then look at the composure of the front of the car in the forward view, you can see how brilliantly the Range Rover Sport's air suspension and electronic stability control systems coped.
What I put the car through, basically, was an elk (or moose) test — a now-standard safety test for car manufacturers, based on independent tests carried out by Scandinavian car magazines and safety bodies, whereby you're imagining an elk has run in front of the car and you're forced to jerk the wheel left and right to drive around it. Some older cars struggled with it. Famously, when the Mercedes A-Class was first launched, it really struggled, resulting in the manufacturer fitting its ESP stability system as standard.
The A-class is a small car, though — the RR Sport is much taller, and it's a car designed to tackle proper off-road courses. Yet it seemed to shrug off this incident without breaking a sweat. I was absolutely amazed. I do hope the rest of my time with the car is less exciting.
A point about charging
Public charging points aren't exactly prolific in North Devon or Yorkshire, I found. The Asda and Tesco superstores in Barnstaple have a few 7kW posts (operated by BP Pulse and PodPoint respectively), which enabled me to almost fill the battery on one occasion during my holiday, and there was a 22kW EVCharge post at the Sandy Cove hotel (which offers stunning views across the coast to Wales), but most of the time I was relying on petrol power. This is a clear benefit of a plug-in hybrid – if you aren't staying somewhere at which you can plug in overnight, or travelling near to rapid charging points, a PHEV is actually a brilliant option.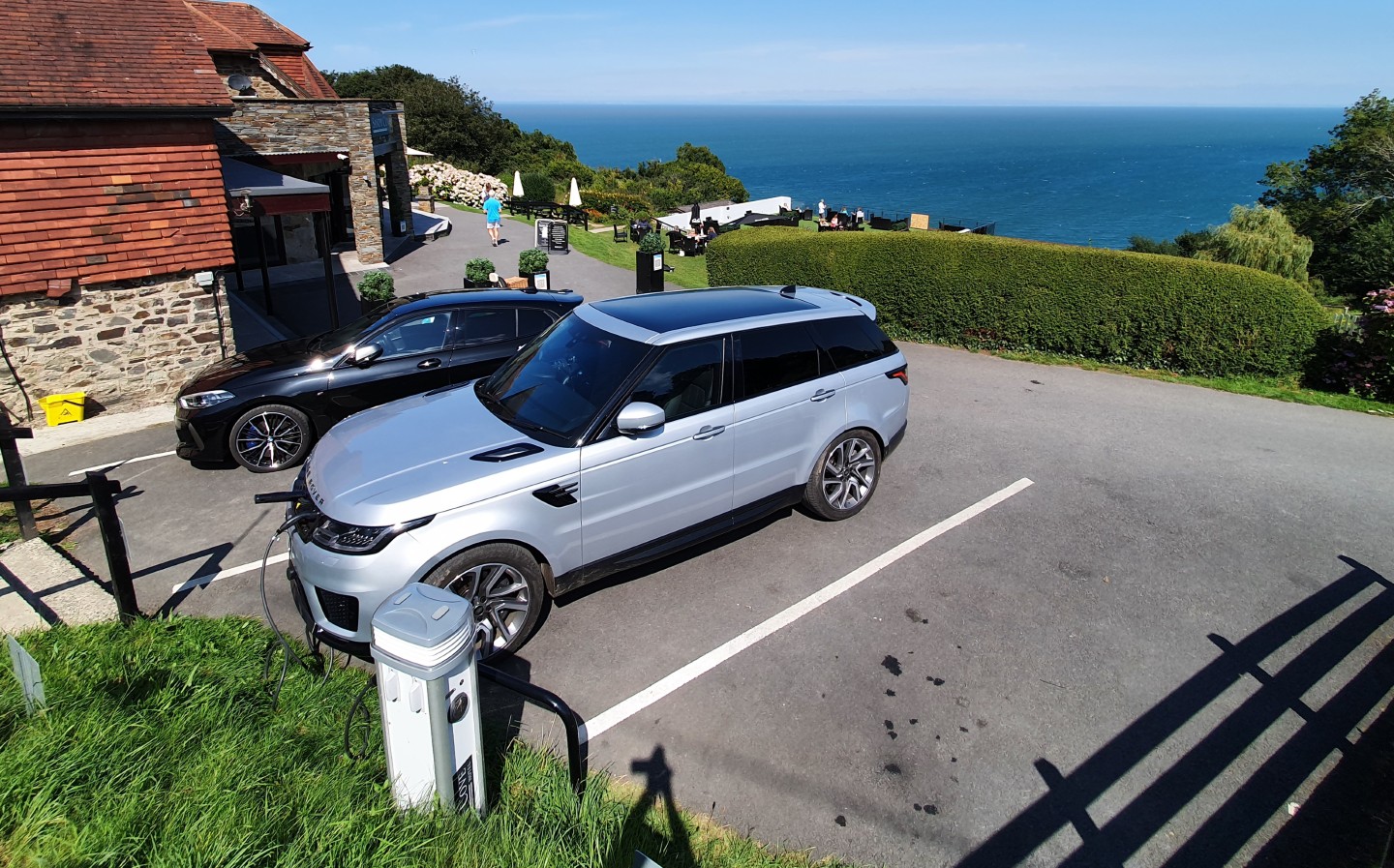 And whereas the Skoda Octavia iV PHEV that I tested earlier this year has a fairly small tank, the Range Rover Sport P400e can take on a huge amount of petrol — 91 litres — enabling long runs between refills of around 500 miles. So while it's painful to watch the cost rising as you stand at the petrol pump (a full tank will cost you over £90 at present), it's a comfort to know that when you get back home you can resume running on cheap electricity. I am currently looking at switching to an Economy 7 home energy tariff, so that the electricity costs me just 5p per kWh after midnight. Cheap as chips.
So, of course the average fuel economy has taken a hammering since the giddy highs of 47mpg before my holiday, and dropped as low as 36mpg by the time I returned home, but I'm already beginning to see it rise again now that I'm home and predominantly running on battery power.
Mileage today 5,645 miles
Distance since start 2,047 miles
Indicated long term consumption 37.2mpg
If you'd like to ask me a question about the car, please do comment below; I try to check comments every week. I'm taking a break from Twitter until they get serious about the rampant misogyny, racism and general hate, which I've been fortunate to avoid but many others suffer.
November 8, 2021 How economical is the Range Rover Sport P400e, and how easy is it to recharge?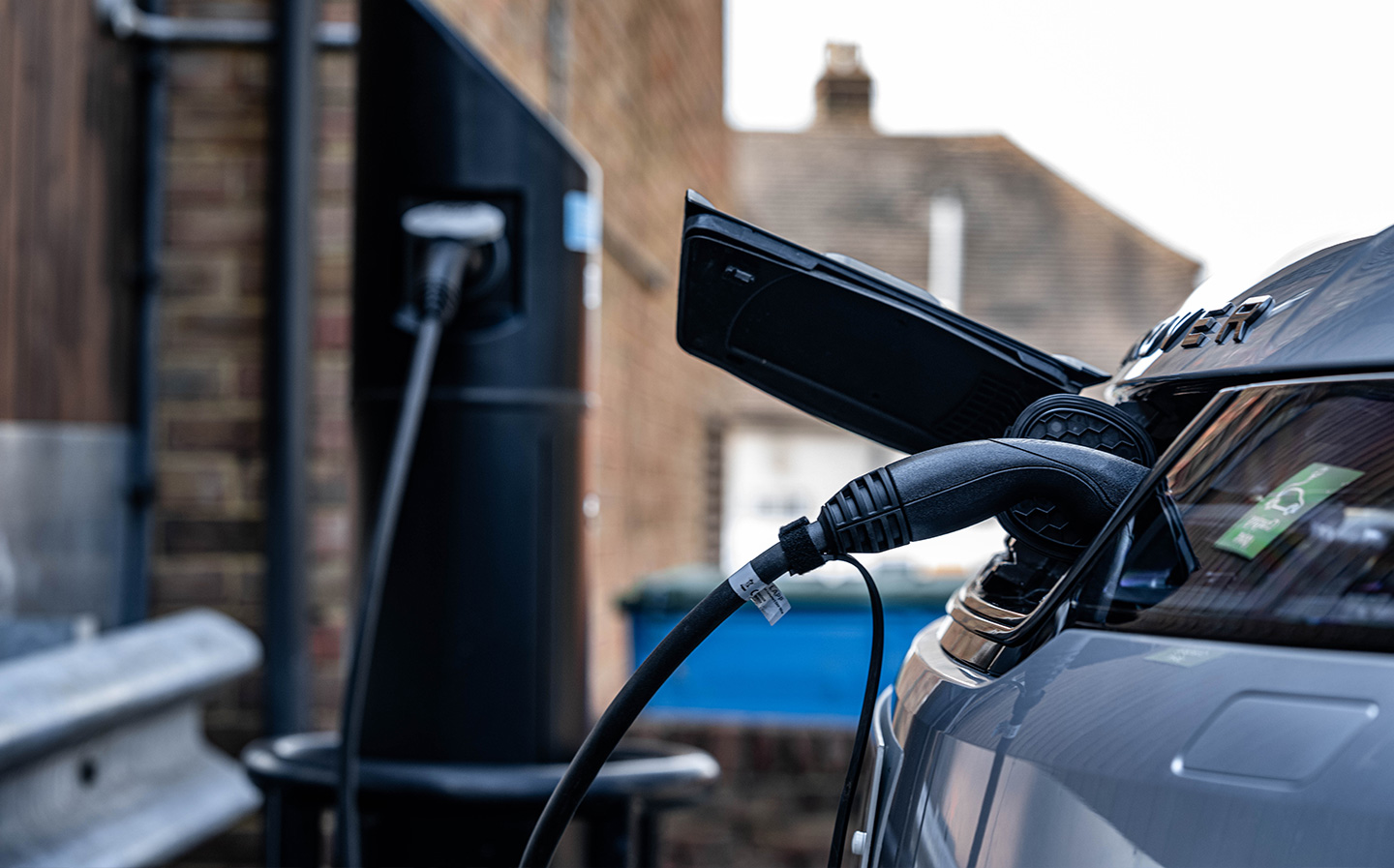 I have always wondered how many people buying a Range Rover care about fuel economy. They're expensive cars so you could be forgiven for assuming the owner can afford £100 a week (which would be just over a tank) on fuel, or perhaps even twice that, and that fuel economy is an irrelevance. But then, we're told, people with money often care deeply about counting the pennies.
Costs of running a plug-in hybrid aside, there may be practical questions you have about how and where I've been plugging in, how often and whether or not it's worth it.
Let's start with how I charge: anywhere I can, basically. I plug in at home overnight and have recently switched to Octopus Energy (guess what, my old supplier Green Network Energy went bust, as many are at the moment), which is a favourite of electric car drivers. Its costs aren't necessarily the cheapest, though they are very competitive and I admire the company's policy on transparency. There's no pulling the wool over your eyes and trying to sign you up to a more expensive tariff on the pretense that it's doing you a favour, which is exactly what EDF tried to do when it took on Green Network customers.
But with Octopus (which isn't paying me for publicity, by the way), I've also managed to switch to their Economy 7 tariff, called Octopus Go, which charges around 14p/kWh during the day but that drops to 5p/kWh between 00:30 – 04:30 every night, representing a massive saving by scheduling the car to charge between those hours — I'll get to how you can do this with the Range Rover Sport in a minute.
First, it's worth pointing out that if you are fortunate enough to be able to fit a wallbox charger to your home, with power output of around 7kW or 11kW (which are the standard options today from most installers), charging can take as little as 2.5 hours — easily enough to full charge from empty during the cheaper hours of my tariff. Land Rover has some recommended suppliers, and installation can be arranged through your friendly neighbourhood dealer. As part of the deal, negotiate the optional "Multi-function Charging Cable" (aka a Mode 2 cable, which is the standard at most AC public charging points). You may find a wallbox comes with a "tethered" Type 2 cable, which is more convenient for easy plugging in and unplugging, but a separate cable is an essential purchase anyway for when you're away from home.
However, I don't have a home wallbox as it's impossible to install one at my home (long story but I have had engineers from Chargemaster (now BP Pulse) and Pod Point visit and it would involvecutting holes through my house and lifting slabs in a shared car park managed by our housing estate, which means lots of red tape. So I charge using the three-pin Home Charge cable, which is supplied as standard with the car and plugs directly into a regular wall socket mounted at the end of my garden.
I'm lucky I'm able to do that, though: around 25% of UK drivers are thought to park on the street, or up to 60% in London. If that's you, don't run a cable from your house out to the car across pavement — instead, lobby the local council to install chargers on your street. Lamp post chargers are a great idea, and the cables provided with them are linked to your own energy tariff.
Of course, charging via a three-pin socket at 13 amps draws power more slowly than from a dedicated wallbox. At up to around 3kW, a full charge of the P400e takes up to 7.5 hours. That means some of the charge is at my regular 14p/kWh, but I still get at least half at the 5p/kWh rate.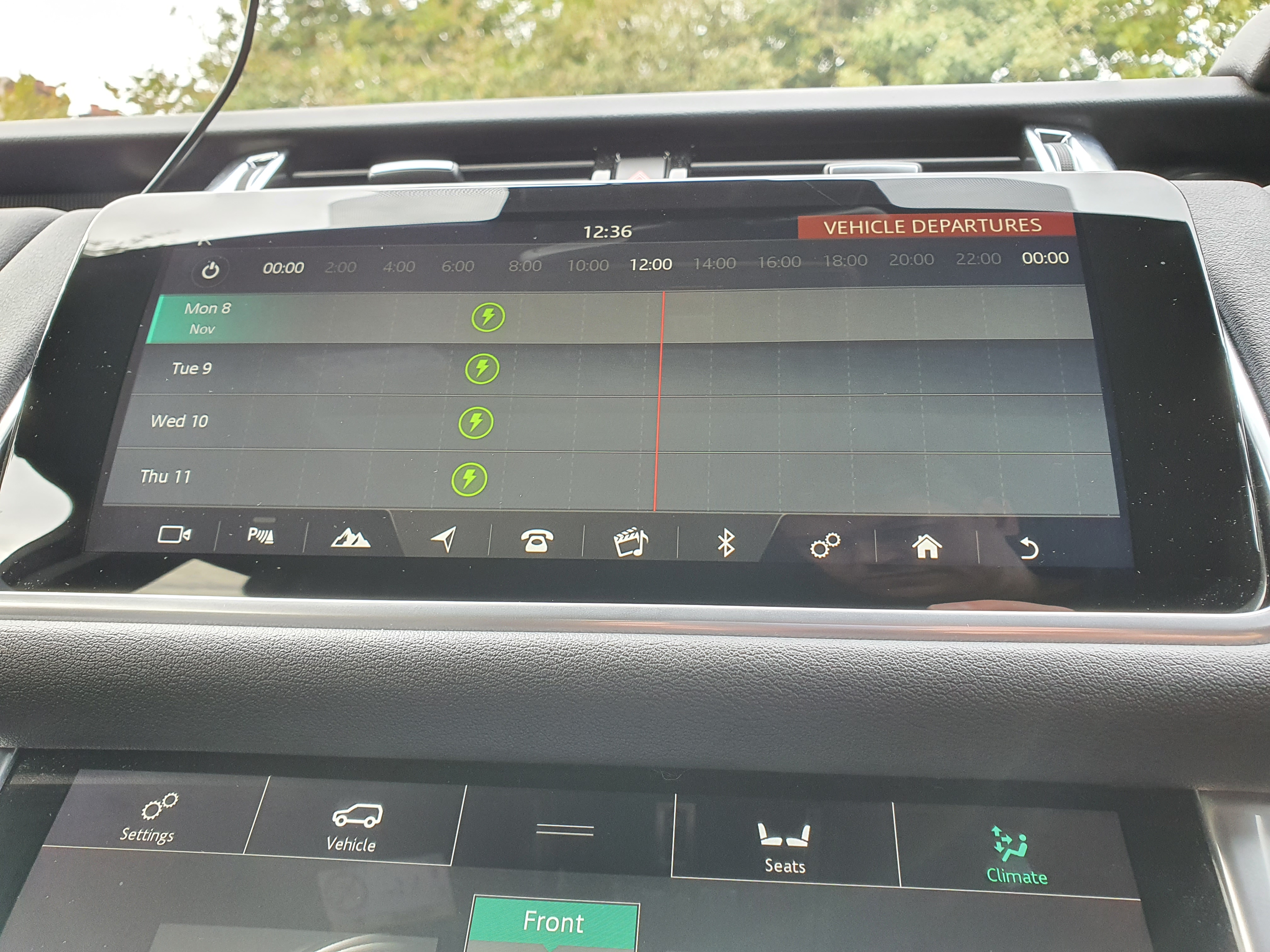 Scheduling should be easy, but I found that setting the "Charge Period" via the Land Rover mobile app wasn't enough — for some reason the car still started charging any time I plugged in. There is a second option, though, which I set via the vehicle's touchscreen. Swipe left from the main menu and you get a My EV sub-menu, and from there you can swipe again to set "vehicle departure" times. Basically, you're telling the car to be ready to go at a certain time each day, and you can adjust it per day of the week (which is handy if you drive to the office three days a week instead of five, for example). You can set the timer for both climate control, so that the car is toasty warm and defrosted when you climb in, or charging.
I have told the car to be charged by 7am each day (adjusted from 5am in the pic below), and combined with the charge period of between 00:30 and 7.30am, that seems to have done the trick. Now when I plug the Home Charge cable into the three-pin socket at the end of my back garden (it was installed by an electrician specifically for the task of charging EVs, so I know it is safe), the car waits until after midnight before actually sucking the juice from its straw. And if you turn up at a public charger and want to charge at any other time? When you switch off the car a message flashes up to ask if you want to charge now, so it's easy to override ad hoc.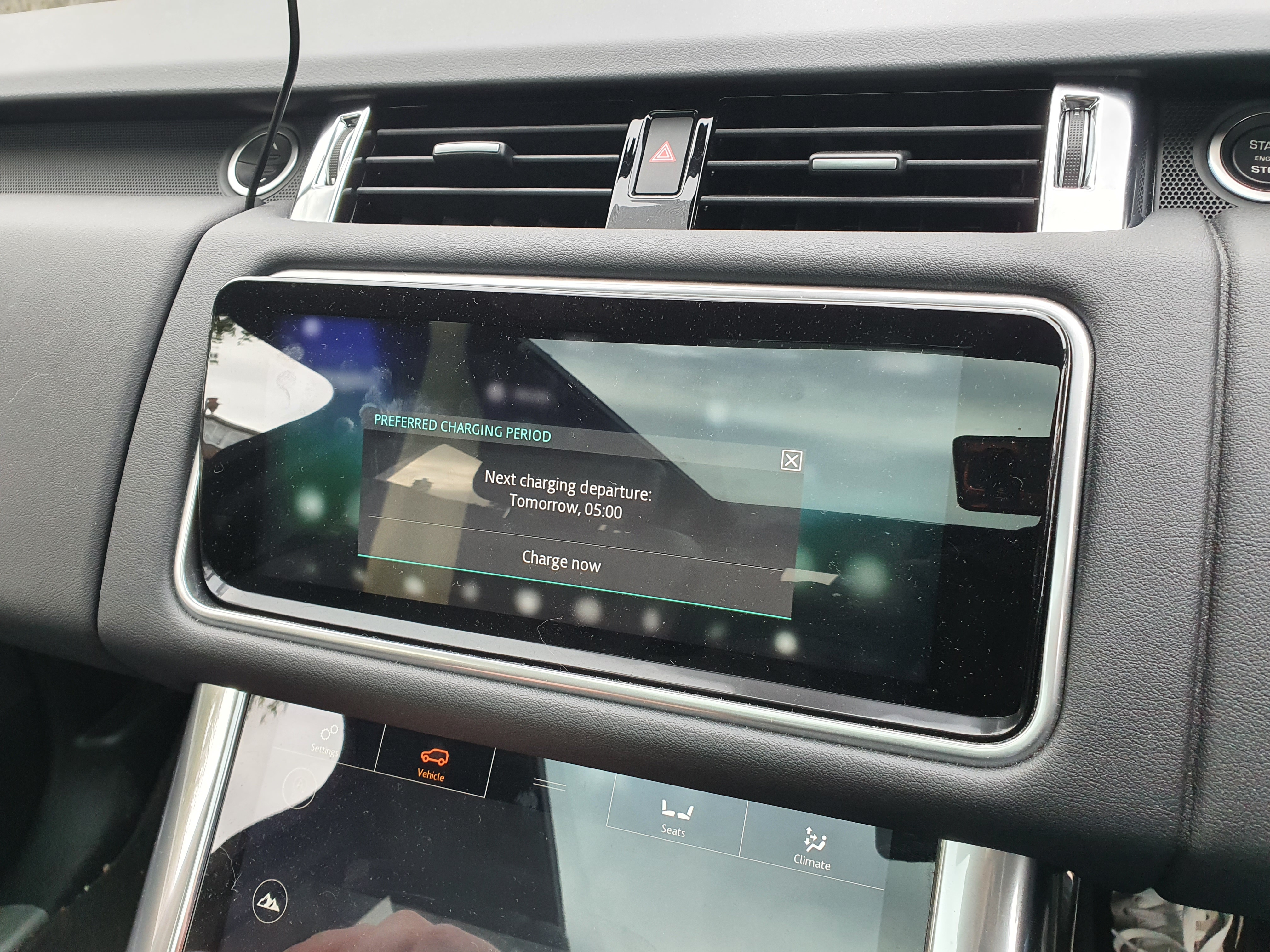 Is it essential to plug in every day? No, not at all, but you're wasting money if you don't, not to mention creating unnecessary emissions. I mentioned in a previous post that on long motorway journeys the Range Rover Sport gets about 31mpg. That, or potentially worse around town, would be the norm so you'd be visiting the petrol station fairly regularly. With prices currently at record highs, that's not a smart choice.
If your employer pays for your fuel then you may be inclined not to bother increasing your home electricity bills, but on your conscience be it — you're spewing unnecessary carbon into the atmosphere. Shame on you. Instead, come to an agreement with your employer to pay the additional electricity charges, over and above your previous usage, each quarter.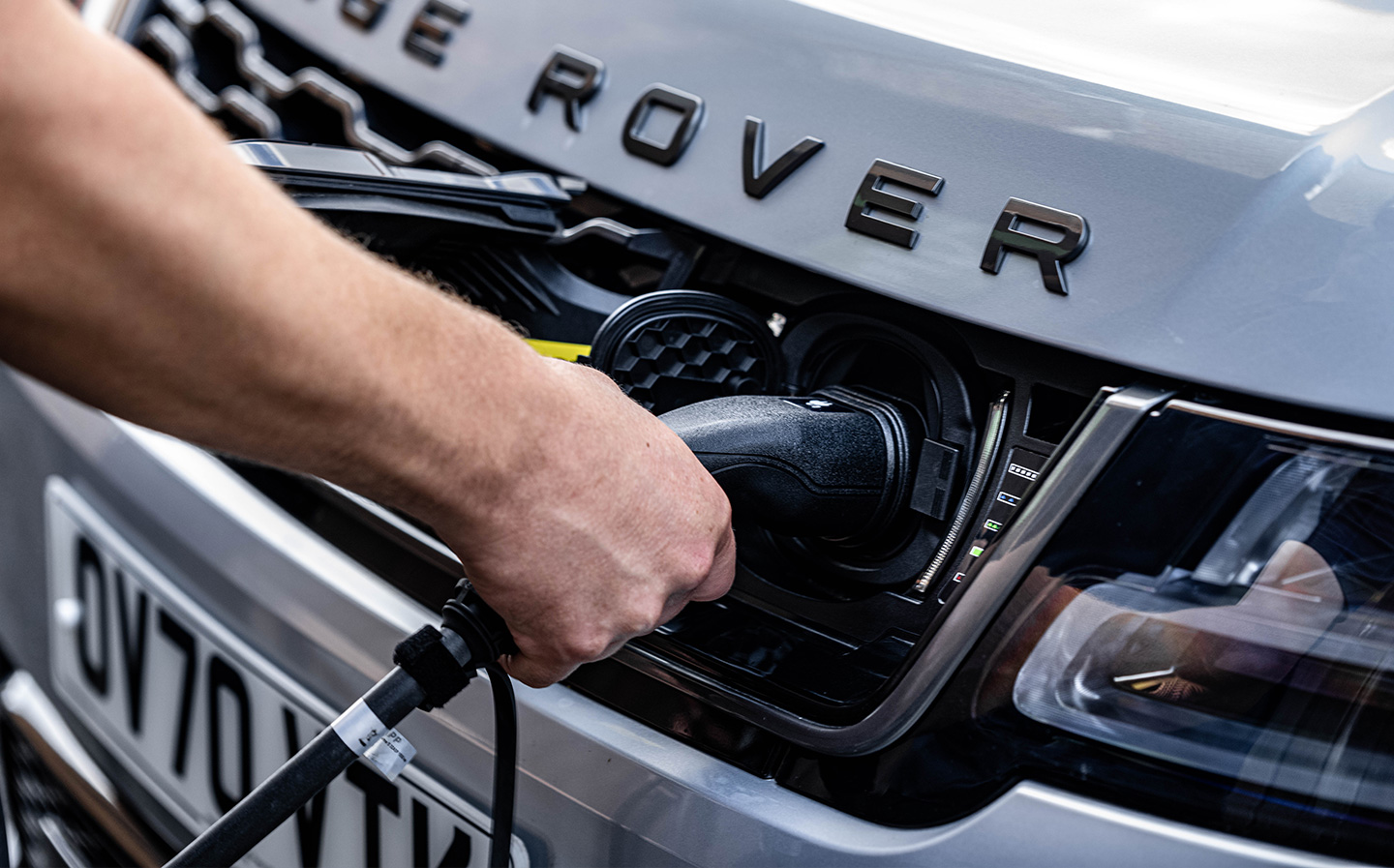 When driving around town, I will always press the EV button to maximise zero emission driving. I actually get a kick from trying to put off visiting petrol stations, not least because I was horrified at the amount of money it cost me the last time I did (which was before the last update, as I've not had any really long journeys to make in the last couple of months). I'll need to fill up again later this week, as I'll be heading to Oxfordshire to drive a couple of interesting cars, but since my summer holiday I've watched the average fuel economy creep up from 37.2mpg at the last update to 46.8mpg today. That's over the entire 3,038 miles that I've driven the car, meaning I've burnt 65 gallons of petrol, or 295 litres — around three and a half tanks since July.
I'd love to tell you how many kWh of electricity it's consumed on top but that's a bit trickier, as it's not obvious from the readouts. I'll compare energy costs from before and after I started running the car and get back to you on that, but a full recharge at 5p/kWh would cost 65.5p and with an official electric range of 25 miles that's 2.62p per mile. Even if you recharge at a cost of 14p/kWh, that's still only 7.33p per mile. Now you know why I plug in whenever I can.
One last thing: as expected, the colder weather is impacting range. Whereas I could expect up to 31 miles of electric driving indicated during warmer weeks, the car reckons around 21 miles is more likely when the mercury drops. This is common with battery-electric cars, as the cold plays havoc with the lithium ion chemistry.
Mileage today 6,637 miles
Distance since start 3,038 miles
Indicated long term consumption 46.8mpg
If you'd like to ask me a question about the car, please do comment below; I try to check comments every week. I'm taking a break from Twitter until they get serious about the rampant misogyny, racism and general hate, which I've been fortunate to avoid but many others suffer.
Related articles
If you are enjoying this review of the Range Rover Sport P400e plug-in hybrid and want to read more of our long-term car reviews, click here
You might also be interested in the all-new Range Rover for 2022, which gets upgraded hybrid power, ultra luxury and a date for pure-electric version