Extended test: 2021 SsangYong Rexton 2.2 Ultimate review
Can SsangYong's large SUV compete with rivals from big brands?
---
Published 30 January 2022
SsangYong Rexton specifications
Model Ssangyong Rexton 2.2 Ultimate Auto

Price £40,665

Price with options £40,665

Colour Fine Silver

Cost options fitted n/a

Engine 2,157c, 4-cylinder, diesel

Power output 194bhp at 3,800rpm

Torque 325 lb ft at 1,600-2,600 rpm

Weight (DIN/EU) 2,950kg / 3,025kg

Towing capacity 3,500kg (braked) / 750kg (unbraked)

Luggage capacity 240 / 1,806 litres (7 seats up / all seats down)

Top speed 114mph

0-62mph 11sec

Fuel consumption (WLTP combined cycle) 33mpg

CO2 emissions (WLTP) 225g/km

VED (road tax) £1,305 for first year; £150 thereafter

BIK tax payable (2020/21) 37%; £2,501 (20%) or £5,002 (40%)

Insurance group 35U
Test details
Test period June to November 2021
Starting mileage 410 miles
Updates
---
July 26, 2021: First impressions of the SsangYong Rexton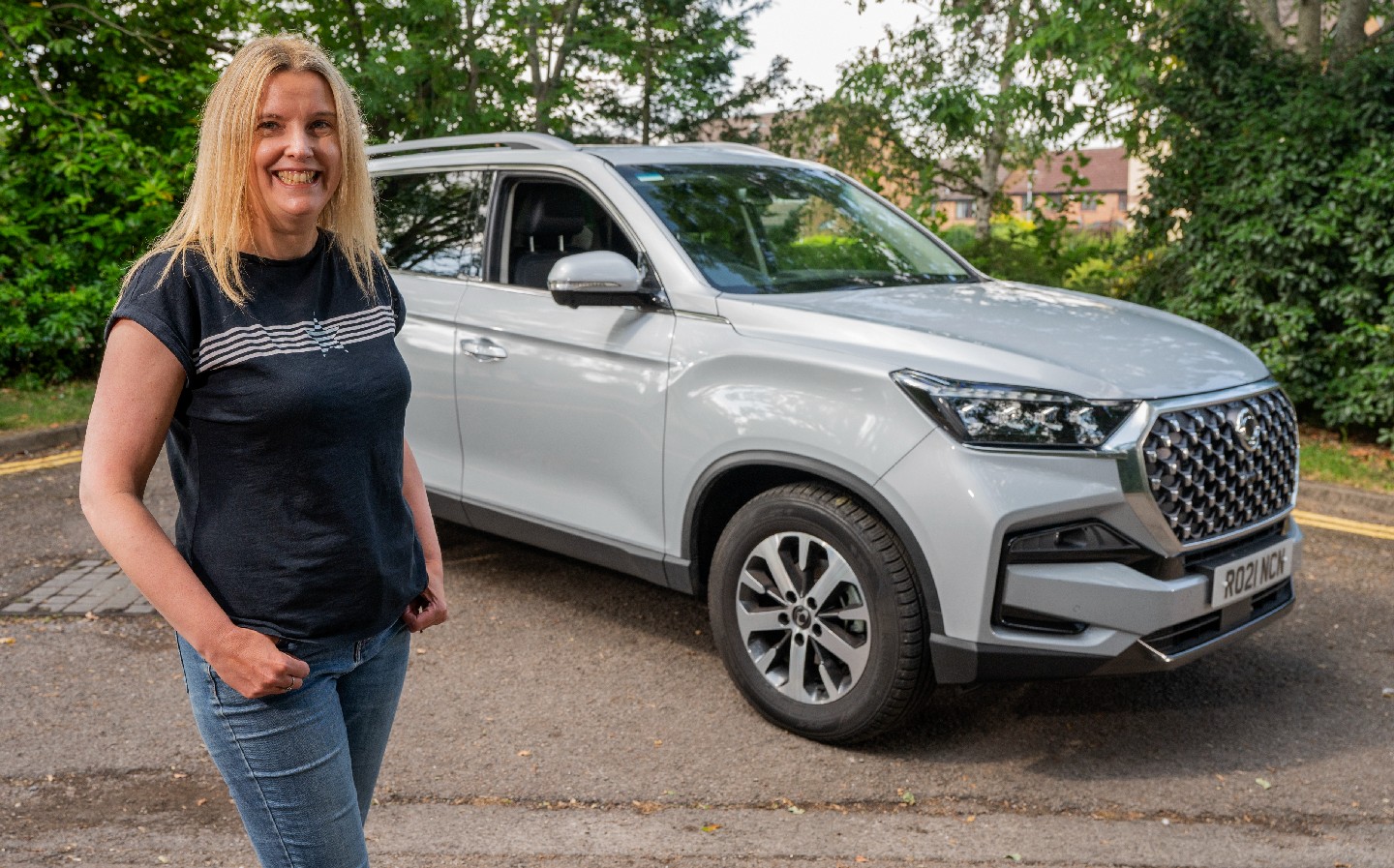 First impressions count for a lot in my book, so when the SsangYong Rexton rolled on to the drive I was pleasantly surprised as it had real presence and a smart front grille, generating a strong sense of curiosity about one of South Korea's lesser-known automotive exports.
Relatively unheralded compared to its counterparts Kia and Hyundai, SsangYong has a job to do to build its brand in the UK but the model range seems suited to the current market's appetite for larger and more practical cars that fit busy family lifestyles.
My background knowledge of the brand wasn't extensive before the Rexton's arrival but I was aware it has a very loyal following among rural-minded equestrian and caravanning aficionados, with exceptional pulling power for those who love a tow-bar in their lives. SsangYong is a proud maker of workhorses but this website's editor told us that in recent years it has massively upped its game in the comfort and refinement stakes.
My long-term review of the Rexton won't involve transporting horses or setting up camp with a four-berth holiday home, but I will put it through a comprehensive range of terrains and journey types as we take it on a few beach and forest summer expeditions. Early indications suggest it's well up to the job and has lots of exciting features for us to explore.
My Rexton is the 2.2 Ultimate top-of-the-range model. It comes with eight-speed automatic transmission and has selectable 4×4 with low ratio, which hints at go-anywhere potential.
When I say it's a big car many may think this is standard SUV review territory, but with 1,806 litres of interior space (all seats are down) it's firmly at the top end in terms of room. And the ride height adds to this imposing feel — it's very high off the ground.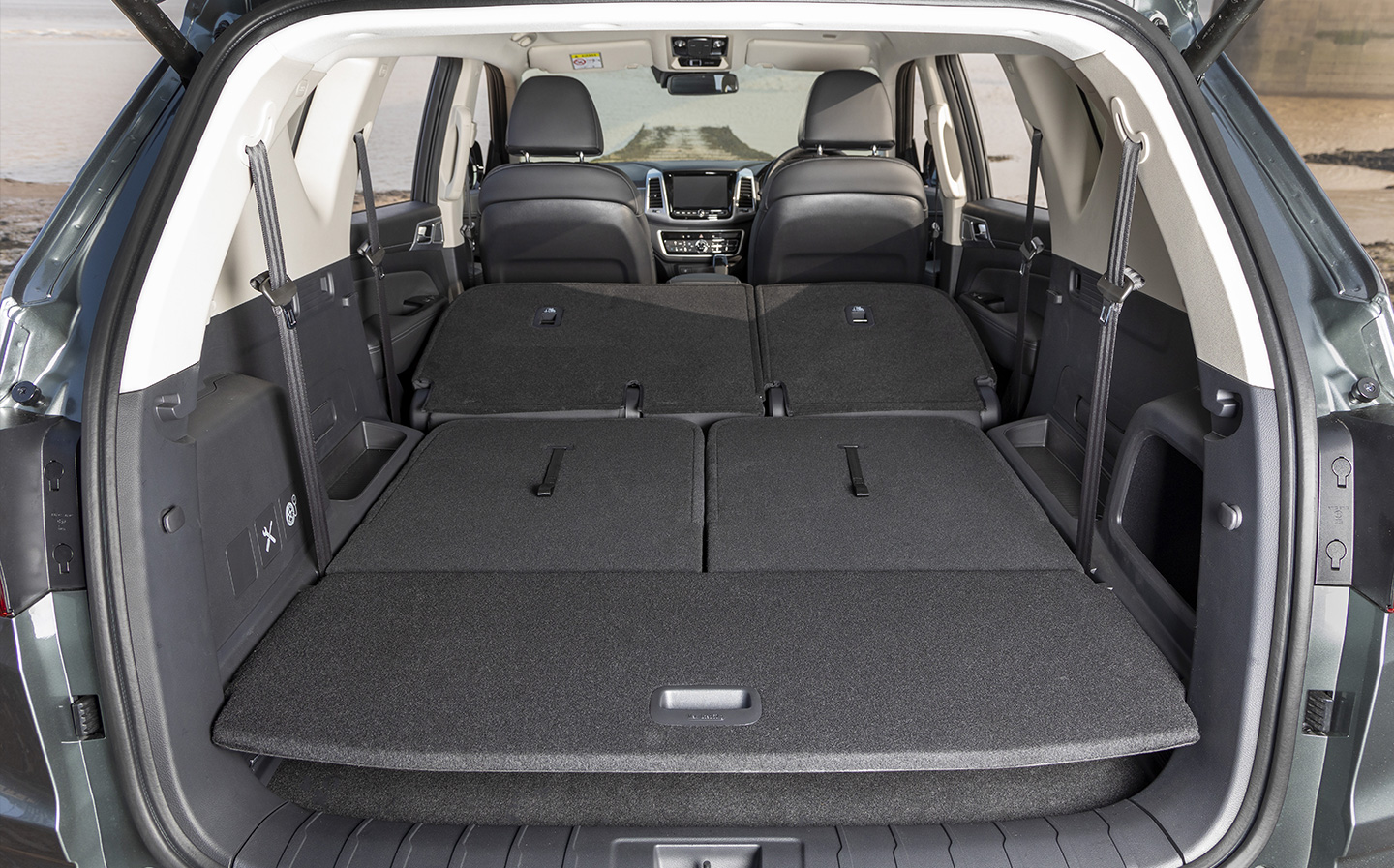 So it's tempting to think of competitors being large SUVs that also offer seven seats, as the Rexton does, but with the proper off-road capability, the Rexton is a bit more specialist and utilitarian than the likes Volvo XC90 and Skoda Kodiaq (see here for Driving.co.uk's review).
Really, the Rexton's rivals are the likes of the Toyota Land Cruiser and Mitsubishi Shogun Sport (though Mitsubishi is currently withdrawing from Europe), as it shares their apparent ruggedness and sense of trustworthiness.
But after a month with the car the Rexton seems to offer incredible value for money, comparatively. The air conditioning (front and rear seats) has been first class during the recent heatwave and is easy to operate via the dial in the dash (rather than having to go into a fiddly touchscreen menu, which has driven me slightly bonkers with some other new cars).
The front two seats are also ventilated, allowing a cold breeze to flow through the fabric. It's a great option I haven't encountered before — only a few years ago, ventilated seats were the preserve of Bentley and Rolls-Royce, so it's amazing to see it trickle down to SsangYong.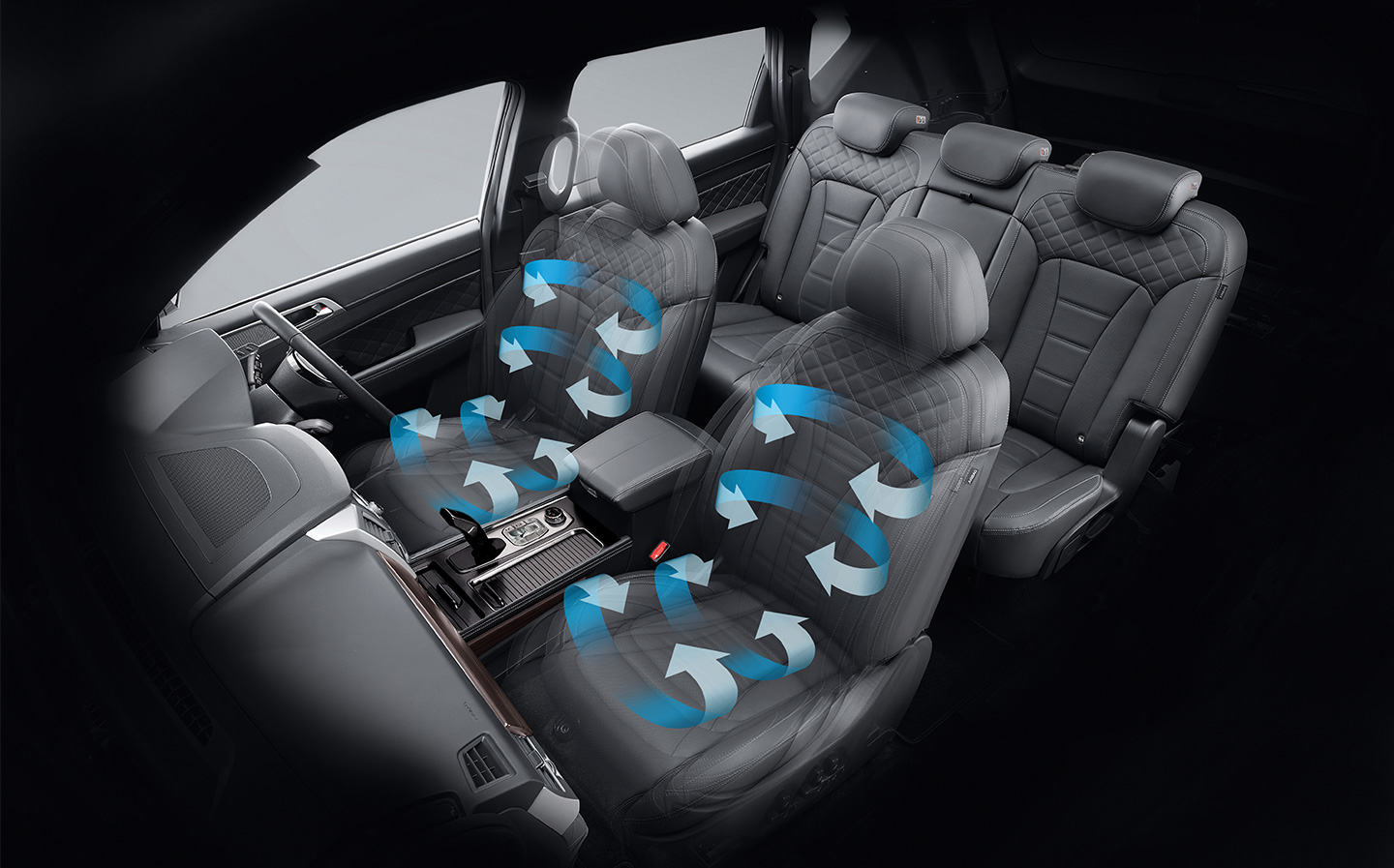 Mileage this month 402 miles
Mileage to date 2,170
Average economy 34 mpg
As ever with our extended tests, you can ask questions at any time via Tina's Twitter account or the comments below.
Tweet to @tina_milton Follow @tina_milton
September 24, 2021: The Rexton reveals itself over hills, coastal roads and motorways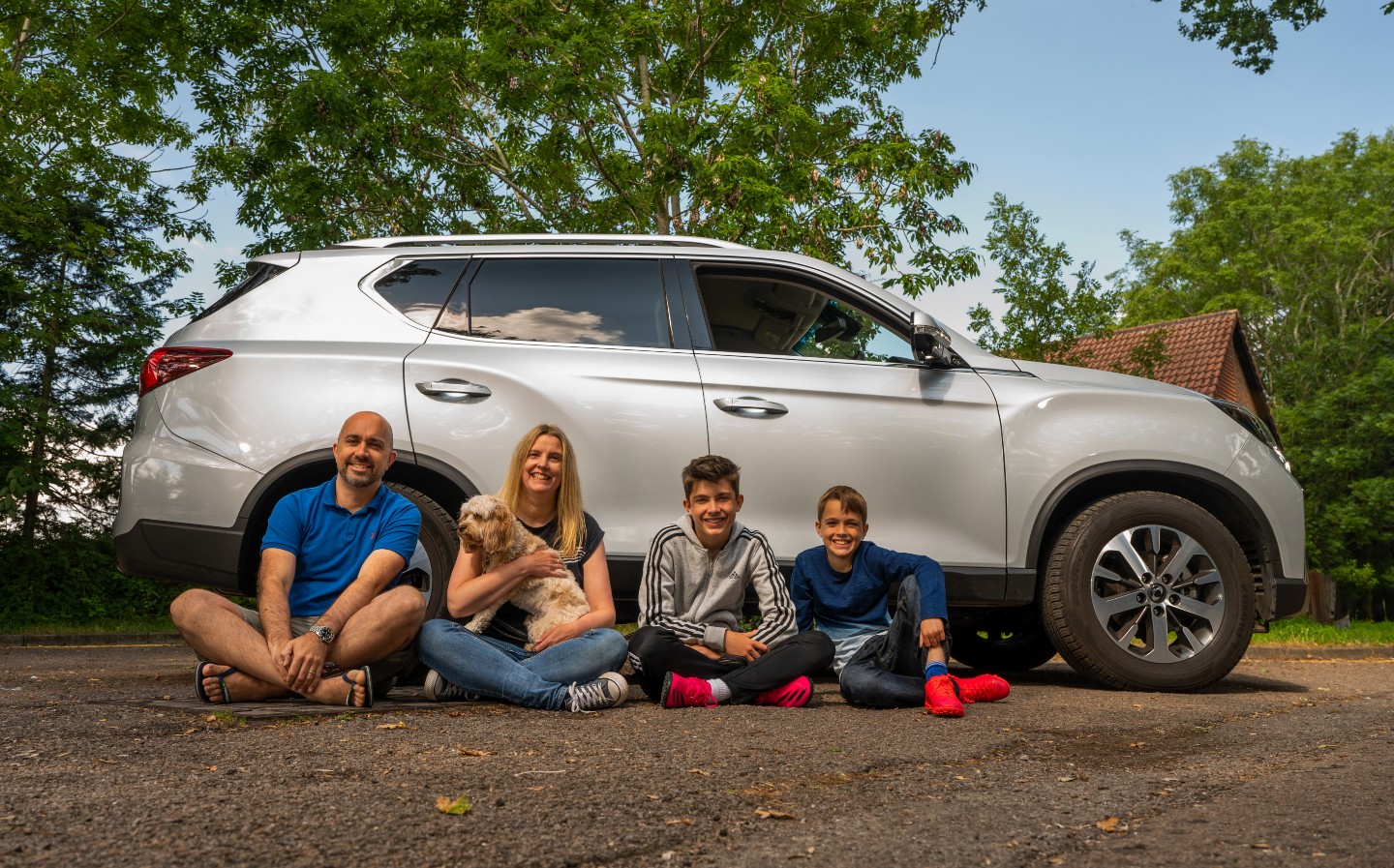 Well, sorry for the delay in posting this second update but there are extenuating circumstances. Unfortunately in the last month I experienced a problem with a camera that is mounted in one of the Rexton's wing mirrors, which led to us having a blurred view on the right hand side when using it for parking or tight manoeuvres.
We reported this to SsangYong and they took the car in to be looked at and fixed. In truth, the customer service was excellent and we were provided with a Musso Saracen courtesy car for the time the Rexton was away, even enjoying a fun weekend camping trip to CarFest in it. The Rexton was returned with the camera in full working order, which is very pleasing as the tech set up has been one of the areas that I've been most impressed with. I'll spend my next update giving this specific focus.
Despite the issue, I managed to rack up some remarkable mileage over the summer, so I'm now well acquainted with the Rexton's many features and how it is to drive across different types of terrain.
Over trips to Dartmoor's endless hilly lanes, Norfolk's coastal undulations and Kent's motorway network, I've given the Rexton a thorough workout, and I'm impressed by its performance. I may not have been utilising its well-known towing capability but it's much more of an all-rounder than I had anticipated. The manufacturer stats say it manages 0-62mph in a moderately slow 11 seconds but I found it isn't ponderous and felt much quicker than the stats suggest. It's a big beast and it responds well for its large size when I need to put pedal to the metal.
In hilly conditions the Rexton's performance data dipped to 28mpg, as it hauled its mass up and down the Devon unulations during our week away. Clearly thirsty work and a point to consider if hills are a major part of your daily driving. Contrastingly, a recent motorway journey allowed me to toy with the easy-to-operate cruise control, hitting a decent 38mpg over 50 miles. Diesel's been given a bad name in recent years but I think it's worth pointing out that cars such as the Rexton can still be perfectly suited to drivers with high monthly mileage.
A big thumbs up must be given to the Rexton's cluster of steering wheel controls. Initially, I felt it resembled something last seen in Luke Skywalker's X-Wing fighter. Far too many switches with no clear purpose and a little alienating to the eye. However, with plenty of time to experiment, I'm converted to the Rexton's Jedi set up. I've been seamlessly flicking through dashboard settings, cruise control, sat nav configuration and asking Siri (via Apple CarPlay) to play my next podcast. The heated steering wheel is another feature I'll enjoy in the coming colder months.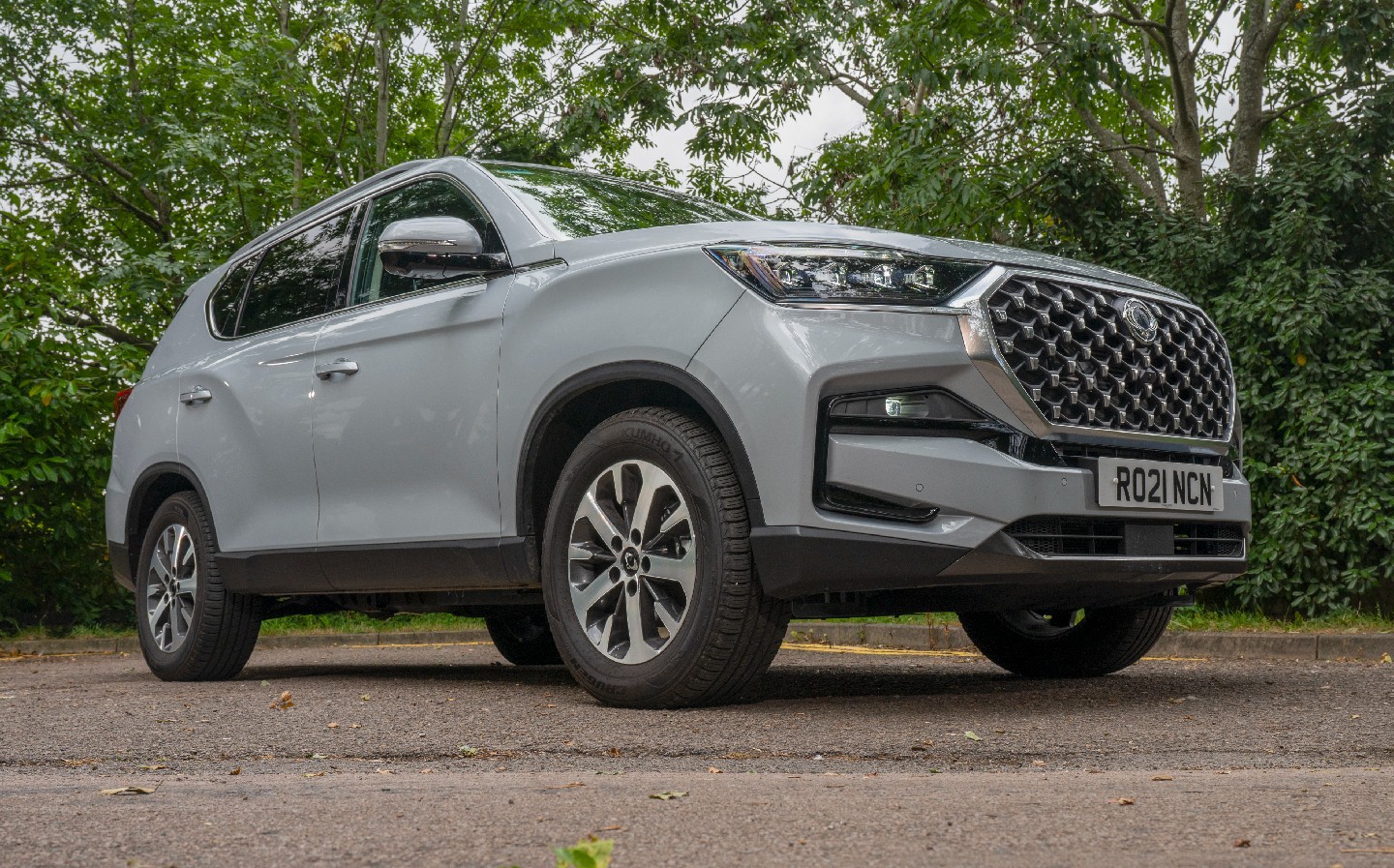 I've found the Rexton a steady drive overall so far. Not always super smooth but given its bulk, I wasn't expecting this. The engine never felt too strained but was noticeably more audible and 'truck like' than other large rivals I've driven, such as the Volkswagen Touareg or the Nissan X-Trail. The ride height is high even for a big SUV, allowing the commanding view of the road that so many motorists are seeking these days. It is quite a step up to board, so might benefit from a foot plate (like its counterpart the SsangYong Musso) to give both younger and more elderly family members a needed boost.
The Rexton was a very welcome and solid addition to this year's family summer adventures and it truly caused a stir. On three separate occasions, I was approached by people curious to know more about the SsangYong brand and the Rexton specifically, and what I thought of it. There is work to do to build levels of awareness and consideration in the market but the Rexton's updated design qualities, size and competitive pricing give it a strong platform to build upon. The novelty factor is certainly proving magnetic.
Miles since last update 2,148 miles
Mileage to date 2,959 miles
Average economy 32.1 mpg
As ever with our extended tests, you can ask questions at any time via Tina's Twitter account or the comments below.
Tweet to @tina_milton Follow @tina_milton
October 28, 2021: Is the Ultimate tech package worth it?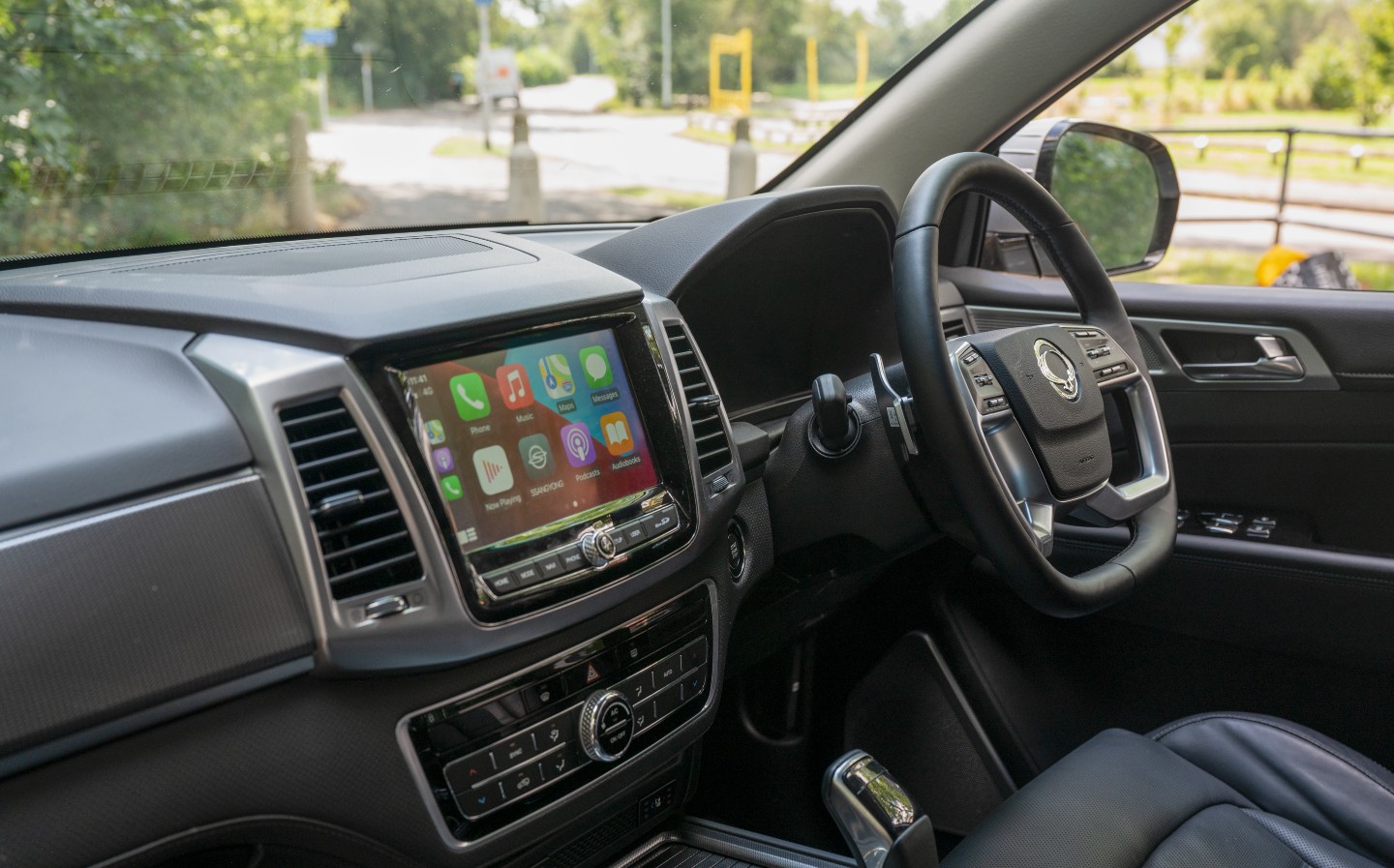 There are two themes that drive the tech features in the Rexton Ultimate; simplicity and safety. The 9.2in screen may not be as flashy or big as the displays of some rivals, but it's joyfully easy to navigate without any complicated menus to negotiate.
While the Ultimate comes with TomTom navigation, I default to Apple CarPlay (Android Auto is also available) to connect Maps from my iPhone. Touchscreen buttons are both generous and responsive, so for usability its infotainment system scores some serious points.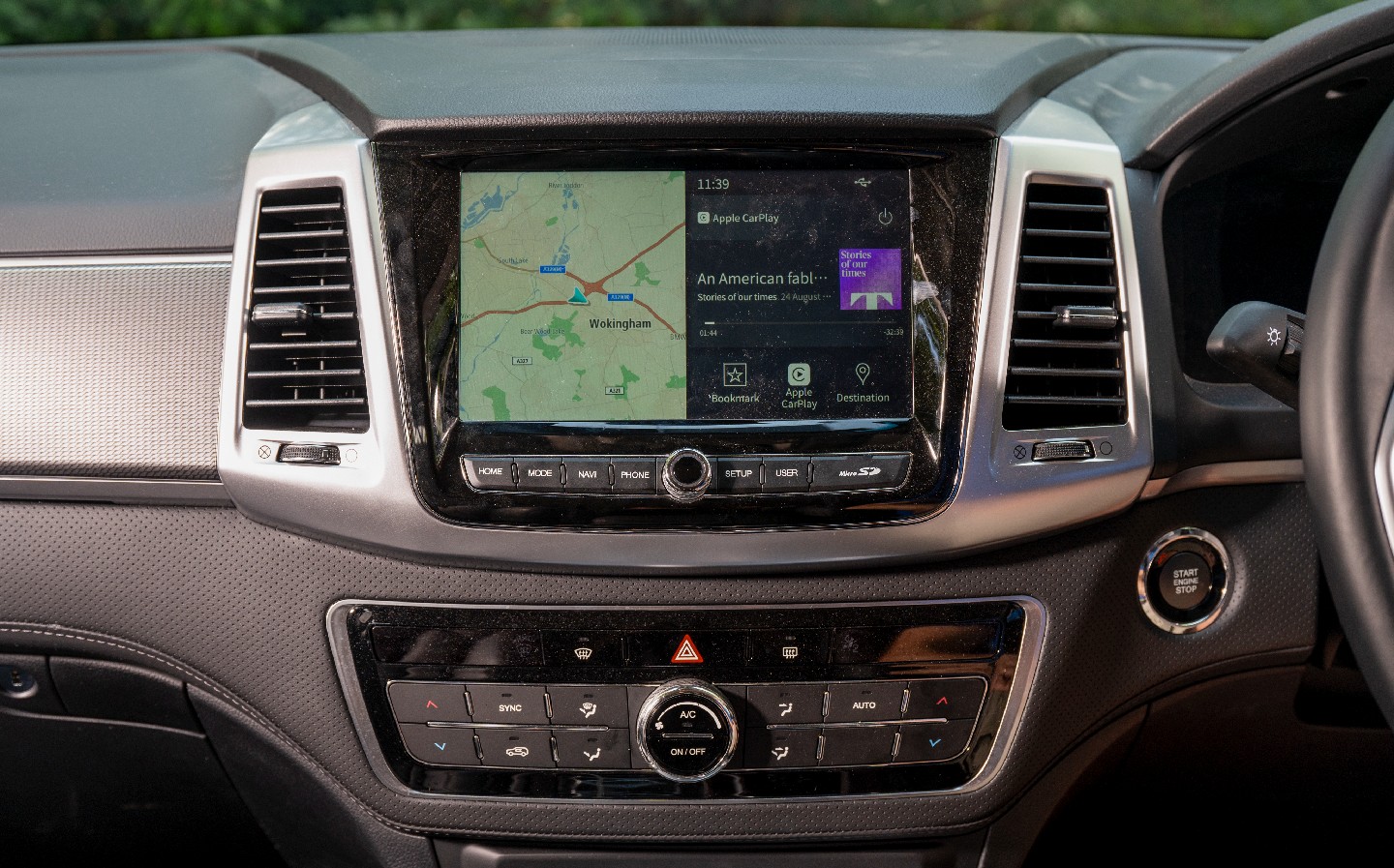 The driver's display has been seamless to operate and I've become well accustomed to its layout. Vehicle performance data charts are relatively easy to master via the steering wheel controls, offering a set of menus to scroll through and there are easy to comprehend visuals for key stats such as mpg, tyre air pressure and urea levels.
There is also the option to mirror the main touchscreen display when using maps, radio and other connected services, which was useful on several longer journeys and has aided my driving concentration.
In terms of specific halo tech features, the rear-view reversing camera was particularly useful over the summer in Devon. Although driving across Dartmoor was picturesque, constricted narrow lanes with high hedgerows and hairpin bends to the beach made for a less relaxing drive, particularly when meeting with a tractor or three. While not the slimmest of builds, the Rexton's reversing camera helped to make quick manoeuvres up clifftop zig-zag bends a tad less hairy.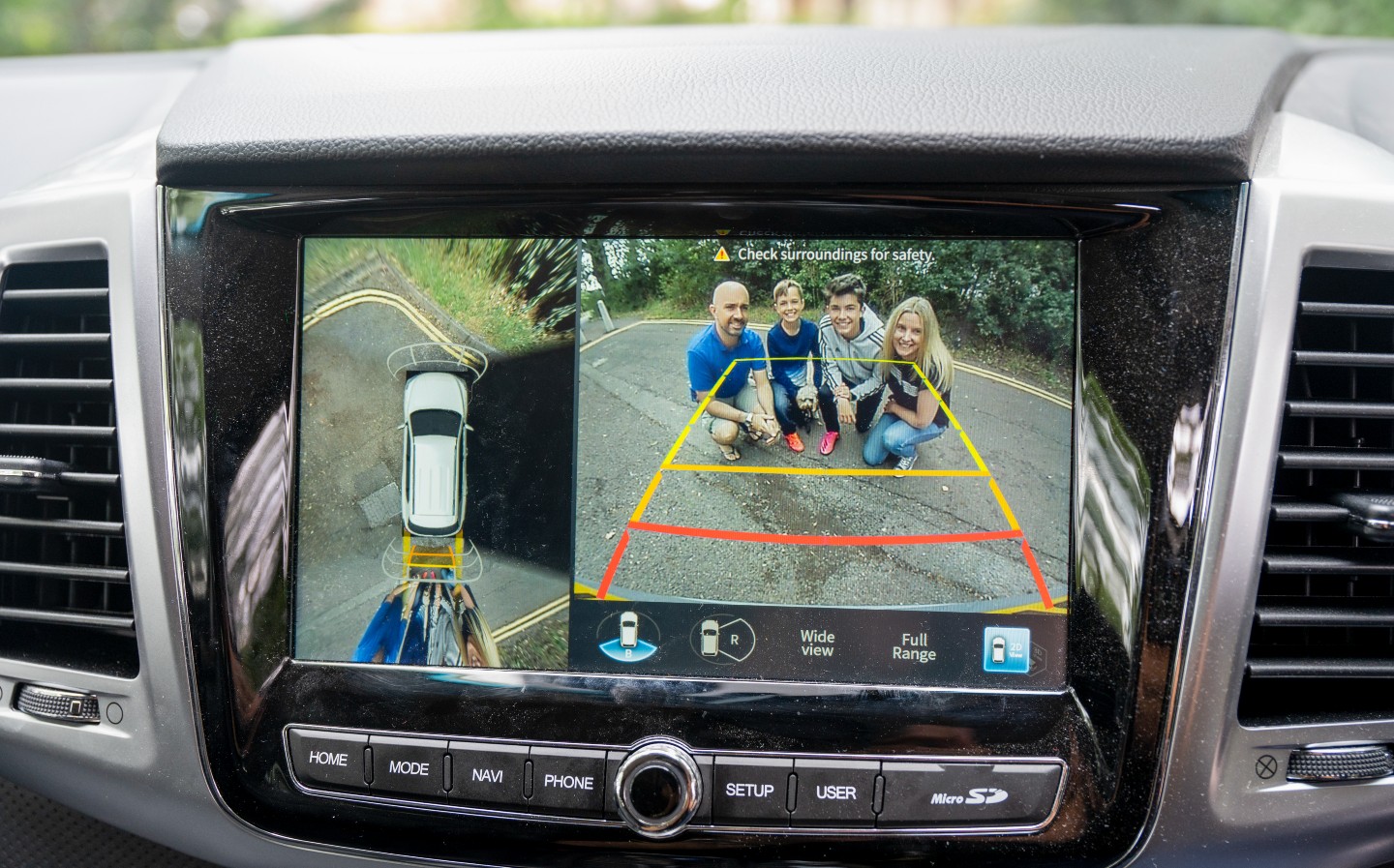 Sticking with safety functionality, the 3D around-view monitoring system heightened my spatial awareness when reversing out the driveway and swinging into tight car parking spaces, with an aerial view of the vehicle and any obstacles in the vicinity.
Lane departure warnings have also been exceptionally useful for motorway driving as the dark, wet and windy evenings close in, particularly Lane Change Assist, which detects cars approaching from behind and flashes an alert light on the outside mirror, although its counterpart Blind Spot Assist also has merits.
As reported in my previous installment, we did encounter a malfunction with one of the wing mirror-mounted cameras. SsangYong customer service was quick to fix this issue and we've had no further problems with it. Indeed, the cameras are one of the Rexton's real standout qualities for me. They've really added to the driving experience and made steering such a large vehicle a much easier and efficient task.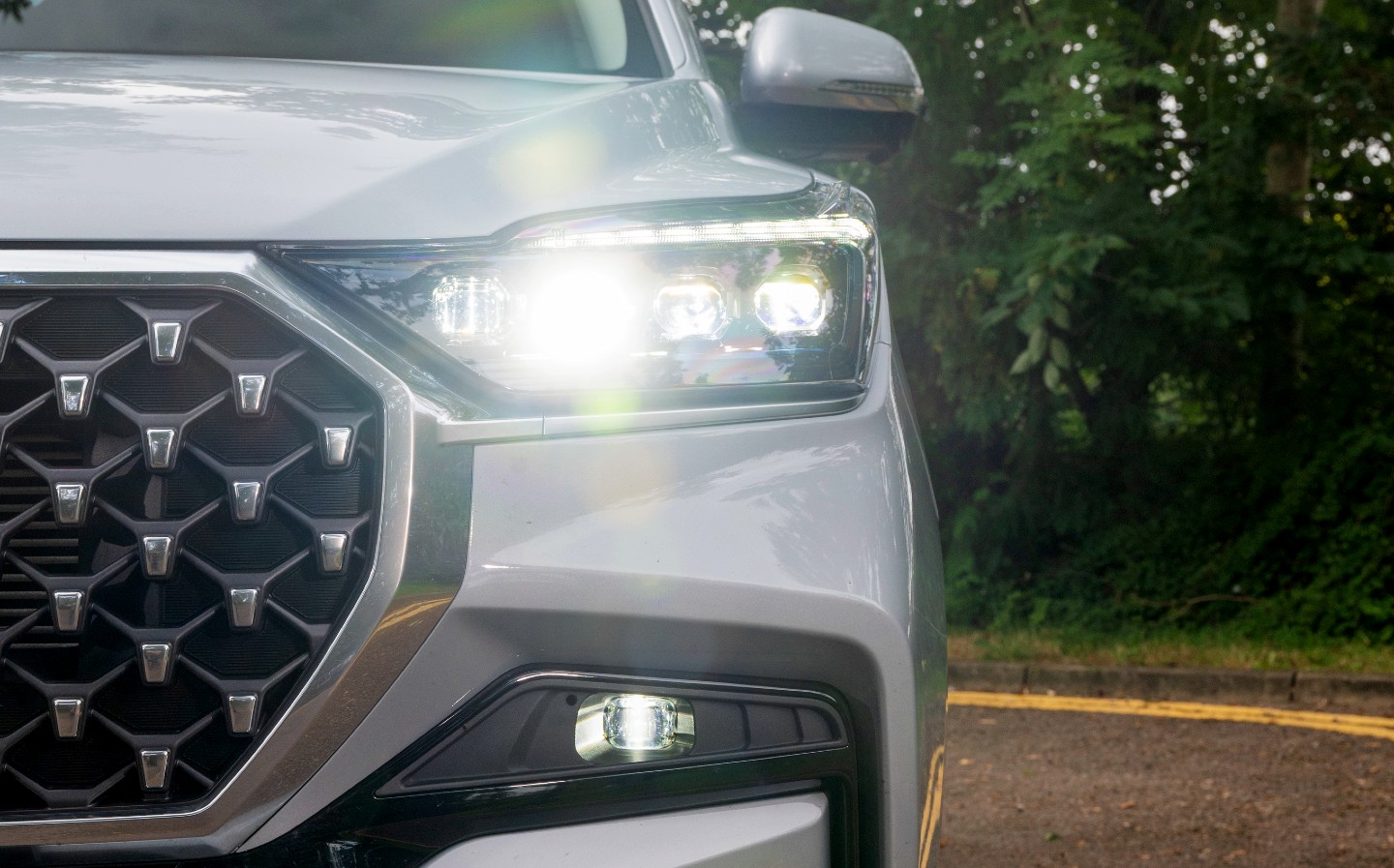 Honourable tech mentions also need to be given to the Rexton's lighting features. When using full beam on a few late-night journeys, the auto-detection capability dims the lights when an oncoming car is detected. They're not matrix LED headlights, which dip around other vehicles leaving the rest of the beam on full, but this is the next best thing. Auto high beam has negated the need for me to operate the dipped lights manually, making it safer for both me and fellow drivers.
I also have loved the door handle lighting that comes on when the Rexton is unlocked in dark situations. A welcome touch that has been appreciated as gloomier Autumnal evenings descend.
While the fifth-generation Rexton may not feel as luxurious as some of its SUV counterparts, its smart safety line-up is distinctive across a sound tech offering. With its general safety measures, such as an impressive nine airbags, it feels rather like driving a protective cocoon and the tech at this price is really impressive.
Miles this month 742 miles
Mileage to date 3,701 miles
Average economy 33.1 mpg
As ever with our extended tests, you can ask questions at any time via Tina's Twitter account or the comments below.
Tweet to @tina_milton Follow @tina_milton
December 8, 2021: Is the Rexton sound for hound and families?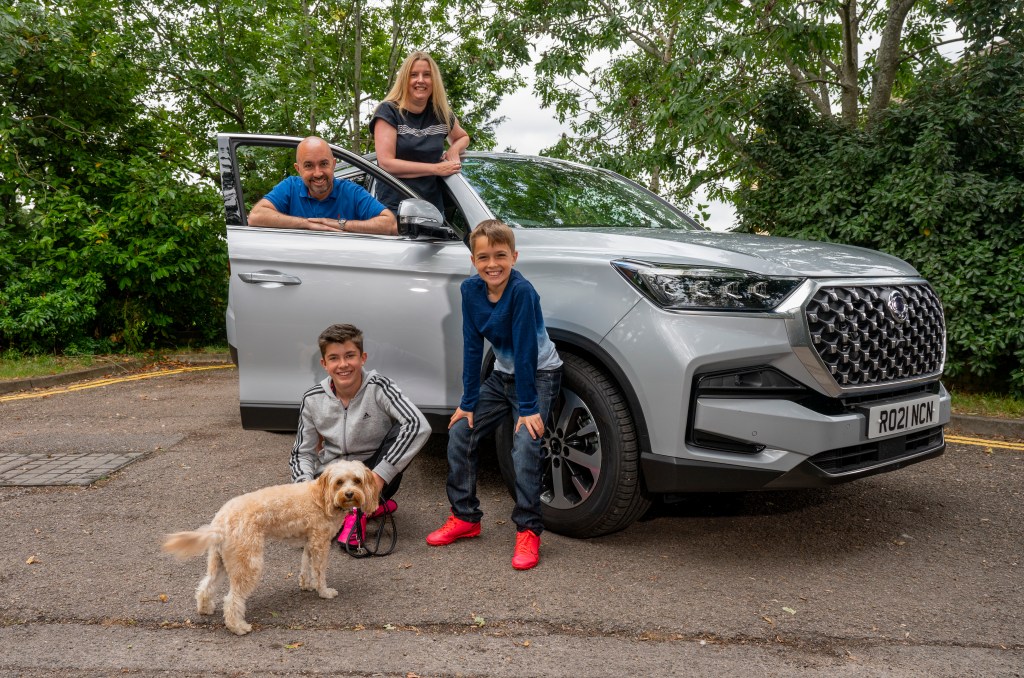 The Rexton may look big in stature but climb inside and there's a softer side to discover, which gets our family vote. There are not many cars that mark your arrival with a fanfare but the Rexton offers a welcoming melody, both when the engine is started and switched off, which seems to blend K-pop with Mario Kart. Even the indicators are tuneful and I often notice our boys nodding their heads to the rhythmic 'tiktok'.
Getting comfortable once inside is made easy with adjustable electric seats, which slide to eight positions for the driver and six for the front passenger, both with power lumber support. The driver's seat also has a memory function, which is useful to recall your seat and door-mirror preferences.
Some seat features, however, opened the door to family mischief. When our boys discovered they could shift the front passenger seat forward from the comfort of their back seats using the side buttons, there were chortles of delight at the prank potential to follow (I'll let you know how that one plays out).
While the clamber inside is manageable for us humans (although as previously mentioned, a footplate would be a welcome addition) our cavapoo Jessie has to be lifted in. She can spring easily into the family Nissan Qashqai but this was a step (or jump) too far for her. I'm sure large breeds would find it more manageable.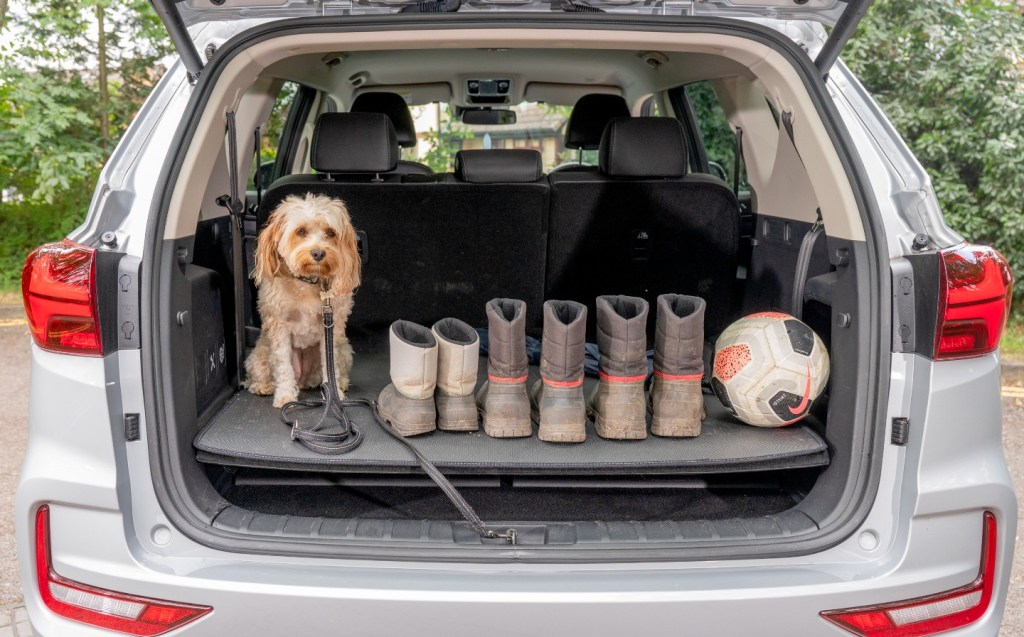 Other SUVs, such as the Skoda Kodiaq and Seat Ateca, have tailgate tech options that allow the boot floor height to be adjusted, helping with loading heavy items (baggage and dogs). This would be a suggested option for SsangYong to add to the Rexton for future design tweaks and would certainly make it a more dog-friendly contender.
For space and storage, the Rexton's capacity is impressive. Its immense 872 litre boot space is far bigger than its rivals and was enough to stack a tent and the basics for a camping trip, without the need for a rooftop box. The weekly shop was easily accommodated, while the pooch could stand, sit, lie down and even roll over should she so please.
Its wipe-clean mat is a bonus, saving the carpet underneath from muddy paws, boots and dog-walking debris or ad-hoc spills. The Rexton's interior is largely plastic, so it's susceptible to scratching but it has been hardwearing and has cleaned up well.
Folding away the central armrest on the back seat meant our dog could also lounge in the lap of luxury using the middle space for her dog bed. In fact, our boys also enjoyed stretching out in the back as the legroom is plentiful and the novelty of heated seats, USB sockets and a 12V outlet are all teenager-pleasing features. I'm unaware of any other canine accessories that might be available for the Rexton, but adding guards and lead clips would be handy additions.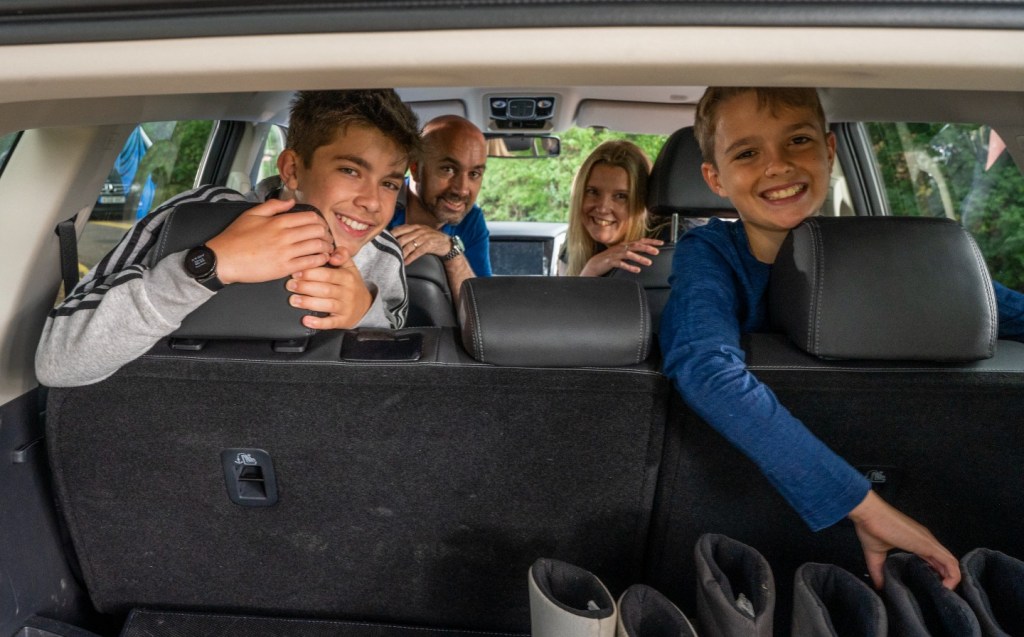 The second row of seats folds completely for large loads, transforming the rear boot capacity to a huge 1,806-litre cargo zone. This was a lifesaver for runs to the tip and particularly timely for the cull of clutter that took place before the building work commenced on our extension over the summer.
The Rexton swallowed up our cast-offs with ease and the rear–view mirror wasn't obstructed as it would have been if the regular family car was in use.
Conversion into a seven-seater was a rather clunky affair. A fair deal of elbow grease was required to fold the second row of seats over (rather than sliding the middle section as per our Qashqai) and then forward with the help of a hydraulic arm.
One of the plastic seatbelt clip holders also snapped off 'in action' while the seats were being flipped and the process left me feeling frazzled. This wasn't ideal while transporting my nieces from the beach to our holiday cottage over the summer as it left a jagged-edge hazard for the children to avoid for the rest of our Norfolk holiday.
The third row of extra seats is spacious for younger children but more of a squeeze for adults, so for the latter, it is best used for shorter journeys.
While the Rexton may appear rugged and ready from the exterior, it is certainly not all workhorse and no play. For four-legged riders and family folk alike it takes pole position in our household with a host of extras and space for the price tag.
Mileage this month 523 miles
Mileage to date 4,224
Average economy 32.8mpg
As ever with our extended tests, you can ask questions at any time via Tina's Twitter account or the comments below.
Tweet to @tina_milton Follow @tina_milton
January 4, 2022: Does the big SsangYong represent good value for money?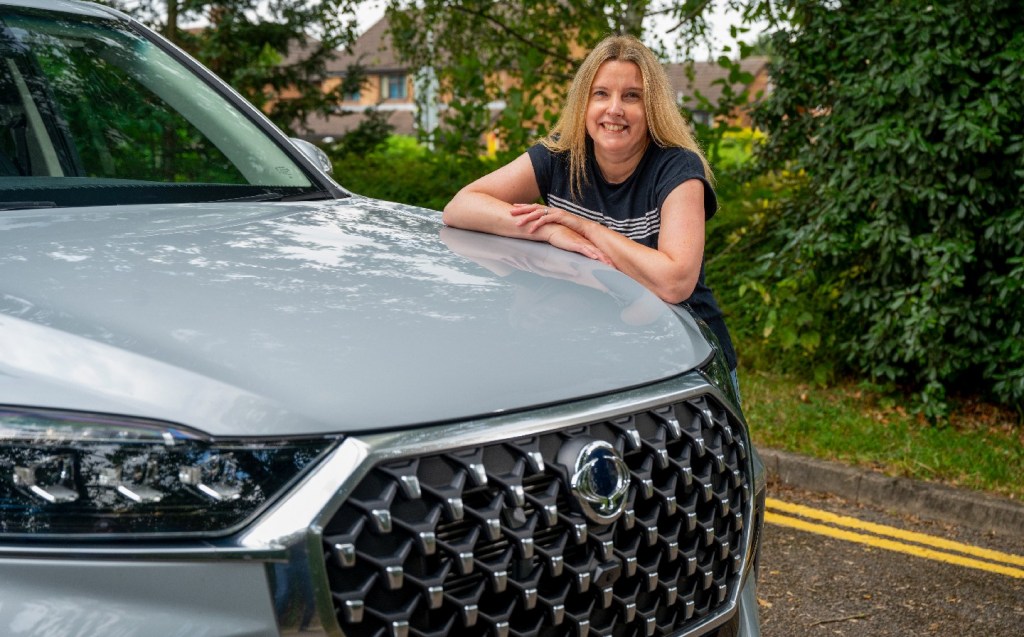 My time with the Rexton is drawing towards a close and it will head off to a new owner later this month. I'll save my final verdict for next time, but it feels apt to weigh up whether I would consider it to be a solid investment.
Even if it does pitch itself as a cost-effective alternative to more premium rivals, at just under £41k for the Ultimate 2.2 model I'm testing, this is still a sizeable sum.
Covid has created a twin effect of a huge lead time for brand new cars and a subsequent spike in second-hand car sales. Consumers are also reconsidering their transport and mobility options, including do they switch to electric or look at new shared ownership options? So where does this leave a big diesel SUV such as the Rexton?
The Rexton sits in a relatively safe niche (for now). It sits within a sub-segment for drivers whose lifestyles create very specific needs, such as durability, 4×4 prowess, practicality and low maintenance costs.
There are no EV contenders in this space quite yet (though serious electric 4x4s, including pick-ups, are on the horizon), so if cavernous interior space, towing power and proper off-roading are all on your purchase wish list, then the Rexton fits the bill.
In value for money terms, the Rexton's pricing offers a notable saving against one of its nearest head-to-head rivals, the Toyota Land Cruiser.
The Toyota's 5-door basic model starts from £43,750 OTR, which is £5,755 more than the entry-level Rexton (which rides on 18in alloys as opposed to the Land Cruiser's 17in standard rims).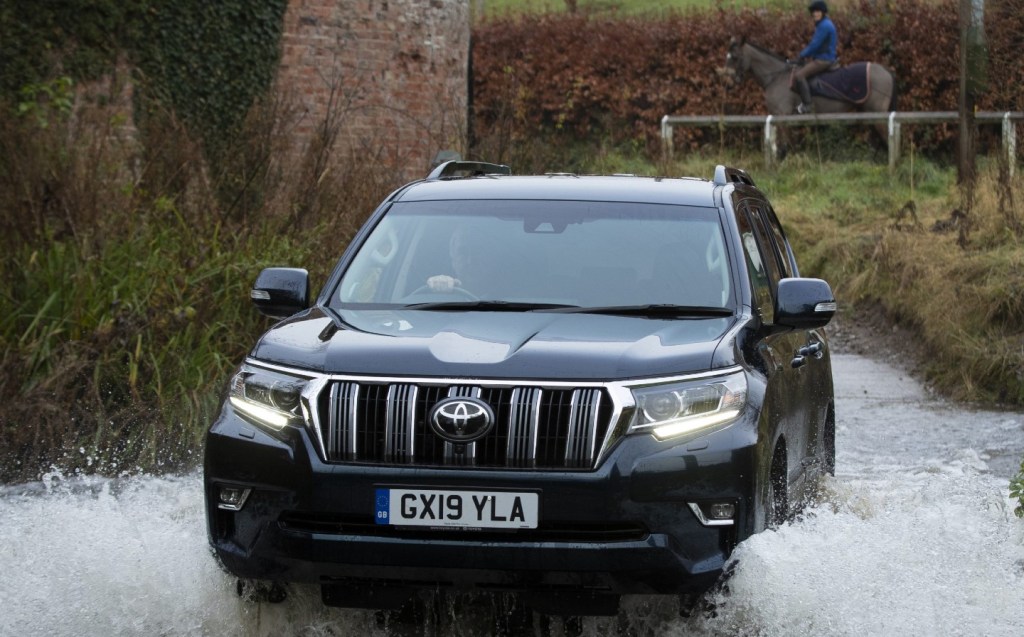 For fuel consumption, the Toyota is slightly thirstier, averaging around 29mpg to the SsangYong's 33mpg, though that's perhaps not too surprising given the former has a 2.8-litre diesel while the latter has a smaller 2.2-litre unit.
Mind you, performance isn't far off, with similar horsepower, though the Toyota has 368 lb-ft of torque, compared to the Rexton's 325 lb-ft. If you care about 0-62mph in a car like this, the Toyota can do it in 9.9sec versus the SsangYong's 11sec.
The Toyota does have the nameplate heritage and proven off-roading credentials, but from reading Land Cruiser reviews and my own experience with the Rexton, I think the SsangYong's tech and safety packages make it a real contender for prospective buyers in this particular spot of the market.
The real ace up the sleeve for the Rexton, however, is that it comes with a 7 year or 150,000 mile warranty. This is a significant upgrade on the basic 5 year or 100,000 miles offered with the Land Cruiser. Ssangyong clearly has the confidence and commitment that its product will stand the test of time and is happy to back this up. In tricky economic times, reassurance such as this can tip the balance for price-savvy consumers.
Mind you, there's one other important thing to consider: residual values. According to valuation experts CAP HPI, after three years and 36,000 miles, a Toyota Land Cruiser is expected to retain 72.5% of its value, which makes it one of the slowest-depreciating cars in the UK.
The Rexton is fairly average when it comes to depreciation rates, compared to the market as a whole; after the same amount of time and miles it would be worth 60.2% of its price when new, according to the same CAP HPI data. Something to chew over if you plan to sell on rather than keep long-term.
Having said that, the Rexton firmly embraces the 'more bang for your buck' territory. If I were looking for a cost-conscious large, family-friendly go-anywhere SUV that I didn't mind getting properly dirty and using hard, then it is probably the best value model available today.
Mileage this month 437 miles
Mileage to date 4,661 miles
Average Economy 31.8mpg
As ever with our extended tests, you can ask questions at any time via Tina's Twitter account or the comments below.
Tweet to @tina_milton Follow @tina_milton
January 30, 2022: Did the Rexton reach new heights for a family car? (Final report)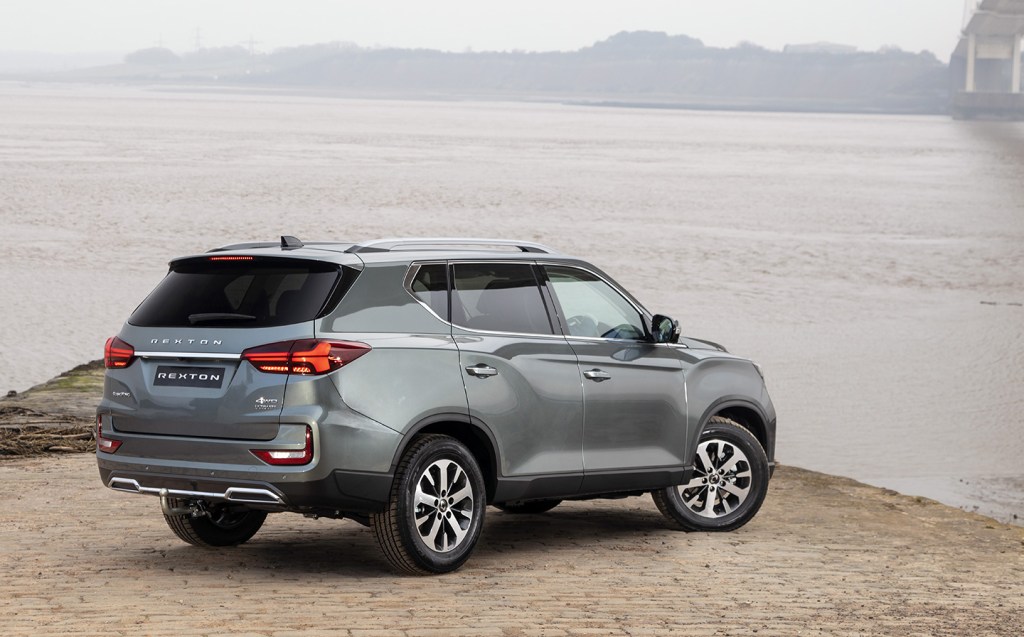 Our last weeks with the Rexton have left us feeling high and mighty. 'High' in the most literal sense: driving a car so substantial in stature certainly gives you an imperious feeling on the road. 'Mighty' because it also makes you feel invincible, not least because of the numerous safety features such as the 3D around-view monitoring system, lane departure warnings and nine airbags; all measures that add to the feeling of being in a protective bubble.
In terms of a final verdict, there are a few significant features I'd like to return to and underline as worthy of particular praise.
Interior space – at a whopping 1,806 litres it does the job and some.
Wing mounted reversing cameras – simple and easy to use, made a breeze of manoeuvring a huge vehicle in and out of the tightest spots.
Luxury touches – ventilated front seats were literally a breath of fresh air for hotter summer days, accompanied by toasty heated seats in the front and back for defrosting the kids from school runs in the winter.
Heated steering wheel – has come into its own in the last month, firing up in a couple of minutes to relieve my cold mitts as the winter months begin to bite.
Infotainment system – scores some serious brownie points for usability too and the simplicity of navigation was a joy to behold compared to some over-complicated touchscreen menus from its rivals.
On the flip side, there were some drawbacks. The Rexton was true to its heritage (modelled on the Musso pick-up), in that it sometimes felt more truck-like than a car, with a juddery and noisy ride to match. While the extra seats in the back for seven-seater conversion were a bonus, the transformation process was not as seamless as some sliding mechanisms.
For dogs, it would suit a big breed but for our Cavapoo, the Rexton's high altitude was rather overwhelming. The addition of a tailgate tech option to adjust the floor height would be a welcome feature for her, as would a footplate to help stagger the step up for children and elderly family members alike.
But we're going to miss our big wagon. It became a reliable member of the family, whether this was impressively swallowing up the large Christmas tree or packing in both our dog and the mother-in-law's Labrador after a muddy country walk. The Rexton is a real all-rounder that was fit for many uses and I'm sure we'll be pining for its cavernous qualities as we adapt back to our regular family ride.
To conclude, don't be put off by the bulky appearance of this fifth-generation Rexton or the sparsity of the brand's distribution in the UK. The week after our car was returned we finally spotted a fellow Rexton in our local town centre, (a knowing nod of respect was given). Maybe this is a signal that brand awareness is growing (it was even the talk of the volunteer officials at our local Covid testing centre when they spotted the rare badge) and if this South Korean export can reach Berkshire, it can reach anywhere.
Test period June 2021 – January 2022
Miles this month 360 miles
Miles in total 5,021 miles
Average fuel economy 31.9mpg
This extended tests, you can ask questions at any time via Tina's Twitter account or the comments below.
Tweet to @tina_milton Follow @tina_milton