Extended Test: 2019 Honda CR-V Hybrid review
Can a hybrid SUV combine the best features of the best family cars?
Specifications
Model 2019 Honda CR-V Hybrid AWD
Price £38,280
Price with options £38,830
Colour Modern Steel (grey)
Cost options fitted Metallic paint £550
Motor 1993cc, four-cylinder petrol with electric motor
Combined power output 181bhp @ 6,200rpm
Torque Engine: 129 lb ft @ 4,000rpm / electric motor: 232 Ib ft
Kerb weight (DIN/EU) 1,726kg
Towing capacity 600kg (unbraked) / 750kg (braked)
Fuel tank capacity 57 litres (12.5 gallons)
Luggage capacity 497 – 1,638 litres
Top speed 112mph
0-62mph 9.2sec
Fuel consumption (WLTP combined cycle) 38.2mpg
CO2 emissions (NEDC1) 126g/km
Road tax1 £160 for first year; £135 a year for years 2-6 (
BIK tax payable (2019/20) 29%; £2,208 (20%) or £4,416 (40%)
Insurance group 24
1 Valid for cars registered before April 1, 2020
Test details
Test period December 2019 – July 2020
Starting mileage 318 miles
Updates
January 13, 2020: The search for the perfect family car continues
January 30, 2020: What's the fuel economy like in the Honda CR-V Hybrid?
February 28, 2020: Getting to grips with the CR-V's infotainment system
March 30, 2020: Honda CR-V is boxing clever when it comes to storage
June 30, 2020: Getting the best economy from the Honda CR-V Hybrid
July 24, 2020: Give me a comfortable ride over sporty handling any day
January 13, 2020: The search for the perfect family car continues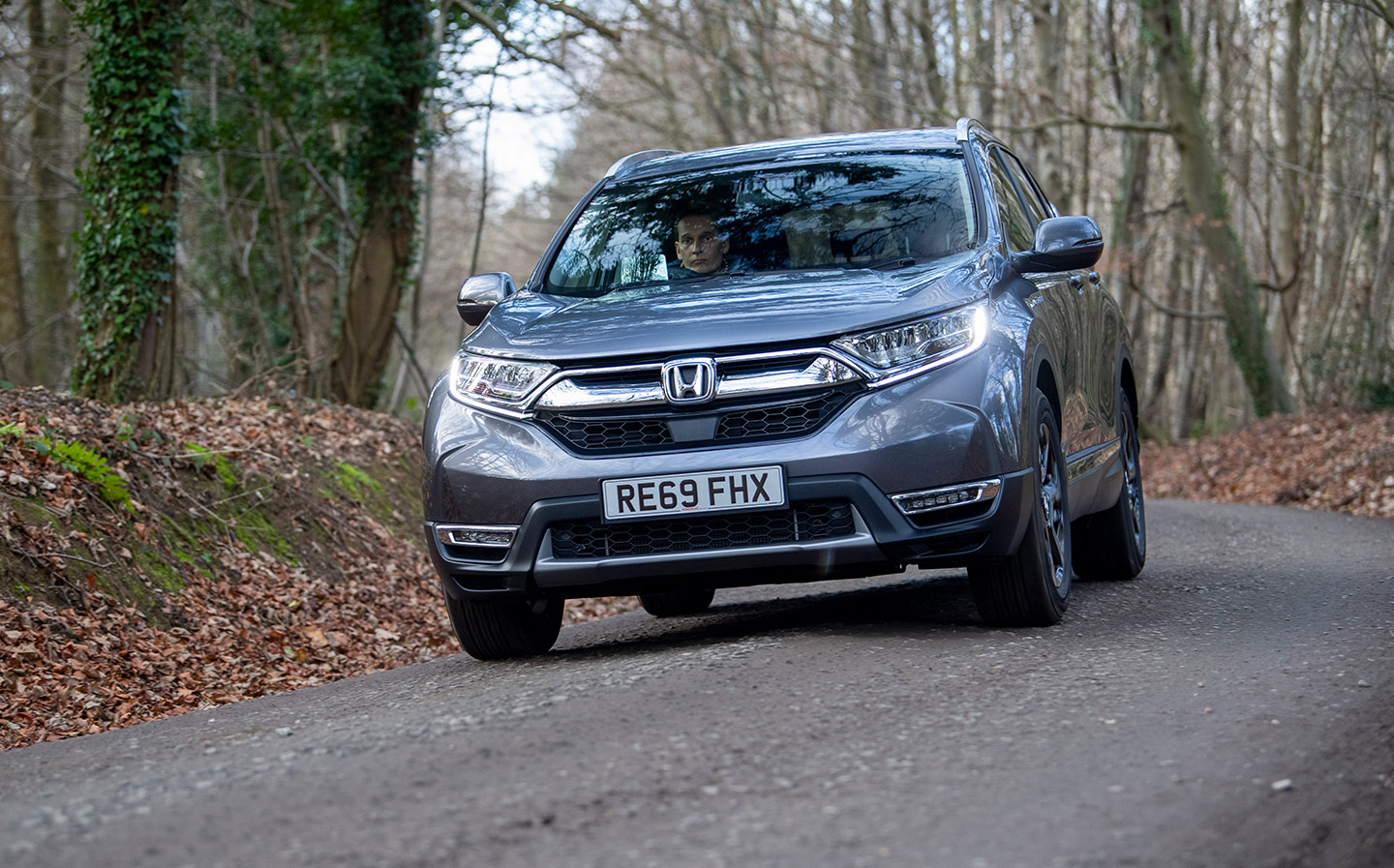 In the quest to find the perfect family car, I have been valiantly subjecting the Mills clan to cars of all shapes and sizes. More significantly, in an age where Greta Thunberg is across the front page of every newspaper and #trending across social media sites the world over, we have been experimenting with how those cars are powered.
There has been Audi's A3 e-tron, a posh hatchback, complete with a plug-in hybrid petrol-electric system that meant we could drive around with a halo over our heads, bragging about the average fuel economy of 70mpg-plus that made other drivers feel queasy the moment you mentioned it.
Next came a diesel-powered people carrier, in the shape of the Renault Grand Scenic, a car that's about the size of a mid-range estate but comes with much more room to swing a cat and better seating arrangements. It was fantastic value but you couldn't help but feel the public never lusted after a people carrier, whereas SUVs really have caught and held their attention.
Which is why a Skoda Kodiaq came next. The big, seven-seat SUV came with a high-powered diesel engine and four-wheel drive, so we could go places other drivers would fear to venture, even if the truth is it rarely faced anything more taxing than a sandy car park at a beach. It was a wonderful family car but as concerns grew over the impact of the true emissions of diesel cars, the Skoda made way for a petrol-powered Volvo.
Not any old Volvo. A V60 T5, which was the flagship version of Volvo's most handsome car in, well, as long as we can remember. Almost everything about Volvo's mid-size estate car gave you that warm inner glow – until you checked the car's fuel economy. It couldn't get close to a diesel or hybrid.
So perhaps the latest long-term test car, a Honda CR-V Hybrid (read our first drive review here), can take most of the best ingredients that have made those various family cars appealing and combine them all into one?
The Hybrid is here because Honda has turned its back on diesel fuel. The Japanese company is phasing it out from its portfolio, so anyone that wants a CR-V must choose between a regular petrol-powered model or the hybrid.
Its on-paper credentials suggest it should take up from where diesel left off quite nicely. The fuel economy is claimed to be 38.2mpg and CO2 emissions are 126g/km, figures that should best the Skoda Kodiaq diesel.
The CR-V on extended test is the four-wheel drive version (Honda likes to call it all-wheel drive, or AWD) in top-spec EX trim. There are precious few factory-fit options available with this version, so ours just wears Modern Steel grey metallic paint, which adds £550 to the £38,280 list price.
Happily, though, the EX is, in American parlance, fully loaded. You'll want for little in terms of creature comforts – there's even a heated steering wheel, heated back seats, head-up display and panoramic (opening) sunroof.
And I for one think the fifth-generation model is the best looking CR-V yet. The longer wheelbase gives it a better stance, the back of the car finally looks right and there's a just enough attitude in the design language to make it the sort of car that warrants a second look.
But boy does the interior have a sensible slippers vibe, which is something of a comedown after the Scandi chic of the Volvo V60. Still, that's not putting off friends and readers, if the reaction on social media is anything to go by. Several people immediately asked my thoughts on the CR-V Hybrid, because they're thinking of buying one instead of a diesel SUV. Give me a couple of weeks and those first thoughts will be shared here.
Want to ask a question? Contact me via Twitter:
Tweet to @squarejames Follow @squarejames
And you can follow me on Instagram @jamesbmills
January 30, 2020: What's the fuel economy like for a hybrid Honda CR-V?
View this post on Instagram
"What's the fuel economy like?" is a question I'm becoming accustomed to hearing when talking about the Honda CR-V Hybrid. That's not surprising, given the majority of large SUVs that plough a trade in ferrying families about the place are powered by diesel engines. And the emissions of diesel engines, as most drivers have come to learn, are bad for the air we breathe. Particularly if they don't have the very latest emissions-reduction systems, including AdBlue.
When a driver replaces their car, should they ditch their diesel and buy a petrol model? What a about a petrol-electric hybrid — might that be as economical as a diesel? Maybe a plug-in hybrid? Or should they go the whole hog and switch to a pure-electric car?
For those that aren't yet ready to go electric, I'm happy to report that hybrid power can pick up from where diesel leaves off. I used to run a Skoda Kodiaq 2.0 TDI 190 4×4, and it returned an average of 37mpg. By contrast, after 1,300 miles of driving, the Honda is averaging 44mpg. Both weigh much the same (just under 1,700kg) so this seems a fair contest, which the Honda takes comfortably.
Take it seriously. Over the course of 10,000 miles of driving, which is roughly the average annual mileage for many motorists, the Honda would save its owner more than £320 in fuel bills, compared with the Skoda. That's a chunk of money in most people's books.
How does a large SUV achieve such a level of efficiency? Well, its hybrid system is particularly clever, and distinctly different to hybrid systems found in, say, Toyota and Lexus cars.
During much of everyday driving, a powerful, 181bhp electric motor drives the wheels. It does this using charge from the 1kWh lithium-ion battery (known as EV Drive), and then once that's run down (which doesn't take long) the 2-litre petrol engine switches on and feeds its power to an electric generator which in turn powers the electric motor (Hybrid Drive) that drives the wheels.
When cruising at main road speeds, the petrol engine takes over driving duties (Engine Drive), and should you need maximum get up and go for overtaking slower traffic, the petrol engine is joined by the electric motor.
If it sounds fiendishly complicated, that's because it is; a sort of engineering witchcraft that can make your head hurt just thinking about it. However, the important point is that you just get in and drive the car like any regular automatic petrol or diesel SUV, stopping occasionally to top up the tank with petrol. No plugs and cables involved.
For those so inclined, you can get more involved with the Intelligent Multi-Mode Drive (i-MMD) hybrid system, as it's known. For example, a button on the dashboard marked out by a graphic of a leaf adjusts certain settings so that the CR-V Hybrid becomes almost as frugal as a member of Extinction Rebellion.
There are other tricks to experiment with, too. A particular favourite is the left-hand gearshift lever behind the steering wheel. It's not for the gearshift at all; instead, it adjusts the level of energy recuperation you get when you lift off the accelerator.
There are four settings, each adding an extra level of resistance from the electric motor, which becomes an electrical generator. With good anticipation it's possible to achieve a surprising amount of slowing simply by using the regeneration effect, and in turn the little battery gets a noticeable boost, especially during a long descent or approaching a roundabout on a main road. That really helps reduce petrol consumption when you apply the accelerator again. As the saying goes, every little helps.
There are compromises, though. On steep-ish hills, especially on main roads, the naturally aspirated petrol engine lacks oomph and the continuously variable transmission sets it revving away in a noisy fashion. I find myself wishing for the torque (punch) of a diesel, and then quickly check myself once the hill is behind me and the calm, quiet running of the Honda's petrol-electric drivetrain resumes.
With a good level of information from the digital driver's display, those who want to eek out every bit of efficiency from the complicated hybrid system can fill their boots. It's just a shame that Honda's infotainment system is well behind those of rival manufacturers. But that's a story for the next update on living with this hybrid SUV.
Want to ask a question? Contact me via Twitter:
Tweet to @squarejames Follow @squarejames
And you can follow me on Instagram @jamesbmills
February 28, 2020: Getting to grips with the Honda CR-V's infotainment system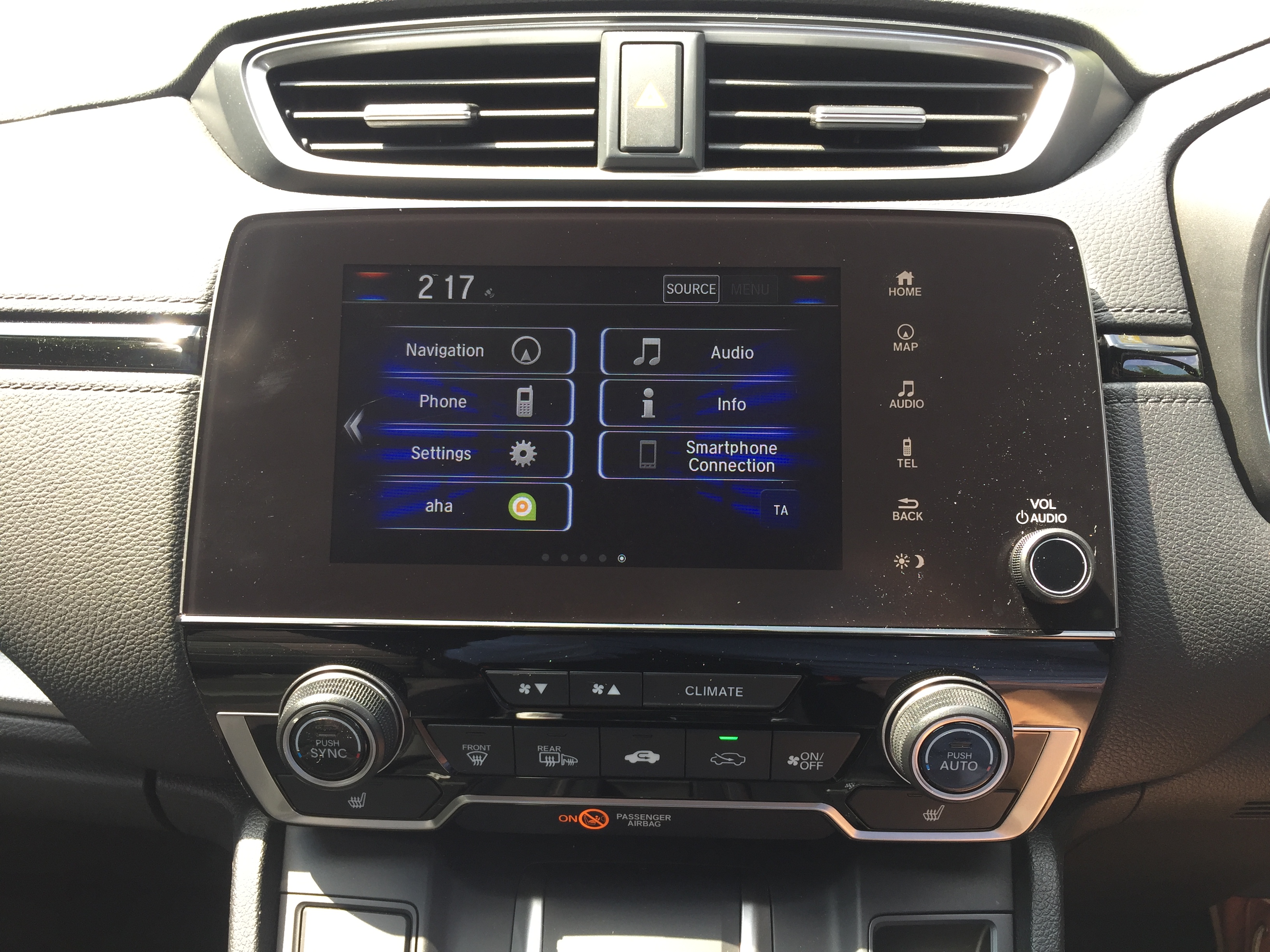 In the age of the digital car, the infotainment system is a major selling point. Friends who have bought mainstream cars recently never pass comment on the way a car performs, its steering feel or the handling. They only want to talk about what a great deal they got, or share whether the infotainment system motors smoothly or lags behind in the slow lane.
And it's a part of any car that can quickly be assessed from the comfort of a showroom without the need for a test drive. Switch it on, explore the menus, play with the settings, pair a smartphone and within a matter of minutes you can have a pretty good idea of whether an infotainment system will make your life easier or not – making it harder for any salesperson to spin their way to closing the deal.
The Honda CR-V Hybrid, here in EX trim, features a seven-inch touchscreen through which the majority of the day to day features are controlled. It's complemented by a TFT display for the driver's instruments and a selectable information display that can be used to keep an eye on the radio, music, phone, trip computer, all-wheel drive system and more besides. The latter is controlled by a button on the steering wheel, while EX models also gain a simple but clear head-up display.
There's a lot you can do through the CR-V's infotainment system. Want to stream online-based radio stations or podcasts through Aha? It's ready to play. Prefer the display's graphics to be red rather than blue? It's in a menu. Would you prefer to switch off the car's lane-keep assistance, so that an alarm isn't bleeting and the steering no longer continually tugs this way and that on a country lane? You can dive in there and change the settings.
In fact, you could waste – sorry, spend – an entire afternoon altering all the different settings and sampling the various functions that are available via the Honda Connect system. But truth be told the graphics are small and fiddly, unattractive and working your way through all the menus can be distracting. The graphics on the Garmin-sourced navigation system are also rather underwhelming and lacking in detail. And voice recognition software is hit and miss.
It's not all bad, though. There are some shortcut buttons to the right of the touchscreen, and wisely Honda has kept the climate control functions separate to the infotainment, for which it should be applauded.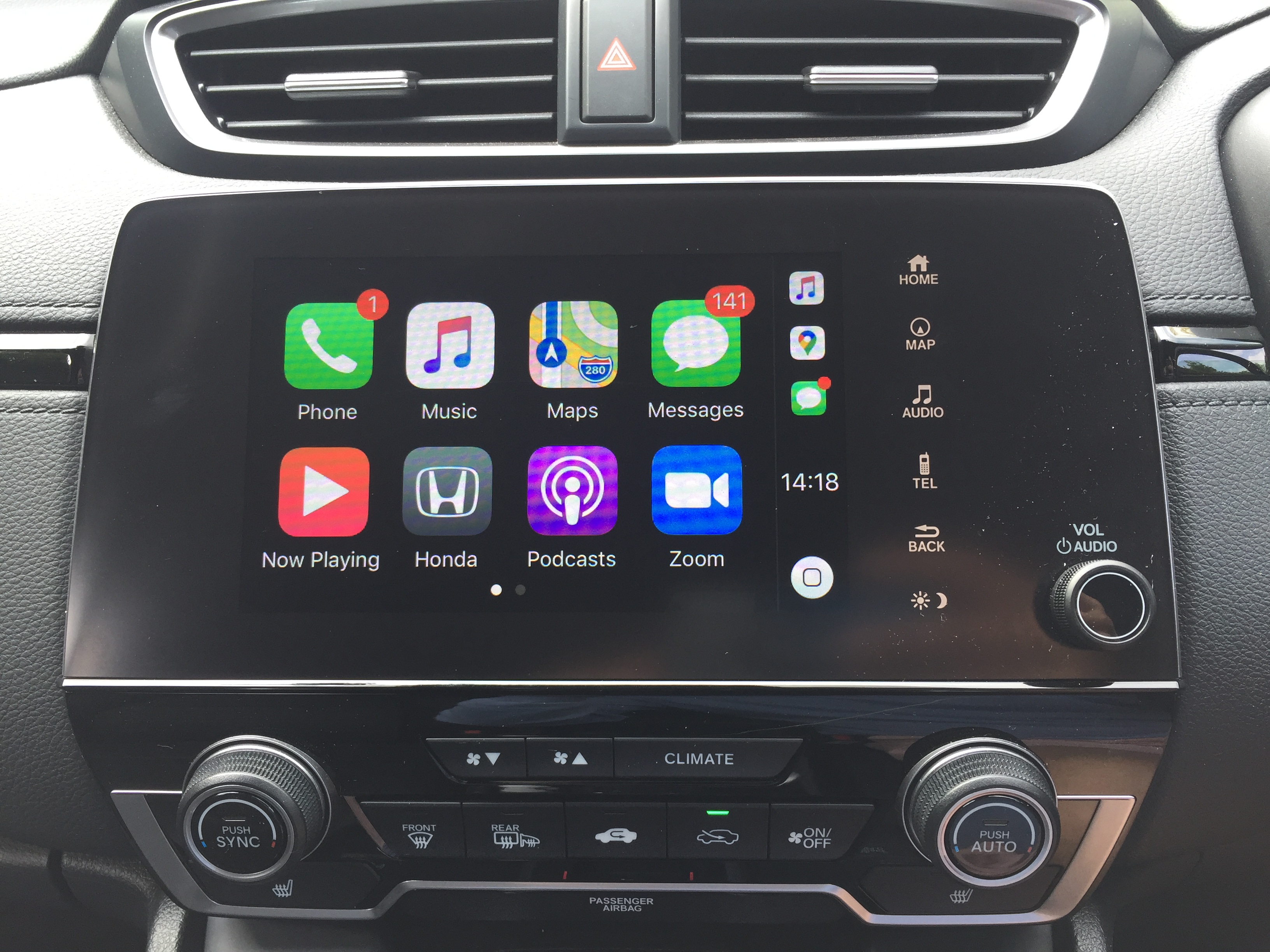 Thank heavens, then, for Apple Car Play. (Android Auto is also offered but I'm still getting mileage out of my old iPhone 6. And will continue to do so until it expires.) The graphics and menus are more considered but the navigation – in this instance Google Maps – relies on a data connection and we don't have one where we live, 50 miles outside of London in the Kent countryside. So that can be frustrating at times.
So in the battle for drivers of the smartphone generation, Honda has some way to go if it's to match the best standards of infotainment on offer. Given how much we have all come to rely on such tech, that's a disadvantage few car makers can ill afford.
Want to ask a question? Contact me via Twitter:
Tweet to @squarejames Follow @squarejames
And you can follow me on Instagram @jamesbmills
March 30, 2020: Honda CR-V Hybrid is boxing clever when it comes to storage
Yes, I genuinely, really DO get excited by the @Honda_UK CR-V's stowage compartment. pic.twitter.com/4lCMFWs2lr

— James Mills (@squarejames) June 11, 2020
Funny, isn't it? Engineers have spent thousands of hours poring over every detail of the Honda CR-V and its complex hybrid powertrain. They will have agonised over the emissions of the system, fought for every gram's reduction in CO2 and patiently ensured that the all-wheel drive system is capable of immediately apportioning power to the wheel with the most grip, so that the driver never comes unstuck in difficult driving conditions. Yet all I can get excited about is the central stowage cubby.
Then there are the myriad active and passive safety features. This is a car that has had a huge amount of time, effort and money invested in it to ensure you and your family are kept safe, and all manner of sensors, cameras and radar systems are trying to keep you out of trouble. But I'm more interested in the adjustable arm rest.
This is the sort of subject that doesn't get a look-in in Honda's glossy brochure for the CR-V. Stowage bins, arm rests and cupholders aren't sexy, goes the marketing thinking, whereas Apple CarPlay and Android Auto are. Pah! What do they know?
Day in, day out the centre console of the Honda CR-V never fails to impress – and please, bear with me.
When you climb into your car for the school run, commute to work or drive to the shops, what's the first thing you do? Switch on the engine? Turn on the radio? Power up a heated seat? No, silly. You throw down all the gubbins you were carrying.
For me, that's typically a phone, wallet, set of house keys, the car keys, a bottle of water and perhaps a letter or two to post along the way. (And that's just my crud. Imagine what the rest of the family can challenge it with…) The central cubby unit of the CR-V can handle all this and so much more, swallowing up paraphernalia like a black hole gobbling stars.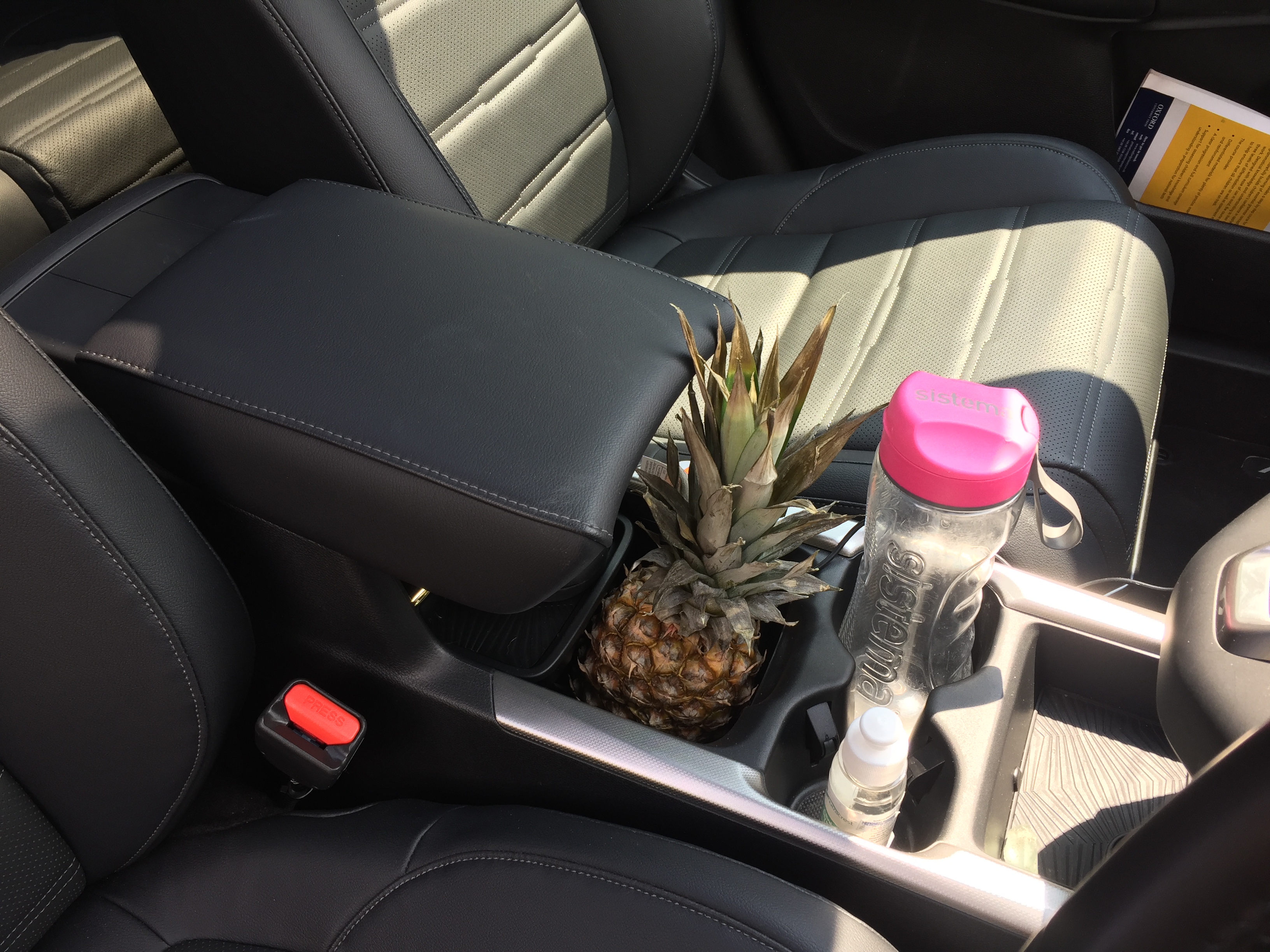 It is ingenious in its design. At the front is a compact tray for a phone and a 12 volt power point. Behind are two large cupholders that can comfortably accommodate drinks bottles. Then comes the vast cubby, which has a sliding shelf to create a double-deck arrangement. Inside the cubby are two USB ports, one handling the smartphone connection with the CR-V's infotainment system. There's also an HDMI connection.
On top of all that is a lid that slides fore and aft to provide an armrest, should you wish.
It is supremely practical. And while it may not be marketable in the eyes of Honda, it's something my family and I have come to appreciate on a daily basis.
Want to ask a question? Contact me via Twitter:
Tweet to @squarejames Follow @squarejames
And you can follow me on Instagram @jamesbmills
June 30: Getting the best fuel economy from the Honda CR-V Hybrid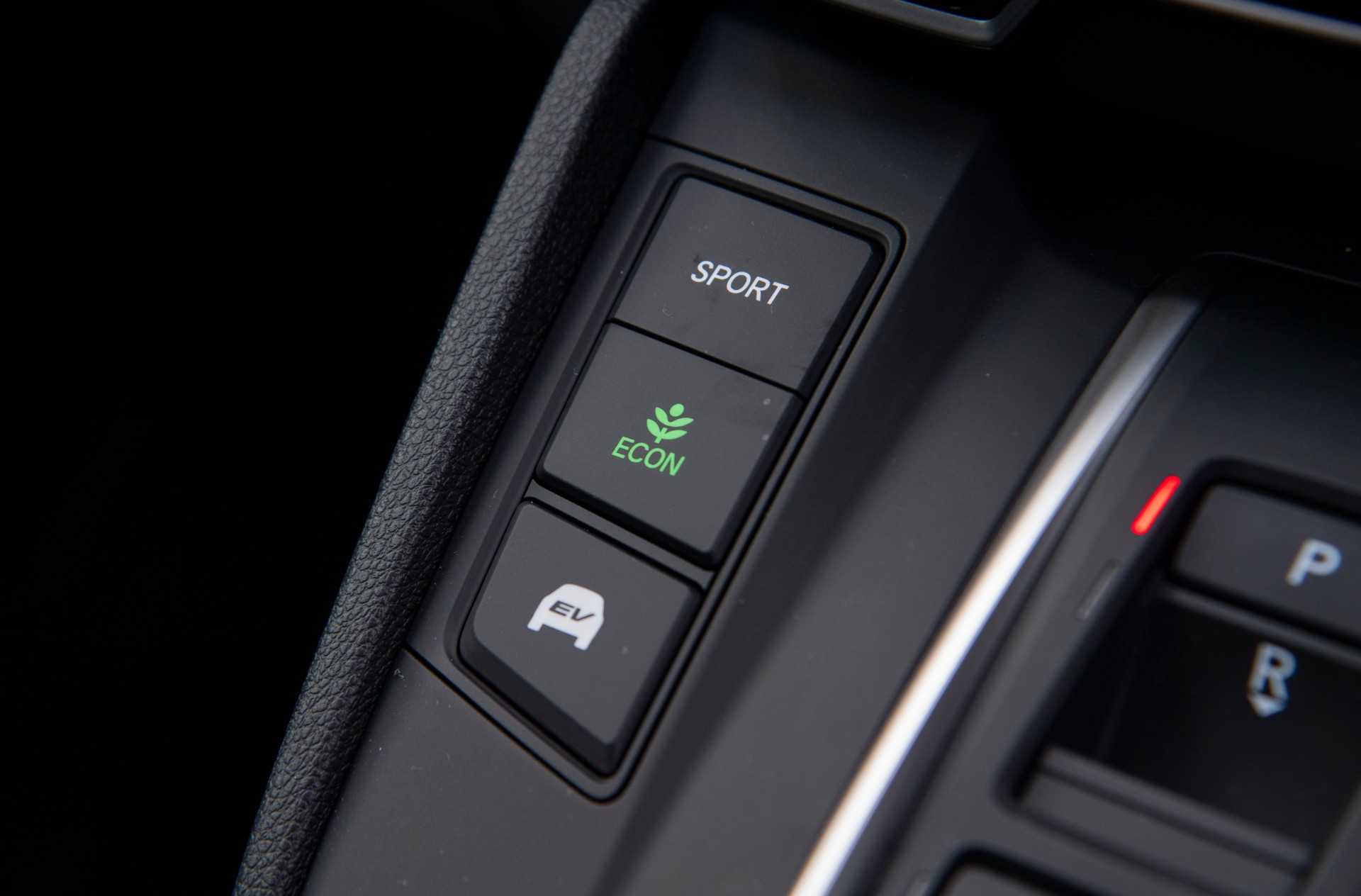 There are 440 pages in the handbook for the Honda CR-V Hybrid. Have a guess at how many of them are given over to helping the car's owner get the best possible fuel economy from Honda's hybrid system.
To help, perhaps it's handy to have a bit of context. For example, Honda gives over a full page to simple things like opening and closing the windows. And when it comes to the devilishly difficult stuff, like opening and closing the boot, the copywriters have dedicated seven whole pages to such a brain-boggling task.
The really juicy stuff, though, is saved for the audio, navigation and phone systems – infotainment, in industry jargon. Honda has gone to town on that section, giving over 41 pages to the torture of touchscreen.
Of course, none of these things are as significant as the CR-V's hybrid system, right? After all, Britain's drivers have been made to feel like they're committing murder if they choose a diesel-powered car. But they may believe an electric car isn't practical for their needs, in which case the logical thing to do is to buy a hybrid. Better still, buy a hybrid that doesn't have a huge battery and need a cable to be dangled through the kitchen window every time the battery goes flat.
So go on, guess. How many pages help you get the best fuel economy from Honda's hybrid technology?
One.
Actually, I'm exaggerating. It's less than that.
Just 41 words of advice are served up. And actually, it's not really advice at all. It's a get-out clause, the gist of which goes, Depending on certain factors, you may not achieve the stated fuel economy of this vehicle.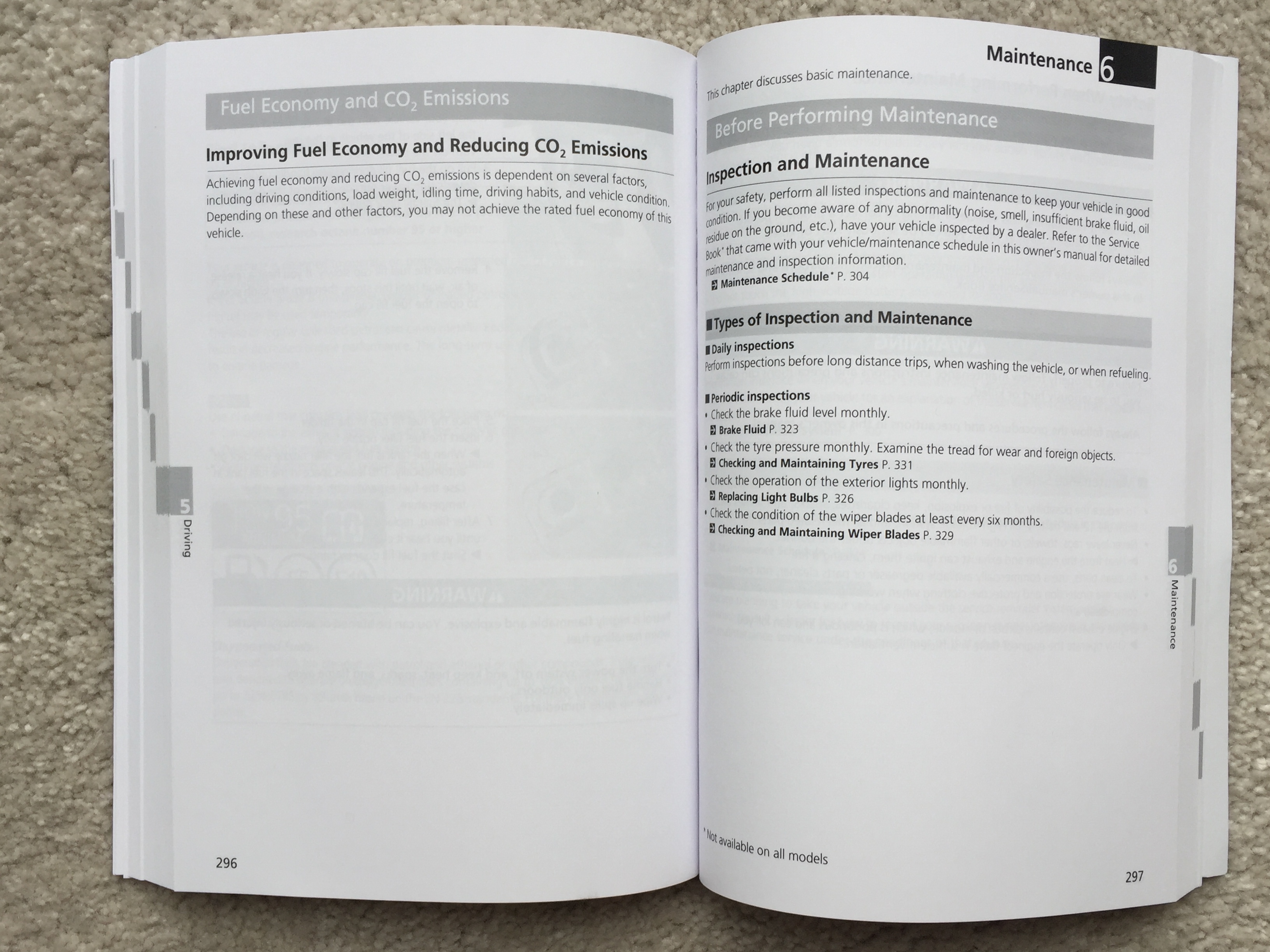 This is the problem with car companies. The engineers spend years of their lives working night and day, sweating the detail, running predictions, putting things into practice, trying to stay a step ahead of the competition, and then, just as they rub their bleary eyes and declare, "We've cracked it!" the lawyers rock up after a long, leisurely lunch break in the gym and a nice natter at the salad bar, and decide that nobody at the company is allowed to talk about anything to do with fuel economy or emissions. And if they do, they shall be forcibly ejected. From the HQ's rooftop.
Of course, it's stupid. But such is the way of the world. Happily, I've been living with the CR-V Hybrid for the best part of six months now, and the fuel economy is getting better and better – as long as you work at it.
In the early days it was averaging over 40mpg. With considered driving, it started to climb, reaching 44mpg soon enough. Now it's at 46.9mpg, and continues to climb.
That's impressive. The Skoda Kodiaq TDI 190 4×4 that I ran, which weighs much the same as the Honda, and offers similar cabin space for a family of five, managed an average of 37mpg.
Recently, however, I spoke with a chap who drives a CR-V Hybrid, and he's managed an average of just over 50mpg. What witchcraft is this, I enquired? It turns out I haven't been doing everything right.
I already knew that to get the best from the hybrid set up, I needed to drive the car in its 'Econ' setting. This reduces the initial response of the accelerator pedal and the effect of the air conditioning system. And I also knew that using the deceleration paddles, behind the steering wheel, to ramp up the force of the regenerative braking, was importing when it came to capturing energy that would otherwise go to waste.
My fatal error, however, and the reason Mr Clever Clogs had averaged more than 50mpg, was that I hadn't been using the EV driving mode.
Needless to say, the Honda handbook only lists all the reasons why the system may not operate as anticipated. Laywers, right?
But sure enough, switching it on a low to medium speeds, when the battery has sufficient charge, is helping eek more miles out of every gallon of petrol.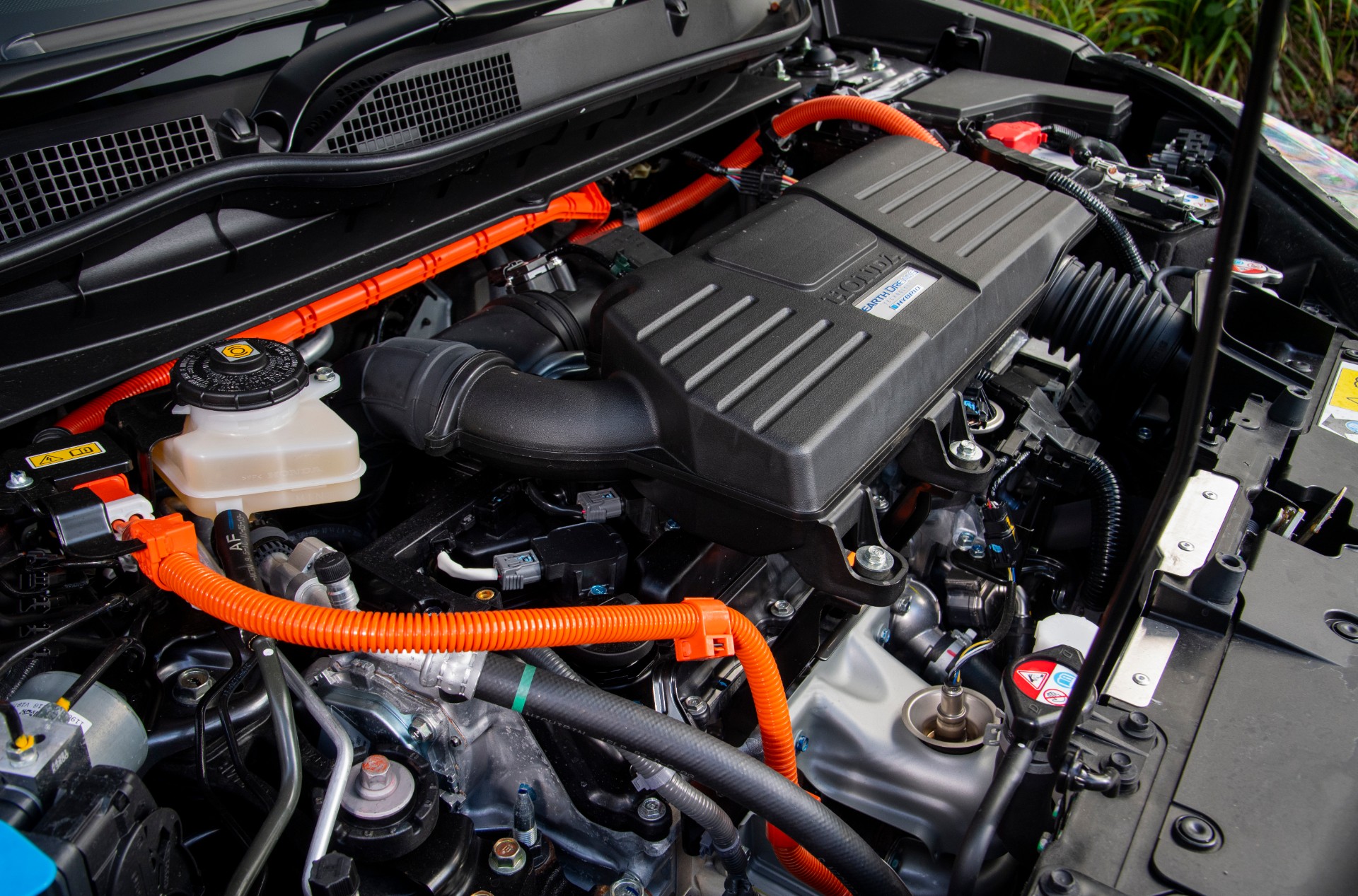 Honda doesn't tell you any of this but EV mode tells the hybrid system to resist the urge to run the 2-litre four-cylinder petrol for as long as possible, and allows more judicious use of the throttle when being powered by the electric motors alone.
So there you have it. You don't need to write a manual about it; just telling drivers that by using the Econ mode, manually operating the paddles for regenerative braking and activating the EV mode as often as possible will help them get the best possible fuel economy out of this clever system – and ensure that the engineers' hard work doesn't go to waste.
Want to ask a question? Contact me via Twitter:
Tweet to @squarejames Follow @squarejames
And you can follow me on Instagram @jamesbmills
July 24: Give me a comfortable ride over sporty handling any day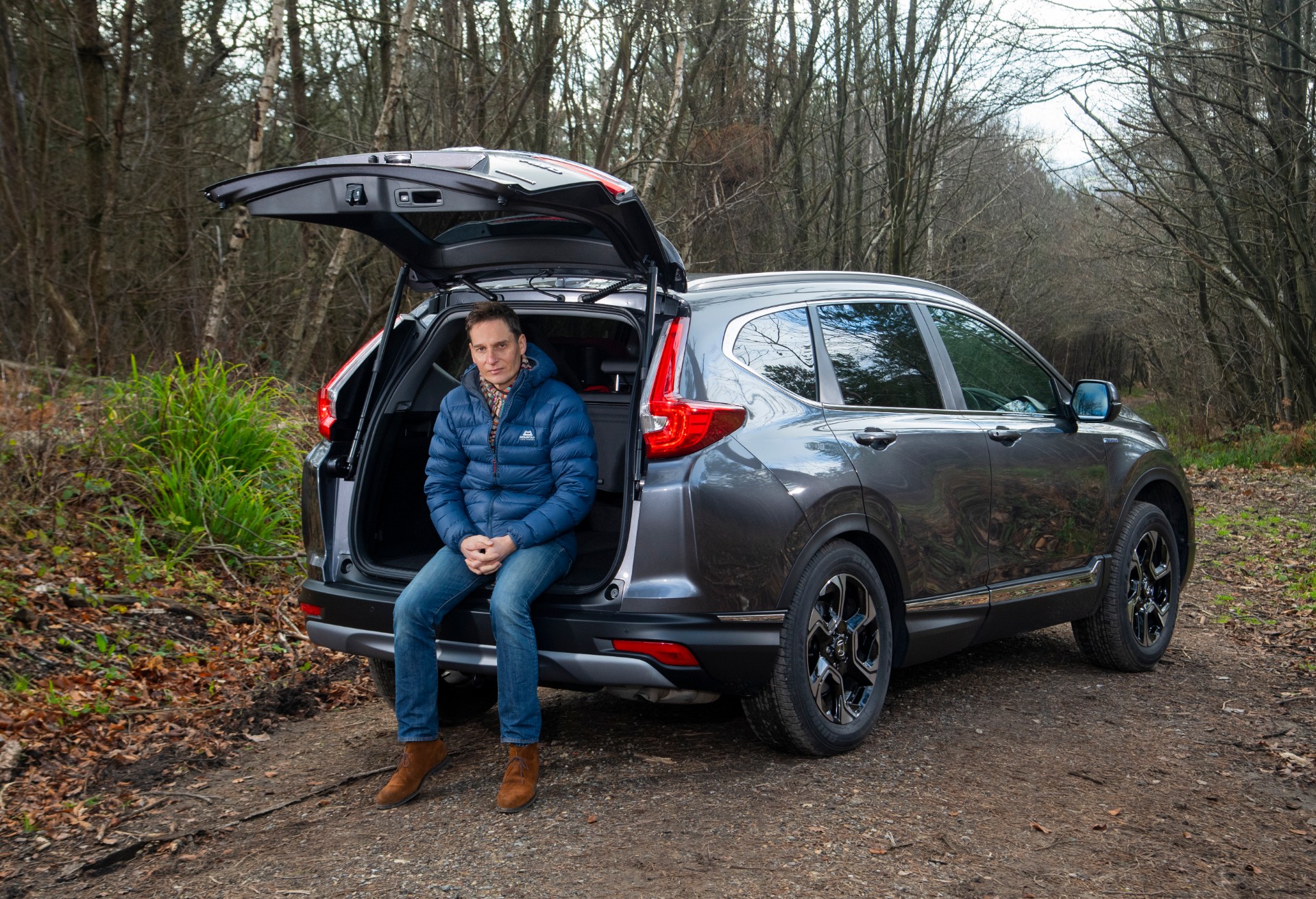 There are some Sport Utility Vehicles that try terribly hard to over-deliver on the Sport promise. They ride on tyres with all the profile of a rubber band and the suspension has been tuned for a hot lap of Brands Hatch.
You and I know that's daft. A car like the CR-V was never meant to be anything other than a comfortable family runaround.
My three children grumble enough as it is having to sit in the back seats on a long journey. Imagine what it would be like if the suspension's springs and dampers compressed their spines every time you drove over a dip in the road, or rattled over a pothole. Within approximately 1.7 miles they'd be vomiting all over the back of mum and dad's heads.
Honda has judged things just right with the CR-V Hybrid. That starts with the Bridgestone Dueler tyres, which have a 60 profile. Tall tyres like these mean plenty of insulation from our crumbling road network.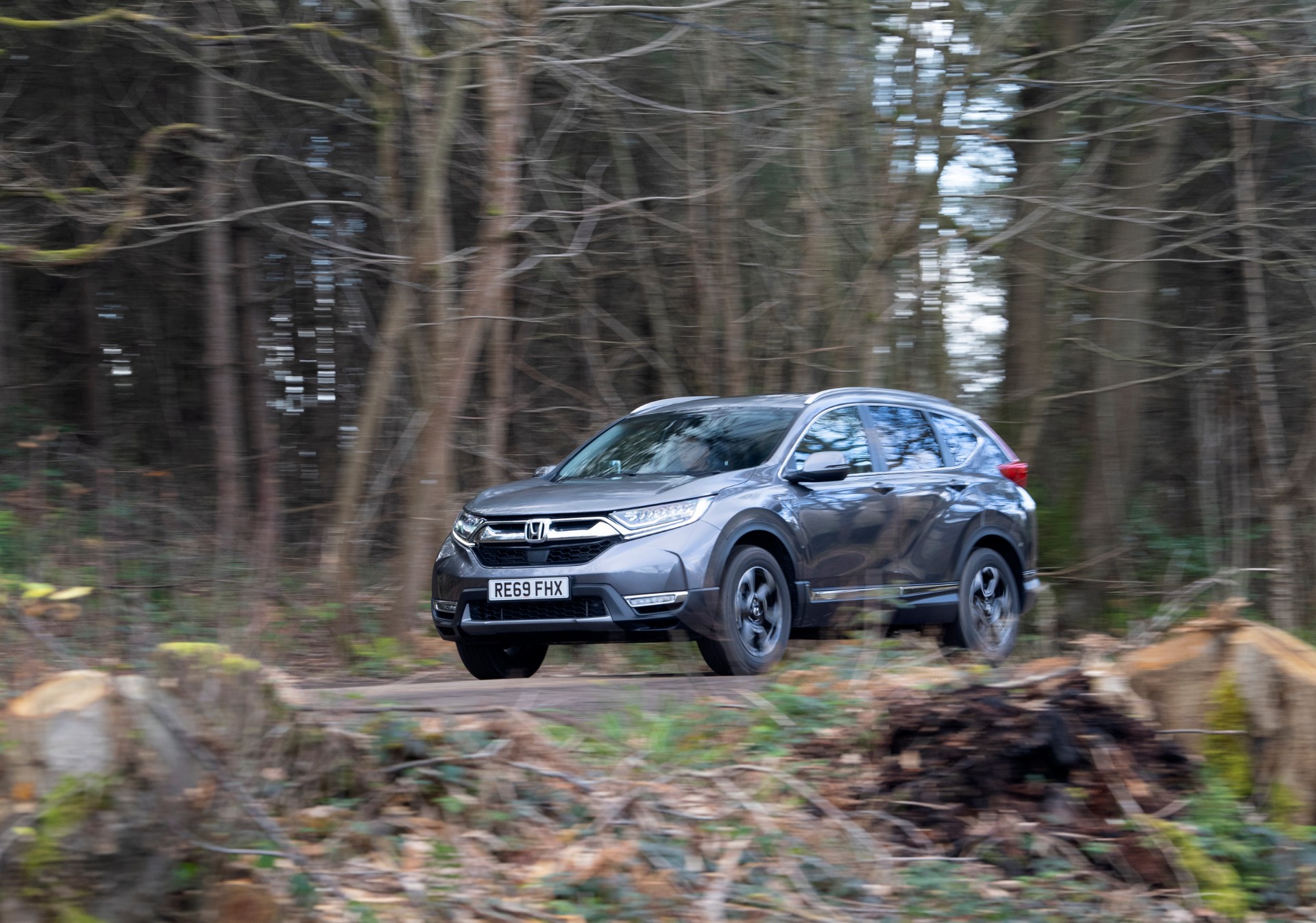 The clever thing is the car still manages to remain composed and responsive if you're in a bit of a hurry. Sure, there's a bit of body roll, but it is a smooth transition to the lean rather than a sudden falling over sensation and the CR-V actually handles itself reasonably well when you push on.
Levels of road noise are muted, too, and those tyres mean the car does a good job of smothering the road surface and smoothing out the ride.
Someone, somewhere at Honda, understands what the majority of drivers want from an everyday family SUV.
Want to ask a question? Contact me via Twitter:
Tweet to @squarejames Follow @squarejames
And you can follow me on Instagram @jamesbmills