Extended test: 2017 Renault Grand Scénic 130 dCi
Which is the best family car?
---
Published 13 September 2017
Driving is testing the three key types of family car over the coming months: an SUV (Honda CR-V), an estate (Audi A4 Avant) and a people carrier (Renault Grand Scénic, below). Which will prove the most useful for parents?
---
Model 2017 Renault Grand Scénic dCi 130 Dynamic S Nav
Tested by James Mills (@squarejames)
Test starts May 1, 2017
Price excluding options £28,605
Price with options £31,454
Options fitted Metallic paint (£545); full LED headlights (£500); Parking Pack Premium, including hands-free parking, 360-degree parking sensors and blind spot warning (£500); Safety Pack Premium, including adaptive cruise control, safe distance warning and advanced emergency braking system (£500); Bose Pack (£500); emergency spare wheel (£90); QuickFix aluminium roof bars (£150); two tablet holders (£64).
Updates
May 4, 2017: Welcome to the family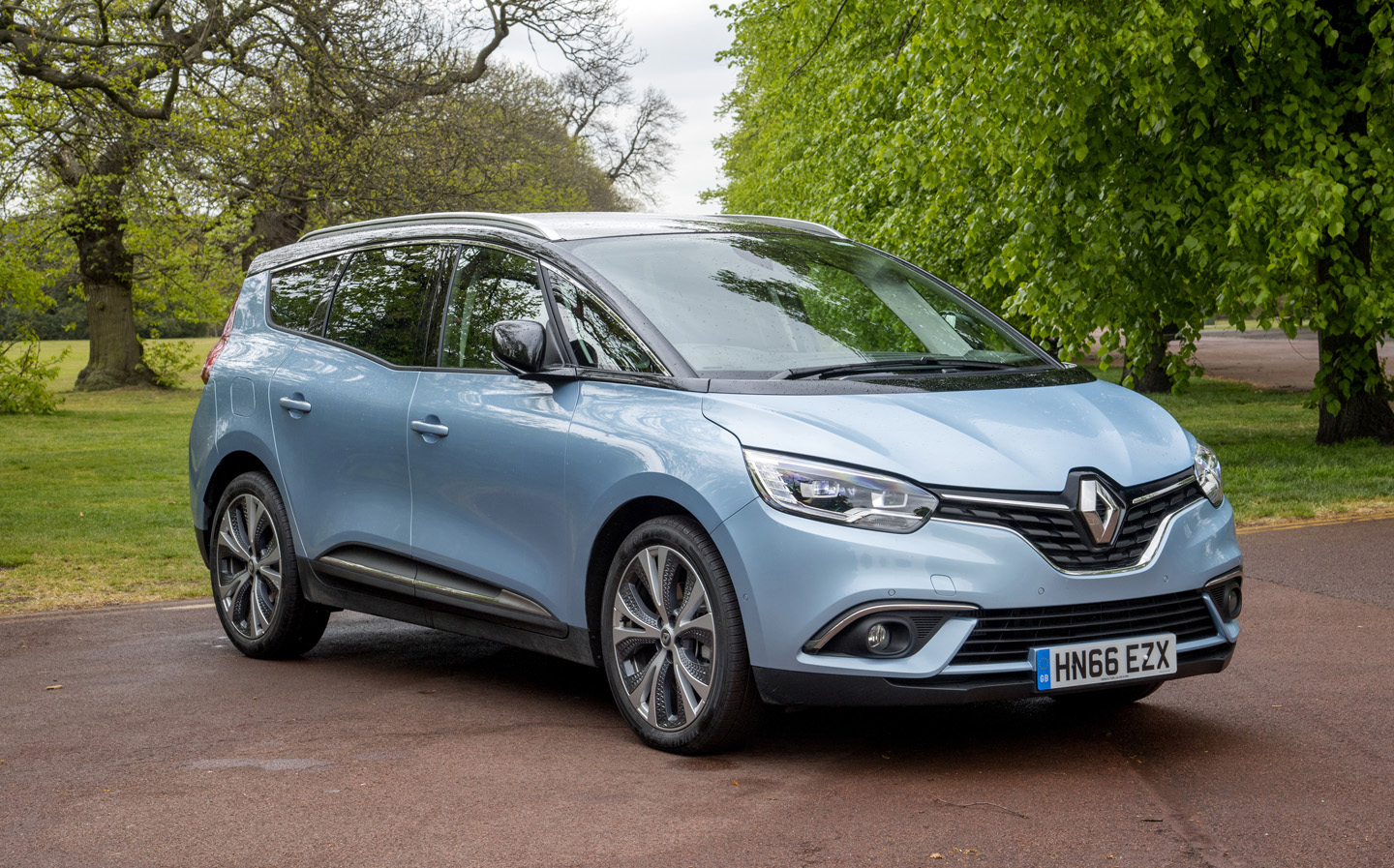 MPVs might be a dying breed but in my view, the Renault Grand Scénic is the most interesting-looking car of the three family cars Driving currently has on long-term test. Laurens van den Acker, Renault's chief designer, has said the new Scénic has to do more than just attract admiring glances:
"The old Scénic looked like Mum and Dad had grown bored with each other," he told us at the latest model's launch. "The new one looks like they are in love again." The Dutch designer added that if this model doesn't sell, "the MPV segment deserves to die". No pressure, then.
Our car has a 1.6-litre four-cylinder diesel engine, which Renault says returns 61.4mpg and emits 119g/km of CO2. It has a manual gearbox, which wouldn't be our first choice for this type of car, but we'll see how the six-speed unit gets on.
The Dynamic S Nav trim includes enough goodies to fill the shelves of a John Lewis electrical department. Are they helpful, though, or just shiny stuff to entice drivers like magpies?
And would buyers of this car be wise to spend a small fortune on extras, including LED headlights, a hands-free parking system, adaptive cruise control and a fancy Bose audio system? Keep returning to this page over the coming months to find out.
Got a question about the Renault Grand Scénic? Contact me on Twitter @squarejames.
May 10, 2017: Living with a Renault Grand Scénic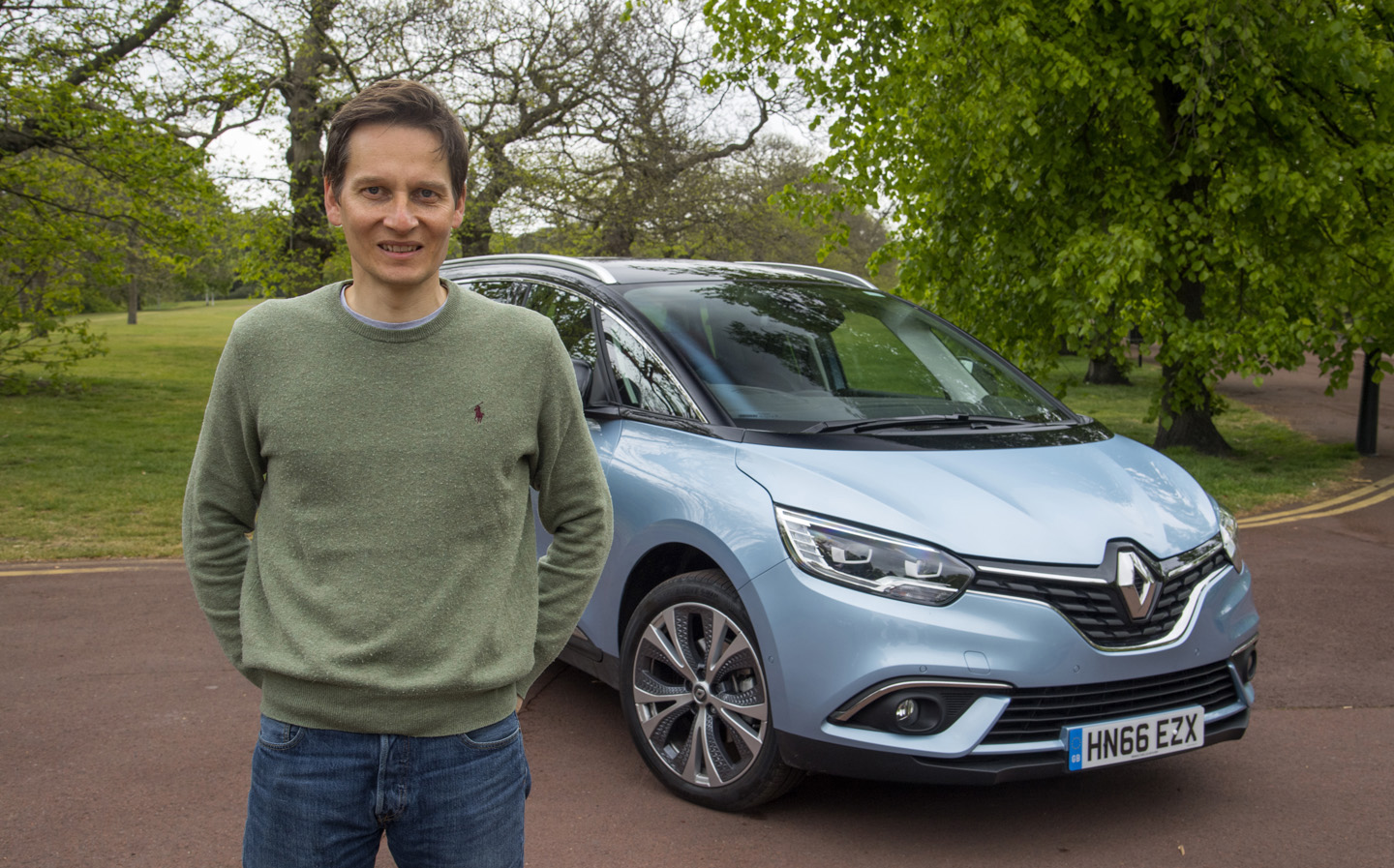 THE RENAULT Scénic has an unlikely fan. A certain Jeremy Clarkson described it as good-looking, well-equipped, practical and economical. I bet Renault's people couldn't believe it when the nation's toughest-talking car critic added that the Scénic was exceptional value for money.
It was with these findings in mind that I first approached Driving's Grand Scénic. Surely there must be a chink in this family car's plastic armour?
There's no beef to be had with this car's price. Compared to the Honda CR-V and Audi A4 Avant that Driving is also subjecting to an extended test this summer, the Grand Scénic is a bit of bargain, priced from £23,445, and the Dynamique S Nav dCi 130 costs £28,605.
It's also the only one of our three family cars to feature seven seats. The Grand here means bigger, and by bigger, Renault doesn't just mean that there's an extra bit of bodywork bolted onto the back of the car, to make room for the third row of seats that comes as standard.
The engineers have been hard at work, physically extending the chassis structure so that the distance between the car's front and rear wheels is increased by 7cm for the Grand. What's more, the back of the body has been lengthened, meaning overall the Grand is almost 23cm longer nose to tail than the standard, five-seat Scenic.
"20-inch alloy wheels. Has someone in Renault's design department has been watching reruns of Pimp My Ride?"
It may not sound like much but in a family car, where parents and children soon feel like they're living on top of one another, every little helps.
Where the previous model appeared to have been styled with all the flair of a Little Tikes push car, this fourth-generation Scénic is a handsome beast. The roof is low, the ride height is raised (to mimic an SUV), there's neat two-tone paintwork and the whole lot is finished off with a set of huge (and standard) 20-inch alloy wheels. Has someone in Renault's design department has been watching reruns of Pimp My Ride?
This gives it a certain cool factor that this type of car has always lacked. "Yes, we've got kids," it says to other drivers in the shopping centre car park, "but we haven't given up on life." It makes other seven-seaters, such as the BMW 2-series Active Tourer and Ford S-Max, look frumpy.
The interior is significantly different to the last generation Scénic. For starters, the driver's dials and instruments are now dead ahead of the steering wheel, whereas they sat in the middle of the dashboard before, giving the person sat in the middle rear seat the clearest view of the speedo, for some unfathomable reason.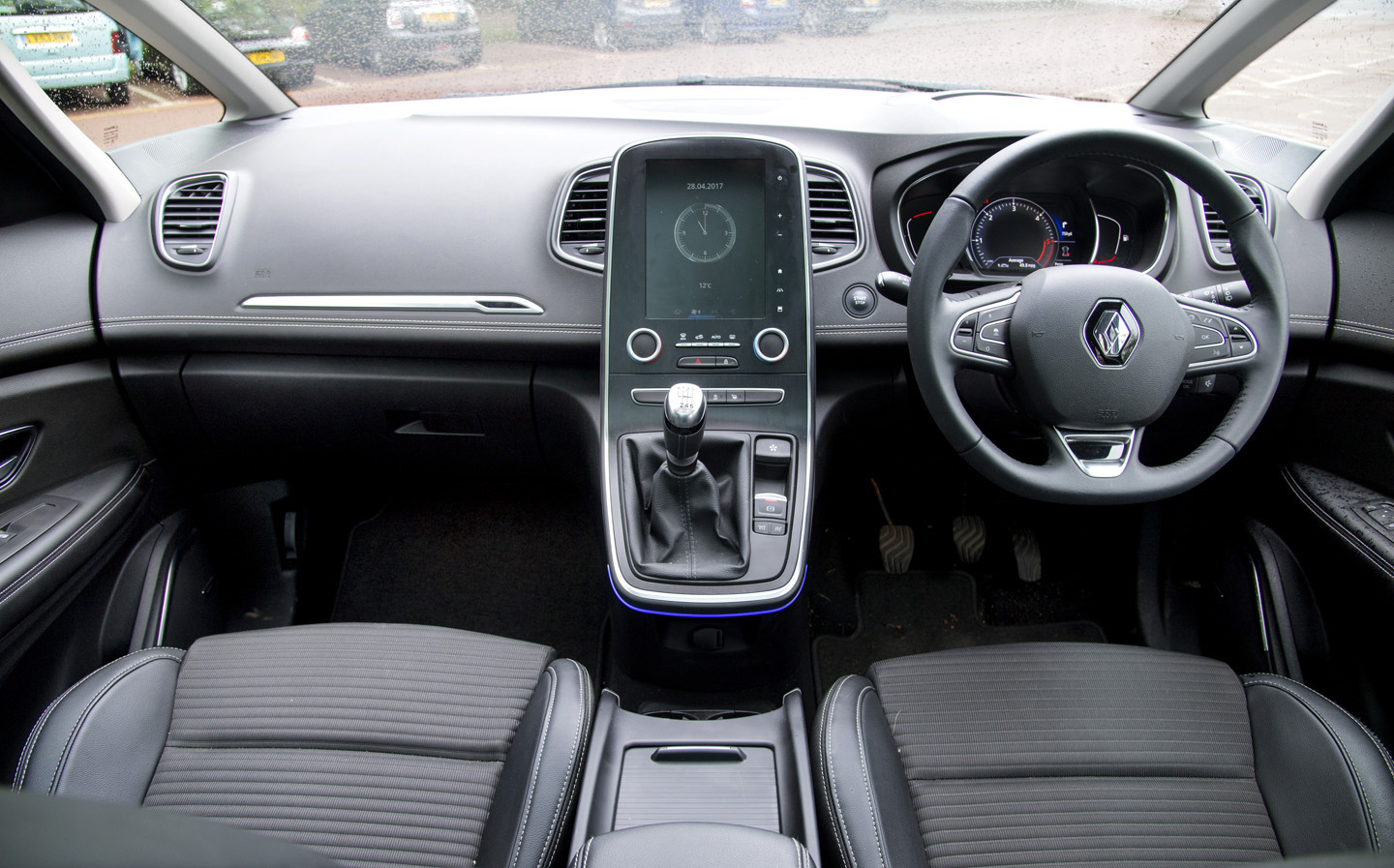 In the middle of the dashboard is a large, 8.7 inch touchscreen. It's positioned quite high so it's well within reach, and the screen is of reasonable resolution, but there's no getting away from the fact exploring its many menus and sub-menus takes eyes off the road.
Helping redress the balance a little is a head-up display, which can show, amongst other things, speed, distance to the vehicle in front (in seconds) and navigation instructions.
The trump card played by the Grand Scénic, however, is its stowage space. My family and I keep discovering new hide-holes all over the place, and an official, final count will be delivered in due course.
One big change compared with the last generation Scénic is that the middle row of seats is now two seats made to look like three, whereas before it boasted three independent seats. This was ideal when you had three strapping teenagers in the back, as the middle person could slide their seat forward slightly so they didn't have to hunch their shoulders.
It also means that the central middle seat lacks Isofix child seat mounts, so if you have a kiddie seat that requires Isofix, or you insist on using Isofix for safety reasons, it can only be placed on the outer chairs, or the front passenger seat (with the passenger airbag turned off, of course).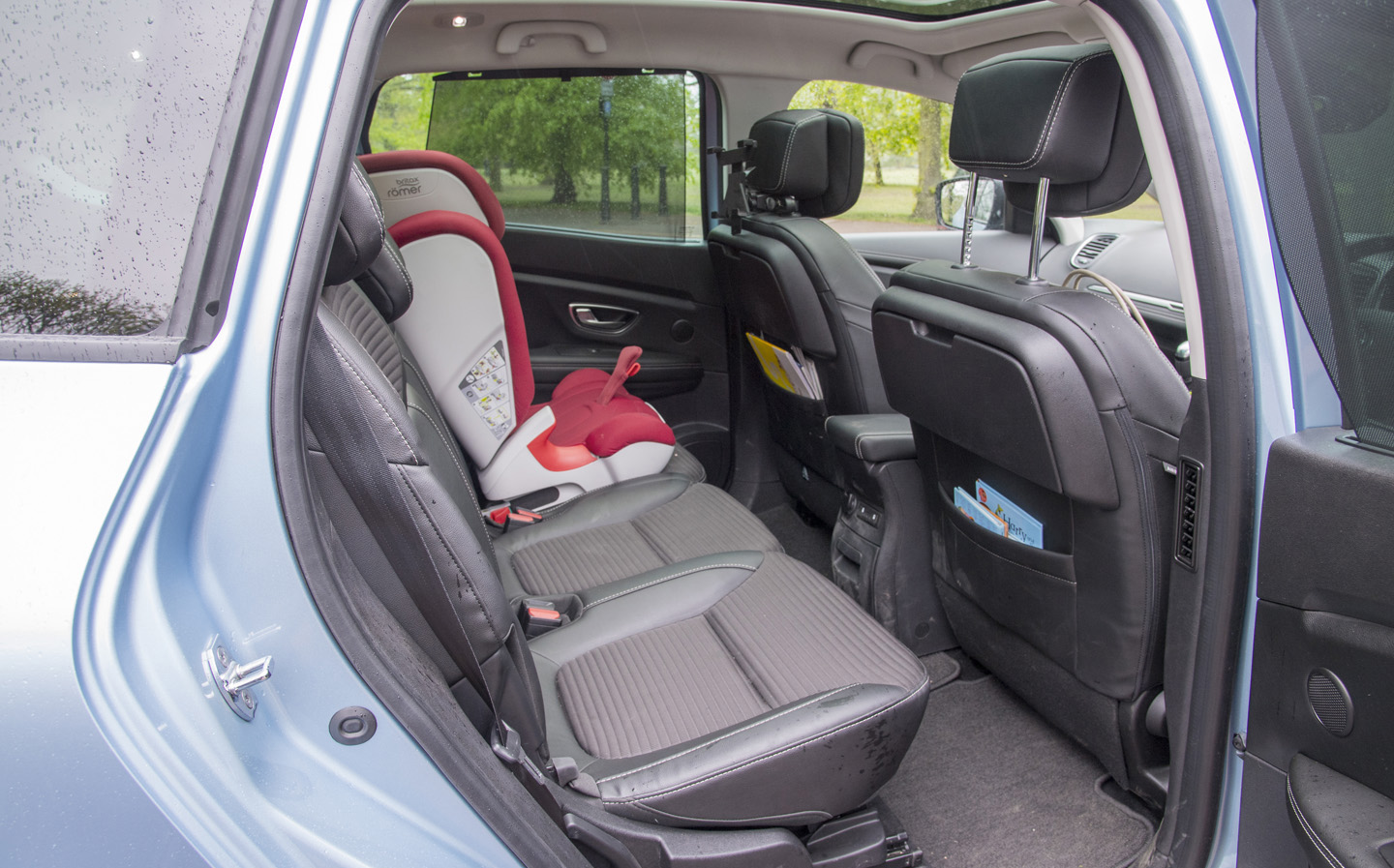 Another difference is that all five back seats can now be lowered at the touch of a button. A control panel in the boot lets you choose between each individual seat, or all five at once. It's a handy feature.
Just how well the car's interior stands up to the demands of a family of five remains to be seen. And getting the best from the car's myriad gadgets and gizmos and safety and security features is not going to be the work of a moment.
One feature that has been turned off is the keyless card's "hands-free walkaway and welcome function." In plain English, it means that when activated, the driver can keep the key in their pocket and the car will lock itself when the walk away, and unlock as they approach it.
However, it's all too eager to lock itself, such as when you remember you've left the house keys on the kitchen table and go back to the house, or walk back to pick up the kids' school bags from the front hallway. In such cases, the Scénic locks itself, regardless of whether or not it's full of passengers.
It's not just plain annoying. Although unlikely, what if the doors then failed to unlock with everyone aboard? There's also growing concern over security vulnerabilities of this type of keyless system.
Happily, Renault lets drivers choose whether or not they wish to use the convenience function. So switching it off was a simple matter. A pat on the back, then, for Renault and letting drivers choose for themselves.
Got a question about the Renault Grand Scénic? Contact me on Twitter @squarejames.
May 24, 2017: Holiday time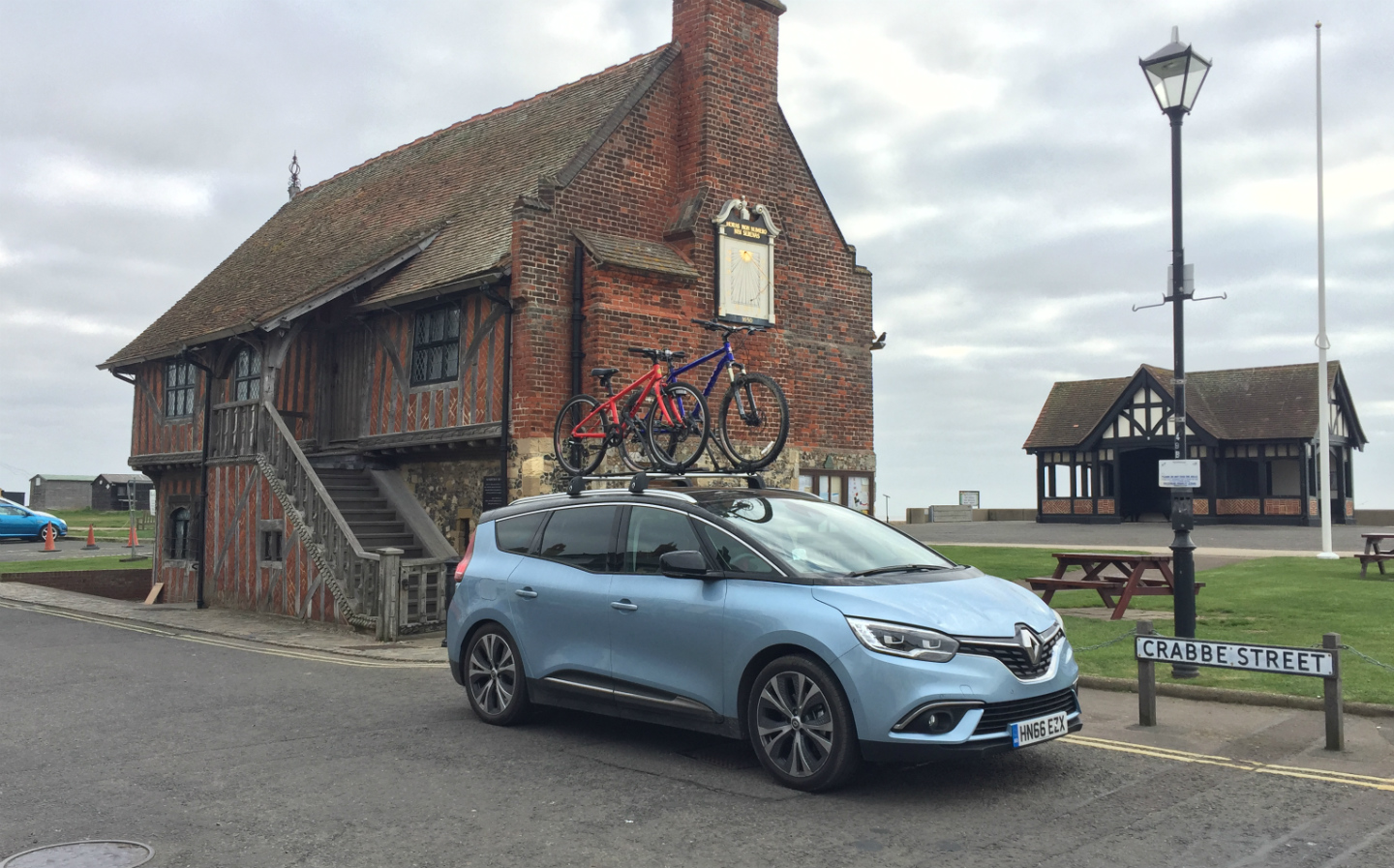 If you were going to put a family car to the ultimate test, what would it be? Thrash it around the Le Mans race track for 24 hours? Punish it with the blast-furnace heat of Death Valley? Or grind its gears all the way up the Col de la Bonnette, with a caravan in tow and not pausing for breath before beginning the dizzying descent on the other side of the 2,802m summit?
None of these can come close to loading up the car with the family and heading on holiday.
Have you ever seen how much stuff kids want to take these days? In my time, a yoyo, colouring book and some pencils would have been the lot. Today, children can make a travelling circus look like a hermit moving home.
---
Browse NEW or USED cars for sale
---
The Renault Grand Scénic was tasked with carrying balance bikes, mountain bikes, helmets, scooters, swimming floats, buckets and spades, fish nets, crab lines, luggage, wash bags, Trunkies crammed with toys, tablets and smartphones, wellington boots and running shoes, smart shoes and casual shoes, books and teddy bears, a pushchair and tyre pump, not to mention a mountain of grocery shopping to keep the troops marching upon arrival.
Our family isn't as bad as some, though. One mum I know says she took 28 pairs of shoes for her and two children, for a week away.
Each time I opened the Grand Scénic's boot – a process which, rather quaintly, is done manually, using something called hands, rather than by waving your foot around under the bumper, looking like the world's worst Michael Jackson impersonator – I'd have to be ready to catch cascading bags like a juggler ending their routine.
Happily, the car has a bootifully big boot. In five-seat configuration, there's 596 litres of luggage space. If you needed to go mad at a DIY store, dropping the five back seats liberates 1,737 litres – trouncing the Audi A4 estate and Honda CR-V SUV family cars that we're comparing to this people carrier.
Unlike the Audi, however, the luggage cover doesn't have an integrated restraining guard to keep everything out of the cabin.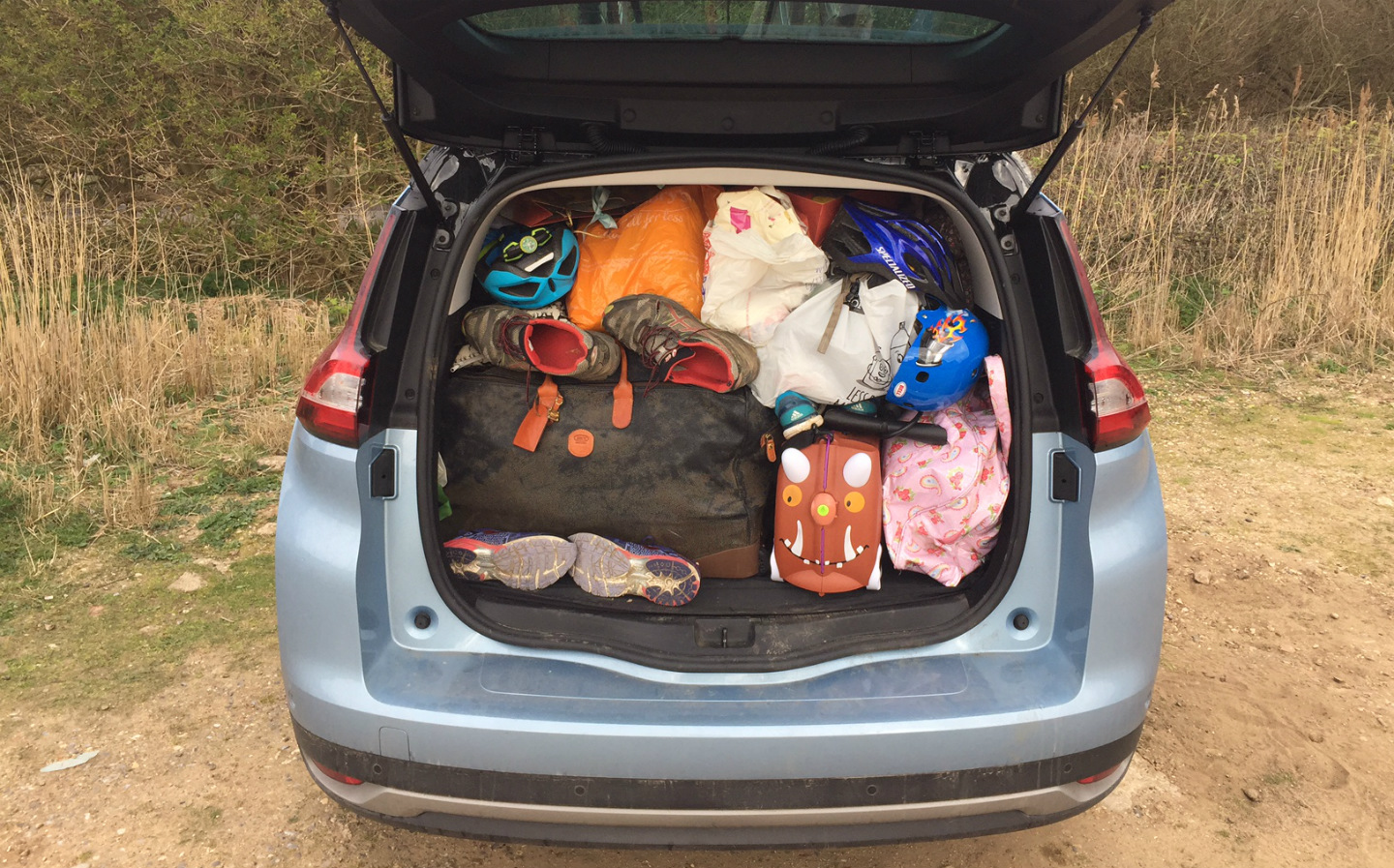 To be honest, the boot was the least of my worries. The Grand Scénic is fitted with Renault's aluminium "quick fix" roof bars. They would be a quick fix, if you could fix things to them quickly.
If, like me, you own a roof rack and bike carriers, but these are for square-section bars, you have to buy adapters to make the bike carriers compatible with Renault's aero-style aluminium bars. After a helpful conversation with The Roofbox Company, and £42.50 later, I had all the parts needed to mount bikes on the roof.
The stowage space in the cabin is impressive. There are compartments under the floor (big enough to take kids' wellies), large door bins, a huge centre console that slides on rails, cup holders, flip-up tables and (optional) tablet holders mounted to the back of the front seats. There are also built-in sunblinds.
And, just as importantly, given the car has a panoramic glass roof that doesn't open, the back of the cabin features ventilation ducts set in the B-pillars, to waft air-conditioned coolness to passengers.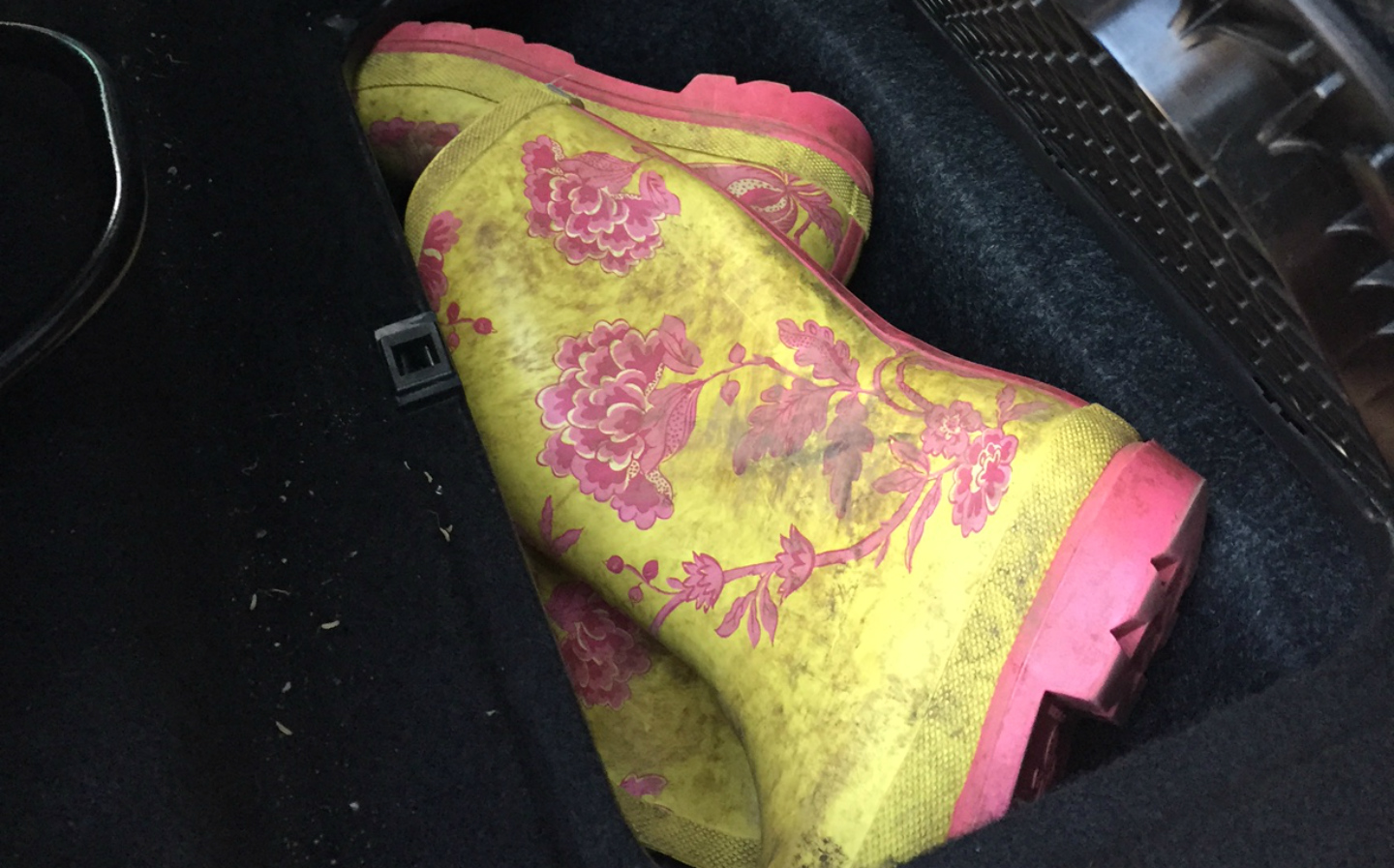 On the road, the Grand Sénic is surprisingly good to drive. Renault's engineers have tuned the suspension to resist bodyroll, the steering is relatively responsive and the car resists impersonating a tanker turning at sea.
The trade off is that because it has 20-inch alloy wheels as standard, the ride comfort is slightly sharp over lumps and bumps and the gearing is very short, so at 70mph motorways the 1.6-litre, four-cylinder diesel engine is buzzing away at 2,150rpm, which is quite high for a modern diesel car with a six-speed manual gearbox.
The fuel economy is currently averaging 50.2mpg, which seems remarkably good considering the seven-seat car does a mix of local trips and longer journeys. And I like the convenience of not having a screw cap on the fuel tank neck.
But the best feature of all isn't the sort of thing that would excite the majority of car reviewers. A display tells the driver how much of a gap there is to the car in front. Measured in seconds, it's oh so useful, because once you keep it in the green-coloured safe indicator, you know you're more than two seconds behind the vehicle in front. And as everyone knows, only a fool ignores the two second rule. And if you don't know what that means, watch this classic road safety advert from the 1970s.

It's part of the optional, £500 Safety Pack, that includes a lane keep assistance system and something simply called 'safe distance'. If you're ordering a Scénic or Grand Scénic, pick this from the options. When you've got a car full of kids, this is probably one of the most effective safety features of all.
Got a question about the Renault Grand Scénic? Contact me on Twitter @squarejames.
July 14, 2017: The kids are alright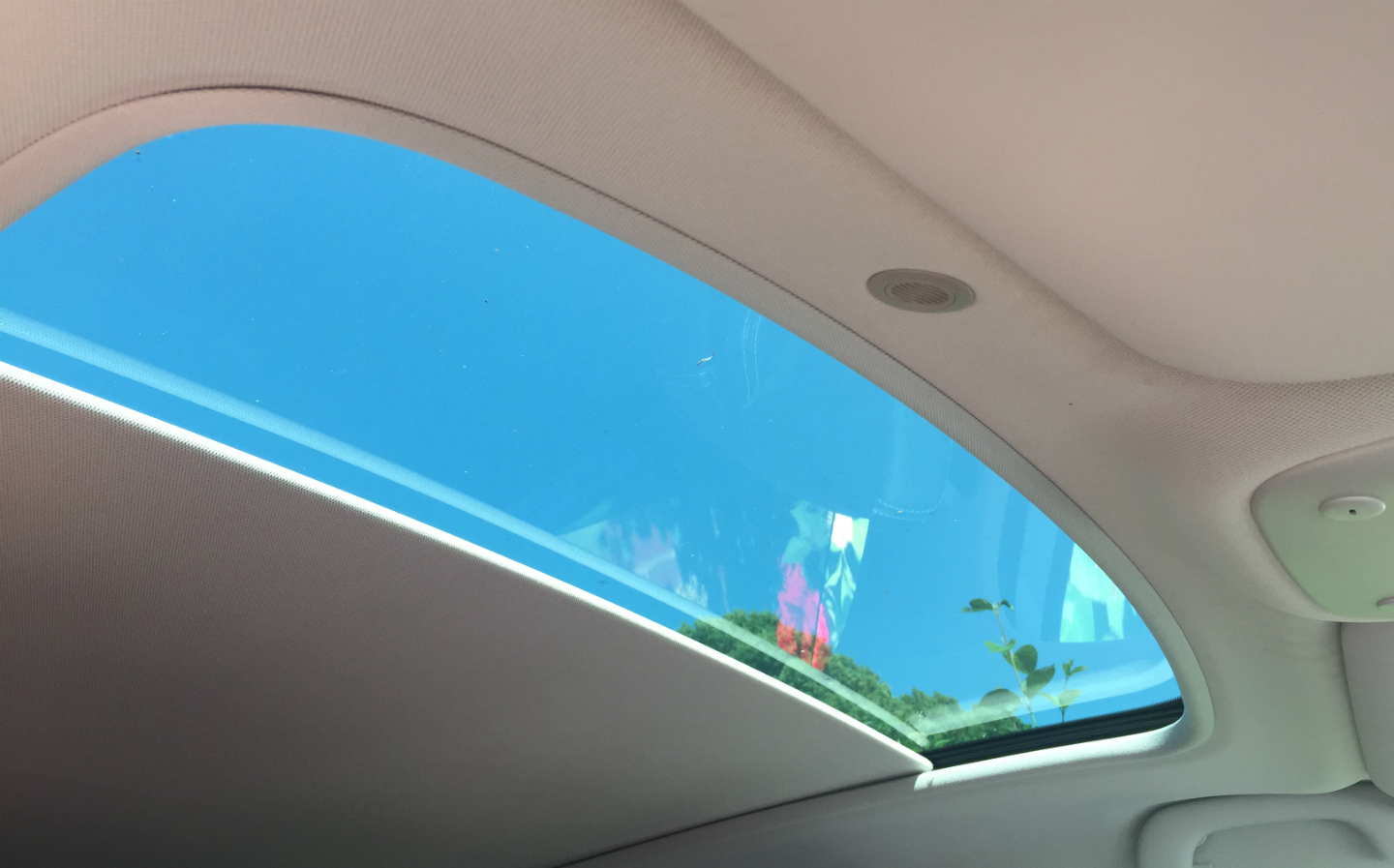 Relatives recently took an interest in the Grand Scénic. The young couple and baby daughter own a current generation Nissan Note, complete with a roof box, but are finding that their stylish Bugaboo pushchair eats up most of the boot space before they've packed so much as a spare nappy and change of clothes.
So I treated them to a guided tour of the Grand Scénic. There were 'oohs' and ahhs' from the young parents. I suggested that until recently, they couldn't have imagined a time when they'd get so excited about a seven-seat people carrier. Before you know it, I warned, you'll be choosing which conservatory to fit to the back of your house
What was drawing praise? The practical things that make the Scénic so child-friendly. Naturally, it comes with a pair of Isofix securing points for child seats, which are on the outer two chairs in the middle row of seats, and another on the front passenger seat. It's a shame you can't get more – such as in the middle row's central seat, or two more in the rearmost two chairs – but the likelihood is few drivers need so many. (We don't.)
---
Browse NEW or USED cars for sale
---
Next are the sunblinds built-in to the back doors and tinted rear windows, which have proved invaluable during this year's summer heatwave. The panoramic glass roof also drew praise, and from my experience, the great thing about it is that there's a solid cover that can be closed at the touch of a button on hot days – a far more effective solution than the fabric blinds fitted to some cars with this type of roof.
Also helping keep a car-full of adults and children cool is an effective climate control system, with dual temperature control for the driver and passenger, and air vents in the pillars for the back doors, which are appreciated by our kids.
Throw into the mix more storage solutions than a branch of Ikea, including two tray tables which use elasticated straps to keep drink bottles in place, four USB chargers (two in the front and two for the back seats) and a pair of 12V sockets and it's well equipped for the various gadgets and gizmos that kids today can't bear to be parted from.
And when they've all got their head buried in iPads, parents can sit back and relax in comfort. The front seats are particularly supportive, and feature large, adjustable headrests that look and feel like the sort of top-dollar item you'd find in a Mercedes S-class. And then there's the Bose audio system, which does a good job of playing Dad's old indie music loud enough to have those in the back removing their headphones and complaining about the terrible tunes that are spoiling their own listening experience.
As for the boot, it didn't disappoint during the guided tour of the Grand Scénic. With 596 litres of luggage space, or 1,737 litres with all back seats folded, it is substantially more spacious than cars from a class or two below, such as my relatives' Nissan Note (381 litres).
At a time when SUVs are all the rage, I say this is a good-looking, affordable and impressively practical alternative that drivers should consider as their next family car.
Got a question about the Renault Grand Scénic? Contact me on Twitter @squarejames.
September 1, 2017: Scrappage talk
'Au revoir, old car' runs the catchy line on Renault's website. It's a reference to the car maker's scrappage incentives, where drivers can trade-in an old banger and be assured of a healthy discount on a new Renault in return.
The car makers are using it to stimulate sales, as the market struggles along like an engine with fouled-up spark plugs, or, in the case of diesels, a blocked particulate filter.
Renault's offer is attractive. Cash buyers of a Scénic or Grand Scénic qualify for a minimum £2,000 scrappage allowance when they trade in any car (petrol or diesel) registered before 2010 and with a Euro 4 emissions rating.
However, there's more. Drivers funding the purchase of the new Scénic through Renault finance – and that means the majority of new car buyers – qualify for a further £2,000 discount. That results in £4,000 off the list price – before you've even haggled with a salesman.
Driving's Grand Scénic on long-term test is the Dynamique S Nav dCi 130 model (the 130, 1.6-litre diesel engine would definitely get my vote over the wheezy 110, 1.5-litre). It has a list price of £28,605, so that falls to £24,605, which means a lot of car for your money.
The offer runs until the end of this year. So if you are after a frugal, practical seven-seat family car that cuts a dash, comes loaded with equipment and has a four-year warranty, I'd get your skates on.
However, as food for thought, Renault has just introduced the dCi 110 with Hybrid Assist – an electric motor and battery that give the diesel motor a performance boost and cut CO2 emissions from 104gkm to 94g/km. It's competitively priced, but I'm yet to drive it so can't comment on the effectiveness of the hybrid system on the road. More significantly, it is likely to prove more desirable than a normal diesel-powered Scenic, as legislation steers more cars and drivers toward hybrid and electric models. Which could mean it holds its value better…
Got a question about the Renault Grand Scénic? Contact me on Twitter @squarejames.
September 11, 2017: Grand Scénic vs Nissan Qashqai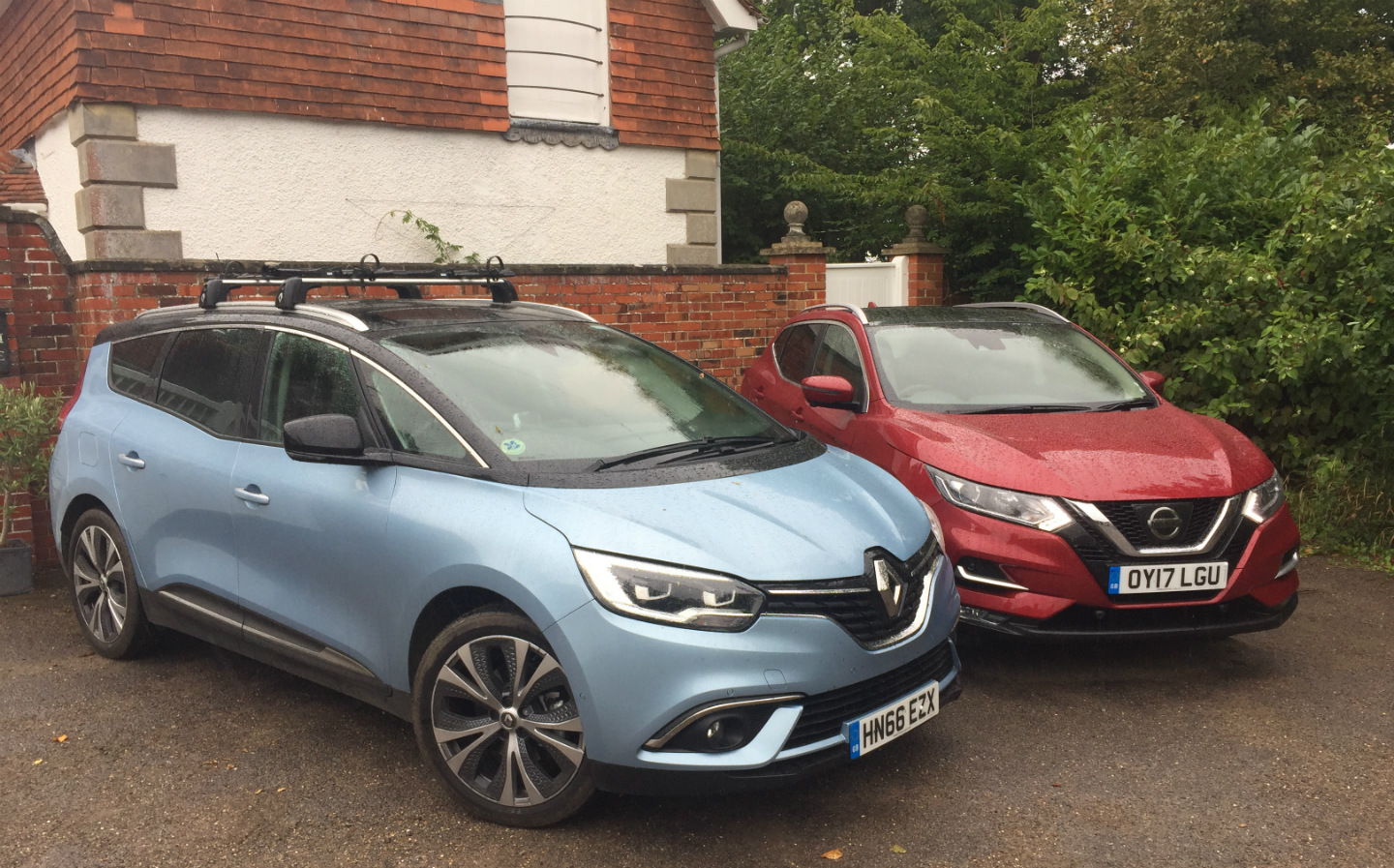 At the time of starting its extended test of the Renault Grand Scénic, Driving quoted Laurens van den Acker, Renault's chief designer, who said that the car's radical makeover had to bring more drivers back to this type of family car. If it failed to work, "the MPV segment deserves to die," said van den Acker.
MPVs, or multi-purpose vehicles, were once incredibly exciting. I can remember when my parents bought a first-generation version of the Renault Espace. Then, in the late '80s, it felt futuristic and did things no other car could do. Its five independent back seats were interchangeable, could fold down to make a table or load a bike, the front seats spun around to allow for a picnic by a sodden seaside, and it looked like nothing else on the road.
However, there were flaws. Lifting out those back seats wasn't something my mum could manage; they were so heavy it was a job left to my Dad or I. And then you had to store them somewhere, so if you didn't have a garage, your house would be filled by bulky car seats. And then there were the windscreen wipers, which operated involuntarily at the car's top speed, as my father found out on a run to the Belgian Grand Prix at Spa, one year – but that's another story.
However, the British public's love affair with such cars has waned. We all know why; yes, they may be practical, but so is a mop, and who looks forward to cleaning their floor?
Then came something that looked more stylish – the sport utility vehicle, or SUV. It looked big and brash and suggested you spent your weekend white-water rafting, even if you only ever ferried the children from one activity club to another.
Cars like the Nissan Qashqai democratised the SUV. Tens of thousands of British drivers deserted their MPV, switching to an SUV. Ironically, Renault now effectively owns Nissan, and wisely, builds faux-by-four models including the Captur, Kadjar and Koleos.
So could the Grand Scénic hold its own against the car of the moment, the Nissan Qashqai?
Revised for 2018, the Qashqai is nearly as long as the Grand Scénic, roughly the same height and nearly as wide. But the first comments from my three children (4, 9 and 13) was that the Qashqai's back seat was a squash. It's a bench seat, and with one child seat installed, the two older kids were pressed up against one another. Whereas in the Renault, its back seats have been shaped to be three individual chairs (even if it's actually two) and the cabin is wide, meaning room to breathe.
In the front, I found the Qashqai's driving position similarly restrictive. The seat feels very upright, the clutch has too far to travel and the gearstick is too high and positioned too far rearwards. In other words, you feel out of sorts.
The Nissan's interior is shades of grey. It gives the impression of being very well made, but the style is formulaic and uninspiring. Whereas the Renault's layout looks more exciting, has a larger touchscreen, digital instruments and a better driving position. Both, however, give a good view of the road.
Some families will say they don't need a seven seat car. And strictly speaking, we don't. But the third row of seats in the Grand Scénic have come to the recuse on enough occasions to make us think we wouldn't do without them, at least not at this stage in our lives.
As for the boot, there's no comparison. Fold the Grand Scénic's third row of chairs into the floor (no heavy-lifting involved these days; it all happens at the touch of a button) and there is 596-litres of luggage space. That's enough for a couple of dogs and a pushchair, or a holiday's worth of suitcases. The Nissan is noticeably more compact, with just 430-litres of capacity, and the loading sill is significantly higher.
However, the Qashqai counters with a more refined ambience, a smoother ride comfort (the Grand Scénic's suspension is well damped, giving good body control, but it transmits too much information about the state of the road surface) and better road holding.
Strictly speaking, the engines weren't comparable. Driving's Grand Scénic has the 1.6-litre, 130 dCi unit, whereas the Qashqai had the its 1.5-litre, 110 dCi. Both return an average of 50mpg, in our hands, but the Qashqai felt gutless.
The pair are comparably priced, but as a family man, in my view the Grand Scénic wins this contest. Its more spacious, versatile interior is better able to accommodate children and all their paraphernalia. And if that keeps them happy, then I'm happy. If enough drivers stopped following the SUV herd, then the MPV might just live to see another day.
Got a question about the Renault Grand Scénic? Contact me on Twitter @squarejames.
October 01, 2017: Fuel for thought
The following video clip, posted to Twitter, probably doesn't need much explaining. It's easy to forget how convenient Renault's capless fuel filler system is, until you drive and refill another car. Renault isn't alone in using such a system, but nonetheless it's a welcome innovation on a car that manages to help make family life that bit easier.
It's simple pleasures like this that make living with a @renault_uk Grend Scenic so painless. @ST_Driving pic.twitter.com/q88qUQZTIS

— James Mills (@squarejames) October 10, 2017
October 10, 2017: Cheeky chew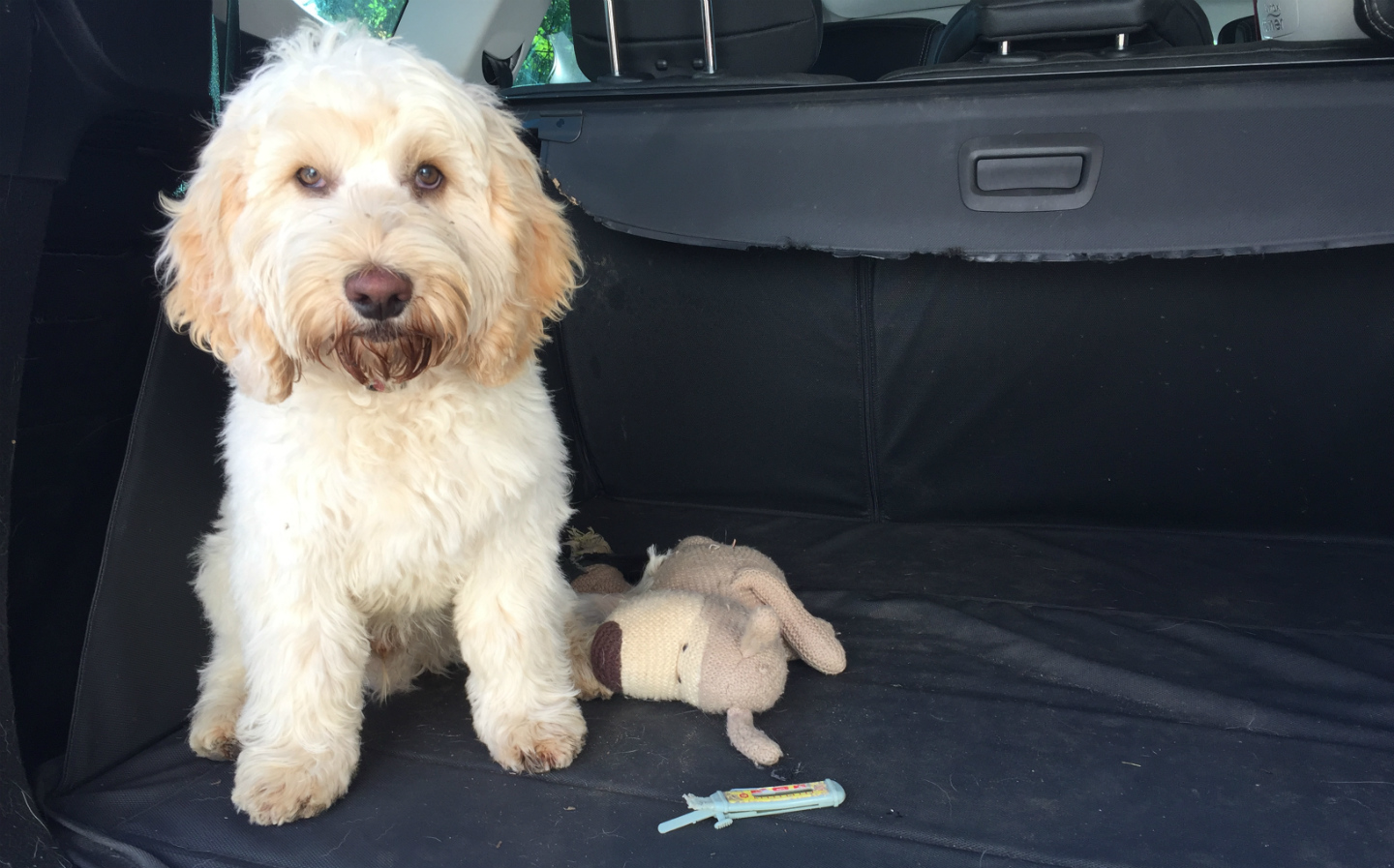 The latest, 2017 Renault Grande Scénic is a practical car for a family of five. But our extended family can at times feel as if it's growing by the day. We have a labrador, that's seven-years old, and he was recently joined by a cockapoo puppy – the sort beloved by celebs, including Caitlin Moran.
Bear was a promise/bribe for one of our children. The promise/bribe worked a treat, as our nine-year old daughter bravely stepped up at her great grandfather's birthday, in front of about 50 of GG's family and friends, and after several false starts, tightly clasped, clammy hands and whispers of "I can't do this", she sang a scene from Charlie and the Chocolate Factory, which she was appearing in, as… Charlie.
As soon as we got home, the search began. Several weeks later, Bear joined the family. And he had to share the boot of the Grand Scenic with Merlin, the lab'.
Merlin had never taken a shone to parts of car interiors. He was interested in food, not plastic or carpet. So we thought nothing of letting Bear share the spacious surroundings of the car's boot.
It soon became obvious that Bear and Merlin are nothing alike. After about four months, the luggage cover, which rolls out from just behind the rear seats, had been chewed. And not just a gentle nibble, with a couple of teeth marks. Bear had revealed the complete inner construction of this seemingly mundane item of the Grand Scénic.
Now, I know what dog owners are thinking: why not put him in a cage? It's a fair questions, especially as we use one in the house for him, when we're out, or overnight.
The problem is, it's big. And so is Merlin, the labrador. Letting them share the space without a cage seemed a more comfortable arrangement.
The luggage cover still works just fine. But every time I use it, I'm reminded of our furry friend.
Got a question about the Renault Grand Scénic? Contact me on Twitter @squarejames.
October 20, 2017: One-touch folding rear seats are ideal for MAMILs
The Grand Scénic that is undergoing an extended test at the hands of Driving is a Dynamique S trim level. It's a popular choice with customers, and one below the most expensive Signature Nav trim.
Choosing it means buyers get the useful one-touch folding rear seats feature. A small control panel, tucked away in the left-hand side of the boot allows users to lower the rear seats individually or all at once. It puts an end to manhandling seat mechanisms – something few drivers will miss.
As a MAMIL – middle-aged man in lycra – I find this useful for when I can't be bothered to lift my bike onto the car's roof rack. And it has also come in handy when moving furniture, or stocking up with plants and projects at the gardening centre.
It's not a feature that's unique to the Grand Scénic, but it is one that drivers will appreciate.
Another example of why the @renault_uk Grand Scenic is practical and VFM: one-touch folding rear seats as standard. https://t.co/ARd1QQXQVp pic.twitter.com/MUndUun6ho

— James Mills (@squarejames) October 20, 2017
Got a question about the Renault Grand Scénic? Contact me on Twitter @squarejames.
November 6, 2017: Is the Renault Grand Scénic a good family car? (final report)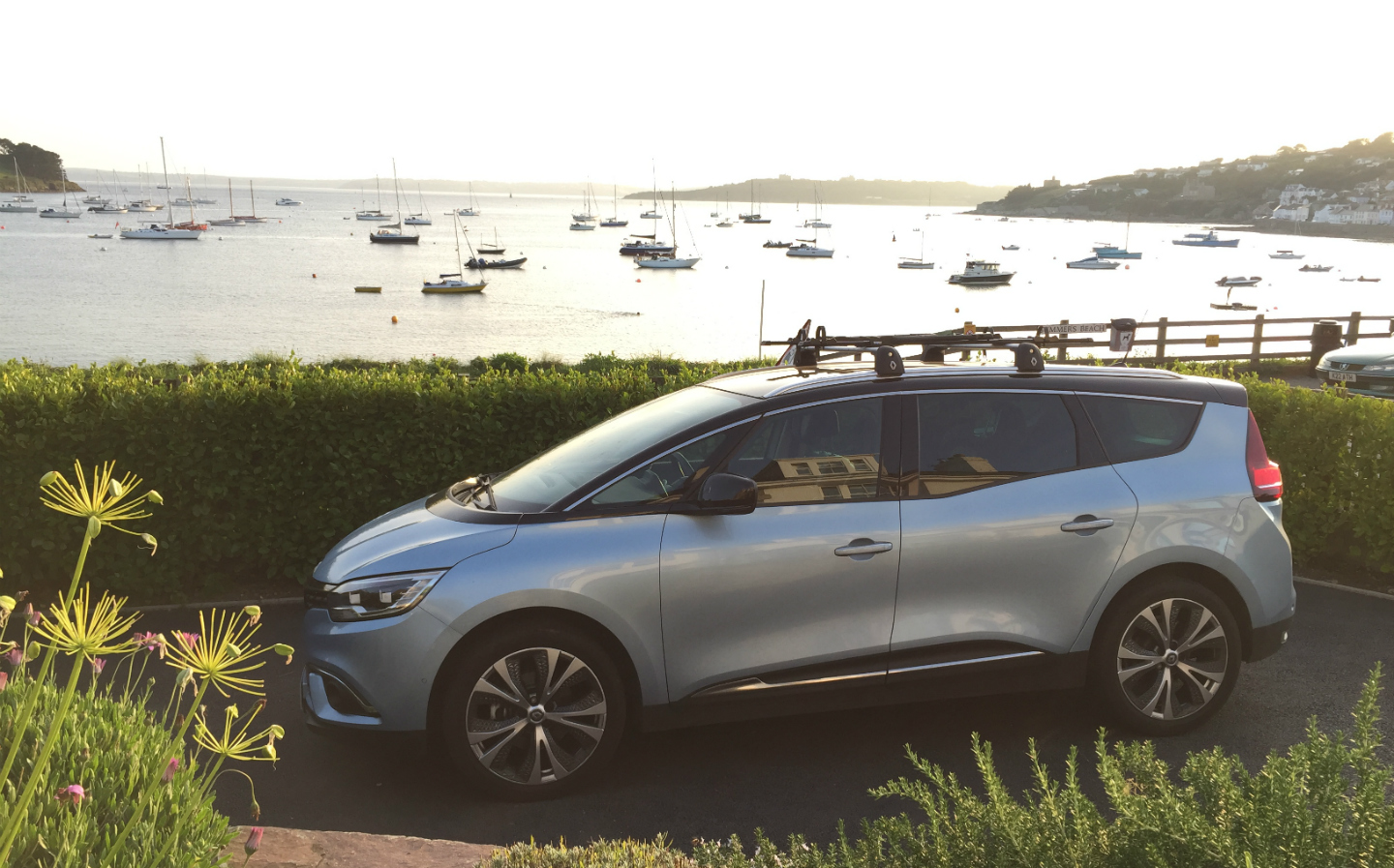 After living with a 2017 model year Renault Grand Scénic for six months, it is time to address the original question we wanted to answer: is it a good car for a growing family?
The short answer is, yes. Before clicking over to Renault's website to configure your ideal model, take a moment to consider what we threw at it, and how the 'people carrier' coped.
The seven seat Grand Scénic was challenged with coping with a family of five, two dogs and a roof rack (for bikes). Occasionally, there would be additional friends and family coming along for the ride, and it was used for a mix of local trips and longer journeys, such as visits to see relatives, or staycations – when the car would be loaded up like a bus keeling under a sea of people in Chennai – India's busiest bus route.
---
Browse NEW or USED cars for sale
---
The first thing to report is that the car performed faultlessly. So any new car should, you may say, but with the level of complexity increasing, teething troubles afflict new models just as much as they do worn-out bangers. And although it was on test for just six months, it traveled nearly 12,000 miles in that time, so rarely stood still.
However, it was starting to show its age in one respect. The tops of the door frames would rattle within the body structure over bumpy roads, which is doubtless in part due to the Renault having to tackle a particularly poor condition farm track, that led to stables where a daughter would go for horse riding lessons. Farmers have better things to spend their money on than 400 metre stretch of asphalt, so the suspension was given an unforgiving workout several times a week.
The car's interior was perfect for a family with three growing children. Aged 13, nine and four, its comfortable rear seats could be reclined, there was plenty of room for a large, Isofix child seat and the two older children, and with tinted windows, built-in sunblinds, aircraft-style tables, USB ports and rear ventilation ducts, they never complained, even on six-hour long slogs to Cornwall.
All five back seats could be folded manually, or remotely using buttons in the boot. The one-touch option to drop all five at once was a neat trick, but truth be told the middle row of seats spent most of their time raised, while the rearmost chairs were normally tucked away, so we could make the most of the car's impressively large boot.
When it did need to be loaded up, the car's flat floor and low load height made light work of heaving in bulky objects. It also means that the dogs could comfortably hop in and out, whereas an SUV is higher and would most likely need the owner to place the pet in the car – rather you than me when a dog's filthy at the end of a walk.
With the car fully laden, I was glad for the dCi 130 engine. It has a meaningful helping of extra torque than the dCi 110, giving effortless acceleration. Yet it returned an average of 51mpg in our hands, which is respectable given the claimed combined fuel consumption is 61.4mpg, and also that the gearing is so short on this model.
An automatic gearbox isn't available with the dCi 130 engine. However, given the raised position of the gearlever, changing gear never felt like a hardship and allowed for an extra degree of control that probably contributed to the good overall fuel consumption.
What did sometimes feel like a hardship was the ride comfort with the 20 inch alloy wheels, which come as standard with the Dynamique S Nav trim. The car's body control was good, but the tyres would give a sharp shock passing over bad surfaces that would occasionally annoy.
Surprisingly, the Grand Scenic handled okay. It wasn't about to give Ferrari or Porsche engineers sleepless nights, but compared with many mass-market SUVs, it's competent.
The car's gadget count is impressive. There are more toys than you have time to play with. From disco-style mood lighting to smartphone-synced infotainment, you get a lot for your money. Some of these are buried away within sub-menus, such as the air pollution monitor, which displayed the quality of air outside the vehicle. It's not something I often used, given that I rarely drive in cities on or motorways, but for some drivers, it could be a useful feature.
Breathe easy in the @renault_uk Grand Scenic. @ST_Driving pic.twitter.com/IrTNzvMcl9

— James Mills (@squarejames) November 6, 2017
The standard roof rails allowed for installation of Renault's QuickFix aluminium roof bars (a £150 option) which in turn allowed me to attach bike carriers. It's a job and a half loading adult bikes onto such a tall car, but happily none of them ever ended up dropping through the panoramic glass roof.
An essential extra, in my view, was the Safety Pack Premium option. It included adaptive cruise control, safe distance warning and an advanced emergency braking system, and I often used the adaptive cruise control and safe distance warning display – a simple graphic that gave a distance (measured in seconds) to the vehicle in front. With it on, you were more mindful of keeping a safe distance.
I know it doesn't count for much, but I also happen to like the way the Grand Scenic looks. It has more flair than the Kadjar SUV, also found in Renault's showroom.
Would I recommend the Grand Scénic? I already have, to anyone thinking of buying an SUV in this price range. Give it a try, I tell them, because I genuinely think they'll be pleasantly surprised.
It's more practical than an estate car, more affordable than a comparable SUV. The MPV may have fallen out of fashion some years ago, but these things have a habit of going in circles. And based on the performance of the Grand Scenic, I'd say the MPV deserves to make a comeback.
Got a question about the Renault Grand Scénic? Contact me on Twitter @squarejames.