2017 Honda CR-V 1.6 i-DTEC review
Which is the best type of family car?
Driving is testing the three key types of family car over the coming months: an estate (Audi A4 Avant); a people carrier (Renault Grand Scenic); and an SUV (Honda CR-V, seen here). Which will prove the most useful for parents?
---
Model 2017 Honda CR-V EX 1.6 i-DTEC EX 4WD automatic
Tested by Nick Rufford (@ST_Driving)
Price (with options) £35,280 (£39,550)
Delivery date March, 2017
Mileage at start 8,500 miles
Options fitted Aero Pack (£1,600); 19 inch Orion alloy wheels (£2,095); Detachable tow bar (£575). Total cost of options: £4,270.
May 4, 2017: Hello, Honda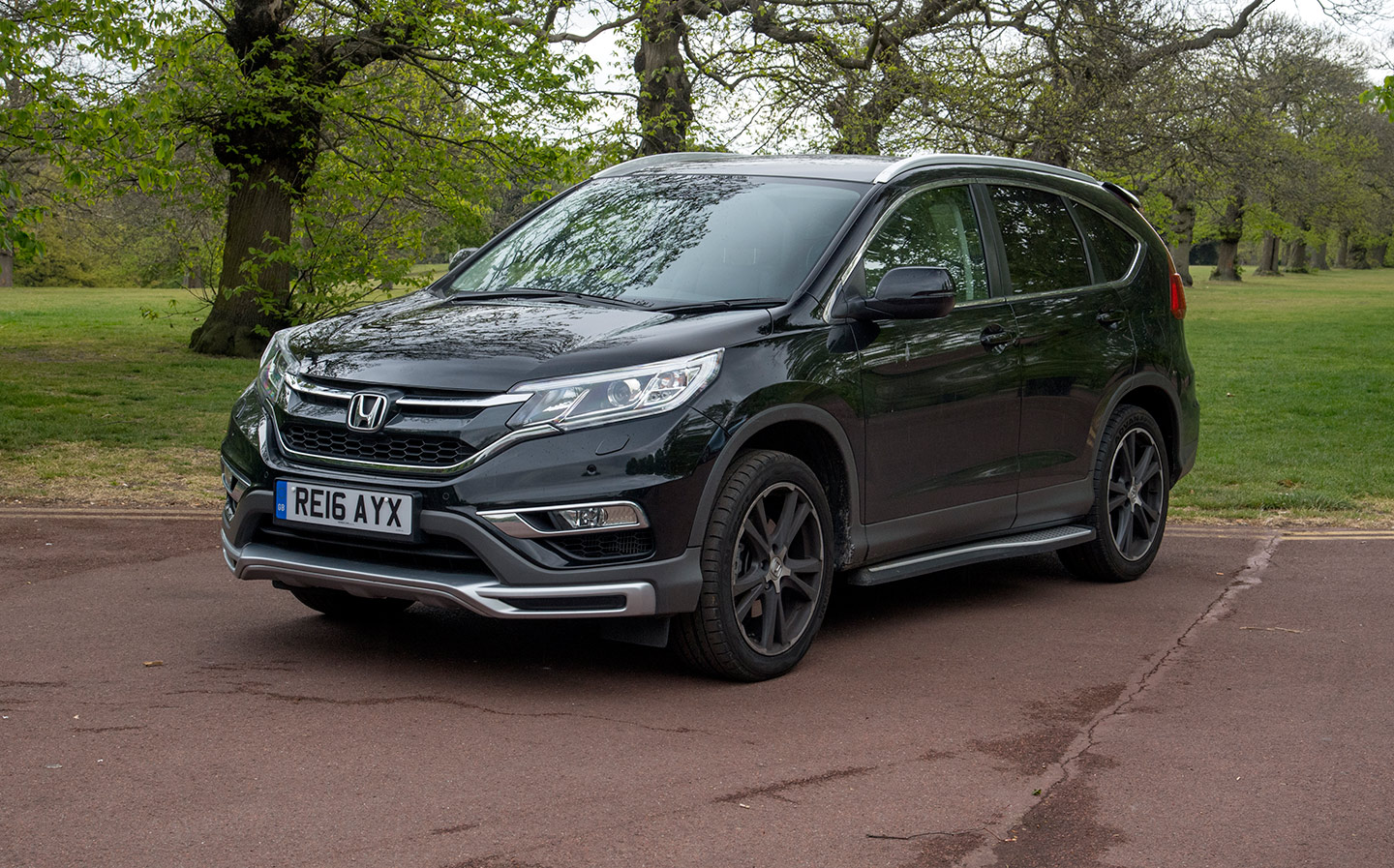 SUVs like the Honda CR-V are synonymous with school-run mums and dads these days. A high up driving position and imposing road presence are key but are they really the best option for parents?
Since the original CR-V went on sale in 1997, over quarter of a million have been bought by those after a car that can handle all that a family can throw at it and sits above the bargain brands but isn't in the same bracket as the more expensive makes, such as Audi, BMW and Mercedes.
This is the fourth generation Honda CR-V, and an all-new replacement is due to go on sale next year, so it's likely that drivers should be able to drive a hard bargain when walking into any Honda showroom in the interim.
That's not to say that the current model doesn't look contemporary. It has a distinctive look, helped in part by an optional body styling kit that the Japanese company calls an Aero Pack.
Our extended test car uses the 1.6-litre diesel engine, and this is paired with four-wheel drive and a nine-speed automatic gearbox. Honda says this combination means it can achieve 55mpg and emit 139g/km.
Also of note: it's got a tow bar to which you can fit a bike carrier, which will undoubtedly see some use.
Final report: Who's the daddy of family cars? Grand Scénic vs CR-V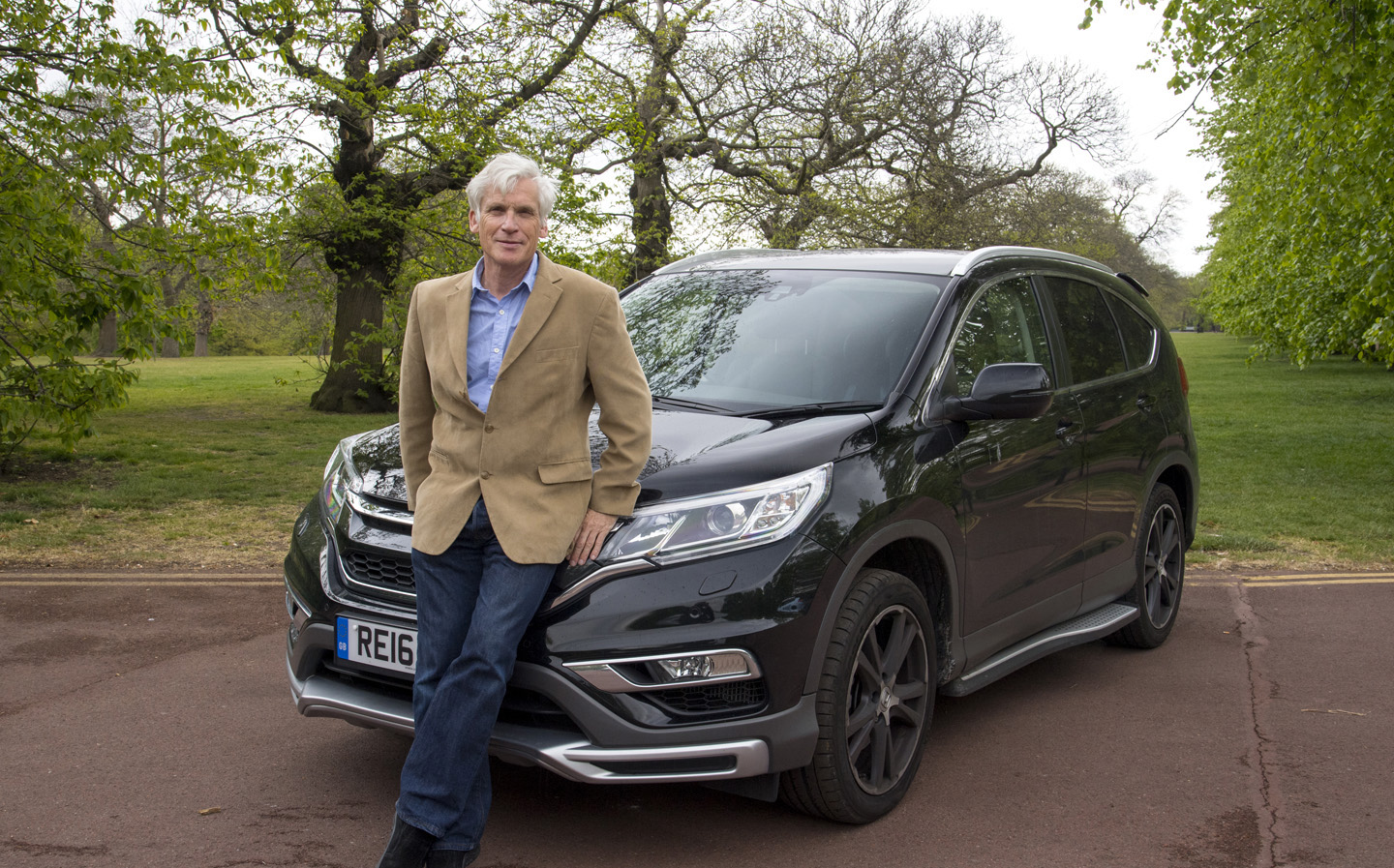 A generation ago, choosing a family car was simple: the only purpose-built vehicle for children and their paraphernalia, plus the dog, was an estate.
Now the family car comes in all shapes and sizes. Sales of estates have been left behind by the joint sales of multipurpose vehicles, or MPVs, and sport-utility vehicles, or SUVs.
Honda was one of the first to produce a 4×4 unashamedly for the school run rather than farm track. Its CR-V defined the soft-roader, SUV category.
Renault went in a different direction and put its faith in the people carrier. Its Grand Scénic became the archetypal MPV. Thus Honda and Renault can claim heritage rights over what are today the two most popular forms of family transport.
We subjected the latest example of each to the kind of daily punishment a family workhorse should be able to withstand, from car-sick children to moulting Labradors; from carrying roof boxes to mountain bikes; from long-distance trips to school-run dashes; from leaky coffee cups to sticky beakers; and from parking at a muddy fete to a crowded multistorey. Here are our verdicts.
Renault Grand Scénic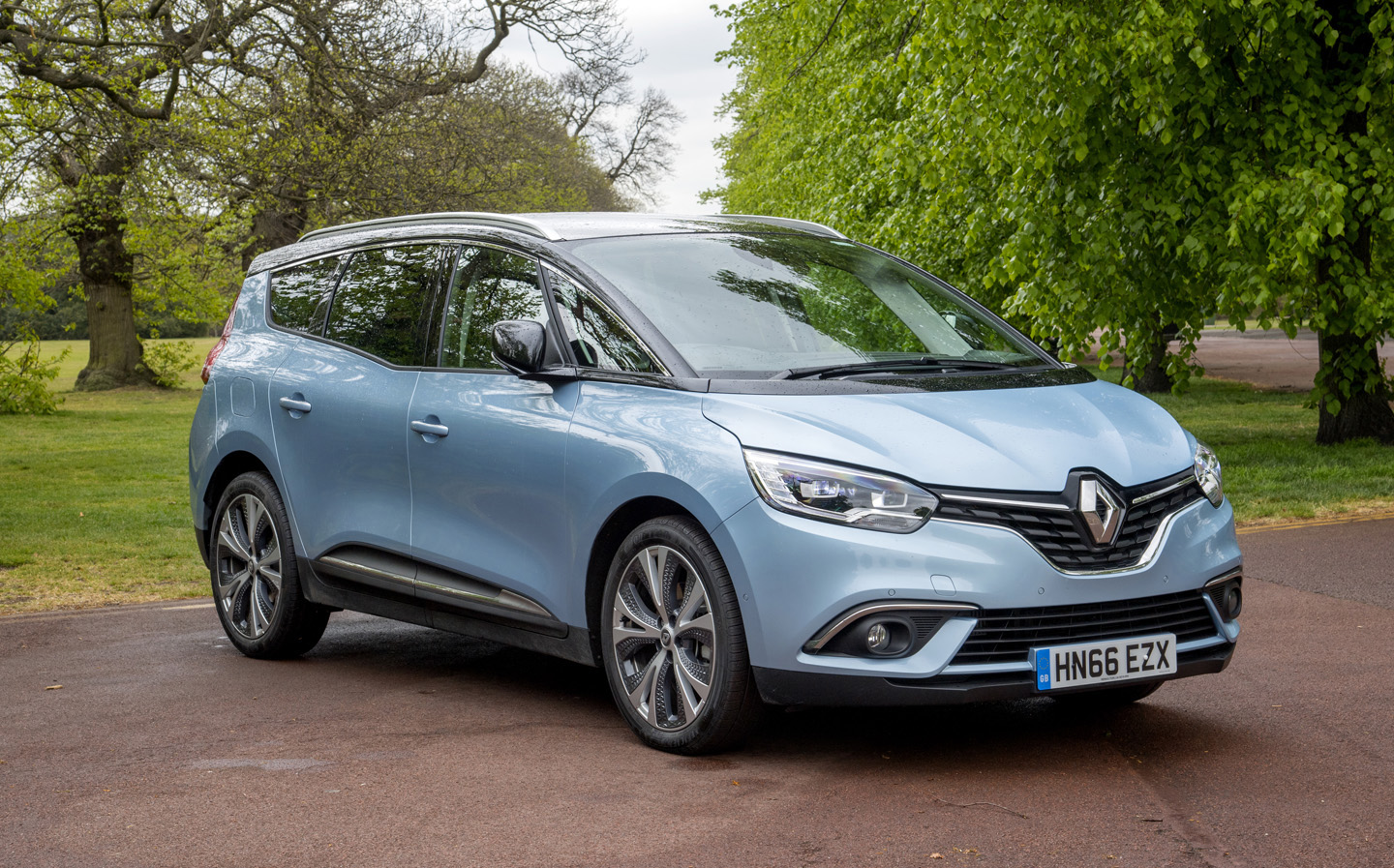 Words: James Mills
When testing the Grand Scénic, Jeremy Clarkson praised its tech and value. But he questioned its quality, likening it to a cheap Korean music centre from the 1980s. Well, having once owned a cheap system that sounded good, I was inclined to give the Renault the benefit of the doubt.
My hunch proved right. After thousands of miles of use, including my 3½-year-old son pressing every button, nothing has gone wrong. And even if it had, Renault offers a four-year warranty, a year more than drivers get with supposedly "premium" SUVs from Audi, BMW, Mercedes and Honda.
That's not to say it doesn't feel as plasticky as a Lego house inside. But does that matter, given the Grand Scénic's competitive price and generous standard equipment? Especially when it includes seats that accommodate seven adults, as opposed to four adults and three tiny children.
This impression of an honest, practical car is reinforced when you load up the boot for a weekend of DIY duties. From a panel of buttons in the boot, all five rear seats can be folded flush into the floor without you having to lift any more than an index finger.
The 1.6-litre diesel engine hauls like a trouper from low in the rev range, and has a claimed average of 61.4mpg. It's just a shame the gearing is so short, making the motor noticeably revvy at 70mph.
True, the car doesn't do off-road — it'll slip and slide when the going gets rough — but the rest of the time it's a pleasure to drive. So give the MPV a chance: you might like what you find and save a small fortune.
Honda CR-V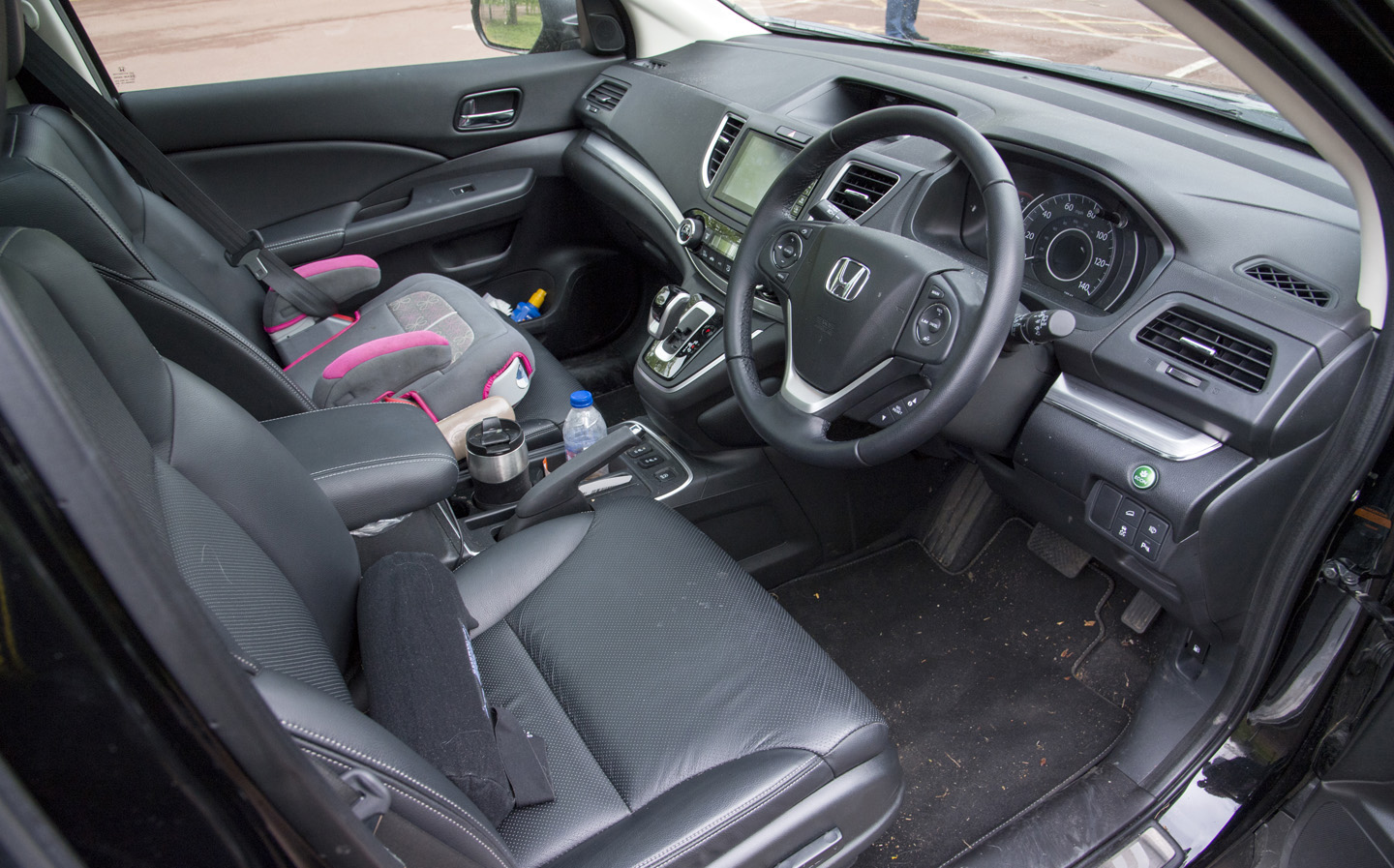 Words: Nick Rufford
Ask sensible, retired sorts at the golf or bridge club what car they drive and the chances are it will be a Honda, not an Audi or a BMW. They prize the Japanese car maker's reliability, which scores highly in independent surveys.
So although the CR-V may not have a four-year warranty like the Grand Scénic, you're unlikely to need it. And it may lack seven seats, but most people need those about as often as one of those exercise bikes you end up using as an indoor clothes line.
What it does boast over the Renault is four-wheel drive.You can haul a horsebox across a field or tow a boat up a slipway without burning out the tyres or clutch. It also has a nine-speed automatic gearbox and, as any hassled parent knows, not having to change gears by hand and pump the clutch while in traffic is a blessing.
The downside to the auto box? The fuel economy — 53.3mpg — can't match the Renault's, but it's none too shabby for this size of car and the Honda will sit comfortably on the motorway at the legal limit.
The range-topping EX trim includes a powered tailgate, which makes unloading easier: trying to close a rear door while juggling flatpack furniture or beach bags is a challenge you can do without. The CR-V also coped well with wear and tear from tearaways, including a mixture of cereal bar crumbs and frozen yoghurt that set like concrete on the seats.
So while it's hard to ignore the fact that the CR-V costs £6,675 more than the arguably more versatile Renault, the four-wheel drive, automatic gears and high trade-in value make it a worthwhile outlay.
Head to head
| | | |
| --- | --- | --- |
| | Renault Grand Scénic Dynamique S Nav dCi 130 Energy | Honda CR-V 1.6 i-DTEC EX automatic |
| Price | £28,605 | £35,280 |
| Engine | 1600cc | 1597cc |
| 0-62mph | 11.4sec | 10.2sec |
| Top speed | 118mph | 112mph |
| Fuel | 61.4mpg | 53.3mpg |
| CO2 | 119g/km | 139g/km |
| Release date | Out | now |
| Verdict | **** | **** |