Extended Test: 2019 Volvo V60 T5 Inscription
Can the upmarket petrol estate match diesel SUVs for frugality and practicality?
Specifications
Model 2019 Volvo V60 T5 Inscription
Engine 1,969cc, four-cylinder turbocharged petrol
Power 247bhp @ 5,500rpm
Torque 258 Ib ft @ 1,800rpm
Transmission 8-speed auto with manual mode, front-wheel drive
Kerb weight 1,645kg
Towing capacity 1,800kg (braked) / 750kg (unbraked)
Top speed 145mph
0-62mph 6.7sec
Fuel consumption (NEDC) 41.5mpg (combined)
CO2 emissions 157g/km (NEDC)
Road tax £515 for first year; £140 for years 2-6 (without options)
Dimensions 4,761mm x 1,850mm x 1,433mm
Price from £38,270
Price with options £45,745
Options fitted Metallic paint, £650; Intellisafe Pro Pack, £1,625; Xenium Pack, £1,800; Convenience Pack, £500; Tinted rear windows, £600; Winter Pack, £525; Sensus Connect with Harman Kardon audio, £825; Keyless Drive plus handsfree tailgate operation, £500; Smartphone integration, £300; Space saver spare wheel, £150.
Test details
Test period February – August 2019
Starting mileage 857 miles
Updates
March 3, 2019: Can a petrol estate car do a better job than a diesel SUV?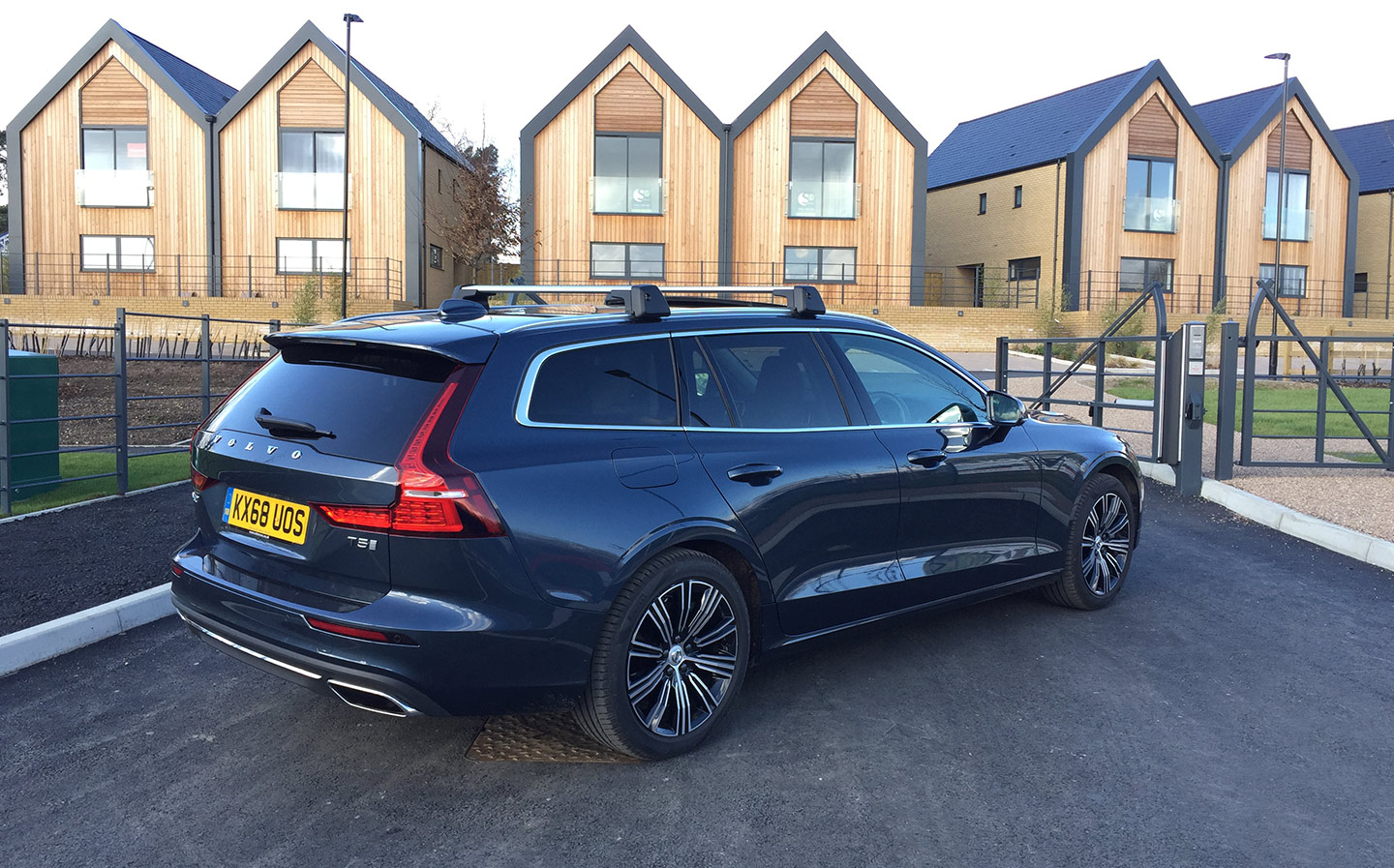 After running what seemed to me to be the perfect family car, a seven-seat Skoda Kodiaq 4×4 SUV, the worry is that this Volvo V60 estate is on a hiding to nothing. So why choose a car that's smaller, has fewer seats, lacks four-wheel drive, isn't as economical yet costs more money?
Well, despite their popularity, SUVs are rarely rewarding to drive. Yes, they give you a good view of the road and some do a fair job of smothering the shocking state of Britain's roads, but when it comes to the way they make you feel when the road ahead unfolds like a vista of driving nirvana from an episode of The Grand Tour, they're about as satisfying as a soggy cheese sandwich.
So we're giving Volvo's mid-range estate — a rival to the BMW 3-series Touring, Audi A4 Avant, Mercedes C-class estate and suchlike — a try. Might it raise a smile on the right road?
At the same time, the Skoda was diesel but diesel is now considered a dirty word. The car makers will tell us that the toxic damage caused by the latest diesels with all manner of fancy-pants emissions treatment is less impactful than an equivalent petrol-powered car. But can we trust them? After all, that's what Volkswagen told the world before dieselgate. You can understand the public's concern.
So the V60 has a petrol engine. It's called a T5, and is the only petrol unit currently available in the V60 range, complete with an automatic gearbox as standard. It's powerful and so not especially frugal, but its relatively high consumption can be forgiven if it's found to drive better than a diesel and the car feels as though it's solid value for money.
Well, that's another thing: our test car is kitted out in Inscription trim — the second poshest trim level in the range. Volvo anticipates that it'll be popular, however, only outsold by R-Design versions.
To this, Volvo had already added a hefty range of options before we could intervene, taking the price from £38,270 to £45,745.
This price hike is worth dwelling on momentarily. By pushing it over £40,000, someone buying this car would face a significant hike in road tax, from the second to sixth years included (up from £140 a year to £450).
There are more affordable versions available but only one costs less than £37,000, so anyone who wants to avoid paying such a penalty in road tax will have to go easy on the options or pay for the privilege.
Setting all that to one side, I defy anyone to deny that the V60 is one of the best looking estate cars on the road. Furthermore, it has one of the most calming interior environments of any estate, too. But is there more to this car's personality beneath the surface? Time will tell.
March 13, 2019: What are the best options and trim levels for a Volvo V60?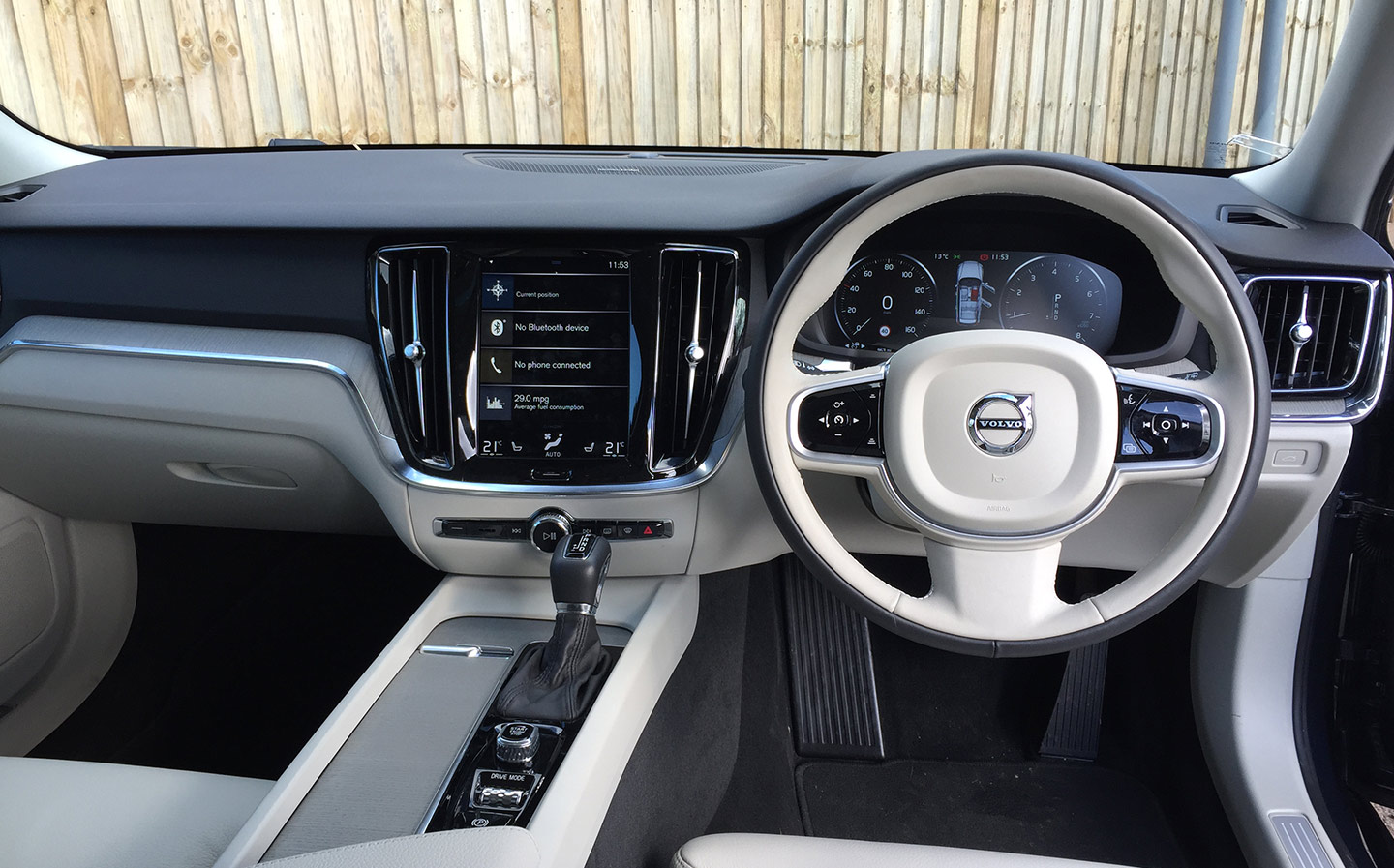 Part of the fun of buying any new car is poring over the options choices, salivating like Mr Creosote at the table of a Michelin-starred French restaurant.
From larger alloy wheels that'll have your ride rolling down the road looking like it's straight out of a rap star's Instagram feed, to paint that has been perfectly matched to a favourite Chanel handbag, the choices are all designed, let's face it, to entice drivers to spend more money.
Whether you are paying for it with your own hard-earned cash or your employer is stumping up the funds, there's the opportunity to transform the car into something special. But get it wrong and there's every chance you'll end up kicking yourself, each time you open the doors and climb aboard.
So which options should someone choose for a new Volvo V60, the mid-size estate that is here to convince Britain's motorists that it's time to turn their backs on German cars and embrace Sweden's number one export by value?
The V60 on extended test with Driving is in Inscription trim, and powered by the T5 petrol engine. Inscription is the second-most popular trim level chosen by buyers of the V60, says Volvo. And it's easy to see why. As standard, it comes with a generous level of equipment.
That includes leather upholstery (with Volvo's signature and rather natty Swedish flag emblem sewn into the sides of the front seats), electrically powered front seats, 'driftwood' trim that would be at home in a boutique Cornish hotel, front parking sensors and all manner of soothing illumination throughout the car.
These features are in addition to the entry-level, Momentum trim, highlights of which include cruise control, adjustable driving modes, powered tailgate, rear parking sensors, roof rails — essential for living out fantasies of exploring the great outdoors with the combined enthusiasm of Bear Grylls and Ray Mears — alloy wheels, dual zone climate control, the generous 12-inch touchscreen display, all manner of safety systems and a pair of Isofix mounting points for child seats, on the two outer rear seats. (Volvo offers integrated or independent child seats, with prices staring from £180 for the former, and £240 for the latter.)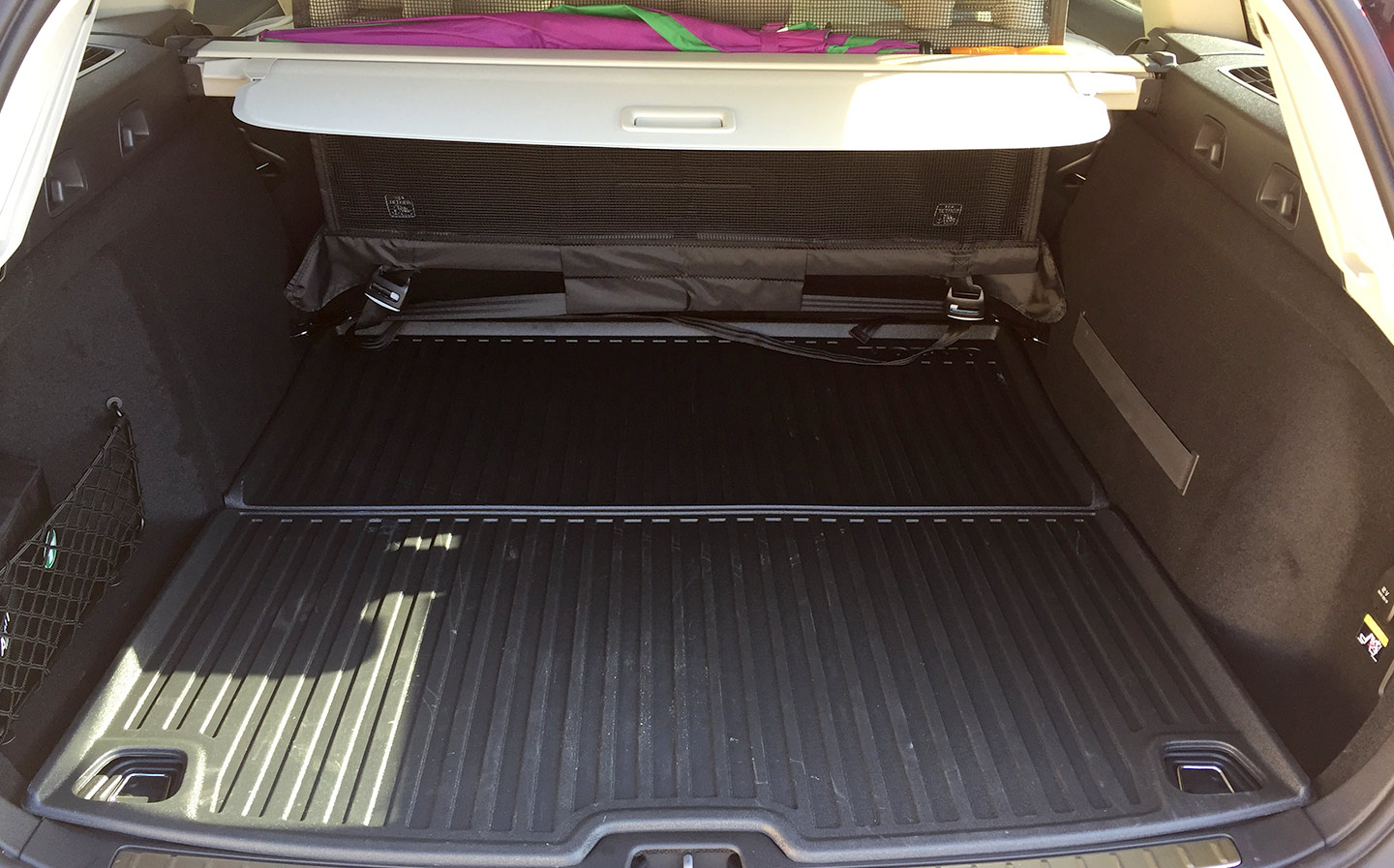 As an estate, it's good to find every V60 comes with a guard to prevent the bumper being scratched — ideal for antique fairs or trips to the tip — a luggage cover, lighting for the boot, underfloor storage, lashing points and a 12-volt power socket. Also, the back seats split 60/40 if folded down, while Volvo added a plastic boot liner to our test car, for £180.
But noticeable for its absence is a boot net to keep luggage safely restrained where it belongs, in the boot, rather than sailing past passengers' heads as the driver slams on the brakes.
That brings us to our V60's first option. It's a Convenience Pack. Yours for £500, it includes power-folding back seats, a 3-pin plug socket (230v) by the back seats, a net storage area by the front seats and a load protection net, which answers my first criticism of this car. Frankly, in any estate car, the latter should be included as standard. Is this pack worth having? Maybe not; if you want a luggage guard, you can order it separately for £85.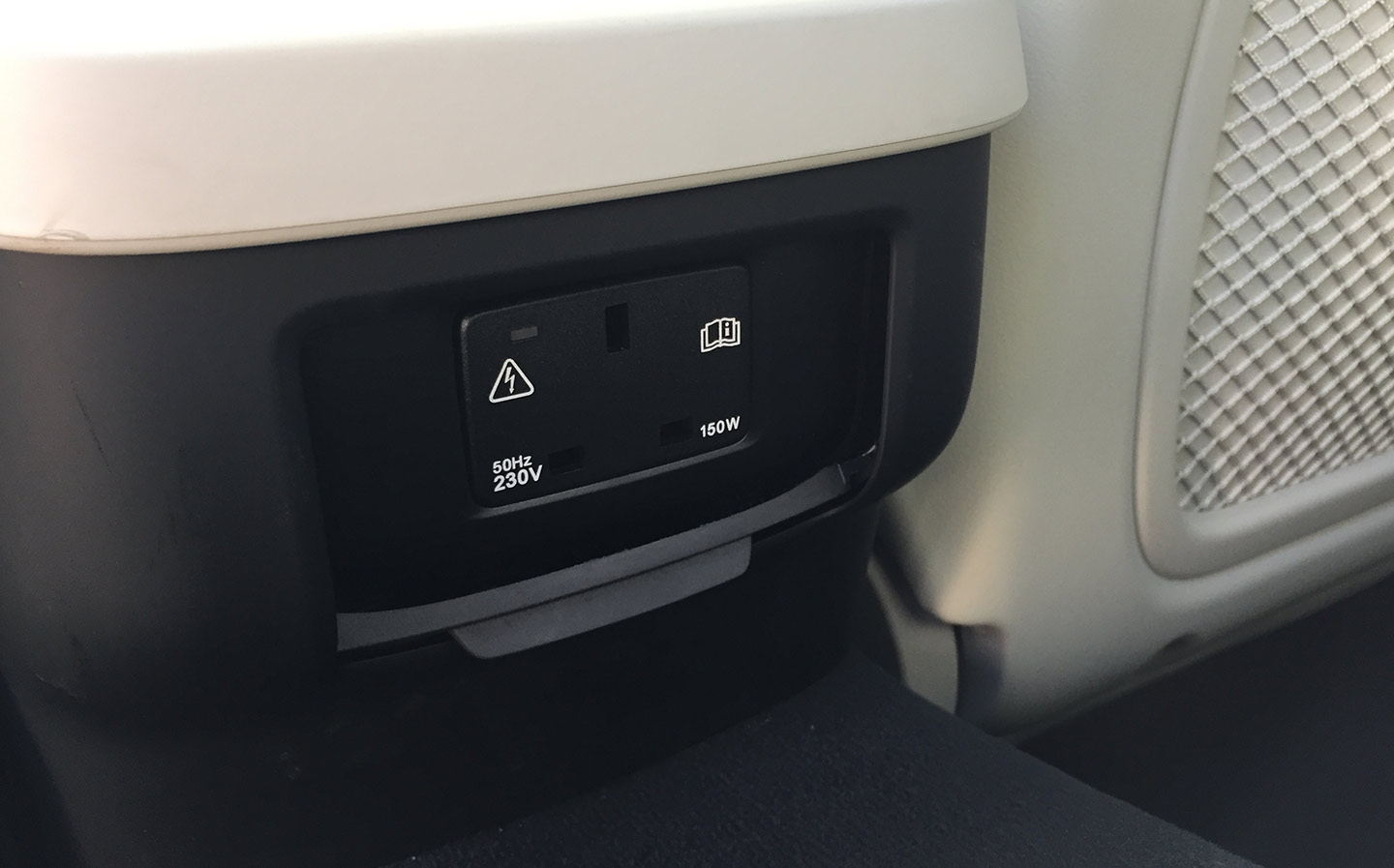 The next bundle of options fitted to this car is something called an Intellisafe Pro Pack. It includes adaptive cruise control, a driver assistance system called Pilot Assist, a blind-spot alert system and another for helping reduce a rear impact, and mirrors that dim automatically at night. That little lot is £1,625. Personally, I wouldn't have it, but some drivers who cover high mileage might value the adaptive cruise control and Pilot Assist, which can help prevent a car wandering out of lane.
For the not insignificant sum of £1,800, those that want a panoramic opening sunroof, 360 degree surround view camera system and automated parking system can have it, but once again, I'd save the money. Why? Well, I can park a car perfectly well myself, thanks very much, and over the years more than one engineer has told me how any sunroof or panoramic roof robs a car of its strength in the event of an accident.
Like most drivers, however, I'd agree that the Winter Pack, which includes heated front seats, headlight wash, an electrically heated windscreen and heated windscreen wiper blades, is a luxury worth having on an ice-cold day.
But in an age where vehicle security is back on the agenda, I'd forgo the £500 for the Keyless Drive smart key and tailgate that gives handsfree opening of the car, including the boot lid when you wave your foot under the back bumper.
Audiophiles might insist on the Harman Kardon sound system, which costs £825 together with the Sensus Connect smartphone integration, which also provides online connectivity and a suite of apps. That said, for just £300 you can have phone integration with Apple CarPlay and Android Auto, plus a pair of USB ports.
And finally, a compact "spacesaver" spare wheel is, in my view, an essential get-you-home safety feature, and £150 well spent.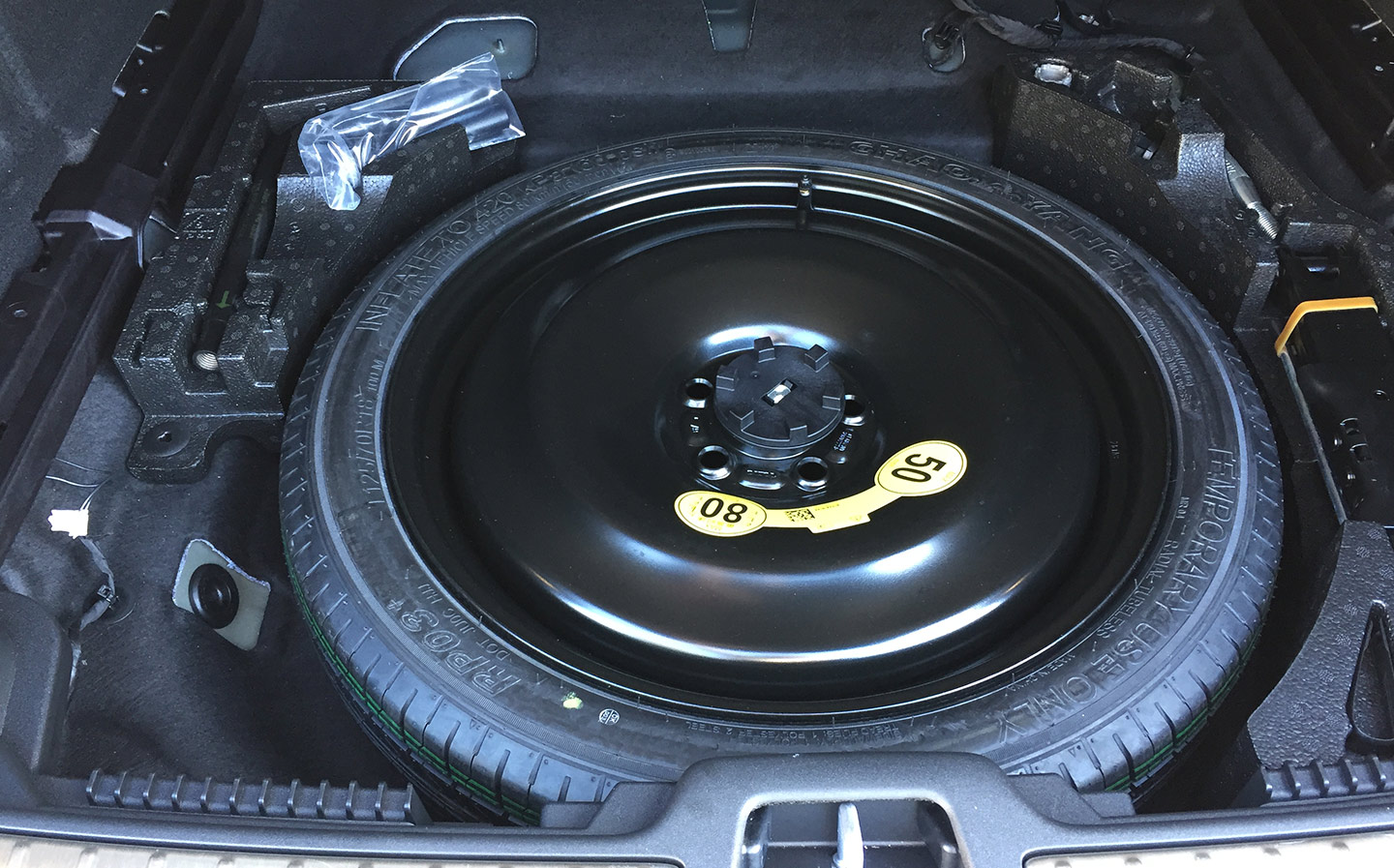 The 'denim blue' paint is metallic, and a £650 option. Not having posh paint on a car in this price range, and one that looks as good as this, is probably a bad idea.
But what of the 'blond' leather upholstery? My initial instinct was that it looks lovely, and helps create a calming environment that's uniquely Volvo. But then I thought of our three children, and how they have the ability to transform anything from clean to filthy in the time it takes the driver to turn around and ask, "Has everyone got their seatbelt on?".
So far, the light shade of leather trim is proving surprisingly resistant to dirt. But the same can't be said of the plastic trim around all the door sills, which shows up mud and scuffs in a quite glaring fashion, even after being wiped clean when washing the car.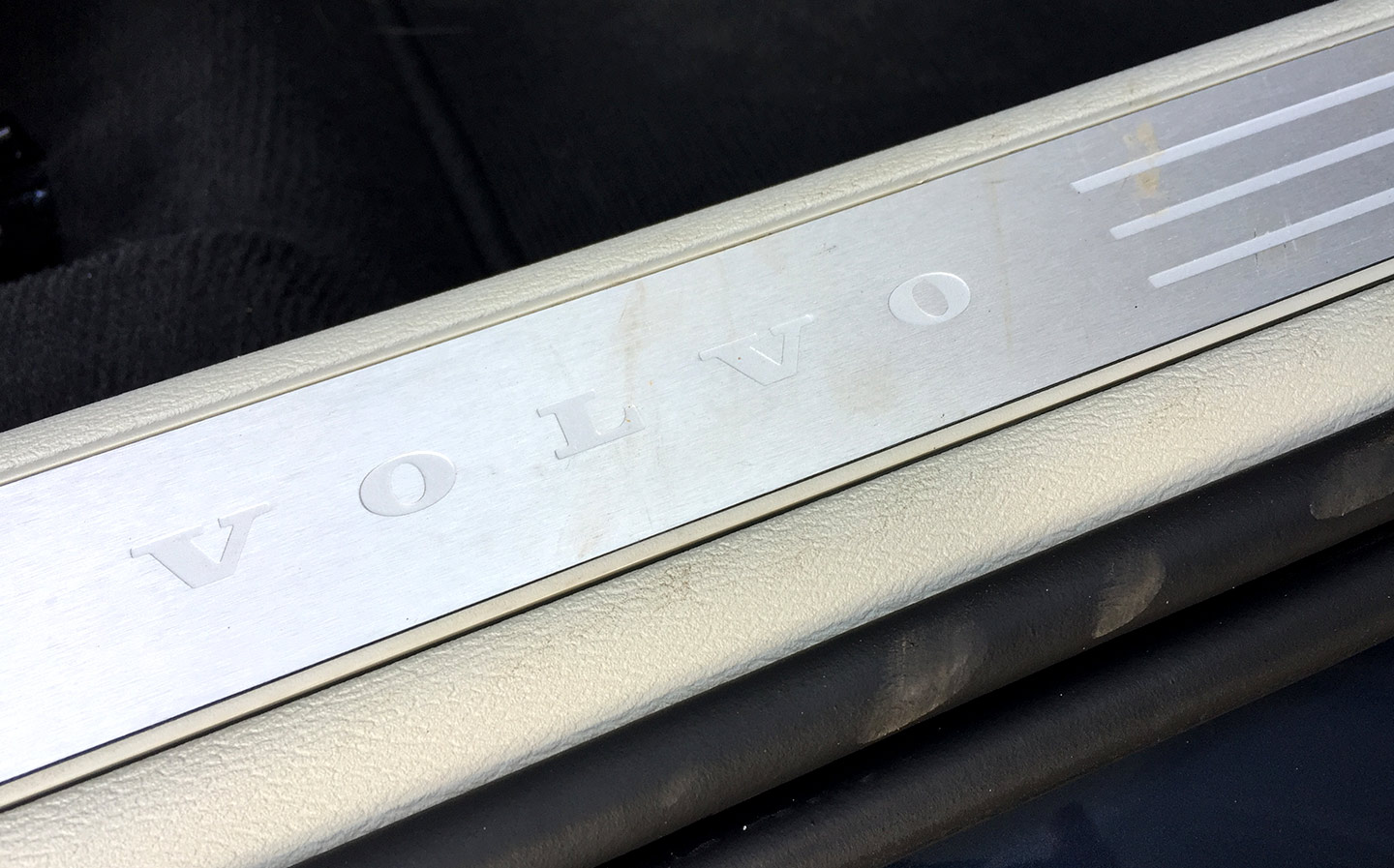 Still, it's a small price to pay for feeling as though you're in your own Scandinavian space capsule.
April 17, 2019: Is the Volvo V6 T5 good at long journeys?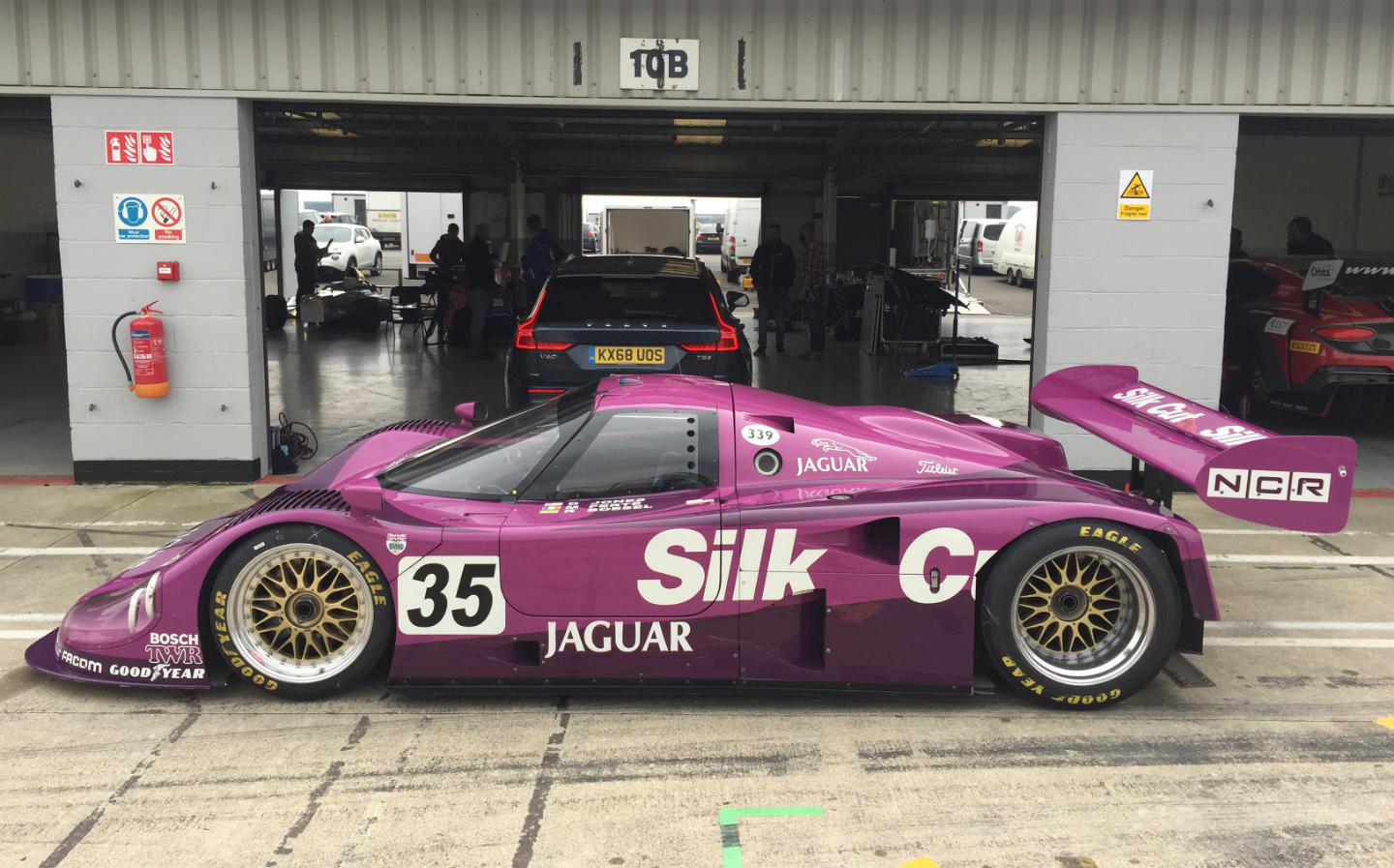 Not all drivers want a car to feel sporty, whatever that all too overused term means. More often than not, comfort, connectivity and safety are at the top of any car buyer's wish list. Which begs the question: does the Volvo V60 T5 make a comfortable cruiser?
Is it a car that somehow seems to shrink long distance drives, offers seats fit for a king or queen and syncs with a smartphone without a glitch?
The simplest way to find out is put it to the test. And at 5am one morning, that's exactly what I did, firing up the engine, punching Silverstone Circuit into the sat nav, 130 miles away, and setting off into the still dark morning.
The first button I hit is for the driver's heated seat. I say button, I mean icon on the V60's portrait oriented, nine-inch touchscreen. The heated seats aren't standard with Inscription trim, and came as part of the car's optional Winter pack.
Next comes the heating, nudged up to warm away the morning chill. Then it's the turn of the driving mode, a neatly styled, physical barrel that you spin and push to cycle through the car's choice of four operating modes – Eco, Comfort, Dynamic and Individual. On a long drive, I tend to opt for Eco, as it reduces the effect of the air conditioning, which helps prevent eyes from drying out, while also easing the car's fuel economy into a slightly more respectable zone – almost 31mpg, to date.
The leather upholstery is some of the softest stuff you'll find this side of a roll of Andrex. Somehow this makes it warmer to the touch, while the seats themselves are amongst the best of any car out there supporting all the right areas, including the tops of your shoulders and back of your head – a rare occurrence.
There are memory settings (a choice of two) for the electrically powered front seats, and you can electrically adjust the lumbar support in three directions, or move the leading edge of the seat base to provide more support beneath your thighs.
As the weather starts to improve, the panoramic glass roof (part of the optional Xenium pack) is providing more open-air motoring, and the wind deflector does a good job of preventing any turbulence, so your head never feels as though it's about to be sucked off your shoulders.
More significantly, the design and layout of the interior and driver's environment is as calming as a natural yoga session in the middle of a forest (yes, it's a thing). I like that Volvo is wisely playing on its Scandinavian roots and working with materials that are distinct to the brand.
The 2-litre, turbocharged is as good as silent. Even when sliding the lever for the automatic gearbox into the self-shifting mode, and working the engine hard out of the collection of roundabouts that lead toward Silverstone, it barely any louder than a dose of snowfall in Sweden. Meanwhile, the car's get up and go is pretty effortless.
I still think there's room for improvement with the ride comfort. The 45-section Pirelli tyres and springs don't quite smother the road surface in the way you'd like from a Volvo, but then again, it's no more jarring than any German rival. And the sat nav screen is scaled by pinching it, which I'm not a fan off; a plus/minus adjustment is more effective.
By the end of a day's work, and on the return 130 leg of my journey, with rush hour traffic to contend with on both the M1 and M25, I was pleased to be travelling by Volvo.
Quiet, brisk and comfortable, it shrugs off such distances with ease.
May 22, 2019: How spacious is the boot of the Volvo V60 estate?
An estate car is a waste of time if it can't carry dogs in comfort. Merlin and Bear put the @VolvoCarUK V60 to the test – and it gets a paws-up from the pair of 'em. @ST_Driving https://t.co/NLo9HSJCux pic.twitter.com/fX2h5z1OrU

— James Mills (@squarejames) April 29, 2019
To answer how spacious the boot of the 2019 Volvo V60 is, I could share a number – 529. That's how many litres its capacity has been measured at. But what does that mean?
Well, it's slightly more capacity than you'd find in the back of an Audi A4 Avant, BMW 3 Series Touring or Mercedes C-Class, which are down by 24, 34 and 39 litres respectively. Which is good to know but that still doesn't really help give an idea of how much 'stuff' can be loaded inside.
I've been living with a V60 for four months now, and it's clear that it's a practical car. Families can let out a small but significant sight of relief, because the days of mid-size estate cars being laughably small are over.
Allow my dogs to demonstrate. We have Merlin, a Labrador, and Bear, a Cockapoo, and the pair of them have space to spare when stretched out in the boot. It means you don't feel bad about adding some soft bags and suchlike. The bumper and boot floor are pretty low, too, so they have no problem with jumping in or out.
What's disappointing for any estate, and more so a Volvo – a company trades on its reputation in this area – is that the extendable luggage cover has no restraining net built into it and has a solid flap that sits proud of the main mechanism, eating into boot space. Moreover, if you fold down the back seats, the luggage cover has to be removed and laid in the boot or left at home, because it doesn't latch on to the backs of the seats as these things do in the best estate cars.
That last point is important. Say you wanted to load some mountain bikes or furniture, or liberate the home from clutter and visit the local tip. Estate cars that have a parcel shelf with an integrated luggage restraint net and can be attached to the backs of the seats allow the front of the cabin to be partitioned off from all the clobber in the boot.
Volvo attempts to solve this in one of two ways. There's an optional Convenience Pack, which includes a load protection net (along with power-folding back seats, a 3-pin plug socket (230v) and a net storage area by the front seats). But it's £500. If you want a simple luggage guard, you can order one separately for £85.
The back seats split and fold 40/60, which is handy. I dropped the larger portion and loaded in an adult's mountain bike, with the front wheel removed, and a child's mountain bike, again with its front wheel removed, and they fitted perfectly in the boot.
So, despite a couple of grumbles, for a busy family of five the V60 is meeting our needs when it comes to the race for space. The bonus is it's one of the most handsome estates on the road, with one of the most pleasurable interiors. Little wonder it's a hit with all the Mills clan.
Thinking of buying a Volvo V60? Or do you already own one? Share your experiences in the comments below, or drop Millsy a tweet.
Tweet to @squarejames Follow @sqaurejames
July 17, 2019: Can light leather stand the test of time – and family life?
It looked so right when the Volvo arrived to start this extended test. Like a scene from The Sunday Times' Home section, with a spotlight on Scandinavian simplicity, the V60's interior majored on 'Blonde' baby-soft Nappa leather and 'Driftwood' inserts for the elegant facia, and sliding behind the wheel felt like stepping into Sven and Anita's modern-chic lakeside cabin.
Fans of the hygge movement, the Danish art of cosy living, would feel right at home here. It's a pleasant change from the austere or ultra-modern environments found in the numerous German cars with which the V60 competes.
However, this style brings problems of its own. The light leather shows up every little mark. Got a new pair of blue jeans on? Now the dye's on the seats. Fingers covered in newsprint from reading The Sunday Times? Then there'll be fingerprints all over the two-tone, blonde and charcoal leather-stitched steering wheel.
As for the lightly coloured plastic that encases the foot of the door frames, even clean shoes seem to leave no end of scuff marks. And that's just from grown-ups; the kids' shoes do an even better job of leaving their mark in the V60.
Buying a new Volvo and contemplating what colour leather to go for? Be bold; go blonde. @VolvoCarUK Updates on V60 T5 at @ST_Driving. pic.twitter.com/DCfKj685Vl

— James Mills (@squarejames) July 17, 2019
So after just over 5,000 miles of motoring and five months of living with our family of five, plus two dogs, the V60 looked just a little tired at the edges.
A thorough wash of the car and some soapy water on the scuff plates soon had things looking better, if not perfect; some of the scuffs are annoyingly stubborn.
Next, I set to the leather, cleaning it with dedicated wipes available from Volvo (don't use wet wipes, as they contain degreasers that can damage the leather).
Wet wipes are de-greasers that contain alcohols, that evaporate quickly. ?
Baby wipes contain oil to moisturise so are better. ?
However, properly formulated leather care products should be used at all times. ?

— Richard Tipper (@perfectionvalet) July 17, 2019
The result was eye-opening. After cleaning the steering wheel, driver's seat and armrest between the seats, as well as the driver's interior door handle, the wipe had turned a distinct shade of brown. Turns out the driver's main points of contact in a car are a lot dirtier than your eyes are telling you.
It came up a treat – but don't use baby wipes on leather as it removes the protective oils etc and dries out the hide. Apparently. pic.twitter.com/PweWy5yd0K

— James Mills (@squarejames) July 17, 2019

With the grime gently massaged away, the V60 looked as good as new, as you'd hope for a five-month old car. I tutted at how difficult it is to keep this Scandi-chic look sparkling clean. Then it dawned on me that anyone driving a car with black or grey leather wouldn't be able to see the dirt.
It sent a shiver down my spine, and reminded me of the time Clarkson, May and Hammond bought old BMWs, for a Top Gear challenge, and lab tests revealed how one car had all sorts of unpleasantness on its steering wheel, including unmentionable bodily secretions.
So, light leather like this V60's might need a bit of TLC along the way, but like a loo seat or the inside of a fridge, it's good to be able to see when you need to grab the cleaning kit, roll up your sleeves and apply some elbow grease.
Thinking of buying a Volvo V60? Or do you already own one? Share your experiences in the comments below, or drop Millsy a tweet.
Tweet to @squarejames Follow @sqaurejames
August 30, 2019: The V60 as a summer staycation-mobile (part 1)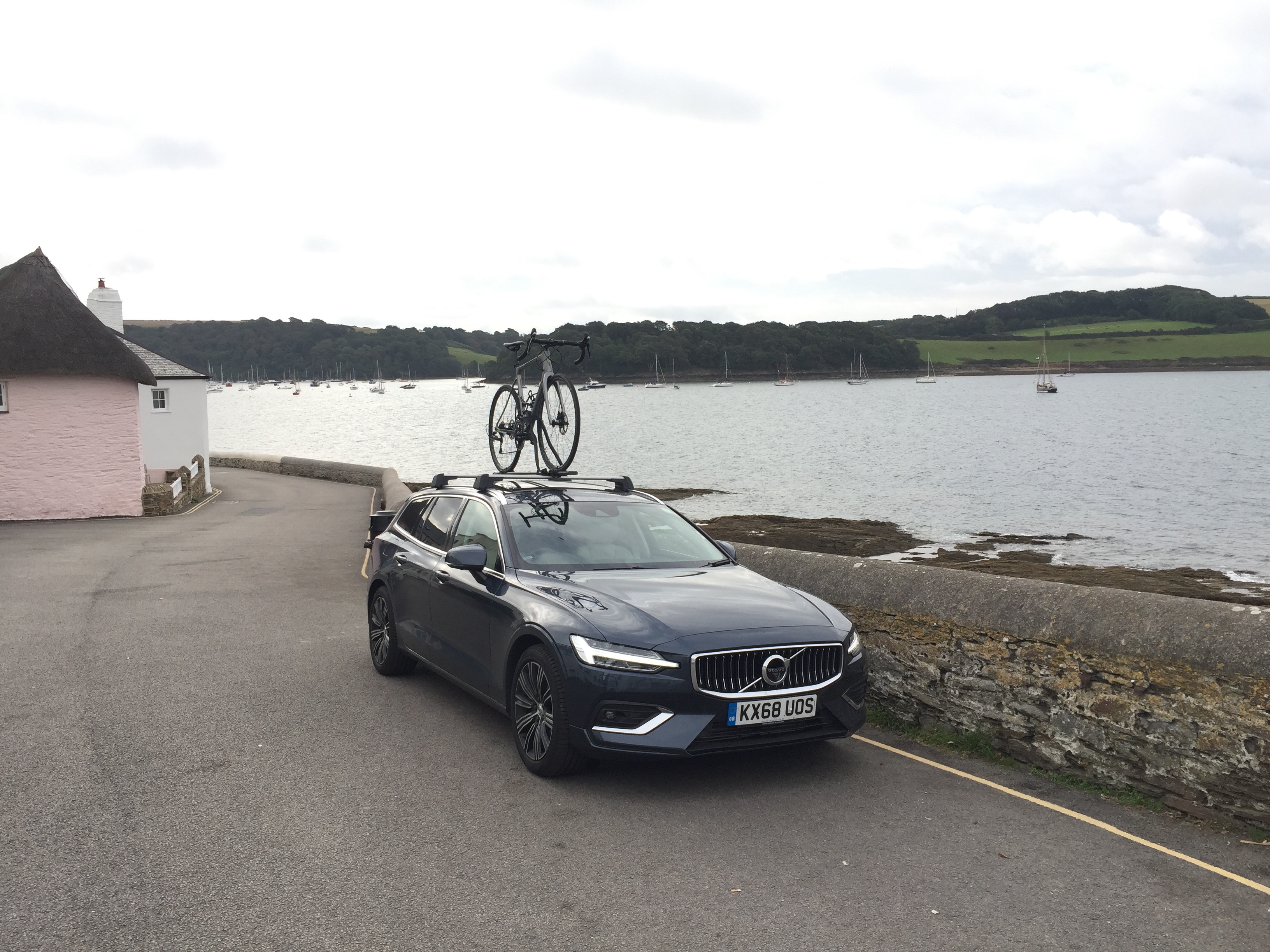 The Volvo and the Mills' have just returned from a successful summer migration. Like hundreds of thousands of other families we venture to the Cornish coast, reasoning that the hypothermic temperature of the sea can be overlooked with a wetsuit and the smug satisfaction of knowing we haven't had to spend two days of our lives in transit with countless other grumpy families, listening as moans about the cost of flights in school holiday time echo around airport terminals. And let's not mention the current value of Sterling.
A staycation is the gold standard of family car tests. Previous long-term test cars run by Driving.co.uk have been subjected to the same slog southwest. It cuts through the glossy sales patter of brochures and fancy videos on websites and reveals the little niggles that real owners find over time.
The boot passed the first test. As mentioned previously, the 529-litre load space is better than rival estate cars made by Germany's finest – Audi, BMW and Mercedes – if someway behind Skoda's Superb. We loaded up two weeks' worth of luggage with ease. Well, I say 'we' but actually, it was just me, slightly bleary-eyed at 4.30am.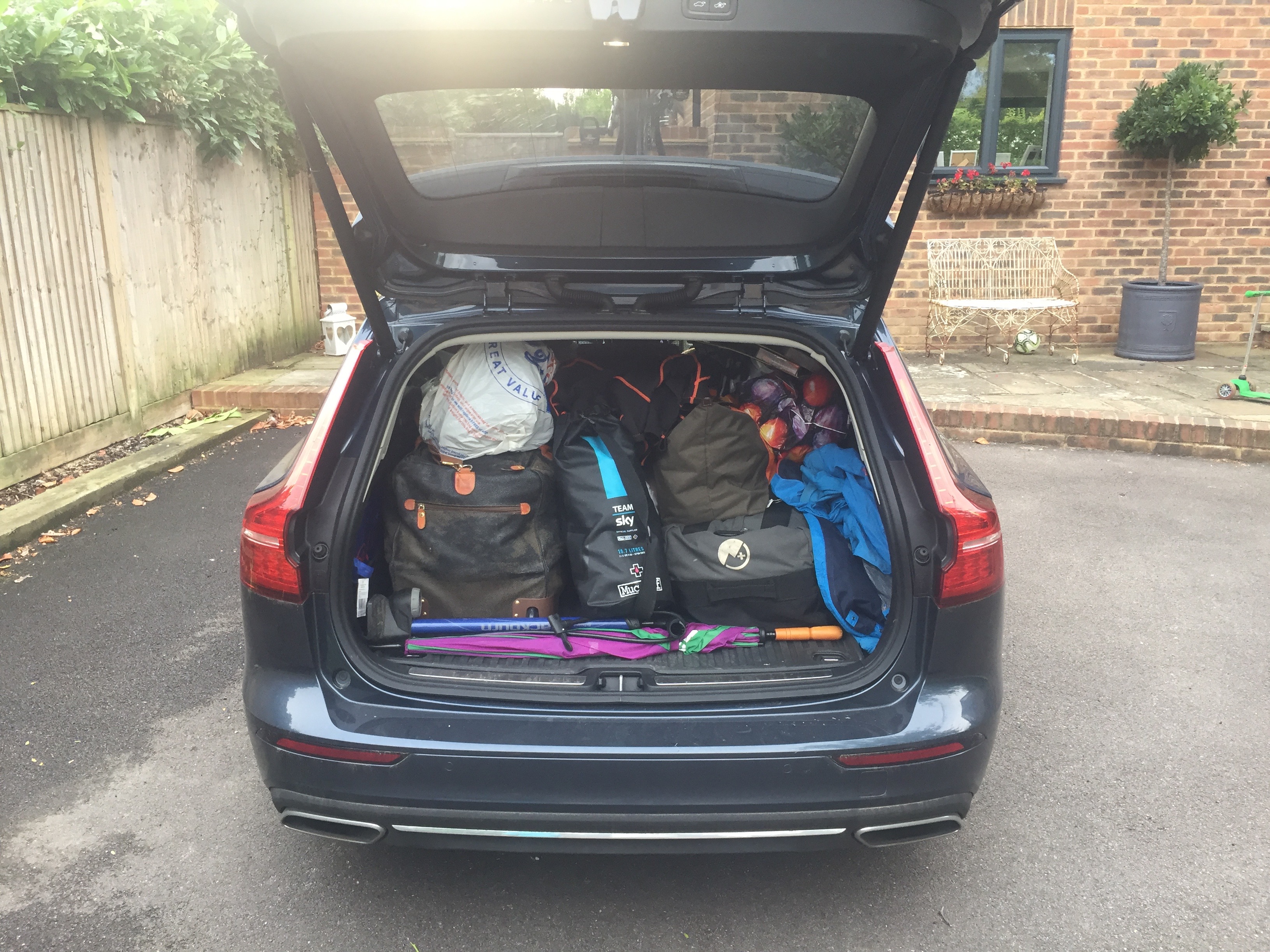 It's a sort of boring, blokey duty that many men will pretend is a chore but actually secretly derive a great sense of satisfactio. Packing the boot in the most space-efficient manner probably comes a close second to loading the dishwasher.
As ever, we packed more than we needed, by a ratio of about three to one according to our reckoning. When will we ever learn? The luggage restraining net, which is an optional extra, means that everything piled on top of the bags – countless pairs of shoes and coats that were never worn – were kept in the boot rather than falling into the passenger area under braking.
I also called upon the car's roof rails. This V60 came with Volvo's load carrier and a roof box. The load carrier (roof rack to you and me) costs £215 and is fashioned from aluminium in a wing-like profile. They are light, so it's a one-person job to fit them, and they attach very simply by means of winding a small knob on each side until it clicks to signify that all is secure. Onto this I added my own Thule bike carrier, then spent the next five minutes agonising about whether or not I had positioned it perfectly along the centre of the V60. Why? Well, because it looks good. And yes, I know I'm sad.
With everyone aboard, the next six hours spent in the car would tell us three things. First, the driver, front passenger and two sat on the outer rear seats are very comfortable on a long drive. Second, they get plenty of ventilation, thanks to the considered position of all the air vents. Third, whoever draws the short straw and has to sit in the middle back seat won't be comfortable or get much air-con-cooled breeze.
This is the downside to a mid-size estate car compared with a larger SUV or MPV. When I revewied a Skoda Kodiaq or Renault Grand Scenic, those cars provided three proper seats in the back. The V60 makes do with a bench, and once you fit a high-backed child seat on one side, it's a squeeze for whoever has to sit in the middle. (Our children are aged 5, 11 and 15.)
The long journey served to highlight the car's other shortcomings against some rivals. Its sat nav system is far from the best. By which I mean, the presentation of the graphics is not as clear as it could be. There's a distinct lack of detail, no matter which orientation you choose (2D or 3D) and not matter how much you zoom it looks a bit old-fashioned against some premium rivals.
More annoying still is the absence of a scale adjustment button. On most sat nav maps there will be an interface that allows quick adjustment of the map's scale. On the V60, and other Volvos using the Swedish company's portrait-oriented, 12.3 inch touch screen, you have to pinch two fingers together or apart. It doesn't work well, and ironically in an attempt to simplify the system Volvo has only made it more annoying.
If you run a Volvo with the same information display, I'd like to hear your thoughts on whether pinch zoom or a scale button is the way ahead.
To be continued.
Thinking of buying a Volvo V60? Or do you already own one? Share your experiences in the comments below, or drop Millsy a tweet.
Tweet to @squarejames Follow @sqaurejames
October 20, 2019: The consensus on Volvo Sensus (infotainment system)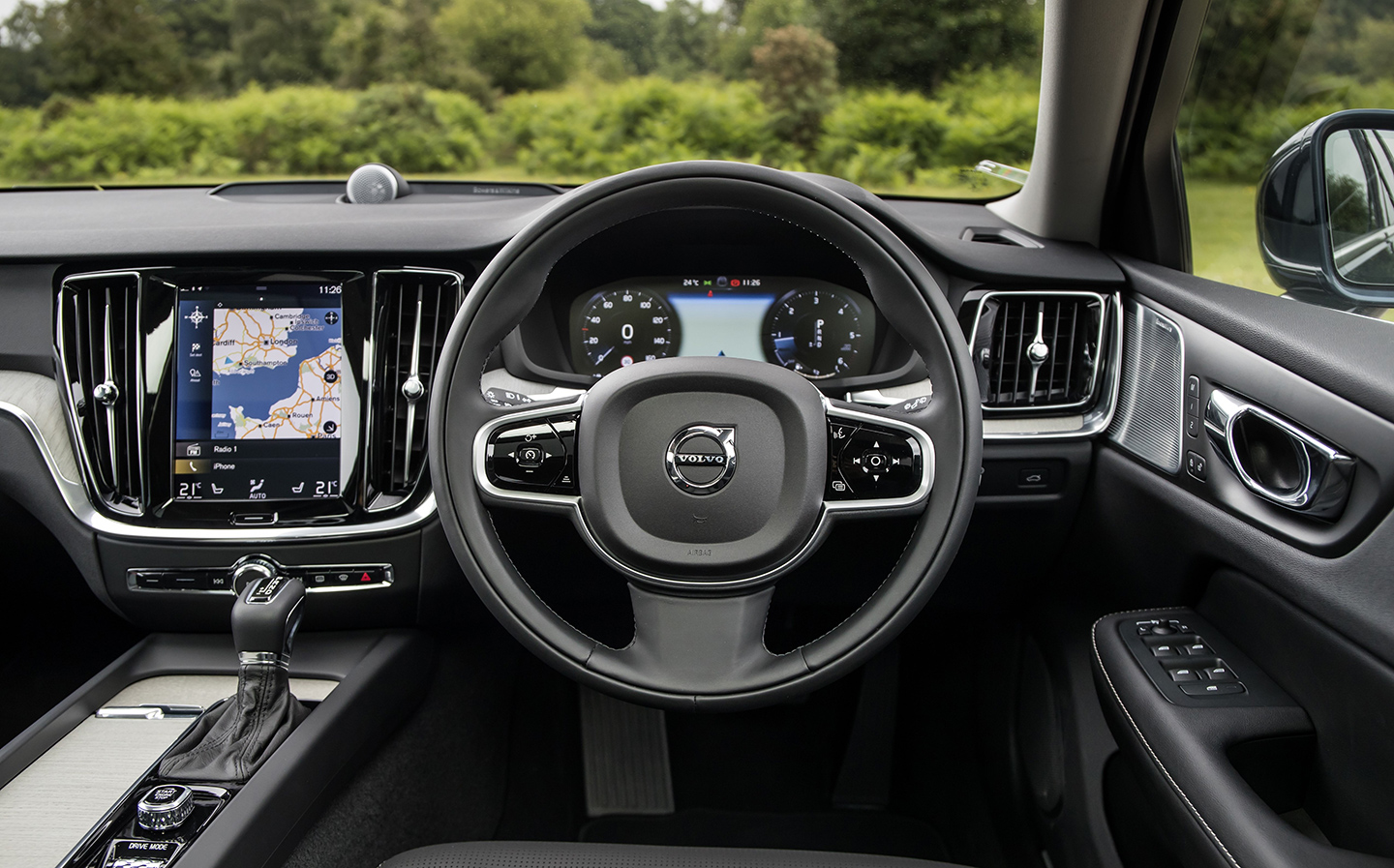 Last time I asked what owners thought about Volvo's infotainment system. If the feedback on social media is an accurate barometer of drivers' feelings, and specifically its Sensus Connect and Sensus Navigation element, there's plenty of room for improvement.
Do you drive a current Volvo? I'd be interested to know how highly you rate elements of the 12" infotainment system, in particular the navigation, zoom function, clarity of graphics, marker points. I've run a @VolvoCarUK V60 T5 Inscription for @ST_Driving. Nav is the weak point. pic.twitter.com/LATFRaWgVa

— James Mills (@squarejames) October 21, 2019
The general consensus seems to be that the navigation is poor. Complaints concern dreary graphics and a lack of associated detail, the annoying pinch-to-scale operation (although one owner said they preferred that, given the similarity to operating a smartphone) and the frequency with which an accurate postcode input has resulted in being taken to the wrong place — something I experienced just the once, in Wales.
The other recurring grumble concerns the integration with Apple CarPlay. This is a helpful feature, as it simplifies the display and operation of things like playing music, using Google Maps or making a phone call. However, Volvo decided that when in use, only the lower half of the 10.25in, portrait-oriented screen would be given over to CarPlay. So when using Google Maps, that's an annoyingly small display.
Most Volvo drivers agreed that they love the style and comfort so much that they forgive the infotainment annoyances
At the same time, you can't view the Google Maps instructions on the driver's central instrument binnacle, which is one of the reasons I so often would put up with Volvo's own navigation, as it reduced the number of times you need to take your eyes from the road ahead.
Also coming in for criticism was the voice control — described by one V90 owner as 'a joke'.
However, it's not all bad news. Despite these gripes, most agreed that they love the style and comfort of the latest breed of Swedish wagons — sufficiently so that they'll forgive the other annoyances.
It's worth noting that the latest Android Auto and Apple Carplay systems allow portrait scaling and display in the digital instrument binnacles [Even the new SsangYong Korando allows this — Ed.], though Volvo has confirmed to us that existing cars' infotainment software will not be retrospectively updated to allow either.
However, Volvo has announced a replacement for this generation of Sensus, which is due to make its debut in the new Polestar 2 electric car, due on sale by next summer, followed by the Volvo XC40 Recharge.
Volvo has developed the Sensus successor with Google, basing it on the Android operating system. It means the nav on future Volvos will be built around Google Maps and introduce real-time traffic information, and will allow for full display on the touchscreen plus complete integration with the driver's digital instrument display.
Voice control will come courtesy of Google Assistant and the system will be permanently online, so third-party apps could be downloaded without having to eat into a smartphone's data plan. And the screen size increases to 11 inches.
This might not do anything to address the immediate problems that current Volvo owners experience using the infotainment system, but it shows that car makers such as Volvo are aware of their limitations and are increasingly prepared to seek external expertise to give drivers a better experience.
Thinking of buying a Volvo V60? Or do you already own one? Share your experiences in the comments below, or drop Millsy a tweet.
Tweet to @squarejames Follow @squarejames
November 1, 2019: Final report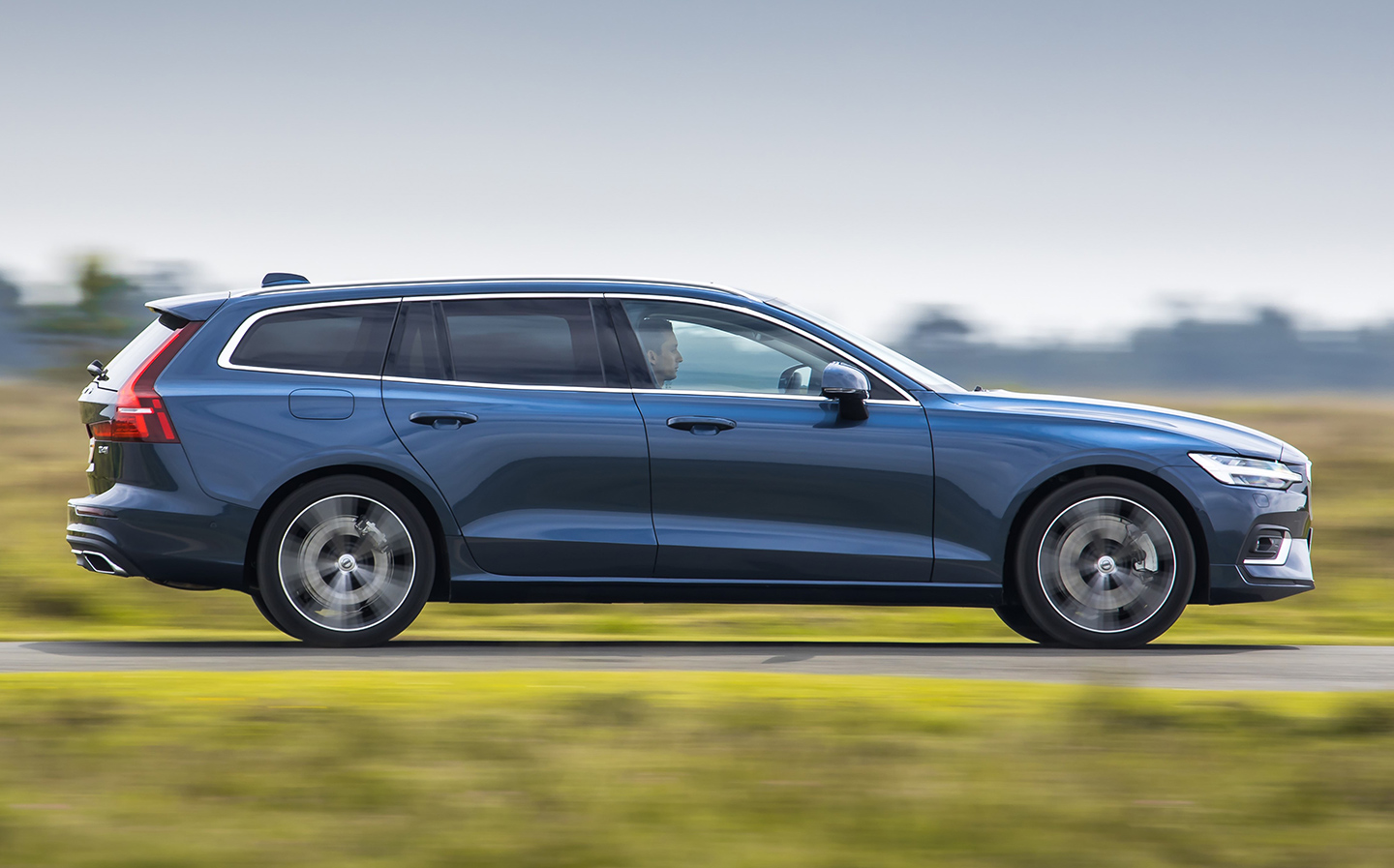 After eight months and 10,000 miles, the V60 has been freed from child seats, squabbling children, and smelly Labradors and Cockapoos. Will it miss us? Because we'll miss it.
The task that the Volvo had to perform was excel as a tool for ferrying a family of five about the place. However, from day one, it was obvious that the V60 felt like so much more than just a tool.
Its interior brought a breath of fresh Swedish air to a part of the car market that is dominated by German brands. In Blonde and Charcoal trim (that's a thing; see the configurator for the other options) it was stylish enough to make us feel underdressed. Yet it didn't sacrifice anything on the practical front: the V60 is one of the best thought-out, and most accommodating estate cars of this size.
Perhaps the standout feature for me, the regular driver, was the seat comfort. The rest of the family agreed; all the seats offer support in all the right places, although like any estate car in this class — with the possible exception of the huge Skoda Superb — the middle of the back bench can be a bit of a squeeze.
Over time, we came to appreciate the way this car could cover long distance drives without making you feel every mile and minute that passed. It is quiet, there are those seats, and the driving experience has been tuned for people who just want to make calm, composed progress.
Drivers who relish the opportunity to bring out their inner Rickard Rydell will find the V60 somewhat lacking when they put pedal to the metal. The steering, body control and handling also become distinctly flustered whenever you press on. I rarely switched the driving mode to Dynamic, preferring instead to leave it in Comfort or take it easy and select Eco, to save a modicum of fuel.
The V60 is one of the best thought-out, and most accommodating estate cars of this size
This is a shame, because you can sense the potential in the V60, especially with the T5, four-cylinder petrol engine, which provides a good spread of get-up-and-go right through its rev range. But it feels as though somewhere along the way, the company stopped any further development and budget being spent on the chassis tuning.
Perhaps the optional Four-C adaptive damping system (£750) would make some difference in this respect, although it would be nice if the fundamentals were right in the first place.
Of arguably more significance to more people was the way this stylish looking estate car hid a surprisingly spacious interior and boot beneath its surface. The 529-litre boot was big enough for pretty much most things we threw at it, including our two dogs. In fact it was so accomodating, we rarely used the roof box that the car came with.
A foldable plastic boot liner (£155) kept the wet dog smell at bay, while the fitment of a luggage restraint net (£85), to keep pets or cargo out of the cabin area was a valuable addition but something that really ought to have been integrated into the rear luggage cover as standard on an estate car.
Another option that got a surprising amount of use was the grocery bag holder — part of the Convenience Pack. A section of the boot floor lifted to reveal a strap, meaning you could stand shopping bags up and secure them in place. And being able to wave a foot under the back bumper, to open the boot (assuming the key's in your pocket) was a feature that got a lot more use than I expected.
I also rated the surround view camera. It gave such a good view of the car's surrounding environment, and made it so easy to park, that I rarely bothered using the Park Assist Pilot system.
Decidedly underwhelming was Volvo's Pilot Assist system. The lane-keeping function, that worked with adaptive cruise control, was, frankly, an unsettling irritation that I never came to trust. Sometimes it would work, sometimes it wouldn't. So I'd just rely on the adaptive cruise control and take care of steering the car myself — a novel concept, eh?
The 250bhp engine averaged 33mpg over its test period, and never drank a drop of oil. That fuel economy is acceptable for a large, petrol-powered family car, and no worse than the lesser-powered T4, which I was able to try during the car's time with us.
One thing's for sure: I didn't miss the unpleasant sound of a diesel engine, slow-revving nature or the whiff left on your hand from the oily pump handles. Given the choice, and conveniently ignoring any cost constraints, I'd pick the petrol over a diesel V60.
At the time of the car's return, the V60 was soon due its first service. It was an intermediate service with an oil change, new air filter for the climate control and software updates, plus all the usual checks and inspections, for which my local Volvo dealer quoted £325.
In many ways, we didn't want this extended test to come to an end. For all its faults — namely the Sensus infotainment system and the lead-footed ride and handling — the V60 is an immensely likeable family car that stands out of the crowd of German estate cars.
It will be succeeded in the Mills household by a hybrid SUV — a Honda CR-V Hybrid — for which you'll get similar reports on Driving.co.uk. In the meantime, if you have experience to share of living with a V60, or have a question to ask, drop me a line.