Extended Test: Skoda Kodiaq Sportline 2.0 TDI 4x4 review
Pound for pound, is this the best seven-seat SUV?
---
Published 30 November 2018
Specifications
Model 2018 Skoda Kodiaq Sportline 2.0 TDI 190 DSG 4×4
Engine 1,968cc four-cylinder turbo diesel
Power 187bhp @ 3,500rpm
Torque 295 Ib ft @ 1,750rpm
Kerb weight 1,720kg
Towing capacity 2,000kg (braked) / 750 (unbraked)
Top speed 129mph
0-62mph 8.8sec
Fuel consumption (NEDC lab test) 49.6mpg (combined)
CO2 emissions 151g/km
Road tax £155 for first year; £450 for years 2-6; £130 thereafter
Insurance group 23E
Price from £37,450 OTR
Price with options£42,750 OTR
Options fitted Area View with Trailer Assist and electrically folding tow bar, £2,170; Crew Protection Assist with rear side airbags, £500; Driver Assistance package, £1,260; heated front and rear seats, £205; roller blinds for back doors, £205; tri-zon3 climate control, £305; space-saver spare wheel, £105; roof rack, £190; Skoda roofbox, £360
Test details
Test period June 2018 – January 2019
Starting mileage 230 miles
Updates
July 1, 2018: Introducing the Skoda Kodiaq
Skoda has been around since 1895 but truth be told most drivers, at least those in Britain, have only started to take notice of the Czech car maker in the past decade.
Rewind to the '70s and 80s, when models like the 130, Rapid and Favorit were the best the company could muster, and the only people found driving them were skint students or communists. The jokes were predictable (What do you call a Skoda with a sunroof? A skip) but they kept car snobs amused.
Then, in 1991, people thought Volkswagen had come up with the greatest gag of all, declaring it was buying Skoda. But executives at the German car company were deadly serious.
Slowly but surely, its cars have improved. And as they have been transformed from laughing stock to award-winning motors, word has spread that, beneath the surface, "they're all Volkswagens, mate".
And sure enough, scratch beneath the surface of our new, long-term Kodiaq and you will find the latest Volkswagen Group MQB platform, a clever, modular building block if you like, that underpins everything from the Audi TT to the Volkswagen Tiguan.
This one is the poshest model of the lot, a 2-litre diesel in 190PS trim with four-wheel drive, the DSG automatic gearbox and four-wheel drive, finished off in the rather racy looking Sportline trim. In other words, it's the sort of car that a driver with a history of owning Audis, BMs or Volvos might consider switching to.
Sure enough, after announcing on social media that I'd be reporting on the 'Koda, two friends said they were thinking of buying one – to replace a Nissan X-Trail and Volvo XC90 respectively.
It's not only the car's size and seven seats that endear it to harried parents. The Kodiaq is priced to span the middle ground between big-sellers like the Nissan Qashqai and posher SUVs, such as the XC90. And it's a formula that appears to be winning over the middle classes.
Can it win over me, though? More importantly, can it win over my family? Before the Skoda, I ran a seven-seat Renault Grand Scenic, and that made for an excellent hold-all.
With three children, two dogs and a horse, the Kodiaq is going to be worked hard. Can it withstand the abuse of the little people in the back seats? How comfortable are the rearmost pop-up seats? Is the boot big enough for dogs and shopping? Will it be left breathless when challenged with towing a horse trailer with Shergar aboard (okay, Capito)?
It will also make for an interesting comparison with Driving's Lexus NX300h. The hybrid petrol-electric SUV is similarly priced, more stylish but not as practical. From time to time, I'll be swapping between the two with my colleague, Will Dron.
I take credit for the way this Kodiaq looks particularly easy on the eye. I requested the Sportline spec as it removes all chrome trim and replaces it with black finish for the window trim mirrors and roof rails – a neat trick that makes it look lower.
It includes subtly sportier front and rear bumpers, 20in Vega alloy wheels and Sportline badging on the wings, finished off in my choice of Business Grey metallic paint, a boring name for a good colour that sets off the Sportline model nicely.
Inside, there are sports seats, the sort you'll find in a Golf GTi or R, with Alcantara trim and diamond-effect stitching, a flat-bottomed sports steering wheel and racier dials and pedals. It's interesting how just those few things can elevate the ambience of the interior from – I'd argue – premium economy to business class.
However, potential Skoda Kodiaq buyers beware…
If ordering a Kodiaq in this spec, be mindful that with a list price of £37,450, it doesn't take much ticking of the options list to tip the total price over £40,000, raising the road tax bill to £450 in the second to sixth years of ownership.
This one's got Area View with Trailer Assist and an electrically folding towbar, additional airbags in the back, a driver assistance package, heated front and rear seats, tri-zone climate control (so the driver, front seat passenger and those in the back can all set their own temperature and fan speed) and blinds for the rear windows. I also added a space-saver spare wheel, roof rack and roof box – essential equipment for a big family. That lot took the price to £42,750
Also, because its diesel engine emits 151g/km of CO2, it misses a lower tax bracket by just 1g, meaning the first year's road tax is £515 instead of £205.
First impressions have been that the car is creating the right impression. The number of comments that it attracts on the school run – from prospective Koda drivers to converts – has been remarkable.
Watch this space for regular updates – and if you drive a Kodiaq, do share your experiences, both good and bad, in the comments, below.
Tweet to @squarejames Follow @squarejames
August 2, 2018: How does the Kodiaq compare to premium rivals?

Several readers have been in touch to ask how I feel the Kodiaq compares to more expensive cars, including the Volvo XC90 and Land Rover Discovery.
They liked the look of Driving's long term test Kodiaq, which is in Sportline trim with the 190PS diesel engine, and had been browsing Skoda's website, configuring a car for themselves and coming away pleasantly surprised at the price and level of equipment that comes as standard. Some have even been inside's a friend's 'Koda.
However, another reader suggested that the Skoda isn't especially good value, when comparing finance deals available on it and competitor cars such as the Land Rover Discovery Sport.
That's an important point. The days of comparing list prices are almost behind us. Most people have to take into account a number of figures involved in financing a new or used car, such as the part exchange value of their existing model, contribution or discount figure from the manufacturer or dealer, guaranteed minimum future value, the annual interest rate and, of course, the all-important monthly repayment figure that's churned out by the computer at the end of adjusting such variables.
Skoda will tell you that the company can't build enough Kodiaqs – well, that's what they've told me. But I took my chances on the car buying comparison website Carwow, submitting the details of our long-term test Koda to see whether any discounts might be available to buyers.
Sure enough, by the end of the day five Skoda dealers had laid their opening hand on the table. The difference in discount on the £37,570 list price (excluding optional extras) ranged from a frankly insulting £2,002 (it includes a £2,000 discount from Skoda if bought on finance, so that's a £2 sweetener from the dealer) to a sorely tempting £6,651.
The latter is equivalent to 17.7% off the showroom price, dropping it to £30,939. If you were to go ahead and take out Skoda's PCP finance, the APR would be 4.9%, and the monthly repayment over four years would be £412.82, with £16,037 to pay if you want to keep the car at the end of the term.
Needless to say, that doesn't allow for any hard bargaining over a part-exchange or any haggling over the APR figure, both important components of any successful deal.
However, if I were to chop in our family wagon, a Honda Accord Tourer that would probably get me £3,000 on a good day, the monthly repayments would drop to £342, based on a £27,939 price for the Kodiaq.
That sounds like a lot of car for the money to me. A comparably-priced Land Rover Discovery Sport does not feature the same high level of standard equipment as our Koda Sportline.
In the interests of balance, however, I put Land Rover dealers to the test, again using Carwow. The Discovery Sport SE Tech, with the 2-litre, 180 diesel engine and automatic gearbox, costs £38,355.
The best offer from an authorised dealer was a price of £34,609, a 9.7% discount that's some way short of the Skoda. There's also no deposit contribution from the manufacturer. Allowing for the discount and my imaginary part exchange, the monthly PCP repayment would be £445.
So you'd be £100 a month better off taking out finance on the Skoda, and you get more equipment as standard than the Landy, too. But do you get a better car?
I'll be revealing what it's like to live with in the next update.
Tweet to @squarejames Follow @squarejames

September 4, 2018: Holiday proves the Kodiaq is one of the best family SUVs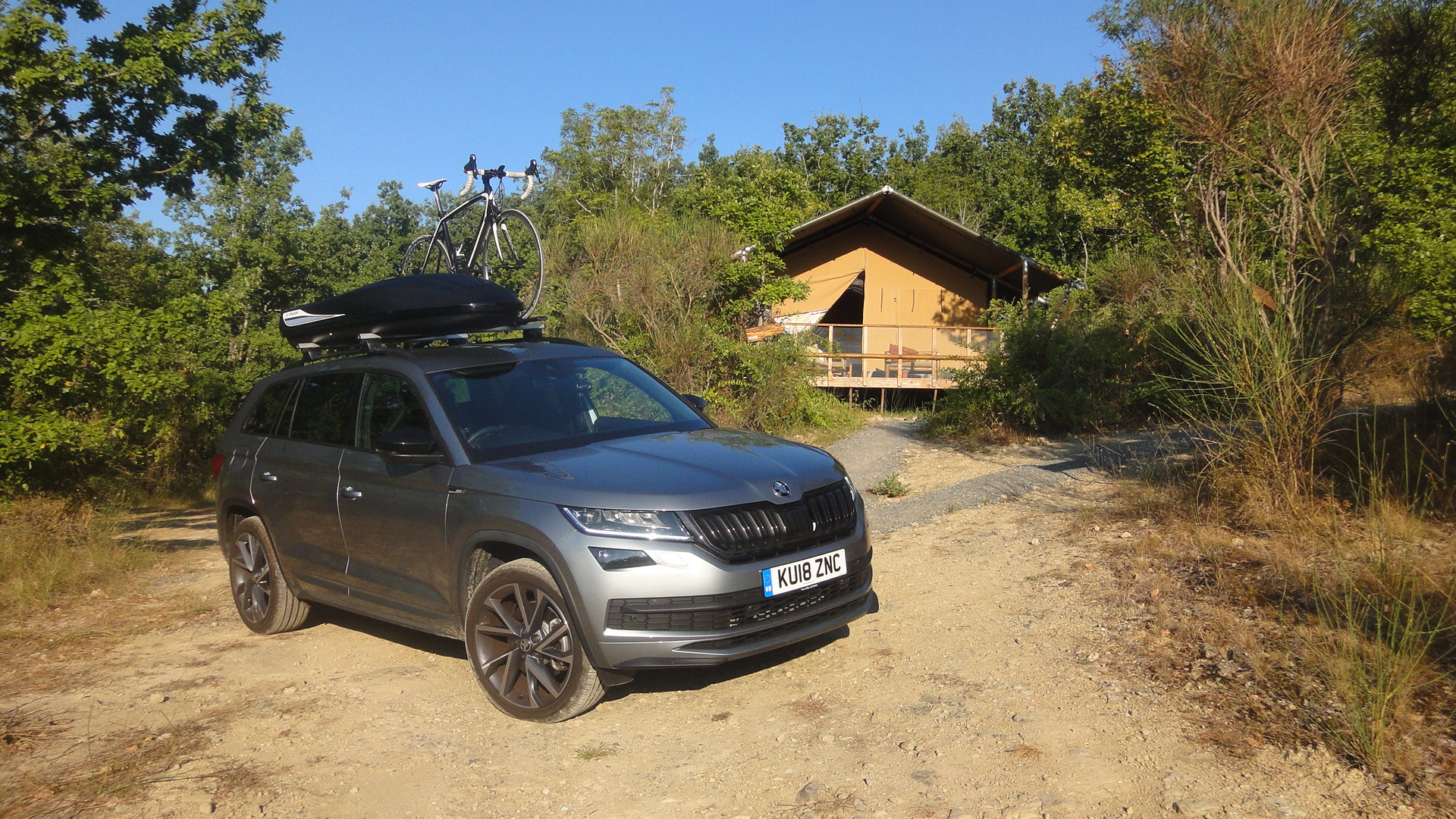 Can there be a greater test of a car's capabilities than loading it to the gunnels, piling in all the family and driving the best part of 1,500 miles for a summer holiday break?
This is what the 'Koda' faced at the end of August, as famille Mills steered a course for a glamping site just north of Toulouse. Called Le Camp, it's a posh, Gallic version of a Feather Down farm, only one with a natural swimming pool that comes into its own as the temperature soars beyond 30C.
To pass our test, the Skoda – to recap, a Kodiaq Sportline 2.0 TDI 190 4×4, which currently costs £37,590 – should transport us there in comfort and have us emerge looking fresh and enthusiastic, rather than weary and in desperate need of a lengthy period of recovery.
The exam started with packing the boot. We only needed to use five of the Koda's seven seats. So the boot was reserved for bags and shoes, and the Skoda-designed roofbox was for towels, childrens' toys and a bag full of cycling kit (snuck in by yours truly).
I'd like to meet whoever designed this car's interior, and visit their house. They must be one of the most organised and resourceful people in the world, a cross between Isambard Kingdom Brunel and Kirsty Allsop, because the cabin is brimming with clever storage areas. And as any parent knows, having somewhere to stash all the clobber that follows children around is half the way to staying sane.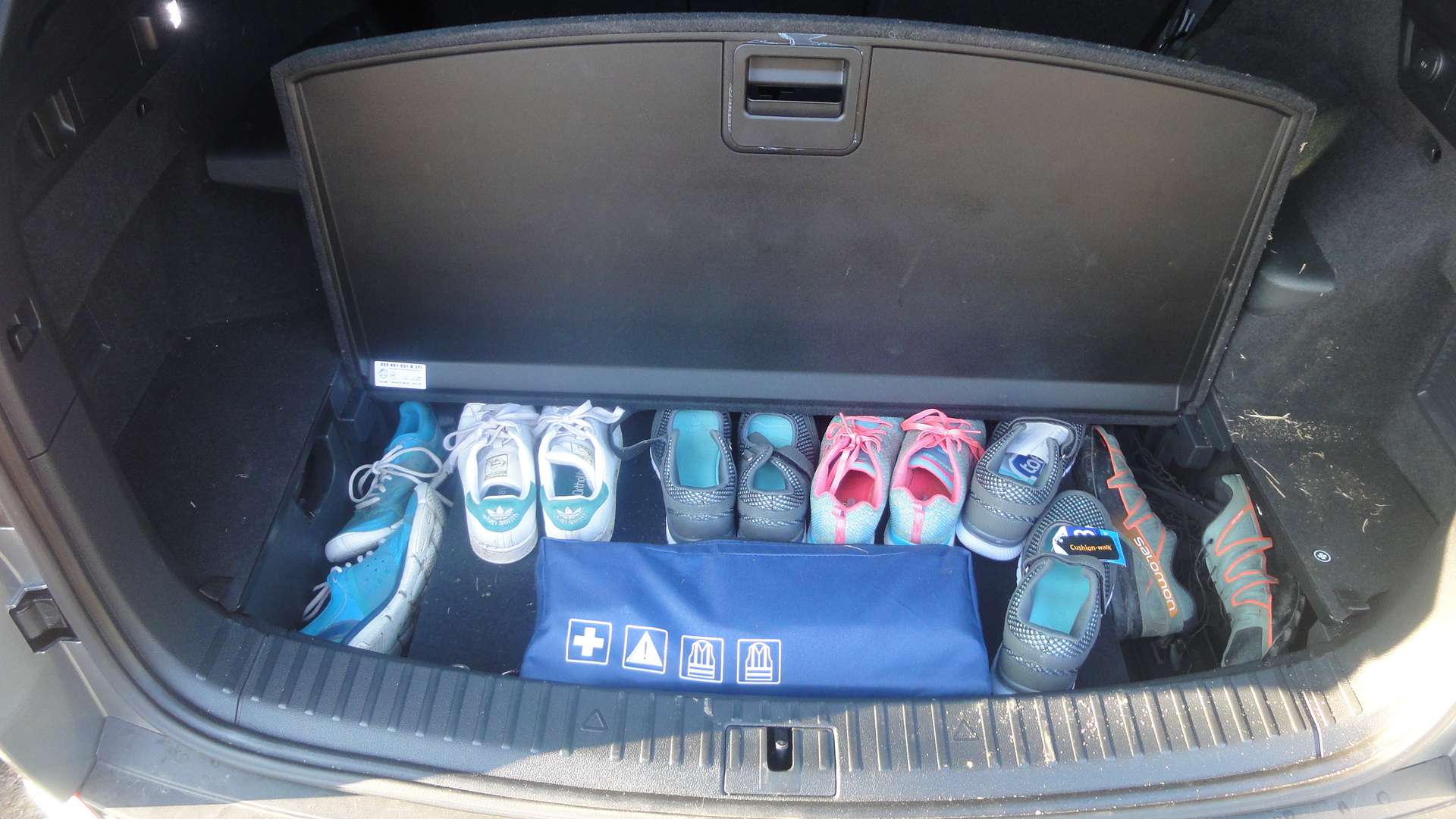 Take the compartments beneath the boot floor. We comfortably stashed nine pairs of shoes in them, as well as Skoda's travel kit for driving in France and other parts of Europe.
With the flat floor in place, five big bags were swallowed by the boot (we could have fitted another three in there, I reckon) so the luggage cover could be drawn across.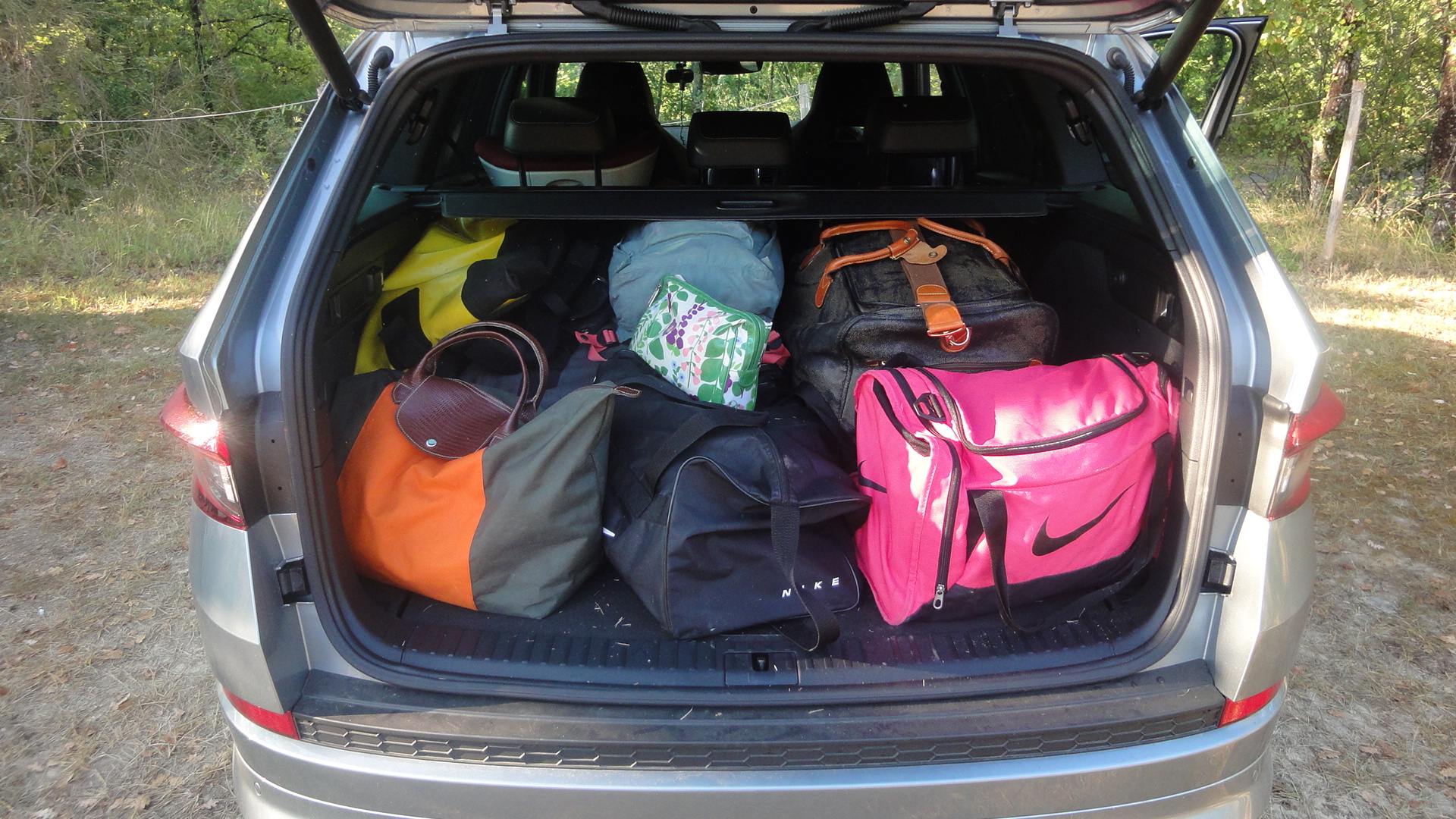 Up on the roof I added a cycle carrier, for my road bike. (There's another story there, involving a load-height restriction at a peage toll…) Then the tyre pressures were inflated to allow for the car's full load, and off we went.
The first feature to earn praise from bleary-eyed passengers at 4.30 in the morning were the heated seats and climate control for those in the back. The children could set things just how they liked, by using what's known as tri-zone climate control. What that means is the two people in the front can set the temperature to different levels, as can anyone in the back. It's a far cry from the days of winding down a window.
Those back seats tilt back, so had already been set reclined to maximum 'chill out' angle. Also appreciated, as the sun began to rise, were the blinds built into the back doors.
With the headlights adjusted via the car's onboard computer for driving on the right side of the road (genius), we made mercifully swift progress south through France. On the autoroute, the 2-litre, 187bhp diesel engine was a distant thrum. If only the bike, roofbox and roofbars, were as quiet; they created a roar similar to sitting in a jet plane.
Happily, the car's fuel economy didn't appear to suffer too greatly from the extra drag of the stuff on the roof. Before the holiday, it was averaging between 37 and 38mpg. On the 600 mile drive home, it managed 34.7mpg at a steady 130kph (80mph, where allowed) autoroute cruise.
A stand-out feature on this Koda is the driver assistance package, a £1,260 option on the Sportline models. It includes a system that ensures you don't wander from your lane, warning and ultimately steering you back on course should you become distracted.
Also with the pack is blind spot monitoring, alerting the driver to cars drawing alongside, which is handy when you're driving abroad in a right-hand drive car.
And finally the adaptive cruise control maintains a set speed but automatically slows the car then speeds up again should a slower vehicle pull in front. These all help reduce fatigue for drivers and act as an extra pair of eyes on the road.
The stability of the Kodiaq, even when fully laden and sporting so much load up high, on the roof, was faultless. And the car's performance, with the 2.0 190 TDI engine, is always potent enough to see you past slower traffic with ease.
Our test car doesn't feature the upgraded Canton audio system, but we had no complaints about the quality of the music streaming, or the clarity of the sound when making hands-free phone calls.
Skoda likes to make much of the 'Simply Clever' features to be found on its cars. One such solution came to the rescue in a downpour. The forecast ahead of our holiday had made no mention of rain, so we'd not packed any coats. To our delight, when the weather finally broke, just as we rolled into the picture-postcard medieval town of Saint Antonin Noble Val, we remembered that the Kodiaq has a pair of umbrellas hidden inside both front doors.
Criticisms? More USB charging ports wouldn't go amiss in this day and age (there is only one, but we added a 12 volt double adapter for the kids in the back). And when pulling away from a stop, the automatic gearbox and driveline can be rather abrupt and send an unpleasant jolt through the cabin. But that's about it.
Short of a tour bus, it is hard to think of a better car in which to undertake such a long journey with a family of five aboard.
Tweet to @squarejames Follow @squarejames
September 27, 2018: Low coolant fluid strikes Skoda Kodiaq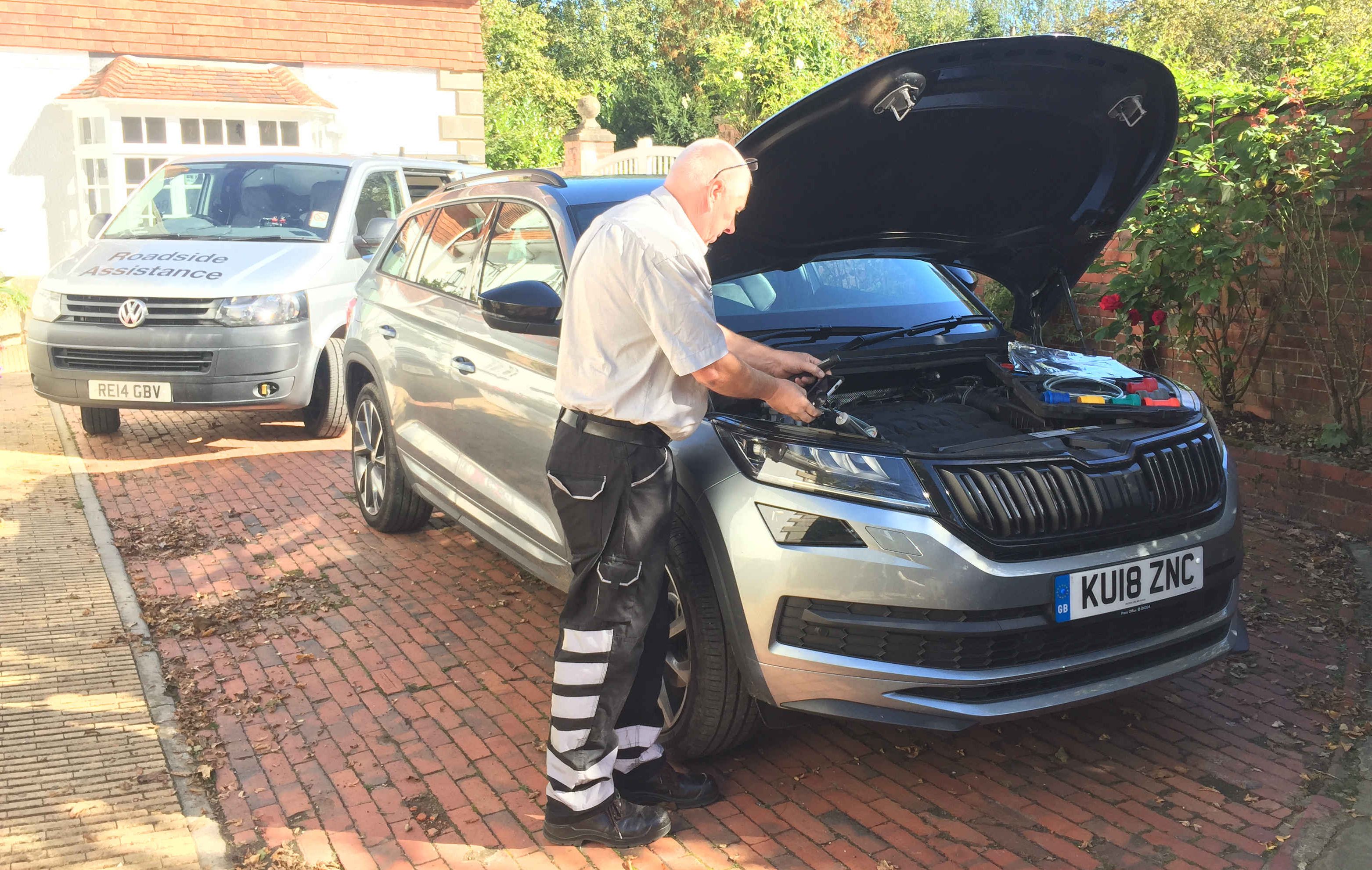 It had to happen. After months of bigging-up the Kodiaq, and hearing from several readers who have placed an order for their own Koda after browsing these reviews and sending me questions via Twitter, something has gone wrong with our test car.
On a cold and frosty morning, the family piled into the car for the school run, buckled up their belts and were thumbing the buttons for the heated front and back seats before the engine had even been started.
When the 2-litre diesel was fired to life, the dashboard flashed up an alarming, red warning symbol and said that the engine coolant was low.
Lifting the bonnet revealed that, sure enough, the expansion chamber for the coolant showed that the fluid level was some way below the minimum mark.
Flying in the face of advice online and in the car's handbook, I closed the bonnet, pretended there was nothing untoward and went ahead with the school run. Our eldest child said this was dangerous and she would report me to Childline. But when I pointed out that she had a school bus to catch, she quickly climbed off that high horse.
Once home, I phones the local Skoda dealership. Its service department advised that I should contact Skoda's Roadside Assistance service, which is provided for the first three years of vehicle ownership. It's a valuable addition, common among car makers, that provides breakdown or accident cover at home, on the road and across Europe, and includes transportation of any caravan or trailer.
After speaking with them I was offered the choice of a one-hour wait for an AA technician or a couple of hours for someone from the Volkswagen Group. I chose the latter.
Peter Bevan arrived at the allotted time, complete with shiny van packed with almost as much equipment and technology as you'd find at a Skoda garage.
The coolant was indeed low, by about 400ml. (Hurrah! I am an engineering genius.)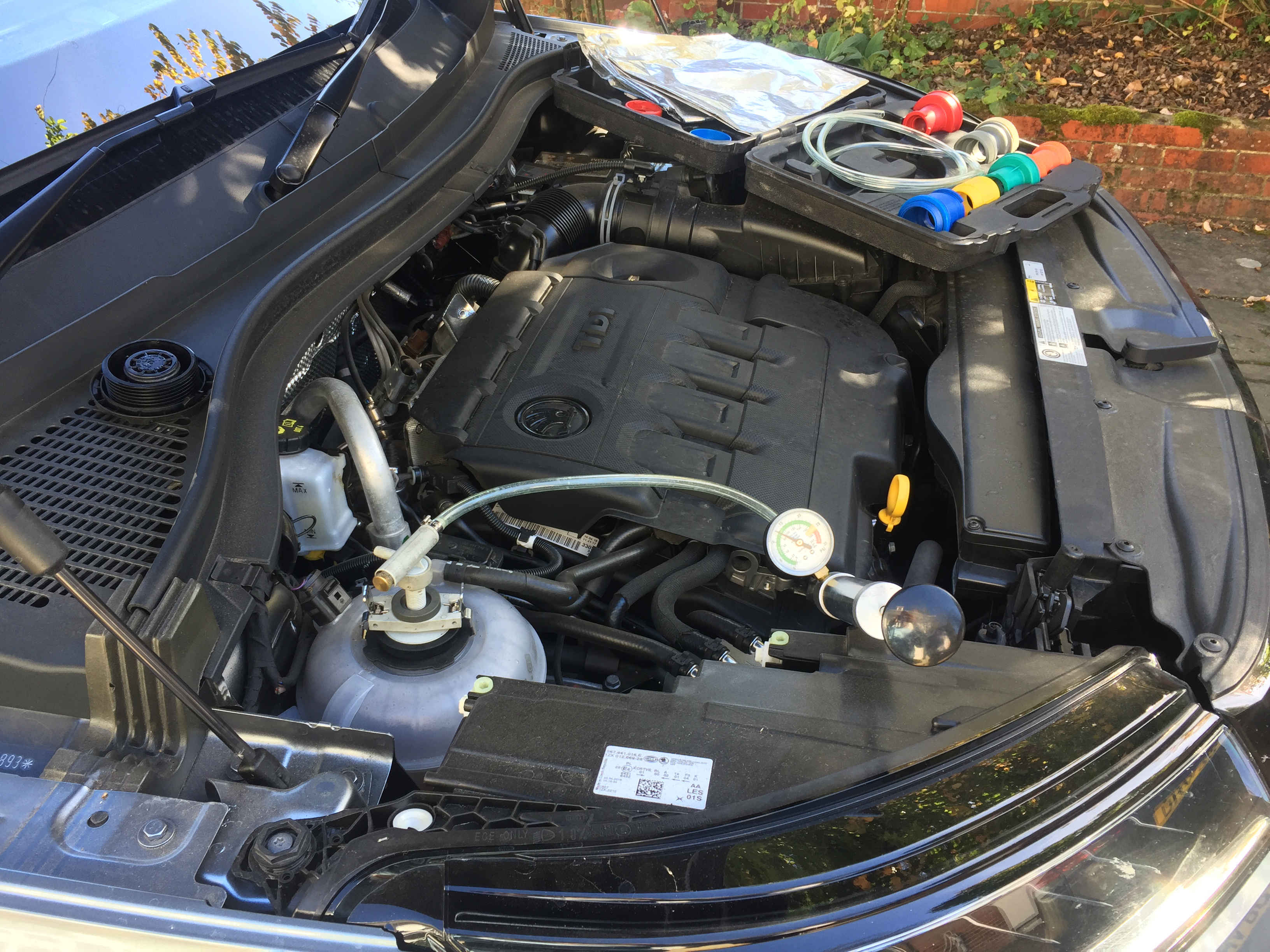 Peter topped it up, performed a pressure test of the system, which runs at 1.3 bar, inspected the tank, pumps, radiator, pipes and engine bay for signs of a leak, before plugging in a diagnostic laptop to reset the system.
Peter suspected an airlock could have caused it, and in the cold weather (about 4C) the contracting fluid would trigger the low-level warning. He was a likeable, knowledgeable chap, and explained how pressuring the system allows coolant to run at temperatures of up to 120C.
We then got on to discussing petrolheads' perennial favourite topic: technology in cars. To illustrate the car in the computer age, Peter used the 12V battery as an example. Many drivers might have it replaced at a local fast fit centre, after however many years of service, as and when it finally needs changing. But these days, even a battery is relatively sophisticated, with its own dedicated computer chip that talks to the car's CAN bus system – Controller Area Network – and it must be coded so that the car knows the specification of the battery and can monitor its condition appropriately.
Peter went on his way and the Skoda has continued without a hitch. Looking online, it doesn't appear I am alone in driving a Kodiaq (or other VAG model) to have suffered such a problem. But then again, many other makes and model of car have too.
Using a car maker's breakdown service isn't something many drivers hope to do. But should the need arise, it's good to know that everything goes as smoothly as you could hope for – even if this wasn't a taxing technical issue.
Tweet to @squarejames Follow @squarejames
October 7, 2018: Filling the Kodiaq's AdBlue tank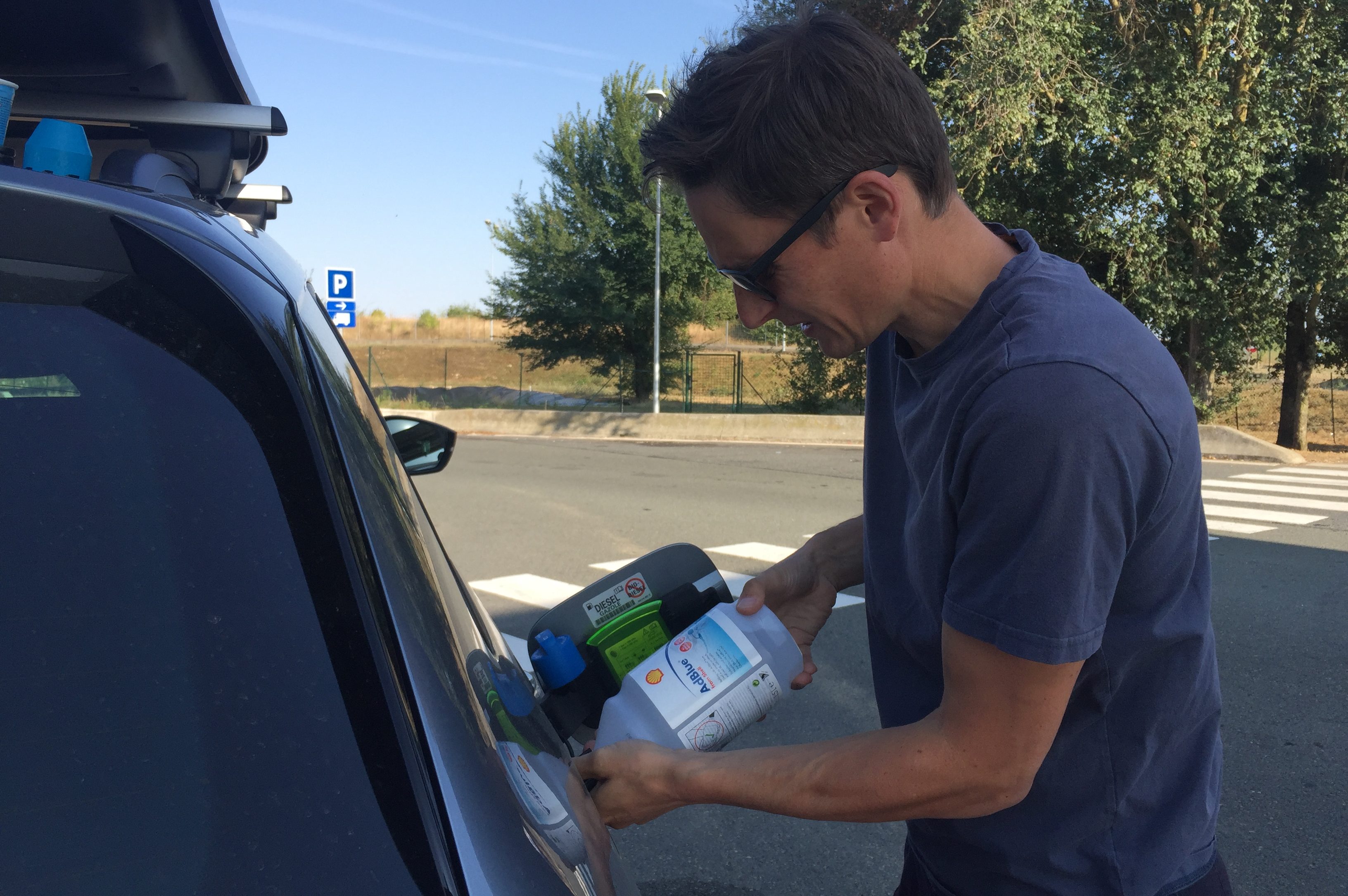 Diesel fuel is not exactly flavour of the month. Across the world, air pollution levels in urban areas exceed thresholds set by governments and authorities, and enemy number one is said to be diesel.
Burning diesel emits nitrogen oxides, such as nitrogen dioxide, and fine particulate matter. The latter, in particular, is widely attributed to premature deaths.
Which is more than a little awkward, because, like so many European car makers, Skoda relies on diesel engines for much of its sales. So, while behind the scenes engineers run around accelerating plans for plug-in petrol-electric hybrid, pure-electric and even hydrogen-powered cars, an increasingly complex array of emissions equipment has to be fitted to the current line-up of diesel cars to clean up as best as possible what's spewing out of the exhaust.
With the Skoda Kodiaq's 2-litre, four-cylinder, 190PS diesel engine, that equipment includes selective catalytic reduction (SCR) which involves injecting a urea solution, known as AdBlue, into the exhaust system. Doing so sets off a chemical reaction that converts nitrogen oxides into nitrogen, water and carbon dioxide (CO2).
When the Kodiaq arrived in late June, not yet run-in, its trip computer said it had a driving range of about 4,500 miles before the AdBlue would need to be replenished.
Sure enough, from about 4000 miles later, when switching on the ignition messages would appear on the car's trip computer, counting down the mileage remaining before AdBlue needed to be refilled.
When I eventually decided to heed the warnings, I pulled into a service station in France (while on holiday — see above) and bought a 1.5-litre bottle of AdBlue, because that's the minimum amount I'd need to add, according to the car's computer. Or so I thought…
After struggling for a good five minutes to work out how to operate the complicated dispensing mechanism of the bottle (it would have made a good challenge on The Krypton Factor) the Skoda's tank greedily necked the whole lot. Feeling pleased with myself, I started the car again, only to be greeted by the same message: fill the tank with the minimum amount of AdBlue.
Closer inspection revealed that I had failed the intelligence test. The volume given in the driver alert was gallons, not litres.
So off I set, in search of a dispensing pump, which is reasonably common at fuel stations in France. When I found one, it guzzled nine further litres, so I'd put in 10.5 out of a capacity of 12 litres.
If you fail to replace the AdBlue, ultimately there will come a time when the car will not allow the engine to start, because that would mean it is effectively breaking the law and spewing out lots of untreated, harmful emissions.
With it topped up, there was a further 4,500 miles of driving range before anyone would have to go through the sorry saga again. If it's not me, then I hope they pay closer attention than I did on my first attempt at topping up.
Tweet to @squarejames Follow @squarejames
October 24, 2018: Park life — parking assist systems in action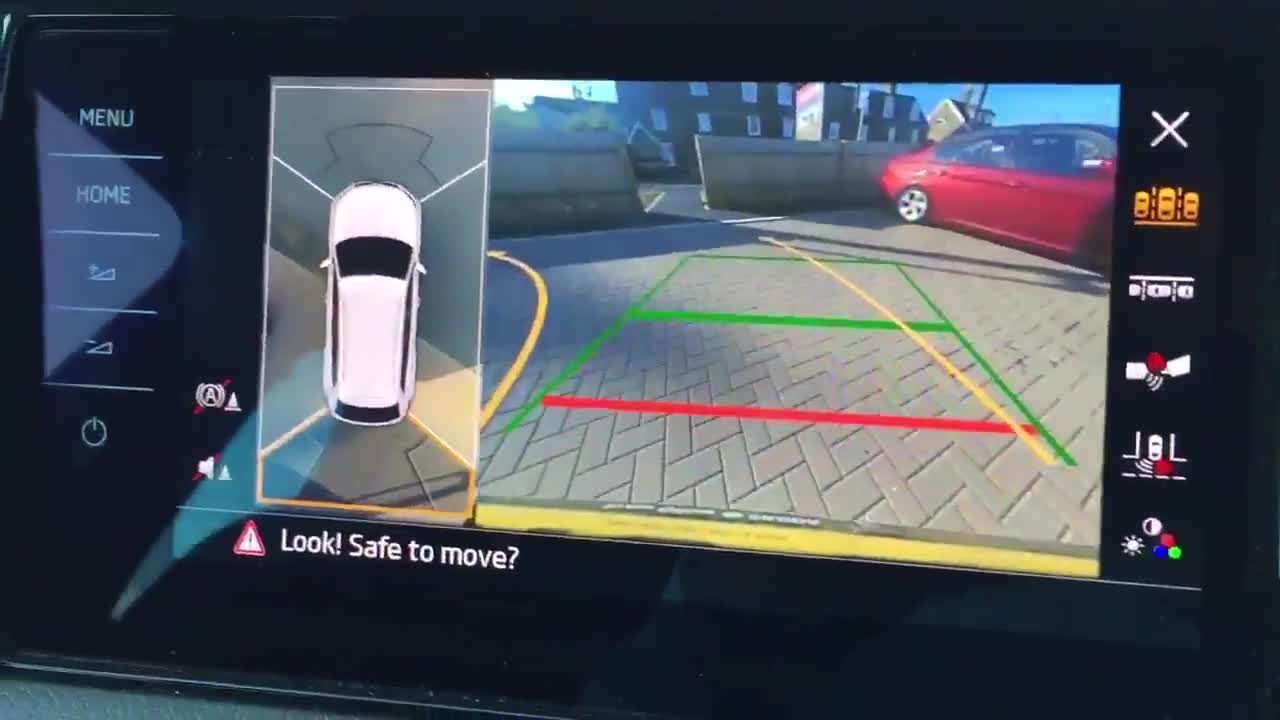 You might imagine that trying to park a large, seven-seat SUV that's as good as 4.7 metres long would bring drivers out in a cold sweat. But in the Skoda Kodiaq, it's a breeze.
The 2.0 TDI 190 Sportline model I'm running comes with Park Pilot, a system that uses ultrasound waves to determine the distance to an object and give you an audible warning, and a rear view camera. Neither of these things is unusual in this day and age, but they both work extremely well.
You really do rely on these systems, because trying to see where the back or, indeed, front corners of the car end, and whether there's anything in the way – our dogs, for example – is a challenge in such a large car.
To these, I added Area View, which uses four cameras to display a birds-eye or ground-level 3D view of the car and its surroundings.
Combine these three systems and you have a car that is remarkably easy to park. The rear view camera gives a clear image and thanks to clever positioning, doesn't seem to get dirty, whereas on many other cars I've tested with such cameras, the lens needs to be wiped clean frequently.
The @SKODAUK Kodiaq 2.0 TDI Sportline I'm running for @ST_Driving might be a seven-seat, 4.7m long #SUV but it's a doddle to park. Here's why… pic.twitter.com/XjznmOhHWu

— James Mills (@squarejames) October 24, 2018
You can select whether you're parking in a perpendicular or parallel bay, and the visual prompts are easy to follow. When parking facing forward, such as against the passenger side's (nearside) kerb, the Area View cameras help you keep the lovely looking, 20-inch Vega alloy wheels away from the unforgiving kerb, and if you're backing out of a perpendicular space, they help you spot – and warn of – approaching traffic.
All in all, it's a doddle to park. And when it comes to living with any car, especially an SUV, such systems really do make a difference as drivers tackle everything from the school run to the supermarket sweep.

November 30, 2018: Raising the roof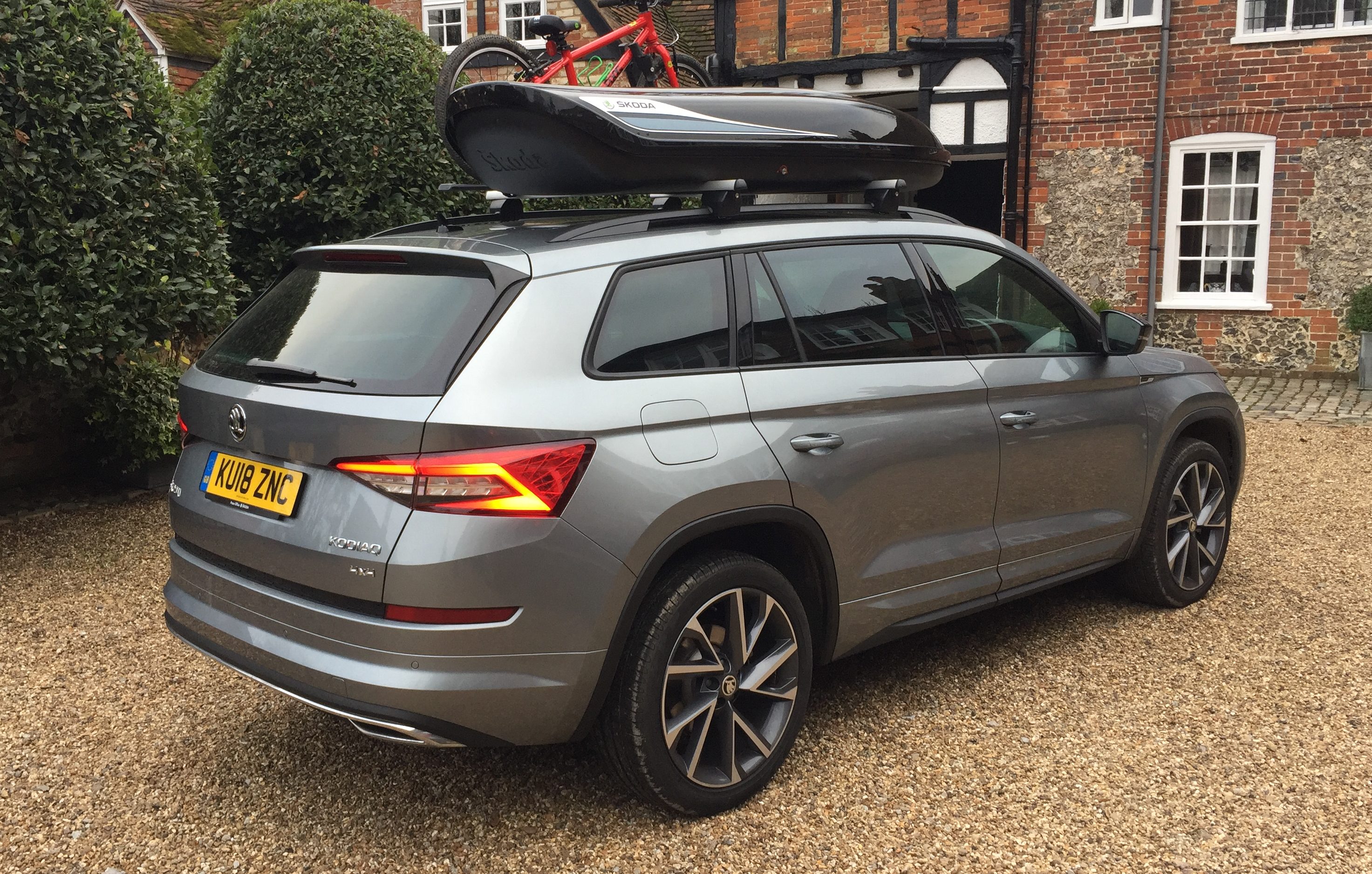 If you are thinking of buying a Skoda Kodiaq, have several children and some pampered pet pooches, it is highly likely that you will need to think outside the box, or boot, in the Kodiaq's case, and consider investing in a roof box.
Don't get me wrong; the Kodiaq has a huge boot, with a capacity of 630 litres when the rearmost seats are folded into the floor or 270 litres when all seven chairs are raised.
The former figure is, give or take 10 litres, the same as the largest estate car Mercedes makes, the E-Class, long considered the yardstick where carrying capacity is concerned.
The trouble is, dog owners (like me) will find their beloved pets — with ever-twitching noses and an appetite to rival Mr Creosote — don't mix well with the week's shopping or goodies you're taking on a visit to friends and family.
Skoda has the answer: add a roof box to your Kodiaq. Fitted to our long-term test car is one designed and made by Skoda, rather than a supplier such as Thule, with the Ronseal-like name, 'Lockable roof box'.
It has a capacity of 360 litres, which is more than enough for a two-week holiday's worth of soft bags, scooters, crash helmets, wellies and the like.
It costs £360 and attaches to Skoda's optional transverse roof bars, which in turn cost £190. The box is lockable (obviously), but only opens from one side — the driver's side — so if you plan to have a bike carrier mounted to the roof, too, you'll need to bear that in mind when fitting the roof box. Happily, the box is easily narrow enough to leave room for a bike, or possibly two at a pinch.
Fitting is conceivably a one-person job, so long as you have the strength and don't mind muttering the odd expletive or two as you raise it above head height while simultaneously trying to guide the fastenings into the T-track mounting system. Its hinges keep the lid open until you've finished loading.
On the move it isn't the quietest roof box Driving has tested, but it keeps the contents dust-free and dry, and also happens to look quite stylish, for what that's worth.
Its size to price ratio (360 litres and £360, if you weren't paying attention) is competitive with offerings from Thule. And of course, if you're buying a new Kodiaq there's the added bonus that your Skoda dealer can have it fitted for when you come to collect the car.
On long journerys, the trip computer hasn't indicated any significant drop in fuel consumption, but the Kodiaq does feel slightly more willing to lean over onto its rear outer tyre through turns, even though I inflate the Pirelli Scorpion tyres to 36 Bar/52PSI at the back, as stipulated by Skoda for when drivers have their car loaded to the gunnels.
Our dogs may now miss out on tasty treats, as the shopping gets locked safely up top, but they do get to stretch out on their beds in complete comfort, as they enjoy having the huge boot to themselves.
Tweet to @squarejames Follow @squarejames
January 10, 2019: Final report on the Skoda Kodiaq seven-seater 4×4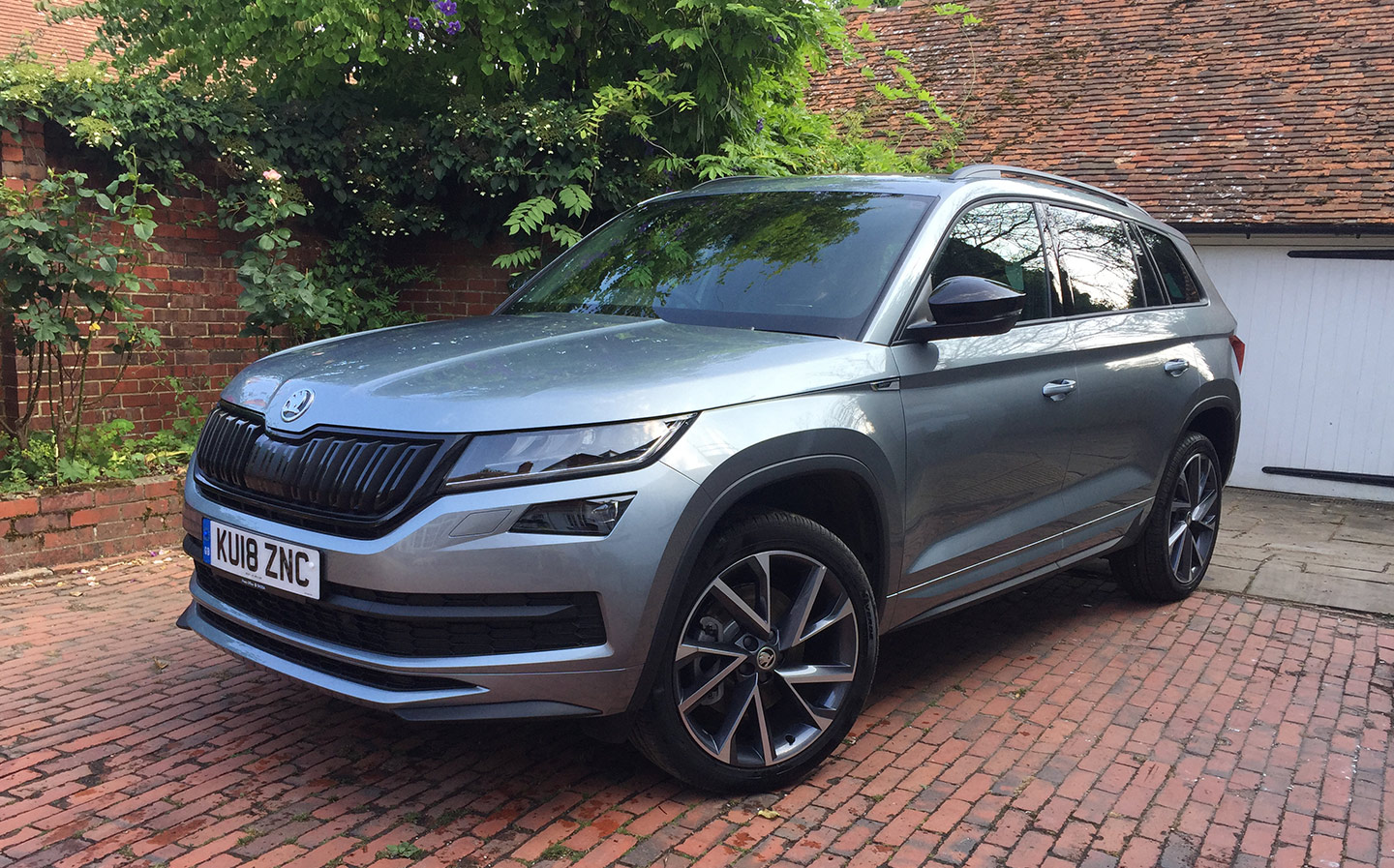 This extended test began with a simple question: pound for pound, is the Kodiaq the best seven-seat SUV on sale? At the end of more than six months of living with a Kodiaq, the answer has to be "yes".
To recap, the version chosen for testing was the diesel-powered 2-litre TDI, in 190PS tune, with four-wheel drive, an automatic seven-speed gearbox and Sportline trim.
When new, it wasn't a cheap car. In fact, with a list price of £37,450 and a final, options-all-in cost of £42,750, it was one of the most expensive Skodas to date (Skoda has since launched a vRS version of the Kodiaq). So why choose that model?
We had a hunch that the Kodiaq was a clever car because it straddled the ground between obvious competitors, like the Kia Sorento, Land Rover Discovery Sport, Peugeot 5008 and Volkswagen Tiguan Allspace, and larger, more expensive seven-seat SUVs, such as the Audi Q7, Land Rover Discovery and Volvo XC90.
In swish Sportline trim, the Skoda seemed to us to be the car many owners of the larger, more expensive models might consider trading 'down'  to when the time comes to change the family car.
So let's start with the amount of space on offer. As a family of five, with children aged 15, 11 and 5, we had to use one high-backed child seat, but space was never an issue. The amount of legroom in the rear seats of a Kodiaq is simply staggering. Adults can stretch out in comfort, if need be, and the 60:40 seat slides to alter boot space or leg room, while the backs of the seats tilt too. Add in adjustable air vents and climate control, heated outer seats and sunblinds built into the doors, and this is as VIP as family travel gets.
Talking of VIPs, the family dogs would sometimes travel with us. When this happened, we'd make use of the Skoda roofbox (not for the dogs but for luggage, obviously) – a useful, £360 option, as pointed out in the previous report – and the good news is that even for a less agile dog, such as our Labrador, the Kodiaq's boot floor isn't too high from the ground that they can't jump in and out. And with 630-litres of room for the hounds, there's plenty of space for them to stretch out.
In the front, there is stowage space galore, a clear and intuitive touchscreen display and features such as voice control (which was pretty accurate) and Apple CarPlay – although I'd use the car's navigation system over Apple's Maps. [Upgrade to an Android phone, Millsy! – Ed.]
There were other appealing features. Supportive and grippy sports seats (that look fab with leather and cross-stitched Alcantara, suede-effect finish) and a supremely comfortable driving position that was ideal for a two day drive to the south of France made this a great long-distance car.
That driving position is part of the Kodiaq's appeal. It's high enough to give a good view of the road ahead but not too high. By way of comparison, the week the Skoda returned to its rightful owner, a Land Rover Discovery was in on test, and that car's excessive height means it heaves and leans about the place like a drunk at the oars of a row boat in a force 12 storm. And let's not get started on the iffy build quality of the Disco.
The Kodiaq is not just lower but also lighter, by as good as 400kg, so it feels impressively car-like to drive. In fact, when nobody else was aboard and you took the opportunity to slip on your string-backed driving gloves, select Sport mode, and stand on the accelerator pedal, the Kodiaq proved impressive.
The drive from the 2-litre diesel engine would generally be sent to the front wheels but the moment the car's sensors detected slip, torque was sent to the rear , and the speed at which it reacted was lightning fast. With more power at the back wheels, the car had a nice habit of balancing out any slip at the front, making it feel reassuringly sure-footed, even on greasy corners.
The downside to the Sportline trim was that the 20-inch alloy wheels and comparatively low-profile tyres (235/45) would pick up potholes, ridges and ruts, but that's an accusation you could level at most top-spec cars these days.
Another downside to this car is the diesel engine. It grumbles away more than a middle-aged man and is most vocal at low revs when cold, with an unpleasant clatter making its way into the cabin. Once warmed through, matters improve but never to the point at which you stop wondering if the 1.5-litre TSI petrol engine would be a nicer thing to live with.
The diesel managed 37mpg over its time with us and could comfortably manage 40mpg on a long motorway run, which isn't bad for a big four-wheel drive car with all the family aboard and – sometimes – a roofbox up top.
Many driving.co.uk readers and a good number of friends or parents of the children's' friends have asked what the Kodiaq is like, and it gets my recommendation every time.
Realistically, the 2-litre diesel or 1.5-litre TSI petrol engine – with or without four-wheel drive, depending on your budget – would be plenty enough for the needs of most drivers. And although we like the look of the Sportline model, and the equipment that comes with it, we wouldn't try to deter drivers from choosing one of the more affordable trim levels.
Regardless, though, this is one of those cars that successfully pulls off the tricky balancing act of appealing to value-minded motorists and badge snobs wanting to reduce their overheads a little. If you are weighing one up against other seven-seat SUVs, take our word for it, the Kodiaq is a great car.