Extended Test: 2019 BMW 3 Series Touring (G21) review
Life with BMW's family estate car
Specifications
Model 2019 BMW G21 330d xDrive M Sport Plus Edition Touring B57O 3.0d
Price £48,115 OTR
Price with options £55,455 OTR
Colour Dravit Grey metallic
Cost options fitted Black with Blue stitching Vernasca Leather (£500); Visibility package (£1,500);  Technology package (£1,900); Premium package (£1,900); Comfort package (£890); Parking Assistant Plus (£650)
Motor 2,993cc, six-cylinder BMW TwinPower Turbo diesel
Power output 261bhp @ 4,000rpm
Torque 428 lb ft @ 1750 – 2750
Kerb weight (DIN/EU) 1,745kg / 1,820kg
Towing capacity 1,800kg (braked) / 750kg (unbraked)
Luggage capacity 500 – 1,510 litres
Top speed 155mph
0-62mph 5.4sec
Fuel consumption (WLTP combined cycle) 42.8mpg
CO2 emissions (NEDC1) 142g/km
CO2 emissions (WLTP2) 172g/km
Road tax1 £210 for first year; £465 for years 2-6 (attracts £320 charge for cars over £40,000); £145 thereafter
Road tax2 £855 for first year; £465 for years 2-6 (attracts £320 charge for cars over £40,000); £145 thereafter
BIK tax payable (2019/20) 36%; £3,961 (20%) or £7,923 (40%)
Insurance group 39
1 Valid for cars registered before April 1, 2020
2 Valid for cars registered after April 1, 2020
Test details
Test period November 2019 – May 2020
Starting mileage 1,166 miles
Updates
November 28, 2019: First impressions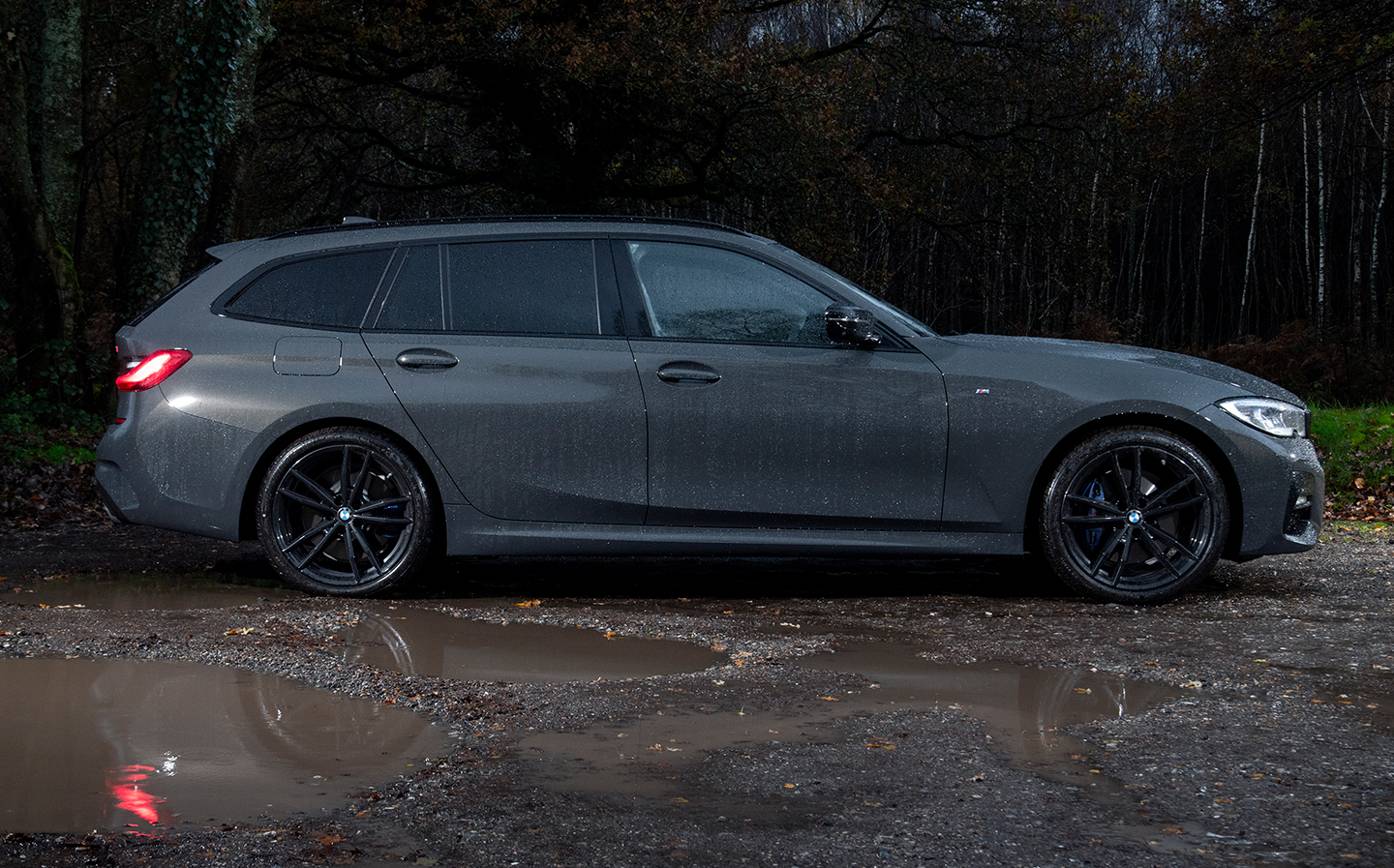 Jeremy Clarkson has been banging on for years about the brilliance of the BMW 530d Touring (Munich-speak for 'estate'), and in his five star review of the latest version said, "Until there is a breakthrough in what we drive and who drives it and what powers it and what controls it, this is as good as it gets. It's 130 years of development brought together in a package that's as faultless as current technology permits."
But what happens when you drop the same in-line six cylinder diesel engine into the 5 Series estate's little brother, the 3 Series Touring? For the next six months I'll be finding out, taking the BMW 330d Touring on the the daily commute, family trips (I have a wife and two small children) and every other possible scenario to find out if it cuts the mustard. In March, I'll even be taking it to the alps for a couple of days, which should give the xDrive system a proper workout.
The latest 3 Series is another cracker, according to many who've driven it, and based on the first drive of the Touring at its launch, Driving.co.uk's reviewer awarded the 330d Touring (in very similar spec) four and a half stars.
This seventh generation 3 Series, which launched this year, is far from the least attractive in its lineage. I don't think we flattered the G21 (the G20 being the saloon) with our photoshoot in fading light during a downpour (the poor thing looks so much like Andie MacDowell in Four Weddings and a Funeral I can almost hear it bleat, "Is it still raining? I hadn't noticed."), so here's a press handout so you can see what it looks like in brighter conditions: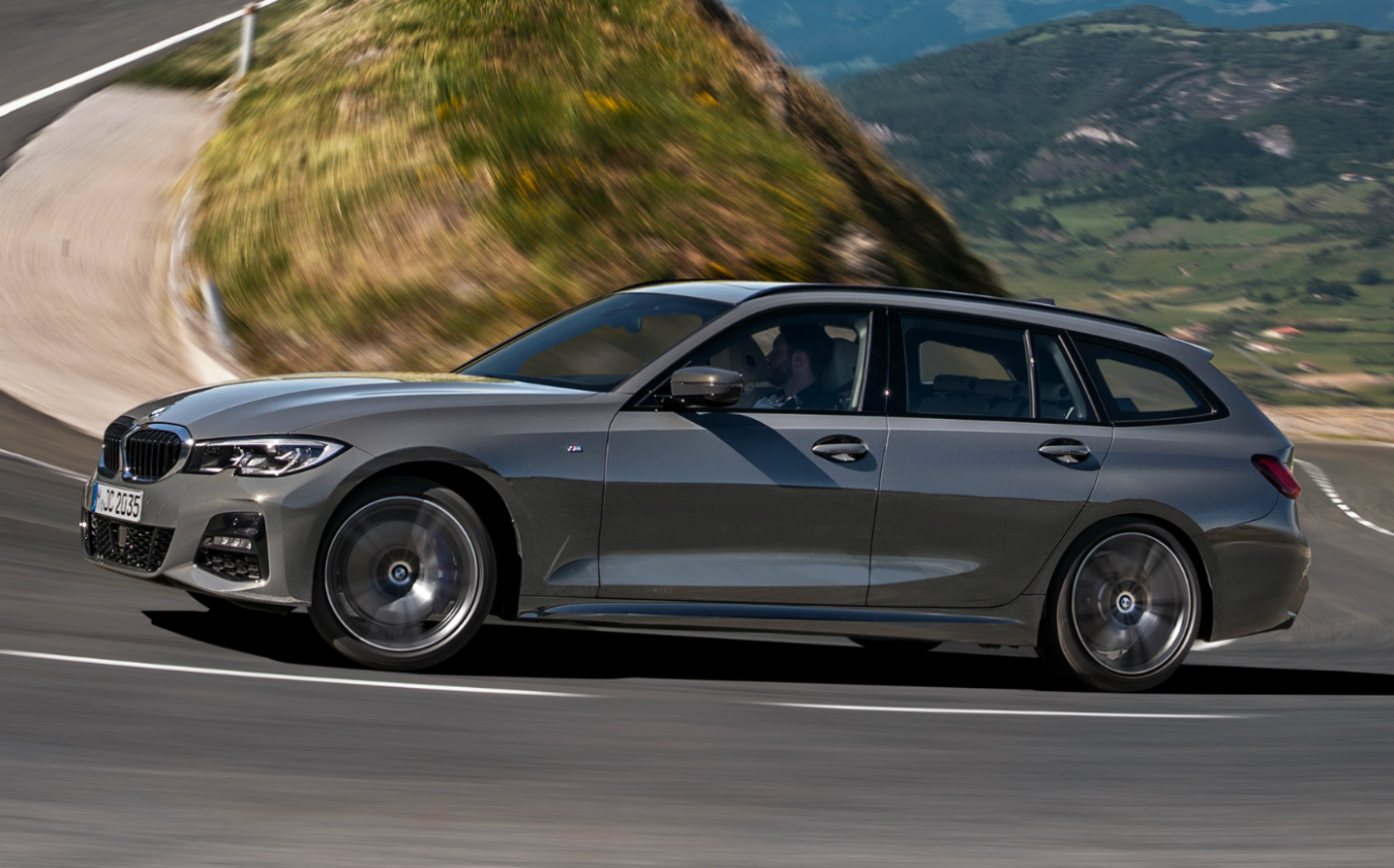 And our man Nick Lette van Oostvoorne was right to point out that it retains some of the key characteristics that mark out a "3er": a sporty, low-slung driving position; intuitively laid-out controls; the split-opening tailgate (shown above); and a decently spacious boot.
I've also been impressed so far with the general refinement — the build quality is absolutely superb, with cabin noise kept to a minimum and a truly excellent ride on a mix of road surfaces — not jarring over bumps but not too soft for genuine enjoyment. And this is riding on the larger 19in wheels that come with the M Sport Plus Edition specification (18s are standard on M Sport models, but you can add the larger wheels for £750).
Speaking of refinement, the 330d engine is an absolute peach: six cylinders of silky-smooth wonder, with a noise that could be mistaken for a petrol. Honestly, it's that good. What it offers over a petrol is greater torque from lower revs and improved fuel economy on longer runs, though I've already found it drops dramatically in town — on dual carriageways I've seen the economy head northwards of 50mpg but in central London, where I spend most of my commute, I've been getting more like 31mpg, resulting in an average since the car was delivered on November 15 of 34.2mpg.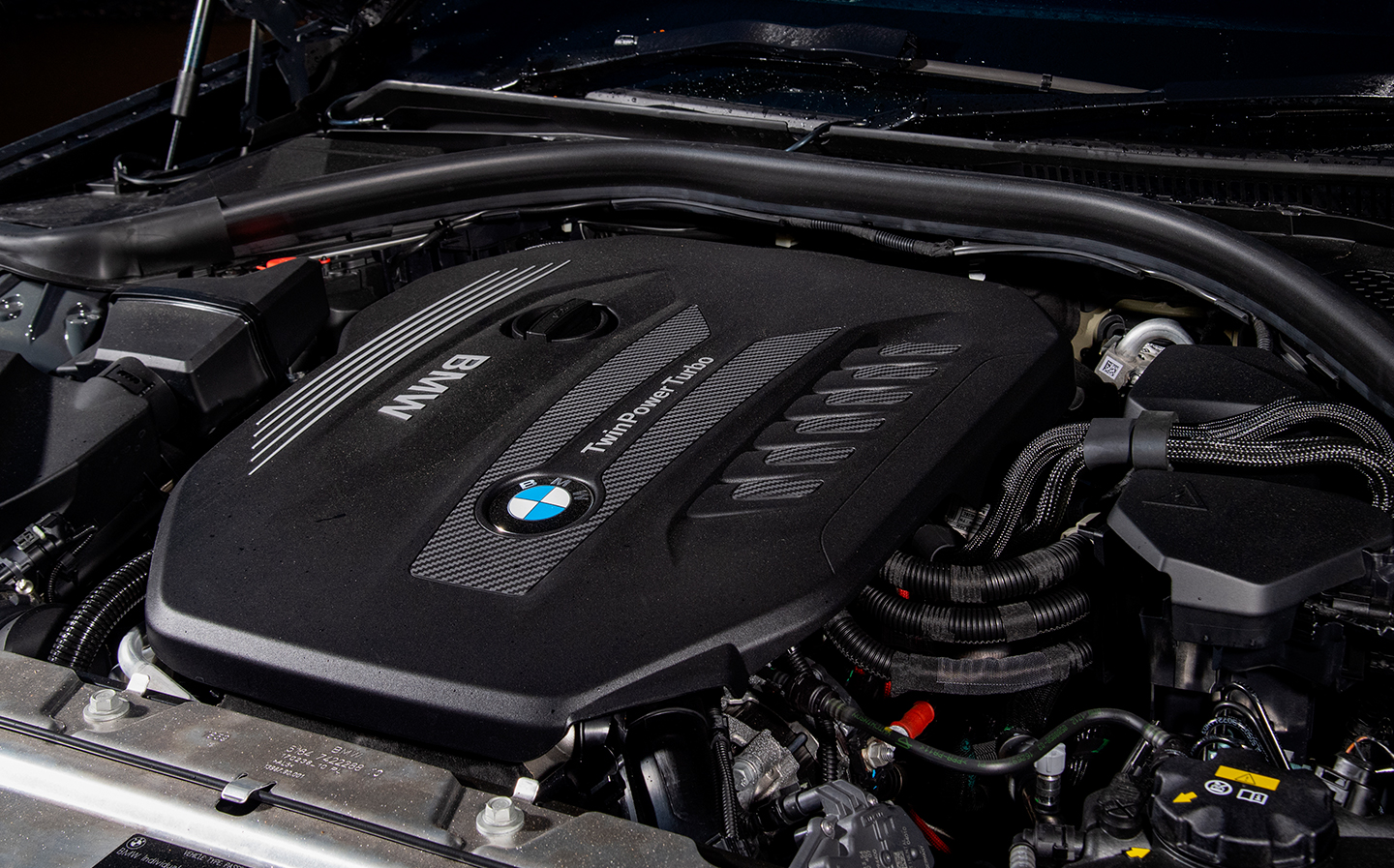 Still, that's pretty good for an engine with 261bhp and capable of propelling the car from zero to 62mph in 5.4sec and hitting 155mph. And I can take comfort from the knowledge that it has an AdBlue tank, to help neutralise the diesel fuel's nitrogen oxide emissions, which we know are harmful to health.
I'm being massively pampered with the spec of this car, it has to be said. M Sport Plus Edition is the top trim level, ignoring the M models (which are much more performance-oriented). You can see the full spec above, which includes just about every upgrade you get, including all-round cameras, laser headlights, digital driver's display, upgraded stereo, heated seats and steering wheel, and head-up display.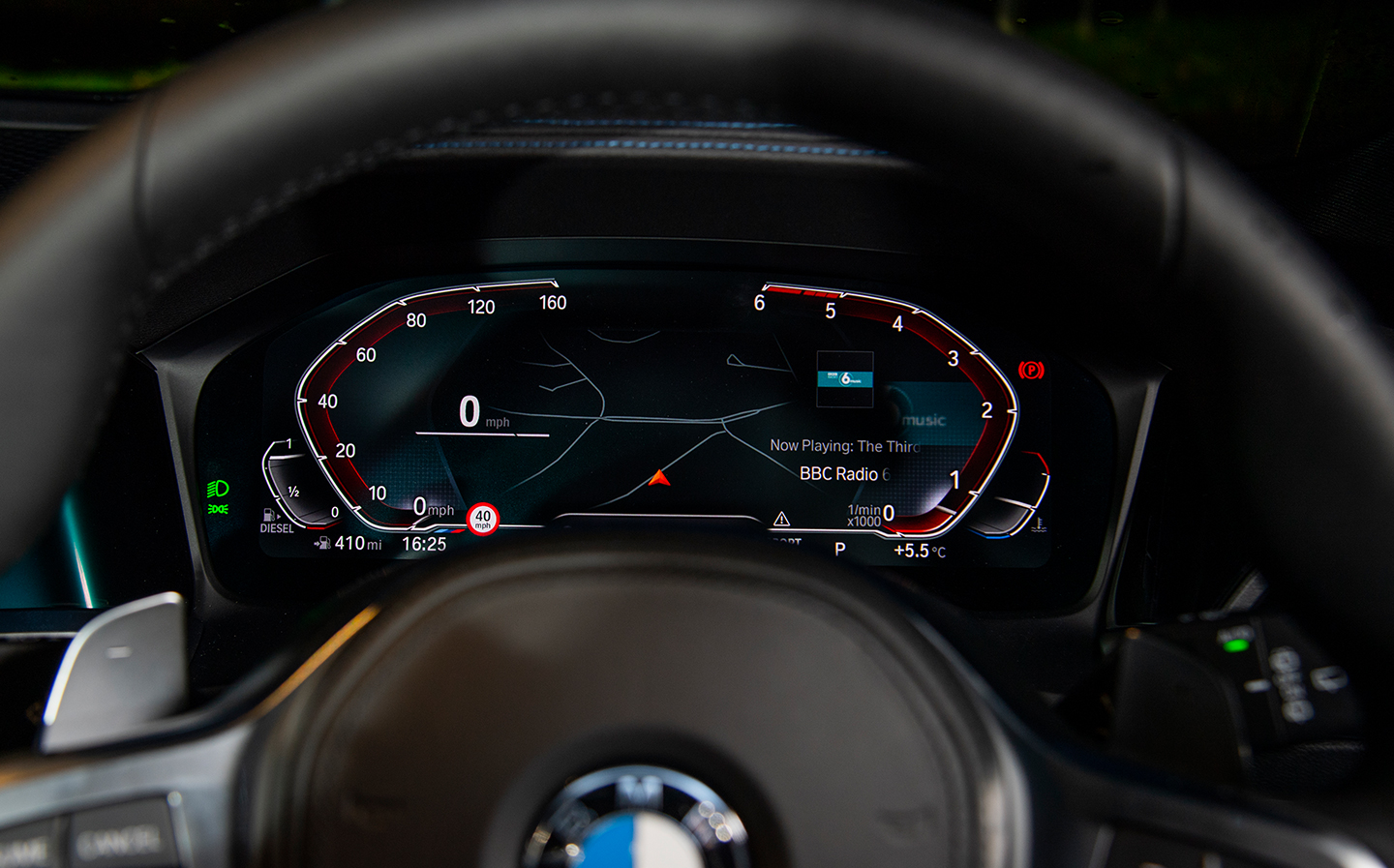 The only thing I'm missing out on, I think is the top-level Merino leather interior (£990 instead of the £500 Vernasco leather upgrade included here), so it's hard to grumble. I'll have a go over the next few months, though, as there are some things that I'm already a little disappointed about, and there are a few tech features that are in my view no more than gimmicks. Bookmark this page and keep coming back to follow my reports.
Mileage today 1,649 miles
Distance since start 483 miles
Average consumption 34.2mpg (indicated)
Want to ask a question? Contact me via Twitter:
December 23, 2019: Bootiful stuff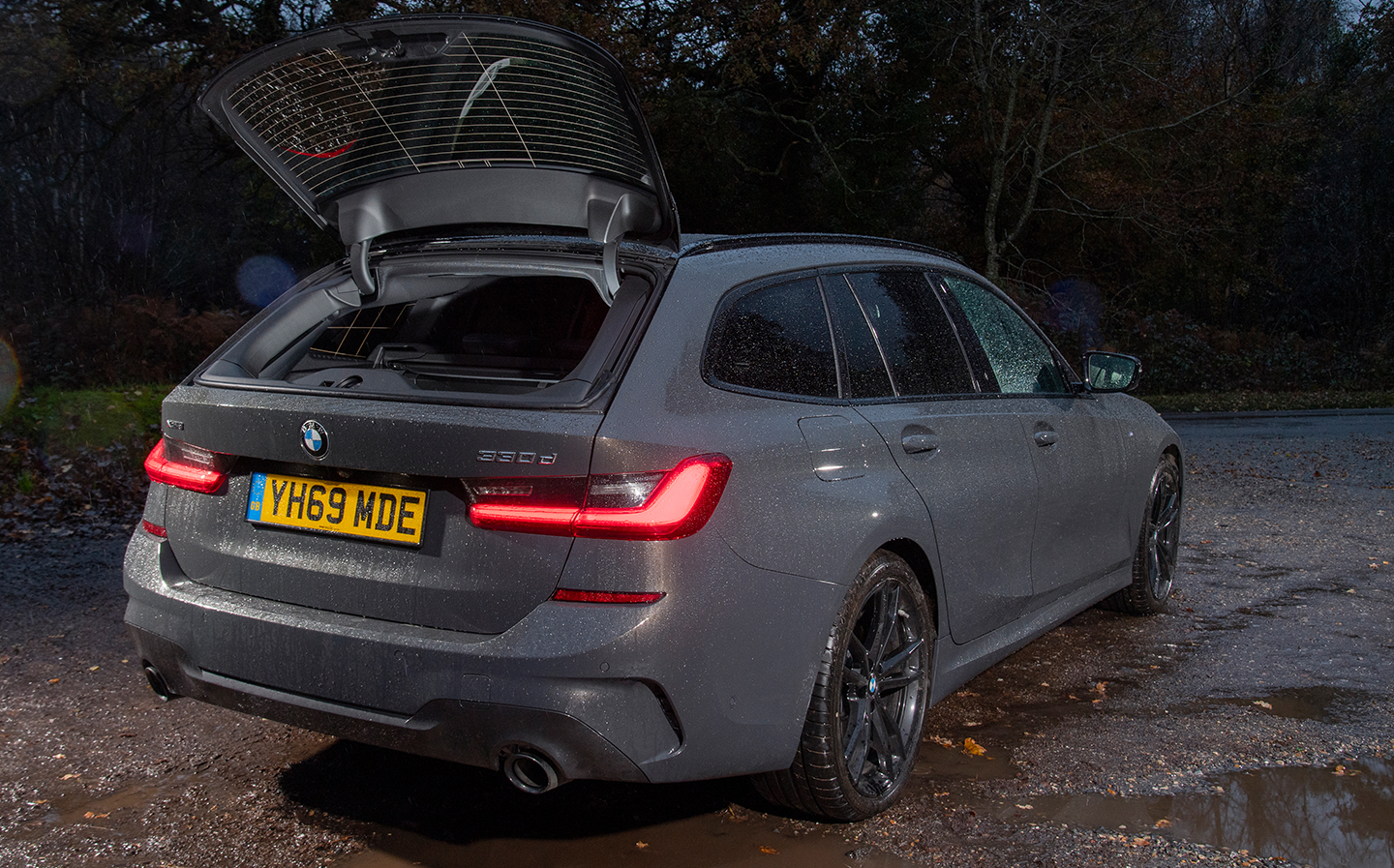 BMW doesn't own the split-opening tailgate idea, as shown above, where the rear window can be opened independently of the main hatch — you can find it on the likes of the Skoda Superb, for example. But its a feature (standard on this G21 model) that goes back to at least the E46 Touring of 1997, and as owners of the 5 Series Touring and Gran Turismo models also benefit from it, it feels like a BMW 'thing'.
And what an excellent thing it is, too. As first, you think it'd just be useful for long loads — your Ikea wardrobe flat-pack boxes, for example. But I've taken advantage of it a number of times already, when the car has been back up close to another vehicle or wall — too close to open the rear hatch fully — to drop in shopping backs and other items.
The fact that it's light and can be popped open in a second, and closed just as easily, makes it very handy if you're in a hurry. If you have dogs, I would imagine it would be useful for events such as garden parties, allowing the animals to get a good amount of air while still being tied up inside (you wouldn't be able to leave them, obviously).
The best thing of all, another motoring journalist told me, is that you can go around telling people it's an "active aero device". Well, it made me laugh, anyway.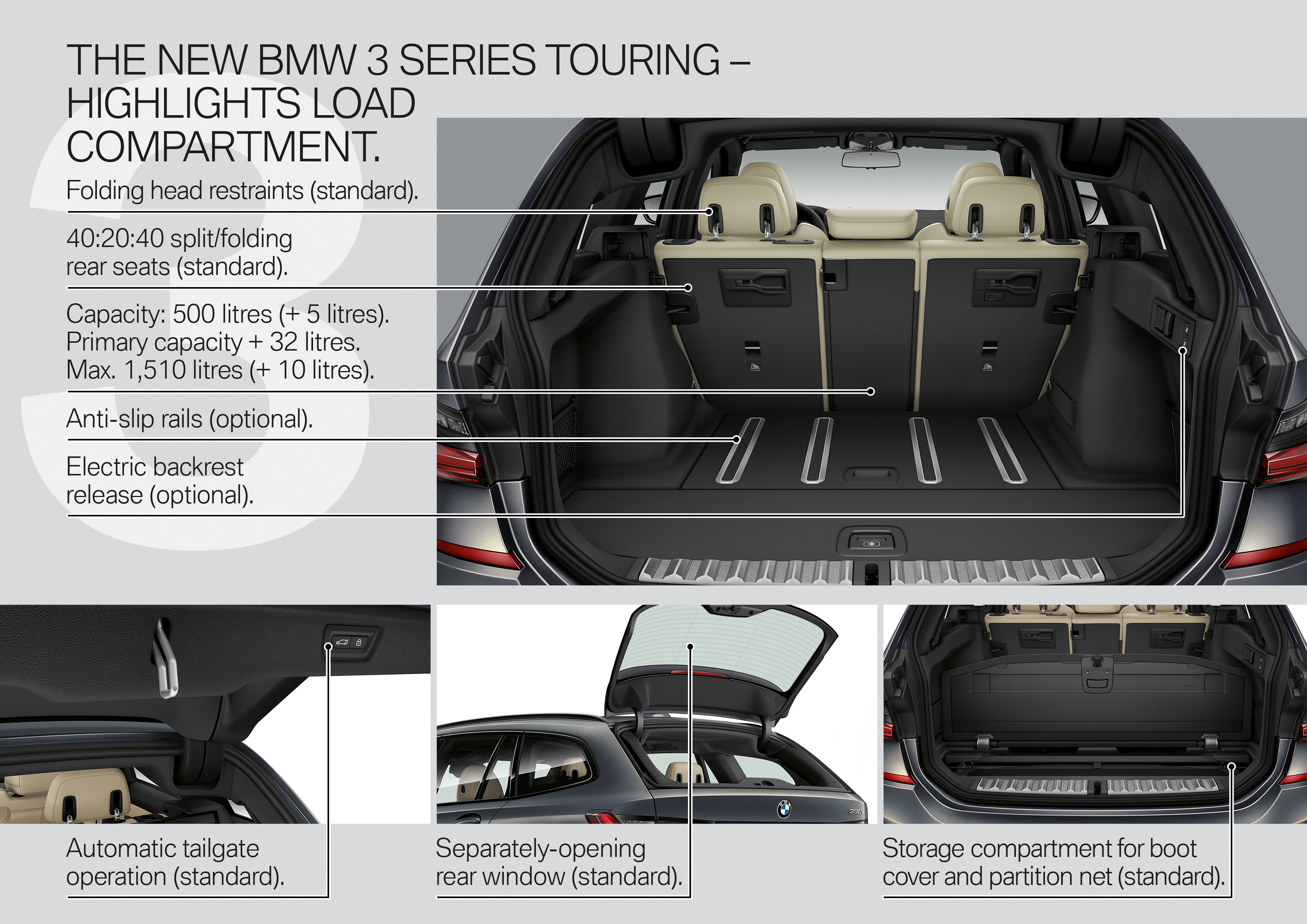 The main tailgate is automatic as standard and opens to reveal a 500-litre space when the rear seats are in place, which compares well against the refreshed-for-2019 A4 Avant (495 litres) and Mercedes C-class Estate (460 litres). I'd include the Jaguar XE Sportbrake here but there isn't one; Jag's 3 Series rival is available as a saloon only.
The 3 Series Touring's seats fold 40:20:40, and I've manage to drop the centre armrest between two child seats, which meant my wife and two children were able to come with me to collect a Christmas tree this year. This felt magical for the kids and ensured I didn't get any blame for choosing a tree that wasn't up to scratch.
I found I was able to pass the self-cut 6.5fter into the boot and between the kids without too much issue, other than the netting snagging on one of the seat catches. I failed to photograph the tree in situ, sadly, so you'll have to take this pre-loading snap as proof.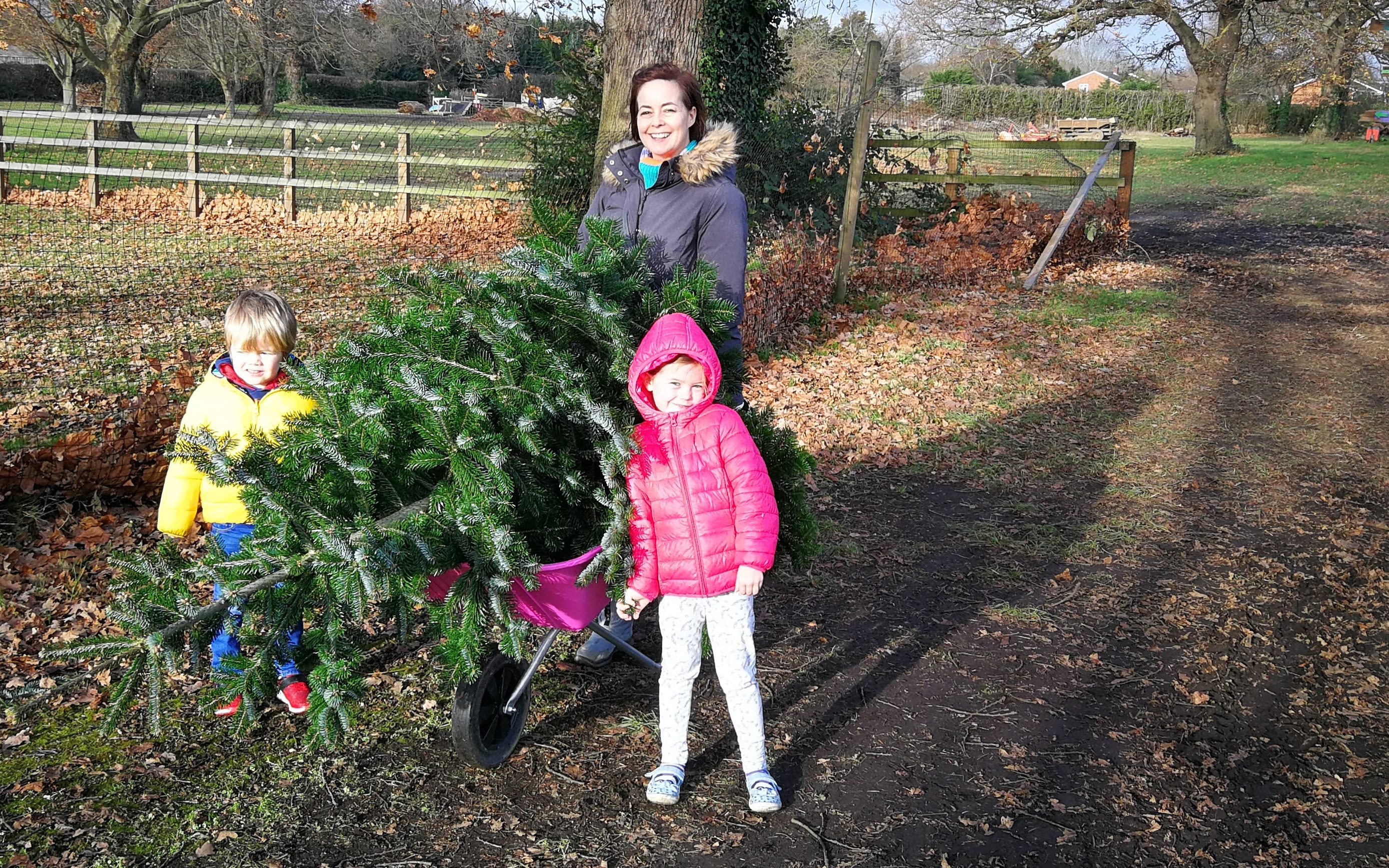 Take the child seats out and fold the two outer seats and the 3 Series Touring can swallow 1,510 litres of luggage, which again beats the A4 Avant (1,495 litres) and C-class Estate (1,480 litres). Combine that with a nice wide opening, flat floor, under-floor storage for boot cover and partition net, bag hooks, plus the (optional) 12v socket and anti-slip rails, and the BMW does seem to be one of the most practical estates of its class.
Merry Christmas, folks.
Mileage today 2,155 miles
Distance since start 989 miles
Average consumption 34.1mpg (indicated)
Want to ask a question? Contact me via Twitter:
January 27, 2020: Some fool biffed the 3er on the nose, so I get to play with an X6
I hadn't expected to have to hand the keys back to BMW so soon. A couple of weeks ago, while driving up a single track lane with high hedgerows each side, a box van in front decided to stop dead in the road. Just as I was thinking, "You know, he probably can't see me in his mirrors… but he wouldn't be stupid enough to reverse without looking," his reverse lights illuminated and back he came.
I fumbled for the horn with my right hand and reverse gear with my left, while checking my own mirrors to make sure I wouldn't shoot back into anyone else, but I was too slow. CRUNCH. I managed to capture the whole thing on dash cam (above), which is very handy indeed when dealing with insurers. The 3 Series actually has its own crash recorder app, which I had switched on, though it hadn't managed to record this knock – no doubt it would come in handy if you were to have a bigger smash.
The driver was very apologetic and sweet about it, as you would have to be when delivering goods for John Lewis, though no amount of grovelling could stop me being upset about the 3 Series's nose being knocked out of shape.
The damage? Some of the front bodywork assembly brackets had been broken, the grille surround was loose and the plastic grille cover was split all the way to the bonnet latch. Also, several of the grille louvres, which open and close to adjust the amount of airflow into the engine bay, had been popped out of their mounts.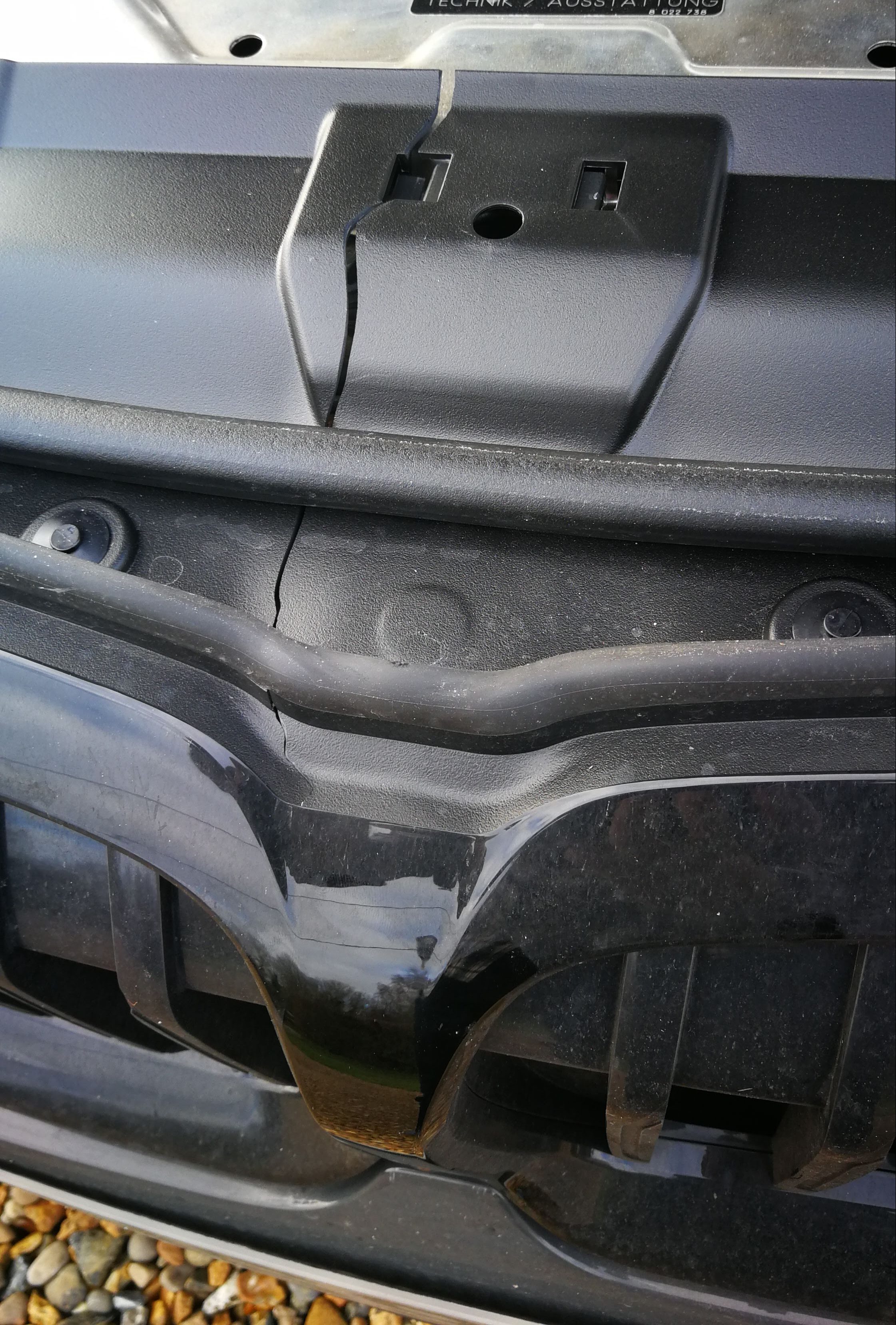 Beyond that, I'm not sure — I've asked BMW for a full repair schedule (the work has been completed already). And costs… again I've asked BMW, and will update this page if they let me know (it's possible they won't), though considering there are active elements in the grille and it will have been repaired by the very best BMW specialists, I'd be surprised if you got any change back from £1,000. That's what insurers are for, I suppose, and it would have been covered by the third party in this case.
While the 3 Series has been in the 'shop, I've been driving a BMW X6 in xDrive40i M Sport spec, and it's an absolute beast. Dynamically-speaking, stepping from the estate into this big SUV coupé is like taking off a pair of loafers and slipping on a pair of lead diving boots, as the X6 weighs over two tonnes — something that is immediately obvious out on the road.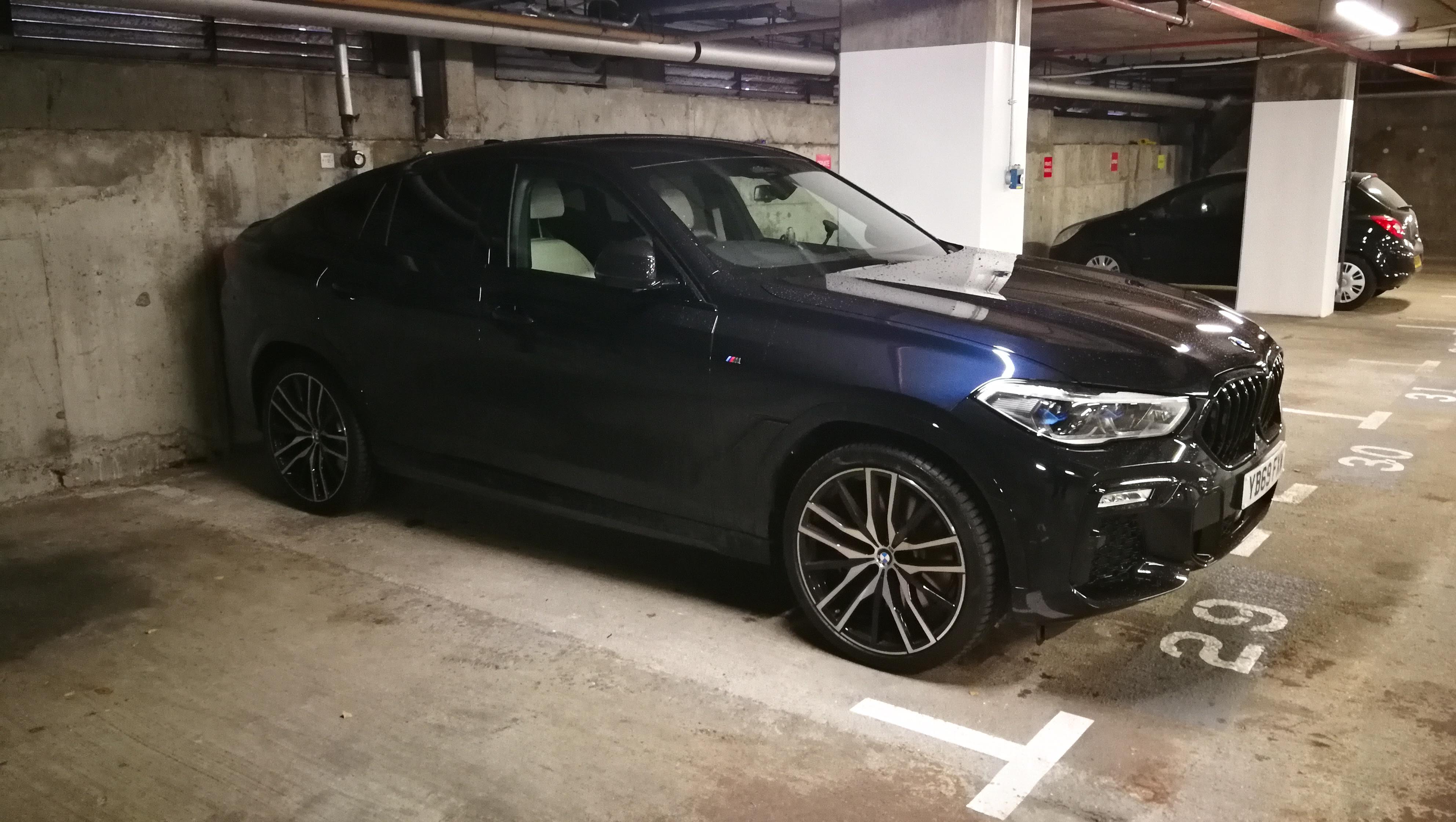 Yet it's no slouch, the 3-litre six-cylinder petrol powerplant delivering 335bhp and 332lb ft of torque, which is good for 0-62mph in 5.5sec — only a fraction shy of the 330d Touring's acceleration time. What I'm missing, though, is the fuel economy. While the 330d can manage 34mpg, on average, the X6 40i goes about 10 fewer miles per gallon.
There's some extra opulence in the X6 — the Ivory White Merino leather looks stunning and the seats are beautifully-appointed. It also comes with the glass gear selector and iDrive control, though these are a little… ostentatious for my taste.
The X6 also has a more commanding view of the road, and ride height control means it has some pretty serious ground clearance if you need it. The sophisticated suspension, stability control system and huge tyres also offer mind-boggling grip, which I discovered during a spirited drive home along country roads from Gatwick Airport at 1am in temperatures of around -2C. Despite the car's heft and potentially slippery surfaces, there wasn't a hint of loss of traction.
I have to say, though, I'm looking forward to getting back into the 3 Series Touring. It's more light-footed, which makes it much more fun to drive, and yet it's just as practical.
I know this because on the day of the accident I was on my way to picked up my childhood Austin J40 pedal car, which has just been restored. Despite being 1.6m long and 69cm wide, it fits in the back of the 330d with room to spare.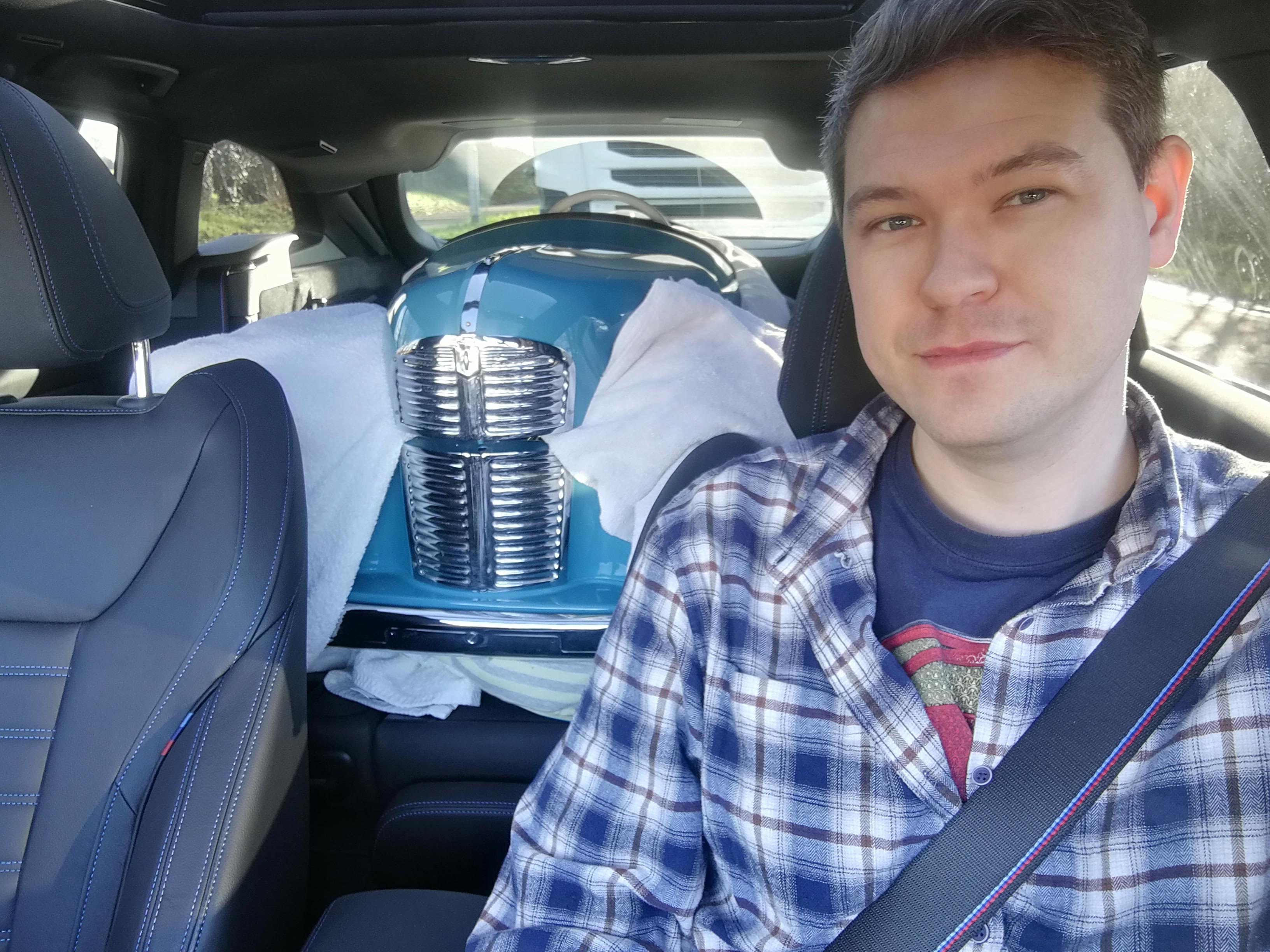 Next time I'll list those niggles with the 330d that I previously promised. As soon as I've re-familiarised myself with it.
Want to ask a question? Contact me via Twitter:
March 5, 2020: Six irritations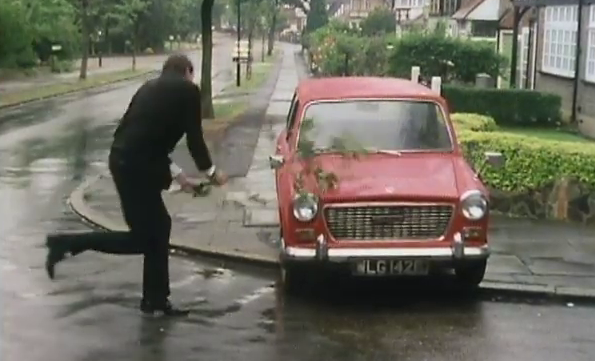 The 330d has been repaired, I'm told at very low cost and without bothering the insurers, as it was just a case of replace the plastic grille (though even simple jobs like that can result in some stomach-churning quotes — if you've had similar work done to your 3er, tweet me your experience).
It was returned with a set of winter tyres for a trip to the Alps, which I'll tell you about next time, and I've also taken the car to north Devon with the family, so that will feature in the next update, too. But before that I had promised to tell you about some of the irritations I've discovered so far.
I have to say the car on the whole is a dream, particularly the creamy six-cylinder diesel engine and the confidence-inspiring handling (more of that in the next update, too), but I cannot ignore these six personal gripes:
1 Slidey headrests
In theory, the fact that the front headrests can slide forward and back, as well as up and down, is a good idea. Move yours closer to the back of you head and I suppose in a crash, it reduces the chance of whiplash. However, when you have children in child seats to buckle into row two, by leaning across them you inevitably push the headrest to its forward-most position with your side.
This wouldn't be such an issue if you prefer the headrest like that but I have mine slid all the way back, so when I get back into the front seat I have to reposition it.
"Come on, Will, get over it," I hear you say. Well, you do it on a daily basis (possibly twice a day if you do the school run) and see how you feel after a few weeks.
2 No Android Auto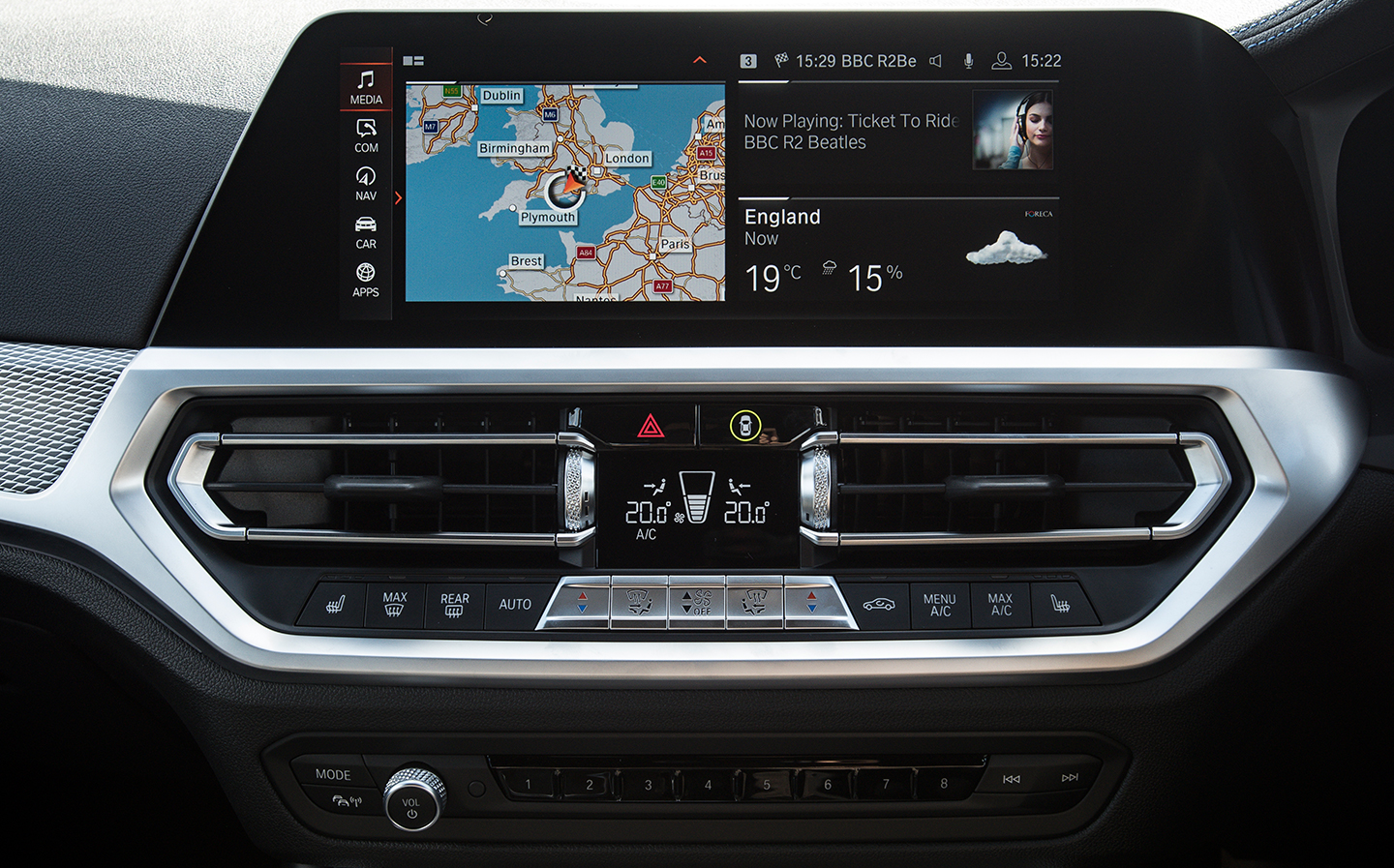 If you are an iPhone person you can skip to point three, as you get Apple Carplay in the 3 Series. If you're one of the estimated 2.2bn users of Android devices, this could be significant — new BMWs, including this one, aren't compatible with Android Auto.
For the uninitiated, Android Auto runs on the touchscreen from your Google Android smartphone by connecting the handset to the car via USB. I love it, as it allows you to run Spotify, Amazon Music, Audible, BBC iPlayer and other entertainment apps, as well as navigation apps like Waze and Google Maps, all via the in-built touchscreen.
I rely on Waze. I use it every day for my commute into London, as it is the best navigation app I've found for routing around traffic snarl-ups, thanks to the community-based updates (Waze users highlight potholes, accidents, road closures, temporary roadworks and even a police presence live, as they drive). As it's Google-owned, it also has Google Maps at its core, I believe, though the interface is slightly less slick.
Which means that because the 330d Touring isn't compatible, I've had to mount my phone to the inside of the windscreen to use it. Not a good look for a brand new car that costs more then £55,000, is it? Android Auto is now standard on SsangYongs, for goodness sake.
3 All work and no play button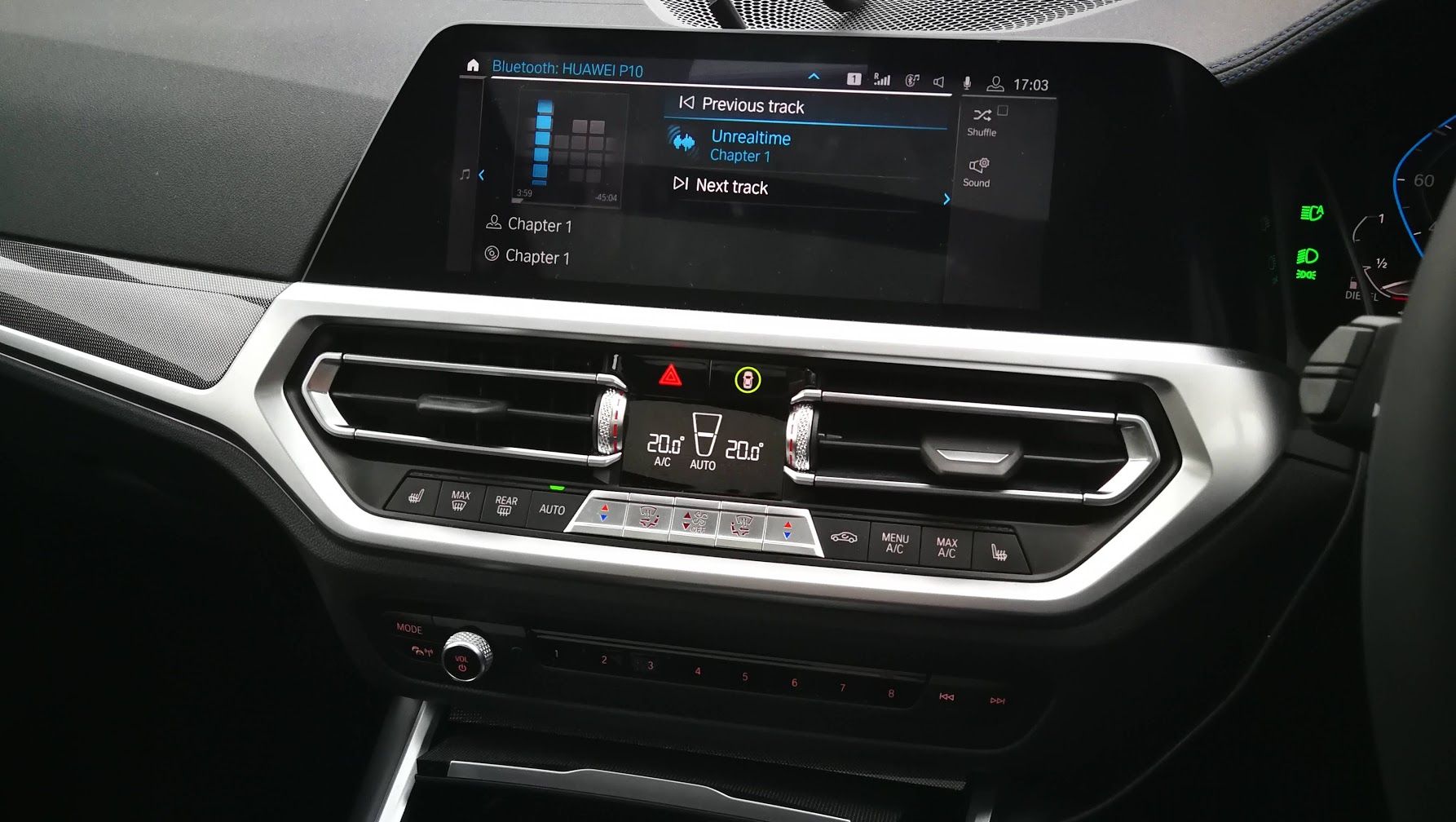 I can play media from my phone via Bluetooth, however. But when you do, there's no play/pause button in the touchscreen media interface. That means you have to start and stop your podcast or  audiobook via the phone's screen.
4 Cubby inconvenience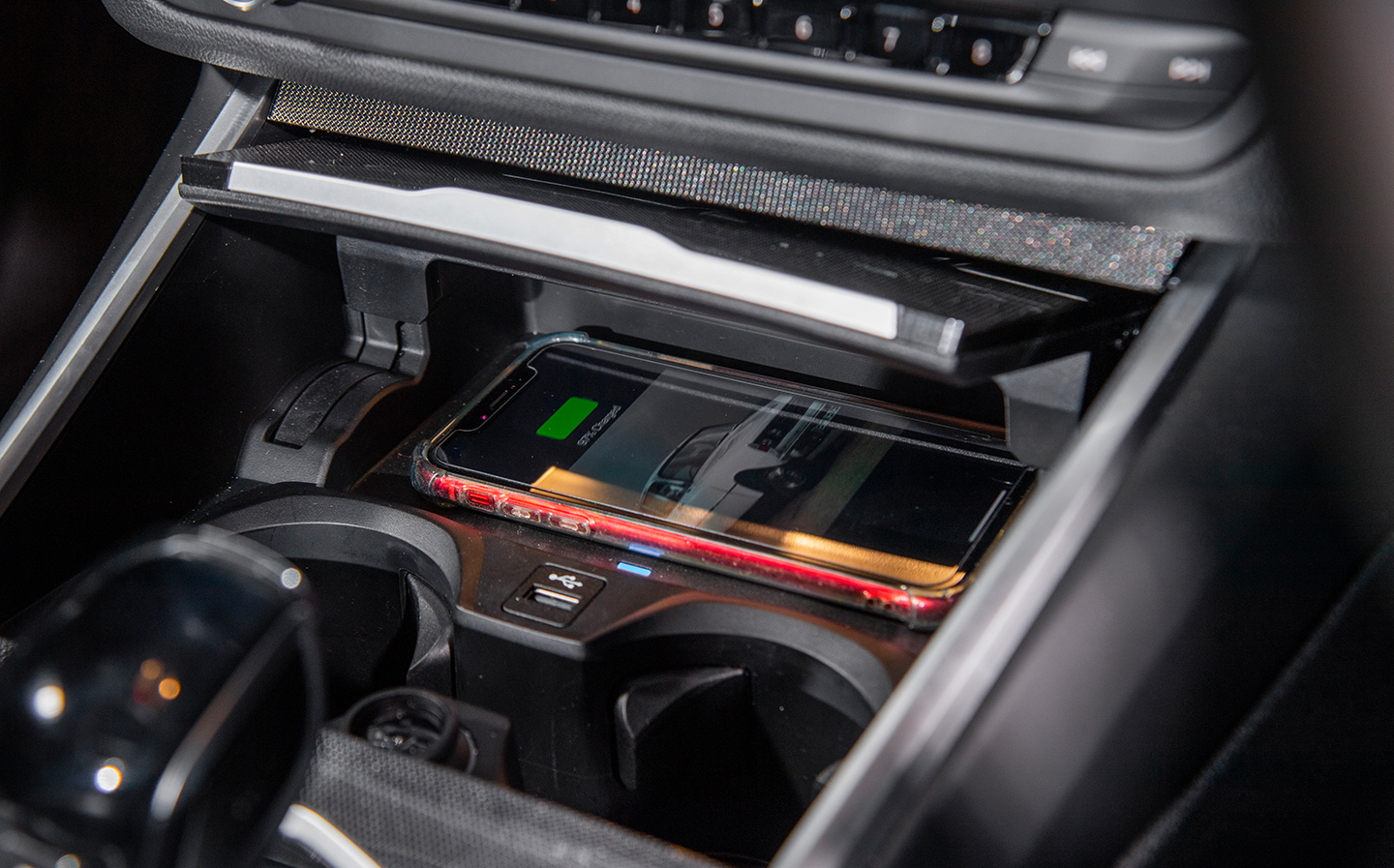 When the centre cubby hole, which includes the wireless charging plate and cupholders, is closed, the interior looks neat. Less so when it's open. But whoever decided to put the charging plate directly behind the cupholders wasn't thinking very hard, as two large cappuccino cups make it tricky to access your phone.
They also weren't wearing their thinking cap when they decided to put the 12v (cigarette lighter) socket pointing up behind the cupholders, as having something plugged in means the cover won't close and it looks awful. I did have a dash cam plugged in there but now plug it into the rear 12v socket, though that does mean it's open to my children unplugging it without telling me, or kicking it and busting the socket or plug.
5 A/C not easy
You don't need the air conditioning switched on all the time. It reduces fuel economy and simply isn't necessary when the weather is dry and cool, so I often like to flick it off until it's useful (A/C is a godsend on hot days but also stops windows from steaming up in rainy weather). In the 3 Series, though, there is no physical button for switching it on or off — you have to press the Menu A/C button and then turn it off via the touchscreen. A minor issue, but one that bothers me. It's not like BMW has removed most of the physical buttons from the interior, either — there are loads of the buggers. Why not one more to switch on or off the A/C?
6 Bonus: A strange gesture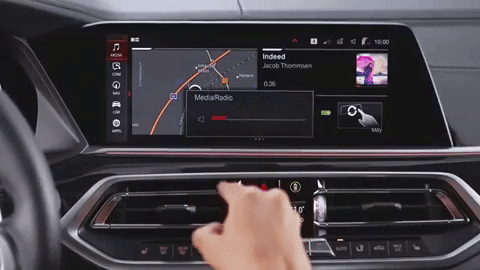 This isn't really a problem, as you don't have to use it at all, but what is the point of gesture control? If you weren't aware, by waving your hand over the gear lever you can do things like skip music tracks, adjust the stereo volume and select items in the infotainment menu. But you can also do all that via the steering wheel controls. Or even by voice command. I can only imagine this is to prepare us for the next generation of BMW interiors, which — if the new VW Golf is anything to go by — will do away with most of the physical buttons for a more minimalistic, clean aesthetic.  This is just a guess, mind.
Mileage today 5,155 miles
Distance since start 3,949 miles
Average consumption 39.7mpg (indicated since grille repair and switch to winter tyres, with around 1,500 miles on motorways)
Want to ask a question? Contact me via Twitter:
March 27: Last chance dash to the Alps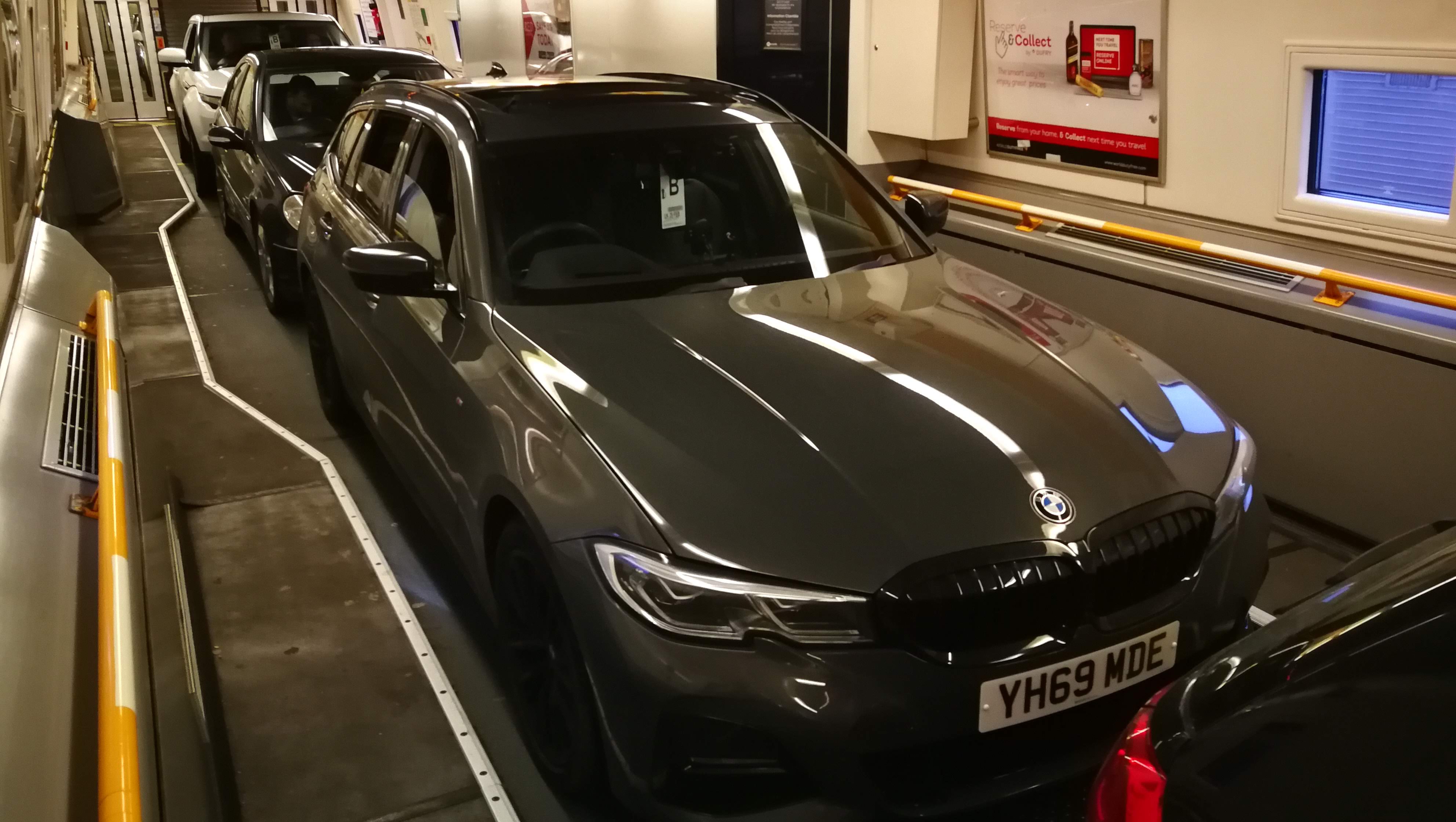 Quite a lot has happened since my last update, hasn't it? At the end of February, the first signs were there that the coronavirus (later named Covid-19) sweeping through Wuhan, China, was beginning to reach Europe. Now, we're in full lockdown in the UK, and have been told it could last until June.
One of the first countries on the European continent to initiate serious measures to slow the spread of Covid-19 was Switzerland, which banned all gatherings of more than 1,000 people on February 28. That meant the cancellation of the 2020 Geneva Motor Show just days before the doors were due to open to media. I was one of those set to attend, and was looking forward to driving down early so that I could try the 330d on an ultra-long run, and test its four-wheel drive system on proper snow, in the Alps near Lake Geneva.
I was to be a guest of Honda in Montreux. As is often the case, the car maker had offered to pay for my ticket out there and put me up in a hotel, in exchange for some exclusive interview time with its management and engineers. There's no expectation of coverage from invited journalists in this scenario, though because we are face-to-face with important people, and privy to behind-closed-doors briefings, there are always exclusive stories that come from such a deal. This is how it works on car launches as well, by the way. Because media budgets are tight, if car makers didn't fly us out we'd not be able to attend, we wouldn't drive the cars and they'd not get the reviews. Simple.
Anyway, Honda pulled out of Geneva along with all the other exhibitors. But I was told the Le Shuttle tickets and hotel room were unlikely to be refundable, so I could still drive down if I wanted. It's just that there'd be no show to attend.
What to do? Well, it'd be a wasted opportunity to test the BMW in some very tough conditions if I didn't go. At my request, BMW had already shod the car with winter tyres (Pirelli Sottozero 3s, fitted to 18in rims rather than the M Sport Plus Edition's standard 19in wheels), and I had booked myself a hotel room in the ski resort of Leysin for the Saturday night, and some ski hire for Sunday, which meant I'd lose my own cash in the bargain if I didn't go.
And don't forget, at that time we hadn't even been advised to wash our hands for 30 seconds with soap, let alone stay indoors. So I stuck to Plan A, and at 5am on February 29 hit the motorway towards Folkestone.
As you'll see in a former post, the latest BMWs are not compatible with Android Auto, so I stuck my phone to the windscreen and relied on Google Navigation to get me to Switzerland. For some reason it wanted to avoid the main autoroutes through France (for traffic reasons, I presumed, as I hadn't ticked the "Avoid tolls" option in the settings), and take me via Lille, through Belgium and Luxembourg before heading directly south towards Lausanne, then through the mountains north of Montreux before heading on to my hotel in Leysin.
The whole journey from my home near Cobham Services in Surrey, would be 679 miles, door to door, with the stint from Calais being 593 miles rather than 503 miles via the most direct route through France.
It's 679 miles to the Alps, I've got a full tank of gas, half a pack of chewing gum, it's dark and I'm not yet wearing sunglasses. Hit it. pic.twitter.com/TbBOmoY2xv

— Will Dron (@wdron) February 29, 2020
Highway to the heaven?
The 330d's six cylinder diesel might not be the most frugal option for my commute through central London, where it returns around 31mpg, but it was made for long-distance motorway cruises like this. In the long top gear it purrs comfortably for mile after mile, sipping its fuel to achieve more than 40mpg. At Folkestone it was reading 39.6mpg but on a recent family run to north Devon it had managed 43.6mpg over 190 miles, so I was interested to find out what the average would be on this trip — especially with the winter tyres fitted.
Having loaded onto Le Shuttle, it was time to convert the headlights for use on the continent, so as not to dazzle anyone while driving on the right. In the bad old days this meant buying some stickers and positioning them over the headlamps but many modern cars can be switched from left-driving roads to right via the onboard computer. The 330d in M Sport trim, with the optional BMW Laserlights (part of the Visibility Package fitted to this car), is even smarter, as you can switch it with just a few clicks of the iDrive (see below), and its automatic high beam will still work to dip when on-coming cars approach.
Remember when we had to put stickers on the headlights before driving on the continent? How dumb was that? #BMW #3Series pic.twitter.com/3QvZymKK63

— Will Dron (@wdron) February 29, 2020
As shown in the menu, there is "limited availability of dynamic light functions" when you do so, however, which in practical terms meant the lights didn't dip around on-coming cars while fully illuminating everywhere else. Still, it's clever stuff.
Also clever was the car asking me to take a break after around 400 miles of continuous driving. I had needed a comfort break for a while, though the car was quite happy to continue a bit longer, so I allowed the sat nav to find me a convenient rest area en route. When I stopped, after 477 miles of driving, I noted the car was displaying a remaining range of 87 miles. I refuelled anyway, and reflected on the fuel economy for the journey so far: 43.7mpg indicated, which is pretty mega for a car that can manage 0-63mph in 5.4sec. It appeared the winter tyres had made no difference to economy.
I also considered the overall comfort levels during a long motorway run. As a tall man, a 5 Series would have offered some extra ergonomic support, though my only complaint after eight hours behind the wheel was a slight ache in my left leg. The M Sport seats are excellent on the whole, though I was never quite able to support my lower back properly (and I did play with the electric lumbar support a lot). One other thing I noticed was a slight increase in tyre noise, but the excellent sound deadening around the cabin means this isn't a bother at all.
A tricky final stint
The final stint to Leysin was a very different sort of drive. I was soon off the motorways and, as the sun set, onto some quiet, twisty roads. It had taken me eight hours to travel 477 miles but it'd taken me another 4.5 hours to complete the last 178 miles.
Foul weather drew in as it got dark and at times, monsoon rains and wind battered the car. Up in mountains approaching Montreux, thick cloud enveloped it, too, reducing visibility greatly. These much more challenging conditions certainly helped focus the mind, and I slipped the car from Eco Pro Mode into Sport for much of it, and flipped the transmission to manual, using the wheel-mounted paddles to shift cogs.
I had been looking forward to trying the car's XDrive four-wheel drive on snow but the torrential rain was a tough test in itself. The car proved utterly sensational in these conditions; while others were forced to tip-toe around, I found I hardly needed to reduce my speed to remain safe. The lively engine allowed easy overtakes, while the grip of the four-wheel drive and electronic stability systems kept the car pointing in the right direction. I wasn't sure how well the winter tyres would disperse standing water, but the car never felt like it was losing grip, even when provoked to do so with exuberant use of the throttle. I'm sure you could get out of shape by switching off the electronic stability control and traction control systems, but there didn't seem to be much point in doing that. Most drivers wouldn't in such conditions… if ever.
There was no snow until the very last miles, as I climbed up towards Leysin from Lake Geneva. Montreux is fairly high above sea level (396m) but Leysin is 1,260m up, meaning there was some white stuff lining the roads, though most had been cleared. I would have to find proper snow covering in the following days. I arrived at my hotel at 7.45pm local time, exhausted but far from destroyed by the journey — a testament to the comfort and refinement of the car.
How does the BMW 330d XDrive handle on snow?
After a day's skiing and an overnight in Montreux, I returned to the mountains around Leysin and Les Mosses with the 330d, in search of a drive on the white stuff. This wasn't just for a bit of fun — this is important stuff, as BMW has been discounted as a brand for years by anyone who lives in an area that sees snow, as its focus on rear-wheel drive had meant that when the going got slippery, the Beemers got stuck. It became a bit of a joke, in fact.
Audi has always outgunned BMW in snowy regions, in terms of sales, thanks to its heavily-marketed quattro four-wheel drive system. Many BMWs now come with XDrive, but can the 330d XDrive really compete with an A4 quattro on snow and ice? I wanted to find out.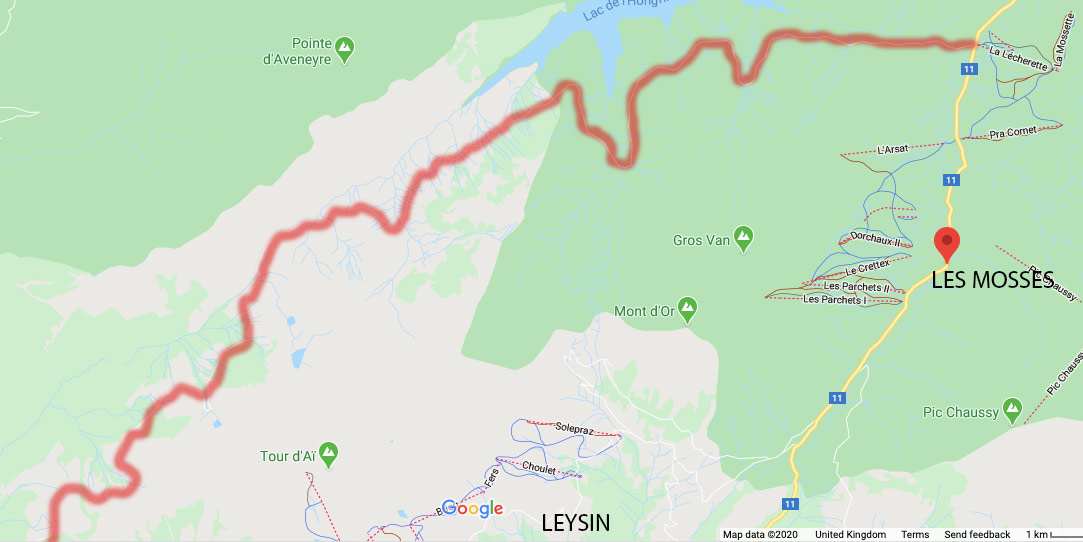 Having studied the BMW's inbuilt map, I noticed a road that runs from La Lécherette round the back of Les Mosses and, I thought, back to Leysin. It seemed like a promising loop on which to find snow, and I wasn't wrong. The road climbed up and twisty round the back of the ski resorts, with a significant amount of powder cover for miles. It began to snow, too.
The road was empty of other vehicles I noticed, except for one 4×4 pick-up on serious off-road tyres that passed me in the opposite direction around 30 minutes after joining the road. Clearly this was not a route locals used, and I quickly realised you'd have to be pretty skilled/ mad to want to attempt it with a two-wheel drive car. Even with four-wheel drive, if you hadn't got winter tyres, forget about it.
This is what I call a test. #snelfie pic.twitter.com/wMWuNJXSAV

— Will Dron (@wdron) March 2, 2020
The BMW kept on trucking, though. I could feel the wheels slipping in places, particularly over the frequent bridges along the way. As the cold air can get under the road surface on bridges, you'll find they are particularly hazardous. There is no Snow & Ice drive mode but by selecting Eco Pro, you reduce the throttle response and the traction control systems are set to maximum, meaning it's actually quite hard to break traction unless you hit sheet ice. Give the accelerator a nudge in this mode and the front and rear wheels work in harmony to keep the car pivoting around a central point in the chassis. It's hard to get it out of shape, I found, and even cruising along at 30mph in these conditions, the 330d only wanted to point in the direction I wanted it to go.
I switched to Sport mode. This shifts extra torque to the rear wheels and allows increased levels of slip. I could feel the conditions were treacherous but wanted to try a few hard acceleration tests, to get a feel for the controllability of car when allowed to oversteer to some extent. I actually found this my preferred mode, as the more instant throttle response and more active rear end allowed the nose to be pointed into turns more accurately. I also attempted emergency stops and flat-out acceleration tests from standstill, when the situation allowed, and found at no point did the back end want to overtake the front.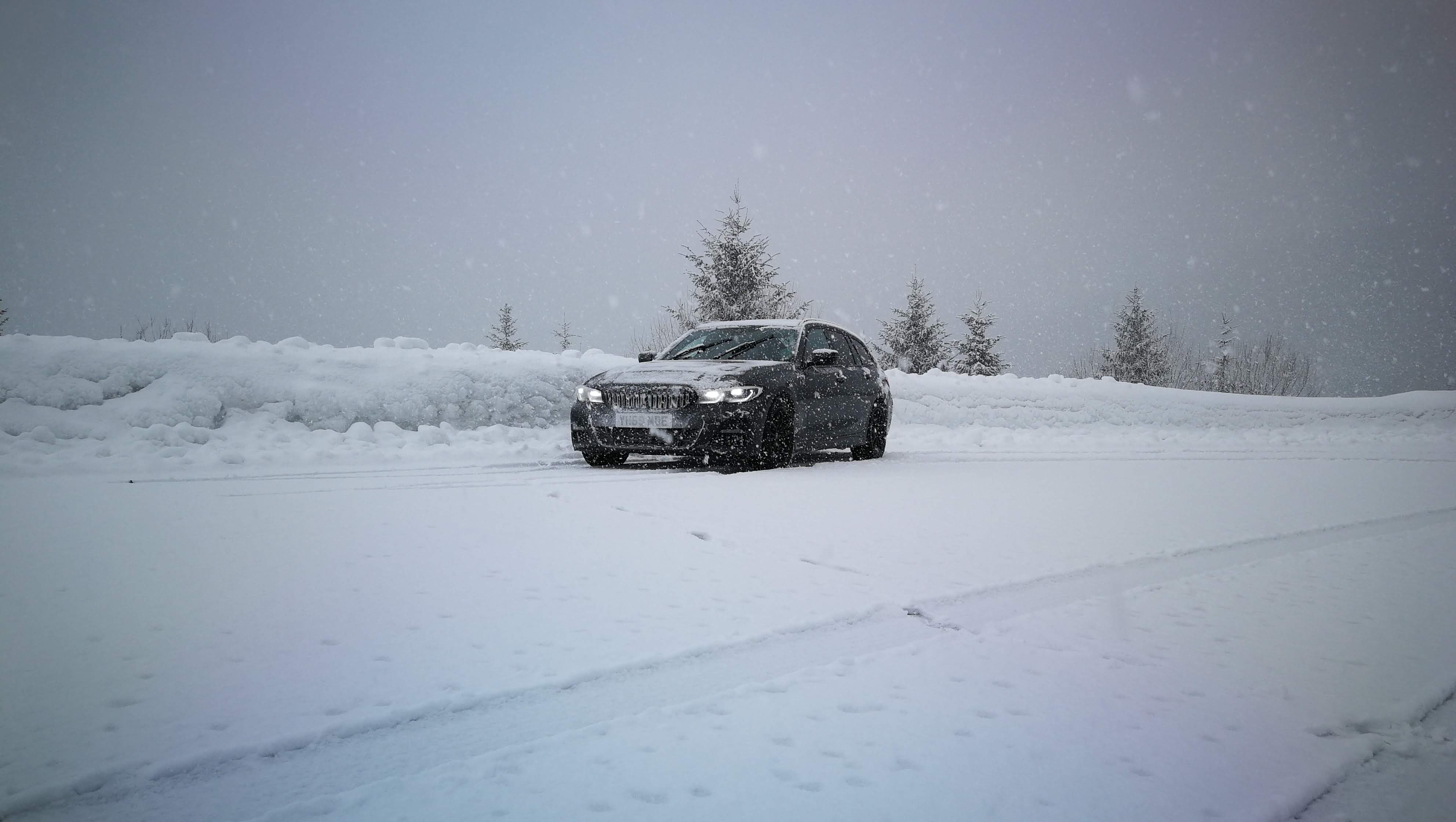 The balance proved sublime in this set-up but while exhilarating for a keen driver, many average drivers finding themselves in this situation will find it incredibly daunting. I'll be honest, I didn't have the balls to turn off traction control completely as I didn't want to have to call BMW's press team and say I'd run out of ability and ended up stuffing the car into a Swiss mountainside. Or worse, end up at the bottom of the mountain after venturing off the road. There are safer places to do that. What most buyers will want to know, more than how sideways did I get it, is how safe the BMW felt in these conditions, and I've got to say it was astoundingly reassuring.
What it doesn't have is an off-roader's raised ride height, and about 45 minutes along the road I found the snow suddenly get much deeper, and the car didn't have the clearance to cope. I managed to back up without beaching, thank goodness, and was forced to go back the way I came. I later learnt, from a local, that the route I had taken was a military road used for tank testing. "They fire the tanks' guns into the moutains," he said, while giving me a look that suggested he thought I had lost my mind for even attempting it. "Ah, right," I said. "Yeah, that makes sense."
Hell of a trip. Hell of a car.
Want to ask a question? Contact me via Twitter:
May 4, 2020: Lockdown loving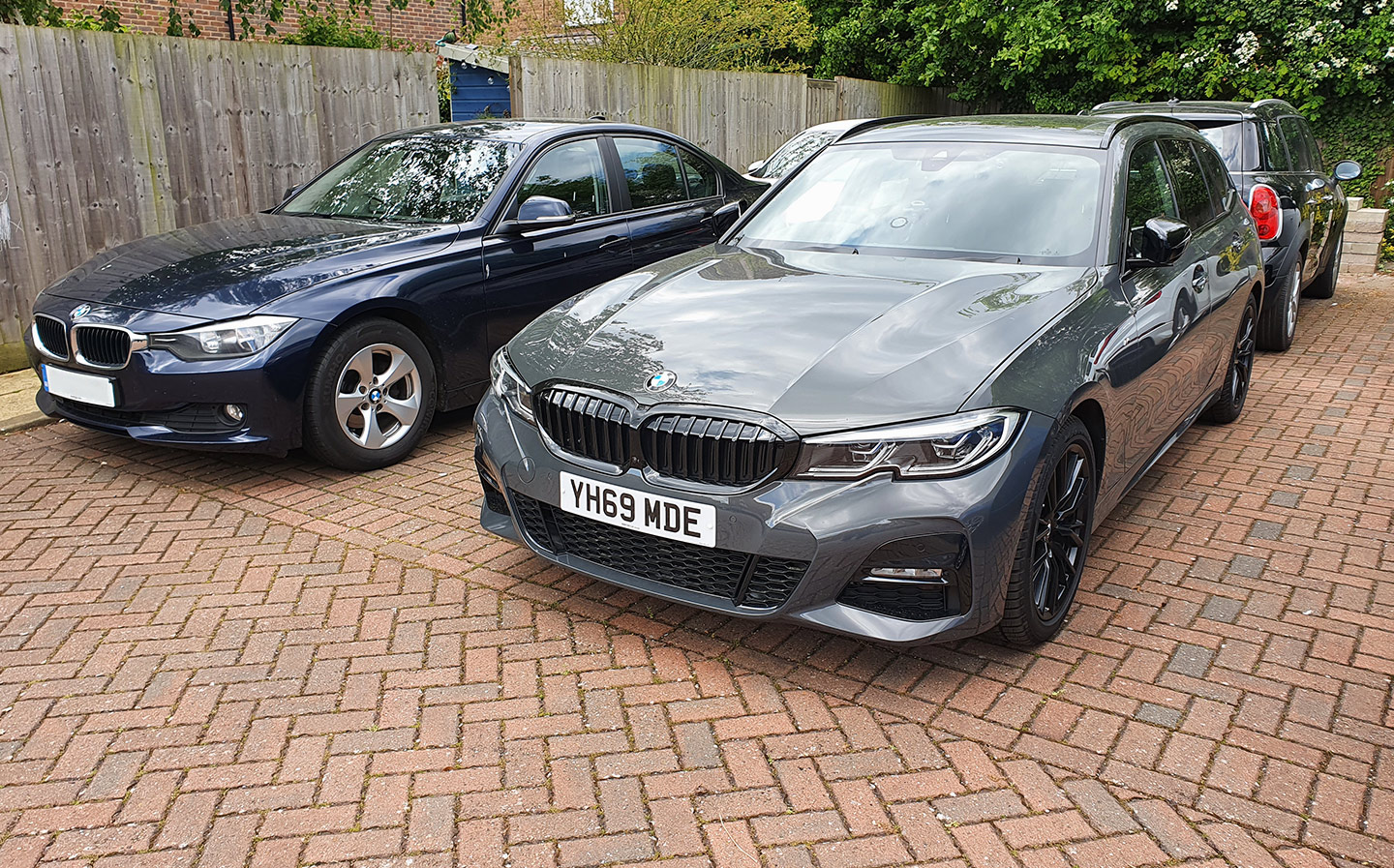 I have had some good and some bad news. The good news is that BMW contacted me last week to say that the 330d will have to stay with me beyond the planned May 15 collection date, as the company's press fleet is "grounded" due to the coronavirus lockdown. The bad news, of course, is that I can't really drive it, except to go to the shops or perhaps to pop to my 70-year-old mum's house about 30 mins away, should she need anything. I'm not commuting right now, as I can tap away at my laptop and upload the words from home.
As a result, the car has had only a few miles put on it since lockdown began, on March 23. Especially since a Renault Captur has also been left with me for the duration, and I've use that for supermarket runs on a couple of occasions.
Cars still need care and attention, though, and on the whole I have been following our own advice, published here.
Despite BMW asking me to run the engine occasionally, to look after the 12v battery, I'll confess that I left the car for the first two weeks of lockdown, andthe next time I got in the car was greeted by a battery discharge warning notice. It says:
– Battery charge very low.
– Start engine immediately and recharge by driving for an extended period or using external charger.
-Functions requiring power supply, such as communication, entertainment, air condition are switched off.
Fortunately, I had caught it in time — the starter motor sounded very tired but did get the straight-six engine going. When I stopped at the shop I was treated to the same message, so took the long route home and that seemed to do the trick.
Everything was well with the car yesterday and today I took a look at the Service menu in the iDrive, which includes the tyre pressure monitor (still 2.5 bar all round, except for the front left which has dipped to 2.4 bar), engine oil level, service schedule and AdBlue status. All is well, and it's good to know that topping up the AdBlue tank (in 6,500 miles' time), even though not much of a chore, will be someone else's problem. If you aren't aware, this is what AdBlue is for.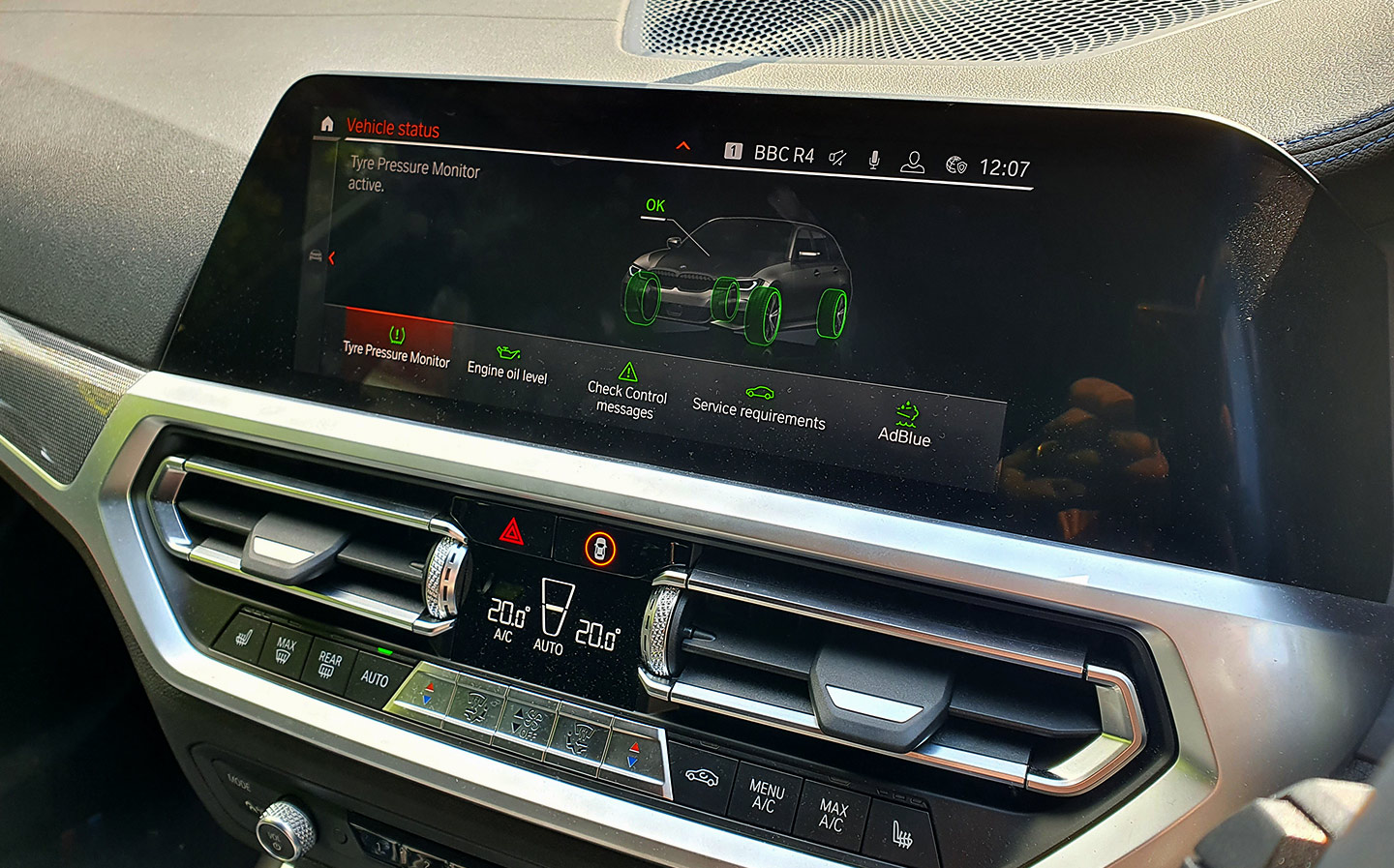 Whereas some people, especially those furloughed and childless, have found themselves with huge amounts of spare time under lockdown, I am as busy as ever. Work continues five days a week, except with the added challenge of two children, aged four and six, to feed, entertain, educate and clean up after. My wife and I share all the household duties, but she works from home, too.
But I did manage to find time to treat the 330d and my wife's Mini to a wash last week, and it felt good to be able to give the cars some much needed attention, too.
As I write this I can hear my kids causing chaos in the living room — I'm guessing the whole street can, in fact, giving the din — and I know that the fun will end with screaming and fighting, and a mess even Mary Poppins would shudder to behold. I will then be required to teach them something, and take pictures to send to the school as proof that their little brains aren't being left to fester while away from the classroom.
Cars may need looking after, especially the classics, but I don't think I'd be alone in choosing a troublesome motor over a pair of primary school children. The Beemer is so well behaved by comparison.
The next update may be the last, depending on how long Covid-19 restrictions last, so if you have any pressing questions, please ask. I'll check the comments below and I'm always available via Twitter.
Mileage today 5,607 miles
Distance since start 4,501 miles
Average consumption 39.0 mpg
Want to ask a question? Contact me via Twitter:
June 8, 2020: Final report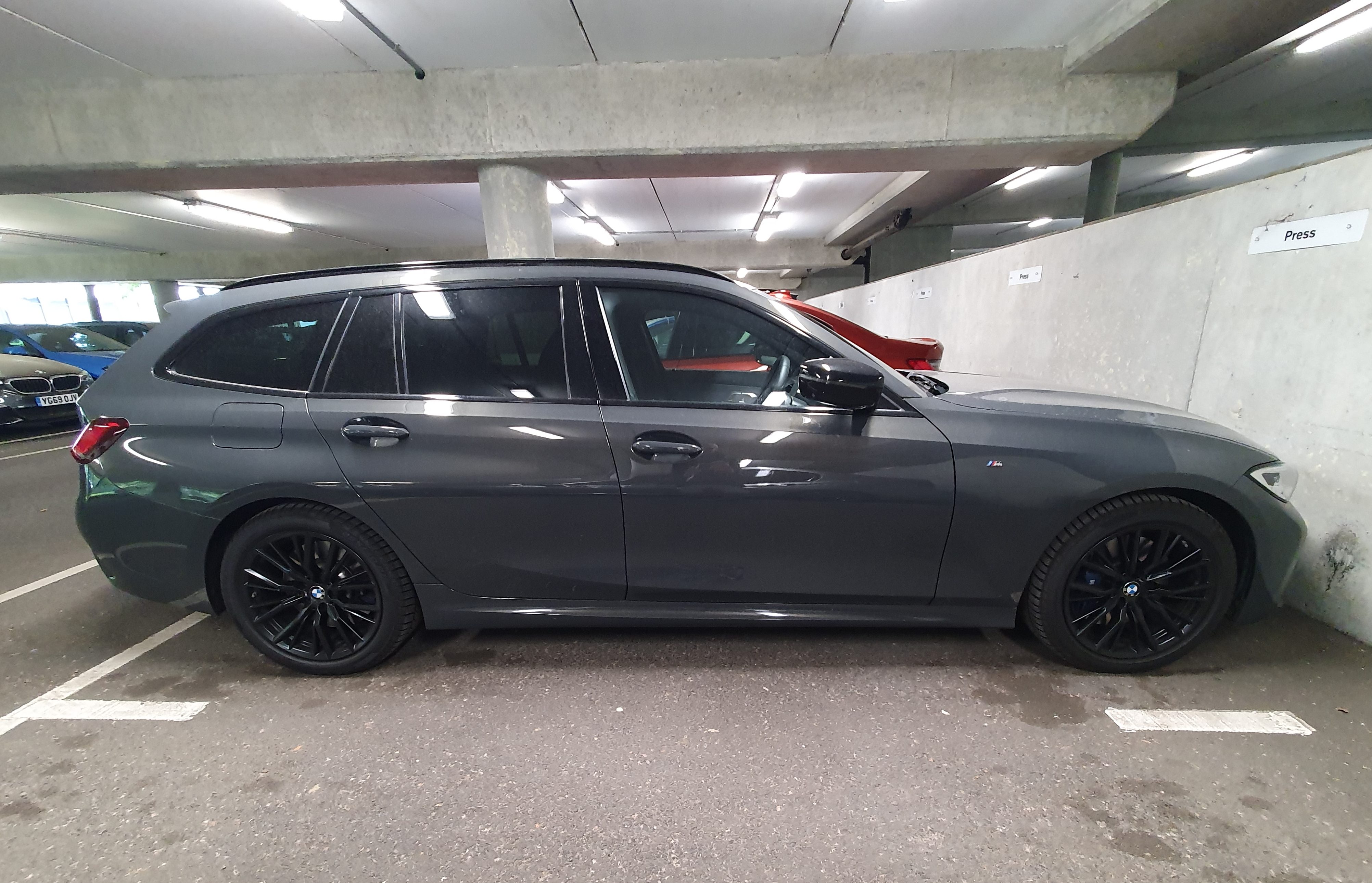 Alas, the 330d Touring has been returned to BMW. Over the last six months I covered 4,622 trouble-free miles in it, assuming you don't count the time a van driver reversed into the nose. I would have driven further if not for the lockdown, but that's a fairly healthy distance.
The stand-out feature is its silky 261bhp six-cylinder engine. Clearly this would be a good car whatever is slotted in under the bonnet, but the 330d offers a pretty astonishing blend of performance and efficiency. You certainly wouldn't need anything faster, and my average of 38.5mpg since February is very healthy given this XDrive model has four-wheel drive and is capable of 0-62mph in 5.4sec. It's such a refined motor, with smooth yet potent power delivery from any speed.
And being four-wheel drive and lower to the ground than an SUV, its road-holding is superb. BMW really has turned around its reputation for paling in comparison to Audi in terms of grip on loose surfaces, as my trip to the Alps proved (given appropriate tyres, of course). And yet on dry Tarmac, along twist backroads, the 330d is great fun, too.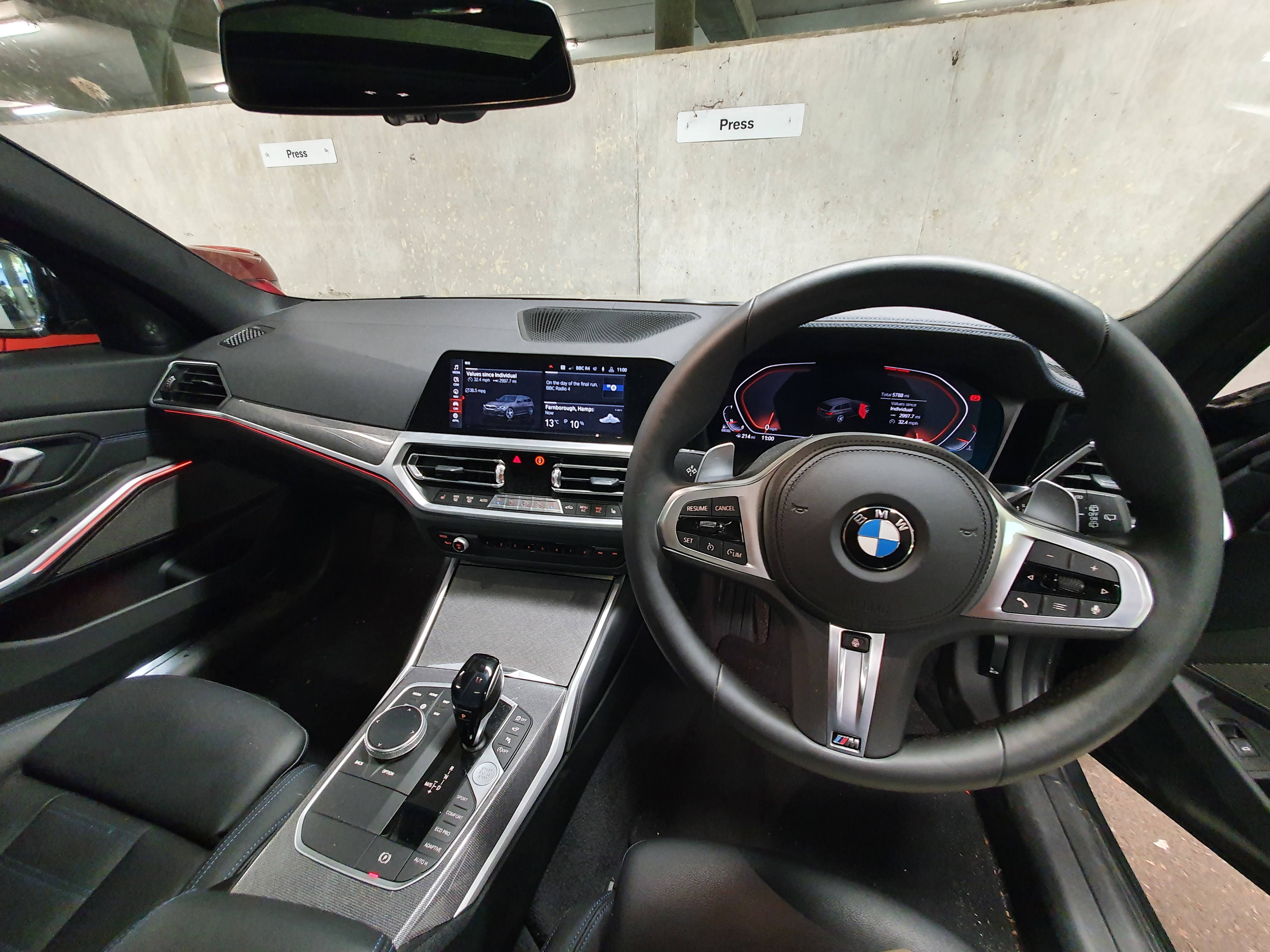 This generation of 3 Series has 50:50 weight distribution, a much stiffer body and long wheelbase than before, a 10mm lower ride height and its wheels are spread wider, so versions fitted with standard suspension are likely to feel more planted through corners.
All models also have adaptive damping with variable lift control – basically, not all the damping power is used if it's not needed, but constant electronic monitoring of conditions means the full damping power is added as necessary. That means you don't suffer a harsh ride when cruising gently but when you grab it by the scruff of the neck, the dynamics adapt accordingly.
The M Sport suspension fitted to our test car uses additional body struts, firmer springs and anti-roll bars, and an even higher degree of wheel camber, though it still retains the Jekyll and Hyde quality. Never did it feel too stiff for everyday driving.
And I can't forget to mention the load-carrying ability. As explored in a previous post, you can fit a lot in the boot with the second row of seats folded, and when our local recycling centre opened again recently I was amazed to discover my old dishwasher (public service announcement – avoid the Beko DIN15X10, which of course had to break during a pandemic) fit in the boot without needing to flatten the rear seats. Other things I have managed to fit inside include 2.4m-long lengths of timber; I didn't even need to leave the rear window hatch open.
My next long-term test car is a Mini Electric and on first impressions that's also going to be a hoot to drive, though I already know I'm going to sorely miss the BMW's practicality and continent-crossing capabilities. It's not the most affordable car in the world, especially with all the kit, but if you want a motor that can do it all, the 330d Touring should be on the list. For me, the lack of Android Auto might sway me elsewhere (the new 4 Series will get Android Auto, apparently, so BMW seems to be listening), though it's hard to ignore this car's brilliance in almost every other regard.
Final mileage 5,788 miles
Distance since start 4,622 miles
Average consumption 38.5 mpg
Want to ask a question? Contact me via Twitter: