Classic Clarkson: When Jeremy awarded zero stars to the Porsche 911
Jeremy Clarkson's dislike of the Porsche 911 is legendary but few could have predicted a zero-star review for the sports car in the Sunday Times — especially when he actually really liked it. That's what happened in March 2012.
---
Published 28 October 2022
The yummiest of ingredients but the souffle's gone flat
2012 Porsche 911 Carrera review
First published on Sunday, March 18, 2012
When I was growing up in the 1960s and 1970s, labour- and time-saving devices were all the rage. The Ronco Buttoneer, for instance, made putting on a button a quick and easy job. Which was just as well because the button you'd just attached often came adrift again in a matter of moments.
The top-loading washing machine had replaced the front step, and then came the remote control box for the television, which meant we no longer had to sit through Nationwide because we couldn't be bothered to get off our backsides. We also waved goodbye to the punka wallah with the invention of the Pifco fan. Life was very good.
But at some point in recent years someone decided to put the complication back. So now, instead of adding boiling water to a spoonful of instant coffee, we have machines that require constant attention. Every single morning mine wants more water, or more beans. Then it wants me to empty its trays and clean its pipes and decalcify its innards. Making a simple cup of coffee has become a 30-minute palaver.
It's much the same story with my mobile phone. Because it turns out that even when you are not using an application, it's still open, in the background, chewing the battery. And shutting it down is a complex procedure that usually ends up with you taking a photograph of your own nose.
Televisions are massively complicated now. And gone are the days when you simply loaded a VHS tape and watched a movie. Now, with Blu-ray, the machinery takes 10 minutes to warm up and you have to sit through hours and hours of waivers and copyright threats and trailers.
My dishwasher is more complex than Apollo 11, my juicer has a 200-page instruction book and have you tried to use a pay-by-phone parking meter? Of course not, or you'd still be out there, in the street, asking yourself what on earth was wrong with putting a pound coin in a little slot.
Naturally, cars are now very complicated as well. It's almost certainly true to say that the ignition key for your modern car is more complex than the whole of an Austin A35. Which means, of course, it rarely works. I've lost count of the number of times I've been in a car that keeps flashing up a message saying, "No key detected," when I'm sitting there waving the damn thing in front of its dash, whimpering slightly and wondering out loud what was wrong with the old system.
Then there's the BMW M5, which can get from 0 to 62mph in about 13 minutes. You spend 12 minutes and 55.7 seconds telling the on-board computer what sort of setting you'd like from the gearbox, the chassis and the engine, and then 4.3 seconds going from 0 to 62.
You might imagine that the new Porsche 911 had been spared all this nonsense — 911s, after all, are meant to be pure, clean, unfettered sports cars. And there is no place for complexity in such things.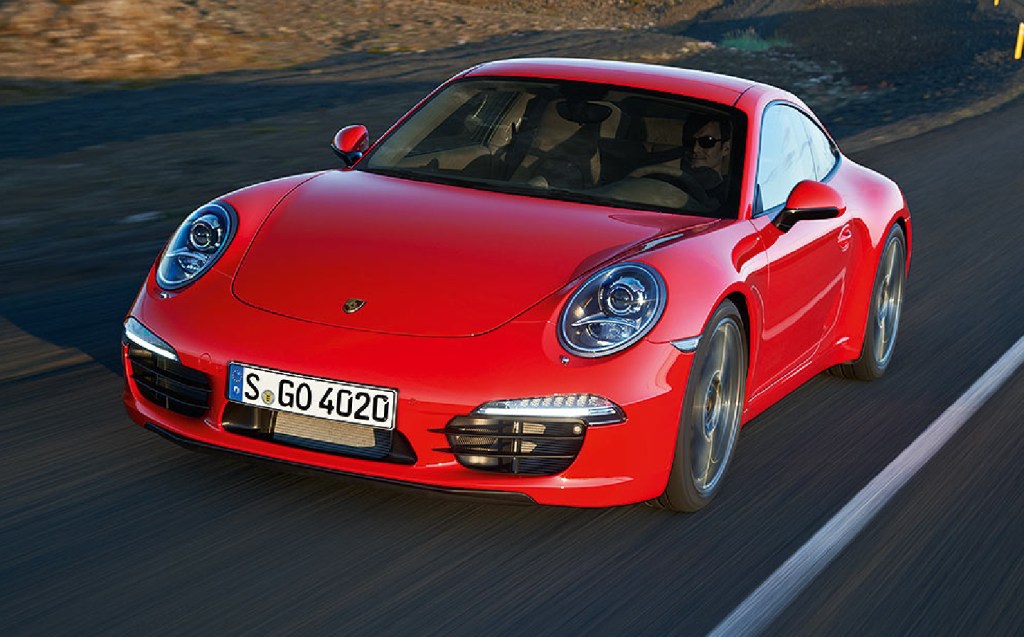 Well, dream on, because the new 911 is a geek's fantasy. Every component can be tuned while you're on the move to deliver something different, and there are now two read-outs on the dash telling you what gear you're in. Which seems a bit odd in a manual. I know I'm in third. I just moved the lever.
The thing is, though, this being a Porsche, it's all very instinctive and commonsensical. Amazingly, since there are no buttons on the steering wheel itself, you don't have to go into submenus or hold knobs down for two seconds to make stuff happen. I hate to admit it, but I thought it was brilliant. But that's probably because I never bought the whole 911 sports car thing in the first place.
There was a lot more I liked as well. The styling may be ludicrously similar to that of the previous model — and the one before that. And the one before that as well. But the little things that have changed have given the new model some nice new curves. You could even call it good-looking.
The big debate about this new car is its electric steering. Because of European Union rules on emissions, manufacturers are under pressure to introduce systems that use less energy, whether or not they are better at the job. So the conventional hydraulic power-steering setup has been ditched in favour of one that works off the battery.
In the same way as Neil Young keeps banging on about the awfulness of digital sound compared with vinyl, various 911 purists say that the classic "feel" of a 911 is now gone. And I'd agree with that. But since I'm not a 911 purist, I must say I think the new system is better. For sure, you are getting an artificial sense of how the tyres are interacting with the road and, yes, on a track you can spot this. But for everyday driving, the electric system is meaty and tremendous.
Emissions regulations have had other effects as well. The engine now shuts down at the lights and Porsche has had to fit a seven-speed gearbox. In theory this is fine. You lope up the motorway at tickover, sipping fuel like a vicar sips sherry. But when you're in seventh, doing 60mph, you don't get the twitching and fizzing you expect from a car of this type. It feels a bit puddingy.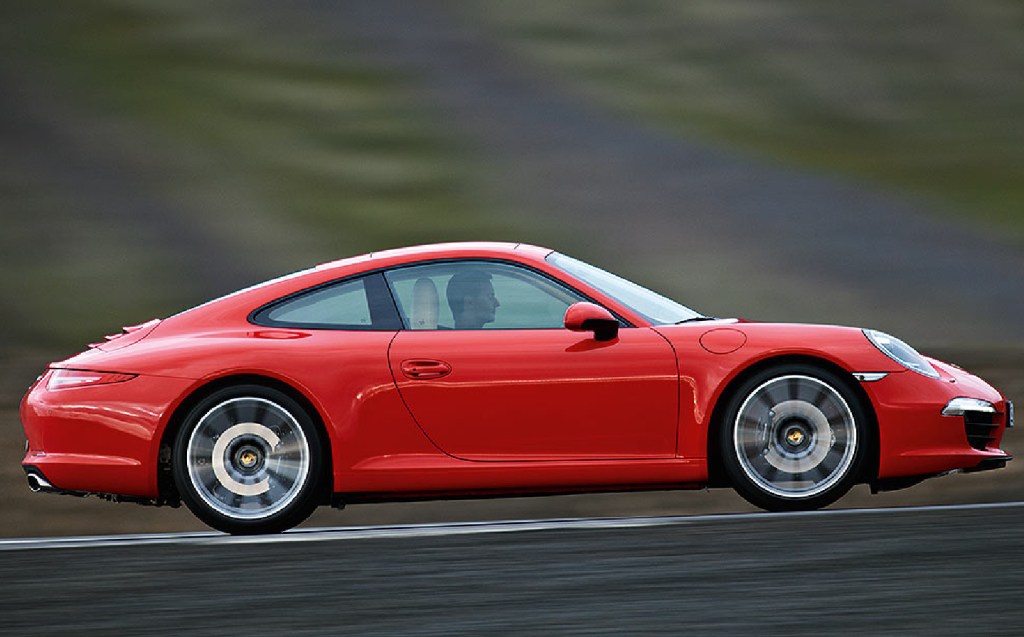 Of course, when you get off the motorway and realise you're running late and you need to make up some time, it's not puddingy at all. It's just delightful. That said, I would opt for the bigger-engined S model. The standard car I drove, while lovely, sometimes didn't feel as fast as I'd been expecting.
Now normally when I've reviewed 911s in the past, I'd get to this point and say that while the car is jolly clever, it's not for me. The rear-engined Porsche is like Greece and marzipan and Piers Morgan. Simply not my cup of tea.
But this one is different. Over the years, the engine has crept forward in the chassis so that it's no longer slung behind the rear axle waiting to become a giant pendulum. It's water-cooled, too, these days, which means the Volkswagen air-cooled clatter is gone.
Inside, the silly buttons that looked like half-sucked boiled sweets and felt about as cheap as an Albanian's suit have been replaced with good, high-quality items. The driving position is better, the seats are wonderful and though the car is now bigger than ever, it's still small compared with all its rivals. That's a good thing.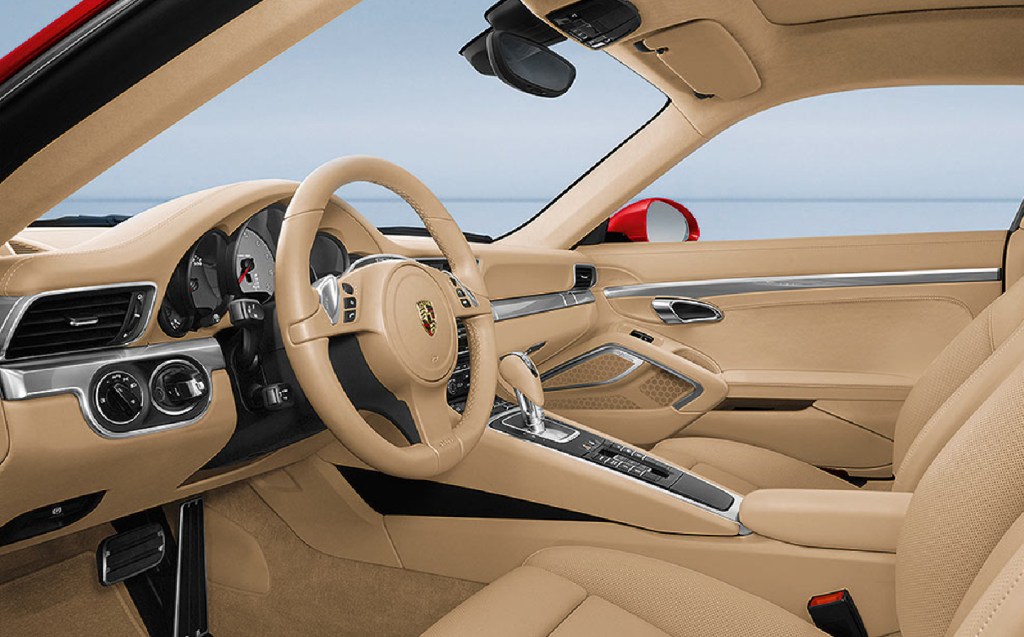 Drawbacks? Two, as I see it. The boot's at the front, which means you get dirty fingers every time you open it; and Porsche has never shaken off the City boy braces-and-Bollinger image it earned in the Eighties. Which means you are never, ever, let out of side turnings.
Okay. Two and a half. The engine isn't quite gutsy enough. But go for the S and that's resolved. In spades. Just avoid the convertibles. Unless you enjoy looking a plonker.
I'm sure there is much that will disappoint the diehard 911 fan in the new effort. But there is so much to delight those of us who have never liked 911s. I could even see myself buying one. It's a fab car. Really, really fab. And, all things considered, good value as well.
P.S. Since finishing this piece, I've realised the Porsche actually gets no stars at all because it's useless. Last Sunday the tyre went flat. There is no spare. And no depot carried anything that would fit.
Recently a friend of mind had a flat tyre in his 911 and it took Porsche two weeks to find a replacement. Unless the manufacturer can address this, there is simply no point buying its cars. Because one day you will need, say, to take your mum to hospital and you will have to phone and cancel.
The essentials (correct when review was first published)
Price: £71,449
Acceleration: 0-62mh: 4.8sec
Top speed: 179mph
Road tax: K (£580 for first year)
Release date: On sale now
Verdict: A fab car made useless by a puncture
2012 Porsche 911 Carrera specifications
Engine: 3,436cc, 6 cylinders
Power: 345bhp @ 7,400rpm
Torque: 287 lb ft @ 5,660rpm
Fuel: 31.4mpg (combined NEDC)
CO2: 212g/km
Related articles
After reading this Clarkson Clarkson review of the Porsche 911 Carrera, you might like to see what he wrote about the new Lamborghini Countach
Latest articles