The Clarkson Review: 2017 McLaren 720S
The appliance of Travelodge science
---
Published 19 December 2017
BY AND large, it's a fact that when Ferrari is making excellent road cars, its Formula One racers are slithering about, and then breaking down or coming fourth. And, conversely, when it's making terrible road cars, its racers are cruising to victory without breaking a sweat.
All through the early Noughties, Ferrari was totally dominant on the track. It won the world championship five years on the trot. And the road cars it was making? Well, there was the 550, which was sort of quite nice, and the 360, which wasn't even that.
But then in 2009 along came the brilliant 458 Italia and a range of front-engined GT cars that cause grown men to go weak at the knees. And it hasn't won the F1 title since.
It's not just Ferrari that suffers from this problem. McLaren was pretty much always a top three team. But then it decided to start making road cars and now its F1 racers drive around at the back for a couple of laps and conk out.
Many commentators blame the Honda engine for this lack of pace and unreliability and I'm sure it's partly to blame. But think about it. If you're trying to get a road-car division up and running, you're going to put your best people on that. You just are.
And it must be said, they did do a good job. The fresh-out-of-the- box McLaren MP4-12C wasn't the most exciting-looking car and in some ways it felt as though it had been engineered by someone who cuts his lawn with nail scissors. It was all very obsessive compulsive. But, ooh, it was clever and fast.
And then the range expanded and the excitement started to come and eventually we got the P1, which, I still maintain, is the most bonkers car I've yet driven. It was swivel-eyed and mad. An insane bastardisation of Elon Musk's vision, the way it used battery tech to create more speed. It really was, as I said at the time, a weaponised wind farm. I adored it.
It'll kick a Fezza's arse in any race, anywhere, anytime, but you can't help feeling it's a car built after a meeting in a Travelodge with a flip chart
Now, with the F1 team still in disarray, it has come up with a new road car that doesn't have the P1's hybrid drive system but somehow manages to be, as near as makes no difference, just as fast. Let me put that in figures. A P1 will do the standing quarter-mile in 10.2 seconds. And the 720S? You'll need 10.4 seconds. That's not a big gap.
And in the corners you'll make up for that lost fraction. It took me a long time to master the P1. But when I did, I found that, in extremis, it will understeer. The 720S will too but to nothing like the same degree. Which means that round a track the straightforward dinosaur will be quicker than the rainbow warrior.
There are all sorts of extremely dreary reasons for this, all of which have to do with weight and electronics. Let me put it this way. You can download data from your 720S so that after supper you can analyse how it and you managed on your journey home from work. This is a nerd car.
It may look brilliant — mine was brown and I still thought it was a sensation — but you cannot get round the fact that it simply doesn't have the soul of a Ferrari. It'll kick a Fezza's arse in any race, anywhere, anytime, but you can't help feeling it's a car built after a meeting in a Travelodge with a flip chart. And not while casually doodling over a bottle of wine.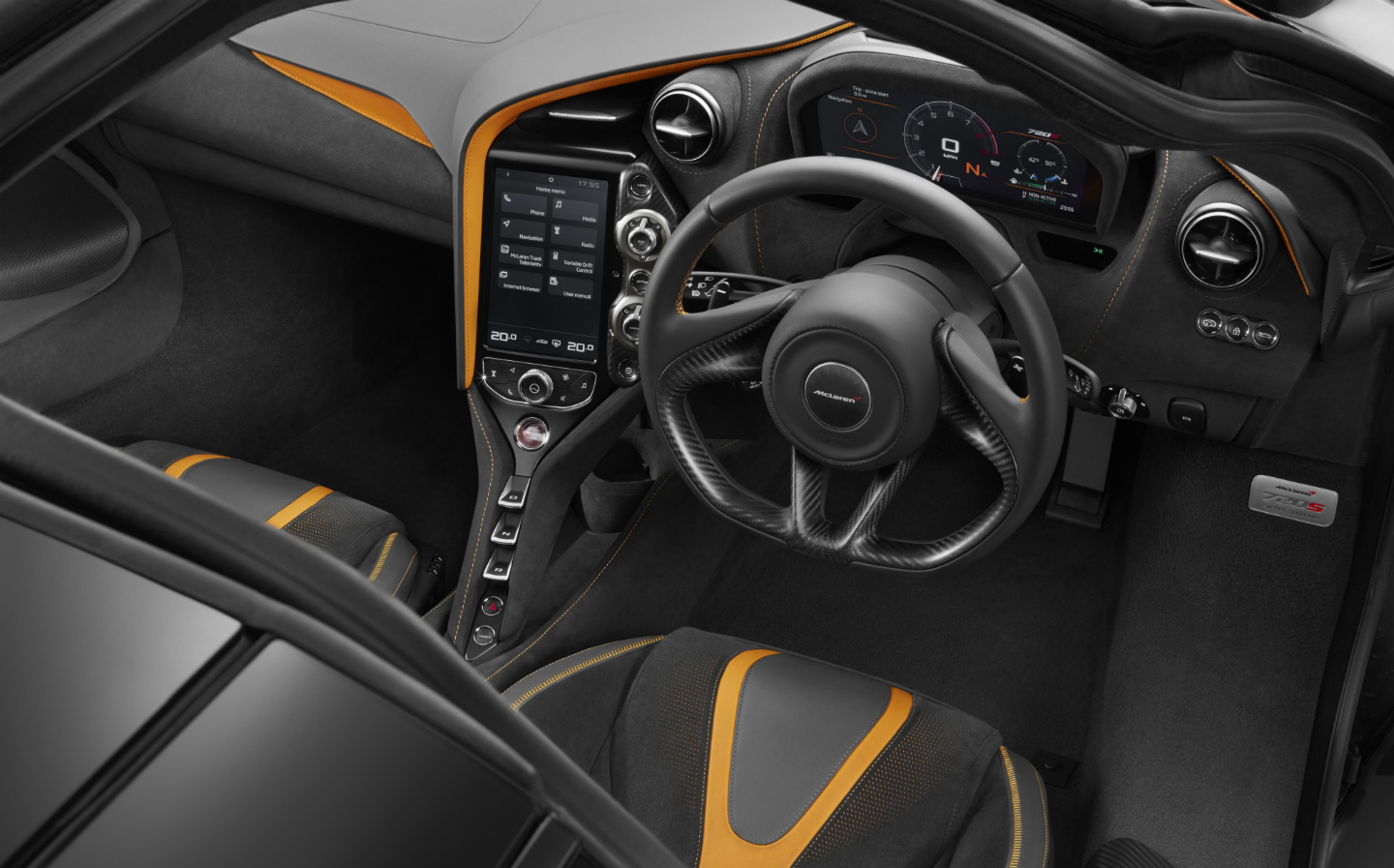 And I'm afraid that, from this point on, things get a bit bad. There's a lot of talk about how it's 5.548% stiffer than the old 650S and how the engine has 195 more cubic centimetres because of the increased stroke and how there's been a rethink in the design of the carbon fibre tub. And I don't doubt all this engineering pays dividends at the limit through Eau Rouge at the Spa-Francorchamps circuit in Belgium. But the downside is that when you run over a manhole cover on the M40, you'll wince.
The party piece of all McLarens is the way they combine brilliant handling with a supple ride. Well, the 720S doesn't. It's too firm.
And the brake pedal is wrong. When you first push it, nothing happens, which means you have a bit of a panic and push harder, which causes the car to stand on its nose. I found that even when I had my foot on the brake pedal, the car would still creep forwards. You really have to give it a shove.
There's nothing wrong with the brakes. It's the pedal. And I'm not the only one to notice this. Autocar did too. And so did James May. It's an issue that needs resolving.
One that can't be resolved so easily, though, is the way the interior works. It's all done on purpose and it's too complicated. The electric seat adjustment is a case in point. There's no logic to it, and the same applies with the immensely complex Track, Comfort and Sport settings. Then there's the sat nav, which is way better than it's been in any McLaren to date and is actually better than the system you get in a Ferrari, but it's still not as goodas the setup you get in a Volkswagen Golf.
This then is a tricky car to sum up. Yes, it is mind-blowingly fast. It's a direct competitor for the Ferrari 488 but in terms of what they both set out to do, it's not a competitor at all. They're in a different league altogether. I even think the Big Mac is better-looking and that's saying something because the little Ferrari is like a dreamy mix of Alicia Vikander and something I just thought of.
But the ride is too firm, and the controls are too hard to use and that brake pedal is an issue as well. And then there's the really big problem. You sense this car was designed by really, really clever people who live and breathe yaw, slip angles and various other engineering conundrums. People who really would be more gainfully employed in the company's race team, where such things matter.
For the 720S to blow my frock up, it needs some P1 fairy dust. It needs a bit of humanity in the mix, a bit of childlike fun.
In short, this car would have been better if it had been designed not in a Travelodge, but in the pub.
Tweet to @JeremyClarkson Follow @JeremyClarkson
Head to head: McLaren 720S vs Ferrari 488 GTB
| | | |
| --- | --- | --- |
| | McLaren 720S | Ferrari 488 GTB |
| Price | £208,600 | £183,984 |
| Power | 710bhp | 661bhp |
| 0-62mph | 2.9sec | 3.0sec |
| Top speed | 212mph | 205mph |