2019 Nissan Micra review
New engines, an automatic and a "warm hatch", but is becoming supermini no.1 still Mission: Impossible?
---
Published 01 February 2019
THOSE WHO remember the curvy second generation Micra, and virtually spherical third and fourth iterations, will have thought the job of turning Nissan's supermini into something truly desirable was Mission: Impossible. But then Nissan appeared to have recruited Ethan Hunt and the IMF team when, in 2016, the far less cutesy Mk 5 Micra was unveiled. Its sharper lines were quite a departure from what had come before, and much more grown up. Heads were turned.
Some could argue that the new Micra is too homogenous. I know I have. Park it next to the Renault Clio (either the outgoing model or recently-unveiled all-new version), and some buyers may have a hard time telling them apart — those rear doors, with the upward sweep and sunken black plastic handles, are almost a carbon copy. Not too much of a surprise, you might argue, given that Renault and Nissan are joined at the hip in a corporate sense, and their two superminis share the same chassis.
Regardless, the new shape, along with greatly improved driving manners and luxuries like a Bose sound system (with speakers in the headrests, no less), has proved popular, backed up by highly favourable write-ups from car journalists. Nissan says private sales have increased by more than a fifth since it introduced the new Micra, and "conquest sales" (stealing customers from other brands) stand at 65%. Which is "significantly above the average" for this type of car, apparently.
But ignore the marketing speak and dig a bit deeper; the Micra's 10,329 UK sales in 2018 were well short of the Ford Fiesta's near-96,000, five times less than the Vauxhall Corsa (53,000) and also way below the VW Polo (45,149).
So Nissan isn't resting on its laurels; it's been listening to customer feedback and last summer responded with updates like electric windows in the back (that's right, rear passengers previously had to wind them themselves), LED fog lights, and a new infotainment system with Android Auto and Apple Carplay (standard on Acenta, N-Connecta, N-Sport and Tekna grades), and TomTom sat nav (which comes with three years of Premium Traffic updates). Why you'd want TomTom navigation when there's the option of the far superior Google Navigation or Waze is beyond explanation, though.
To keep the ball rolling, Nissan is introducing some even more significant updates for the Micra. One of the most welcome will be the introduction of an automatic model, as customers increasingly want to go gearstick free (we were shown a chart to prove it).
Meanwhile, an all-new 100 PS (99bhp) 1-litre turbocharged petrol engine replaces the old 90 PS (89bhp) 1-litre on all but the entry-level Micra. It was developed not just by the might of the Renault-Nissan-Mitsubishi Alliance, but also in association with Mercedes-Benz's parent company Daimler, so you'd expect it to be good, and it is: the IG-T 100 PS is more powerful, lighter, more fuel efficient and less polluting. It comes with a £250 price hike over the outgoing motor, though.
It should be well worth it, though; according to Nissan's marketing presentation, the new engine is "11% more fun to drive", a factoid intangible enough to bring about 11% more smirking in the room.
If even the new 99bhp engine is not fun enough for you, though, Nissan is also introducing a "warm hatch" (cars that are more exciting to drive but couldn't be considered true hot hatches) Micra, designed to take on the likes of the Fiesta ST-Line, SEAT Ibiza FR and Peugeot 208 GT Line. Unlike those cars, this Micra hasn't got a name of its own but is marked out by a new 117 PS (115bhp) petrol turbo, suspension that's been tuned and lowered (by 10mm), a more responsive steering rack and a six-speed manual gearbox.
While we're on engines, it's worth pointing out that Nissan also still offers a 1.5-litre dCi diesel, but its popularity is plummeting (in line with the rest of the market), and it's no coincidence that the only powertrains that have been updated are petrol-powered.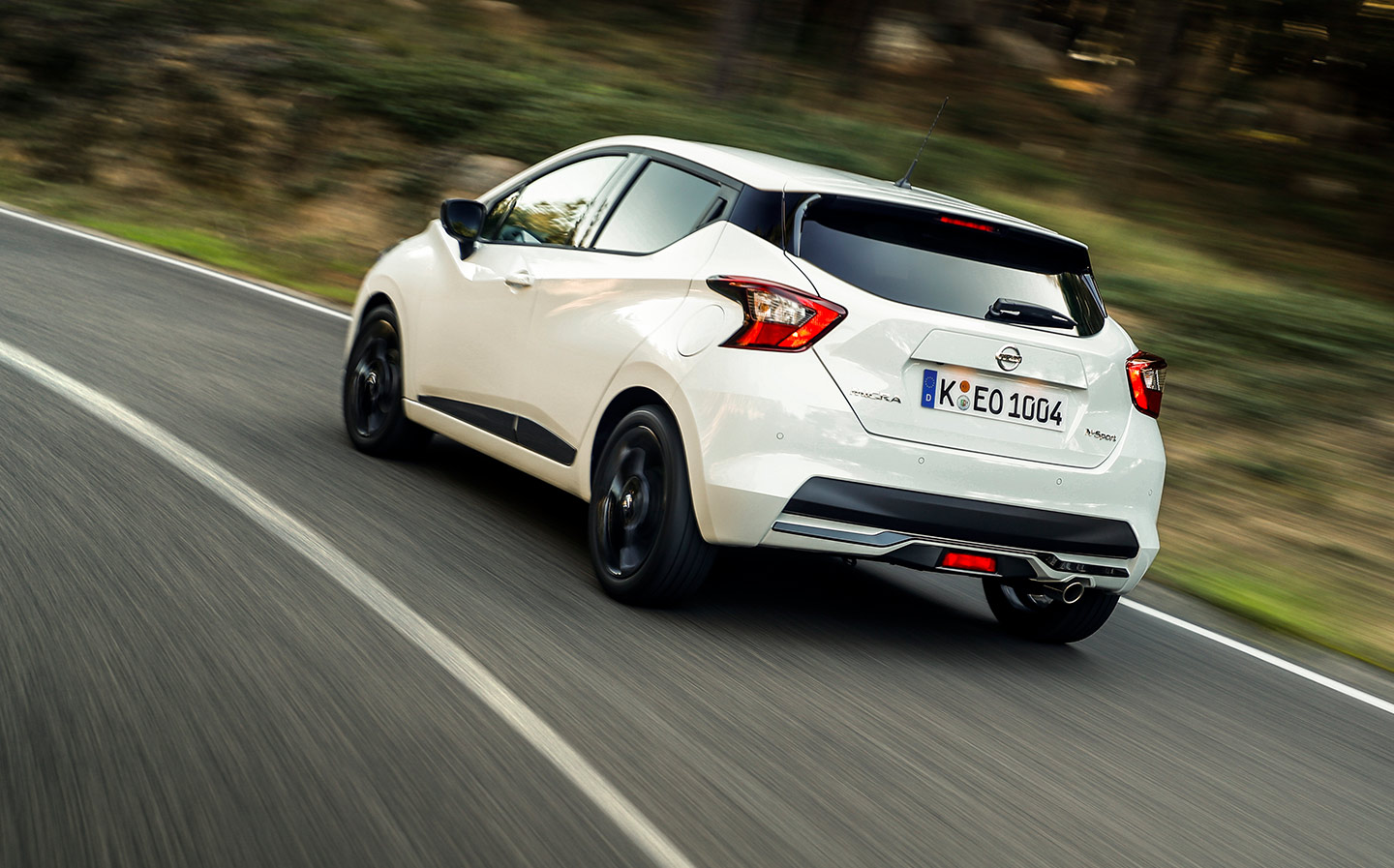 The final Micra update being introduced this month is a mid-level N-Sport trim grade, which sits just above the Acenta spec cars and adds more of a performance-focused look and feel. They are easily spotted by their carbon fibre-effect alloy wheels and door mirrors, rear privacy glass, front fog lamps and an N-Sport badge on the boot lid.
Inside, they have seats upholstered using a mix of Alcantara (commonly used in racing and true sports cars) and leather-style materials with contrast white stitching, some fetching white gloss plastic around the air vents to match, and some tech upgrades like a reversing camera. The aftermarket-look go-faster stripes on the floor mats are less cool, though.
You might think the N-Sport trim is reserved for the 117 PS warm hatch but you can, in fact, add it to the standard Micra with the 100 PS engine, if you want a racy look but a more cosseted ride.
Nissan flew British press to Portugal to try out all these updates, and in turn we brought with us some distinctly British weather — rain fell on Lisbon virtually non-stop for the duration, sometimes quite hard. While parked in a beachside car park, with rain bouncing off the Micra's bonnet and a rough sea crashing against the shore, it felt like a scene from a typical British summer staycation. Add a Thermos flask and a cheese sandwich and the picture would have been complete.
The weather in Portugal isn't improving. This test drive has the feel of a British summer staycation, which is probably quite appropriate. #Nissan #Micra pic.twitter.com/qb8BUfSMyA

— Will Dron (@wdron) January 30, 2019
Making us feel even more at home were the Portuguese roads, most of which are blighted by even more potholes than currently plague the UK road network (hard to believe, I know).
It all made for a proper test of the cars' ride and handling in tricky conditions, and the new Micra excels in this area. This generation of Micra comes with clever chassis control tech, including a system that gently applies the rear brakes after going over a speed bump, to stop the nose from diving forward.
Every bump and crater was dispatched with astounding ease, and even the lowered, stiffened warm hatch model seemed to cope well, with zero "crashing" or shudders though the chassis. That's even more impressive when you consider that it is fitted with 17in alloys instead of the standard 16in wheels, and so has thinner, harder tyres. Both proved decently grippy in challenging conditions.
There were clear differences between the standard car and the sportier model, however, with the latter's engine characterised by a wave of torque in one lump very low down in the rev range (at 1,750rpm), then more consistent pull as the engine speed increases, whereas the 100 PS increases torque smoothly as revs increase meaning more grunt the harder you rev it. Call me old school, but I actually preferred the 100 PS engine's characteristics. My driving partner on the launch event disagreed.
One thing there was no dispute about was that the warm hatch's body remained flatter through the corners, and the unique six-speed manual gearbox much less vague than the five-speed version, which isn't as stiffly sprung; finding third with the five-speed required a bit more patience, shall we say.
Those with an eye on the new Xtronic automatic transmission should know that it's fine for pootling between church and bingo hall but it's unlikely to impress keen motorists. It's not actually an automatic gearbox at all; it's a CVT (continuously variable transmission) system, which uses cones and pulleys to both vary the speed ratio between engine and wheels, and, as far as I can tell, create as much noise as possible. Typically the sound from a CVT bears little relation to the actual speed of the car — putting your foot down creates a panicked scream from under the bonnet but less frenetic forward momentum, making it an odd, disconnected driving experience.
Nissan has tried valiantly to engineer a way around this with a technology called "D-step", which simulates gear shifts by giving boosts of torque as you increase speed under hard acceleration. Sadly, all it seemed to do was make the power delivery lumpen and less predictable. Some models of Xtronic Micra come with paddle shifts, which may help drivers feel more control over "shifts", but we weren't able to try one of those in Portugal.
There were a few other niggles, common to all the Micras we tried. Nissan says it has worked on improving sound isolation in the cabin with the 2019 models but driving on a motorway sounds like you're in a gale, with noise in particular around the side windows and B-pillar.
Also, although the interior is still attractive, mixing hard gloss plastic with soft-touch materials and contrasting colours, things have come on a long way in the last three years. One look at the inside of the new Clio goes to show by just how much, with its even more minimalistic dashboard that's dominated by a big portrait-style touchscreen. The Micra's landscape-oriented 7in screen with plastic buttons around the edge now seems decidedly unimpressive by comparison.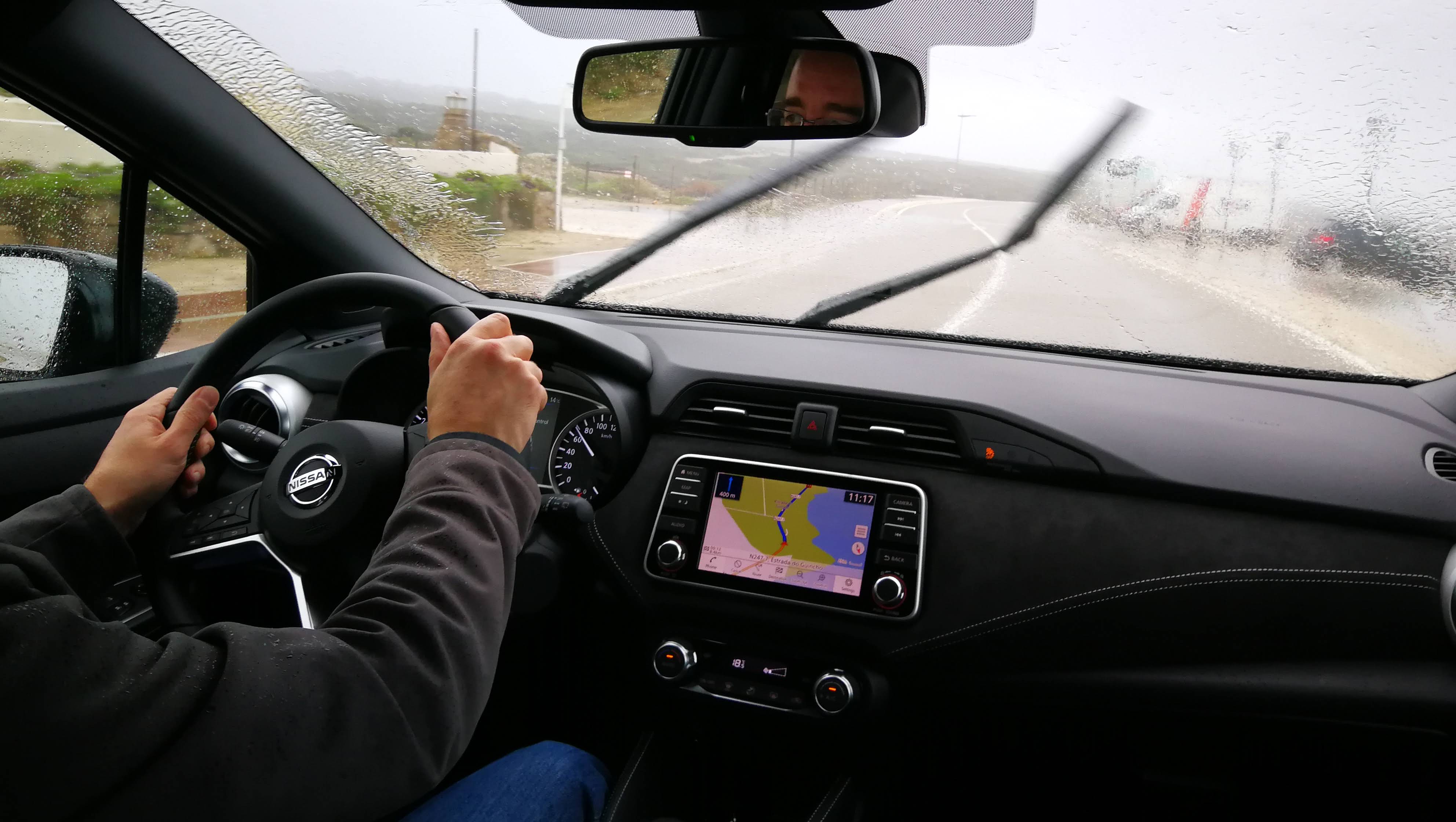 What's more, whoever developed the windscreen wipers on the Micra must also work on the cars at Renault, as both brands suffer from large unswept areas. When it rains a column of glass nearest the A-pillar is obscured by rain, leaving quite a blind spot, while tall passengers also have to peer through raindrops at the top of the screen.
Tall passengers will also struggle in the rear seats. Whereas a Fiesta can accommodate those over 6ft (and even me, at 6ft 5in, over short distances), anyone of that height will find head and legroom severely limited in the Micra.
On the plus side, the Micra is packed with clever tech. Beyond the smartphone connectivity, there's also voice recognition via steering wheel controls, it'll read out text messages for you, the infotainment system's home screen is fully customisable, a smartphone app can allow you to find a destination and then send it to the car's sat nav, and software updates are available over the air.
In addition, there are plenty of driver safety aids, such as Intelligent Lane Intervention and Intelligent Emergency Braking with Pedestrian Recognition.
It looks smart, has some class-leading engines delivering low CO2 and strong power output, is packed with tech and has genuinely pleasing ride and handling, particularly in the new 117 PS warm hatch model.
Prices start at £12,875, which undercuts the cheapest Fiesta by more than a grand, but you can pick up the most basic Polo from £11,970. Mind you, the Micra N-Sport grade with IG-T 100 engine is also available with 0% APR finance, which will be very appealing to many buyers.
But while the Micra is easily a match for the VW Polo in terms of ride and handling, it's not quite on a par with its German rival for infotainment and interior class, while in terms of both driving dynamics and packaging the supermini bar is still being set by the Ford Fiesta. The Blue Oval has even outdone Nissan's excellent Bose sound systems recently with a truly astounding Bang & Olufsen stereo for the Fiesta.
And while the warm hatch model makes the Micra that bit more entertaining behind the wheel, it costs £19,005; around £500 more than an equivalent Fiesta ST Line and a lot more than a Peugeot 208 GT Line (see below).
Anyway, if you want a supermini with a really compelling drive, forget warm hatches and stretch to a five-door Fiesta ST-2, which costs from £21,145 (or just £19,495 if you can sacrifice the rear doors and a few luxuries).
It's also worth noting that the forthcoming 2019 Renault Clio has a more modern interior, will gain the Renault-Nissan-Mitsubishi Alliance's latest chassis and will no doubt benefit from the same new engines.
So the Micra is better than ever and has a huge amount going for it, with the latest updates taking it on a few more strides, but catching up with and overtaking the best of the best in the segment might still be Mission: Impossible. Are you listening, Ethan?
Head to head
2019 Nissan Micra vs Ford Fiesta and Volkswagen Polo
| | | | |
| --- | --- | --- | --- |
| | Nissan Micra 1.0-litre IG-T 100 PS 5MT N-Connecta | Ford Fiesta B&O PLAY Zetec 1.0T EcoBoost 100PS | VW Polo beats 1.0 TSI 95 PS |
| Price | £17,210 | £17,265 | £17,360 |
| Power | 98bhp @5,000rpm | 98bhp @ 6,500rpm | 94bhp @ 5,000rpm |
| Kerb weight | 1,080kg | 1,144kg | 1,145kg |
| Fuel economy (WLTP) | 47.9 – 51.4mpg* | 47.1 – 50.4mpg* | 49.6 – 52.3mpg* |
| CO2 (NEDC) | 104g/km | 106g/km | 104g/km |
| 0-62mph | 10.8sec | 10.5sec | 10.8sec |
| Top speed | 114mph | 114mph | 116mph |
2019 Nissan Micra warm hatch vs rivals
| | | | | |
| --- | --- | --- | --- | --- |
| | Nissan Micra 1.0-litre DIG-T 117 PS 6MT N-Sport | Ford Fiesta 5dr ST-Line 1.0T EcoBoost 125PS | Peugeot 208 GT Line 1.2L PureTech 110 S&S | SEAT Ibiza 5DR FR Sport 1.0 TSI 115PS |
| Price | £19,005 | £18,585 | £17,204 | £18,965 |
| Power | 115bhp @ 5,250rpm | 123bhp @ 6,000rpm | 108bhp @ 5,500rpm | 113bhp @ 5,000rpm |
| Torque | 148lb-ft @ 1,750-3750rpm | 125lb-ft @ 1,400rpm | 151lb-ft @ 1,500rpm | 148lb-ft @ 2,000rpm |
| Fuel economy (WLTP) | 47.9mpg | 47.1mpg | 46.5 – 49.8mpg* | 46.3 – 50.4mpg* |
| CO2 (NEDC) | 114g/km | 111g/km | 106g/km | 113g/km |
| 0-62mph | 9.9sec | 9.9sec | 9.6sec | 9.3sec |
| Top speed | 121mph | 121mph | 118mph | 121mph |
*depending on options