Tokyo Motor Show: the weirdest cars
Vehicles with no steering wheels and one called Hustler
---
Published 22 November 2013

Every other year, the car industry travels to the Tokyo motor show in Japan, a country where one of the national delicacies is a fish so poisonous that it kills some diners every year, where vending machines sell fried chicken and where toilets come with instruction manuals.
So it's no wonder that Japan also produces some of the weirdest concept cars (to Western eyes) you'll ever see. This year was no exception. Alongside the big stars such as the Porsche Macan and Jaguar F-type coupé was a car designed like a lorry cab, one that changes colour according to your mood and another called Hustler. Take a look at Tokyo's odder creations.
Nissan BladeGlider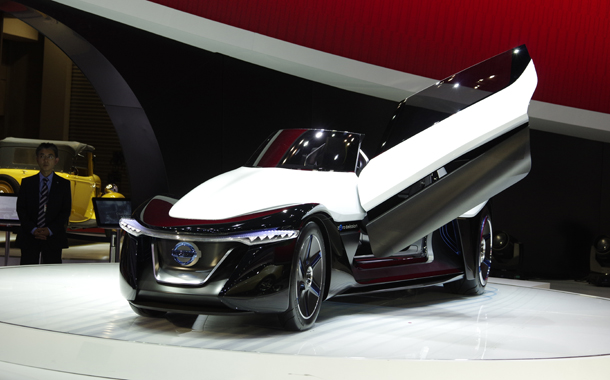 It's easy to get annoyed at manufacturers that spend millions of pounds teasing us with wacky concept cars that never stand a chance of making it onto showroom floors. Relax, though, because Nissan says that it genuinely plans to sell its BladeGlider, a road-going version of its revolutionary DeltaWing, which competed at the 24 hours of Le Mans race in 2012, and the similarly-designed Zeod electric car, which will race in next year's event. The electric-powered BladeGlider has room for two passengers sitting behind the driver's seat in the centre of the car, and is claimed to have "sensational" performance. Owners may want to avoid multi-storey car parks, though: manoeuvring on the ramps won't be easy as the rear of the car is 80cm wider than the front.
Daihatsu FC Deco Deck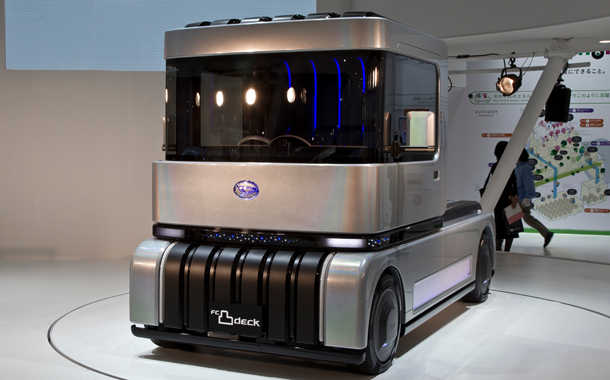 This might look like a futuristic lorry cab but the Deco Deck is actually a car, developed to show how Daihatsu's fuel cell technology can be packaged at the bottom of a car, while the passenger compartment is mounted on top. So while the design might look funky, it's not going to go into production, which makes the fuel cell the most interesting part of the car. It uses hydrazine, which is used in rocket fuel, to generate electricity, and the only emissions are water and nitrogen. Unlike hydrogen fuel cells, being developed by other manufacturers, hydrazine is a liquid and ‒ according to Daihatsu ‒ can be made safe to store.
Kode 9
When you've penned cars such as the Ferrari Enzo, there aren't many other places left to climb for designers in the car industry, so Ken Okuyama has set up his own firm. The latest designs were unveiled at Tokyo, including this Kode 9, a road-legal racing car with the world's most highly designed wheelarches. Okuyama's car has a 365bhp, 2-litre, four-cylinder engine, and uses aluminium and carbon fibre to keep its weight at just 890kg, promising searing performance.
Nissan IDx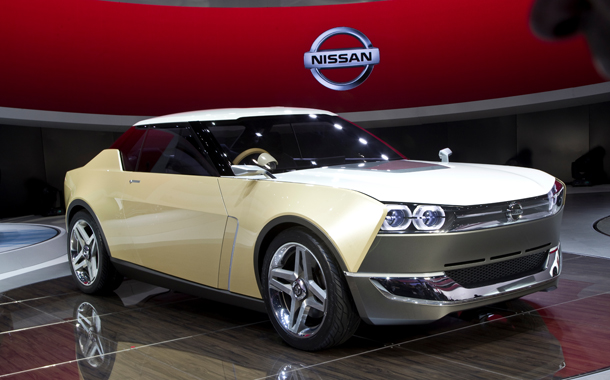 You may well hide your eyes but this, according to Nissan, is the future of cars. The IDx, which comes in 1970s mustard yellow or high-performance Nismo guise, was designed alongside digital natives, or in other words, members of the internet generation who were born in 1990. Instead of wanting a wedge-shaped supercar with a giant rear wing and dazzling alloy wheels, Nissan says that today's youth prefer "a basic, authentic configuration for a car… based on the ideal proportions and straight stance of a simple, three-box shaped car design." And if that's hard to understand, then wait until you hear how the firm describes the interior: "The dashboard can be a foundation for various expressions and functions. The round, no-nonsense steering wheel, attached to the level dashboard, mounts a modern-looking speedometer that would not seem out of place in a younger person's lounge."
Toyota FV2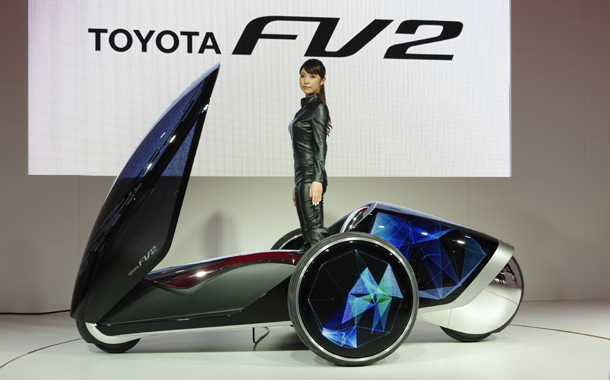 Think of the FV2 as a more advanced Segway, which accelerates and changes direction depending on which way the driver is leaning. There's no steering wheel, so its single occupant must lean forward to get moving, then tilt to the left or right if they want to turn, while squatting in a position that appears similar to riding a horse. Given the mixed results that are likely to result, the vehicle also features vehicle-to-vehicle communication, so that the FV2 can automatically avoid collisions. It has voice and image recognition to detect the mood that the driver is in. This can alter the colour of the head-up display in the windscreen, presumably to calm angry drivers.
Mitsubishi Concept XR-PHEV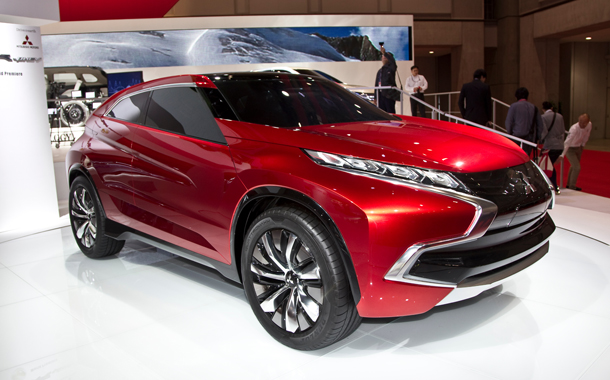 On a mission to "take driving pleasure to new levels", says Mitsubishi, the XR-PHEV appears to have been blasted by a hurricane-force wind, stretching its headlights back to the windscreen and fixing its grille in a ridiculous rictus grin. Aside from the design, there's little detail on the equipment to suggest it will bring about Mitsubishi's driving revolution, save for the news that the XR-PHEV (which will surely get a new name before going into production) has a 1.1-litre turbocharged engine and plug-in hybrid system.
Suzuki Hustler coupé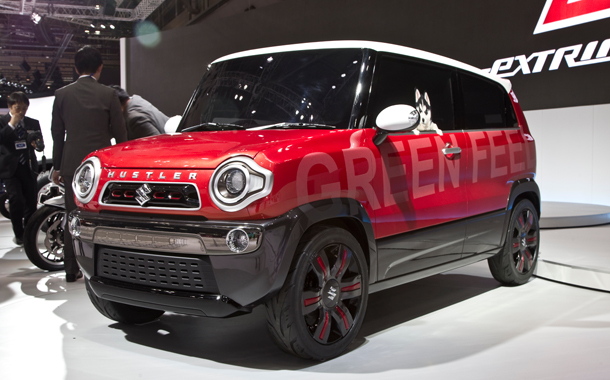 It might look like a car drawn by a 5-year old with crayons, right down to the nonsensical "green feel" slogan daubed down the side and the fake dog hanging out of the window, but the Hustler has plenty of character. The 658cc mini-SUV also has the face of an excited puppy. If it drives like one, it could be a hit.