BMW's new wireless charging 'GroundPad' available for electric cars this year (video)
System said to be suitable for outdoor use as well as indoors
BMW HAS launched its first wireless charging system, as the German car company takes steps to make charging an electric car easier than filling a conventional car with petrol.
Called the GroundPad, it will go on sale in the UK by the end of the year, and the company told Driving it will be offered through a lease with prices still to be announced.
The system promises the ultimate in convenience, as drivers need simply to park over an inductive charging mat and leave technology to do the rest. It effectively operates in the same way that wireless chargers are used for electric toothbrushes and smartphones.
BMW is the first car maker to bring such as system to market, which will work initially with the 530e plug-in hybrid model. And it addresses one of the seemingly small but ultimately annoying irritations of living with an electric car — having to fiddle with dirty cables and plug-in to an electricity supply.
Video cameras used to help drivers reverse or park are further adapted for cars with wireless charging, with specific blue lines guiding the driver to park in the correct position over the charging plate. In a birdseye view, a green circle appears over the car's bonnet, to indicate that the car is ideally located and can be stopped.
Once parked, by switching off the car's ignition the system begins charging the car's high-voltage battery automatically. It takes three and a half hours to recharge an empty battery, and owners can check on progress using a smartphone app.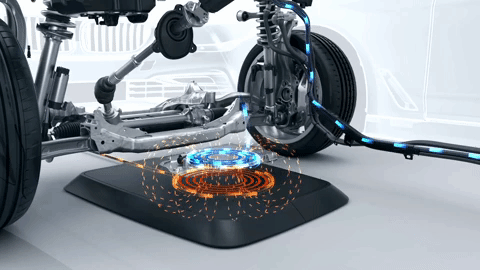 As well as the GroundPad, buyers have to have a second, CarPad unit fixed to the underside of their BMW. The wireless transfer occurs when a magnetic field is created by the GroundPad, which inturn induces electric current in the CarPad which then charges the high-voltage battery. The distance between the pair is a little more than three inches.
The company says it will offer customers a professional installation service, just as it already does with wallbox chargers. And its weatherproof, robust design means it can be fitted outdoors or in a garage, and is safe to be driven over.
For all its convenience, there is an obvious downside to using a wireless set up. It isn't as efficient as plugging in to a wall charger. BMW claims the GroundPad has an 85% efficiency rating, which is approximately 5% less than a wired connection.
It also emits ambient radiation, but BMW says that the device automatically switches off if pets or suchlike approach it. Here's hoping customers don't have mice in their garage…
Tweet to @squarejames Follow @squarejames