Supersport supercars: going bonkers in Belgium with a Mercedes-AMG GT
A mighty bruiser barges its way to Zolder and back (not me; the car)
ONCE A year the Caterham Supersport Championship circus pitches its big top in a foreign clime. Last year it was Zandvoort in Holland; this year it was Zolder in Belgium. Infamous as the circuit at which Gilles Villeneuve lost his life in 1982, Zolder is fast, unforgiving and occasionally brutal. Last time I raced there, two years ago, I was T-boned at 70mph, an accident that destroyed the car and nearly destroyed me.
So it was with mixed emotions that I pointed the Mercedes-AMG GT towards Dover and began the third chapter of my supercar odyssey.
For the past two seasons I've been racing a Caterham Seven, backed by The Sunday Times Driving, in the sports car maker's Supersport Championship. I'm driving to each of the seven rounds in a different supercar, in the hope of definitively cracking that perennial topic of pub banter: what should a racing driver drive?
After the hybrid sophistication of BMW's i8, which eased me out of London to Brands Hatch, and the rabid performance of McLaren's 650 Spider, which I took through Wales and up to Anglesey, the GT seemed an appropriate choice for what was undeniably a grand tour.
The first Merc not to pay homage to Karl Benz (his name has been replaced with "AMG" on the cars that come out of Mercedes' skunkworks division), it's also most un-Mercedes-like in its demeanour. In truth, it's a bit bonkers.
---
View the Mercedes-AMGs for sale on driving.co.uk
---
There's a deliberate nod to the classic Mercedes-Benz 300 SL — the "Gullwing" — though it has just as much in common with an American muscle car. You sit low and peer out through a letterbox of a windscreen across a vast expanse of bonnet. In the interests of weight distribution, it's front-mid-engined: the 5.5-litre twin-turbo V8 resides just in front of your toes.
My car was a standard GT, rather than the more aggressive S or the loony R. The R has 121bhp more than the standard car's 456bhp. Top speed is a paltry 189mph, and 0-62mph takes a languid 4 seconds. How would I cope?
Recognising that most customers are more likely to be bankers than racers, Mercedes has tuned the GT to be fun at low speeds. An old-school V8 rumble is scarcely compromised by the turbochargers, and the enthusiastic steering demands concentration.
This is a rear-wheel-drive bruiser with more than enough grunt to overpower the back end if you're Captain Leaden Foot. The cockpit is a patchwork of parts plundered from other Mercedes models. It doesn't feel nearly as hi-tech or sophisticated as the rival Audi R8, but it's in tune with the AMG character. It's also more practical than the R8.
"This really is a tool for a fortnight's sojourn in the south of France, rather than just a dirty weekend in Norfolk"
After the travails of trying to fit race kit in the McLaren, the GT was a revelation. This really is a tool for a fortnight's sojourn in the south of France, rather than just a dirty weekend in Norfolk. Even the ride, while firm, is never uncomfortable.
So what's not to like? The steering could benefit from more weight and feel. Above 150mph (on a German autobahn) it demanded real concentration to maintain a straight line. The seats lack support, feeling designed for the aforementioned bankers, and if you drive enthusiastically, the GT guzzles fuel. But that's about it.
At £97,210, the standard GT undercuts the Porsche 911 Turbo (£126,925) and the Audi R8 (£119,520) by a considerable margin, although the BMW i8 is similarly priced. More to the point, it offers something different from its rivals.
---
Browse NEW or USED cars for sale on driving.co.uk
---
The great thing about using a car such as this for a hectic race weekend is that you actually get to live with it properly. It's a different experience from a road test or a car launch, where you get to spend prescribed time in a manicured model. In this test, the GT was dumped on a ferry, was parked outside during a violent storm and had to cope with being driven home by a frustrated racing driver.
That it handled all these things with aplomb is a tribute to the Merc mavericks in the AMG department.
The race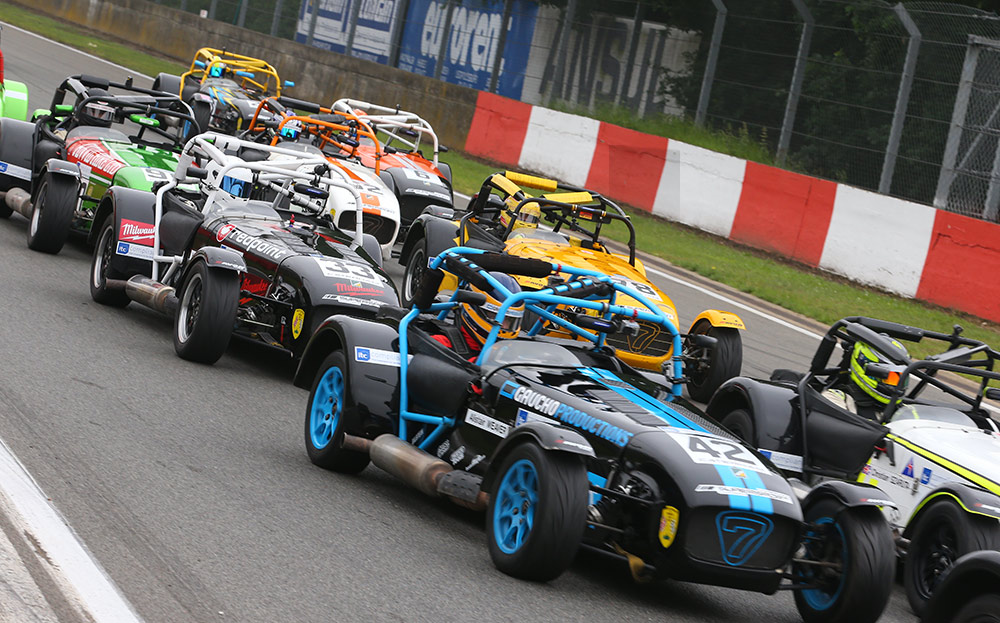 Just under 2½ miles of high-speed thrills, Zolder, in northeast Belgium, is my kind of circuit. Thirty-four identical cars entered the Supersport race, which made qualifying near the front critical.
The whole field is sent out for a 20-minute session, during which your best lap counts. It's a nervous time, with everyone fighting for position. You want a good slipstream from the car in front, but at the same time you don't want to get held up.
There's even scope for skulduggery: if you know you're not on for a good time, you might just brake a bit early, spoiling the lap of the car behind.
I qualified fourth and got up to third early in the race. For the next 25 minutes of the half-hour race, I waged a mighty scrap for the final podium place. To the outside observer it can look like madness: you're doing 120mph in an aluminium bathtub, just inches from a lunatic intent on beating you to the line. From the inside, though, it all seems normal. You're just driving around, doing your thing, trying to relax.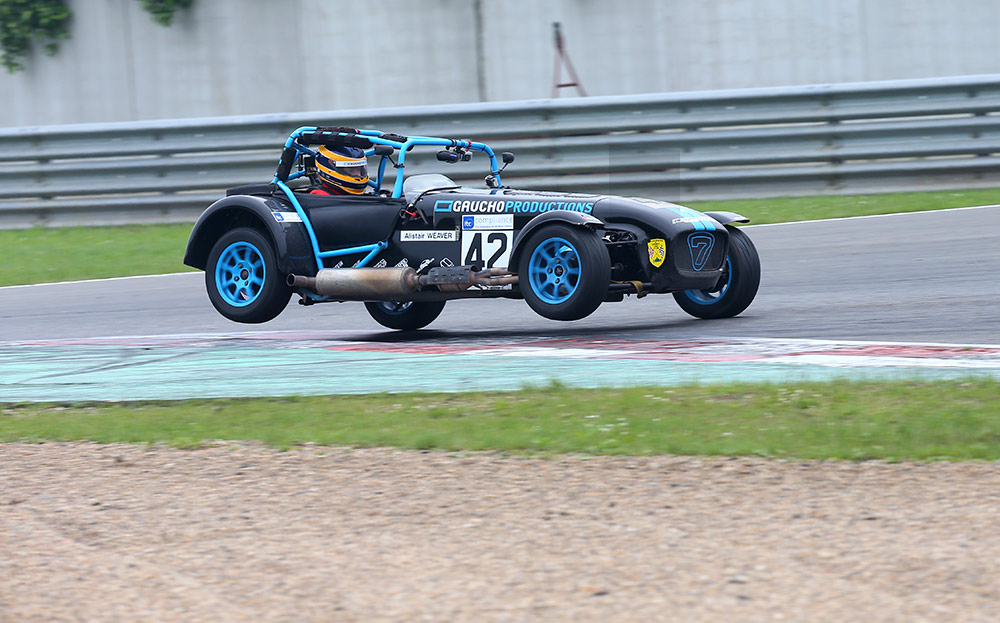 It was shaping up to be my best race, but as I tried to retake third along the starting/finishing straight, I got squeezed towards the pit wall, missed my braking point and ended up on the "marbles". If you're a Formula One fan, you may have heard this expression: just off the racing line, the track becomes covered with bits of rubber scraped off the soft racing tyres. It looks like tarmac; feels more like ice.
I lost the back end and pirouetted into the gravel trap. Race over. If you ever want to know how much adrenaline flows through your body in such moments, take a peek at the video below. You can see my heart beating through my racing suit.
A DNF (did not finish) in race 1 meant starting at the back in race 2 a day later. I had the bit between my teeth and did an awesome first lap, overtaking a dozen cars. With 20 minutes gone, I was up to 10th and just 3.5 seconds off the lead.
Then disaster struck. The car in front hit the brakes earlier than expected and, tucked up behind, I hit him in the derrière. The impact broke my radiator and forced me out of the race.
Back in the pits, the post-mortem started. In racing you're responsible for the damage to your own car only. If you are whacked by another driver, you pay for your repairs, even if it's not your fault. That makes an accident doubly painful. In this case my rival Nick "Porky" Portlock and I blamed each other. "What happened? You braked really early," I said. "You hit me, buddy — that's what happened!"
Thankfully, in such moments, an independent adjudicator is on hand to decide who is at fault. Given that we're all required to carry cameras, there's nowhere to hide. If you're found guilty, you can be excluded from the race and even fined.
I studied the video evidence with Peter Daly, clerk of the course for the Caterham championships, and pointed out that Porky had braked probably a mile too early for the corner. Daly nodded thoughtfully. "I'm calling this a racing incident," he said. "No penalties." In other words, it was 50:50. Six of one; half a dozen of the other.
There's an unwritten rule in our championship that grudges are not allowed to fester. Since the race, we've argued about it some more on Facebook, and the publication of this article will no doubt, errrr, stimulate fresh debate. This is all part of racing, and come the next round, at Snetterton, we'll have a man hug and move on.
I say this not just because it's the right thing to do, but also because he's much bigger than me.
Click to read the other parts in Weaver's Supersport Supercars series
Race photos: Jon Bryant, snappyracers.com