Sharp increase in drink-drive casualties
A "disturbing upward trend" after decades of decline
---
Published 15 February 2018
MINISTERS are under pressure to cut the drink-drive limit after figures showed that the number of people killed or injured in alcohol-related accidents has risen by its largest margin in 15 years.
There were 9,050 casualties in 2016, up by 7% in 12 months, provisional figures from the Department for Transport showed. They included 240 deaths and 1,260 serious injuries.
Motoring groups said that drink-driving accidents were on a disturbing upward trend after decades of decline.
---
Browse NEW or USED cars for sale
---
The number of casualties recorded in 2016 was the largest annual rate of death or injury in four years and the largest year-on-year rise since 2001 to 2002 (also 7%). The figures show that motorists in their twenties were proportionately more likely to be over the limit than any other age group.
The RAC and AA claimed that drivers were able to get away with breaking the drink-driving laws because of a steep drop in traffic officers — research last year found that the number of officers had been reduced from 3,766 in 2007 to 2,643 to save money.
Ministers were urged to review the drink-driving limit in England and Wales, which is the highest in Europe.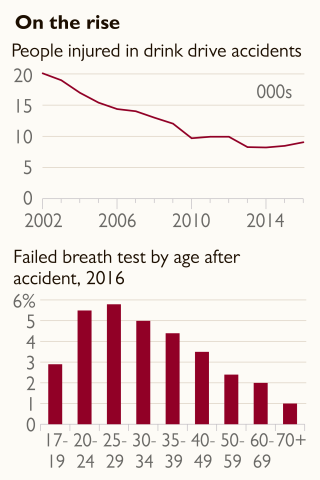 The limit of 80mg of alcohol per 100ml of blood has been unchanged since it was set in the 1967 Road Safety Act.
In Scotland the law changed in 2014 to cut the limit from 80mg to 50mg, bringing it in line with France, Germany, Italy, Spain and Ireland.
The DfT has refused to lower the limit in England and Wales, saying that Britain's roads are among the safest in the world and that a cut would risk criminalising drivers who have a lunchtime pint and drive home at night.
Pete Williams, RAC road safety spokesman, said: "The police also need to have the resources to robustly enforce the law and make our roads a safer place; the sharp fall in dedicated roads policing officers has surely not helped."
Jack Cousens, head of road safety policy for the AA, said: "Part of the problem for this increase is the number of hard-core drink drivers, those who are excessively over the limit. Potentially these are drivers that have behaved in such a manner for years and feel that they will never be caught."
The DfT said: "The number of fatalities has fallen by 44% over the last ten years, but we are determined to do more. Our hard-hitting Think! campaigns continue to encourage safer behaviour to reduce the number of people killed and injured."
Graeme Paton, Transport Correspondent
This article first appeared in The Times
Booze cruise: why it's rarely safe to drive the morning after drinking alcohol