Revealed: most popular car colours of 2017
Back in black
---
Published 15 January 2018
HAS THE gloomy economic outlook rubbed off on Britain's car buyers? Industry figures for the most popular new car colour show that black paint was the top choice for drivers last year.
The sombre shade overtook white, which was knocked down to third place after grey also showed an increase in popularity. White had been the number one choice for the past four years.
Despite outward appearances, none of the three most popular colours are chosen for reasons of frugality. On Britain's best-selling new car, the Ford Fiesta, drivers who opt for black or grey paint must pay a premium of £495, and white costs £250.
---
Browse NEW or USED cars for sale
---
More than half a million new car buyers chose black last year, according to the Society of Motor Manufacturers and Traders. Blue and silver rounded off the top five colours of the year.
Red, a primary colour that's often free with many makes and models, fell to sixth place. Green, orange, bronze and yellow made up the rest of the national top 10, with more buyers than ever before choosing orange and bronze.
The trend saw bronze enter the top 10 for the first time since 2011, replacing brown, demand for which fell by 33.2%.
Other fallers include pink, which – at 1,327 registrations – fell to its lowest level since 2011, and mauve, which dropped by 32.1%.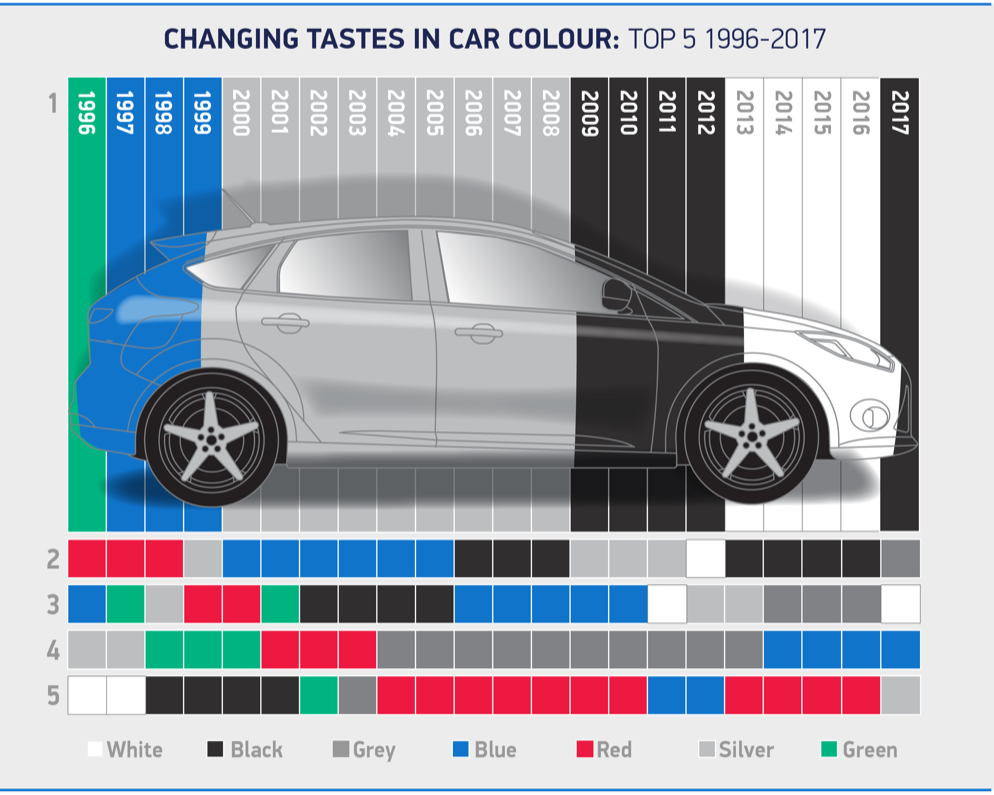 The fastest growing colour of 2017 was gold. Demand rose 19.1%, although it remains a niche choice making up just 0.2% of the market.
Black cars are more popular in southern England, whereas white is the pick in the north of England, Scotland, Wales and Northern Ireland.
Tweet to @squarejames Follow @squarejames