How to clean alloy wheels - and 4 of the best cleaning products
Keep your alloy wheels in tip-top condition
ALLOY wheels look attractive but they don't come cheap, so it's important to take care of them. If you're unsure where to start, don't worry — we'll talk you through how to keep wheels clean and protected, and the best alloy wheel cleaners to do the job.
How to clean alloy wheels
Recommended equipment:
Step-by-step instructions:
Spray your wheel with a pressure washer (or hose) to loosen up and remove dirt
Put on your rubber gloves, and spray your entire wheel with your alloy wheel cleaner
Leave the wheel cleaner for a minute or two (follow the instructions for the specific cleaner)
Scrub the wheel using a wheel brush
Repeat steps 2-4, if necessary
Rinse the wheel thoroughly to remove the cleaner and any remaining dirt
Dry the wheel using a microfibre cloth
Once dry, you may wish to apply a wheel wax or ceramic coating using a fresh cloth — this can help protect the wheel and stop dirt build-up
Leave the wax or ceramic coating for a few minutes (follow the instructions for the specific product)
Buff off using an unused microfibre cloth
Best alloy wheel cleaners
1. Bilt Hamber Auto-Wheel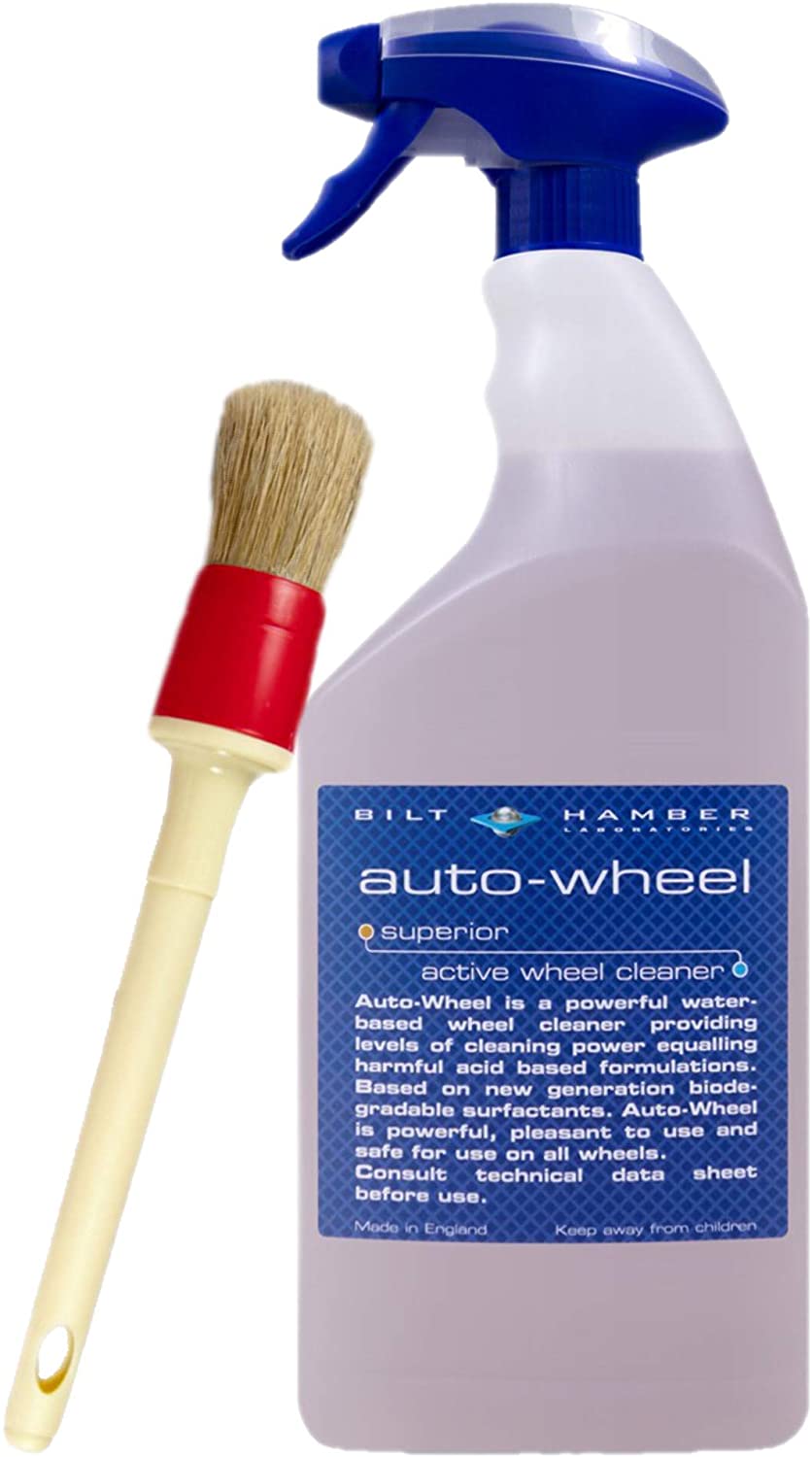 Bilt Hamber Auto-wheel Cleaner, £19.94 for 1L from Amazon — buy here
The Bilt Hamber Auto-wheel alloy cleaner consistently ranks top of lists such as these, and for good reason. It's been described as "the best wheel cleaner on the market", "black magic in a bottle" and "first class" by happy customers.
The solution is pH neutral, which means that it is neither acidic nor alkaline. This means that it won't disturb the finish of your alloy wheels, which are usually either lacquered or painted. The manufacturer also claims that, in 90% of cases, no agitation of the solution is required.
Customers are not the only ones satisfied with the product: Bilt Hamber Auto-wheel Cleaner was named best wheel cleaner at AutoExpress' product awards in 2017, 2018 and 2019.
2. TUGA Chemie Alu-Teufal Special Wheel Rim Cleaner

TUGA Chemie Alu-Teufel Special Alloy Wheel Cleaner, £19.78 for 1L from Amazon — buy here
Don't be put off by the fact that the instructions are in German, this alloy wheel cleaner has over 12,000 five-star reviews on Amazon from fans around the world.
The product has a gel-like consistency which enables it to cling to the surface of your alloys and dissolve the dirt. The solution is acid-free and has been described as "extremely effective" at removing medium and heavy stains like brake dust.
One review states "This is the best wheel cleaner I've ever used and I've had a LOT over the years". The product changes to a magenta colour when applied, and many have said you won't need a second application as it does such a good job. Make you wash it off thoroughly with a pressure washer though.
3. Meguiar's Ultimate All Wheel Cleaner

Meguiar's Ultimate All Wheel Cleaner, £17.50 for 709ml from Amazon — buy here
Similar to TUGA Chemie's option above, Meguiar's wheel cleaner has a gel-like consistency, which clings to your wheels for enhanced cleaning.
It's pH balanced (acid free) making it safe to use on all wheels, and it turns purple when you apply it as the formula reacts with the iron in the brake dust.
It has rave reviews on Amazon with customers describing it as a "miracle in a bottle", "the greatest wheel cleaner since the dawn of time" and that it has "incredible cleaning power for wheels".
4. Simoniz Ultracare Alloy Cleaner

Simoniz Ultracare Alloy Cleaner, £4.09 for 500ml from Euro Car Parts — buy here
The Simoniz Ultracare alloy wheel cleaner is another AutoExpress product award winner, picking up awards in 2015, 2016 and 2020.
This acid-free alloy cleaner is guaranteed not to corrode wheels — it's even written on the bottle. It comes in slightly cheaper than the other options above at roughly £8.20 per litre, and has been described as "value for money" by satisfied car owners.
One review reads "Ideal if you keep on top of your wheel cleaning and are just giving a general wash." If your wheels require a deeper clean or have a build up of brake dust, then we'd recommend opting for one of the three options listed above instead.
What's the best alloy wheel cleaner?
The Bilt Hamber Auto Cleaner consistently ranks at the top of these types of lists. However, you can't go wrong with any of the alloy wheel cleaners we've listed above.
How to make homemade alloy wheel cleaner
We recommend that you invest in a cleaner that is specifically designed to clean alloys, like the ones listed above. However, if you're on a budget or in a hurry then you can make do with some items from around the house. For example, you can mix the following ingredients to make a cleaner:
Juice of 1/2 lemon
2 tablespoons of baking soda
1 litre of water
60mls of white vinegar
How to repair alloy wheels
If you're planning on repairing your wheels yourself, you'll require an alloy repair kit. For a full tutorial, read our guide repairing your alloy wheels here.
Tweet to @ST_Driving Follow @ST_Driving
This article features products that have been chosen independently by Driving.co.uk journalists, and our reviews are unbiased. We may earn revenue if you click the links and buy the products, but we never allow this to affect our opinions.
Read more
– If you enjoyed our rounded of the best alloy wheel cleaners, then might like our roundup of the best steering wheel locks.
– Sales of new diesel and petrol cars will be banned from 2030. Here's everything you need to know.
– Call all Lego fans, we've rounded up the best lego car sets to build this year.
Latest articles