How to repair alloy wheel damage
Claim victory in the kerb wars
---
Published 22 December 2021
HIGH KERBS, careless driving, cavernous potholes… these and countless other perils are the enemies of alloy wheels, the most attractive thing about many cars.
Don't panic if your wheels have taken a knock, here's everything you need to know about repairing alloy wheel damage.
DIY repairs: How to repair alloy wheels yourself
Everyone kerbs a wheel at some time. It's possible to repair light damage with an over-the counter alloy wheel repair kit comprising sand papers, a filler, primer and paint. You may want to apply a lacquer on top, depending on the wheel's finish.
Such kits demand a combination of patience and luck on the user's part: the patience to prepare the wheel properly and paint it without causing any of the paint to run, and luck that the paint colour you choose matches the wheel.
Step by step process
Clean the wheels thoroughly to remove dirt and grease. Tip: washing up liquid works well
Use the sandpaper to remove damaged paint and flatten chips
Wipe away any dust
Mix the putty and fill in the damaged area – make sure the surface is as level as possible
Leave to set
Once fully dry, use the sandpaper to sand the filler until flush. This step takes time and patience
Wipe away any dust with a damp cloth
Apply masking tape around the damaged area
Apply the primer and wait until dry
Apply light coats of the paint, waiting for the paint to dry in between coats, until happy with the finish
If your kit contains a lacquer, apply this now. Apply a light coating and allow to dry.
Note: If your repair kit doesn't contain a lacquer, you can choose to purchase it separately.
Matt Richardson, Driving's photo editor, worked on scuffed alloys he bought on eBay and explains the process at the bottom of this page. It cost Richardson £25 and is certainly worth trying yourself. A set of smart alloy wheels can suggest the rest of the car is in order, while also helping to make it easier to resell.
"Shabby alloys really harm a car's appearance and can make it harder to sell," says Mark Norman at CAP, the used car valuation guide. "Buyers know a set of four damaged alloys can easily cost over £200 to repair. It's difficult to put a value on [a good set of] alloy wheels but a smart set won't harm a car's resale prospects, as well as making you feel better about owning it."
Alloy wheel refurbishment: When to call in the professionals
But while a DIY repair such as Richardson's is fine for mild damage, you're probably looking at calling out a mobile wheel refurbishment company to repair anything more serious such as a bent wheel, extensive kerbing, corrosion and fractures. You'll pay around £50 per wheel. The advantage is that they'll do the work at your place and probably in the same day, so you're not massively inconvenienced.
For anything more serious, or if you have a premium car and expect your repaired wheels to look like new and be as well protected as the day they were forged and painted, you may have to consider the services of a business such as LKQ Coatings, [pictured working on a wheel, right] or Lepsons in Gillingham, Kent.
Lepsons repairs around 700 alloy wheels each week, of which 100-150 have been damaged by potholes.
"Most of our business is with the motor trade but just this morning, we've had five members of the public arrive with wheels bent by deep potholes," says Andy Leppenwell, the general manager.
Typically, a deep pothole bends a wheel out of alignment but it can also render it irreparable. A less serious impact, that might distort the rim where it touches the tyre, can have equally serious consequences by causing a slow air leak that might not immediately be detected by the driver.
Lepson's repair process is a little more intensive than a simple DIY job. The wheel is immersed in a chemical bath to expose the bare alloy. It's checked for cracks, washed off and then primed. It's rechecked, then painted and the wheel baked at 200deg F before, finally, being lacquered and baked again at 230deg F.
At the end of it all, Lepsons claims you have a set of wheels as good as the day they left the factory. Now all you've got to do is avoid kerbing them. And we all know how hard that is.
Alloy repair on a budget
Matt Richardson, Driving's photo editor, bought four used alloy wheels on eBay. The wheels were quite badly marked and needed repairing but since the whole idea was to save money, he was keen to do the job himself. Here, he explains the process:
TO MAKE switching to cold weather tyres easier in winter, I bought a set of cheap but tatty alloy wheels from eBay for my BMW. Although they were very scruffy, refurbishing only took a morning.
I bought a kit over the counter at a car maintenance store (view an example of an alloy wheel repair kit on Amazon). It included some sandpaper for removing damaged paint and flattening over the chips, but I used my own heavy grit sandpaper as I found it did a better job.
After sanding down I wiped off the dust. Then I mixed the putty, which was supplied with the kit, and filled over the dings until there was a level surface before leaving it to cure.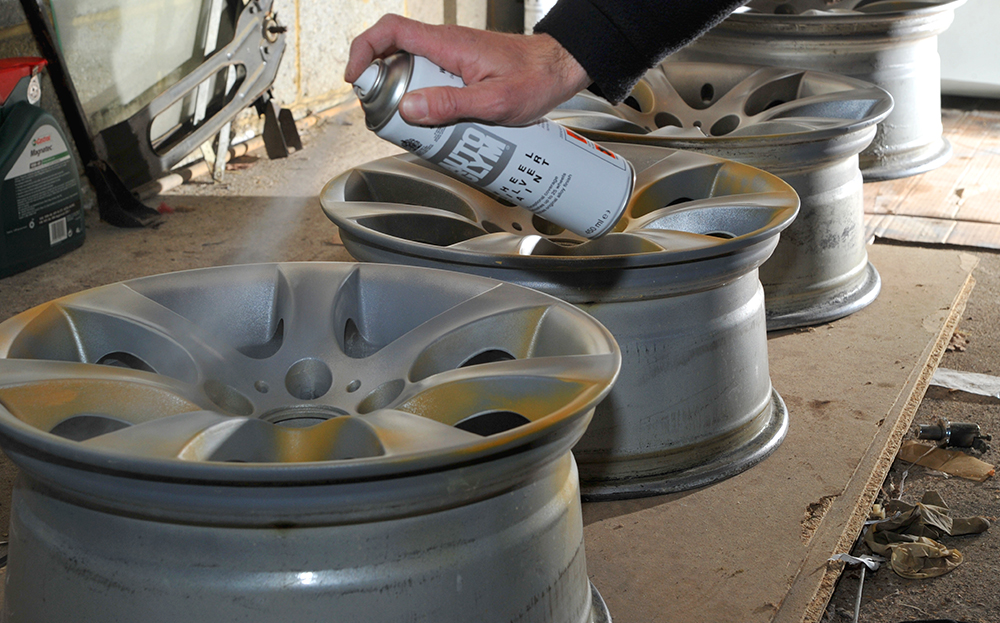 Sanding the filler flush with the alloy was the hardest job. Getting it as close as possible when you first apply it saves a lot of time later.
Another wipe, this time with a tack cloth to get all the dust off and then I gave a coat of etch primer (an acid-based undercoat, supplied with the kit) to give the silver paint a key and to highlight any imperfections I'd missed with the filler. There were a couple so I refilled, sanded and primed until I was happy with the result.
A final rub down with very fine sandpaper, another wipe with the tack cloth as any dust might show through, and then I built up several light coats of alloy wheel paint (heavy coats tend to run) and left them to dry.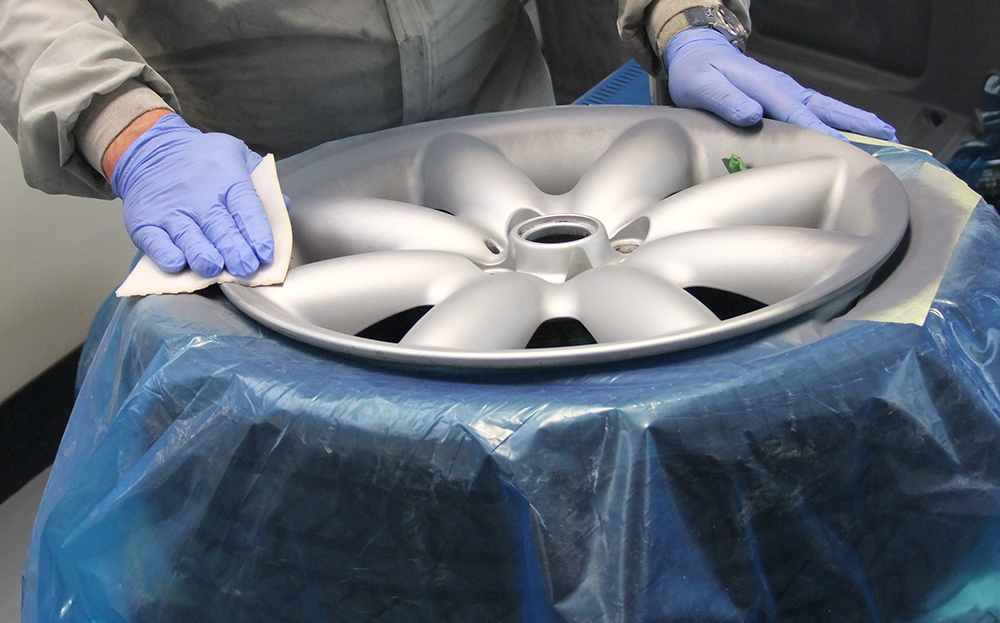 Finally, to get a finish closer to my car's original finish, I sprayed on a coat of lacquer (also available over the counter) and once it was dry, I had a set of new-looking alloys ready for my winter tyres.
How much does alloy wheel repair cost?
If you choose to repair the damage yourself, you'll need to buy yourself an alloy wheel repair kit which will set you back around £25-£30.
Whereas, if you call in the professionals you'll be looking at a repair cost of around £50 per wheel or £200 for the full set.
How long does it take to repair alloy wheels?
If you're repairing your alloys yourself, you'll want to set aside a morning or an afternoon to complete the job.
If you've opted to have them refurbished by professionals, it will depend on the company you choose and the condition of your alloys. Some will be able to get them back to you within 1-4 hours and others may take one working day or longer.
Where to buy alloy wheel repair kits
There are several places online and in-store that you can purchase alloy wheel repair kits, including:
How to clean alloy wheels
Once you've repaired your alloy wheels, you'll likely want to keep them in tip-top condition.
Read our guide on how to clean alloy wheels, and the best cleaning products to use here.
Tweet to @ST_Driving Follow @ST_Driving
This article features products that have been chosen independently by Driving.co.uk journalists, and our reviews are unbiased. We may earn revenue if you click the links and buy the products, but we never allow this to affect our opinions.
Read more
Latest articles