News: Runaway bus crashes into house as driver tries to get back on board
Not the door-to-door service passengers dream of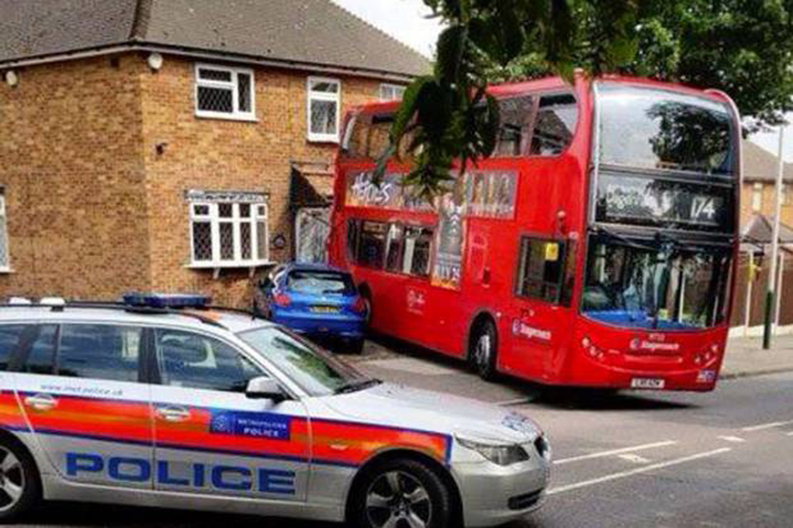 BUS DRIVERS around the UK will be double-checking they've engaged their vehicle's handbrake this afternoon after the front of a house in Harold Wood, Dagenham was destroyed by a runaway double-decker. The vehicle rolled backwards into the building as its hapless driver ran after it in a vain attempt to get back into the cab.
It came to rest in the front of the house, crushing the property's double-glazed porch and seriously damaging a car parked on the driveway. The bus narrowly missed hitting 14-year-old twin girls who, moments earlier, had been walking by.
Shocked onlookers described seeing the no.174 bus, which was empty at the time, picking up speed as it rolled backwards without a driver for 20 yards. It had been in a spot popular with bus drivers who use it to turn their vehicles around. As the bus gained speed, one of the drivers gave chase but couldn't keep up.
"The driver was in a deep state of shock," said a local resident who had witnessed the scene. "He said he had turned the ignition off and put the handbrake on. He had got off and was talking to another driver when the bus started moving."
Another bystander said: "There was a huge sound of crunching metal. I ran out and saw the bus embedded in the house."
Transport for London is checking the bus's onboard CCTV and as part of its investigation will be looking to see if the handbrake was engaged.
The bus driver suffered shock and minor injuries, and was taken to hospital for treatment. The house was boarded up and its owners, who are believed to be on holiday, have been informed about the incident by neighbours and family members.
---
Click here to search for used cars on driving.co.uk
---