New Mercedes E-Class revealed ahead with hybrid power, smoother body and high-tech cabin
Just beats the new BMW 5 Series to the punch
An all-new Mercedes-Benz E-Class executive saloon has been revealed with hybrid power and a boost in the level of technology on board.
This sixth-generation E-Class, codenamed the W214, is being shown off just weeks before BMW unveils its arch-rival, the all-new 5 Series.
Merc's latest effort has an evolutionary look when compared to its predecessor, with an obviously new grille and a different headlight design. There are LED taillights, too, and these feature a three-pointed star motif.
Although initially revealed as a saloon, the E-Class will be offered once more as an estate. However, the E-Class Coupé and Cabriolet models won't be making a return, according to Mercedes. Instead, the German car maker is launching the CLE-Class, which will also replace the two-door versions of the smaller C-Class.
New 'Superscreen' inside
New E-Class gets a brand-new interior featuring the latest technology inspired by the larger S-Class limousine.
However, while the big model can be had with a vast 'Hyperscreen' dashboard layout, the E-Class features what Mercedes calls an optional 'Superscreen' system. It's not as big as the Hyperscreen but features a large central display with smaller screens on either side for the driver's dashboard and the front-seat passenger.
It runs the company's latest MBUX in-car entertainment and connectivity, so will offer high-resolution graphics and clever tech, such as a digital key so you can unlock and start the car via your smartphone, augmented reality navigation instructions and fingerprint ID for cabin pre-sets.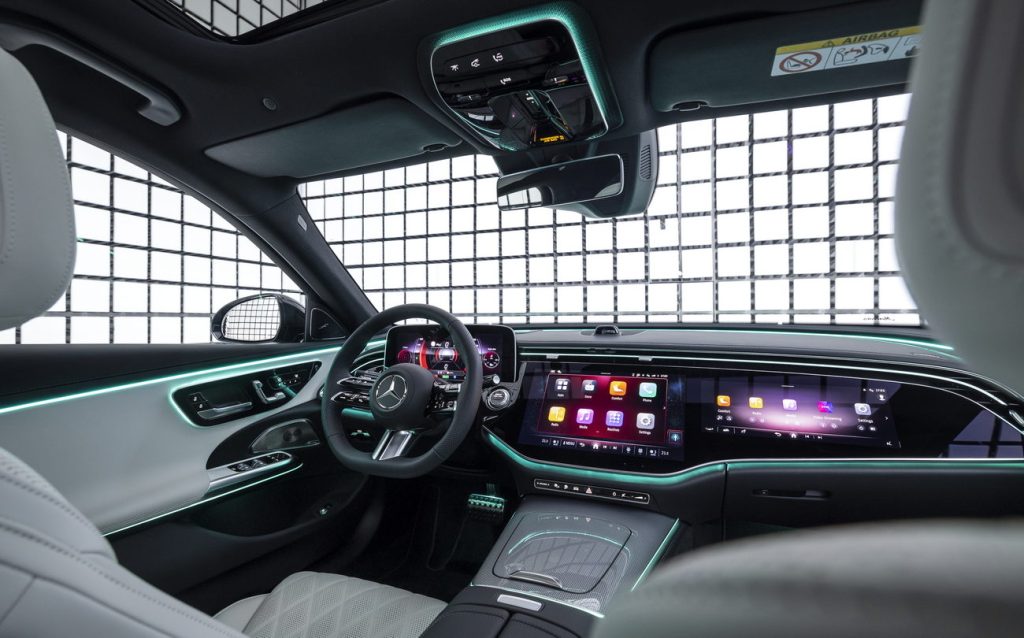 An increase in exterior dimensions means there's more space than ever inside for passengers, although room in the boot stays the same as before, with up to 540 litres on offer. The plug-in hybrid models have less boot space.
Available as options are Airmatic air suspension with adjustable dampers, and rear-wheel steering to boost agility and manoeuvrability at lower speeds.
All-hybrid powertrains
All engines now come with hybrid assistance, and they are all based on a 2-litre four-cylinder layout.
The E 200 features a turbocharged petrol engines producing 201bhp and 236 lb ft of torque plus and electric motor adding another 23bhp and 151lb ft. This mild-hybrid set-up results in a 0-62mph time of 7.5 seconds, official fuel economy of 38.7-44.1mpg and emissions of 166-144g/km, depending on specification.
The diesel-powered E 220 d has a 194bhp/ 325lb ft four-cylinder engine and the same electric motor as the petrol car. This combination results in a similar 0-62mph time of 7.6 seconds but greater fuel economy of 51.4-58.9mpg and lower CO2 emissions of 143-125g/km. The E 220 d is also available with 4Matic four-wheel drive. All models are automatic.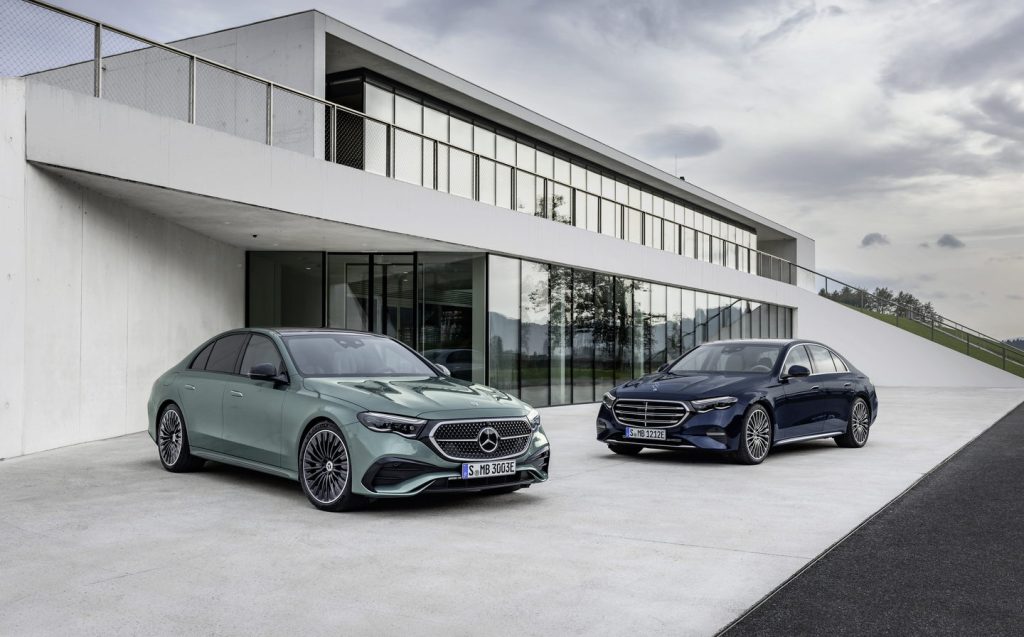 Along with the mild-hybrids, there are three plug-in hybrid models at launch, too. The E 300 e uses the same engine as the E 300, but adds a large high voltage battery with a capacity of 25.4kWh battery and a more powerful electric motor (127bhp/ 325lb ft). The result is a maximum output of 308bhp and 406lb ft along with a pure-electric driving range of between 60-71 miles and fuel economy of 353-565mpg, according to the official figures. As ever with a PHEV, though, real-world fuel consumption will depend entirely on how often the battery is charged up. This is made easier thanks to a standard-fit CCS rapid-charging socket.
Four-wheel drive is offered as an option on the E 300 e, while it's standard for the more powerful E 400 e. This version uses the same engine, battery and electric motor as the E 300 e, but the petrol engine has been tweaked to produce 248bhp and 295lb ft, so there are system maximums of 375bhp and 479lb ft on offer. Despite the boost in power, the car's fuel consumption and electric range match the E 300 e 4Matic, at 314-471mpg and 59-68 miles, respectively.
An E 300 de diesel plug-in hybrid will be revealed later this year, as will new range-topping AMG models.
Prices for the launch line-up will be confirmed closer to the car's UK on-sale date later in 2023, but are expected to start from approximately £50,000. All trim lines are expected to be based on the AMG Line specification.
Related articles
Latest articles