Mercedes-Benz S-Class 2021 review
Full impulse ahead, ensign, and check the temperature in my house while you're at it
---
Published 17 September 2021
THE MERCEDES S-Class gets harder to review with every new generation. It's more than a limo designed to haul VIPs from business meeting to business meeting — it's a technological showcase on wheels, with so many gadgets and innovations that you begin to think the hardest job in Stuttgart is writing the S-Class's manual. Just going through the 86-page press pack, which has two pages dedicated to the front seats and a separate page for the door handles, takes an age.
But let's have a go at distilling its essence into easily-digestible chunks.
Exterior design and rivals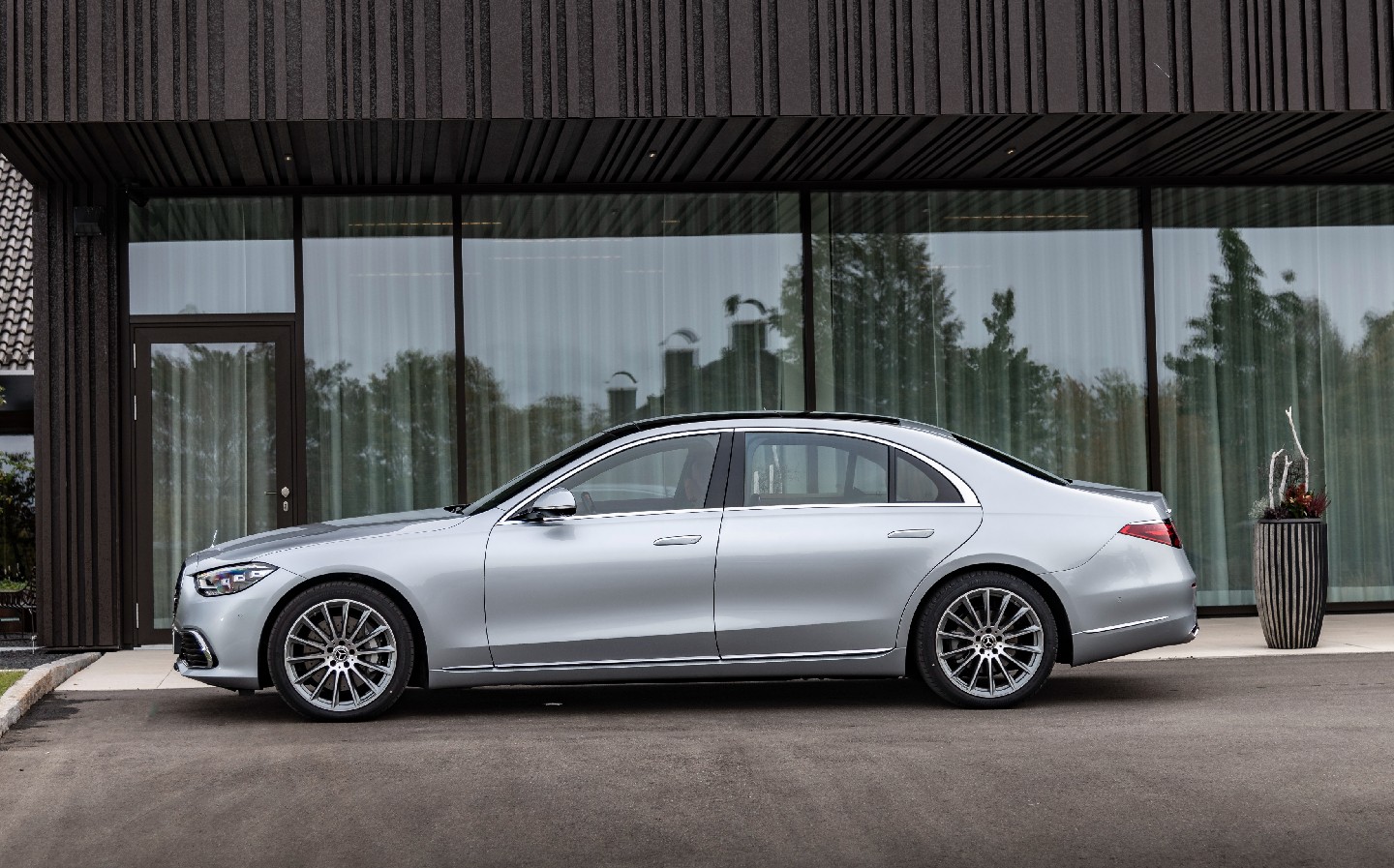 For most people the look of the new S-Class won't appear to have greatly changed over the car it replaces, but the headlights and grille are clearly revised, as are the rear lights.
But Mercedes says it spent a great deal of time fettling the aerodynamics to improve efficiency and reduce wind noise, including channeling a mixture of hot and cold air from the engine bay through vents in the wheelarches, to help improve airflow along the sides and underside of the the car.
Airflow around the rear spoiler is also improved,  aero wheels and optional flush door handles have been introduced, and the side mirrors redesigned to further reduce noise. Mercedes's fanatical efforts to this end even include changing "the position and airflow angles of the aerodynamically shaped cladding on the rear spring control arms and the fuel tank guard", using computer simulations and wind tunnel testing.
In other words, while it looks like a very similar three-box luxury saloon, huge amounts of work has gone on under the skin of the new S-Class.
Rivals are unchanged, though; as ever they include the Audi A8, BMW 7 Series and Maserati Quattroporte. The ultra-luxury Mercedes-Maybach version is gunning for Bentley Flying Spur customers, meanwhile.
Interior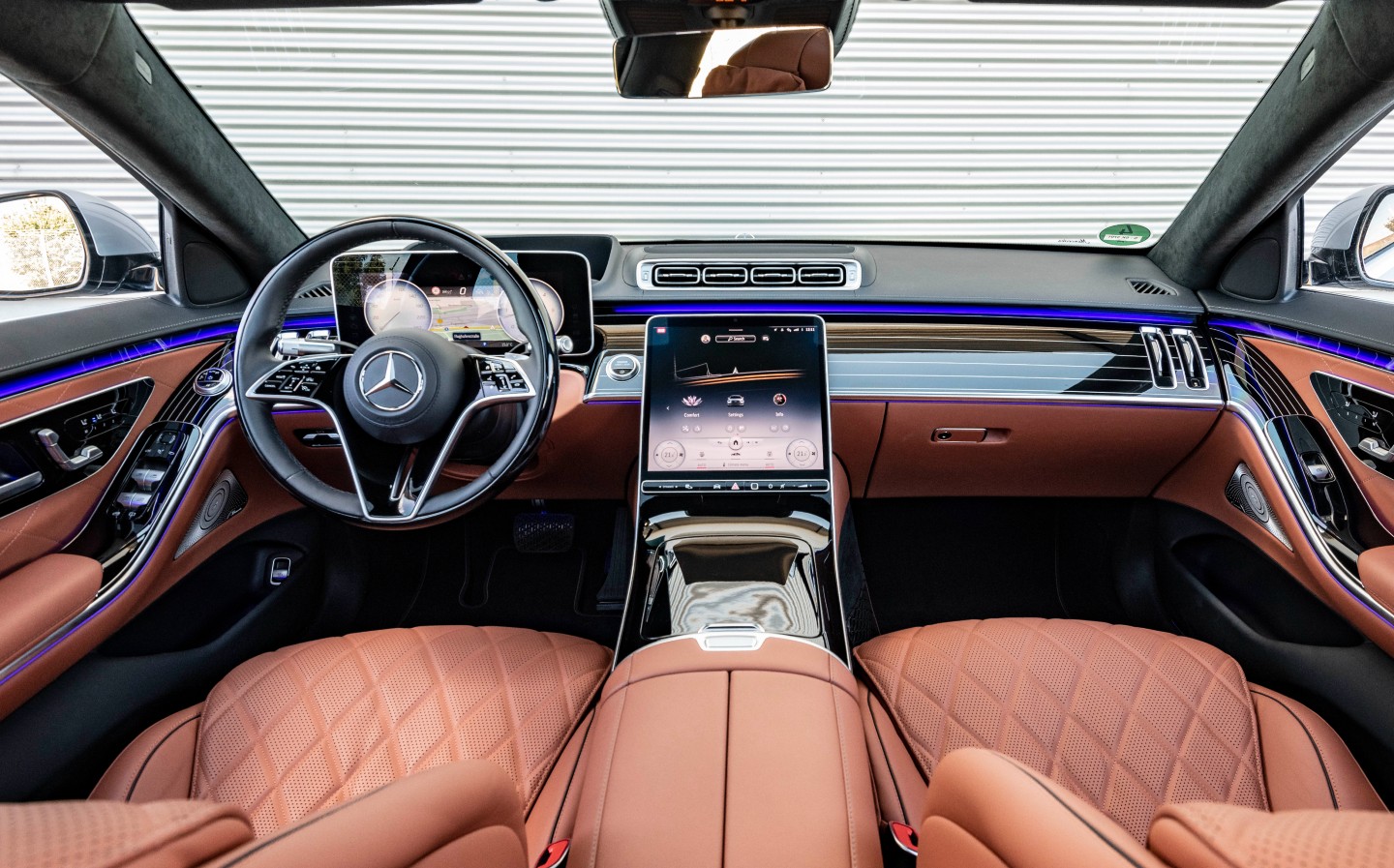 You would think that being a limo, the place to be in the S-Class is the back. And the rear of the car is pretty amazing in terms of the amount of space, comfort and technology available.
But up front there's even more to talk about. For a start, it looks like the bridge of the Starship Enterprise. It's so technologically advanced it's almost overwhelming, and a briefing was required from Mercedes' delivery driver (who turned out to be a current British Touring Car driver, but there's no time for that here) to help me get started.
Setting up a user profile involved recording of biometric data, including scanning my face and fingerprint, and recording a voice print by repeating certain phrases. Mercedes now probably has enough data about me to create a digital clone, in fact.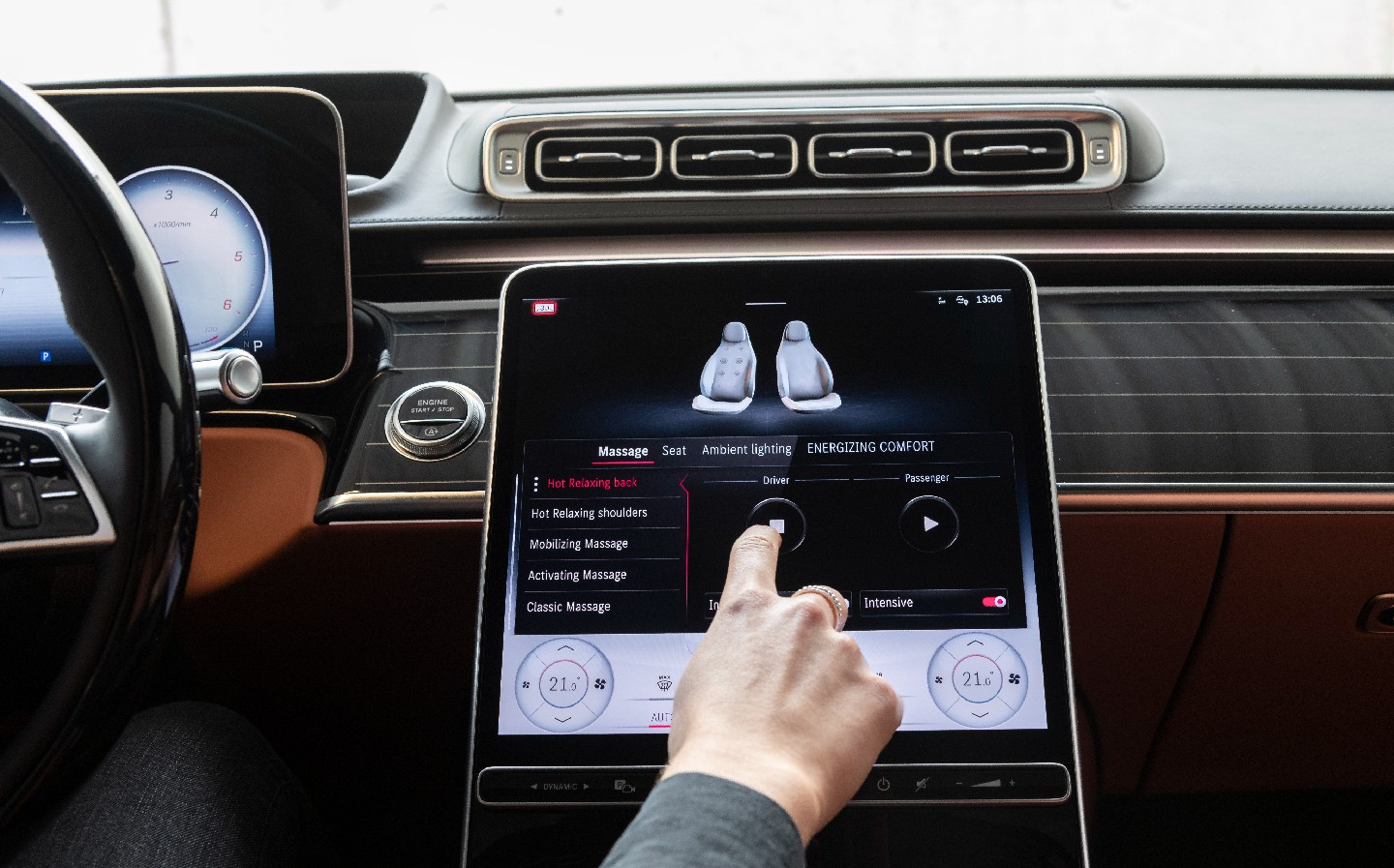 But let's start with those front seats that required a full two-page explainer in the press pack. Obviously they have heating and ventilation (cooling), plus multiple massage functions. You can turn all these things on by voice command, either by saying, "Hey, Mercedes" (or the equivalent in 27 different languages), or by pressing a button on the steering wheel.
But while the driver's seat is really well-cushioned and supportive in the sides, it was not quite tall enough for my 6ft 5in frame, so when I switched on the shoulder massage what I actually got was prodding just under the shoulder blades, which wasn't terribly relaxing.
Finding the lumbar support controls was a little bit tricky and, to be quite honest, it was not the most comfortable seat I've ever sat in. Which it really ought to be, this side of a Rolls-Royce or Bentley.
The three-spoke (or six-spoke, given that the blades are split in two) steering wheel is an attractive thing to look at and nicely laid-out. In front of that you find a large, super-sharp digital display, controlled via a touch sensitive button with haptic feedback on the wheel.
The head up display is one of the most advanced I've ever seen, with a great deal of customisation. The standard layout can be changed to a Sport display, a Minimal one or augmented reality.
The AR head-up display view, though, is not as useful as you might think. It's very early days for the technology but I haven't found one that improves the driving experience in any way. Volkswagen has one for its ID.3 and ID.4 electric cars, too, with floating arrows that grow as you approach sat nav turnings. I struggle to see the benefit and find the moving objects a distraction rather than helpful. Fortunately, Mercedes allows you to turn off the system.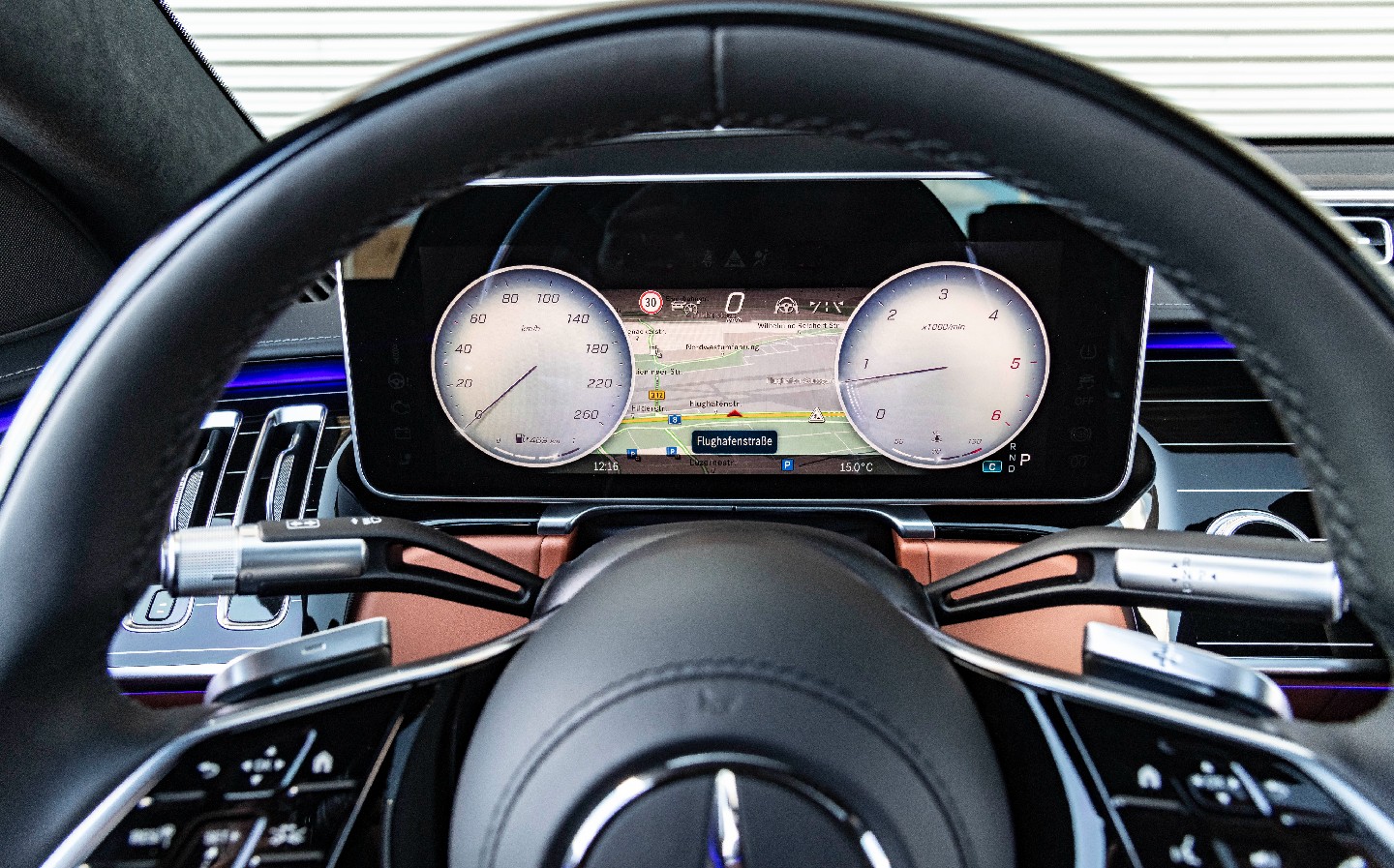 Worse, though, is the 3D technology available on the digital instrument binnacle, which adds depth so the dials appear to be closer to you than the trip computer in the centre, and navigation instructions gain an extra level of perspective. But although the car's internal cameras track the driver's eye movements to improve the experience, I also had to turn this off because it was making me feel nauseous. Technology is pointless if it's never used.
On a more positive note, the central infotainment display is large, beautifully designed and crystal clear. It's interesting that it's neither portrait-oriented nor landscape; it's near-enough a square.
It includes connectivity for not one but two phones. Mercedes supplied the car with an Apple iPhone wired in and I connected my own mobile — an Android phone — via Bluetooth as a second handset. You can set either to be your primary phone, which meant that when I climbed in, the car automatically launched Apple CarPlay via the iPhone, but I was able to cancel that and run Android Auto instead, if I wanted. Both can connect wirelessly, too.
Mercedes' own internal Sat Nav works really well, of course, should you not want to connect a phone at all.
Another clever bit of kit is the traffic light camera, which shows the lights in a pop-up on the central display when you stop at a junction; useful in case you can't see the signals from where you are sitting in the driver's seat.
Obviously, DAB radio is included, along with apps — for example a dash cam app, for which you need a USB stick if you want to record footage. You've even got vehicle displays that show you how much pressure you're putting on the brake; how much pressure you're putting on the accelerator in real time; engine torque, power and boost pressure; and the fuel consumption in a lovely little graph over time.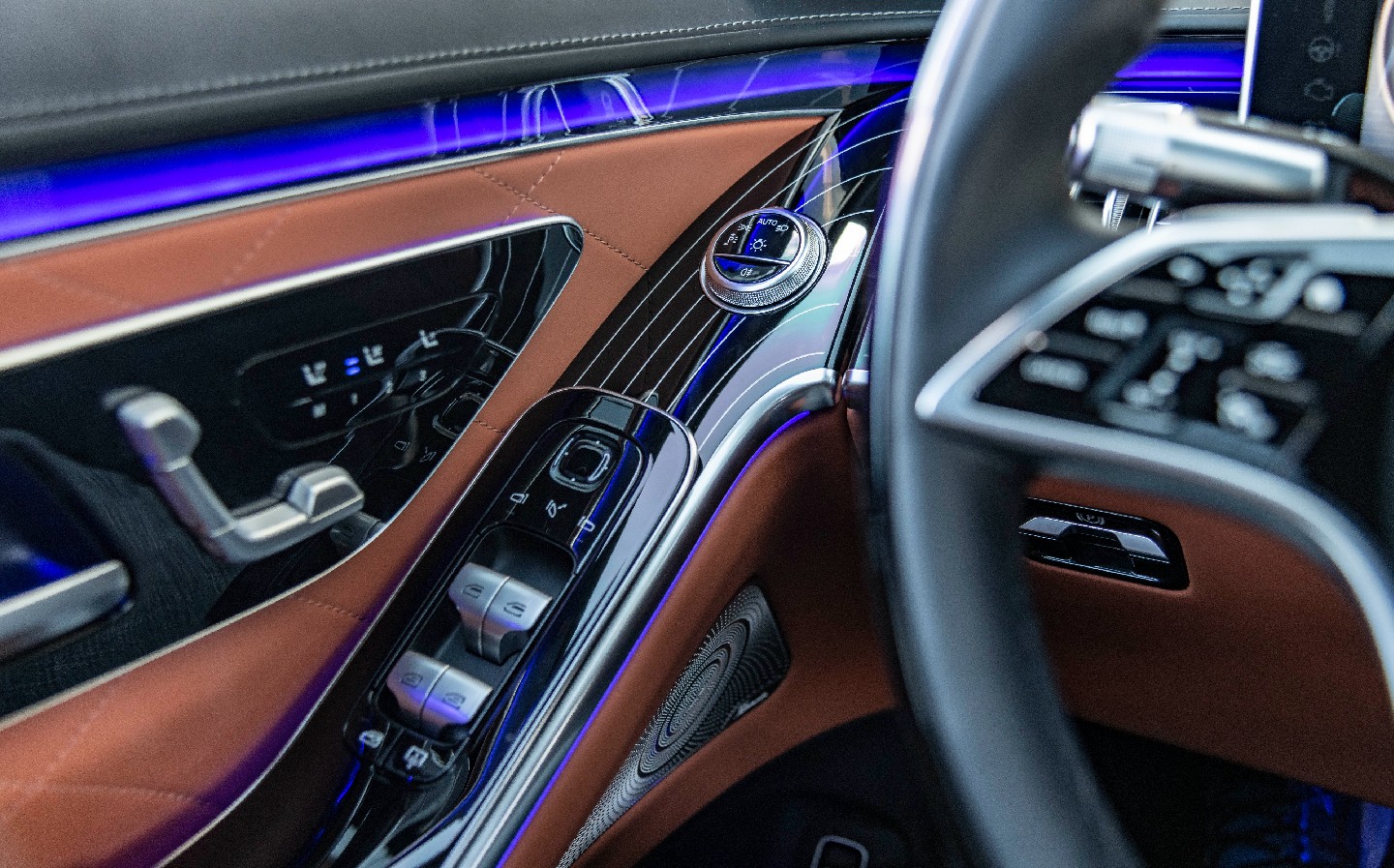 But if you lean back from all the dazzling high technology and clever features, and soak in the overall look and feel of the cabin, I'm afraid I found it rather ostentatious. And while the materials used I'm sure are very expensive, with real open-pored wood veneer, for example, some the aluminium switches and air vents don't look especially expensive. Dare I say it, some details have the look of a 1990s Bush or Goodmans stereo. I don't think it's the effect Mercedes was going for.
Making things worse, the aluminium air vents on the top of the dashboard reflect in the windscreen and, amazingly, the forward camera is located inside the windscreen and picks up the reflection, which means that when you get the traffic light camera you can see it on top of the image. Why didn't Mercedes pick this up in testing?
I didn't drive the car much after sunset but some unkind folk online have likened the interior at night to a 1980s neon nightclub, due to the active ambient lighting (which also gets its own page in the press pack). Mind you, that may be a big selling point for target customers, especially those in Asian markets, where, we're told, the blingier the better.
---
The view from the back
Jo Carrigan reports on the quality of the new S-Class cabin's rear seats, as she and her husband get a much-needed chauffeur experience following Covid-related wedding catastophes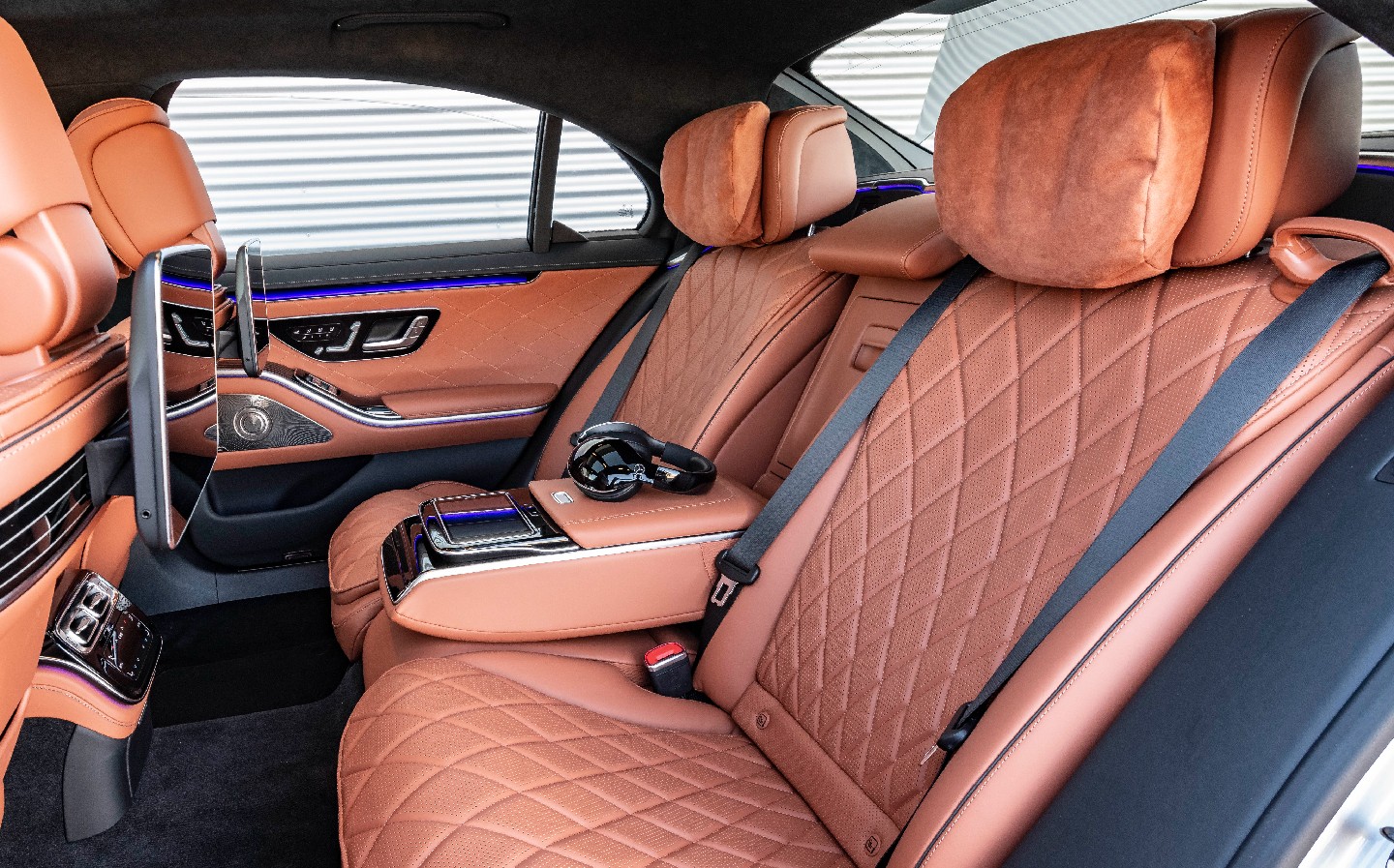 Our chauffeur, David, arrived at 10.15am sharp. As the sleek silver Mercedes S Class saloon pulled up in front of our home, the anticipation for this special journey was heavy in the air. A special journey, for a special occasion; a five times rearranged wedding celebratory meal at The Fat Duck, Heston Blumenthal's much-lauded culinary showcase, nestled in the heart of Berkshire.
Our covid wedding catastrophe makes for engaging dinner-party conversation. The original date, March 21, 2020, was called off with only 12 hours notice, after Boris Johnson announced the first lockdown on national television. We watched the disaster unfold while standing at our arrival drinks, champagne in hand … and then had to send everyone home.
The meal at the Fat Duck was booked as a wedding present but the restaurant had been impacted time and time again by tiers, lockdowns and surges.
But just as we finally made it down the aisle in December, with the arrival of David and the S-Class we were — at last — on our way to tick off this absolute bucket-list destination. And we were on our way in style.
Firstly, I should confess that this is not my usual standard of travel. As a seasoned Londoner, I'm more used to hopping on a tube than sliding into the backseat of an S Class. The absolute luxury of the heated, butter-soft leather seats and adaptive air suspension made the London streets flying by outside the window simply melt away. And inside felt like our own little world: a chilled glass of champagne, a soft electrically-adjustable recline (with more adjustment than on the old S-Class) and enough legroom to delight even my 6ft 7in husband.
Five rear seat configurations are available, with luxuries like an optional heated headrest cushion and calf-rests that unfold for the ultimate relaxation experience. A central tablet allows you to control massage functions for the seats and music from the 4D Burmester stereo — though we decided not to distract David by blasting out love ballads.
As we swept out of London and towards our destination, further qualities of the car revealed themselves. The ride was whisper-quiet, with the engine (we were served the S 350 d, rather than Will's S 400 d test car) and wind rushing past barely perceptible.
As we pulled in to the restaurant, though, I did have one complaint: that The Fat Duck isn't further away.
Jo Carrigan
---
Driver aids, safety and tech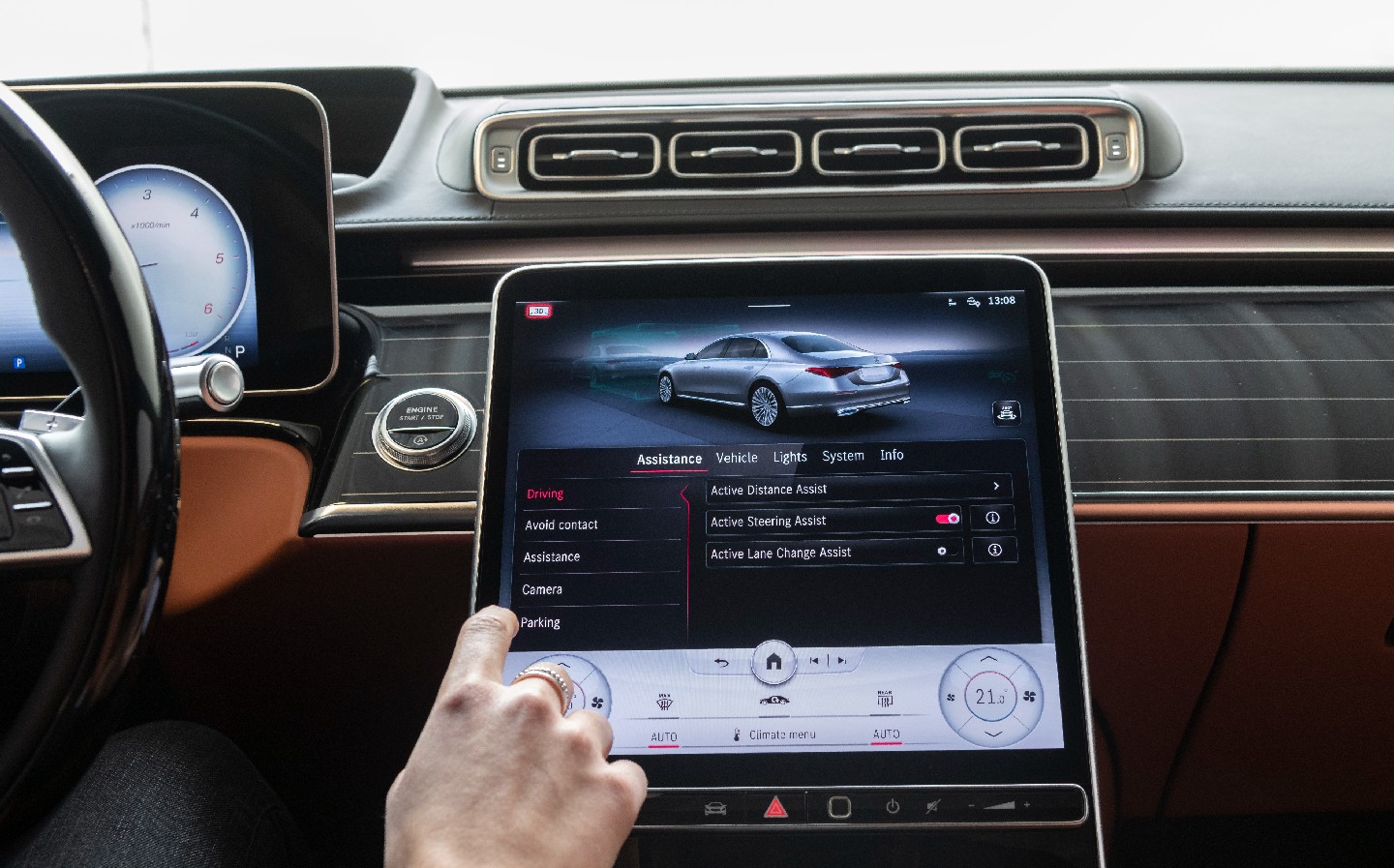 To say the new S-Class is smart would be an understatement. The voice recognition, which wakes with, "Hey, Mercedes," not only controls comfort and convenience systems in the car, such as heated seats, navigation and the stereo, but allows you to communicate with a smart home, too. If you have the right kit in your house, you can ask the car if anyone is at home right now and it'll let you know when movement was last detected. You can also adjust the household thermostat or switch lights on and off if you forgot to do so  before leaving the house.
The car scans the front of the cabin, too, and will recognise the size of a front passenger and can adjust their seat accordingly. It will also recognise if a driver is getting drowsy. And if a driver reaches across to the passenger side in the dark, the car will automatically switch on a searchlight to aid visibility. It will even know if a child seat is fitted in front without the belt being fastened, or if a hand is reaching for the door handle while an object is approaching from the side. This is Star Trek stuff for sure.
Advanced driver assistance systems include adaptive cruise control, steering and lane-changing, and whereas most cars determine whether a driver's hands are on the wheel by monitoring movement in the steering column, the S-Class instead has new sensors in the steering wheel rim to detect if hands are connected. That suggest Mercedes is aware of Tesla drivers who have fooled their cars into thinking they're paying attention by fitting weights to the side of the wheel.
However, Mercedes believes that the new S-Class will be able to drive itself on certain sections of autobahn from the second half of 2021, and similar ALKS rules in the UK are expected to be introduced later this year, too, which will mean drivers will be able to take their hands off the wheel for the first time, in a type-approved vehicle.
No doubt the new S-Class will achieve that certification. With its Driver Assistance package, which is now standard, comes five radar sensors (three at the front and two at the rear), five cameras and 12 sonar sensors, giving the car a complete 360-degree picture of its environment.
New features in the package include raising the speed at which the car can automatically avoid collisions with stationary objects in the road from 37mph to 81mph; improved lane recognition, centring and changing; the ability to switch lanes if an emergency stop is required and there's the space to do so; improved steering assist on county lanes with no lane markings; and warnings if you're about to pass a red traffic light or stop sign.
The new S-Class also has enhanced cross-traffic alert systems, to monitor cars and pedestrians when pulling out of junctions, and Pre-Safe will lift the suspension and inflate air chambers in the cabin to protect passengers if a side impact is detected.
The list is extensive and bewildering, but extremely impressive. During my test drive it was noticeable that the nannying has been dialled down, despite the increased automated safety systems, which is one of my top peeves with driver assist systems.
Ride and handling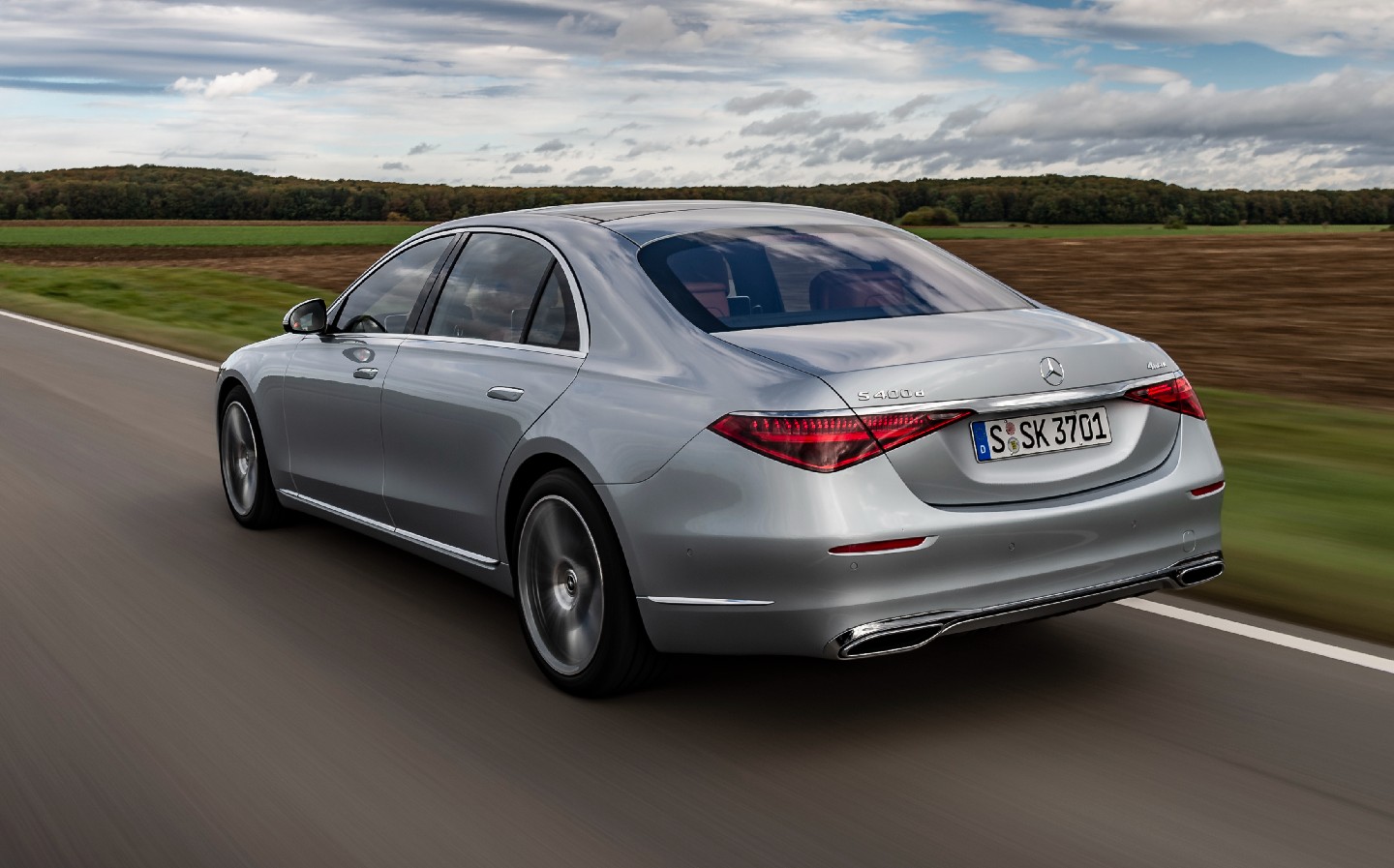 There's no doubt the Airmatic suspension is high tech— the E-Active Body Control system analyses the driving situation and adjusts the suspension 1,000 times every second. And you do notice it reacting to the road and your inputs, with the front stereo camera clearly reading the road surface and adjusting the suspension accordingly, keeping the car level and all but eliminating jolts through the cabin.
So why, I wondered while driving it, can the car feel slightly jittery at times? It's possible that the ride is more geared towards rear passengers than those in the front, but in general there seems to be a step down in composure compared with the old S-Class. Maybe it's related to the huge 21in wheels fitted to our test car, adding unsprung weight, but such clever computer control air suspension should be able to provide a more sublime drive.
Still, it's a soft, comfortable experience on the whole, and in Dynamic mode the chassis is impressively taut and responsive, with surprisingly sharp, direct steering, and you can turn a corner quite quickly thanks to rear-wheel steering (which also reduces the turning circle by two metres). It's no sports car, of course, as no car weighing 2.8 tons (gross) can be.
Engines, economy, emissions and performance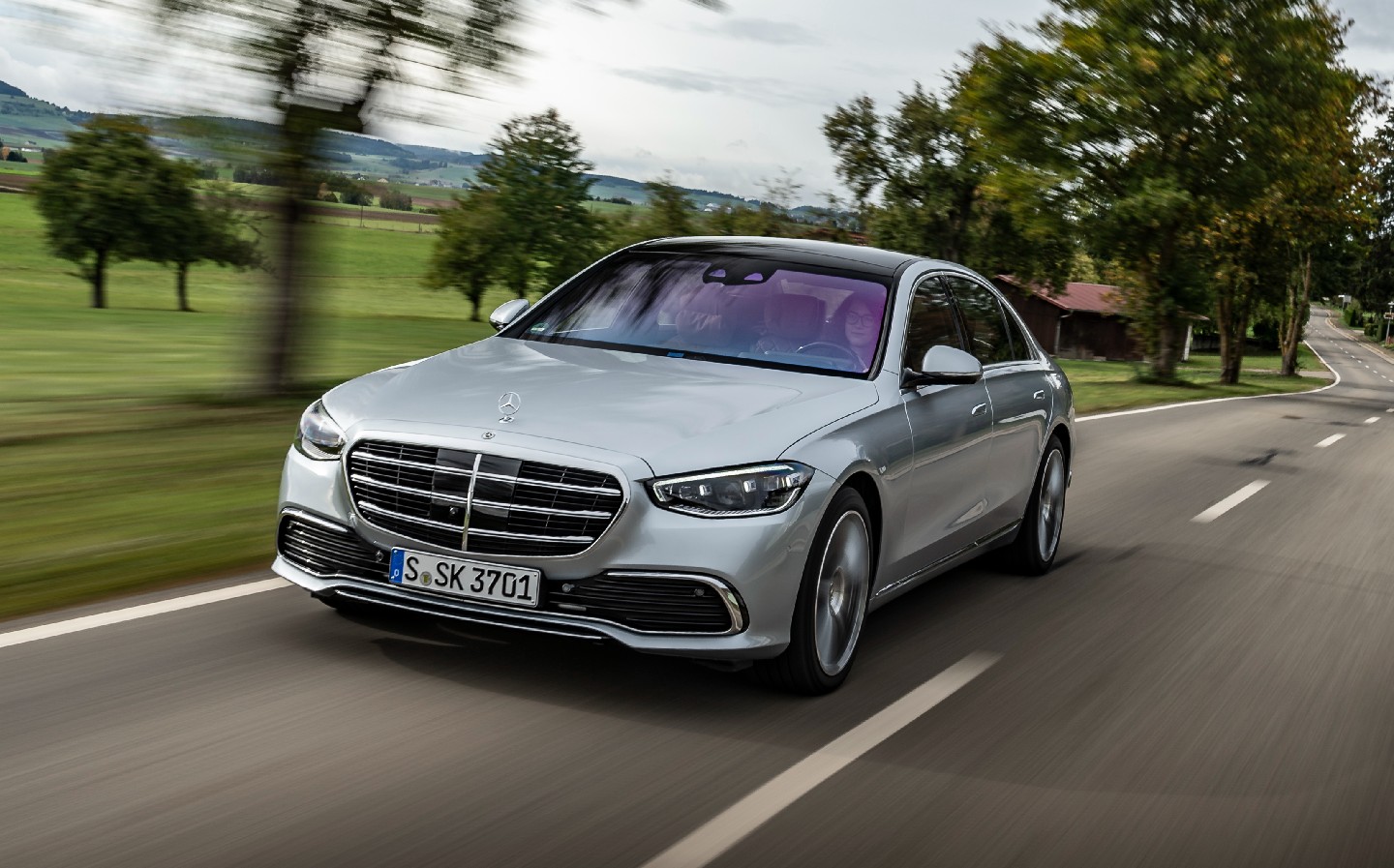 New S-Class launched with a choice of 3-litre, six-cylinder petrol (367hp and 435hp) and diesel (286hp and 330hp) engines, with AMG V8 and plug-in hybrid options also joining the line-up in 2021.
Our S 400 d test car was fitted with the larger of the two diesel motors, and performance was more than adequate even for hauling a a two-ton-plus limo. Its hushed tones, strong torque and smooth power delivery make it ideal for the job, while a combined 37.7–38.7mpg on the official test cycle makes it efficient. CO2 is rated at 175-211g/km, though actually there's not much of a difference on this front between the four petrol and diesel engines.
Fuel-sipping isn't a major selling point for a £100,000+ limousine but it's worth mentioning that over 232 miles of mostly motorway driving our car recorded 34.9mpg, with 303 miles indicated left in the tank, making it a proper continent-crusher.
Naturally the nine-speed transmission is as slick as they come, with power fed to all four wheels. A sprint from 0-62mph takes 5.4sec and top speed is limited to 155mph.
How much is a 2021 Mercedes S-Class?
Prices start from £78,705 on-the-road, for the S 350 d AMG Line (standard wheelbase), though the S400 d is only available as a long wheelbase, starting at £94,135, and our 4MATIC L AMG Line Premium Plus Executive test car would set you back £104,425 with options. Three other trim lines sit in between: AMG Line Premium, AMG Line Premium Plus, AMG Line Premium Executive.
If you want the absolute finest version, a Mercedes-Maybach S-Class is available from £162,390, while the 612hp Mercedes-AMG S 63 L Premium costs from £138,490.
Mercedes S-Class review: The verdict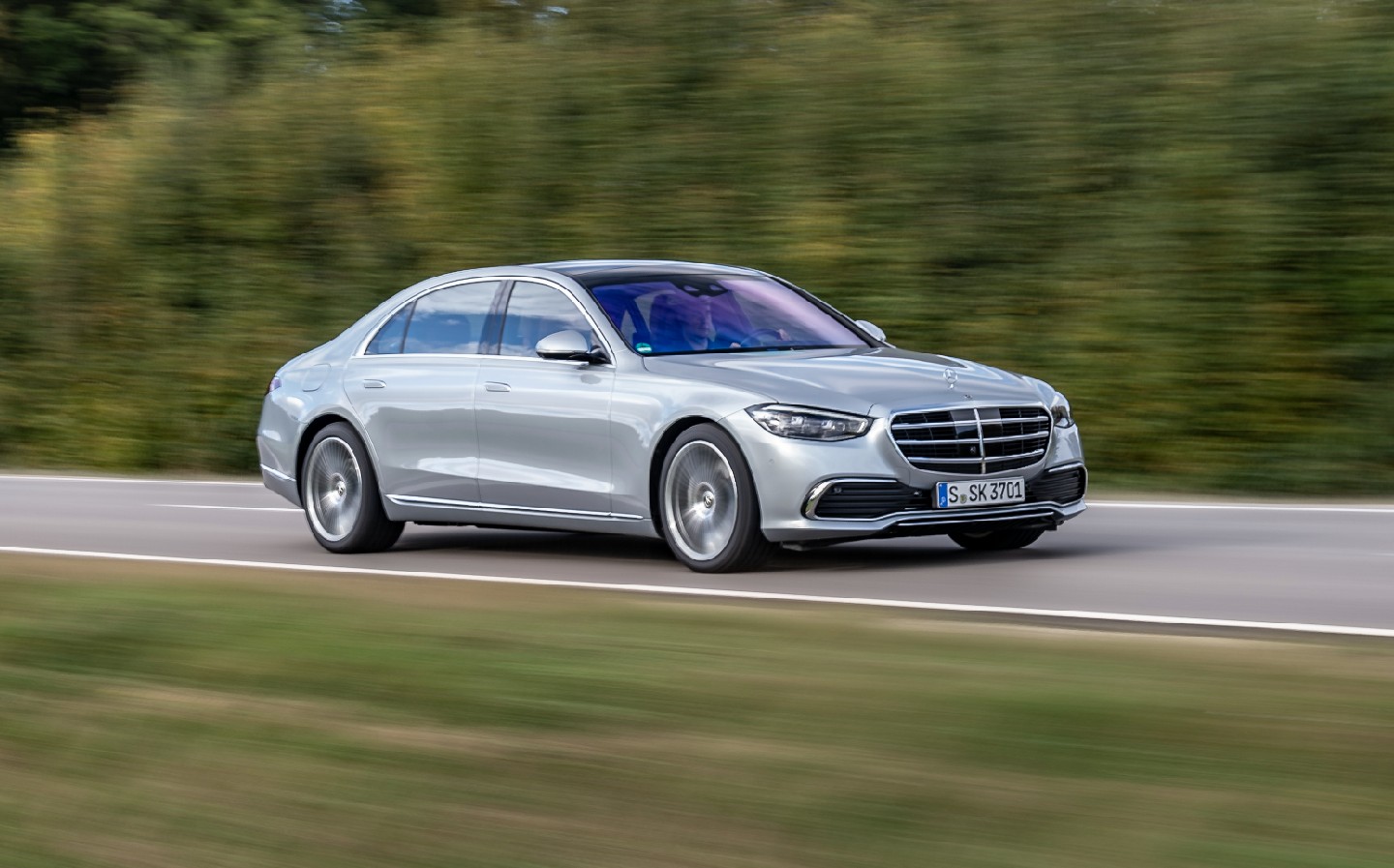 You can't fail to be impressed by the performance, comfort and technology packed into the new S-Class, though a revised suspension system seems to be a small step backwards and the updated cabin, while unbelievably high tech, appears to have lost a little in the way of class. To ride in the back of the long wheelbase version (any version), though, is still sublime.