Ferrari wins Le Mans 24 Hours race for first time since 1964, with a British driver at the wheel
Historic race was the centenary year with all-new regulations
Ferrari took overall victory at the 2023 Le Mans 24 Hours yesterday as the endurance race celebrated its 100th anniversary with a bumper crop of manufacturer-backed entries in the new top-flight Hypercar class.
The Ferrari 499P hybrid was driven by a three-driver team of Alessandro Pier Guidi, James Calado and Antonio Giovinazzi, covering 342 laps of the French track in 24 hours. Toyota was a close second, followed by two Cadillacs and another Ferrari.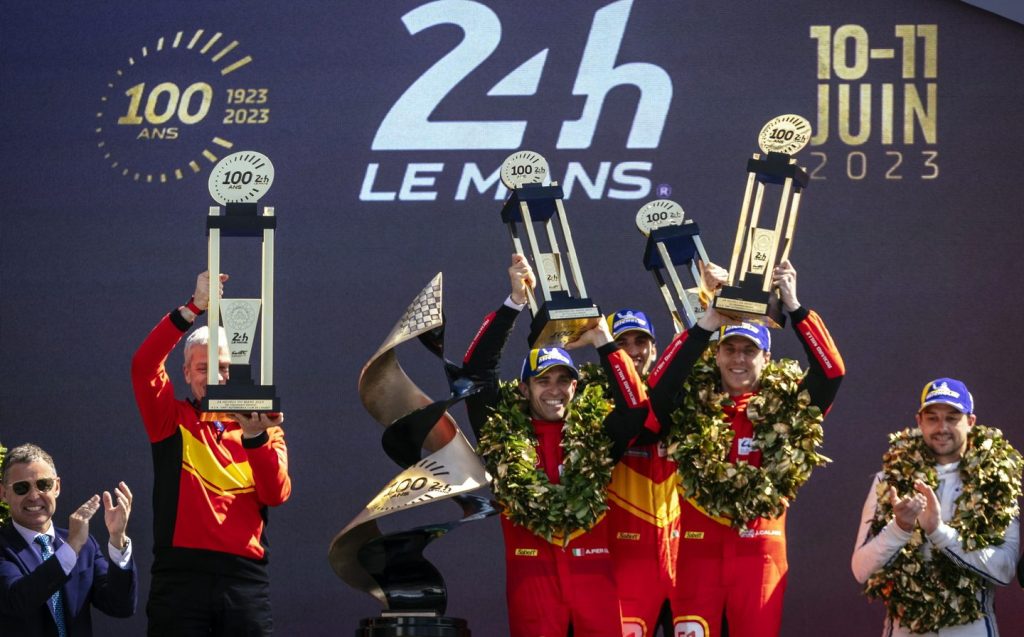 Aside from the brief 1990s dalliance with the 333SP, it has been exactly 50 years since Ferrari competed in the top class of global sports car racing and this victory is the Italian company's tenth. Though a Ferrari won Le Mans in 1965, the last fully-fledged factory-operated win by Ferrari was in 1964.
In 1965 a gorgeous 250LM won the race, marking the most recent Le Mans win for a car carrying the famous Prancing Horse badge. However it was entered by the North American Racing Team, or NART, owned and operated by Ferrari's US importer Luigi Chinetti, rather than Ferrari itself, with future F1 world champion Jochen Rindt and American racer Masten Gregory at the wheel.
Chinetti — who had a frequently adversarial relationship with Enzo Ferrari — was himself a former Le Mans winner. In 1949, Chinetti scored Ferrari's first Le Mans win, at the wheel of a 166 MM owned by Britain's Lord Selsdon.
Ferrari wouldn't win again until 1958, with the 250 Testa Rossa sports car driven by American racer Phil Hill, and Belgium's Olivier Gendebien. That kicked off a series of wins by Ferrari at Le Mans — although Aston Martin would win in 1959, from 1960 until 1965 Ferrari would rule the Le Mans roost.
Ford topples Ferrari
Ford, having tried to buy Ferrari, from 1964 tried to defeat Ferrari at Le Mans and finally overwhelmed the Italians in 1966 with the stunning GT40 sports car; the Ford would go on to win at La Sarthe for the following three years.
After that, Porsche began its long spell as a Le Mans expert. Ferrari's last proper works entry in the top category at the 24 Hours was 50 years ago, in 1973. That year, Ferrari was beaten by the French Matra team. After that, Enzo packed up and left, and focused on Formula One. 
The years since haven't been entirely Ferrari-free at Le Mans. There have been occasional privateer entries — that 1990s 333SP racer, originally developed by the Momo steering wheel company, saw some privately-backed Le Mans outings, and even the mighty F40 sports car had a few runs around the eight-mile track.
Ferrari has also picked up GT-category wins at Le Mans, starting in 2002 with a 550 V12 run by the British Prodrive squad, and more recently with the Italian AF Corse team — a private team, but effectively factory-backed.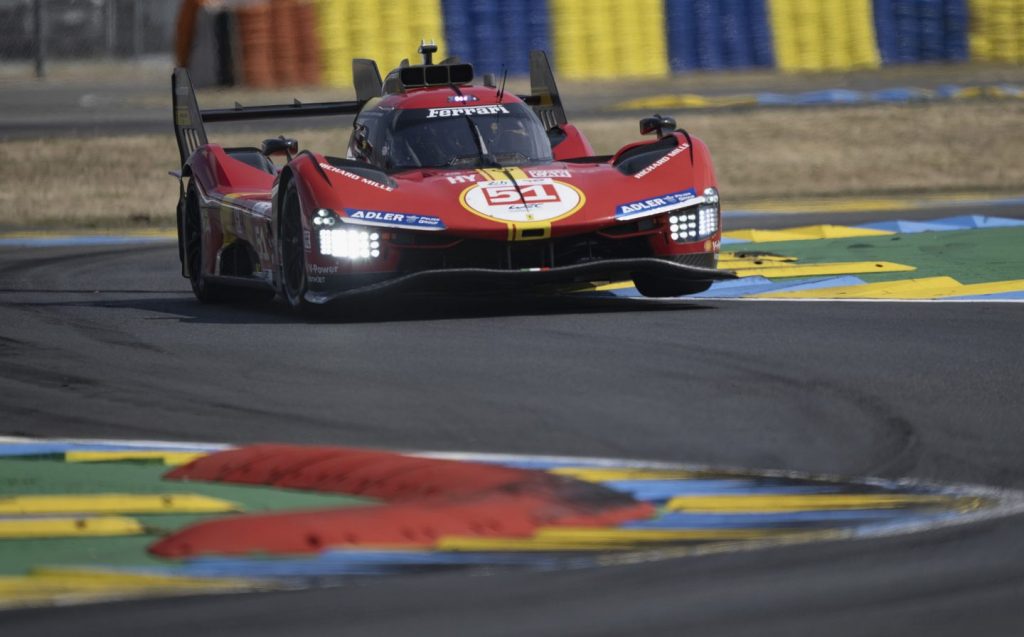 It's AF Corse that masterminded the outright win this year. The red-and-yellow 499P racers — built to the new Hypercar Le Mans rule and using a development of the road-going V6 hybrid powertrain found in the Ferrari 299 GTB — looked incredibly fast coming into the Le Mans weekend, but a tiny bit ragged around the edges at times, sliding out of the chicanes as they set their fast lap times.
The smart money was on the experienced Toyota Gazoo Racing squad retaining its crown, or the new Penske-run Porsches racking up the Stuttgart brand's 20th victory. Cadillac and Peugeot also put huge effort into producing new cars that might be capable of coming out on top in the new Hypercar class.
Ferrari set a blistering pace
However, Ferrari was blisteringly fast from the off, and in a race beset with sudden showers, crashes and confusion it was clear by the early hours of Sunday morning that the run to the flag was going to be a two-horse race between Ferrari and the only remaining Toyota (the No.8 car).
Appropriately, given Ferrari's long history of running British drivers, there was a Brit behind the wheel. James Calado is a racing name not as familiar with the British public as, say, Lewis Hamilton or George Russell, but the 33-year-old from Worcestershire is fast becoming a sports car legend — he's a former world champion in the World Endurance Championship GT category, and has also twice won the GT class at Le Mans, driving a Ferrari for AF Corse.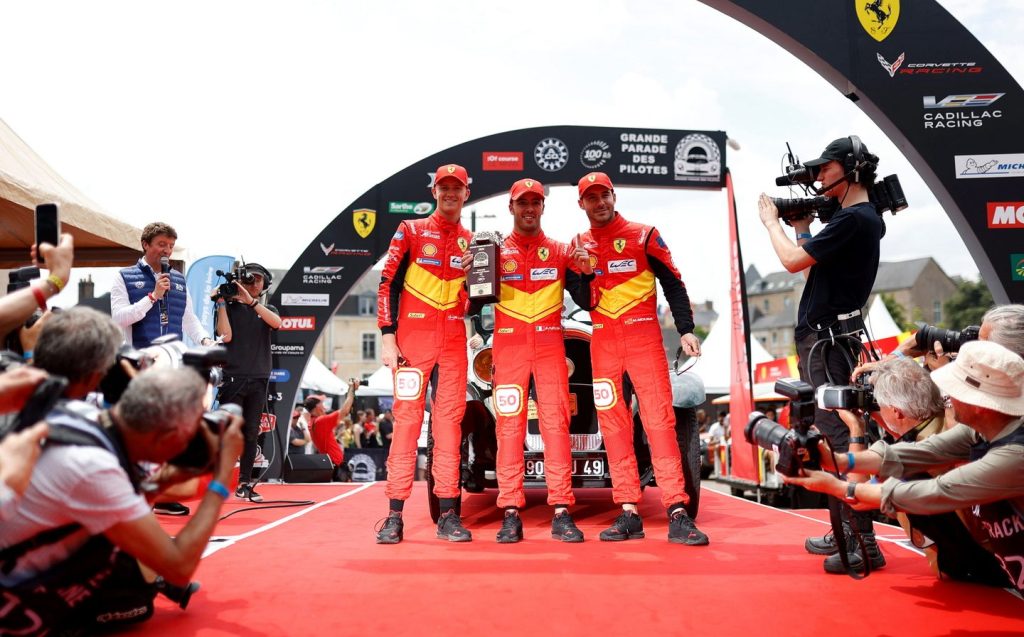 Little wonder then that Calado was promoted to the Hypercar squad and would share his car with Italy's Antonio Pizzonia — a former F1 driver with Alfa Romeo — and Alessandro Pier Guidi, also an experienced Italian driver in GT, and capable of setting fast laps, as he proved in Le Mans qualifying with the 499P Hypercar.
Toyota denied sixth victory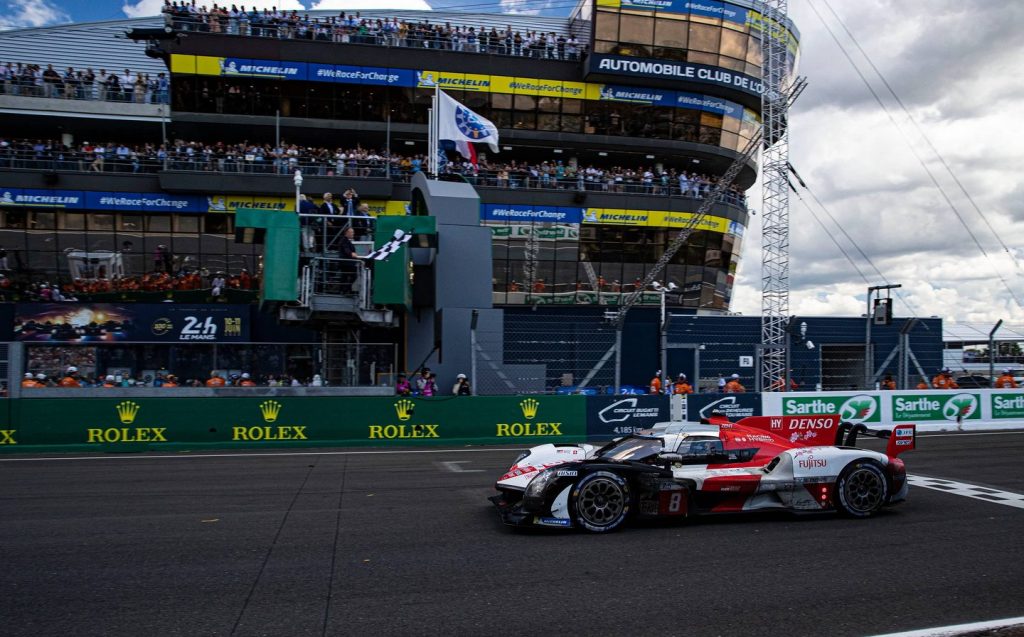 Could Toyota have retained its crown in a straight fight? It's certainly possible, but spectators were denied a last-lap thriller as a braking problem caused the No.8 Toyota to spin, costing it time, and giving the Ferrari team a vital cushion.
Even a last-minute pit stop drama couldn't deny Ferrari the win. On the last stop for fuel, the 499P's engine refused to re-start. For a handful of agonising seconds — which must have seemed like hours to every Ferrari fan watching the race — the 499P sat on the pit apron, utterly motionless.
Thankfully, Pier Guidi, behind the wheel, calmly ran through a practised sequence of rebooting the car's electronic system and, saving Italy from a sudden rash of anxiety attacks, the Ferrari fired up, and drove to victory.
An emotional win
Winning any major race for Ferrari would tug at one's heart strings, but to win at Le Mans, 50 years on from the team's last effort to do so, was especially dramatic.
"It's an amazing feeling to win this race" said Calado afterwards. "The team did an amazing job. The track was amazing, honestly. It feels so special to drive: the balance, the performance, the engine, the way it works were superb. It's a big thanks to everyone involved in this project to make this happen. I think it shows what Ferrari is made of.
"Obviously, I've won here in GT twice, but this is a bit different. Definitely a different feeling: the attention involved, the Ferrari fans, you can see all the red in every corner. So, a big thanks to all the supporters. I'm very happy."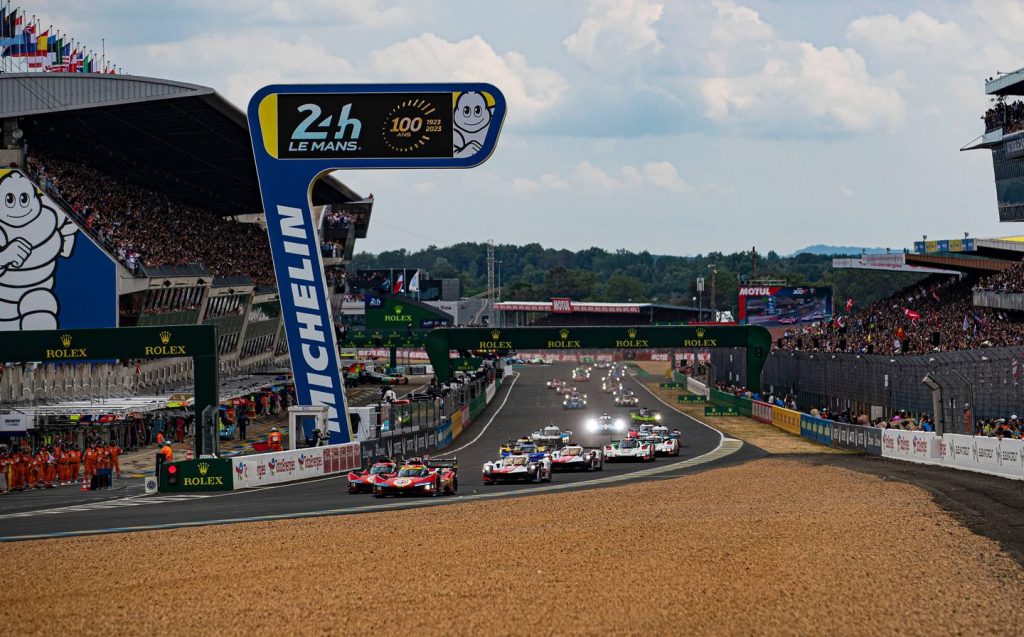 Hardly any motor racing fan could be upset to see Ferrari pull off this win, but there are rumbling undercurrents of discontent.
Le Mans uses a controversial rule called Balance Of Performance (BOP), with which it seeks to level the playing field for the cars, ensuring close racing. This year, on the eve of the race, the organisers saw fit to apply a penalty to the Toyota team's cars, thus far dominant in the 2023 World Endurance Championship (WEC), and a slightly lesser penalty to the Ferraris. 
That Ferrari won, and Toyota almost did so, shows that the BOP might be relatively fair, but it's a process for which there is no transparency, and it was enough to draw sharp comments from Toyota president Akio Toyoda — a man who has tirelessly, expensively championed both Le Mans and Toyota's presence in the race.
Could the BOP be doing more damage, and driving Toyota away? As we bask in the romantic glow of a Ferrari victory, there are potential dark clouds on the WEC's horizon. 
Related articles
Latest articles