More electric vehicles sold so far in 2022 than in all of 2020
But monthly drop in EV sales is 'warning light on the dashboard'
More electric vehicles have been sold so far in 2022 than in all of 2020, according to the latest new car sales figures.
Data compiled by not-for-profit green motoring consultancy New AutoMotive, ahead of the official SMMT new car registration figures being released tomorrow, also revealed that while EV sales continue to grow overall, registrations in July were down significantly from the previous month.
New AutoMotive's total of 11,240 electric passenger cars sold in July (a figure sourced from the Driver and Vehicle Licensing Agency) marks a stark drop of almost 50% compared to June's 22,737.
July 2022 was the first full month since the government scrapped the plug-in car grant, on June 14.
"July's soft growth in electric car sales is a warning light on the dashboard," said Ben Nelmes, head of policy at New AutoMotive.
"The axing of the plug-in car grant was inevitable, but it has left a gaping hole in government policy on zero emission cars.
"The next government should move at pace to introduce a California-style ZEV (zero emission vehicle) mandate that boosts EV sales and reduces EV prices, and to improve access to the growing second hand EV market for car-dependent households."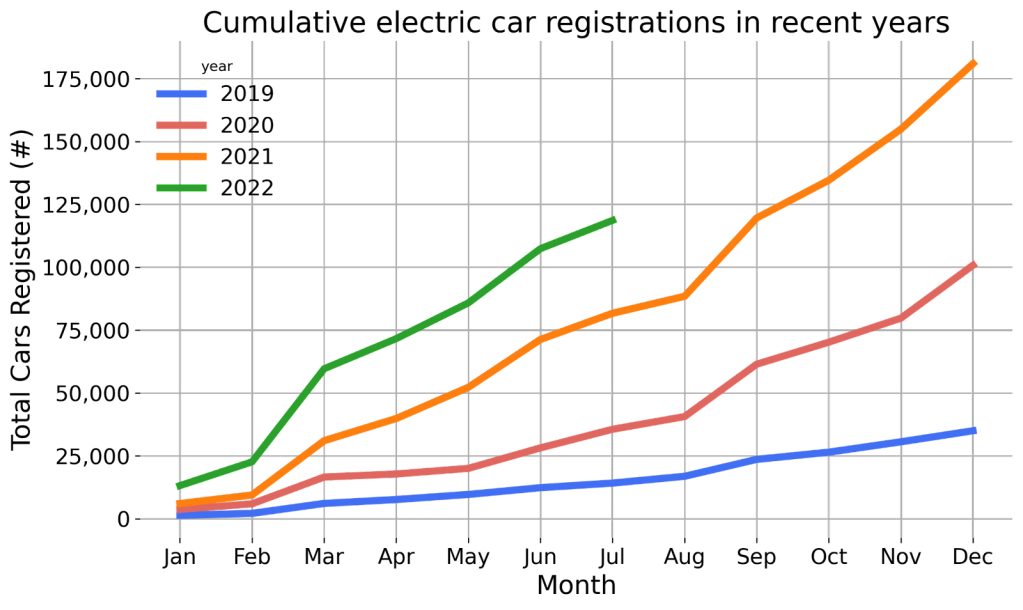 EV share grows while combustion cars wane
Despite a monthly drop in sales, the number of electric vehicle registrations in July was strong relative to sales of other types of vehicles.
| Fuel type | July 2022 registrations | July 2022 market share | July 2021 registrations | July 2021 market share |
| --- | --- | --- | --- | --- |
| Petrol | 51,564 | 50.98% | 61,307 | 53.12% |
| Hybrid | 27,724 | 27.41% | 31,597 | 27.38% |
| Pure electric | 11,240 | 11.11% | 10,418 | 9.03% |
| Diesel | 10,399 | 10.28% | 11,889 | 10.3% |
| Other | 213 | 0.21% | 203 | 0.18% |
Total UK car registrations were down by 26% compared to June 2021, an indication of the severity of a range of factors currently hobbling the car industry globally including semiconductor shortages, the war in Ukraine, Covid-19 lockdowns in China and the impact of inflation on consumer spending power.
Diesel sales in July accounted for little more than one in ten of total sales, though petrol remained dominant with just under a 51% market share.
EVs now account for around 16% of new car sales nationally for the year-to-date.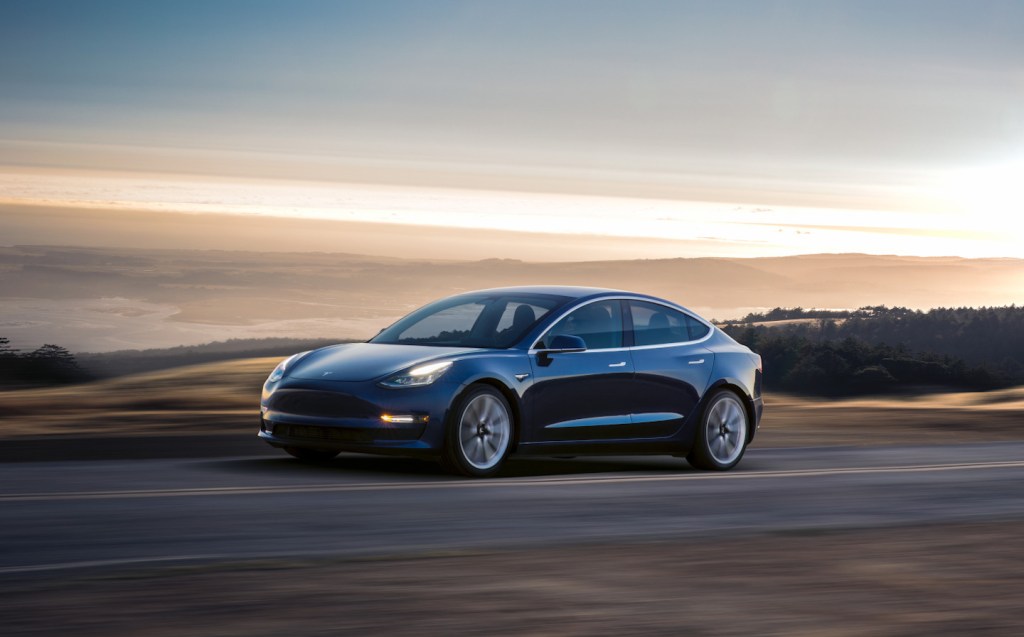 There were few if any deliveries of new Teslas in July meaning that Hyundai scooped the accolade of the highest volume of electric cars sold in the UK last month. The 1,370 electric Hyundai models sold represented a 50% increase over Hyundai's July sales last year and 12.19% of all EVs sold in the UK for the month.
Volkswagen, Audi, Kia and Nissan were also the big winners when it came to EV sales in July, but falls in sales for VW, Kia, MG and Mercedes compared to the same month last year once again highlight the impact of supply chain shortages on the delivery of new cars.
Nelmes called on the government to introduce further measures to stimulate the sales of electric vehicles including the requirement for a Zero Emissions Vehicle (ZEV) mandate, a system of legally-binding targets that requires car and van manufacturers to sell an increasing number of zero-emissions vehicles as a proportion of all the vehicles they sell, similar to policies that have been used in California and China.
"In the first full month since the government axed the plug-in car grant, electric car sales have continued to grow, bucking broader market trends during a generally disappointing month for overall car sales," said Nelmes
"However, the UK can and should be targeting higher electric cars sales to reduce motoring costs, wean ourselves off Russian diesel and reduce greenhouse gas emissions. In a month that saw record-shattering temperatures, it's disappointing that 60% of new cars bought are still fossil fuelled."
A ZEV mandate has been promised by the government from 2024 that will compel manufacturers to ensure that 22% of their sales every year in the UK is of zero-emissions vehicles, a figure to gradually increase over time. The scheme is currently in the design process at the Department for Transport.
While New AutoMotive's figures will likely broadly tally with those to be published by the SMMT tomorrow, some divergence is also likely as both groups use different methodologies to arrive at their numbers.
Related articles
Latest articles