What is the difference between a moped and a scooter?
The model pictured is not a moped ... but not because it doesn't have pedals
RECENT news reports about thieves using motorcycles for their crimes suggests there is some confusion about what to call the vehicle in the picture above. Here's the thing: it is not a moped.
The term moped was originally used to describe motorised bicycles. Swedish journalist Harald Nielsen is credited with coining the word in 1952 when he combined the words "motor" and "pedaler".
The definition has evolved, though; these days mopeds don't necessarily have pedals but they do still have a very specific classification.
Steve Muir, from the Motorcycle Industry Association (MCIA), told us: "The current definition is based on power output rather than style or design, or the pedal feature you remember. "
The MCIA defines 'moped' according to its legal definition under the L-Category of EU regulation 168/2013:
"…having a maximum speed of 28mph / 45kph, maximum engine capacity of 50cc or maximum power of 4kW."
Muir says there are lots of variations within category L, which include 2, 3 and 4 wheeled vehicles, but they're all based on this capped power output of 4kW and top speed of 45kph.
The bike you see in the image above is a Peugeot Django Heritage with a 125cc engine that produces 7.5kW. Top speed is around 60mph. It's clearly not a moped.
Scooter manufacturer Vespa, which produced the bike shown in this CCTV image of a mobile phone theft, has a wide range of products for sale on its website, but only the most basic model has a 50cc engine and could therefore be described as a moped.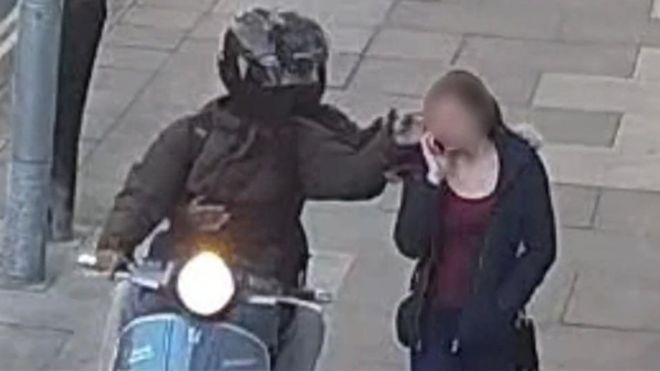 Muir said: "When you see or hear about high speed chases between police and thieves on stolen 'mopeds', they are most likely to be scooters, which can come in any engine size. "
"Many mopeds are scooters (step through style) which is where the confusion lies.
"Lots of people presume all scooters are mopeds and in recent press coverage, the term seems to have become shorthand for any two wheeler used by a criminal."
So the message for reporters covering robberies involving such bikes is, if you're not sure that it's a moped, call it a "scooter".
Michael McIntyre jokes about school run robbery but says return to stage was 'touch and go'