Mind-blowing video shows Volkswagen dieselgate 'graveyard' of cars
Around 350,000 VWs sit gathering dust
ASTONISHING NEW aeriel video footage shows the huge scale of the Volkswagen dieselgate scandal.
Overhead pictures taken in California and Detroit show super-size car parks as Volkswagen struggles to store 350,000 cars that have been bought back from US customers and mothballed.
The sun-bleached desert plot in California is said to be the tip of the iceberg, with a total of 37 locations used to store VWs affected by the emissions-cheating scandal.
---
Browse NEW or USED cars for sale
---
In Detroit, a football stadium is being used to hold VWs, and in Minnesota a former paper mill has been transformed into a vast car park.
The company is said to be struggling to accommodate the sheer volume of cars it has agreed buy back. In total, VW has agreed to pay for 500,000 cars in the US and has set aside an astonishing $25billion (£18bn) to buy the cars and settle claims from owners, environmental regulators, dealers and US states.
By the end of last year, court documents show Volkswagen had only managed to resell 13,000 of the 335,000 cars it had acquired from customers, leaving it with a stockpile of 294,000 cars held in so-called graveyards around the US.
The cause of the logistical nightmare facing the German car maker was choosing to cheat strict emissions tests in America.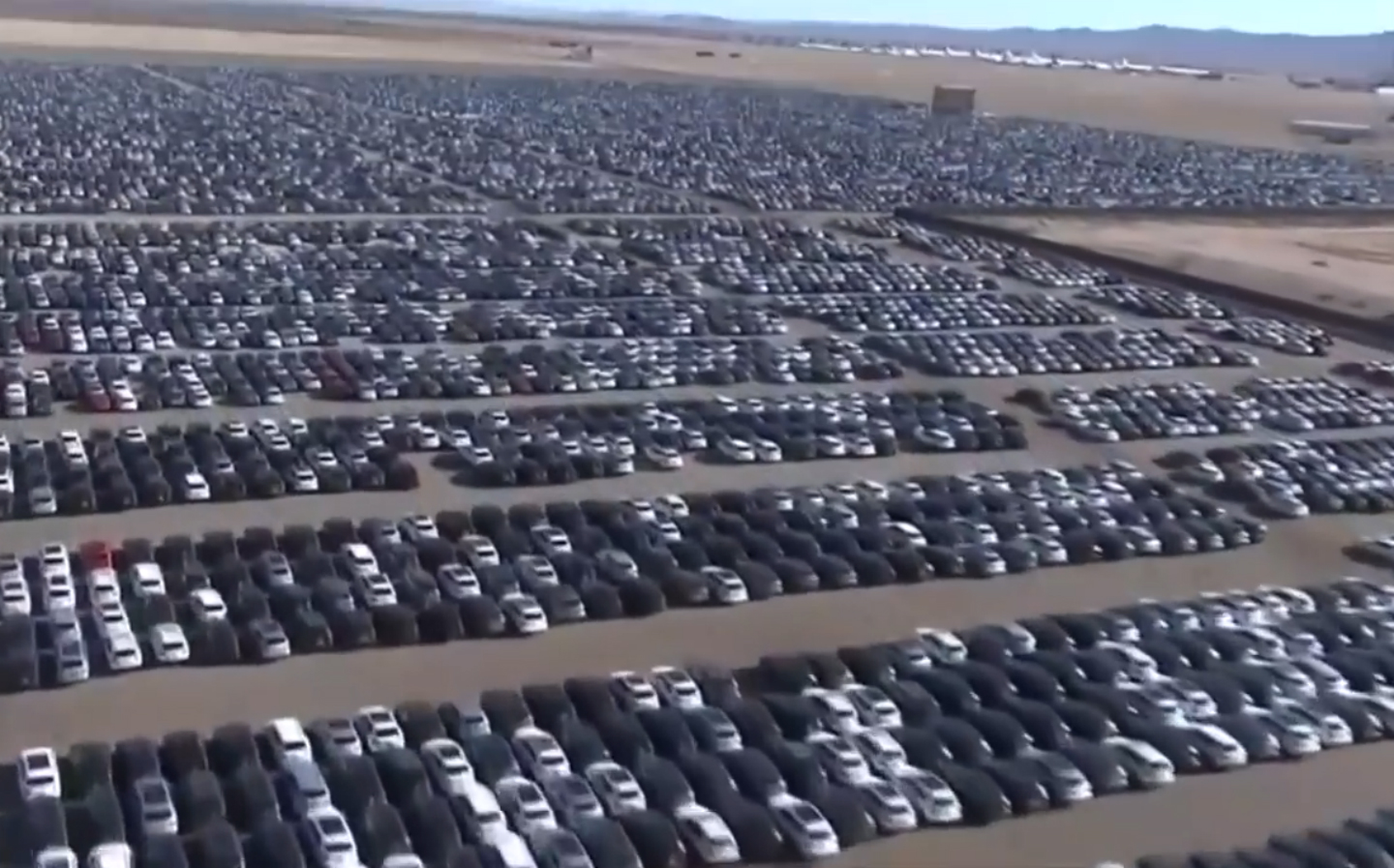 The "diesel dupe" dates back to September, 2015, when the Environmental Protection Agency (EPA) found that VW diesel cars being sold in the US used software to detect when they were being tested for harmful emissions, changing the performance of the engine and emissions equipment to reduce levels of pollution.
In America, Volkswagen agreed to buy back any cars that used the defeat device. However, in the UK, affected drivers are still waiting to see whether VW will buy back their cars.
Jeannine Ginivan, a VW spokesperson, said that the storage facility in California was one of many "to ensure the responsible storage of vehicles that are bought back under the terms of the VW" diesel settlements.
"These vehicles are being stored on an interim basis and routinely maintained in a manner to ensure their long-term operability and quality, so that they may be returned to commerce or exported once US regulators approve appropriate emissions modifications," she said.
The scandal has cost the jobs of Martin Winterkorn, Volkswagen Group CEO, Heinz-Jakob Neusser, head of brand development and Ulrich Hackenberg, Audi's head of research. At Porsche, Wolfgang Hatz, head of R&D, was suspended and later resigned from his post.
Tweet to @squarejames Follow @squarejames