Jeremy Clarkson weighs in on that infamous Elon Musk rescue diver tweet
"He was the new James Blunt. The only famous person who can belittle the trolls and get away with it"
JEREMY Clarkson and Elon Musk have quite a bit of history. It's only appropriate, then, for perhaps the UK's most outspoken motoring journalist to provide his take on the latest controversy surrounding the Tesla Motors and SpaceX founder.
Writing in his column for The Sunday Times, the host of The Grand Tour made the surprise revelation that he was on Musk's side when the South African entrepreneur announced his plan to design and build a submersible pod to help with the rescue of 12 boys from Thai football team who had become trapped in a flooded cave.
Musk's proposed solution was ridiculed on social media, including by one of the rescue divers on scene; Vern Unsworth, a British expat diver who lives in Thailand with his wife, called it a "PR stunt".
According to Clarkson, "Being famous is like being a banker. You are wrong. Always and in all things."
For that reason, he was right with Musk when he said he would take his rescue torpedo to Thailand anyway, "to prove it could have got round all the corners."
"I felt his indignation. I was rooting for the way he was standing up for big guys everywhere," he wrote.
Comparing Musk to a character from the TV show Thunderbirds, Clarkson added:
"It's possible, of course, that this was — as our British hero caver said afterwards — a gigantic PR stunt. And that his rescue torpedo was nothing more than a kitchen swing-top bin filled with cancelled orders for the new Tesla hatchback.
"But let's just say it wasn't. Let's give Brains the benefit of the doubt. He'd seen the plight of the boys and felt moved to help. He had the resources, he had the facilities and, who knows, he maybe even had some folding palm trees."
However, all of that sentiment was pretty much undone the moment Musk called Unsworth a "pedo" [sic] on Twitter, said Clarkson.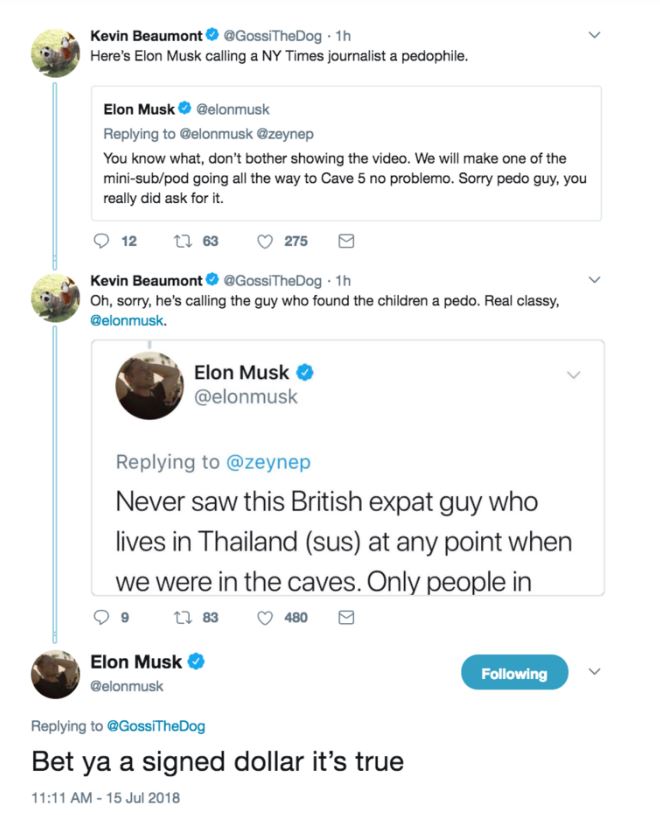 According to the Grand Tour host, before the "pedo guy" incident, Musk was "the new James Blunt. The only famous person who can belittle the trolls on Twitter and get away with it". But in one tweet, Musk "blew it".
Though Musk did apologise and delete his incriminating statements from Twitter, all sympathy from Clarkson was gone from that point on.
Read Clarkson's column in full at thesundaytimes.co.uk
Tweet to @J_S_Allen Follow @J_S_Allen