James Bond's next car will be the Aston Martin Valhalla hypercar
Q Branch goes to town on 007's latest company car
JAMES Bond will be getting his standard issue Aston Martin in his upcoming film, with MI6 pushing the boat out a little more than usual this time around, with the Valhalla hypercar.
While 007 has driven plenty of Aston Martins in films and books over the years, none have been as extreme as the car that will star in the 25th Bond blockbuster. The Valhalla (which was revealed at the 2019 Geneva Motor Show with the less-snappy name of AM-RB 003) will be one of the fastest vehicles Aston Martin has ever made.
Though it is a performance vehicle, director Cary Joji Fukunaga could argue that the Valhalla fits his goal to use an eco-friendly car in the upcoming Bond film, as its power comes courtesy of a petrol-electric hybrid setup, with the petrol power being provided by a brand-new, turbocharged six-cylinder engine. Its performance is unspecified but we expect it to produce more than 1,000bhp.
Which, of course, makes it nowhere near as planet-saving as the car we initially thought the world's best secret agent would be driving: the pure-electric Aston Martin Rapide-E grand tourer.
What 007 gets is altogether more fierce, and made even more so once Q-Branch gets its hands on the base model, kitting it out with the usual gadgets. Due to the car's Le Mans Prototype-style butterfly doors, however, it may be a struggle to install an ejector seat system like the one seen on the Aston Martin DB5 in Goldfinger.
Speaking of older Astons, the British brand won't just be represented by the Valhalla when the 25th Bond film arrives in cinemas in April 2020. As well as the Aston Martin DB5, which has appeared in three of the last four 007 movies, the secret agent will also spend some time behind the wheel of a classic Aston Martin V8 Vantage sporting the same numberplate as the one seen in 1987's The Living Daylights.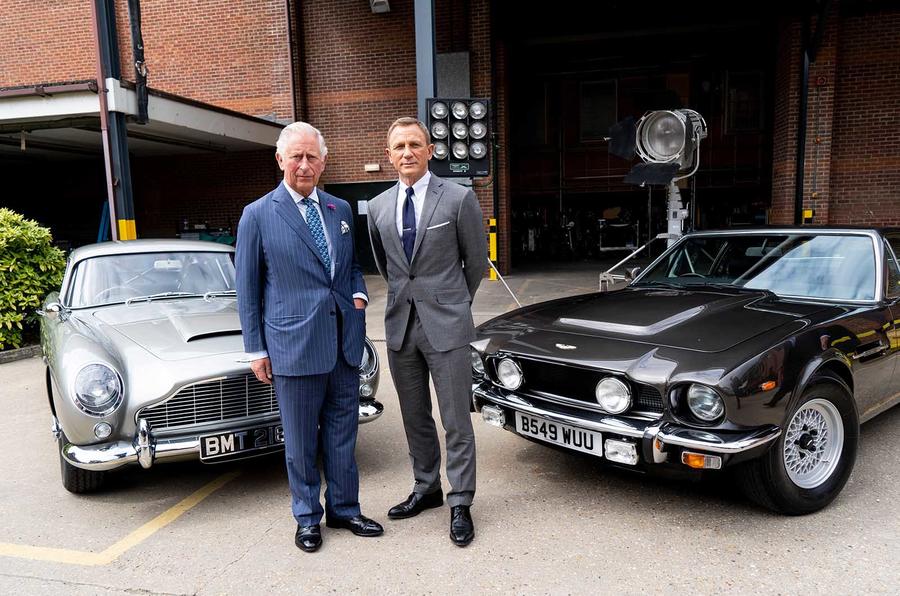 It's a combo that even gets the royal seal of approval, as the Prince of Wales recently posed with the cars during a tour of the Bond film studio with Bond actor Daniel Craig, who's making his last appearance as 007.
Tweet to @J_S_Allen Follow @J_S_Allen
An Aston Martin has been spotted in James Bond filming — but not the Rapide E