From F1 to electric cars: meet Ian Foley, founder of Equipmake
The engineer who's charged up for the electric car revolution
WITH FALLING demand, manufacturers cutting jobs and factories facing an uncertain future, it's a gloomy time for the British car industry. Not that you'd know if you spoke to Ian Foley.
The founder of Equipmake thinks that he's poised to capitalise on an electric car revolution and that, if he plays his cards right, only a few years from now his company could be assembling tens or even hundreds of thousands of automotive motors a year from a new, purpose-built factory in Norfolk.
Equipmake's APM 200 electric motor is "cutting edge" in terms of the power it can produce, Mr Foley says, and can do so at a similar or even a lower price than existing motors. It's about half the size — allowing for more space for batteries — and about a fifth lighter than rival products.
It's also cooler when in operation, crucial for delivering higher power for longer and helping electric vehicles to improve their performance and range.
The engineer argues that his small company's progress is evidence that electric vehicles are going to overtake traditional cars sooner than people expect.
He drew on the knowledge acquired while working at Williams to develop an improved electric motor
The customers are certainly lining up. Equipmake has been called on to supply motors to the Ariel Hipercar, a hybrid supercar being made in Somerset. Other clients include a company putting Equipmake's motor and power train — which transmits the drive from the engine to the axle — on electric buses bound for Buenos Aires. Jaguar Land Rover has used the business for assistance with electric vehicle research.
Mr Foley, 56, senses that a tipping point is approaching, with customers expressing urgency about electrification projects rather than investing in them because they feel they should be seen to do so. He cites a meme that shows a photo of 5th Avenue in New York one Easter morning in 1900 and another picturing the same spot 13 years later. The former is captioned "spot the automobile", the latter "spot the horse".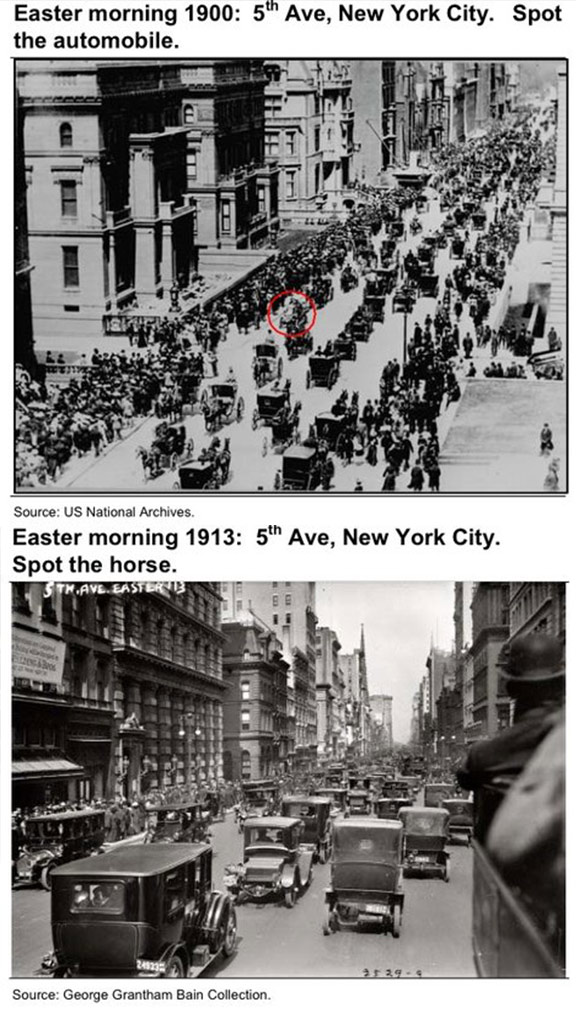 "If you say, 'Mass-scale electrification will happen in seven years,' people say, 'Oh nonsense.' Well, why not, if the price is low enough?"
A start-up developing electric "flying taxis" also has engaged Equipmake to supply its motors. "What you'll need is a small, lightweight, power-dense motor that's a reasonable cost to manufacture. That's where we come in."
Getting this far has required patience. Mr Foley started the company in 1997 as a sideline to his work in motor sport, to tinker with his widget designs and sell his services as an engineering consultant.
He had cut his teeth at the Lotus Formula One team in the 1990s and is a former managing director of Williams Hybrid Power, a division of the grand prix motor racing team that made energy storage systems for hybrid vehicles. Indeed, he drew on the knowledge he acquired while working at Williams to develop an improved electric motor.
"What we did initially was say, 'Let's make the best thing possible.' Then you find out you've made the world's most expensive [product] and you can't do anything with it. We've got something that's smaller and lighter and crucially, we can manufacture at a sensible price."
Equipmake is due to move to a new facility near Snetterton racing circuit this year and aims to begin commercial-scale production there in 2020. The company raised £3m from private investors at the end of last year and about £5m has been spent on the project to date.
Mr Foley has also invested in a Tesla. "I wanted to understand — What point has the technology got? Are the proponents of it just blinding themselves to the problems? That's what I tell my wife, at least. Really, it's been fantastic. Once the price comes down, everyone will want an electric car. They are a much nicer experience."
If he's right, petrol cars may soon be as rare as a horse and cart in downtown Manhattan.
Brexit casts cloud over future staffing
Ian Foley says that operating in Norfolk makes it harder to recruit staff for Equipmake than it would be if the company was based in the manufacturing heartlands of the Midlands.
However, he argues that the county has its advantages: "There's less competition for engineers where we are, so if people like it, they stay." That could be key, as Brexit is prompting concerns over the business's need to hire skilled staff from overseas.
"We've got German, Spanish and Italian staff. When we hired a Pakistani engineer, who was already in Britain working for Dyson, we had to sponsor his visa. We paid for a specialist to help and it still took three months, with a lot of hidden cost.
"If it becomes that difficult for European people to get a visa, you may as well close the shop door and go home."
This article first appeared in The Times.