Car industry pleads for 'tech neutral' government strategy as diesel sales plummet
Confusion reigns
CAR sales in June fell by 3.5% compared with the same period last year as buyers continue to shun diesel vehicles, according to figures released today.
With diesel vehicle registrations dropping 28.2%, the Society of Motor Manufacturers and Traders pleaded with the government to stop villainising the fuel and instead take a technology neutral strategy, "giving motorists confidence to buy right car and right technology for their needs".
A 45% increase in plug-in electric and hybrid (dubbed "alternatively fuelled vehicles") registrations, and 12.3% a rise in demand for petrol cars, were not enough to offset the continuing decline in diesel sales.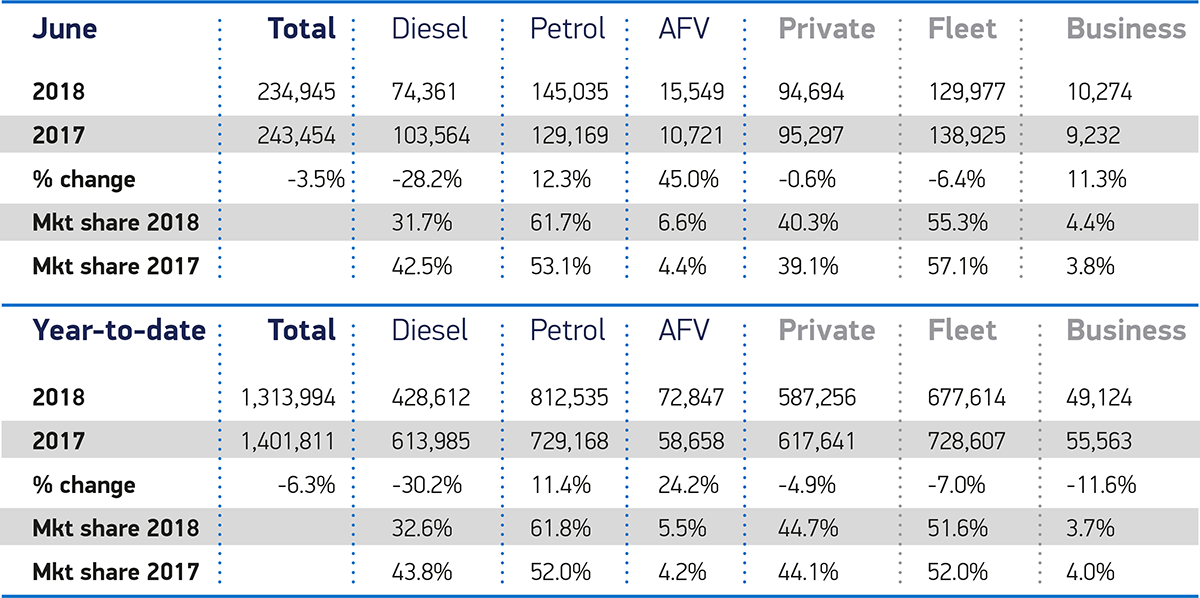 A report by the Royal College of Physicians in 2016 estimated that air pollution — linked to cancer, asthma, stroke and heart disease, diabetes, obesity and dementia — caused 40,000 premature deaths a year.
In particular, nitrogen oxide (NOx), which is especially high in exhaust from diesel cars, and diesel particulates are harmful to health.
The government responded by announcing a tax rise of one band for any new diesel cars that fail to meet the latest 'Real Driving Emissions Step 2' standards. The rise, which came into effect on April 1 this year, could cost drivers as much as £500, for the first year of road tax.
In addition, in July last year it was announced that all cars sold sold in the UK from 2040 will have to be electrified, in a bid to remove "conventional" diesel and petrol vehicles from our roads.
"We need a strategy that encourages motorists to buy the car that best suits their needs – whatever its fuel type"
However, independent tests subsequently identified 11 diesel models, including the Volkswagen Golf SV, Mercedes-Benz E class and BMW 5 series, that emit very low levels of NOx.
Car makers have been at pains to point out that the latest diesel vehicles, fitted with NOx-reducing Adblue and particulate filter technology, can be "clean".
The government then backtracked somewhat by saying that new cars with "a kind of internal combustion engine" that has tailpipe emissions of "pretty much zero" could still be sold after 2040, if car makers are able to develop that technology in time.
The continued decline in sales of diesel vehicles suggests that the mixed messages and public confusion over the matter remain.
Car sales overall in the first half of the year were described as "turbulent", and distorted by VED (road tax) changes in 2017, with a severe double-digit decline in March followed by a stronger April and May, when year on year demand grew.
However, so far this year demand for new cars remains down, by 6.3% to 1,313,994 units.
Mike Hawes, SMMT Chief Executive, said: "Despite a rocky first six months for the new car market, it's great to see demand for alternatively fuelled vehicles continue to rise. Given these cars still represent only one in 20 registrations, however, they cannot yet have the impact in driving down overall emissions that conventional vehicles, including diesels, continue to deliver.
"Recent government statements acknowledging the importance of petrol and diesel are encouraging. However, we now need a strategy that supports industry investment into next generation technologies and puts motorists back in the driving seat, encouraged to buy the car that best suits their needs – whatever its fuel type."
Andrew Hooks, chief operating officer of car sales platform carwow, believes cleaner diesel technology, following the introduction of new Worldwide Harmonised Light Vehicle Test Procedure (WLTP) emissions tests, is a viable option for the future, but more clarity is needed from the government.
He said: "With so much negativity towards diesel and no clear government strategy, drivers are hesitant. What the motorist and the industry needs more than anything is clear guidance from the government on diesel and plans for the future electric car charging infrastructure. Without that, the buyer hesitancy will not go away any time soon."