Hot metal: star cars of the 2017 Geneva motor show (live updates)
Must-see models from Audi, Lamborghini, Mercedes, Porsche and more
FOR DRIVERS, the glitz and glamour of the Geneva motor show is hard to ignore. Some of the year's most exciting and significant new cars make their debut at the Swiss event, with Lamborghinis rubbing wing mirrors with Kias as car makers compete for consumers' attention — and money.
This year, the trend for SUVs shows no signs of letting up, with new arrivals from the likes of Audi. And unsurprisingly for the glamorous Geneva setting , luxury was in plentiful supply, with lavish models from Bentley and Mercedes, and excess-all-areas sports cars from Lamborghini, McLaren and Porsche. But there were important affordable cars, too, as the likes of Ford showcased its new Fiesta — Britain's best selling car.
Stay tuned for all the star cars of the 2017 Geneva motor show, as this page will be updated as new models are announced.
---
Browse NEW or USED cars for sale on driving.co.uk
---
Alpine A110: rare name returns to tackle Porsche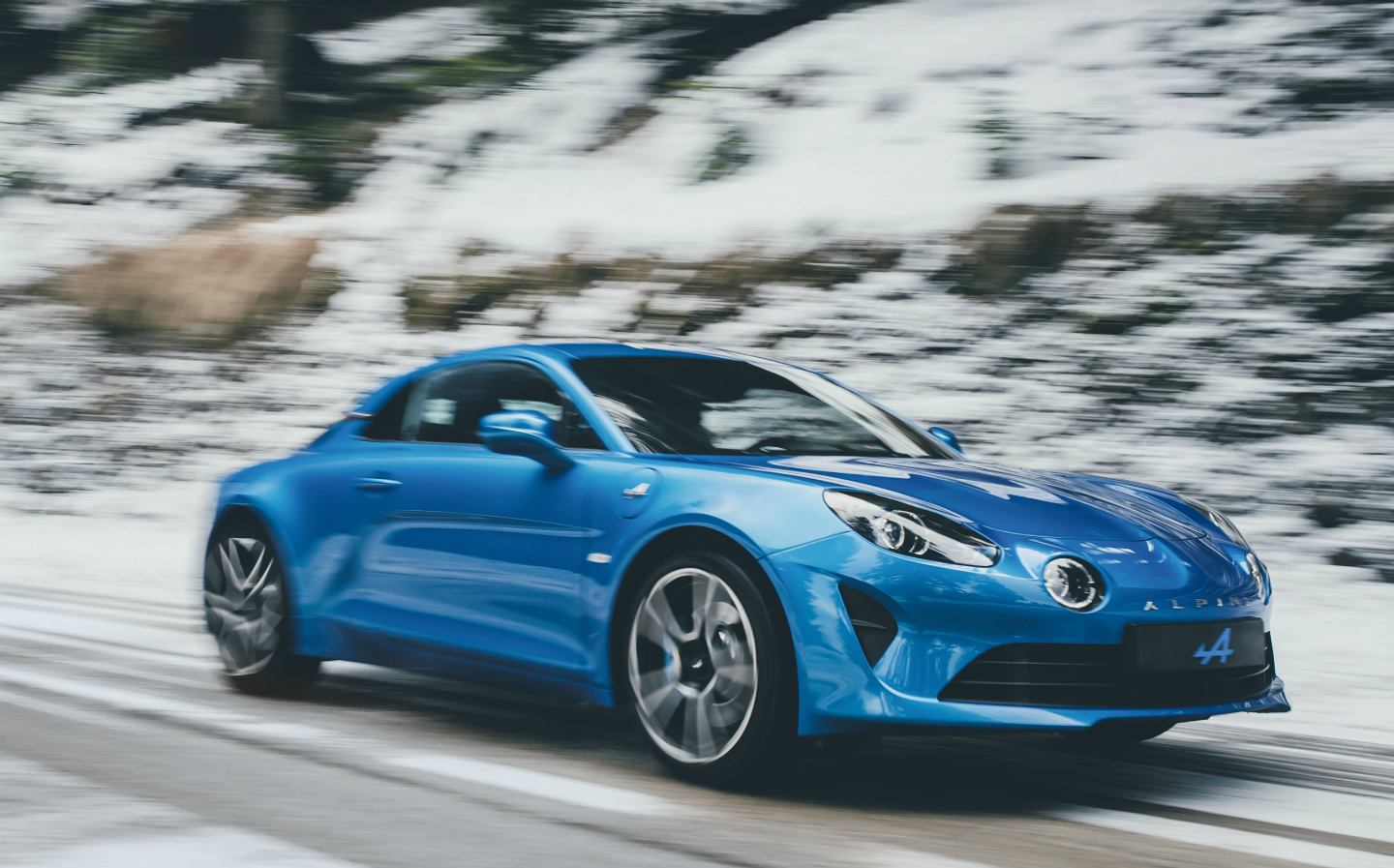 Star feature Mid-engined, rear-wheel drive chassis
On sale Now
It will cost from £45,000 and has a technical specification that suggests Porsche could finally have a deadly serious rival to its 718 Cayman, but all we want to know is does the new Alpine A110 live up to its promise?
The petite car weighs just 1,080 kilos, and has a weight distribution of 44:56 front to rear.
It features a 1.8-litre, four-cylinder turbocharged engine that is tuned to produce 249bhp. It will drive the rear-wheels and because the car is built around a bespoke aluminium monocoque, it is relatively light and capable of accelerating from 0-62mph in 4.5seconds, say Alpine bosses. Its top speed is restricted to 155mph.
It uses a seven-speed dual clutch transmission, has three driving modes — Normal, Sport and Track – and the steering, stability control systems, exhaust note and driver information display all adjust according to which is selected.
Only a test drive will reveal whether Alpine has delivered the goods.
Audi Q8 Sport concept: luxury SUV with frugal hybrid system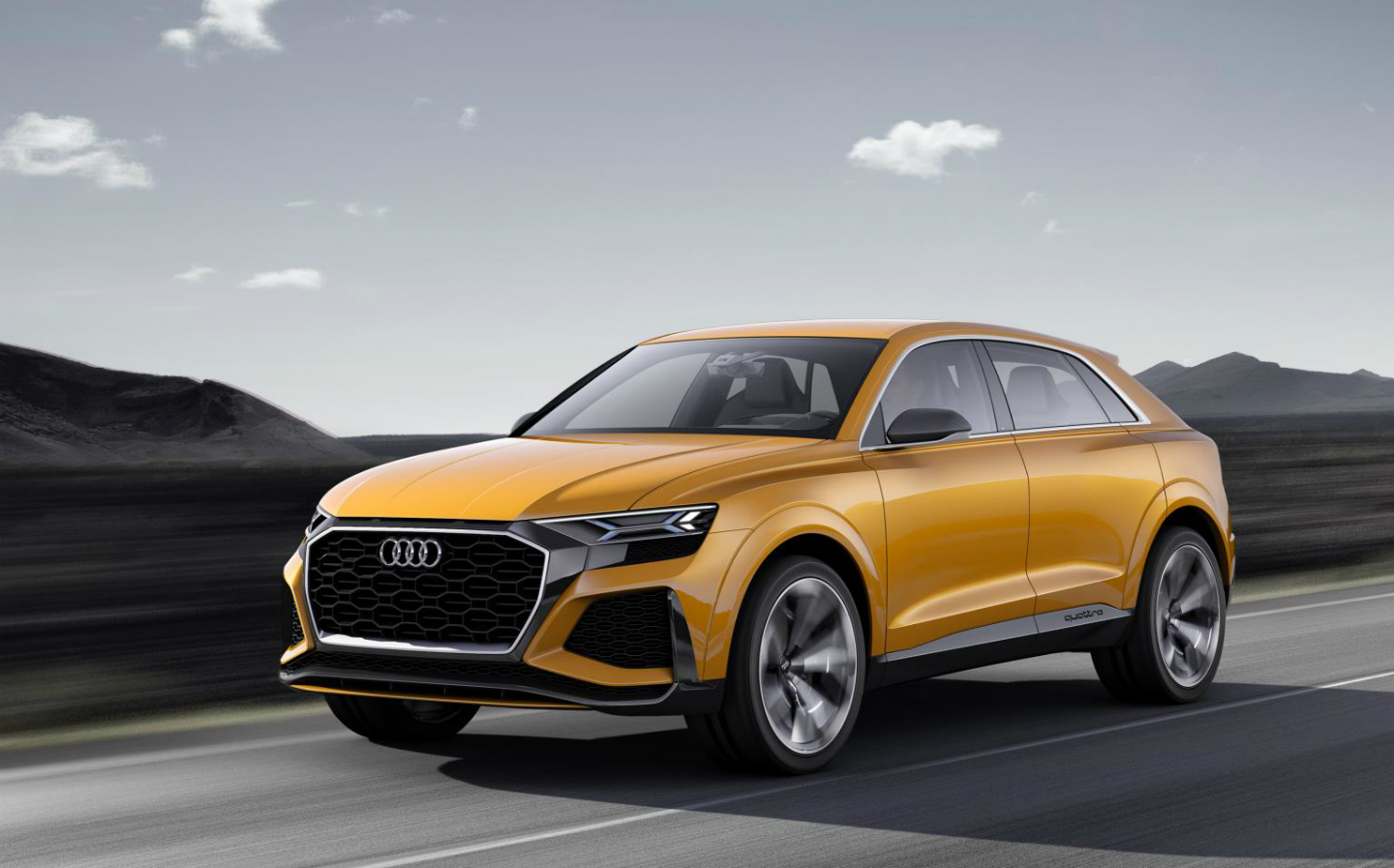 Star feature Driving range of 745 miles
On sale 2018
This is the second Q8 'concept' car from Audi, and its job is to announce to the world's wealthiest SUV drivers that the German company will soon launch a rival to the Range Rover. In 2018, a Q8 luxury 4×4 will be lined up alongside the Q2, Q3, Q5 and Q7 in showrooms.
This second glimpse of what the Q8 could be like features a new petrol-electric hybrid powertrain. According to Audi, it means drivers can have the fuel economy of a four-cylinder diesel SUV together with the performance of a socking-great V8 petrol.
It uses a 3-litre, twin-turbo TFSI V6 petrol engine plus an electrically powered compressor (as seen on the SQ7, reviewed by Jeremy Clarkson) to generate 444bhp, and this is boosted by a 27bhp (20kW) electric motor. Together, they give the Q8 469bhp, which is sufficient to power it from 0-62mph in 4.7 seconds.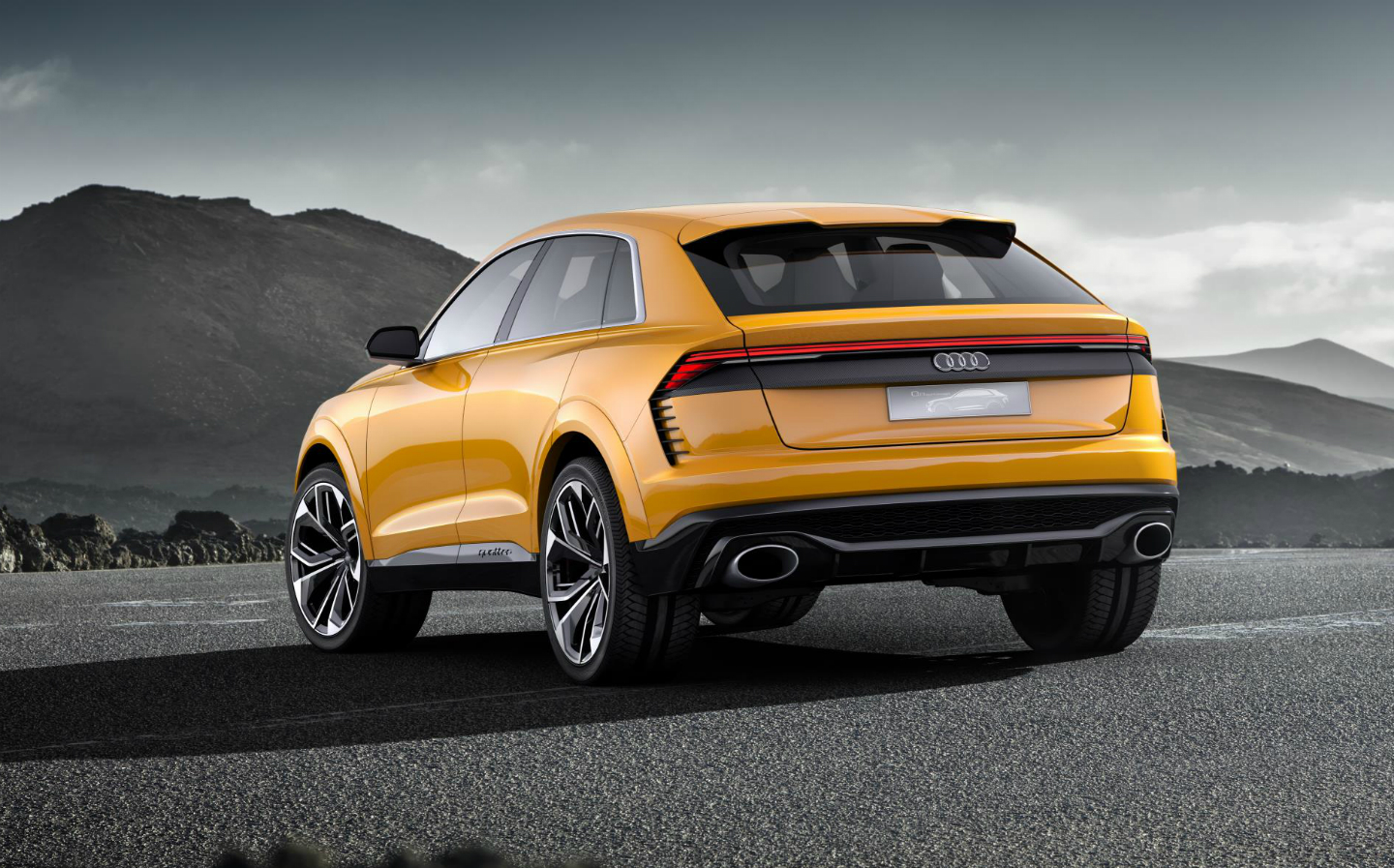 The electric motor is integrated with the car's eight-speed automatic gearbox, and the lithium-ion battery sits under the boot floor. Recharging is taken care of by energy recaptured during braking. The total driving range, with an 85-litre fuel tank, is claimed to be 745miles.
Audi's chairman, Rupert Stadler, says the new powertrain will be widely used in Audis of the future.
Audi RS5: hot coupé to take on BMW M4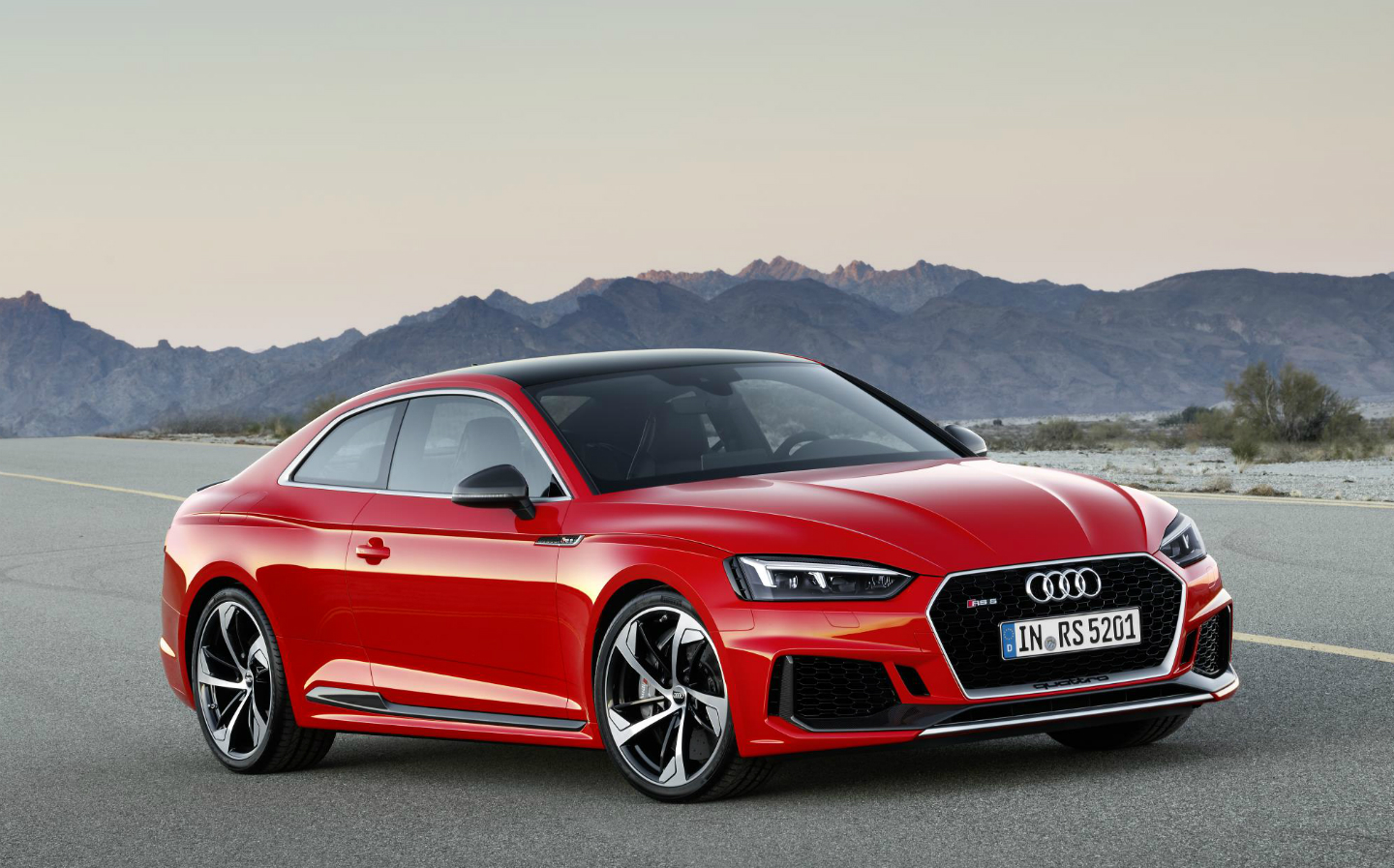 Star feature Biturbo V6 engine
On sale June
The days of naturally aspirated engines in high performance cars are increasingly numbered. Audi revealed a new generation RS5 coupé at the Geneva motor show, and in place of the last model's characterful 4.2-litre V8 comes a smaller, 2.9-litre biturbo V6.
However, although it's smaller, it's no wimp. The new V6 boasts 444bhp — the same as the old model — and there's much more torque, with 443Ib ft from just 1,900rpm. That's enough to propel the four-wheel drive RS5 from 0-62mph in 3.9 seconds, while Audi says the fuel consumption has been improved to 32.5mpg. The change to a six-cylinder engine mirrors its closest competitor, the BMW M4.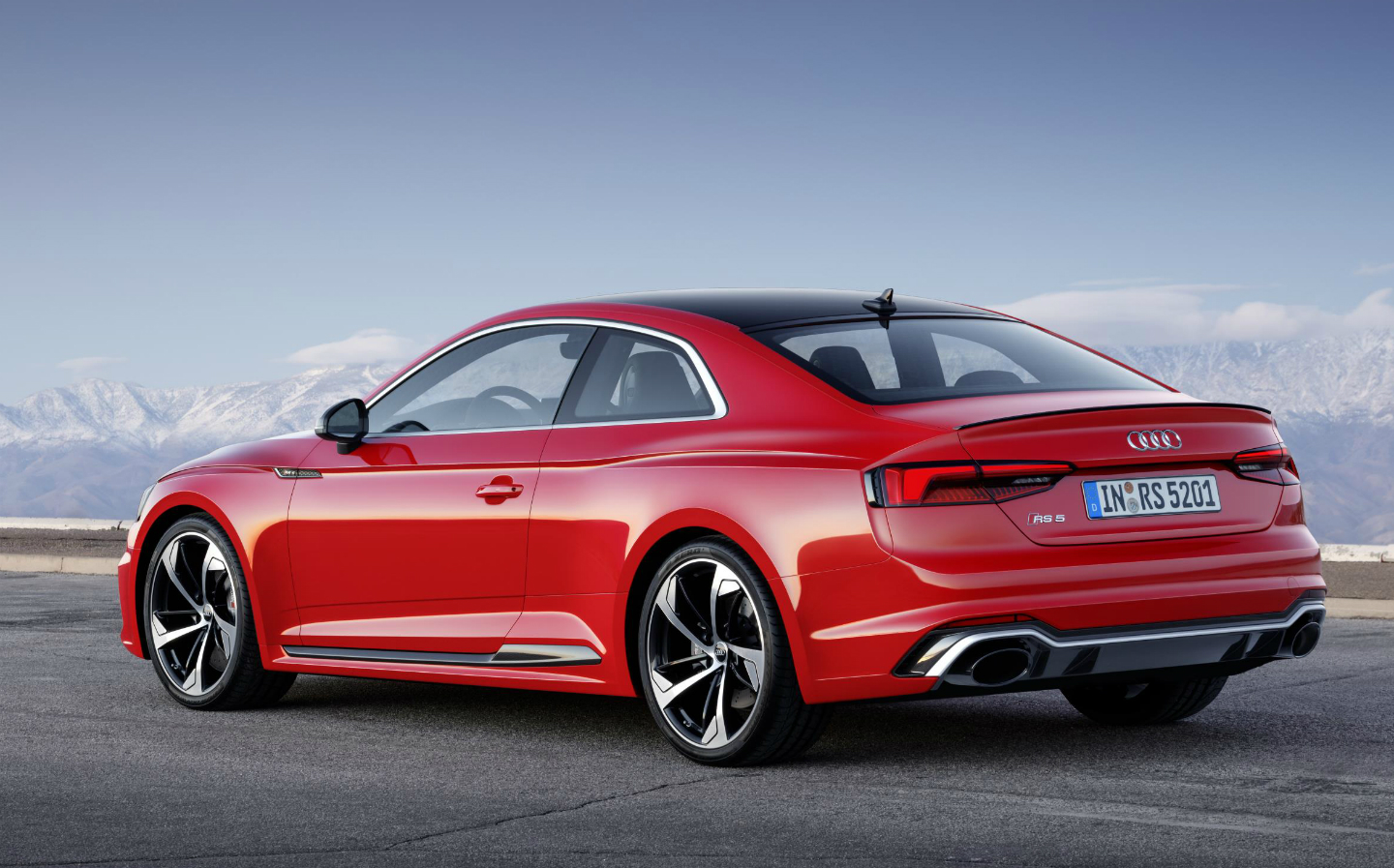 The car has lost a little weight, at  1,655kg, and the four-wheel drive system remains split 40:60 between the front and rear wheels. Audi promises that the old model's distinctive engine note has not been entirely lost, saying the V6 delivers "an incomparably full-bodied RS sound."
Bentley EXP 12 SPEED 6e: high-voltage concept roadster
Star feature Drives from London to Paris on one battery charge
On sale 2019
From rapid charging to an 'onboard concierge service', the EXP 12 Speed 6e suggests that when Bentley finally enters the electric car market, it will do things in its own inimitable way.
The two-seat roadster follows in the slipstream of the EXP 10 coupé, first shown at Geneva two years ago. The pair suggest Bentley is poised to add a fifth model to its range by 2019, which will be aimed at a younger crowd than current models. Wolfgang Dürheimer, chief executive of Bentley, said "Bentley is committed to offering an electric model in its future portfolio and we are interested to receive feedback on this concept."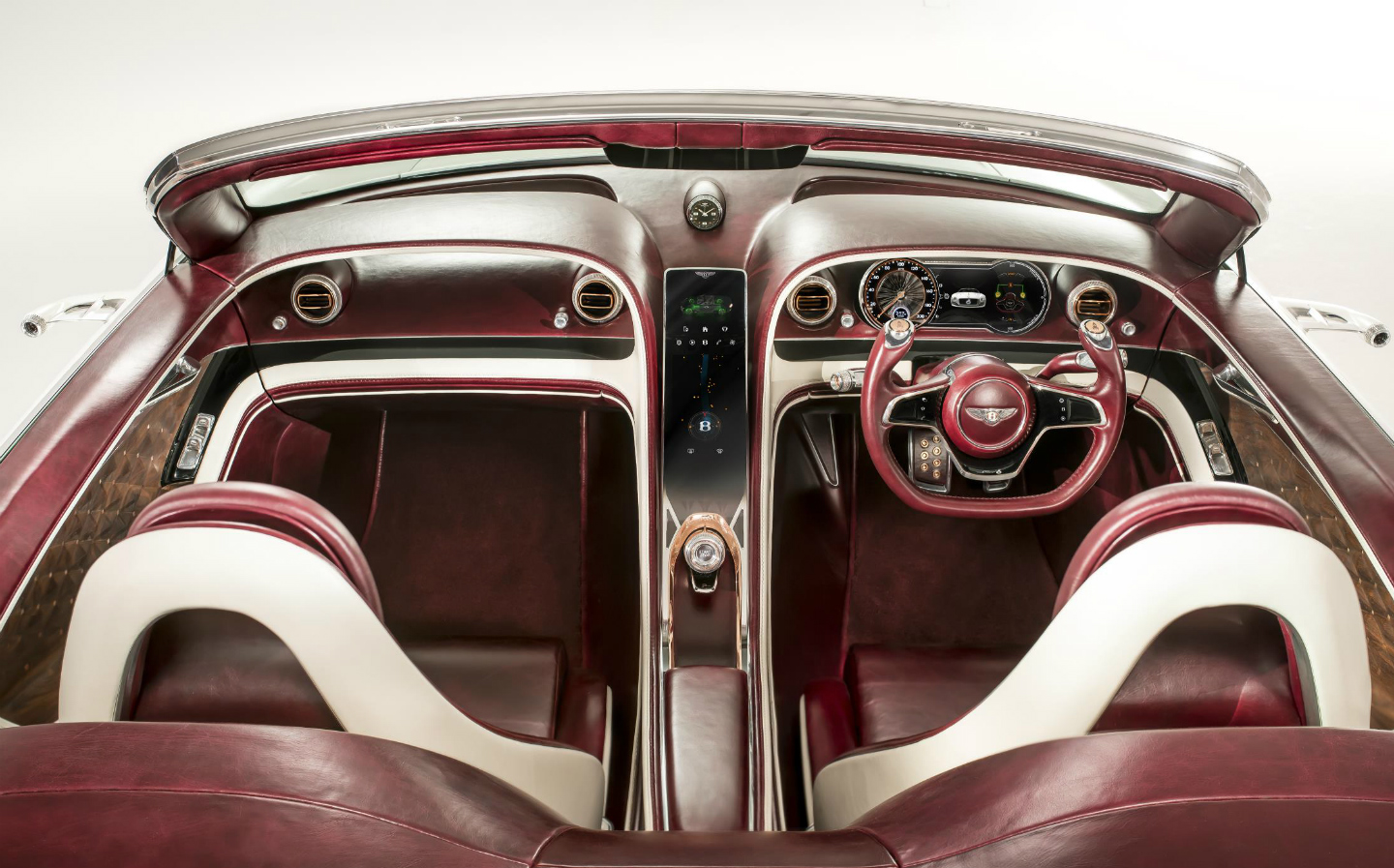 Bentley says the lavishly appointed electric model should be able to be driven from London to Paris on a single charge, suggesting it would have a battery operating range of over 300 miles. And once at their destination, drivers should be able to use inductive charging bays to ready the car for the next leg of their journey.
Ford Fiesta ST: pocket rocket revs up for action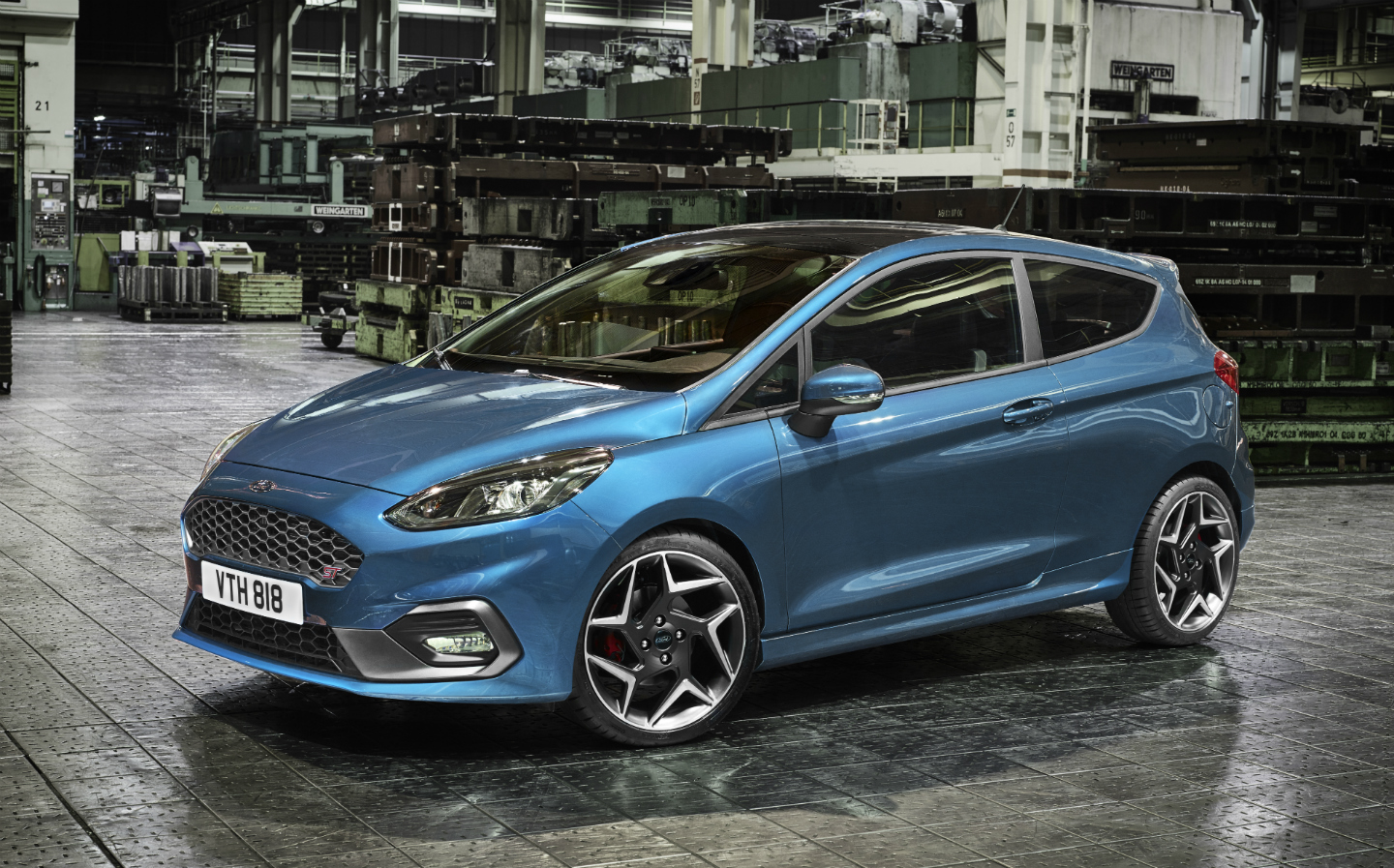 Star feature Three-cylinder engine
On sale Early 2018
For many, Jeremy Clarkson included, the Fiesta ST is the ultimate pocket rocket, a pint-size tearaway that's as close to perfection as driving gets. Early next year, this new model goes on sale, and there are big changes afoot. It features a new platform, body and interior and, significantly, a three-cylinder engine.
The smaller engine has raised eyebrows amongst fans of fast Fords; it can even shut down one cylinder, when driven frugally, to become a two-cylinder motor. However, the company is on a PR drive to convince enthusiasts that it can still deliver where it counts: the size of the grin when you open it up on a winding road.
It packs a 198bhp punch and 0-62mph takes 6.7 seconds, and for the first time there are three driving modes: Normal, Sport and Track. Read all the details of the 2018 Ford Fiesta ST here.
Honda Civic Type-R: Japanese engineers tame its wild streak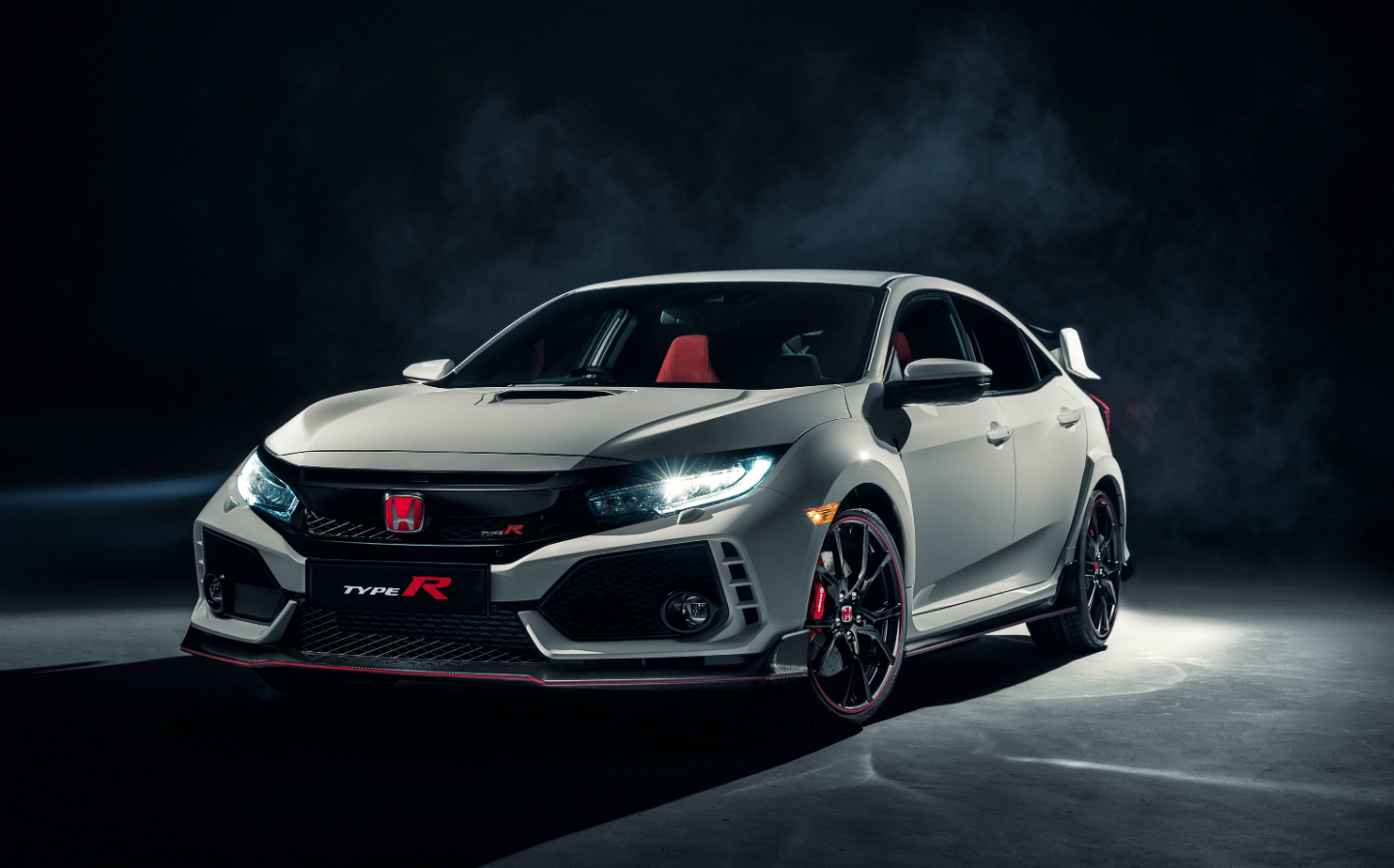 Star feature Now comes with a 'Comfort' driving mode
On sale Autumn
The outgoing Civic Type-R was as highly strung as a teenager going off the rails. Honda has as good as admitted that it went too far, and the new model, which will reach showrooms this autumn, will see the wild streak tamed. A bit.
For starters, a more mature 'fastback' body style has been used for the British-built model. Then there are new driving modes: the race-bred machine will come with a 'Comfort' setting for the first time. And finally the unpleasant, booming exhaust note is said to have been banished, in favour of something that won't leave drivers' ears ringing after a Sunday morning blast.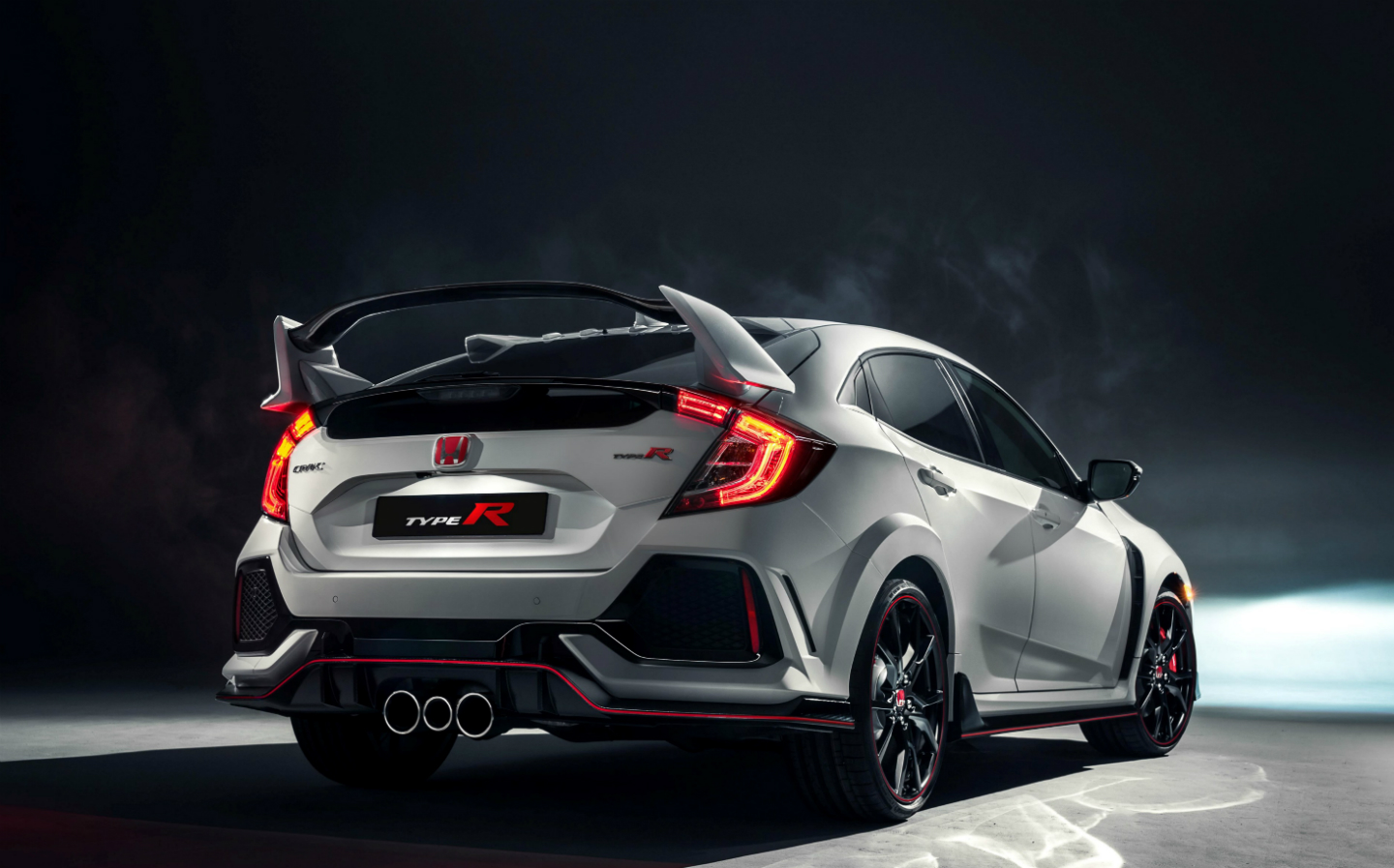 The 2-litre, four-cylinder turbocharged engine is retained, and now develops 316bhp. Once again, it drives the front wheels via a six-speed manual gearbox, and Honda claims that a stiffer bodyshell, improved aerodynamics and revised suspension make the Civic Type-R faster than ever around a race track.
You can read our First Drive review of the latest Honda Civic here.
Lamborghini Huracán Performante: turning up the heat of the most successful Lambo ever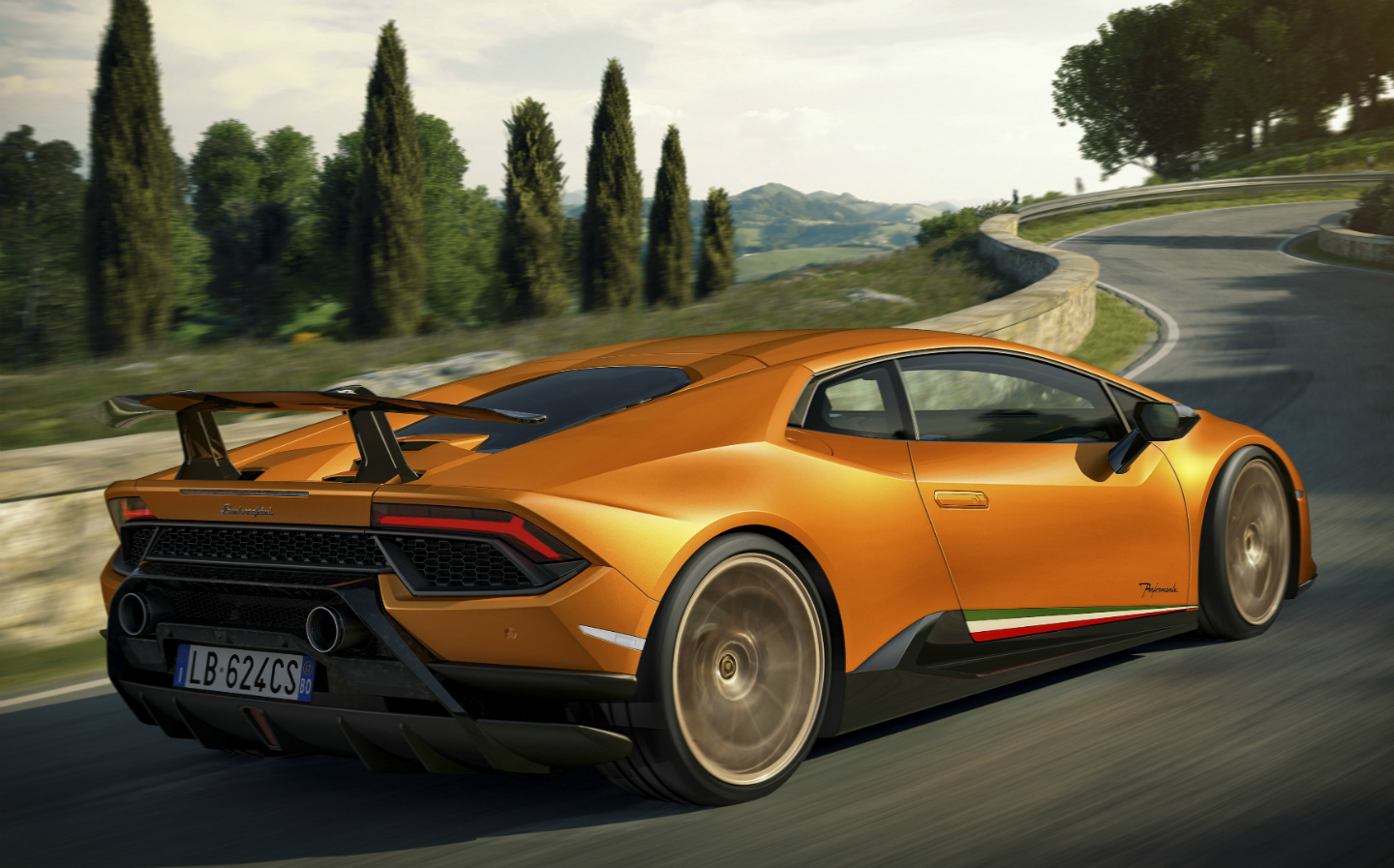 Star feature Record-breaking lap of the Nürburgring Nordschleife
On sale Now
It was obvious that any 'performance' edition of the Huracán would be more powerful, lighter and just that little bit more angry. But what the likes of Ferrari may not have seen coming is just how fast the new Huracán Performante can lap a race track.
According to Lamborghini, its new hot rod has set the fastest lap time of a production car tackling the fearsome Nürburgring Nordschleife, posting a 6 minutes 52 seconds flying lap.
You can find out all about the latest 630bhp V10 engine, revised suspension and its new 'aero vectoring' active aerodynamics in our full story — and video — here. On sale now, it costs £207,925.
Land Rover Range Rover Velar: set to become a British success story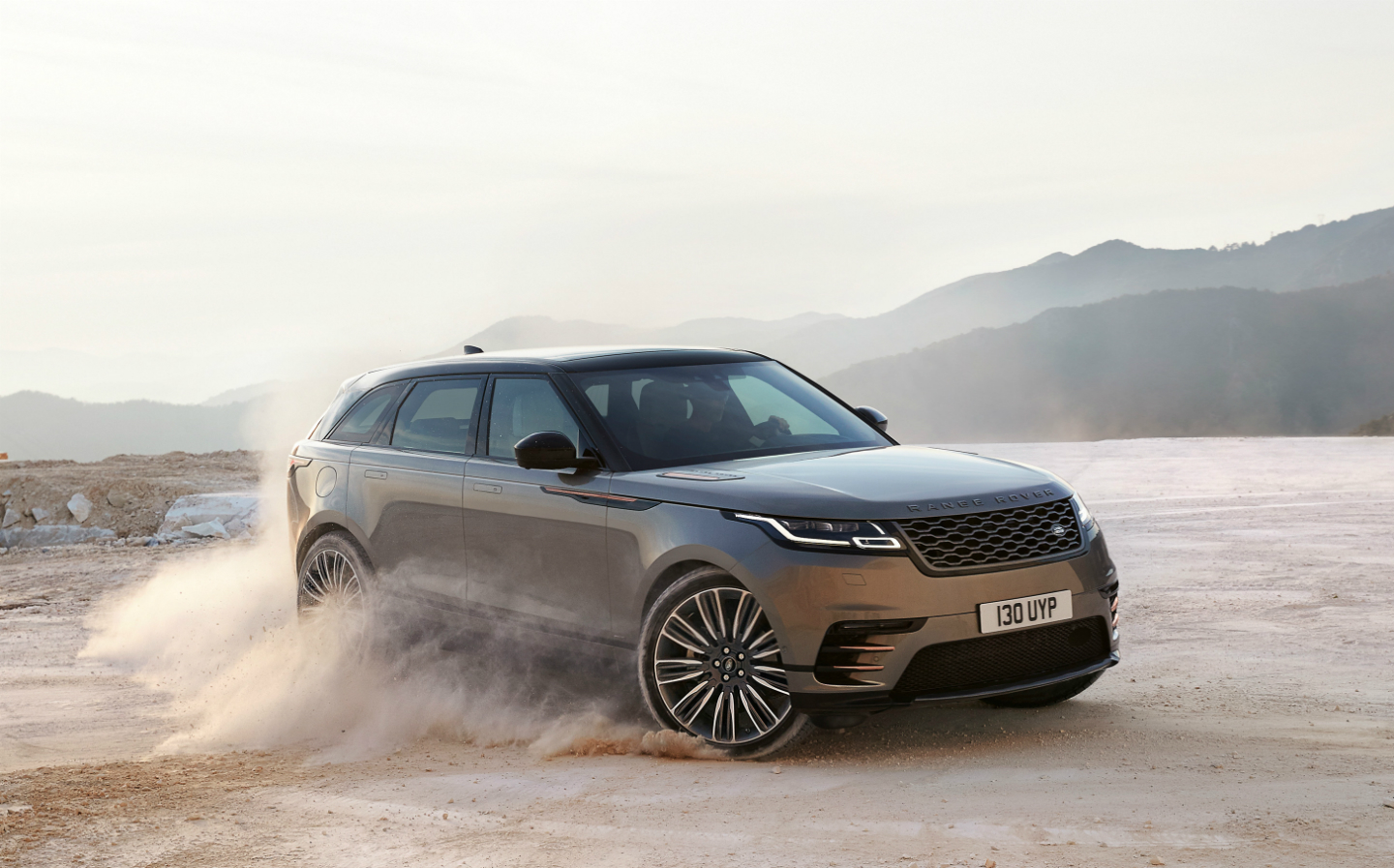 Star feature Touch Pro Duo infotainment system
On sale Now
The Range Rover family has been expanded to include the Velar, a five seat family car that brings a more rakish look and sporty drive to the British-made cars.
Its presence at the Geneva motor show brought executives from the likes of Audi and BMW huddling around, as they strained to get a better look at the model that sits between the BMW X4 and X6.
The Velar is priced from £44,380 to £85,540, and features a range of four-cylinder and V6 diesel and petrol engines, but no hybrid or plug-in hybrid version. As ever, the company claims that its ability in tough terrain and on-road manners make it a formidable package.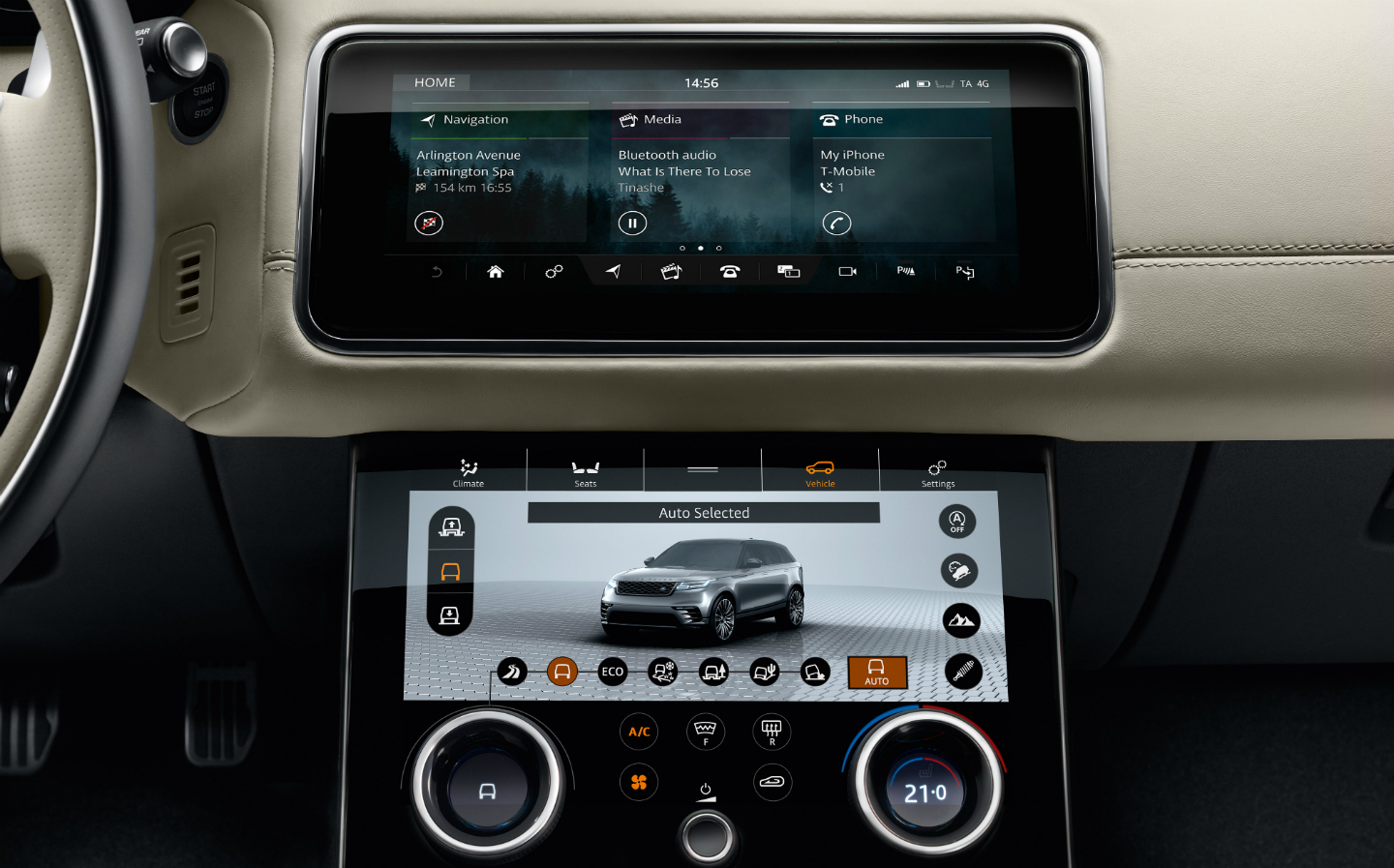 However, arguably the most attention-grabbing feature is the Touch Pro Duo system, which features a pair of 10in touchscreen that allow drivers to control the Terrain Response 2 4×4 settings.
McLaren 720S: British car maker tries to outrun Ferrari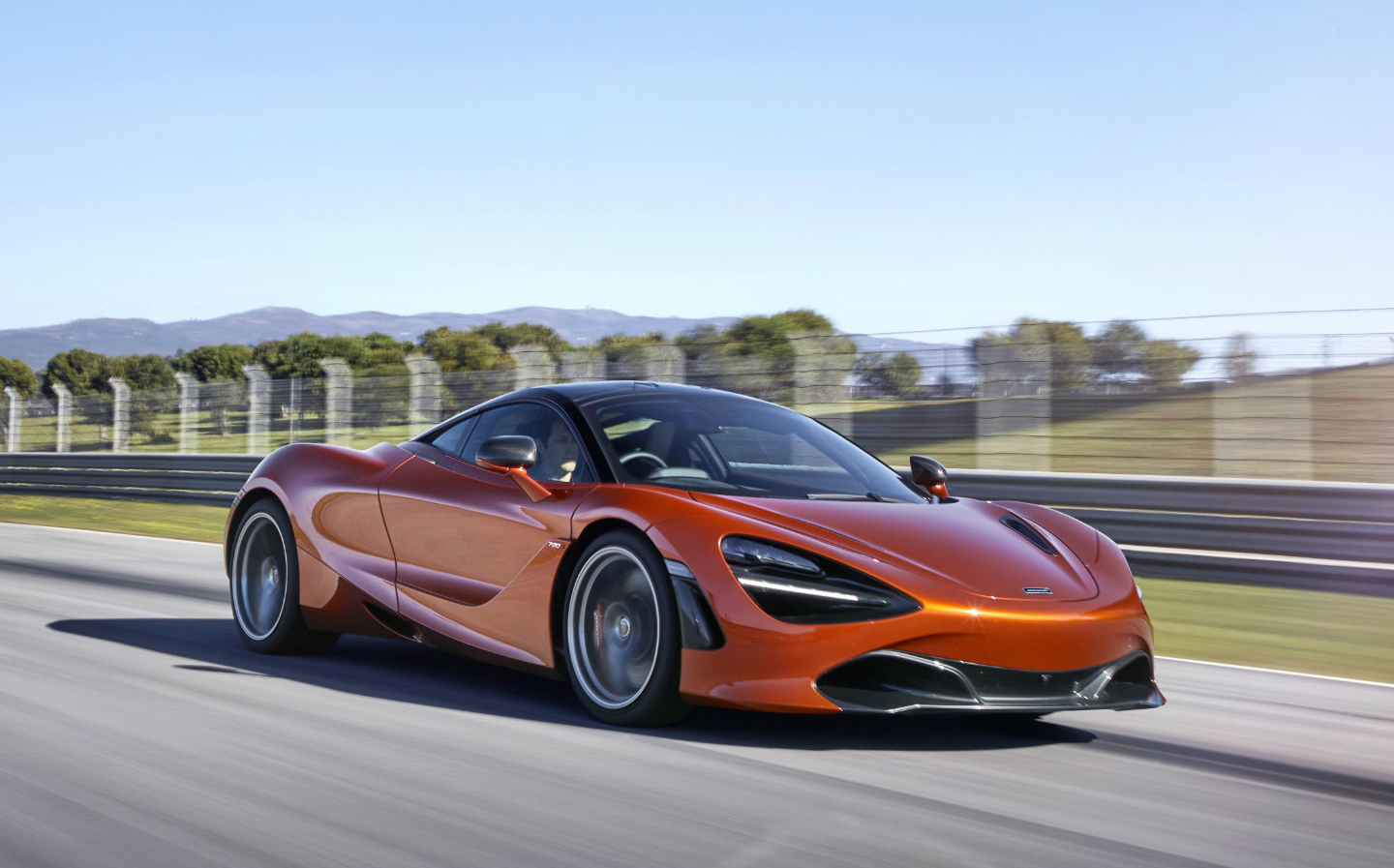 Star feature Rotating driver display
On sale Now
One of the crowd-pleasers at this year's 2017 Geneva motor show came from Britain. The new McLaren 720S attracted car enthusiasts, media and motor industry executives in equal measure, with a good number of the latter coming from Ferrari.
That's hardly surprising. The 720S is here to outrun Ferrari on the road and race track. And boy is it going to be hard to catch. Capable of accelerating from 0-62mph in 2.9 seconds, and 0-124mph in just 7.8 seconds, and with a top speed of 212mph, it is brutally fast.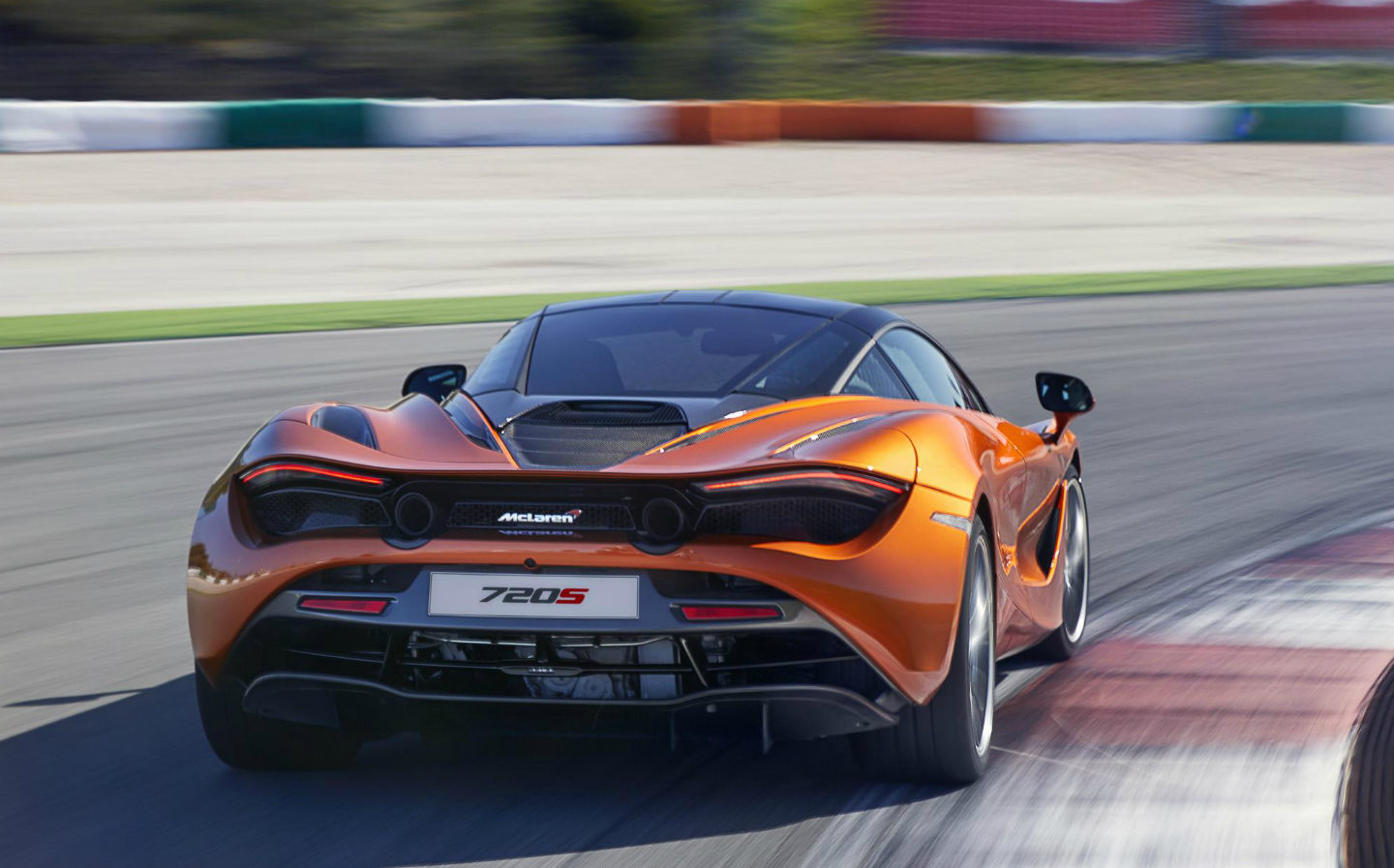 Like all other McLarens, the newcomer (a replacement for the 650S) is built around a carbon-fibre structure, now called the Monocage II, which means it is a two-seater with a mid-mounted engine and seven-speed gearbox driving the rear wheels. One of its technical innovations is a rotating driver information display screen, which has two views – one with a wealth of information about the car and another with the bare necessities.
Ferrari-challenging performance doesn't come cheap, though. McLaren says pricing for the 720S starts at £208,600.
Mercedes-AMG GT Concept: hybrid power for luxury tourer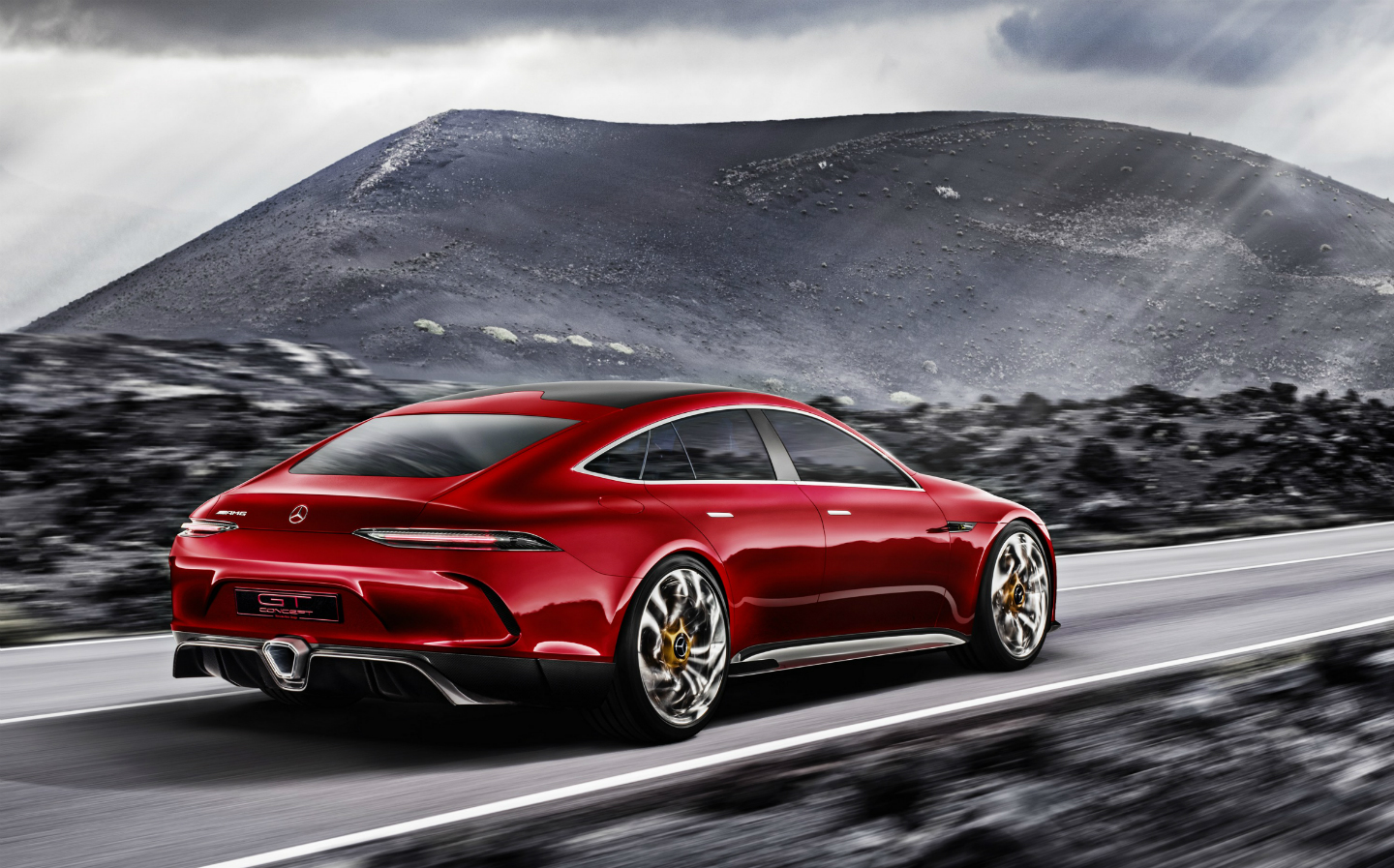 Star feature Hybrid gives mind-blowing performance
On sale 2019
Mercedes' sports division AMG has introduced its third wholly-designed and built model, following the SLS AMG and the AMG GT. It's the first to go hybrid, though. The Mercedes-AMG GT Concept is a four-wheel-drive, four-door coupé that brings huge performance to the hybrid car maket, a sector typically associated with saintly fuel economy and emissions rather than monstrous performance.
It features a 4-litre V8 biturbo engine and an electric motor, which turns the rear wheels. The two can be used to power the car independently or combine to produce maximum power and propel it from zero to 62mph in less than three seconds, according to the manufacturer. The high voltage system also includes regenerative braking and improves fuel efficiency.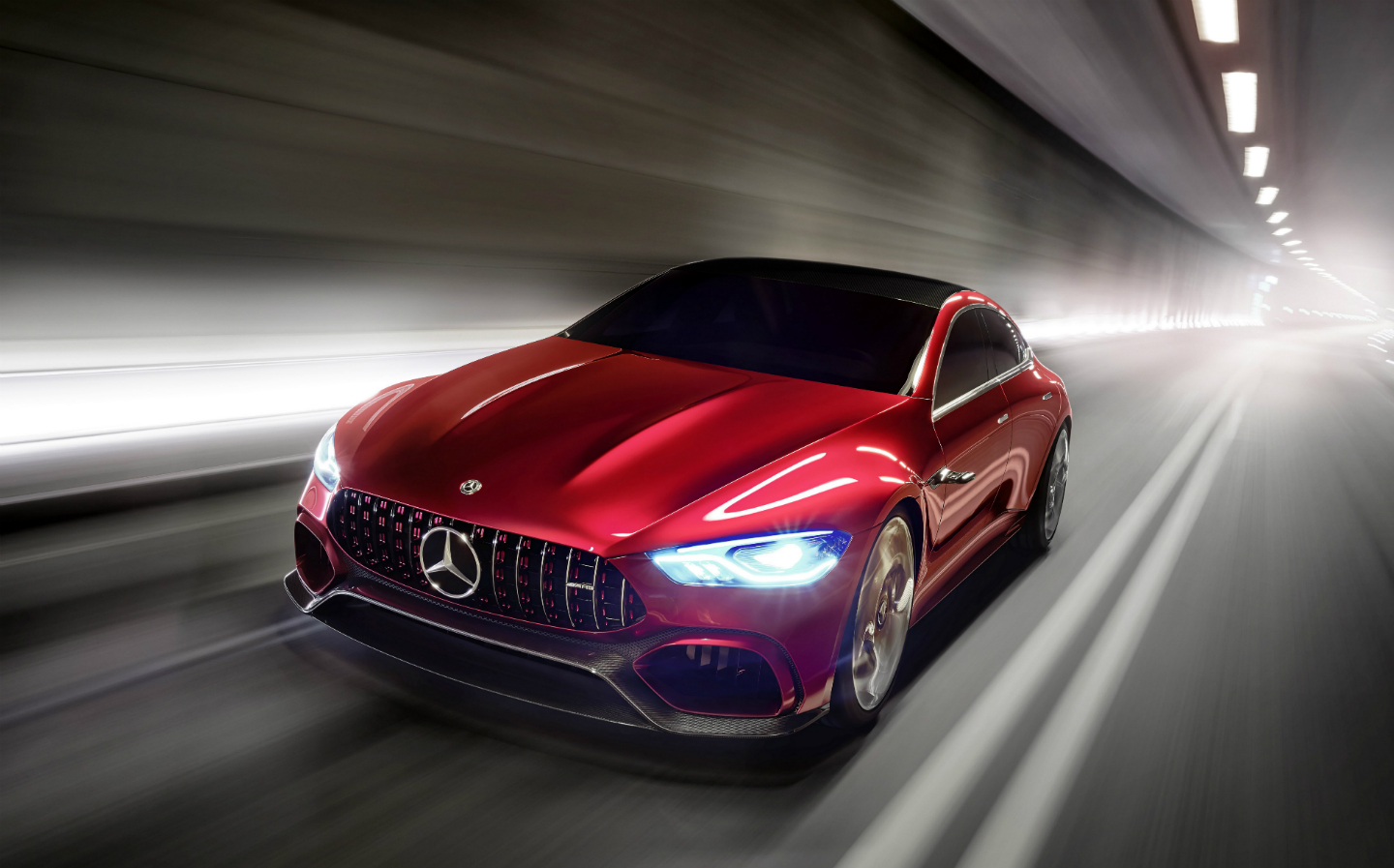 The concept is said to give a sneak preview of the exterior design of the series production model. To our eyes it looks somewhat derivative, aping elements from other cars such as the Porsche 911 and Tesla Model S, but there are clever touches including moving radiator shutters in the centre and side air intakes, which improve the aerodynamic and thermal efficiency, and a carbon fibre diffuser at the rear to aid downforce. It's sure to have performance but, on first view at least, the Mercedes-AMG GT Concept doesn't look quite as great as the sum of its parts.
Porsche 911 GT3: back to basics with manual gearbox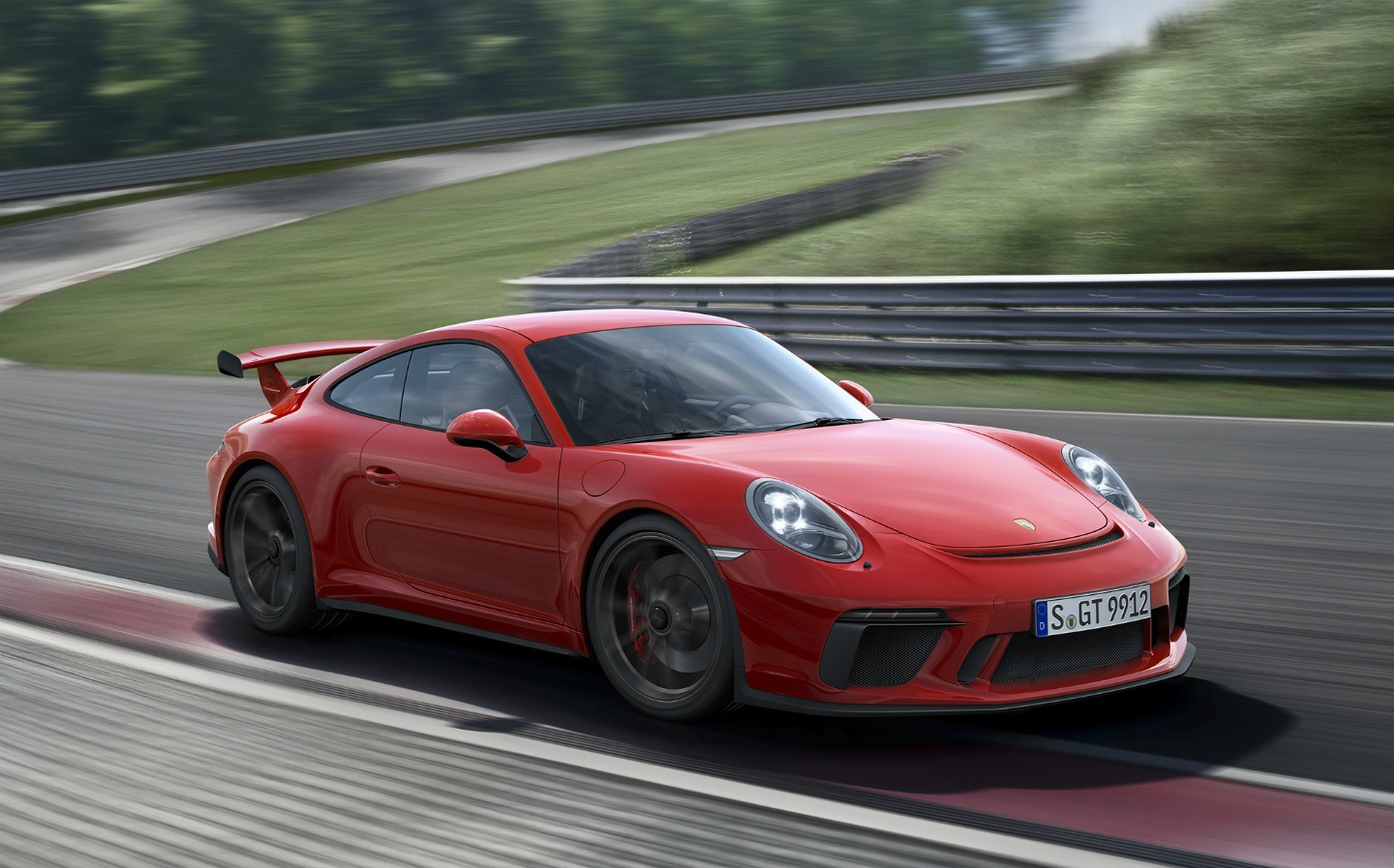 Star feature Engine revs to 9,000rpm
On sale Now
Luddites rejoice. The new generation of 911 GT3, the performance Porsche for driving purists, has been revealed at the Geneva motor show and it features a manual gearbox.
The last model caused controversy, after Porsche bosses decided that a high-tech automatic gearbox was all drivers needed. Widespread criticism has seen the company perform an abrupt U-turn.
Under the outlandish rear spoiler, the 911 GT3 features a naturally-aspirated, 4-litre flat-six cylinder engine that can rev to 9,000rpm and boasts 493bhp. The engine features a stiffer crank, low friction cylinder liners and a new design of cylinder head to help it rev higher.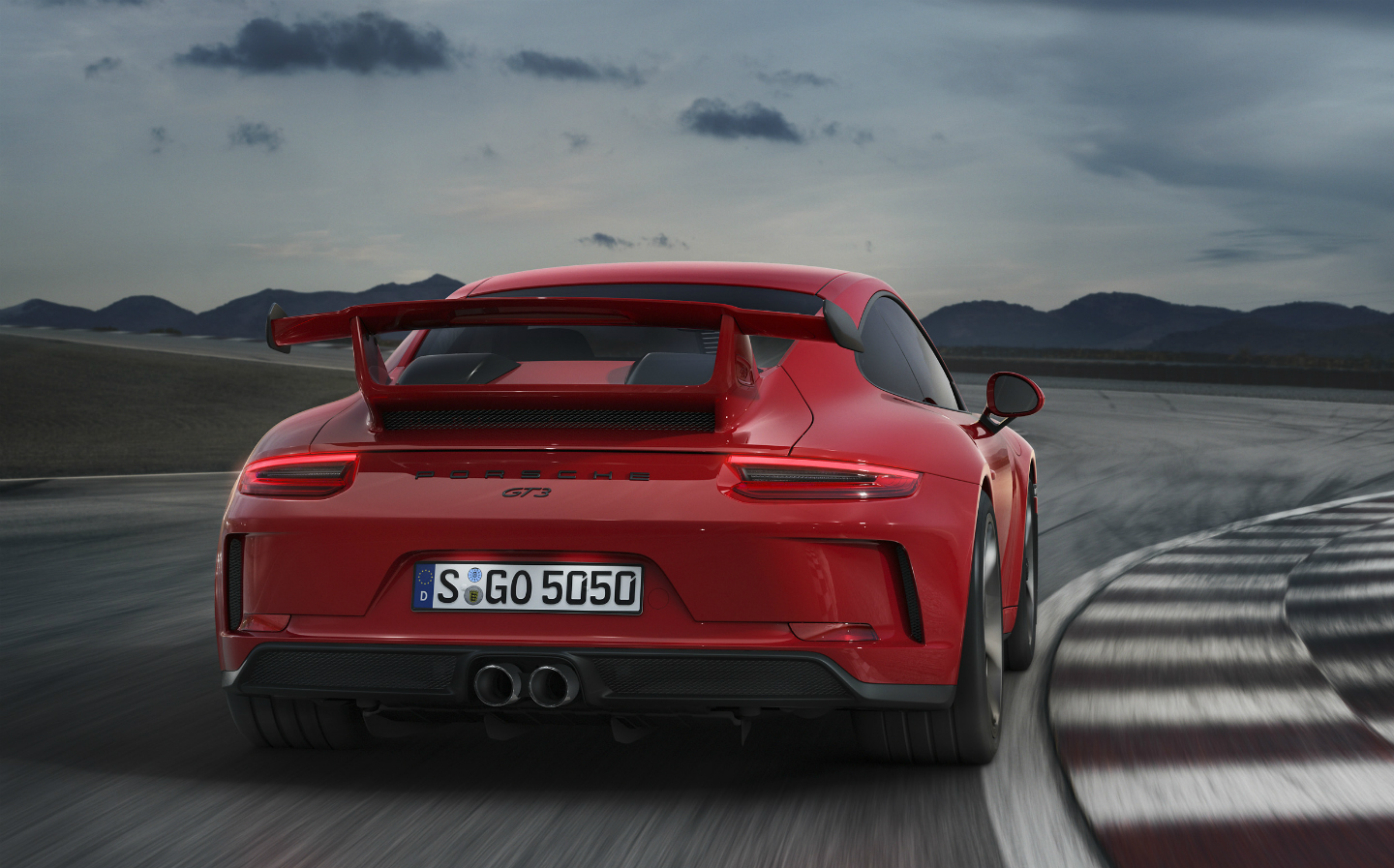 Porsche claims the manual model will accelerate from 0-62mph in 3.9 seconds, and the top speed is 200mph. However, a seven-speed, dual clutch automatic will also be available, which knocks the 0-62mph down to 3.4 seconds. It costs from £111,802 and is on sale now.
Volkswagen Arteon: replaces the Passat CC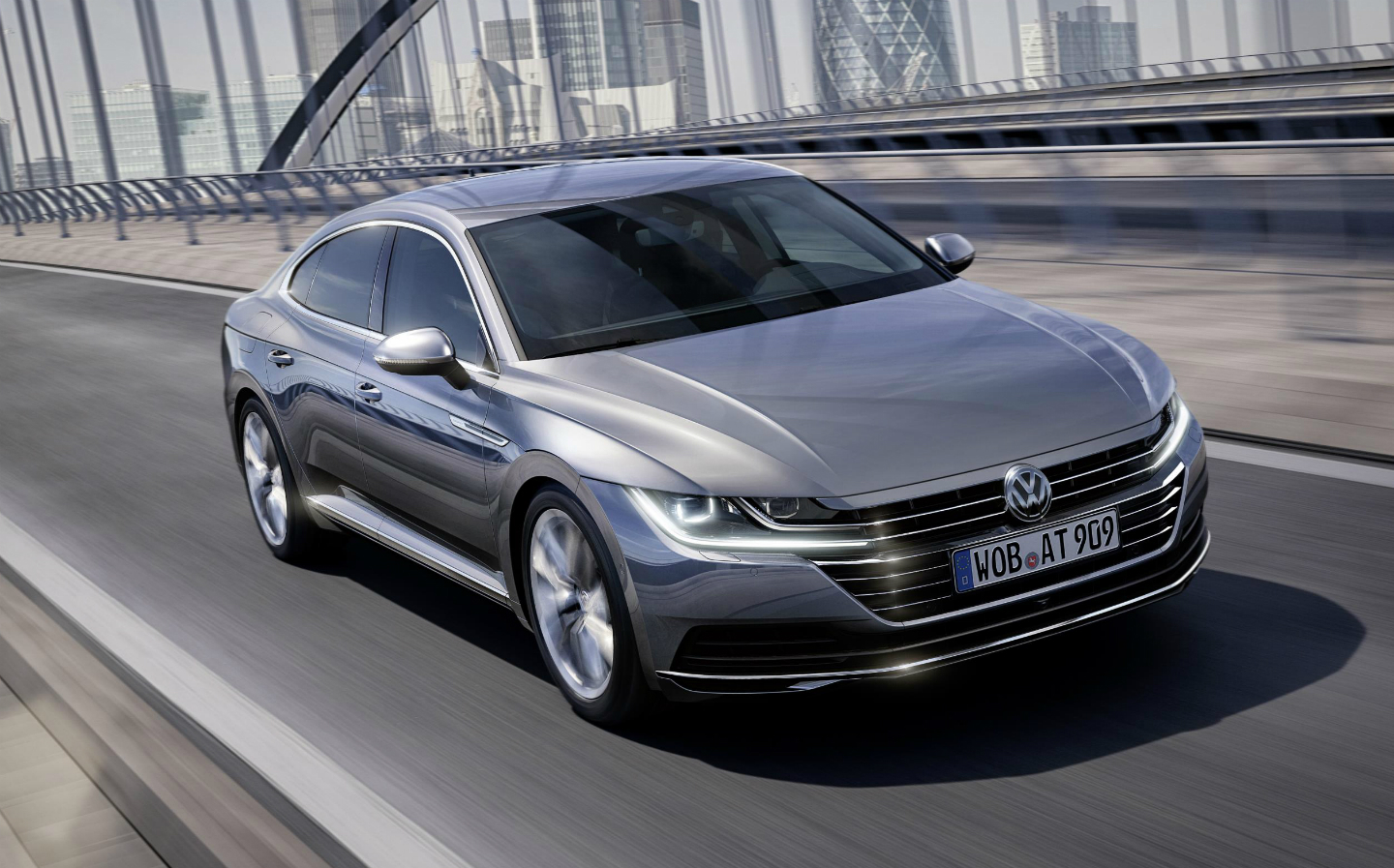 Star feature Low servicing costs
On sale Late 2017
Despite VW executives hailing the new Arteon as a cross between a sports car and a family car, arguably the most arresting feature about it are the low servicing costs. Volkswagen predicts that over four years or the first 60,000km (37,000 miles) it will cost no more than €200 (£170). That's because the first oil change comes only after two years, and the first main service is not due until three years or 60,000km have passed.
Perhaps that's not exactly the headline grabbing fact that the designers of the Arteon wanted people to take away. So what of the rest of the car, which succeeds the Passat CC?
It is claimed to boast a big, 563-litre boot beneath the fastback body, and the most legroom of any car in its class. (Not that there's much competition when it comes to four-door fastbacks.) The styling is a bit more interesting than a regular Passat saloon, and there's talk of VW producing a 'shooting brake' version, which is effectively a sleek, low-slung estate.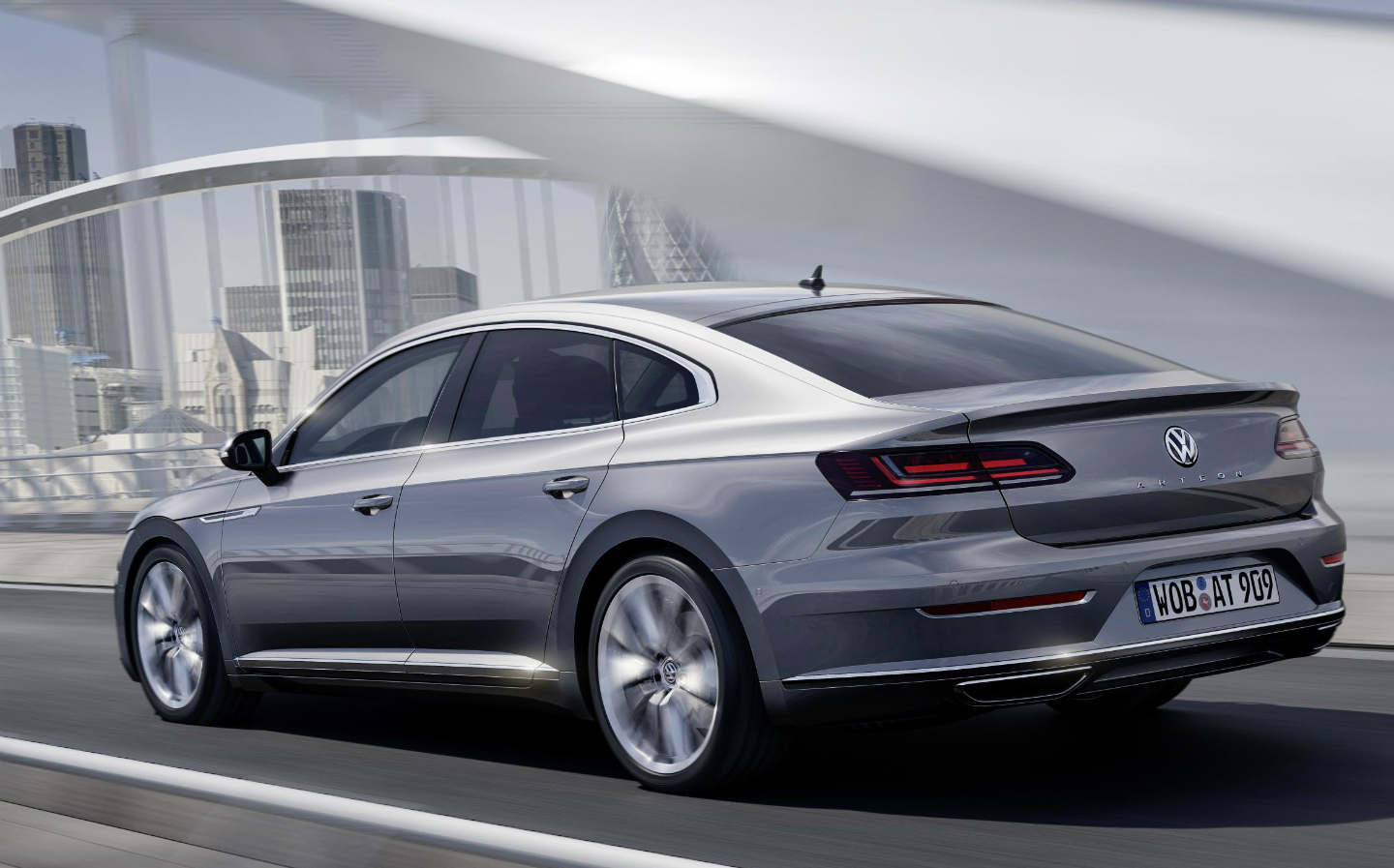 A range of four-cylinder petrol and diesel engines will be offered, together with manual and automatic gearboxes, and high-powered versions will be made available with four-wheel drive. It is likely to cost from £26,000 when it goes on sale in the autumn.
Volvo XC60: new look for Scandi-chic SUV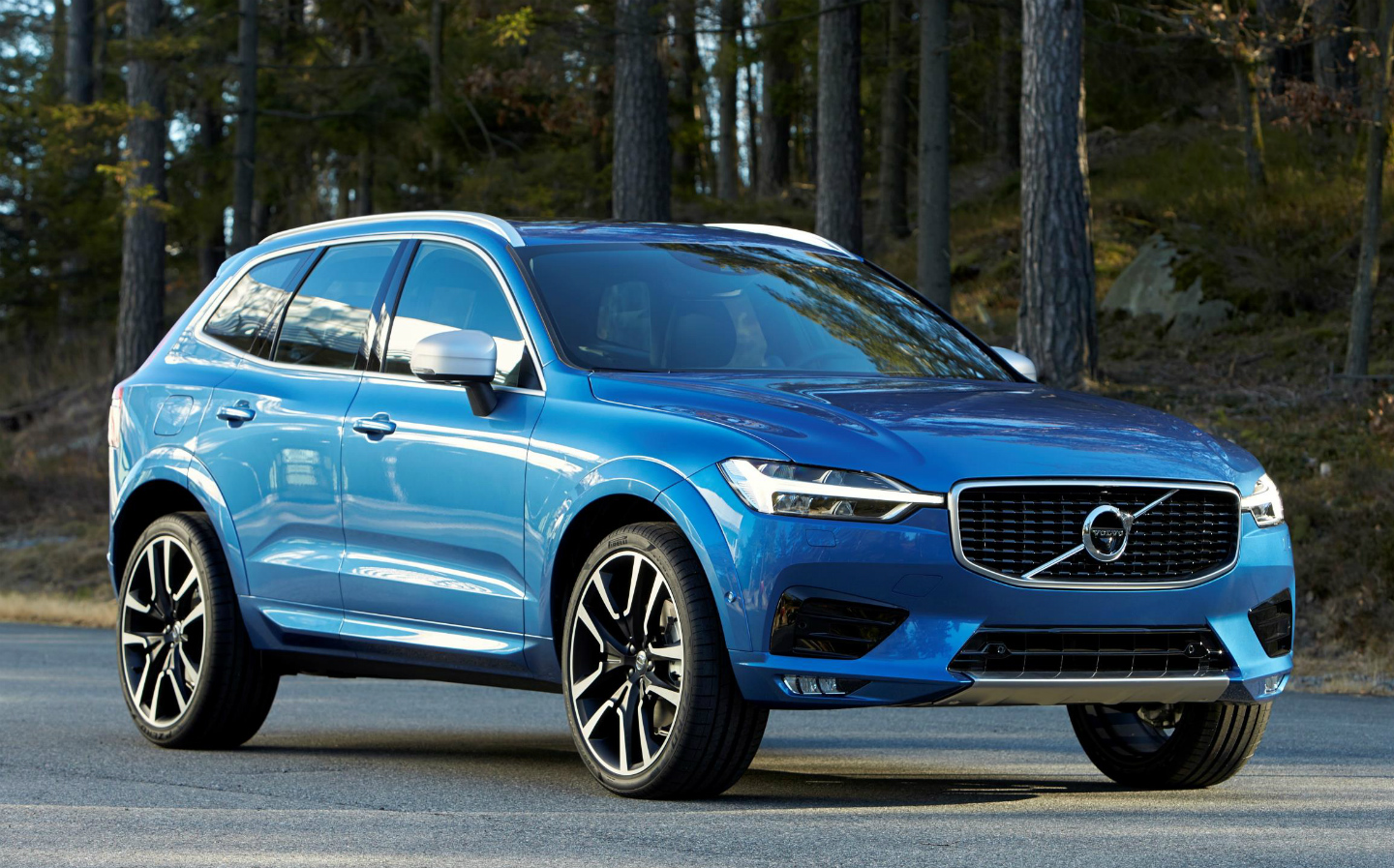 Star feature T8 plug-in hybrid
On sale Now
Nearly one million drivers have fallen for the Scandi-chic style of the Volvo XC60. So it's no surprise that the launch of the second generation model is a big deal for the Swedish car maker.
What will help it make its mark in an increasingly competitive market? Driftwood. Thomas Ingenlath, the head of Volvo's design department is most proud of a wood finish for the new XC60's interior, which has the appearance of faded driftwood.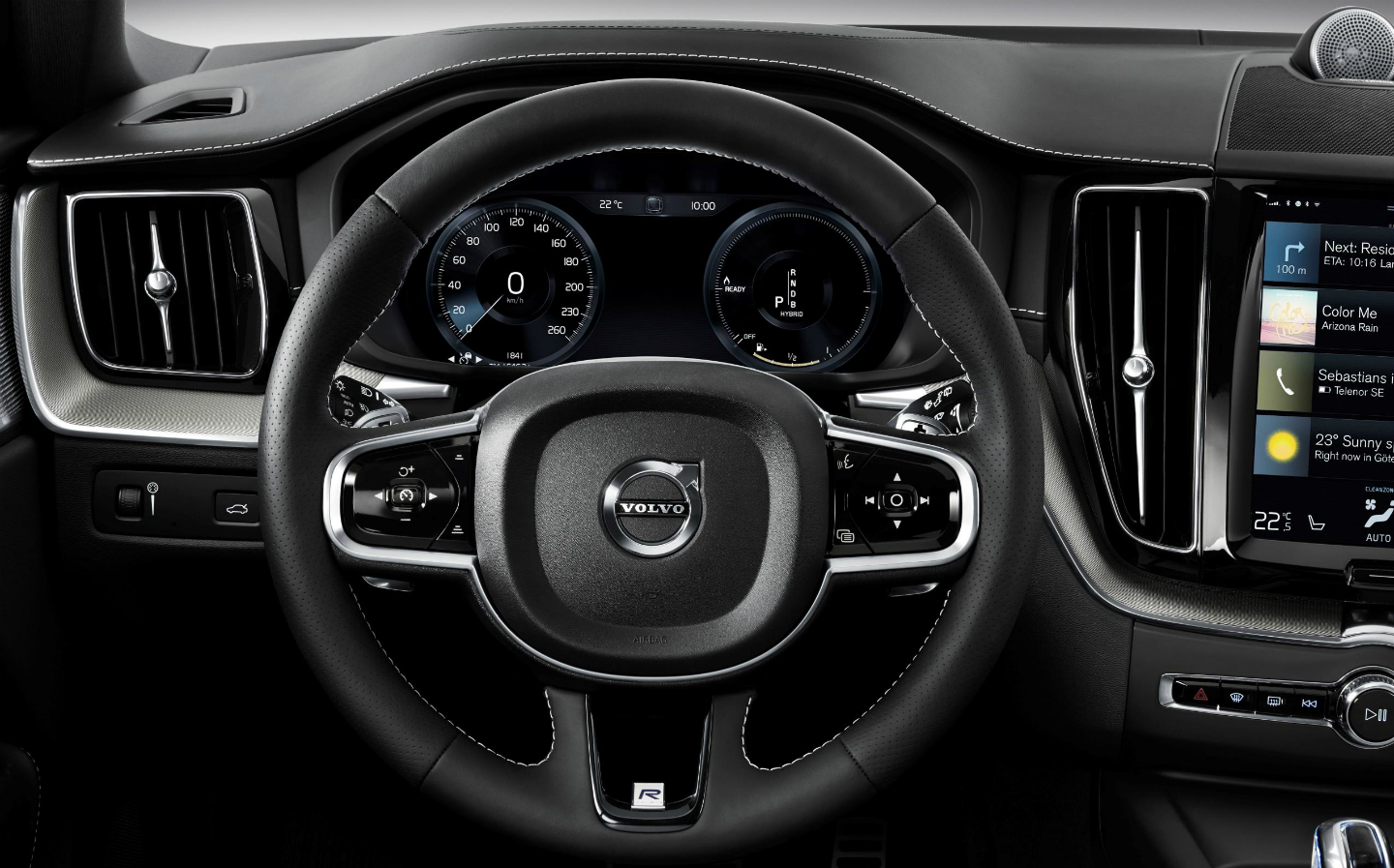 To help the mid-size XC60 compete with the latest Audi Q5 and Jaguar F-Pace, it gets a lower, longer and wider body, built on a new platform that helps reduce weight. There will be the familiar range of four-cylinder petrol and diesel engines, including a T6 with a turbo and supercharger, and for the first time a plug-in hybrid is to be offered, and the performance promises to be impressive.
Known as the T8 Twin Engine, the petrol-electric hybrid offers an impressive 401bhp, giving the green family car a bit of mean streak. It can accelerate from 0-62mph in 5.3 seconds, says Volvo, but the company isn't giving away its eco credentials (fuel economy and CO2 emissions) just yet.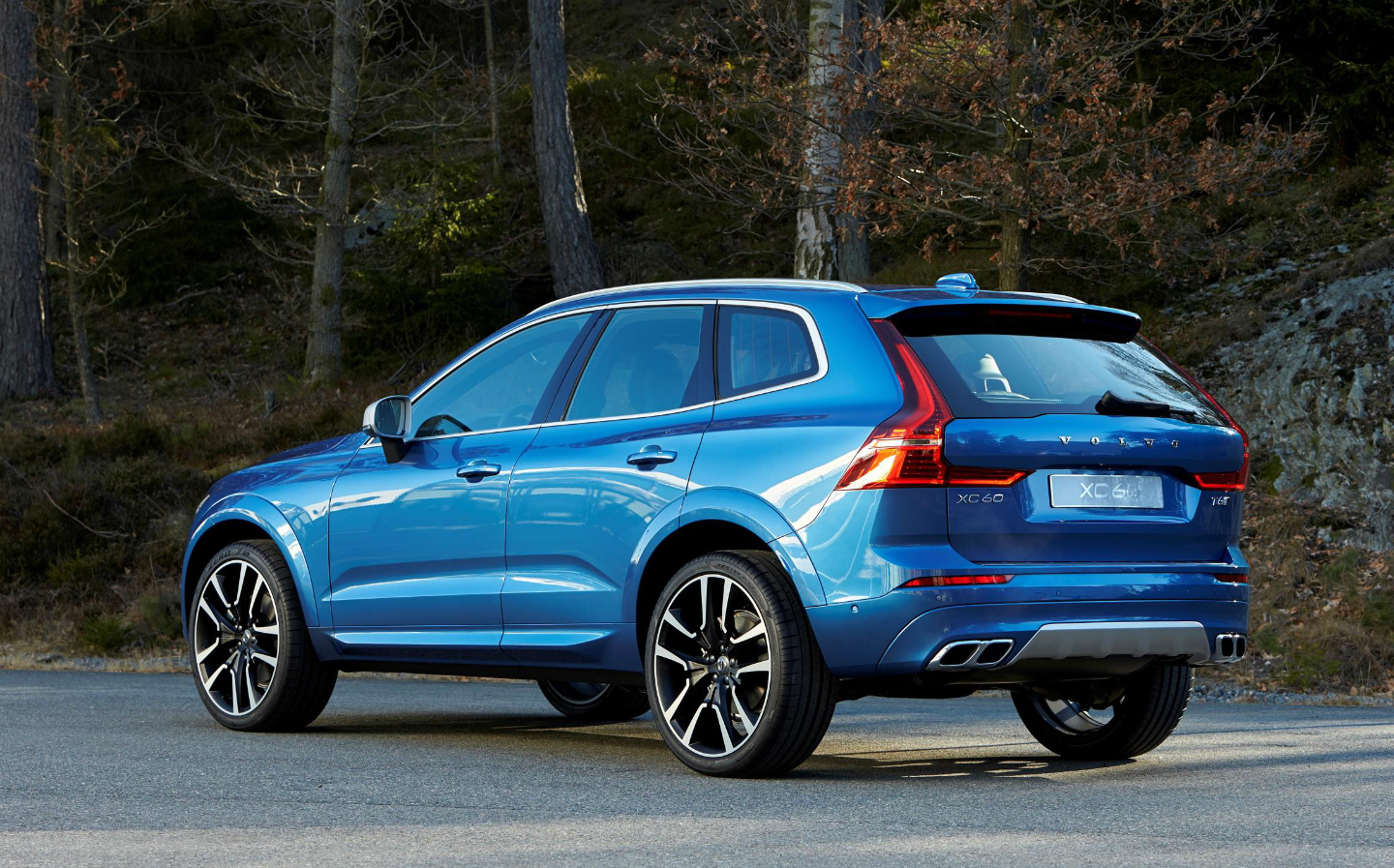 Initially, the XC60 will be sold with four-wheel drive and an eight-speed automatic gearbox. However, front-wheel drive and manual gearbox versions will follow, and there is talk of Volvo bringing a super-frugal, three-cylinder plug-in hybrid to the range.
Inside, the dashboard is dominated by a 12-inch touchscreen control system, much like the XC90 SUV, and there is seating for five. A wide range of active safety systems will be available, including Pilot Assist, which can manage the steering and speed on roads up to speeds of 81mph.