Ford trials robotic charging stations aimed at helping disabled drivers
Helping make EVs accessible for everyone ... but there could be other benefits besides
Ford has developed a robotic electric vehicle charging station that allows drivers to stay inside their cars while plugging in. 
The technology is primarily aimed at disabled drivers, who identified ease of charging as a key purchasing consideration when it comes to buying electric vehicles, according to Ford. 
"I stopped filling up my car myself years ago, because it became very strenuous," said Angela Aben, a Ford employee who also uses a motorised wheelchair. "My husband does it for me. The introduction of a robot charging station would offer me a much greater level of independence."
Having undergone lab testing, real-world trials of the robotic recharging system have begun. Once activated via the FordPass app, a cover on the charging station slides open, with the charging arm extending towards the car's charging port guided by a small camera.
Drivers can monitor progress through the app, and once the top-up is completed the arm retracts back into the charging station.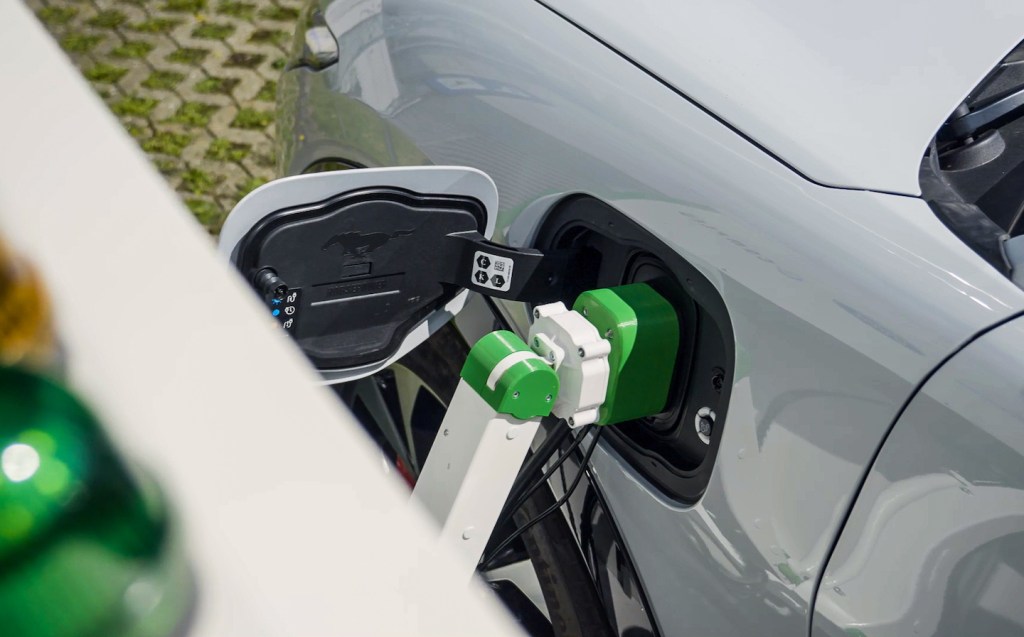 Ford says the robot charging station, currently custom-made by Dortmund University in Germany, could be installed at accessible parking spaces, car parks, or private homes.
The company sees uses for it beyond being a tool to help disabled drivers, for example in making recharging company fleets faster and more efficient.
Simply avoiding handling wet and dirty charging cables is likely to appeal to many EV drivers, while anyone who has tried to recharge their electric car in the poorly-lit corner of a filling station car park on a winter's night may also feel more comfortable staying inside their vehicle.
Charging could become entirely automated
Ford believes the technology could even evolve into a system whereby the entire recharging process is automated, with drivers sending autonomous vehicles away to be recharged without the need for a human operative. Once fully charged, the vehicle could return to the main fleet car park on its own. 
Following the initial trials, a follow-up project with the rapid-charging network Ionity will take place to further look at ways to improve the technology.
"Ford is committed to ensuring freedom of movement and right now refuelling or charging your vehicle can be a major problem for some drivers," said Birger Fricke, a research engineer at Ford of Europe. "The robot charging station could be an added convenience for some people but absolutely essential for others."
At the end of 2020 (the most recent period for which reliable figures are available), there were 1.2m vehicles in the disabled tax class in the UK, which represents 3% of all licensed vehicles. In March 2019, 2.44m blue disabled parking badges were held in the UK.
While disabled drivers are a minority, those numbers are not insignificant, so any improvement in refuelling and recharging to better cater to disabled people will positively impact people's lives.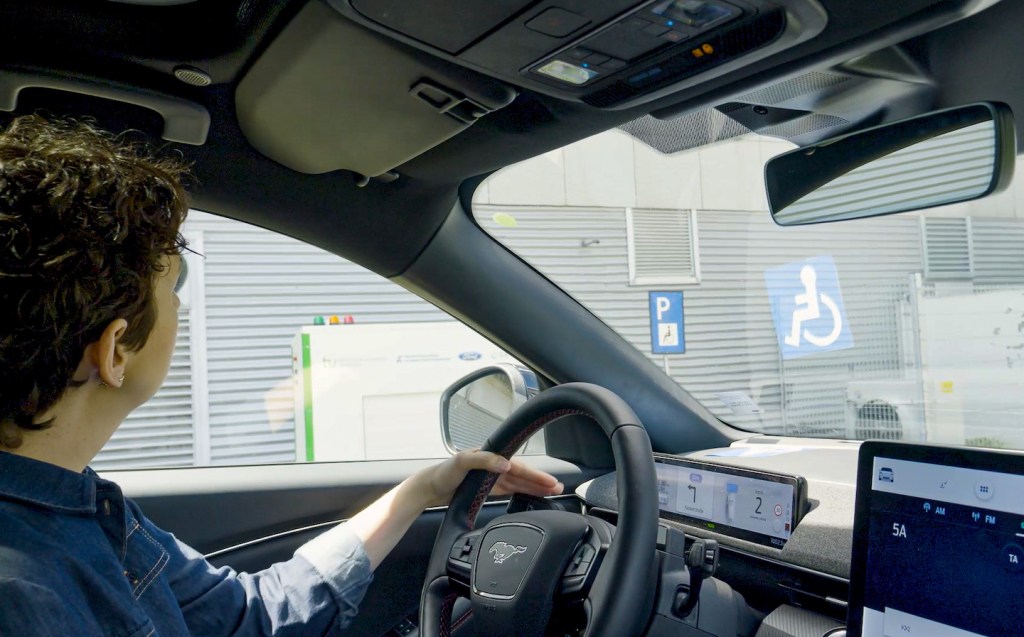 A 2021 study in the UK by the Research Institute for Disabled Consumers (RIDC) revealed that inaccessible charging was a barrier to switching to an EV for disabled or older drivers. Only 25% of disabled non-EV drivers would agree to consider getting an EV vehicle now, compared with 61% if charging was made more accessible.
Of the survey's 702 respondents, 54% felt that lifting the charging cable from the boot and closing it would be difficult or very difficult. Some 41% of respondents felt that manoeuvring the cable to the charge point would also be difficult or very difficult to do, while 66% said that space or trip hazards and barriers around the car and charger would either be difficult or very difficult to navigate.
Respondents to the survey also highlighted connection points being far too high for a wheelchair user, as well as concerns about being able to manage to connect a heavy cable.
The research offered a range of solutions put forward by participants, including a built-in retractable cable in the car or charge unit, ensuring the position of the charge flap is accessible and providing clear wheelchair access from the car to the charge point.
"This research highlights how a lack of user involvement in design has created unnecessary challenges for disabled and older people. There are 14m disabled people in the UK and with an ageing population, the number of people with additional needs will only increase," said Gordon McCullough, CEO of the RIDC.
"Unfortunately, products continue to be put out to market that do not account for the different ways that we all need use and access them.
"As the suggestions from our panel show, there are always solutions that could enable a much wider customer base. Many challenges can be solved by consulting with the people who are facing them, and using creative and innovative thinking.
"This latest survey shows that there is clear demand, but with UK sales of new petrol and diesel cars due to end by 2030, more work is needed to ensure that the electric vehicle infrastructure is fit for purpose for all our population."
Related articles
Latest articles