Extended Test: 2022 Ford Mustang Mach-E review
What's our 2021 Car of the Year like to live with?
2022 Ford Mustang Mach-E specifications
Model 22-reg Ford Mustang Mach-E (Standard Range) AWD
Price £54,100 OTR
Price as tested (with options) £54,900 OTR
Cost options fitted Premium body colour: Space White – £800
Drivetrain Twin electric motors, one for each axle + 75.7kWh battery (70kWh usable)
Transmission Single speed (automatic), all-wheel drive
Max power output 265bhp
Max torque 428 lb ft
Kerb weight 2,063kg
Max trailer weight (braked / unbraked) 750kg / 750kg (1,000kg in Extended Range)
Luggage capacity (rear seats in place / folded) 402 litres / 1,420 litres + 81 litres under bonnet
Top speed 111mph
Acceleration 0-62mph: 6.3sec
Electric range (combined WLTP) 248 miles
Max charging speed 115kW (150kW in Extended Range)
Charging time (best scenario @ 115kW) 10-80% in 38 mins (52 miles in 10 mins)
Official consumption (combined WLTP) 3.2 miles per kWh (19.6kWh/100km)
CO2 emissions 0g/km
Road tax Free
BIK tax payable (2022/23) 2%; £219 (20%) or £439 (40%)
Insurance group 37E (Standard Range AWD)
Test details
Test period June – October 2022
Starting mileage 776 miles
Test updates
June 29: What is the Ford Mustang Mach-E?
This is a good question, given the Mustang name, which is historically associated with V8-powered muscle cars. Using it on an electric car has not been without controversy, and some die-hards are dead against it. Most buyers probably don't give a monkey's, though, and we've looked past it to find a car that's really rather good. Good enough to be The Sunday Times Car of the Year in 2021, in fact.
If we like it so much, why the need to test it over an extended period? Because it gives us a chance to find out if it's more than just a great car for a day or two; whether it makes sense to own. And we'll discover any niggles that may cast a cloud over the initial enthusiasm. I've already found a few irritations that I'll come on to in a later update.
But first, let's talk about what we're dealing with here, and what makes the Mustang Mach-E interesting. It is far from Ford's first battery-electric vehicle (even founder Henry Ford invested in electric cars in the early years of the company) but Mach-E is the first mass-produced model for the brand, spearheading a range of new EVs including the F150 Lightning pick-up truck that was recently launched in the US and the new pure-electric Transit van for Europe.
Next year we'll get a medium-sized crossover based on the VW ID.4 (as part of a platform-sharing agreement with Volkswagen) and more electric vans, then a "sports crossover" and an electric version of the Puma, following a £1.54bn investment in its Cologne plant, along with battery production there, in Turkey and Romania.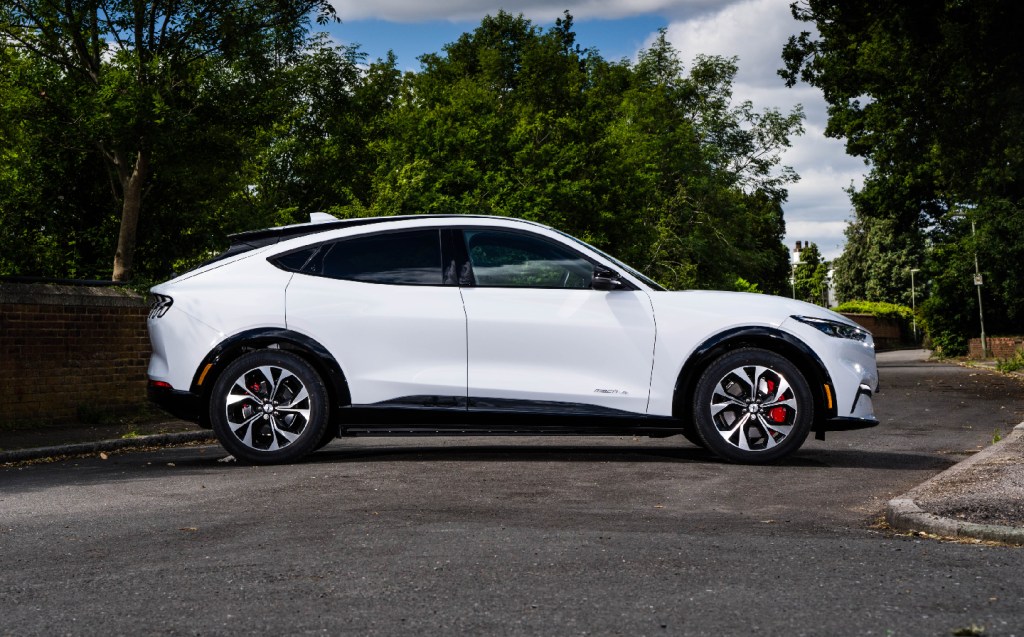 Mach-E is built from the ground up to as an EV, rather than an electric version of a petrol car, so the design is optimised for the plug-in powertrain. It follows the Tesla-introduced layout (and now found on most electric cars on the market) of a flat battery pack mounted under the floor, between the front and rear wheels. This means you can maximise space inside the cabin while keeping most of the weight (the pack is the heaviest part of an EV) low down, for better stability and handling.
And as with the Teslas, Ford has added luggage space under the bonnet in addition to the boot load area.
What that also means though, is that the floor is raised up higher than on a petrol equivalent. That's why many car makers have gone with SUVs for their electric models, as they're high riding anyway. When you open the door of the Mach-E you really notice the extra thickness of the floor.
Ordinarily it would be available with two sizes of battery: Standard Range, as tested here, which has a capacity of 75kWh, and Extended Range with a 98kWh pack. Then there's a choice of rear-wheel-drive or all-wheel drive, and which combo you go for affects range between charges considerably.

The RWD model offers the two extremes in terms of how far you can go (248 miles with the smaller battery, 379 miles with the larger one), but other factors such as wheel size contribute to differences in range, too. Then there's how and where you drive the car… I'll come onto real-world range in a later update.
Charging is not the fastest out there but it is rapid, at speeds of up to 150kW, which means it can get from 10-80% in 38mins. Our Standard Range test car is capped at 115kW but having plugged into Instavolt and BP Pulse chargers that go to 300kW, I can confirm it doesn't take long to boost range considerably. again, more on that later.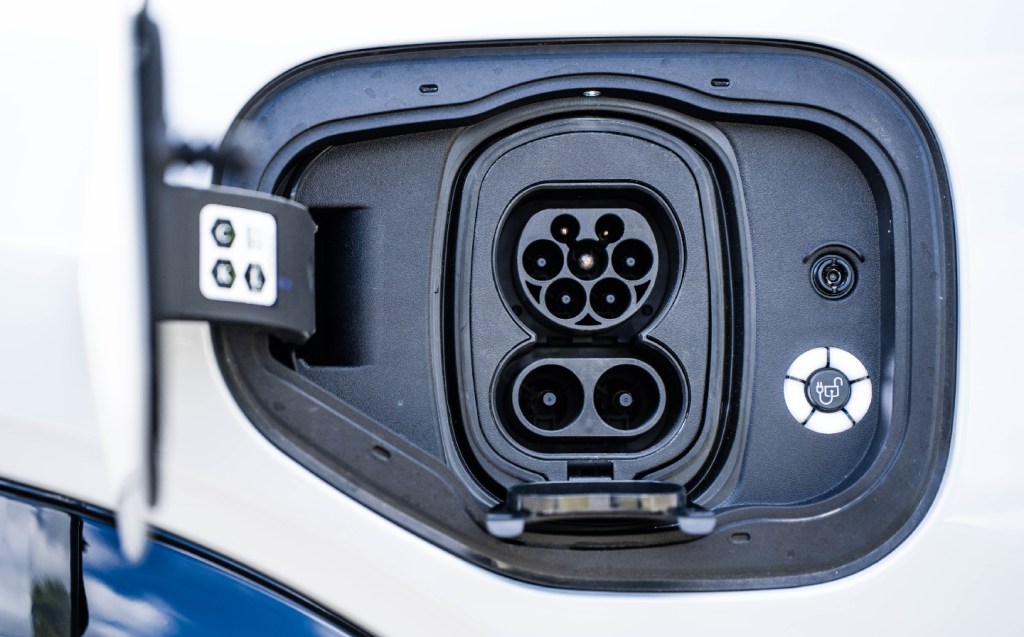 All good but the website says Mach-E can't be ordered right now…
I say "ordinarily" it would be available with two battery sizes because at the moment it's very hard to get hold of a Mach-E — the Ford GB website says, "Due to customer demand, ordering is currently limited for Mustang Mach-E," and invites customers to register for updates or contact them for more info.
Ford's press team confirmed to me that's it's more to do with the semiconductor shortage, which is affecting production of electronic goods (not just cars) globally, than demand, and that online ordering is on hold as a result.
"The semi-conductor shortage continues to affect production, and online ordering has been paused so that we can better manage demand," the spokesperson told me. The truth is that Ford has prioritised big sellers and "future growth" models when dishing out the hips it can get hold of — that means the Puma and Kuga crossovers, and the Transit van, which is now available in plug-in hybrid and pure-electric forms, and was the best-selling vehicle in the UK last year. Yes, it outsold all cars.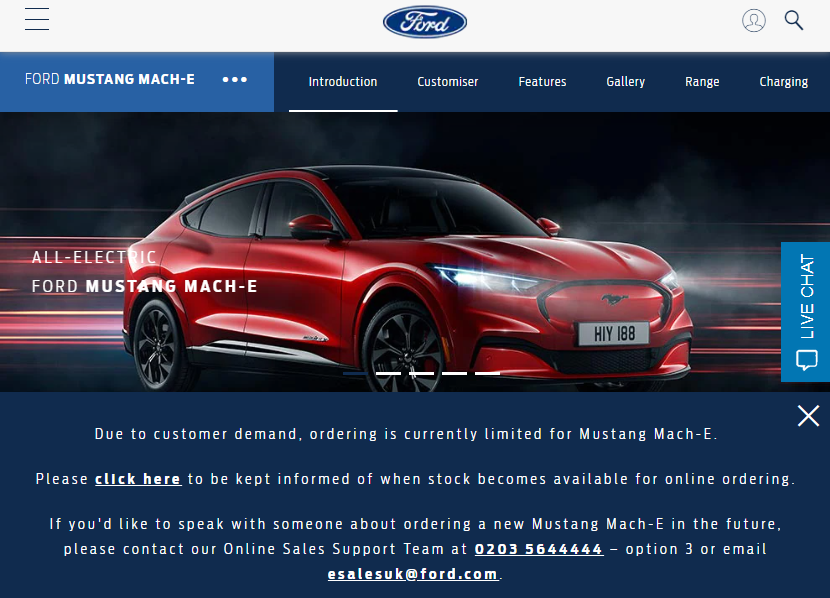 Of course, Ford hopes to re-open Mach-E ordering "as soon as possible" but the spokesperson couldn't give me a definitive time for that, as nobody really knows how long this chip crisis will last. Some tech experts estimate it could take between two and three years. Yikes.
But the good news is that in the meantime there is some existing stock, according to my contact. My advice is to contact Ford and see what's available on forecourts right now, particularly as, when online ordering restarts, it'll take another six to seven months for your car to be manufactured and delivered.
I also noticed that the car I'm testing — the Standard Range version with AWD — isn't an option on the website but I'm assured it will be added again when ordering restarts.
If you are interested in buying, it won't have escaped you attention that Mach-E isn't the most affordable Ford out there. Prices start at £47,530 for the Standard Range RWD model, but my test car, with dual motors, costs from £54,100 on-the-road. That's not small change, even for an electric car. The Tesla Model 3 starts at £48,490 after its recent price hikes, while the more comparable Model Y, which has a range of 331 miles, costs from £57,990.
And there are now many attractive rivals besides, including the Hyundai Ioniq 5, Kia EV6, Mercedes EQC, Skoda Enyaq iV, VW ID.4, Genesis GV60 … the list goes on, and it's growing rapidly.
So, while the Mustang Mach-E may be our car of the year 2021, is it still a good buy against the increasing number of rivals, and what are the stand-out features and issues that may put you off? Is the official range realistic, and how fast does it charge in the real world? These are the things I'll be exploring over the coming months, so stay tuned.
Mileage today 1,848 miles
Distance since start 1,072 miles
Indicated long term consumption 3.1 miles/kWh
If you'd like to ask me a question about the car, please message me on Twitter or comment below; I try to check comments every week.
Tweet to @wdron
Follow @wdron
Related articles
Latest articles