Driver distractions: the gadgets most likely to cause an accident
Smart tech that could show the quickest route to casualty
CAST YOUR mind back 20 years and the entertainment technology in your car's cabin probably amounted to little more than a radio and a CD player. Today the typical new car offers everything from sat nav and touchscreen displays to iPod docks and voice-activated hands-free calls. And that's before you factor in the iPad or laptop you might have on the passenger seat.
It is about to get worse.  Apple is expected to unveil its smartwatch — a wearable piece of technology that will be able to send and receive emails and texts, and connect to your iPhone. Such smartwatches are not new, but Apple has a habit of taking existing technology and making it popular. While this may be good news for gadget-lovers, is it good for drivers? With an Apple watch on your wrist, as well as other gadgets in your car, will you keep your eyes on the road?
Already it is clear that some people don't even try. Last month a cyclist recorded images of a driver in Aberdeen apparently checking his mobile phone while wearing headphones and with a switched-on laptop facing him on the passenger seat.
People using mobiles are the worst offenders. Despite a law banning their use at the wheel in 2003, new government research suggests 500,000 people use a mobile while driving every day. Thames Valley police, one of the forces that took part in the research, claim that if everyone stopped using a phone at the wheel there would 242 fewer deaths and serious injuries on roads in the force's area every year.
The Institute of Advanced Motorists has warned of the dangers of modern cars being turned into "living rooms" on wheels, because of the number of gadgets now fitted as standard. Separately, the chief constable of Gloucestershire, Suzette Davenport, has urged the government to consider an automatic ban on drivers caught using their phones in the car.
"Driver distraction is getting worse, yes, absolutely," said Professor Andrew Parkes, chief scientist at the Transport Research Laboratory (TRL), a government-funded testing facility, who has been researching road safety for more than 20 years. "There are just too many tasks available to the driver and a lot of [it] isn't central to safe control of the vehicle: tasks such as being able to check your emails, check web documents. A lot of these should only be completed when the vehicle is stationary, but many are [carried out] on the move, even if drivers are advised not to do so."
How much does such distraction affect a driver's ability to respond? The Sunday Times put six scenarios to the test at TRL's lab in Wokingham, Berkshire, in a driving simulator — essentially an ordinary hatchback parked in front of a large screen attached to sensors and computers in a control room. It measured drivers' reactions as we looked at the impact of activities that many people carry out every day in their cars. The results were startling.
One of the problems for safety campaigners is that, as well as the proliferation of technology in cars, they have to address a cultural shift in how people view driving. Gone are the days when getting in the car meant being cocooned from the outside world, where all you concentrated on was the road ahead and where even holding a conversation with a passenger was considered a distraction.
Today, cars are viewed as an extension of people's normal lives — and that means being always on, connected to social media, available to answer calls or texts from bosses, friends or family. The difference is that unlike in the office or at home, where multitasking is the norm, being distracted in a car can have lethal consequences. Even using a hands-free kit, while legal, is no guarantee that the driver is not distracted.
The family of a couple killed in a crash by a driver who admitted she had been talking on a hands-free phone called for the law to be changed after the driver was acquitted last month of causing death by dangerous driving. Taylor McDonnell, 21, a hairdresser, made "four or five" phone calls while driving and had been talking on the phone for 18 minutes of her 20-minute journey before she killed Denis and Joyce Drew, both 86, as they took a stroll in the village of Ponthir, south Wales, last year.
The prosecution alleged that McDonnell was "grossly distracted" by her phone. However, the jury acquitted McDonnell, who said the phone had been on loudspeaker and that she had not been holding it at the time of the crash. The Drews' daughter, Sarah England, said the law should be changed to make it an offence to use a mobile at the wheel, regardless of whether it is hands-free.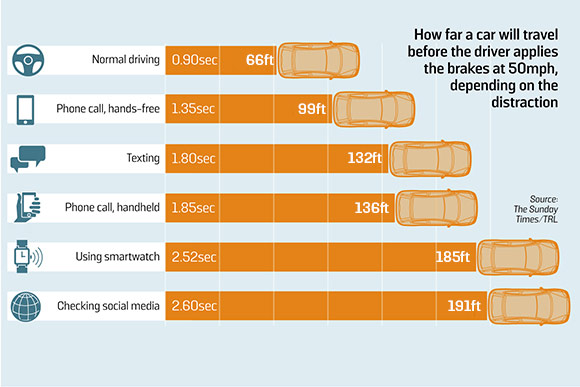 Brake, a road safety charity, said many drivers allowed themselves to be distracted because they believed they were in control. "Research shows drivers are not able to correctly estimate how distracted they are and 98% are not able to divide their attention without a significant deterioration in driving performance. Many drivers put themselves and others in danger by talking on a phone, texting or using social media," it said.
In America, video footage from inside vehicles suggests 22% of crashes could be caused, at least in part, by driver distraction. A study by the US National Highway Traffic Safety Administration also showed that drivers who performed a secondary task at the wheel were two to three times more likely to crash than those who did not.
Lawmakers are rapidly trying to catch up with the changing face of motoring. Driving while using a handheld mobile is punishable with a £100 fine and three penalty points. However, there are no laws governing the use of the next generation of tech. The Department for Transport (DfT) has warned drivers about the dangers of using a smartwatch but there is no ban — those found to have used one before an accident may instead be charged with driving without due care and attention, or dangerous driving.
The DfT has said it is considering altering the driving test to take technology into account: in future, learners may have to practise driving while following a sat nav.
Car makers are also reacting to the problem of distraction: Ford recently announced that it would move away from purely touchscreen displays, which can be difficult to operate and navigate while on the move, and restore some buttons and knobs, after drivers complained the touchscreen-only systems demanded too much attention for common tasks such as adjusting volume. Along with companies such as Audi, BMW and Tesla, Ford has also taken the lead in developing voice-recognition software, which it claims allows drivers to control their sat nav, phone or entertainment system without having to take their hands off the wheel or their eyes off the road.
Even this may not be enough. "Voice-activation is not the panacea it has often been held up to be," said Parkes. "As soon as you are engaged in any verbal task it is distracting. The driver continues to look out of the front window, but they don't check their mirrors as much; they don't check the surrounding traffic. And there is a difference between looking out of the front window and actually processing what's there."
Read more: 
Driver distractions: why a smartwatch could lead to a crash