Clarkson's Five-Star Cars — Part 1: 2002-2008
Best of the best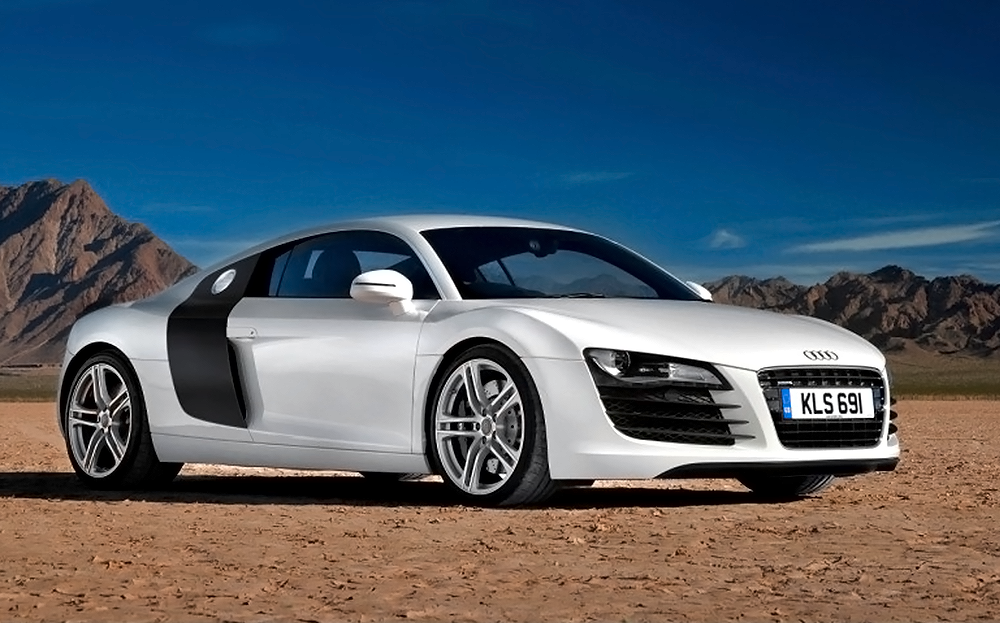 IT IS the ultimate accolade from the ultimate petrolhead — a five-star review from Jeremy Clarkson. Since a mercurial Mercedes first won the top rating in 2002, few have made the grade.
As the first of a two-part special revisiting his laughter-filled verdicts reminds us, they are not all snorting, spleen-splitting supercars.
---
 Want to skip to the second part?
Clarkson's Five-Star Cars — Part 2: 2009-2015
---
Mercedes SL 55 AMG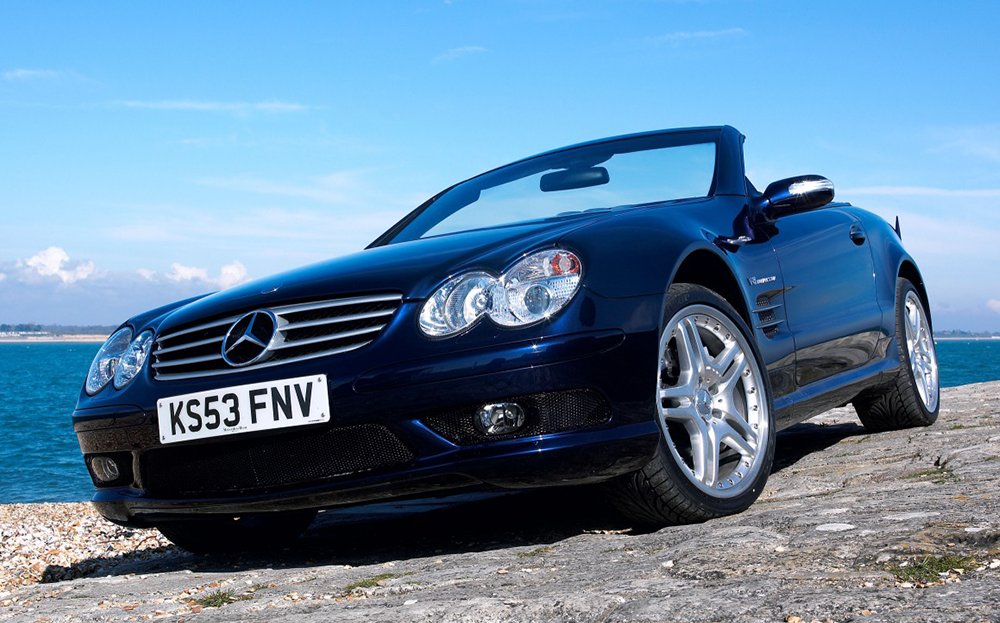 Review date: 15.09.02
Because I am now in middle age I've swapped the Ferrari for a Mercedes-Benz. The SL AMG is used as a safety car at Formula One grands prix, and if you listen carefully when it's out on the track you can actually hear it. A rumbling baritone backdrop to the tenor and soprano F1 motors. It is a staggering noise, a bellow, the sound of wanton consumption.
Looks, as ever, figure just as high, but best of all, of course, is that roof. Push a button and 11 seconds later it's in the boot.
So what we have here is a 200mph automatic coupé. A wind-in-the-hair paddle-shift convertible. A full-on, supercharged Tara Palmer Nascar that when you're not in the mood becomes as quiet and as unobtrusive as Nell McAndrew. And there are so many gadgets the handbook is 539 pages long. Simon Schama got A History of Britain into less than that.
I think it's one of the world's greatest cars. Better than the Ferrari F355 that it replaces? No, not really, but let me put it this way: I don't wince every time I get out of it.
2002 Mercedes SL 55 AMG specifications
Price at time of review £89,040
Engine 5,439cc, V8
Power 500bhp @ 6,100rpm
Torque 516 lb ft @ 2,650rpm
Performance 0-62mph in 4.7sec
Top speed 155mph
View the Mercedes SLs for sale on driving.co.uk
Mitsubishi Lancer Evo VIII / Subaru Impreza 2.0 WRX STi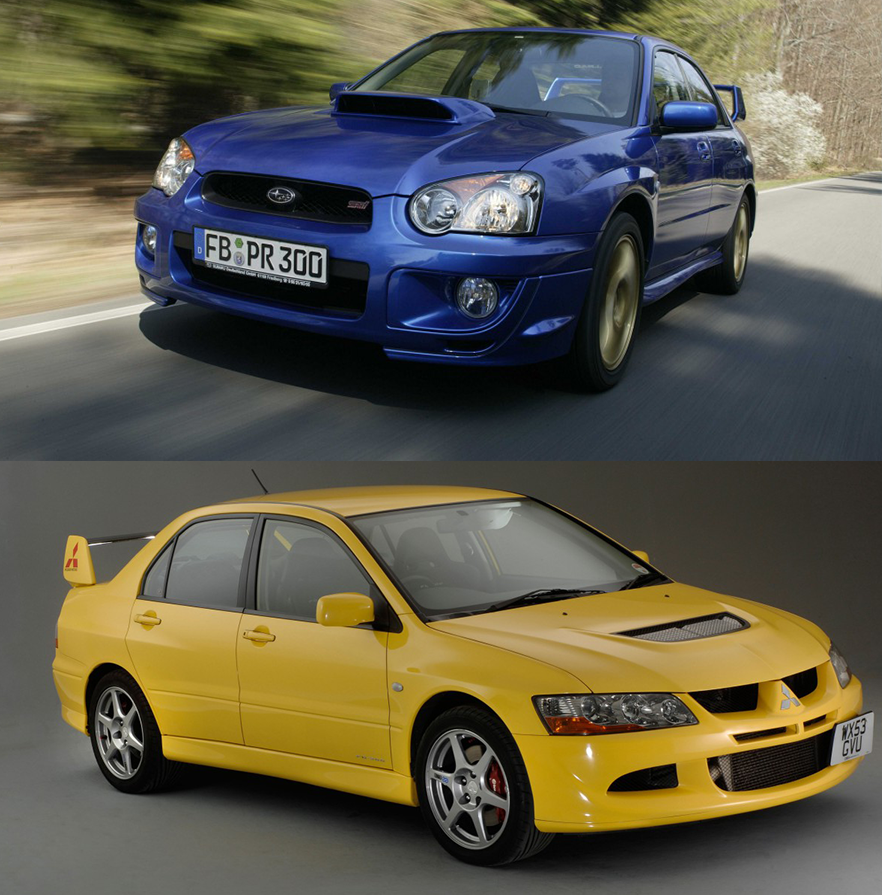 Review date: 30.03.03
I know how good cars can be because occasionally I trip over one. Last week, though, was unique because I tripped over two, the Mitsubishi Evo VIII and the new Subaru Impreza STi.
They are both inexpensive four-door saloons, so you get all the practicality of a vacuum cleaner. And yet, with their trick four-wheel-drive systems and their turbocharged engines, they go with a fizz that's pure rock'n'roll. On the sort of twisting ribbon of tarmac that you dream about in the wee small hours there is no road car made today, no low-slung, knuckle-dragging Ferrari, Lamborghini or Porsche, that could even get close.
It's not the power, although the Impreza's 0-60mph in 4.6 seconds is obviously pretty intoxicating, and it certainly isn't the style, because neither car has any at all. It's the handling and the grip, the sense that you can take any corner at pretty well any speed that takes your fancy. And it's the feel that comes back at you through the seat and the wheel as the car fights to stay out of the nearest sheep.
If I may be permitted to liken cars to people, most spend their days cleaning the bath and going to work and sewing name tags on children's PE kit. The Evo and the Impreza get all that stuff out of the way before breakfast and then spend the rest of the time having wild, mad, passionate and, it must be said, often illegal sex.
2003 Mitsubishi Lancer Evo VIII specifications
Price at time of review £26,995
Engine 1997cc, 4 cylinders, turbocharged
Power 276bhp @ 6,500rpm
Torque 289 lb ft @ 3,500rpm
Performance 0-62mph in 5.3sec
Top speed 157mph
View the Mitsubisher Lancers for sale on driving.co.uk
2003 Subaru Impreza 2.0 WRX STi specifications
Price at time of review £26,990
Engine 1994cc, 4 cylinders, turbocharged
Power 300bhp @ 6,000rpm
Torque 299 lb ft @ 4,000rpm
Performance 0-62mph in 4.6sec
Top speed 155mph
View the Subaru Imprezas for sale on driving.co.uk
Koenigsegg CC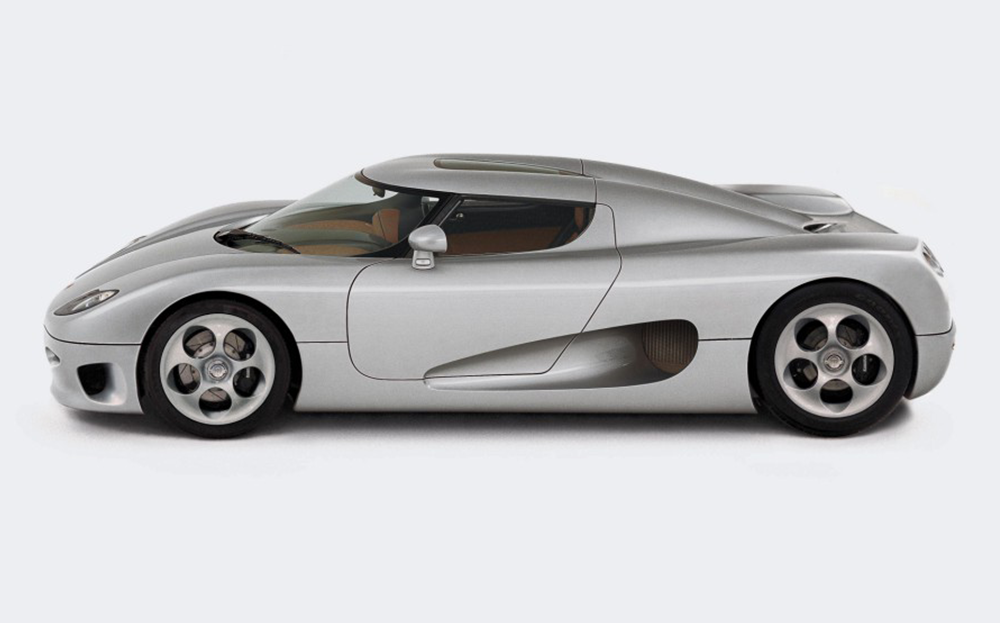 Review date: 06.07.03
Mr Koenigsegg is a completely bald inventor from Sweden who decided one day to make a supercar. Ferrari and Lamborghini should be afraid. Very afraid. Sweden's odd like that. Only 172 people live there but when they turn their attention to something, the world tends to notice.
So, what's the new car like? Well, it's almost the same weight as a McLaren F1, it is a little bit more aerodynamically efficient and with 655bhp in the boot it's a little bit more powerful. The result is, quite simply, the fastest road car in the world. They're talking about a top speed of 240mph and that's about 30mph faster than Michael Schumacher drives when he's at work.
It's an absolute beast, as hot as the centre of the Earth and as noisy as a foundry. It's like working out on the footplate of a steam train but the rewards are huge. Pile up to a corner, change down on the ridiculously narrow-gated gearbox, brake hard. Already your clutch leg is aching from the effort. Now turn the wheel.
There's power assistance, but not much. Your arms are straining to hold the front in line, so you apply some power to unstick the back end. Grrrrr, goes the 4.7-litre V8. Weeeeeeeeee goes the supercharger. And eeeeeeeee go the tyres as they lose traction.
Smoke is pouring off the tyres now, but the car is powering sideways and under perfect control through the bend. Inside, you have sweat in your eyes, you feel like you've been arm-wrestling a mountain all morning. Welcome then to the world of the superfast supercar. They are utterly stupid, of course. Just like the people who drive them. Us.
2003 Koenigsegg CC specifications
Price at time of review £354,000
Engine 4723cc, V8, supercharged
Power 655bhp @ 6,500rpm
Torque 553 lb ft @ 5,000rpm
Performance 0-62mph in 3.5sec
Top speed 240mph
View the supercars for sale on driving.co.uk
2003 Porsche Carrera GT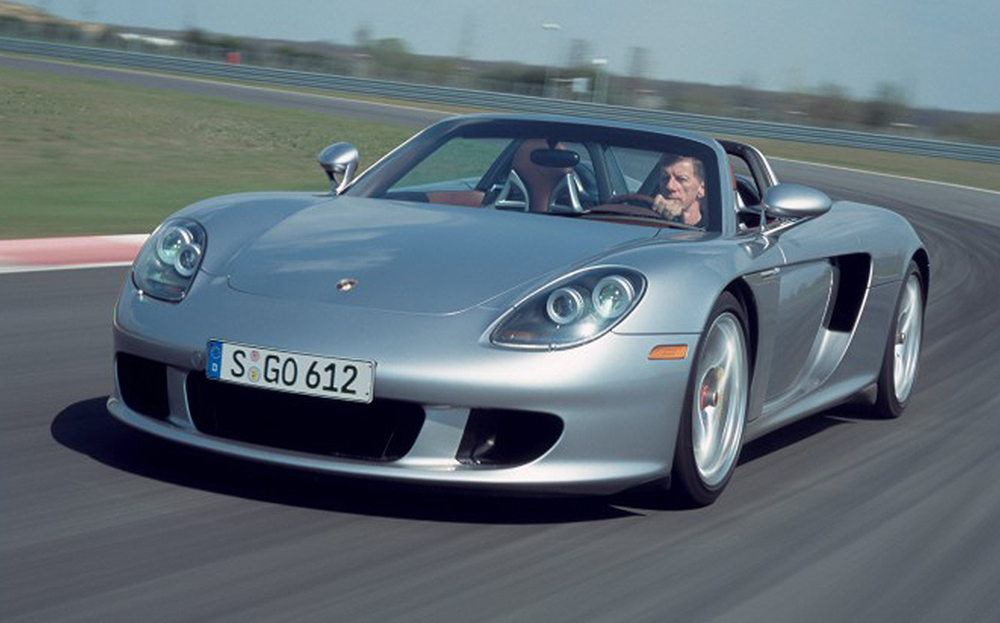 Review date: 12.10.03
The most refined, most planed-away, most astonishing engine I have ever encountered is currently to be found sitting in the middle of Porsche's new Carrera GT. This is 100 years of human achievement crammed into three cubic feet of titanium, magnesium, aluminium and raw, unadulterated, visceral, screaming power.
Strangely, though, it's not the engine that impresses most of all about the Carrera GT. It's the weight. Unlike any other road car ever made, all of it — the body, the tub, even the support struts for that monster V10 — are made from stuff that sure as hell wasn't in the periodic table last time I looked.
The result is simple. Mix an anorexic body with a heart made of pure fire and you are going to go with a savagery that's hard to explain.
I've been in some pretty fast machinery over the years, but nothing prepared me for the neck-snapping, spleen-bursting, hammer-blow explosion of power that came the first time I floored the Carrera's throttle.
Now, we have seen this kind of blood-and-guts stuff before, from Ferrari and McLaren and even some of the new boys such as Pagani and Koenigsegg. But the Porsche feels different. It feels finished.
I had a long discussion recently with a friend about the difference between art and design. And, without wishing to sound like Alan Yentob, the Carrera seems to sit at a point where the two disciplines meet.
It looks like the result of a liaison between Henry Moore and Isambard Kingdom Brunel. It is engineering at its artsy-fartsy best.
The next time a car comes along that is better than this, it will be using a completely different technology. Because when you're limited to what we have now, this, quite simply, is as good as it gets.
2003 Porsche Carrera GT specifications
Price at time of review £330,000
Engine 5733cc, V10
Power 612bhp @ 8,000rpm
Torque 435 lb ft @ 5,750rpm
Performance 0-62mph in 3.9sec
Top speed 205mph
View the Porsche Carrera GTs for sale on driving.co.uk
Mercedes-Benz SLR McLaren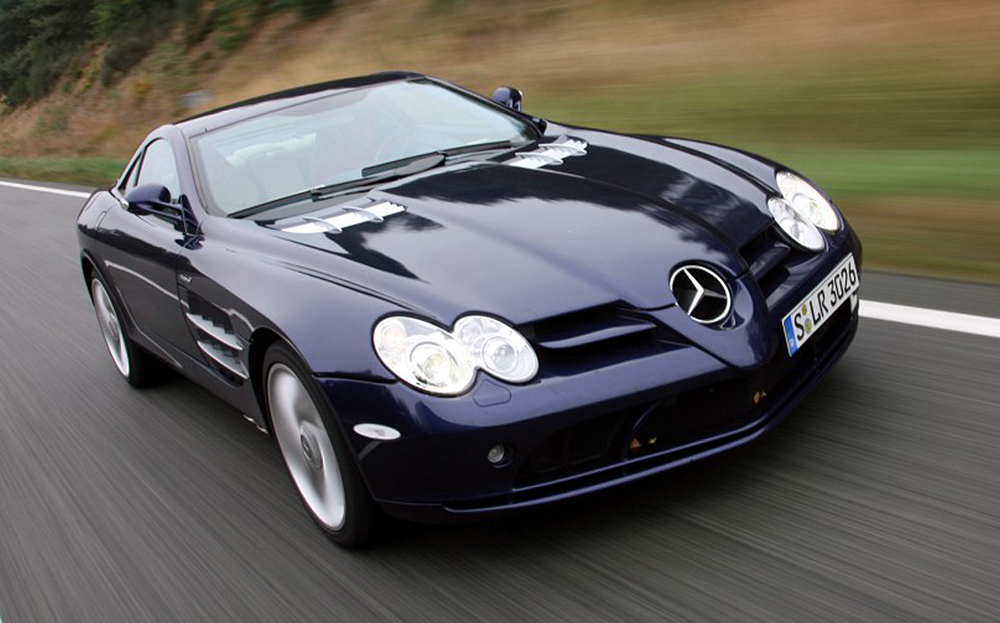 Review date: 12.09.04
When McLaren was designing the SLR it went to the nth degree to make it as powerful and as light as was technically possible.
And then along came Mercedes, which insisted that the car should be useable every day. So, to the McLaren engineers' intense annoyance, on went all sorts of stuff such as carpet in the boot and electronic safety devices. It even has an automatic gearbox.
My spies tell me that the two parties had a serious falling out. Apparently they couldn't even agree on what the finished product sounded like. The boys from McLaren said it made the same noise as a Spitfire, while the Mercedes technicians were adamant it was like a Messerschmitt.
Whatever, but as an everyday car the big, comfy, well-equipped Mercedes is unbeatable.
2004 Mercedes-Benz SLR McLaren specifications
Price at time of review £313,465
Engine 5439cc, V8, supercharged
Power 626bhp @ 6,500rpm
Torque 575 lb ft @ 3,250rpm
Performance 0-62mph in 3.8sec
Top speed 208mph
View the Mercedes for sale on driving.co.uk
Ariel Atom 2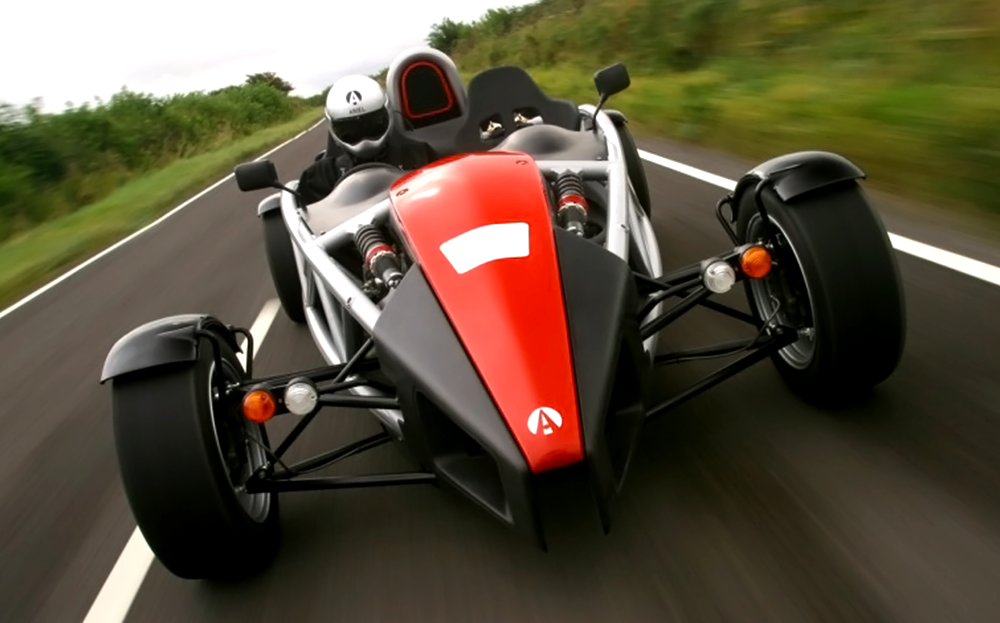 Review date: 19.09.04
What we have here is the world's first exoskeletal car. A sort of beetle-cum-Pompidou Centre. What we have here is also a lesson in how cars work, because as you drive along you can actually see the mechanical parts moving around.
From the driver's seat you can see the steering system, the brakes, the inside of the wheels and the double-wishbone suspension absorbing the bumps. What you cannot see are the wasps and the bees, until you smash into them at 90mph.
After only a few minutes my normally florid complexion had begun to resemble Florida. And you know what? I didn't care because this car — if you can call it that — is motoring nirvana.
Because there is no bodywork (actually, because there is no anything) it weighs less than 500kg, which means you're getting 440bhp per tonne, and that's about 100 more than you get from a Lamborghini Murcielago. Obviously it has lousy aerodynamics, so the top speed is about 135mph, but the time it takes to achieve this is simply mind-boggling: 0-60mph, for instance, is dealt with in just 3.5 seconds.
I think the best thing about this car, though, is the way it looks. It's as cool as a Philippe Starck juicer, as tempting as any of the brushed aluminium toys you find in an airport gadget shop. But unlike rechargeable underwater currency converters, I doubt you'd ever be bored with what it can do.
2004 Ariel Atom 2 specifications
Price at time of review £24,000
Engine 1,998cc, 4 cylinders
Power 220bhp @ 8,200rpm
Torque 145 lb ft @ 6,100rpm
Performance 0-62mph in 3.5sec
Top speed 135mph
Ford GT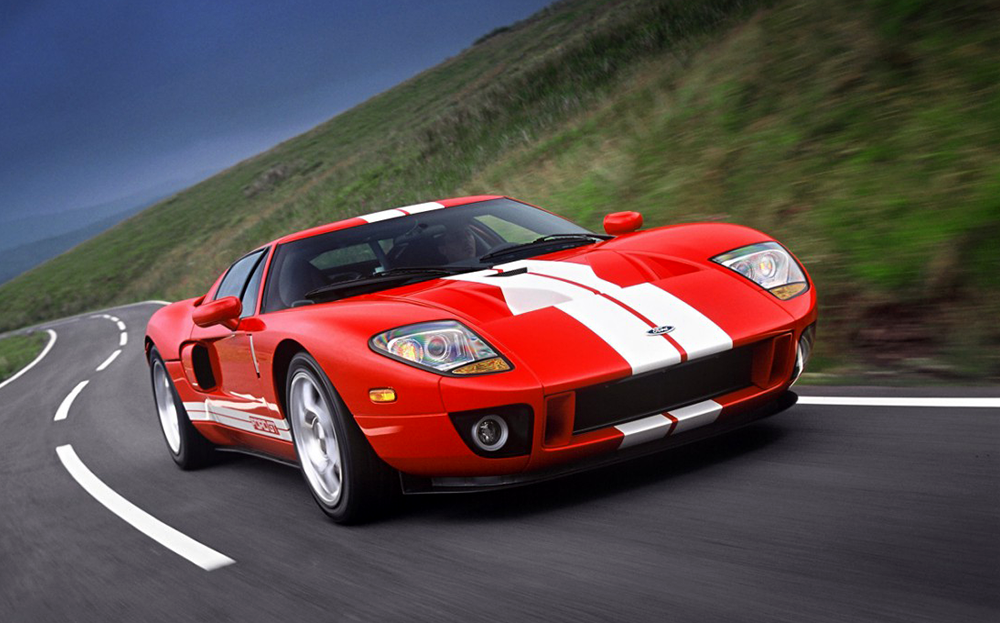 Review date: 03.07.05
Thirty-five years ago I promised myself that one day I'd own a Ford GT40, the blue-collar supercar that took an angle grinder to Ferrari's aristocratic halo at Le Mans. But 25 years ago my dreams were dashed as I grew too tall to fit inside.
Happily, in 2002 Ford announced that it was to build a modern-day version of the old racer. It would, the company said, cost less than £100,000 and do more than 200mph. Ford also said it would be much bigger than the original, so pylon people like me would be able to drive it.
And so, two years ago, having tested a prototype in America, I placed an order for one of the 28 that were coming to Britain.
When it arrived at my house it looked gorgeous — a mass of bulging muscle struggling to contain that 5.4-litre supercharged heart. It doesn't look like a GT40 but it looks how a GT40 looks in your head.
Which is why, on its first run, to London, it was like a blue and white Pied Piper, trailing a stream of ratty hatches in its wake. Everyone was taking pictures, waving, giving me the thumbs-up. Never, not once in my 15 years of road-testing cars, had anything drawn such a crowd.
Of course, you can't run a car such as this without a few problems rearing their heads from time to time. It's too wide for the width restrictions on Hammersmith Bridge — backing up earned me a slot on the traffic news that morning. And at oblique junctions, as is the case in a Ferrari Enzo, you absolutely cannot see if anything's coming.
But set against this is a surprisingly quiet and civilised ride. It's like a power station. Silent, as it gets on with the job of brightening up your life. This car has soul.
2005 Ford GT specifications
Price at time of review £126,000
Engine 5,409cc, V8, supercharger
Power 550bhp @ 6,500rpm
Torque 500 lb ft @ 3,750rpm
Performance 0-60mph in 3.8sec
Top speed 212mph
View the supercars for sale on driving.co.uk
Volkswagen Golf R32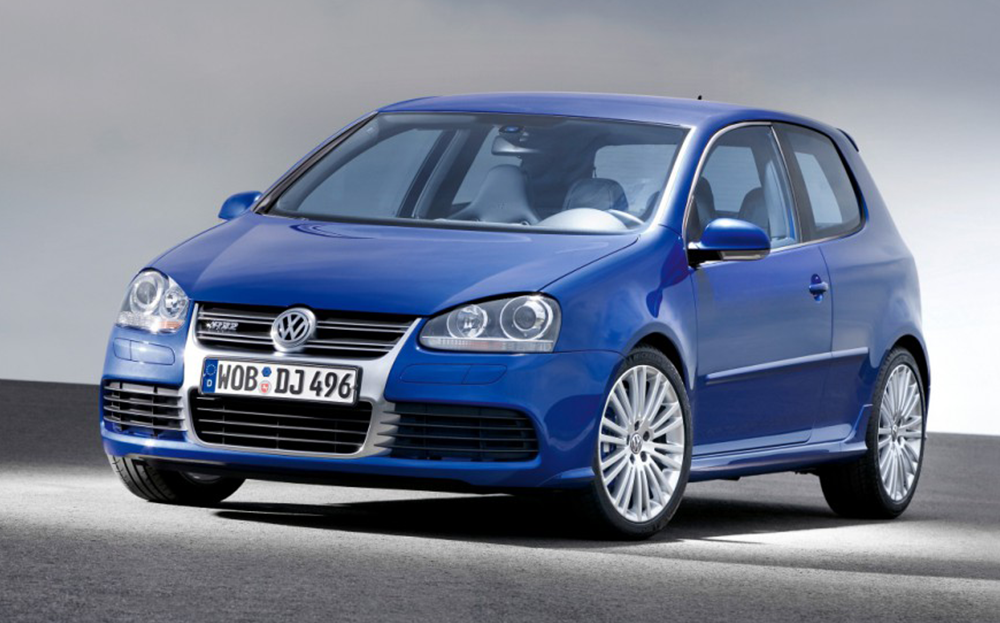 Review date: 20.11.05
Why has this Golf got a 250bhp narrow-angle V6 engine? Why does it go from 0-62mph in 6.5 seconds? Why, if Volkswagen is so bothered about the world, does it keep on going all the way to 155mph? Why? Because it's great, that's why.
No, really, this is a fabulous car. Apart from a bit of jewellery at the front and some blue brake callipers it looks like a normal Golf. You really have to stare at it for quite some time to notice it's riding a little lower than usual and that the tyres are suspiciously wide.
It's much the same story on the inside. The chunky, flat-bottomed steering wheel hints at something that really doesn't seem to be there. It just feels Golf-ish.
And it keeps on feeling Golf-ish when you turn the key and set off. The ride is comfortable, there's no unnecessary noise and everyone has lots of space. A lot more than they'd get in, say, a BMW 1-series.
Then you put your foot down and suddenly the world starts to go backwards. Not harshly or sportily. It's not like the GTI, this. It's a big, refined power, more like gravity than internal combustion.
Prices for a three-door start at less than £24,000, which is exceptional value for money. It's more than that, in fact. It's every car you could ever reasonably need. Fast, well made, practical, surprisingly economical and, above all, discreet. Nobody's ever going to mistake you for a footballer, that's for sure.
We don't know what the future holds, so we can't plan for it. We only know what's in the here and now, and this Golf R32 is as good as it gets.
2005 VW Golf R32 specifications
Price at time of review £23,745
Engine 3,200cc, V6
Power 247bhp @ 6,300rpm
Torque 236 lb ft @ 2,500rpm
Performance 0-62mph in 6.5sec
Top speed 155mph
View the VW Golfs for sale on driving.co.uk
Bugatti Veyron 16.4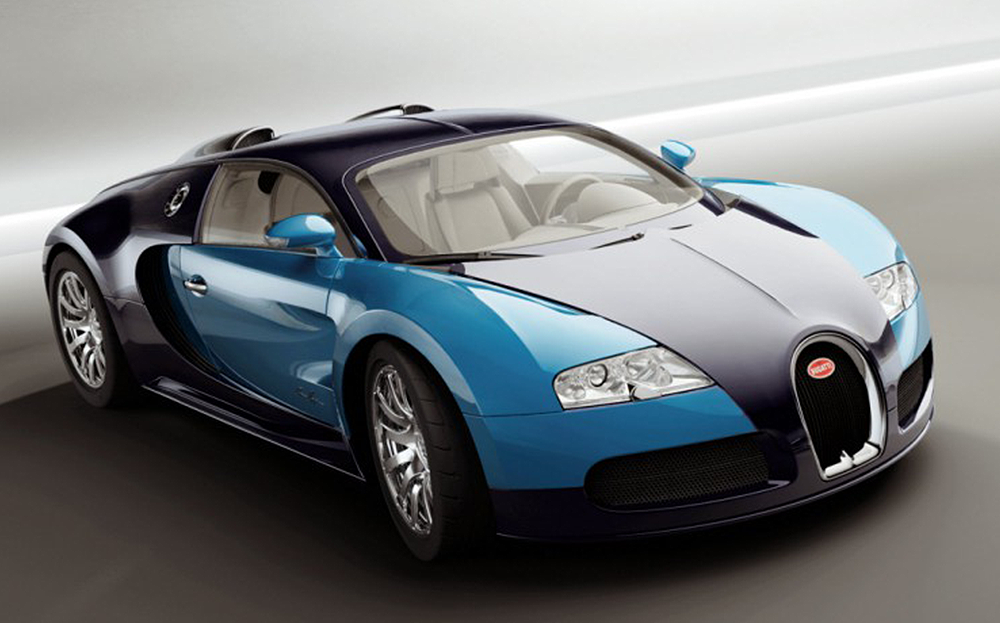 Review date: 27.11.05
The Bugatti Veyron can do 253.8mph. And that's just mad — 253.8mph means that in straight and level flight this car is nearly as fast as a Hawker Hurricane. You might point out at this juncture that the McLaren F1 could top 240mph, but at that speed it was pretty much out of control. And anyway it really isn't in the same league as the Bugatti.
n a drag race you could let the McLaren get to 120mph before setting off in the Veyron. And you'd still get to 200mph first. The Bugatti is way, way faster than anything else the roads have seen.
From behind the wheel of a Veyron, France is the size of a small coconut. I cannot tell you how fast I crossed it the other day. Because you simply wouldn't believe me. I also cannot tell you how good this car is. I don't have the vocabulary. I just end up stammering and dribbling and talking wide-eyed nonsense.
This car cannot be judged in the same way as we judge other cars. It meets drive-by noise and emissions regulations and it can be driven by someone whose only qualification is an ability to reverse round corners and do an emergency stop. So technically it is a car. And yet it just isn't.
Other cars are small guesthouses on the front at Brighton and the Bugatti is the Burj Al Arab. It makes even the Ferrari Enzo and the Porsche Carrera GT feel slow and pointless. It is a triumph for lunacy over common sense, a triumph for man over nature and a triumph for Volkswagen over absolutely every other car maker in the world.
2005 Bugatti Veyron 16.4 specifications
Price at time of review £810,345
Engine 7,993cc, W16
Power 1001bhp @ 6,000rpm
Torque 922 lb ft @ 2,200rpm
Performance 0-62mph in 2.5sec
Top speed 254mph
View the supercars for sale on driving.co.uk
Lamborghini Gallardo Spyder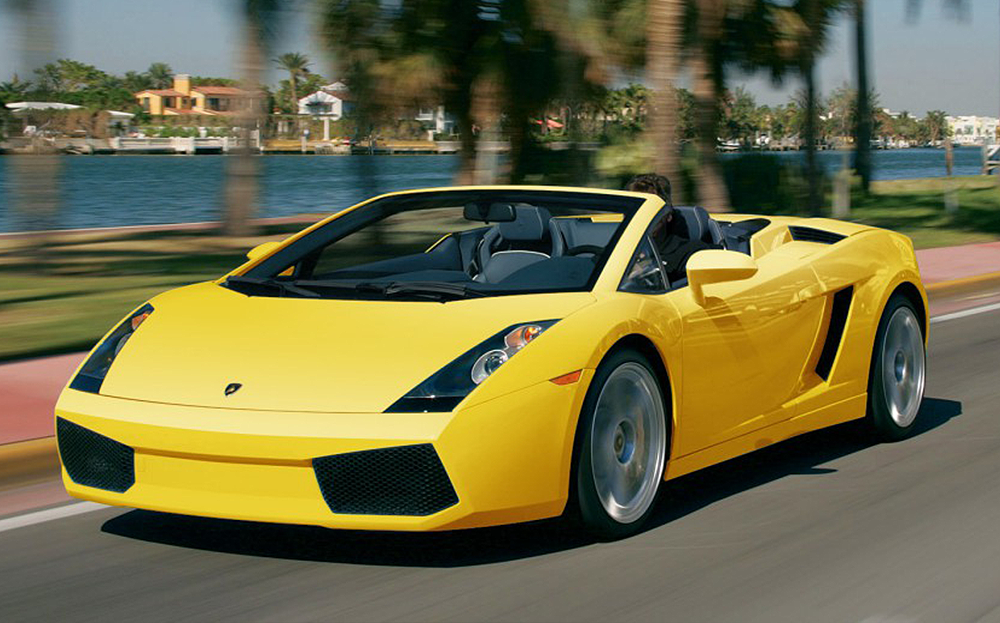 Review date: 20.08.06
In the whole of human history it has been impossible to buy a Lamborghini unless you are Rod Stewart. They've always been just too silly, strutting around in their leopardskin underpants, asking all and sundry if we thought they were sexy. But then, one sad day a few years ago, Lamborghini was bought by Audi.
All of a sudden the Lambo boys were coming to work with plans to make a car that had space rockets and torpedo tubes, only to find their fierce new headmaster was saying: "No, boys. No more flying before you can walk. You can't fit gamma-ray rear lights until you've made the clutch work properly."
The result was the Gallardo. It looked like a Lamborghini with all the mad bits sanded off. But it went like no Lamborghini before.
Plainly the fierce new headmaster was pleased with their efforts because now he's let his boys go a bit mad again, cutting the Gallardo's roof off, squeezing a bit more power from the engine, and fitting orange seats. And I won't beat about the bush. It's my new favourite supercar.
I'll tell you why. Because it is so pretty. And because when you go above 3500rpm it makes a noise like a punctured sumo wrestler. And because you sit so far forwards, which makes it feel like you're on the nose of some giant, snarling power-crazed animal.
For the first time ever, then, you can buy a Lamborghini. And I think I might.
2006 Lamborghini Gallardo Spyder specifications
Price at time of review £115,000
Engine 4,961cc, V10
Power 520bhp @ 8,000rpm
Torque 376 lb ft @ 4,500rpm
Performance 0-62mph in 4.3sec
Top speed 190mph
View the Lamborghini Gallardos for sale on driving.co.uk
Audi R8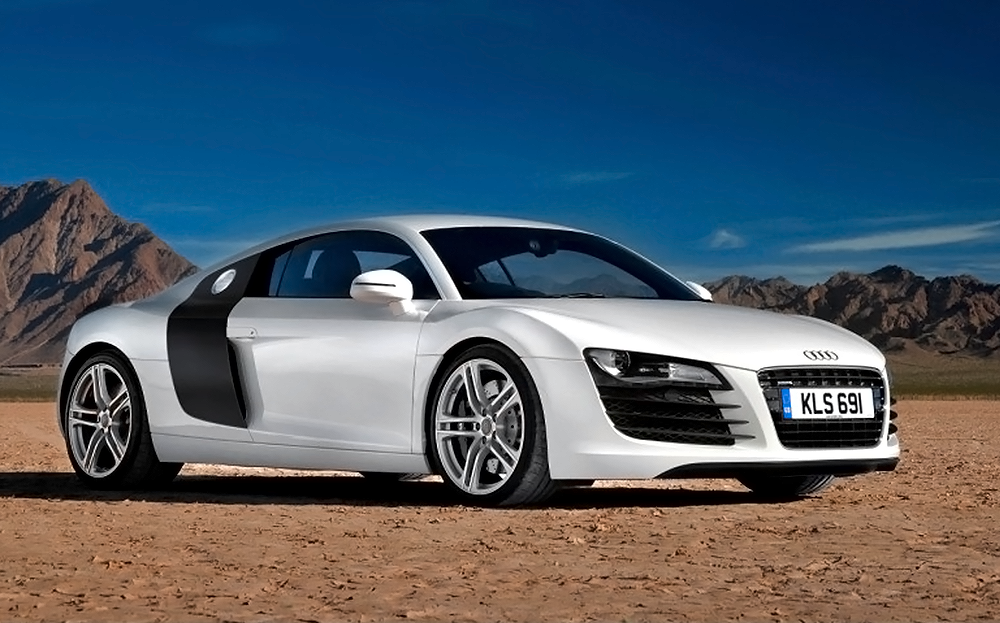 Review date: 03.06.07
I had seen pictures of this mid-engined supercar and they left me underwhelmed. I thought it looked a bit boring, like a slightly bigger version of the TT. And it wasn't going to be a real supercar, was it? Not when you remember Audi owns Lamborghini. I mean, why make a car to compete with your own brand? That'd be stupid.
This view is reinforced when you climb inside. There are very few supercar extravagances. No titanium machinegun triggers. It's very grey, very Audi, very normal.
And that's fine, actually, because there are very few traditional supercar drawbacks either. You can see out, there's room for your head, and there's space for briefcases and whatnot on a shelf behind the seats.
You needn't even worry about the engine. It's not a W16 with eight turbos and plugs that foul themselves at every set of lights. Instead, it's the 414bhp 4.2 V8 from the RS 4. I've described this as one of the best engines made today and a drive in the R8 has not changed my mind. It does everything, brilliantly.
In fact the Audi is outstanding even while it's not blisteringly fast. From rest to 120mph, it goes at almost exactly the same rate as the Porsche 911 Carrera S. And flat out it'll be out of steam before it gets to 190mph. But to dismiss it for this is to miss the point.
I don't think I've ever driven a car that works so well on both the road and the track. Even if you remove my natural prejudice against the Porsche 911, I believe the Audi has it licked on all counts.
I can safely say the R8 is one of the best surprises of my motoring life. It is one of the truly great cars and the only hesitation I have in giving it five stars is that, ideally, I'd like to give it six.
2007 Audi R8 specifications
Price at time of review £76,825
Engine 4,163cc, V8
Power 414bhp @ 7,800rpm
Torque 317 lb ft @ 4,500rpm
Performance 0-62mph in 4.6sec
Top speed 187mph
View the Audi R8s for sale on driving.co.uk
Rolls-Royce Phantom Drophead Coupé
Review date: 30.09.07
The Phantom is a first cousin only to the God of silence, and manners, and breeding. It is an exquisite car and I would have one tomorrow if it weren't so bloody expensive.
And now comes the convertible and, oh deary me. When I came home to find it sitting in my drive, all huge and brilliant, I'm afraid I started to dribble.
Like its hard-top brother, this has no rivals. Well, unless you count the Bentley Azure, which is of course excellent. If you like to waft around in something that can trace its roots back to 1959. Which means you'd be wafting around in something that's older than me.
The Rolls doesn't look or feel old-fashioned at all. Everything, from the unpainted bonnet to the suicide doors to the rattan carpets and, yes, even the teak Sunseeker-style decking on the back, makes it look as fresh and as futuristic as tomorrow morning's papers.
It is not built for speed or grip. It is not built to excite with its handling or the roar from its exhaust. It is not built to be safe, or frugal, or cheap. It is not built to do any of the things we have come to expect of cars in recent years.
It is not built to go places. It is built to arrive.
This car, then, is not a car at all. It is a fanfare. A blast of trumpeteering to silence the crowds when someone special is about to enter the room.
2007 Rolls-Royce Phantom Drophead Coupe specifications
Price at time of review £307,500
Engine 6,749cc, 12 cylinders
Power 453bhp @ 5,350rpm
Torque 531 lb ft @ 3,500rpm
Performance 0-60mph in 5.6sec
Top speed 149mph
View the Rolls-Royce Phantoms for sale on driving.co.uk
Mercedes-Benz CLK Black Series
Review date: 24.02.08
Imagine drinking a pint of hemlock, setting yourself on fire and then jumping out of a plane when it's directly overhead over a combine harvester. You don't know what's going to kill you: only that you are going through the Pearly Gates at great speed very soon.
That's what the Mercedes CLK Black feels like. Exciting beyond words. Terrifyingly exciting.
White-knuckle, eyes-on-stalks, sweaty-armpits and tensed-buttocks exciting.
At first you don't drive this car: you just cling on for dear life. But then I became used to the way the back skips and settles and started to enjoy it. Then the enjoyment turned into sheer, unparalleled joy. Then I started to think that I might have actually wet myself a bit.
It does not drive like any other car, this one. It doesn't feel planted, like a Porsche Turbo, or alive, like a Ferrari 430. It feels skittish, as though it's balancing all the time on a knife edge: that razor-thin sliver that separates absolute joy from certain death.
For sheer excitement, the CLK Black is a match for absolutely anything. Since my test car went back to Mercedes, I have been thinking about it a lot. Because I'm not sure that anyone's life is quite complete unless they have one.
2008 Mercedes-Benz CLK Black Series specifications
Price at time of review £99,517
Engine 6,208cc, V8
Power 507bhp @ 6,800rpm
Torque 465 lb ft @ 5,250rpm
Performance 0-60mph in 4.3sec
Top speed 186mph
View the Mercedes CLKs for sale on driving.co.uk
Ford Fiesta 1.6 Titanium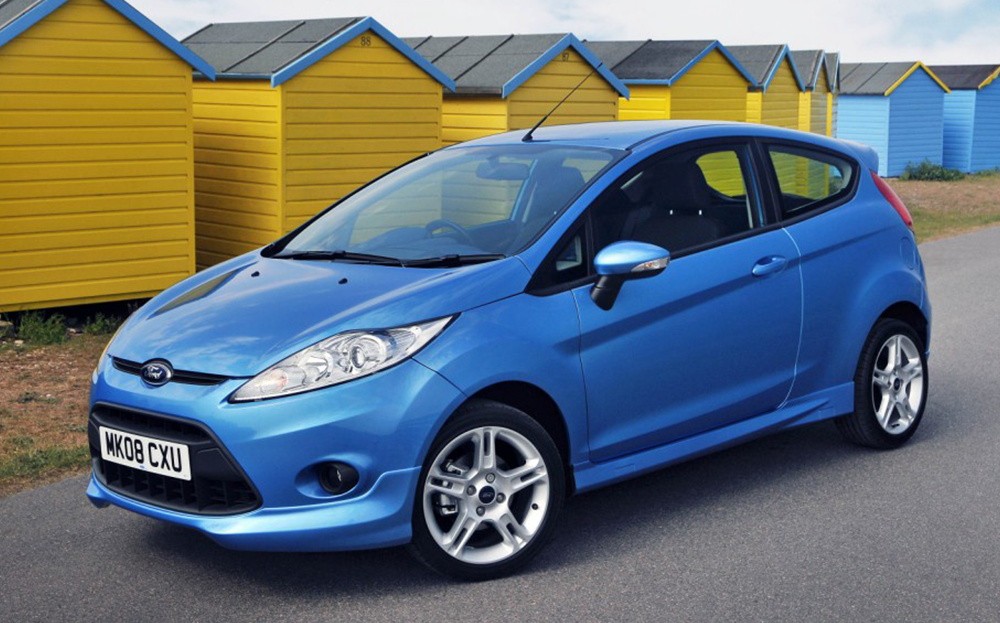 Review date: 30.11.08
The Fiesta is a cracker to look at. And, like the original Focus, it is a cracker to drive as well. Demonstrably better than anything else for the same sort of money. Part of that is down to a fine chassis but some of it is also down to the engine. I tried a 1.6, which has twin independent cam shaft timing. The result is a smoothness you simply don't expect in a car of this type, and 118bhp. That's eight more than you got from the original Volkswagen Golf GTI.
Of course, other engines are available, one of which produces such a small amount of CO2
it'll kill every plant in your garden. But you won't pay any road tax. I should also say the range begins at just £8,700, although the model you get for this has the luxuries of a cave.
My car, on the other hand, had air-conditioning, cruise control, iPod connectivity, leather seats, blue teeth, parking assistance, a heated front windscreen, a trip computer, traction control and privacy glass. In short, everything you would find on a mid-range Mercedes. And yet it cost only £14,970. It's mind-blowing value. It's a mind-blowing car.
It's sensible. It's well priced. It's much more comfortable and quiet than you have any right to hope for in this part of the marketplace, and because it's made by Germans, it's well bolted together too. But most important of all, it's fun.
2008 Ford Fiesta 1.6 Titanium specifications
Price at time of review £14,970
Engine 1,596cc, 4 cylinders
Power 118bhp @ 6,000rpm
Torque 112 lb ft @ 4,050rpm
Performance 0-62mph in 9.9sec
Top speed 120mph
View the Ford Fiestas for sale on driving.co.uk
Chevrolet Corvette ZR1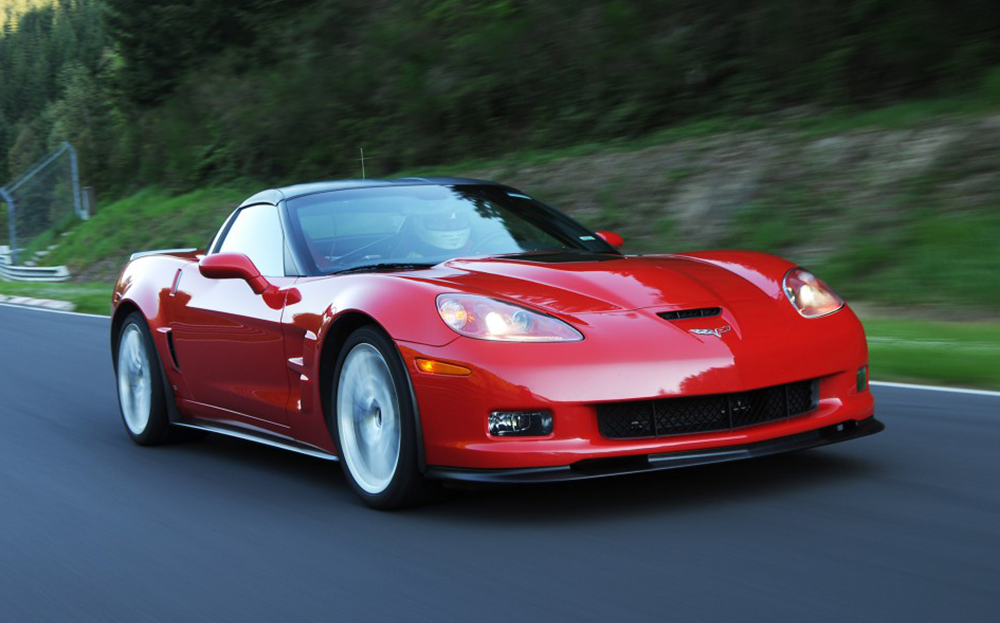 Review date: 28.12.08
Over the years there have been a great many Corvettes, and none of them, if we're honest, have has been any good. Oh, there have been some fast ones and some with great charisma. Mostly, they have been pretty as well.
But to drive? No. They were the automotive equivalent of Big Macs. Cheap, plastic and at the right time, and in the right place, sort of just what you want. But like I said. Just no.
And then out of nowhere came the ZR1, which has a supercharged V8 that manages to be both docile and extraordinarily savage all at the same time. I've been trying to think of a dog that pulls off a similar trick, but there isn't one. And anyway, this car is not a dog.
Oh, it's not built very well. After just three days in my care, the boot lock disintegrated and the keyless go system refused to acknowledge the keys were in the car, but I didn't mind because there is simply no other car that looks this good, goes this fast — in a straight line and around corners — and that most of the time bumbles about like a forgetful uncle. And when you throw in the price tag of just £106,690 — lots for a Corvette but modest next to a similarly powerful Ferrari — the case for the defence can sit down and put up its feet knowing that the prosecutor simply has nowhere to go.
It is an epic car and I'm only sad that unless the healthcare and pensions company that makes it can be turned around, it will be the last of the breed.
2008 Chevrolet Corvette ZR1 specifications
Price at time of review £106,690
Engine 6,162cc, supercharged V8
Power 638bhp @ 6,500rpm
Torque 604 lb ft @ 3,800rpm
Performance 0-60mph in 3.4sec
Top speed 205mph
View the Chevrolet Corvettes for sale on driving.co.uk
---
 Want to skip to the second part?
Clarkson's Five-Star Cars — Part 2: 2009-2015
---
---
Click to read more CLARKSON REVIEWS or search NEW or USED cars for sale on driving.co.uk
---