Clarkson's Five-Star Cars — Part 2: 2009-2015
More best of the best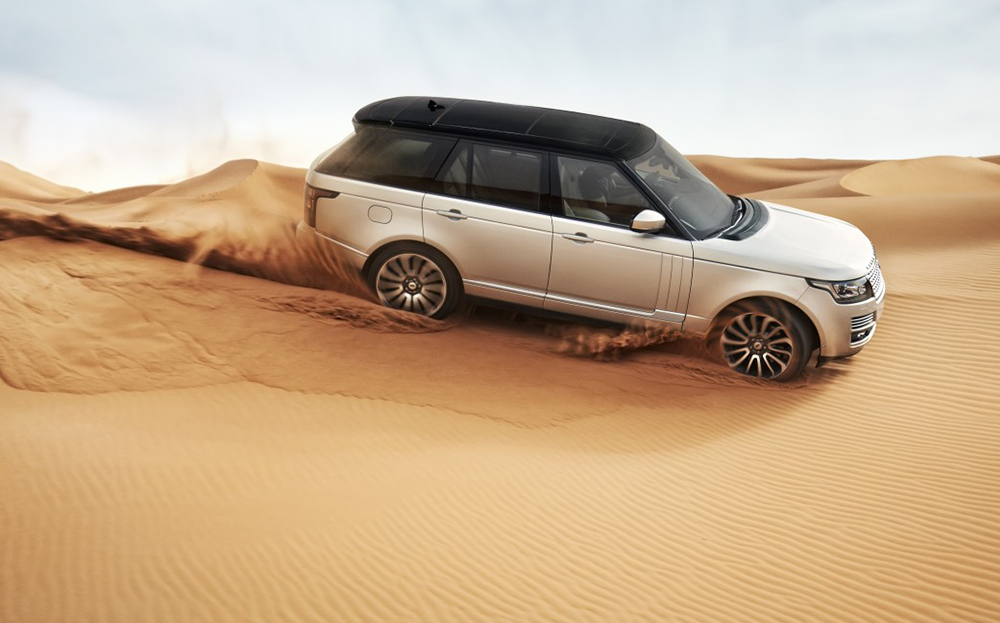 THERE'S NO secret formula for getting a five-star review from Jeremy Clarkson. He just has to love the car. But as the final instalment of our special series shows, just 13 models have succeeded since 2009. From a Ford to a Ferrari, a saloon to SUVs, here are his favourite cars of the past seven years.
---
Missed the first part?
Clarkson's Five-Star Cars — Part 1: 2002-2008
---
Range Rover TDV8 Vogue SE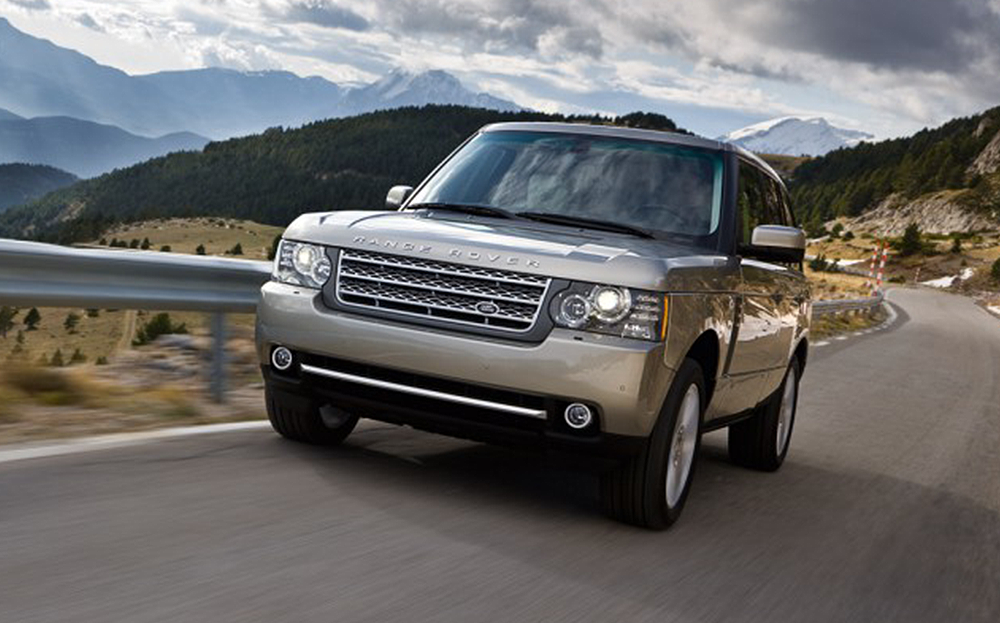 Review date: 15.03.09
Over the past 30 years or so, I have road-tested thousands of models and written millions of words on the subject of cars. But all the while the answer to everyone's motoring problems has been right under my nose. The Range Rover.
Let us imagine that you would like to have a Rolls-Royce Phantom because you want to bathe in that glorious art deco cabin full of timber and hide. Well, a Range Rover offers the same sense of wellbeing for a quarter of the price.
You want to go to a point-to-point? Well, there is nothing to beat a Range Rover, which can not only deal with the muddy entrance but also comes with a handy drop-down tailgate on which you can perch while enjoying a glass of sloe gin.
Thinking of driving to the slopes for a bit of skiing? Well, sure, there are many luxury cars that can eat up those autoroute miles. But none does so more elegantly than a Vogue and none will be quite so accomplished in the mountains.
You might imagine that in Knightsbridge a Range Rover is as cumbersome as a pair of wellies. Wrong. Other off-road cars are indeed too large to make much sense in urban areas but the Range Rover never feels too big.
You shoot? Get a green one. You deal drugs? Make it black and have the Sport.
Often I've been asked to name the best car in the world. I've never known what to say because my mind has swum with all the options. The fact is, though, there aren't any options at all. There's just one island of brilliance in a sea of also-rans.
2009 Range Rover TDV8 Vogue SE specifications
Price at time of review £68,026
Engine 3,630cc, V8
Power 271bhp @ 4,000rpm
Torque 472 lb ft @ 2,000rpm
Performance 0-62mph in 8.6sec
Top speed 124mph
View the Range Rovers for sale on driving.co.uk
Mazda MX-5 2.0i Sport Tech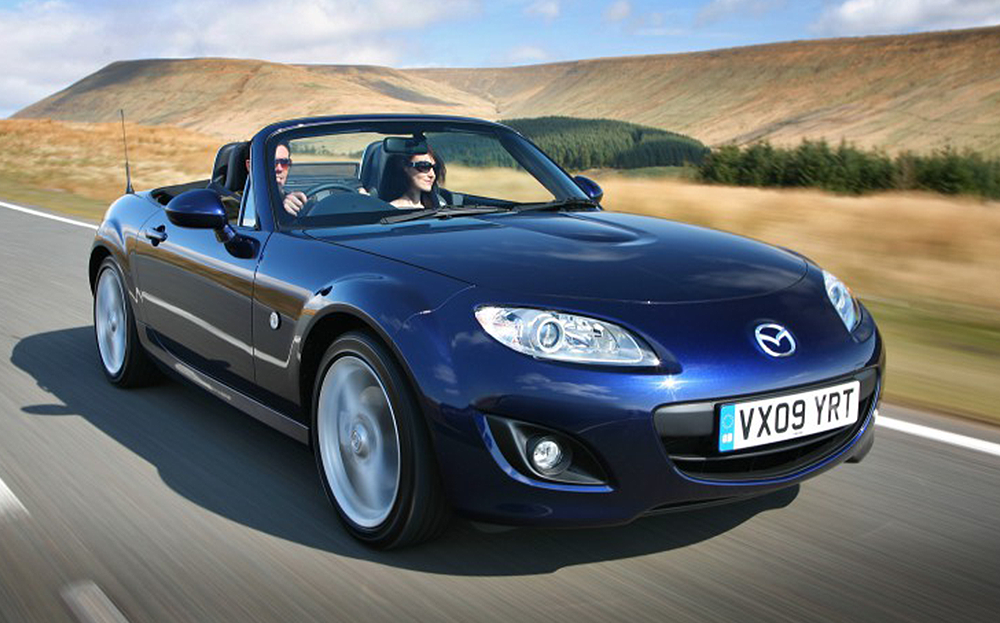 Review date: 16.08.09
The Mazda MX-5 represents better value for money than any other car on sale in Britain today. The 1.8-litre soft-top version, as opposed to the one that comes with a folding metal roof, is £16,345, and for that you get almost exactly the same amount of fun you would get from a Ferrari 430 Spider.
This is the thing with convertibles. When the roof is down, the buffeting and the racket mean that any speed above about 80mph is unpleasant. So you really don't need a million horsepower or a gearbox that can swap cogs in a billionth of a blink. With the Mazda you get the engine at the front, rear-wheel drive and skinny tyres. This, then, is a car designed to thrill and excite and put a massive smile on your face at the sort of speed that won't mess up your girlfriend's hair.
In short, you don't need to be an astronaut with titanium hair follicles to get the best out of it.
An MX-5 feels more alive at 30mph than most other cars feel at 100. So, every time Mazda changes something on its little sports car, I'm worried the end result will be a bit more serious, a bit more "driver-oriented". And that the original recipe will have been ruined. That's why I approached the facelifted version of the MX-5 with a heavy heart and a sense of foreboding.
There was absolutely nothing wrong with the setup in the old car, so why fiddle? Plainly it was simply to keep the engineers out of Hiroshima's love hotels, because it is just as sparkling and brilliant as it was before. Maybe it's a bit more focused, a bit sharper. But only if you concentrate, and that's the thing about the MX-5. You don't concentrate: you're way too busy having a nice time.
I realise that the hairy-chested among you will be scoffing. You will say "girl's car" and all sorts of other things. Well, that's fine. You waste your money on a Ford Mustang or a Ferrari. The fact is that if you want a sports car, the MX-5 is perfect. Nothing on the road will give you better value. Nothing will give you so much fun.
2009 Mazda MX-5 2.0i Sport Tech specifications
Price at time of review £19,695
Engine 1,999cc, 4 cylinders
Power 158bhp @ 7,000rpm
Torque 139 lb ft @ 5,000rpm
Performance 0-62mph in 7.6sec
Top speed 132mph
View the Mazda MX-5s for sale on driving.co.uk
Aston Martin DBS Volante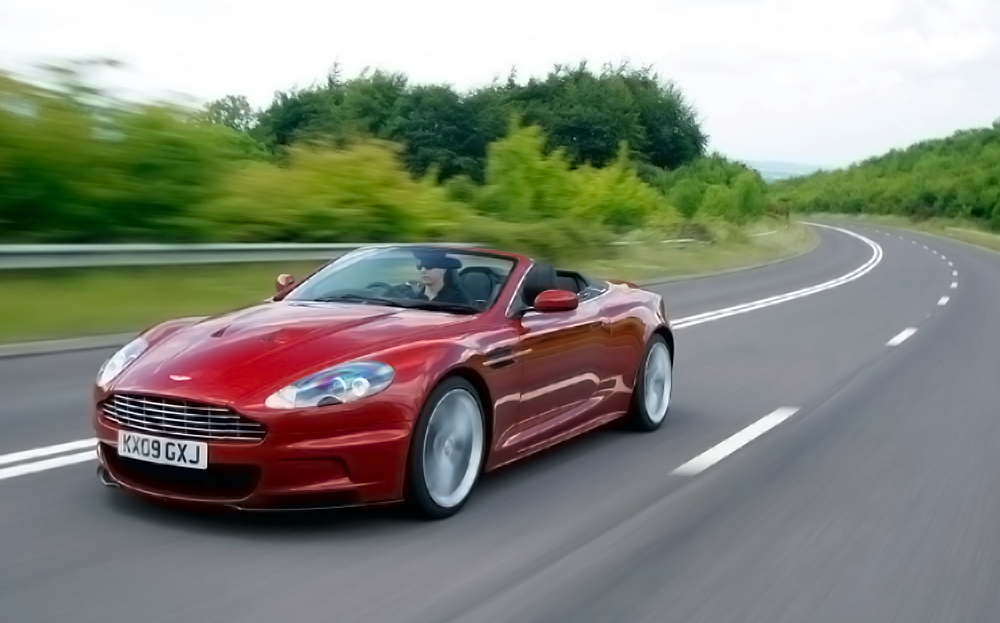 Review date: 27.12.09
The Ford Fiesta, the BMW M3, and the Ferrari 430. All these cars do what they are supposed to do perfectly. But they have that certain something as well. They have a soul.
But the car that pulls off the trick better than all the others is the Aston Martin DBS Volante.
I've driven this car a lot. From Oxfordshire to London. Around the Earls Court arena. Through Romania. Over mountain passes. And round Silverstone.
In terms of outright speed, it's epic and I know of no better-looking car in production today.
Inside, I could gripe a bit if I wanted to. The sat nav is terrible, the buttons are hard to read and oh how I wish it didn't say "Power. Beauty. Soul" every time you turn it on. Mind you, at least this is all true. There is power. There is beauty. And there is soul.
What's most astonishing of all is the way it's so utterly sublime on a track — both the Stig and Tiff Needell say it's the best driver's car of them all — but when you are just driving along, it is so docile and quiet. It really is, then, the absolutely perfect Grand Tourer.
And yet it's so much more than that. It's the absolutely perfect car.
2009 Aston Martin DBS Volante specifications
Price at time of review £175,681
Engine 5,935cc, V12
Power 510bhp @ 6,500rpm
Torque 420 lb ft @ 5,750rpm
Performance 0-62mph in 4.3sec
Top speed 191mph
View the Aston Martin DBS Volantes for sale on driving.co.uk
Range Rover Evoque Prestige SD4 auto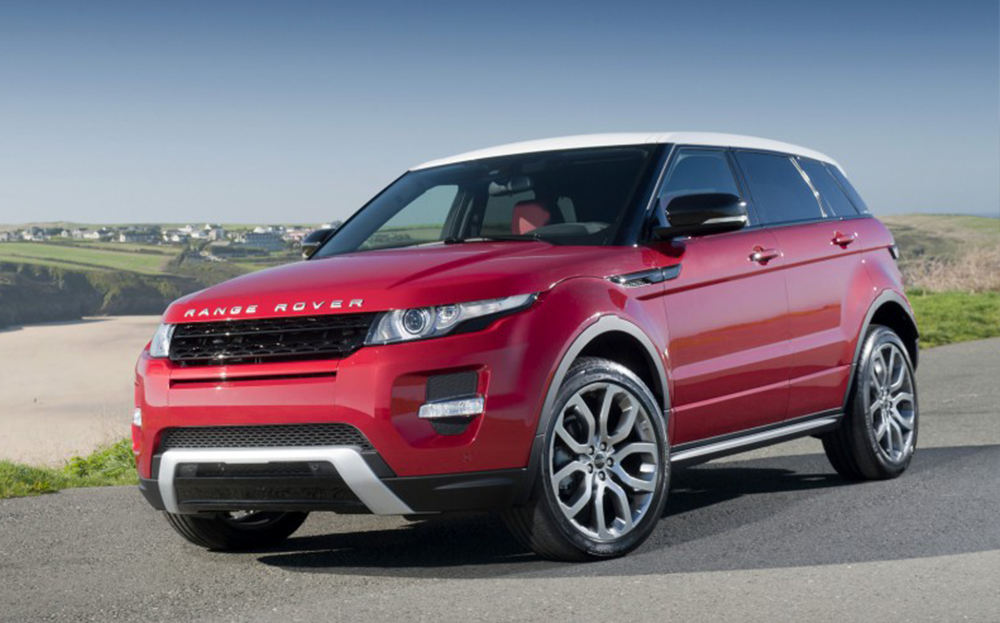 Review date: 30.10.11
I thought the Evoque was silly when I first heard of it. I was wrong, though, because the Evoque is brilliant. It's one of those cars in which I had to spend hours trying to find something — anything — about which I could complain. And all I could come up with is the dip switch, which requires a bit more effort to operate than is strictly necessary. The handling was good, too; and the ride.
You can also change the cabin lighting from a cool vodka-bar blue to a burlesque red. And the Evoque is fitted with the same off-road electronics program as you find in the big Range Rover.
What we have here, then, is a proper Range Rover that is also an Audi TT, a hot hatch, an off-roader and a branch of Dixons all rolled into one tiny, easy-to-park package.
Actually, it's like an iPad. The truth is that if you have a smartphone and a laptop — which you do — you don't need one. But I bet that didn't stop you splashing out, did it? I have the same problem with the Evoque. I have a seven-seat Volvo and a big Range Rover and a fast Mercedes. I have absolutely no need in my life for an Evoque, but I want one. And you will, too.
2011 Range Rover Evoque Prestige SD4 auto specifications
Price at time of review £38,990
Engine 2,179cc, 4 cylinders
Power 187bhp @ 3,500rpm
Torque 310 lb ft @ 1,750rpm
Performance 0-62mph in 8.0sec
Top speed 121mph
View the Range Rover Evoques for sale on driving.co.uk
BMW M5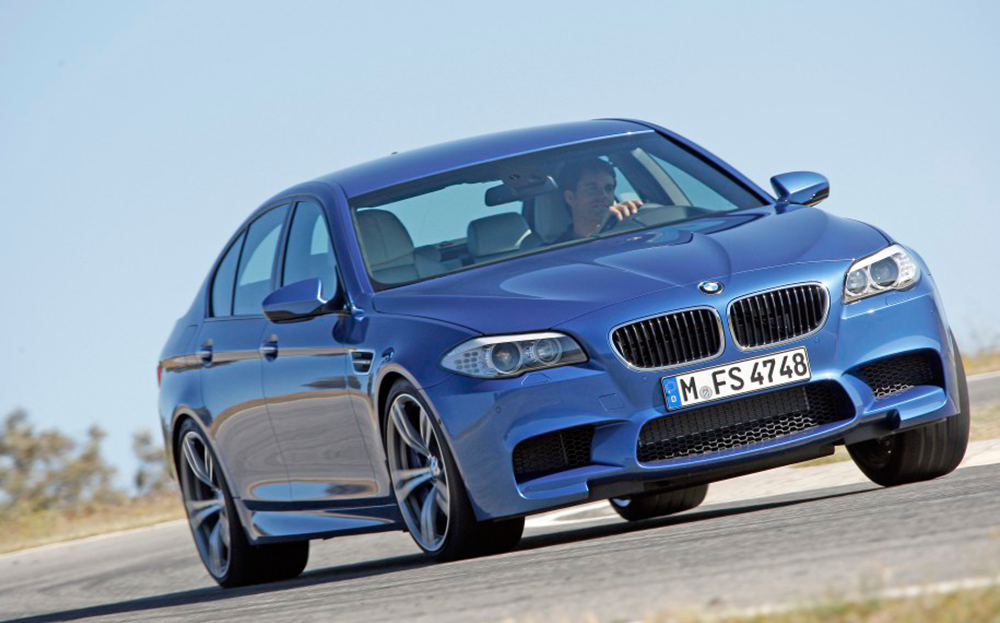 Review date: 29.01.12
Unlike the equivalent AMG Mercedes, which looks like a street brawler, the BMW M5 is a bit like a bouncer at a "nite" spot that wants to be seen as posh. It's wearing a tux, and you have to look hard to notice the neck like a birthday cake, the chest like a butter churn, the thighs like tugboats. It's a big bruiser, this car, but there are few clues. Just the blue brake callipers. And some Wallpaper magazine-style LEDs in the door handles.
Under the bonnet the old V10 is gone. In its place is a turbocharged V8, which is good if you are a polar bear but bad, in theory, if you are a petrolhead. However, in practice, you don't notice the turbo lag. There must be a gap between you pressing the throttle and the warfare beginning but you never, ever, feel it.
Out of town the new M5 continues to amaze. It feels heavy and the front is maybe a bit over-tyred, but it's just so fast and so composed and so balanced and so wonderful that you even find yourself grinning a deeply contented grin when you are on the M4 and it's raining.
There are so many toys to play with, so many things to do. You can set the engine up in Sport mode and the suspension in Comfort. And then, when you've found a setup you really like, you can store it in a single-button memory.
So what we have here is a genuine four-seat limo. A car from which you would be pleased to emerge at a film premiere. But this car is also a tail-out, smoke-and-wail drift machine. And a finely balanced road racer, and a gadget. It's everything. We're talking five stars and then some.
2012 BMW M5 specifications
Price at time of review £73,040
Engine 4,395cc, V8
Power 560bhp @ 5,750rpm
Torque 501 lb ft @ 1,500rpm
Performance 0-62mph in 4.4sec
Top speed 155mph
View the BMW M5s for sale on driving.co.uk
Ferrari 458 Spider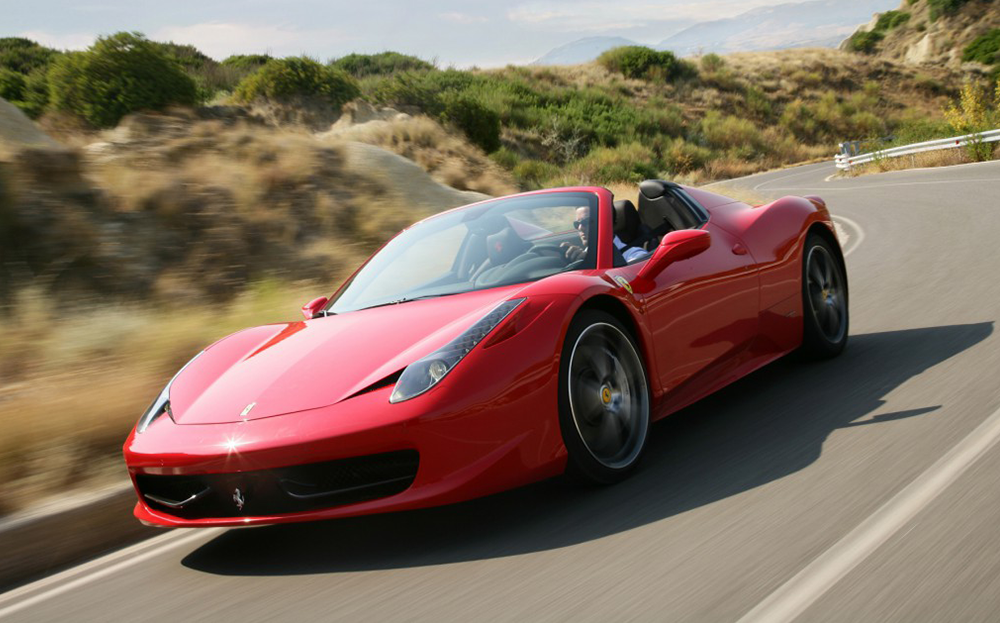 Review date: 15.07.12
A 458 is not a pure-bred sports car. Oh God, it drives like one, but it's also a singer and a model and an athlete. It's a heptathlete with the lungs of Pavarotti and the face of an angel. So you can buy the And the convertible version because driving this car with the top down adds to the theatre and the pantomime. Who cares that you're going 0.1mph slower? You're getting a tan.
Made from aluminium, the foldaway top weighs less than the normal roof on the standard car. It even weighs less than it would had it been fashioned from canvas. And it folds away, electrically, in 14 seconds. You can even drive with the roof up and the back window lowered so you can hear the V8 soundtrack when it's raining. I did that a lot.
From behind, it looks like the old Ferrari 250 LM. From behind, it's one of the best-looking cars I've ever seen. It is also extremely comfortable.
As I write now, there are shivers — and I'm not kidding — running up and down my spine as I recall the way it felt on roads near my home. The lightness. The savagery. The noise. The beauty. The trees rushing by, sheltering me from 93m miles of sky. Then you have the gearbox that changes down not in a few milliseconds but instantly. Bang. Stand on the brakes — bang again. And again. Turn. And POWEEEERRRR. A modern Ferrari feels like no other car on the road. It feels miles better. And this one? Oh, this is the best of the lot.
Sure, you can find rivals that are more technical and even a tiny bit faster. The McLaren MP4-12C (which will soon be available as a convertible, too) is one, and the Bentley Continental Supersports is another. But neither has anything like the lust for life that you find in a 458. They are tools.
I grew out of supercars many years ago. I vowed after the Ford GT that I'd never buy another. And I will stand by that. But if I were to waver, this would be the one. As a car, it would get two stars, for being silly and too expensive. But as a thing. As a celebration of man's ability to be happy. It's in a seven-star class of one.
2012 Ferrari 458 Spider specifications
Price at time of review £198,936
Engine 4,499cc, V8
Power 562bhp @ 9,000rpm
Torque 398 lb ft @ 6,000rpm
Performance 0-62mph in 3.4sec
Top speed 199mph
View the Ferrari 458s for sale on driving.co.uk
Toyota GT86
Review date: 23.09.12
Unlike most coupés, such as the Ford Capri, Volkswagen Scirocco and Vauxhall Calibra, the GT86 is not a hatchback in a party frock. It is not a marketing exercise designed to relieve the style-conscious of their surplus cash. It isn't even very good-looking. Or practical.
Power? Well, it has a 2-litre boxer engine that delivers 197 brake horsepower. That's not very much. The interior is nothing to write home about either. So, there is nothing about this car, either on paper or in the showroom, that is going to tickle the tickly bits of Clint Thrust, the lantern-jawed hero from the planet Oversteer. And yet there is, because, unlike most cars of its type, the GT86 is rear-wheel drive.
And now we get to the nub of Toyota's genius. The company fitted the GT86 with the same skinny little tyres it uses on the Prius. And what this means is that there is very little grip. You turn into a corner at what by modern standards is a pedestrian speed, and immediately you feel the tail start to slide.
So you let it go a little bit, and when the angle is just so, you find a throttle position that keeps it there. For ever. You are power-sliding, you are grinning like an ape and you are doing about 13mph. Which means that if you do make a mess of it and you're heading for a tree, you can open the door and get out. You won't make a mess of it, though, because the steering is perfectly weighted and full of juicy feel.
I'm sure that at this point many non-enthusiasts are wondering whether I've taken leave of my senses. Why, they will ask, would anyone want a noisy, impractical car that won't go round corners properly? Simple answer: if you're asking the question, the GT86 is not for you.
And now we get to the clincher. The GT86 costs less than £25,000 with manual transmission. That makes it cheaper than a Vauxhall Astra VXR. It makes it a Tiffany diamond for the price of a fairground lucky-dip prize. It's strange. We thought purpose-designed coupés had gone. We thought wayward handling had gone. And we sure as hell thought genuinely good value had gone. But all three things are now back in one astonishing car.
2012 Toyota GT86 specifications
Price at time of review £24,995
Engine 1,998cc, 4 cylinders
Power 197bhp @ 7,000rpm
Torque 152 lb ft @ 6,400rpm
Performance 0-62mph in 7.6sec
Top speed 140mph
View the Toyota GT86 cars for sale on driving.co.uk
BMW M135i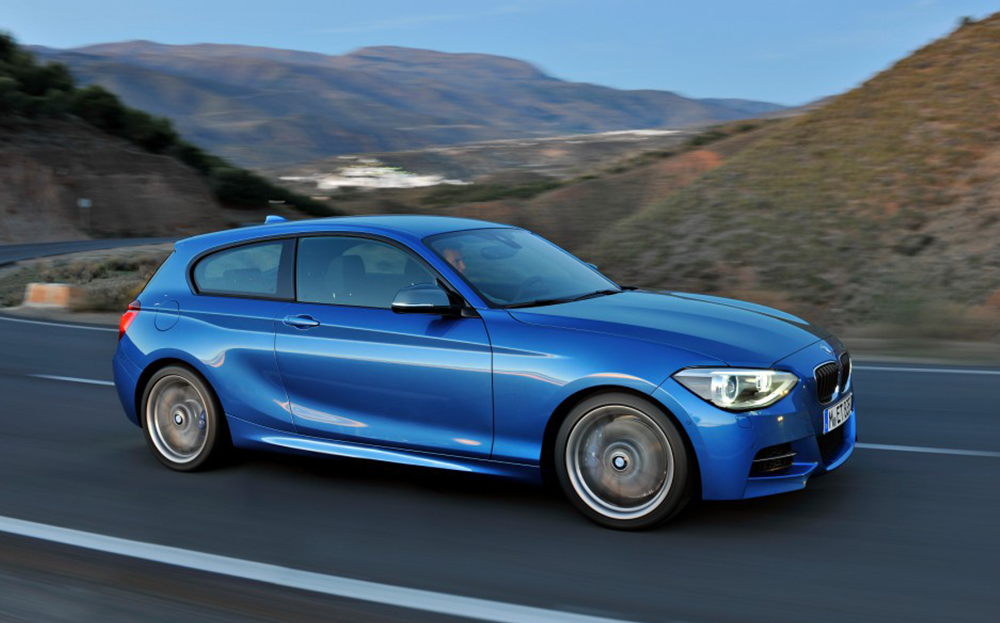 Review date: 18.11.12
The top-of-the-range M135i has been winning rave reviews because, unlike the hot hatches made by every other company, it has rear-wheel drive. This means you can "hang the tail out in a corner".
However, here's the thing. I have a watch that will still work 3,000ft underwater. I have plumbing that can deliver water so hot it can remove skin. And I often eat in restaurants that serve food so complex that it's way beyond the limited range of my smoke-addled palate. Also, as we know, I have a car that can go 80mph faster than I will ever drive.
And that's what gives the BMW M135i such massive appeal. You will never go round a corner trailing smoke from its out-of-shape rears . . . but it's nice to know you could.
There is a lot more to commend this car as well. It has a supremely comfortable driver's seat, an excellent steering wheel, impossibly Germanic controls and a perfect driving position. Get in and, no matter what age has done to your frame, you will immediately feel at one with the machine.
And because it's rear-wheel drive, the front wheels don't have to multitask. They have only to worry about steering, which means the car feels balanced. It's fantastic — as good as the Mercedes A 250 AMG I tested recently was bad.
There's more, too. While it's better-looking than its predecessor, which had the appearance of a bread van, it's still no beauty. But, like all modern BMWs, it's understated and tasteful. Yes, rivals have more space inside, but we're talking about a few centimetres here and a bit of an inch there. And if you truly like cars and truly like driving, that is a price well worth paying.
2012 BMW M135i specifications
Price at time of review £29,995
Engine 2,979cc, 6 cylinders
Power 315bhp @ 5,800rpm
Torque 332 lb ft @ 1,250rpm
Performance 0-62mph in 4.9sec
Top speed 155mph
View the BMW 1-series cars for sale on driving.co.uk
Range Rover SDV8 4.4L V8 Vogue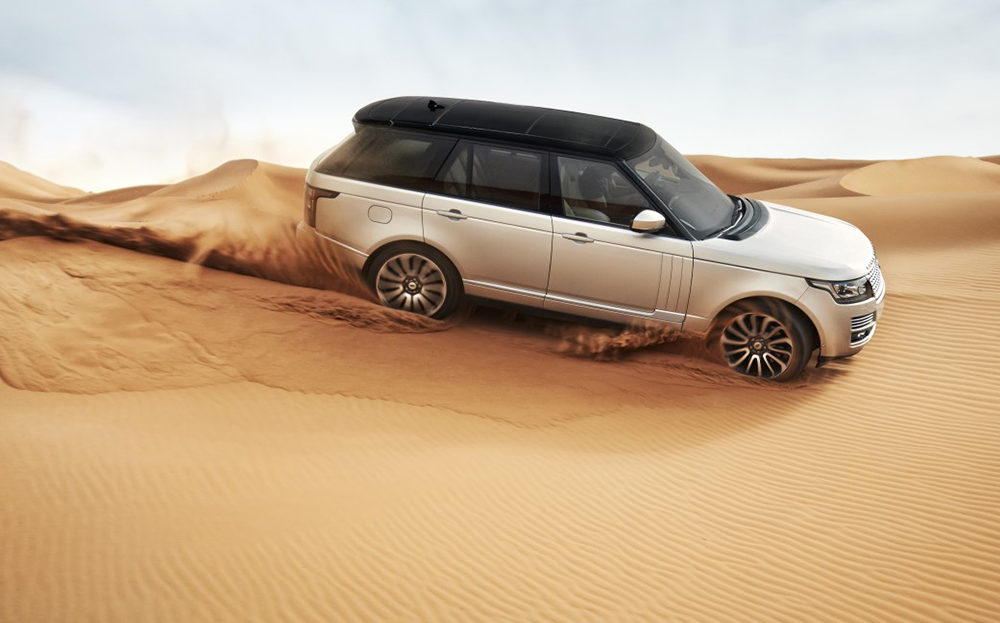 Review date: 16.12.12
The new Range Rover car may be bigger than the old one but some versions of it are almost a staggering half a ton lighter. And I was fearful this would make it feel less substantial, more Japanesey. But it doesn't. You now get better acceleration and much better fuel consumption, and it still feels as solid and as regal and as comfortable and as imperious as ever.
Off road? I didn't have a chance to find out but all the features you found on the last model are still fitted to the new one. So it should be about the same. Fine on winter tyres. A bit slithery if not.
Three engines are on offer. There's the 5-litre supercharged V8, which is fine if you are a bit unhinged, and then there's a 3-litre V6 diesel, which offers extraordinary fuel consumption for a car of this size. And in the middle is a 4.4-litre V8 diesel. That would be my choice. Will be my choice, in fact . . .
My main emotion after driving this car was much the same as my main emotion during the Olympics opening ceremony. Relief that they hadn't cocked it up. Then as time went by I started to realise that, like Danny Boyle's effort, it's more than not a cock-up. It's actually brilliant. Expensive, yes. But worth it.
The company spent a billion quid on designing the new lightweight chassis. And then clothed it in a modern-day interpretation of what made the last car such a massive hit, not just with people who wear nylon shorts at work but also people who wear tweed shorts at play.
2012 Range Rover SDV8 4.4L Vogue specifications
Price at time of review £78,095
Engine 4,367cc, V8
Power 334bhp @ 3,500rpm
Torque 516 lb ft @ 1,750rpm
Performance 0-62mph in 6.9sec
Top speed 135mph
View the Range Rovers for sale on driving.co.uk
McLaren 12C Spider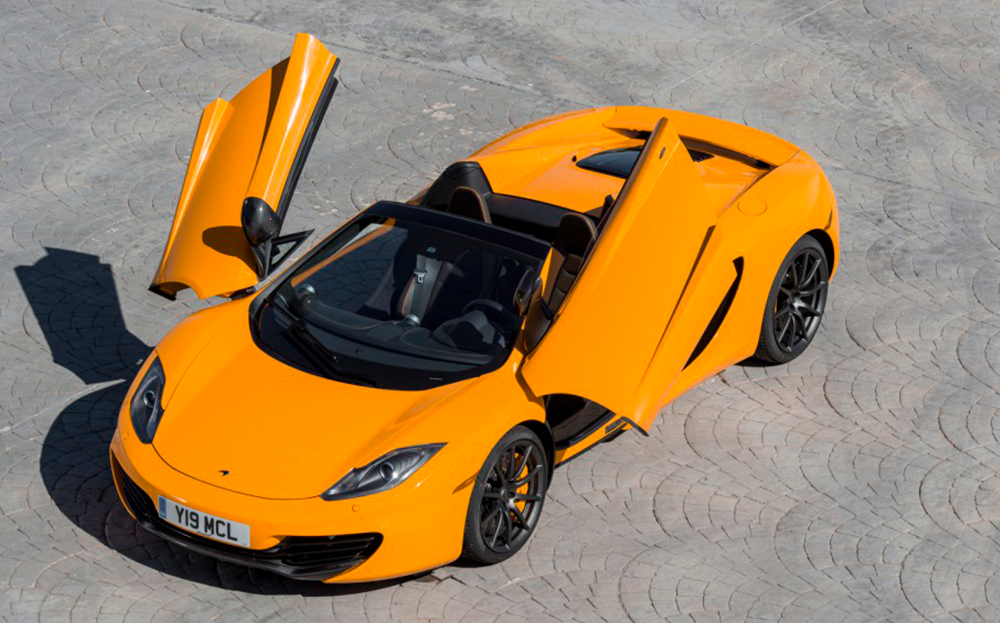 Review date: 23.06.13
When I first reviewed the idiotically named McLaren MP4-12C, I said it was better in every measurable way than the Ferrari 458 Italia. But that it lacked sparkle, panache, zing. That it was too technical and too soulless.
Other reviewers came to the same conclusions, and as a result McLaren acted fast to address the situation. The company made its car more noisy and tuned the exhaust to make it sound dirtier. It gave the car even more power. Most of all, it cut the roof off to create the more sensibly named 12C Spider.
The effect of this amputation has been dramatic. It's like one of those stern-looking girls you sometimes find in adult films who simply by letting their hair down are transformed into complete sex bombs.
This car feels exactly the same as the hard-top. Which is to say, it feels magical. As if it's being propelled by witchcraft.
No car in the world has better steering. It's very light, which suggests there's no feel. But in fact there is so much that when you run over a wasp, you can tell whether it was a male or a female. This means you can feel the precise moment when grip is about to be lost. Which means you always feel completely in control.
The cornering speeds of this car are simply immense. Around a track, I know of no road car that could even get close.
And here's the clincher. When you have finished tearing up the laws of physics and your neck hurts from the cornering G-forces and it's time to go home, the 12C is as comfortable as a Rolls-Royce Phantom. Even though it will corner at Mach 3, the lack of anti-roll bars means it simply glides and floats over bumps and potholes. As I said, witchcraft.
2013 McLaren 12C Spider specifications
Price at time of review £78,095
Engine 4,367cc, V8
Power 334bhp @ 3,500rpm
Torque 516 lb ft @ 1,750rpm
Performance 0-62mph in 6.9sec
Top speed 135mph
View the McLaren MP4-12Cs for sale on driving.co.uk
Porsche 918 Spyder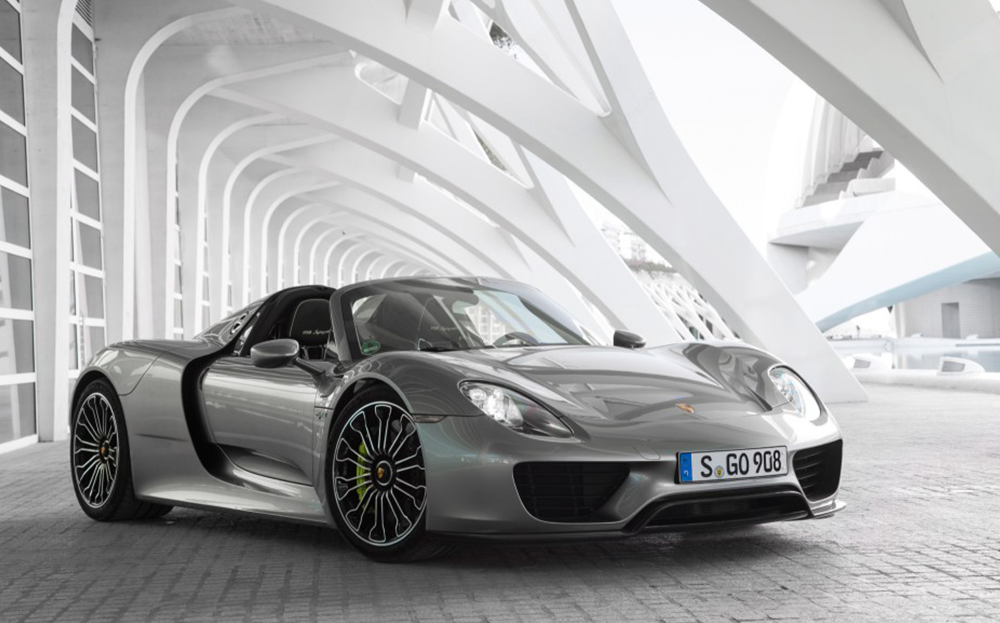 Review date: 15.06.14
The hybrid Porsche 918 Spyder is built to be used every day, everywhere, by everyone. Even though none of the 918 people who'll buy one will have the first clue how it actually works.
Oooh, there's a lot of tech in this thing. There's the complexity of making the enormous V8 work in tandem with the electric motors, using the silent drive to fill in the holes when the screaming V8 is not at its best. And to send power to the front wheels when they need it. And to work out what sort of power they need.
While fuel efficiency is a by-product of all this cleverness, the actual point is speed. Mesmerising, jaw-slackening, eye-widening, bowel-loosening speed. Neurologically impossible-to-compute speed. Laugh-out-loud speed. I began in electric, or E-Power, mode in the lighter, Weissach-package model, and I was doing 62mph just 6.1 seconds after I set off.
As the speed builds, the 918's motors sound like a jet engine on idle. They whistle. And as you go faster still, they start to shriek. It's a noise quite unlike anything I've heard in a car before and it is fabulous. If this is the future, count me in.
And then — for a complicated scientific reason — the whole back of the car exploded. The petrol engine had burst into life.
In many hybrids you cannot tell when this happens. You can in the Porsche, partly because of the volcanic noise but also because you are now doing about a million miles an hour.
At this point I turned the knob to Sport Hybrid mode and heard the sonic boom. And then I went for the full-fat Race Hybrid setting and it felt as though I were slingshotting round the moon.
2014 Porsche 918 Spyder Weissach package specifications
Price at time of review £688,000
Engine 4,593cc, V8, plus two electric motors
Power 874bhp @ 8,500rpm (combined)
Torque 943 lb ft @ 750-5,000rpm
Performance 0-62mph in 2.6sec
Top speed 214mph
View the Porsche 918 Spyders for sale on driving.co.uk
Nissan GT-R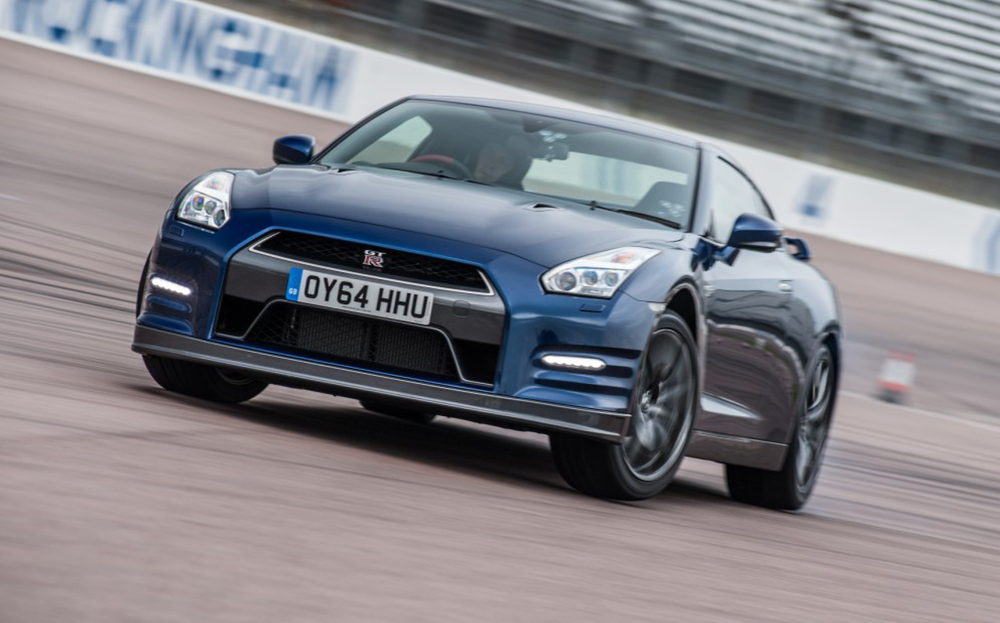 Review date: 21.12.14
For those who are unaware of this remarkable car, let me recap. It will go harder, turn more violently and stop more viciously than anything else with windscreen wipers. You may drool all you like over the latest Lamborghini or the hottest Aston, but the Nissan was always capable of tying them in knots.
You may think when you buy a mid-engined supercar that you are buying the last word in speed and power. But you're not — not really. What you're buying is a car that says, "Look at me." The Nissan does not say this. There's no point because by the time you've finished saying it, it's out of sight.
The throttle is like a Hollywood sci-fi special effect. One moment the spaceship is there, and then it's not.
It's built by a small team in a hermetically sealed factory.
The tyres are filled with nitrogen because air is too unpredictable. The gearbox is at the back for better weight distribution, there is four-wheel drive on hand for when you really are pushing hard and yet the GT-R costs a tenth of what you are expected to pay for anything else that is as fast in the dry and which would be left far behind if it happened to be raining at the time. Plus it has four seats and a big boot.
The Nissan is still the king, and the great thing about it is that no one outside the petrolhead inner circle will even notice you slide by. It's a not a five-star car, this. It's the five-star car.
2014 Nissan GT-R specifications
Price at time of review £78,020
Engine 3,799cc, V6, twin-turbo
Power 542bhp @ 6,400rpm
Torque 466 lb ft @ 3,200rpm
Performance 0-62mph in 2.7sec
Top speed 196mph
View the Nissan GT-Rs for sale on driving.co.uk
Ford Fiesta Zetec S Red Edition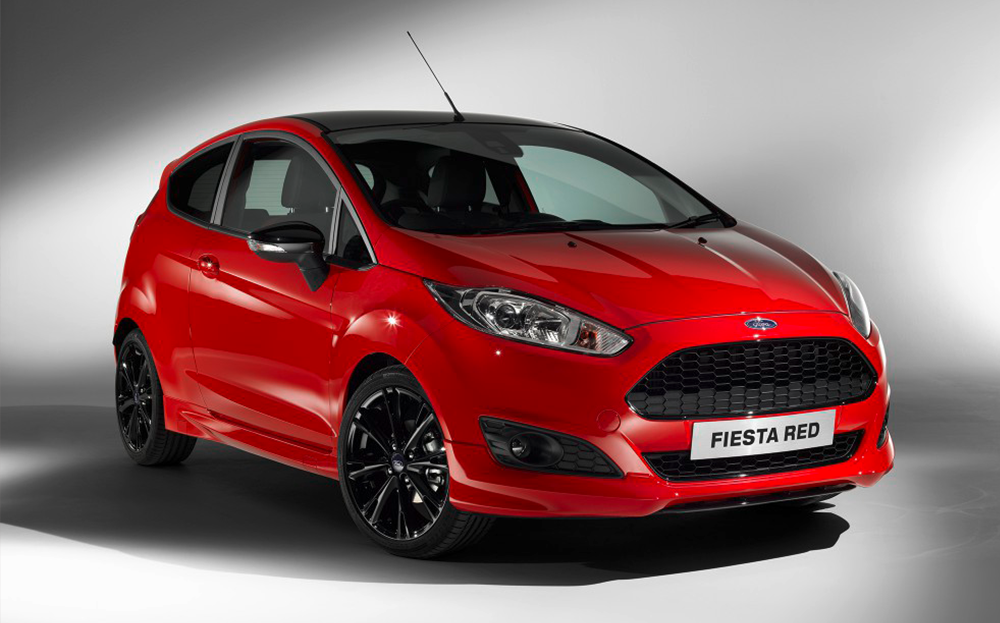 Review date: 01.03.15
Do not imagine, however, that because it's physically small, it is weedy. Because as any flyweight boxer will tell you, that's a mistake. In fact this little engine produces 138bhp. That's not a misprint. Ford has managed to extract 138 brake horsepower from an engine that has the same capacity as two cans of beer.
You might imagine that it's a mass of turbo lag and torque holes and strange noises. But no. It makes a sort of "brrrrr" noise and is like having a west highland terrier under the bonnet.
I completely loved it. I loved the speed as well. It gets from 0 to 62mph in nine seconds and will eventually reach 125mph. And yet because it's a 1-litre car the insurance is cheap and it is said you'll get more than 60mpg.
I haven't even got to the best bit yet: it's a Fiesta, which means it has an absolutely stupendous chassis. Maybe the chassis in a Porsche 918 Spyder is a bit better. And there's no doubt the Ferrari 458 Italia has a peach too. But the little Ford is in the same league — it really is.
It absorbs bumps as though they're not there, it has a tenaciously grippy front,
and above all, it makes you feel — even at half-speed — very happy. It is a car filled with joy, and that's a rare thing these days.
2015 Ford Fiesta Zetec S Red Edition specifications
Price at time of review £16,145
Engine 999cc, 3 cylinders, turbo
Power 138bhp @ 6,000rpm
Torque 155 lb ft @ 1,400rpm
Performance 0-62mph in 9.0sec
Top speed 125mph
View the Ford Fiestas for sale on driving.co.uk
---
Missed the first part?
Clarkson's Five-Star Cars — Part 1: 2002-2008
---
---
Click to read more CLARKSON REVIEWS or search NEW or USED cars for sale on driving.co.uk
---