Can the 2018 Audi A6 beat the BMW 5-series - Jeremy Clarkson's favourite car?
Mild-hybrid tech make new model more efficient
---
Published 28 February 2018
JEREMY CLARKSON has often argued that the BMW 5-series is the best car money can buy. So good, in fact, that his most recent review of the brilliant Beemer posed the question: have we reached "peak car"?
We haven't if Audi gets its way. Today the German rival to BMW revealed a new generation of A6 sports saloon, the car tasked with the job of giving the 5-series a jolly good biffing.
Audi confidently declares that when in goes on sale in the UK in June, the fifth incarnation of the A6 will offer drivers a first class experience for business class prices. Where that leaves those who never get to turn left on a plane is a question for another time.
---
Browse NEW or USED cars for sale
---
Set to make its public debut at the Geneva motor show, next week, the most significant change is the use of a new type of mild hybrid system, to help improve fuel economy and lower the level of harmful emissions. Like many car makers, Audi is having to think on its feet and come up with technical innovations to make new cars more efficient and cleaner than ever, while having to fit them with increasing levels of luxurious equipment and gadgets and gizmos.
Some engines will use a simple 12V electrical system with a belt starter-generator, which will allow the start/stop function to engage while the car is moving at speeds of up to 14mph. A coasting function is available between 35 and 100mph, switching off the engine when the driver lifts off the accelerator and instantly restarting it when needed. Engineers say this saves around 4g/km of CO2.
Other models get a more sophisticated mild hybrid system. A 48V electrical system is paired with a lithium ion battery, which can store energy captured during deceleration. It reduces CO2 emissions by around 10g/km.
When the car reaches UK showrooms, buyers will be able to choose from a 201bhp, 2.0-litre four-cylinder diesel, two 3.0-litre V6 diesels, producing 228bhp and 286bhp respectively, and a 335bhp 3.0-litre V6 petrol, all using an automatic gearbox. A four-cylinder, 2.0-litre petrol engine will join the range later.
In addition to the new mild-hybrid systems, there will be the capability for driverless operation. Like the Audi A8, the A6 will be available with optional extras that give it Level 3 autonomous driving capability – although such features are not yet permitted to be used on UK roads.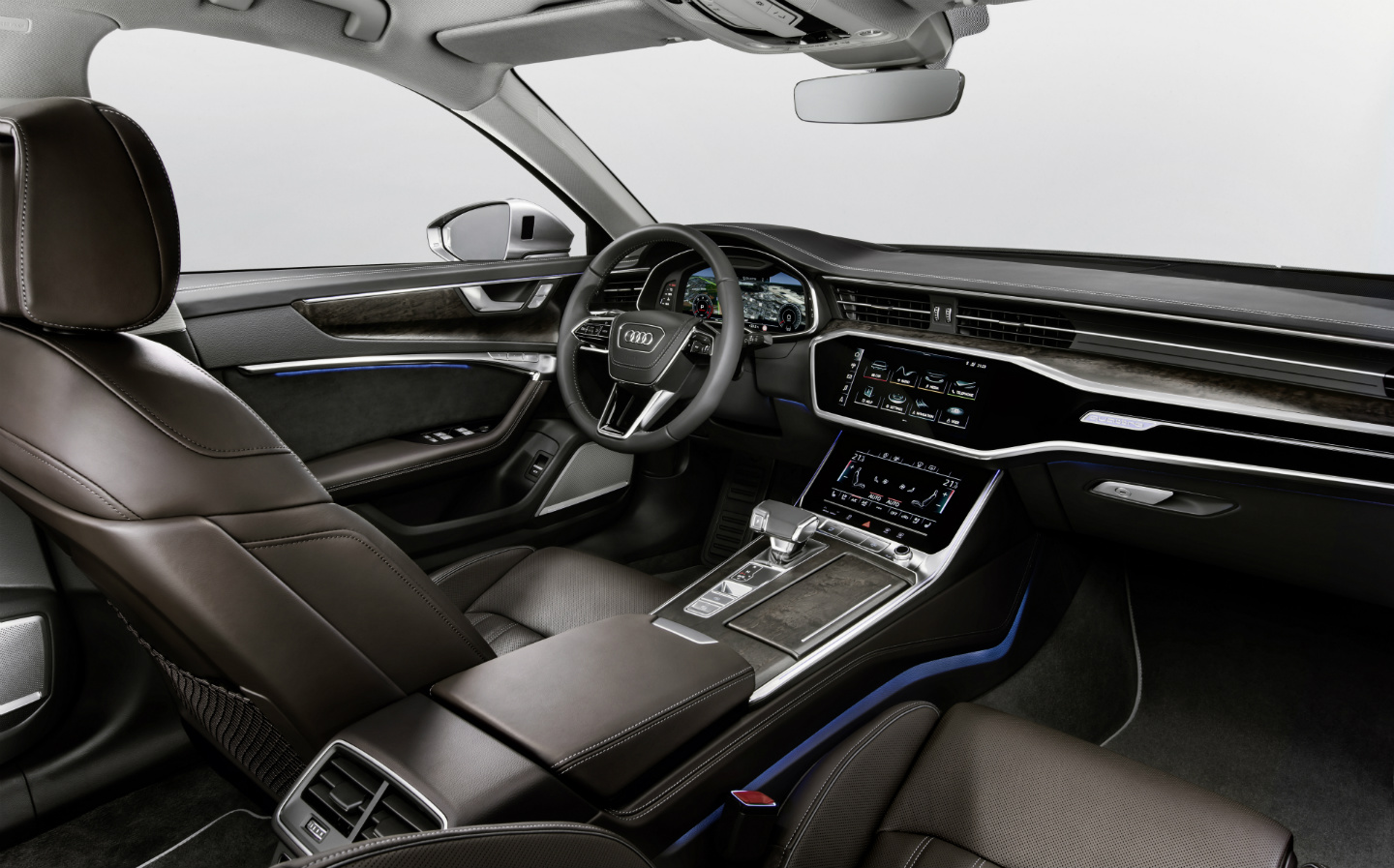 Other highlights include information displays that are exclusively digital, with instruments that can be customised to the driver's preference and a pair of touch screens in the centre of the dashboard, one for the infotainment and navigation, and the lower screen for adjusting the heating controls.
The navigation system has a self-learning function. It means it can adapt to a driver's routines and respond to events set in their diary, such as driving to a meeting or getting to their children's school for parents' evening.
One innovation drivers may be wary of is the Audi Connect Key. It allows up to five smartphones to securely lock, unlock and start the car without a conventional key, but in an age where hackers and thieves appear to be one step ahead of car makers, some may question its security.
Although prices of the A6 are still to be announced, they are likely to start from more than £35,000. An Avant estate model should be revealed by the end of the year.
Tweet to @squarejames Follow @squarejames