The Clarkson Review: 2018 Audi A8
Perfect ... if you want a new life of lease
---
Published 08 February 2018
IS THERE anything on God's green earth quite so drool-inducingly dreary as leasing? James May recently visited an exhibition on plywood and I think that's up there. So is Jane Austen. And so are the BBC's regional news programmes. But leasing? That's in a class of its own.
I spoke the other day to a man who has leased his new car. He was explaining how he doesn't have to pay for new tyres and how it's an unlimited-mileage deal and when I woke up several hours later he was still telling me how he simply hands his car in one day and gets another. And here's the kicker. When I asked him what car it was, he didn't even know.
Sometimes, I get the impression that manufacturers these days are no longer terribly interested in the cars they make. They are just seen as three-dimensional drivers for the financing department. General Motors today? It feels to me like a mortgage broker, and the cars it makes are nothing more than giveaway ballpoints.
---
Browse NEW or USED cars for sale
---
I've never leased a car, for two reasons. First of all, I'm from Yorkshire so I was always taught that I should never be a borrower or a lender and that I should only ever buy something when I could afford it, using money I'd earned.
Second, I wouldn't want to drive a leased car because I'd know all the time it wasn't mine. Oh, I'm sure it would make financial sense to use the capital to generate more and utilise the option of cheap money from elsewhere, but when I meet people who talk this way, I feel a sometimes irresistible urge to plunge a letter opener into their left temple.
When you take delivery of a new car that you've saved to buy and dreamt about, there is such a joyous sense of occasion. Choosing the first track you'll play on its stereo. Being careful not to use too many revs for the first few miles. Setting up the interior so it's how you like it. And then, crucially, having a sneaky over-the-shoulder glance at it after you've parked up at night. Nah. Leasing a car? It'd be like leasing a dog.
That said, I wonder what would happen if I needed to buy a large executive saloon. A captain-of-industry barge. A Mercedes S-class or the like.
"The screen gets covered in greasy fingerprints … Never trust a man who has cleaning equipment in his car. There is something wrong with him"
The trouble with cars such as this is that the only people who can afford to run them can certainly afford to buy one new. Nobody wants to buy such a large, thirsty and complicated car second-hand. The risks of an expensive out-of-warranty failure are too great. These cars, then, depreciate like a grandfather clock that's been pushed from the back of a Hercules transport plane. You could lose maybe £50,000 in a year, and being from Yorkshire that would cause me physical pain. I'd want to plunge a letter opener into my own left temple.
The only sensible solution — apart from buying a smaller car —is to lease. To let the company that made the damn thing take the financial pain. I'm told there are some very tasty deals around. Friends talk about how they've leased a BMW 7-series for 3p a year and how Jaguar is now giving away XJs with packets of breakfast cereal. And if that's all you're interested in, then go ahead and choose the cheapest deal.
The car you end up with will be big and comfy and full of animal skins, and you'll be fine. What's more, the dealer will be obsequious and Uriah Heepish, which is always a joy. I love nothing more than watching a car salesman genuflect before a customer's magnificence.
However, what if you see the car as something more than an irritant in the profit-and-loss account? What if you have four-star coursing through your arterial route map and you love the smell of burning Castrol in the morning? What if you're all of that and you're forced by social niceties to have a boss-mobile, then what?
Well, that brings us neatly to the Audi A8. I had been told by the aforementioned May this was the new benchmark in Freemasonry comfort, that the pitter-patter and jiggliness of Audis in the past had been banished and replaced with a creamy brilliance.
He's wrong. It's quite comfy in the front — I can see what he means when you're sitting there — but in the back, which is more important in a car of this type, it's far too crashy, especially over potholes and those speed humps that look like rubber but aren't.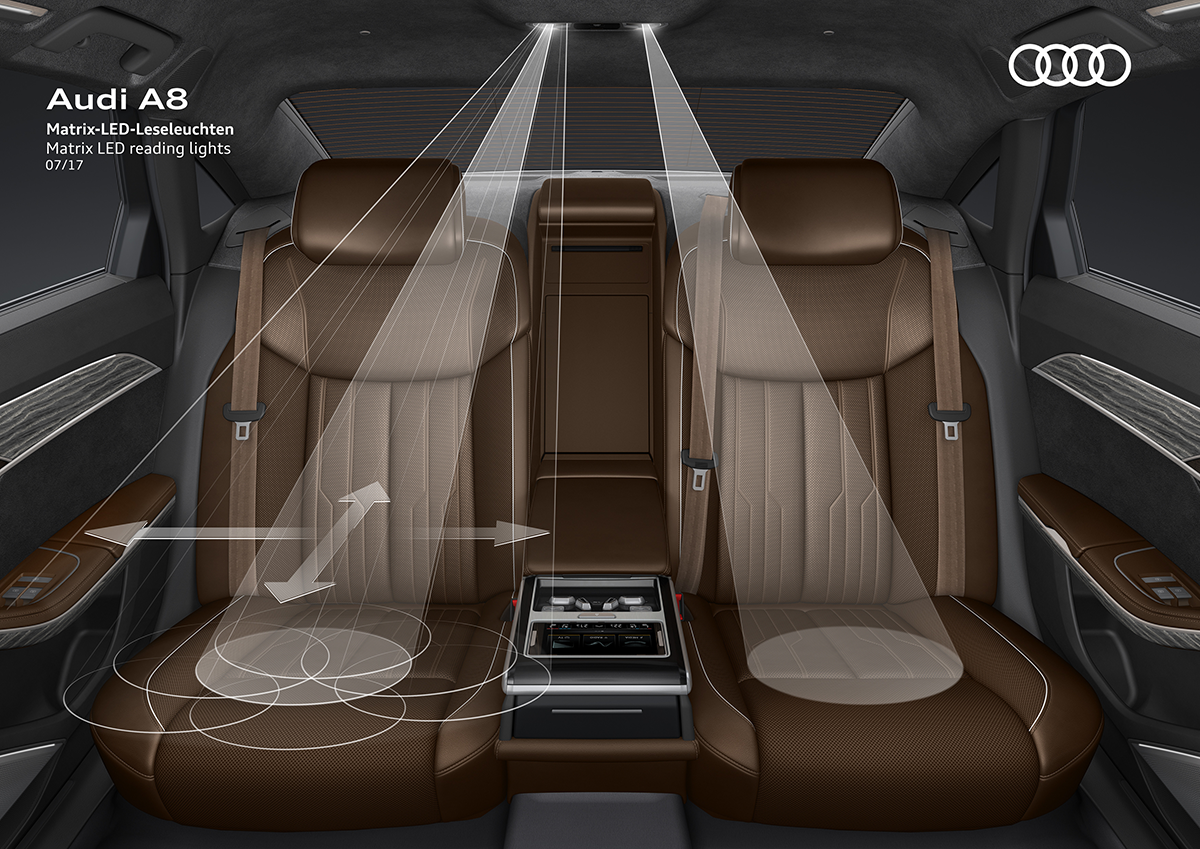 That said, it's a bloody nice place to sit. In the back you can have an optional iPad Mini-style display on which you can choose the colour of the interior lighting and so on, while in the front you have a virtually all-glass dashboard. There are almost no buttons at all. It's all touchscreen stuff and if you like that, it works very well.
I don't like it. Because the screen gets covered in greasy fingerprints and in bright sunlight you can't see a thing. So you have to keep a duster or a chamois leather in the door pocket. Which marks you out as a dullard. Never trust a man who has cleaning equipment in his car. There is something wrong with him.
To drive. Well, what can I say? It's quiet and refined and not so fast you are frightened or so slow you think it's broken. The model I tested produced 145 carbon dioxides and 282 horsepowers and the price includes half a tank of fuel. Audi doesn't give you a whole tank because it's massive. Filling it would cost about a million pounds, but on the upside, you can go more than 700 miles between trips to the pumps.
---
Browse NEW or USED cars for sale
---
That's one USP. Another is the four-wheel-drive system. Most of the time you don't need it, in the same way that most of the time you don't need insurance cover for fire damage. But then the day arrives when you do . . .
Big rear-wheel-drive cars are hopeless when the weather's bad. The Audi isn't. And it's well made, and with its enormous new shiny mouth, it's striking too. I've always said that if I were in the market for a big business bruiser, I'd have the BMW 7-series, but I think this Audi has it beat.
I appreciate of course that you will actually pick whichever car comes with the best leasing deal because if you want a car of this type, you are in business so you'll understand what the salesman is on about. You may even become a bit aroused when he says "APR".
I still maintain, though, that no one who buys a vehicle of this type is that interested in cars. It'd be like going on a cruise liner because you enjoy sailing. If you do enjoy driving and you want a big car, get a BMW 530d. If you just want somewhere nice to sit after a hard day in the office, the Audi's fine.
Tweet to @JeremyClarkson Follow @JeremyClarkson
Head to head: Audi A8 vs Mercedes S-class
| | | |
| --- | --- | --- |
| | Audi A8 50 TDI quattro | Mercedes-Benz S 350 d AMG Line |
| Price | £69,100 | £72,705 |
| Power | 282bhp | 282bhp |
| Torque | 442 lb ft | 442 lb ft |
| 0-62mph | 5.9sec | 6.0sec |
| Top speed | 155mph | 155mph |
| Economy | 50.4mpg | 52.3mpg |
| CO2 | 145g/km | 139g/km |
Write to us at driving@sunday-times.co.uk, or Driving, The Sunday Times, 1 London Bridge Street, London SE1 9GF