Audi's big electric and plug-in hybrid push revealed
Audi's electrification offensive laid out in full
---
Published 05 October 2019
CARMAKERS of all colours are diving head-first into electrification programmes, though not all are quite as committed as Audi. No fewer than 20 pure-electric cars will be in its range by 2025, complemented by a further 10 all-new plug-in hybrid offerings.
While this ambition has been known for a while, the finer details of this electric car onslaught were unveiled at an exclusive event in Munich, Germany last week. Here's what Audi has planned in its big plug-in push.
Three new vehicle platforms
As Audi's pure-electric car range currently comprises only one model — the e-tron SUV (pictured below; reviewed here) — the car maker unsurprisingly only has one electric vehicle (EV) platform: called "MLB Evo", it's architecture loosely derived from the underpinnings of the petrol and diesel-powered Audi Q7.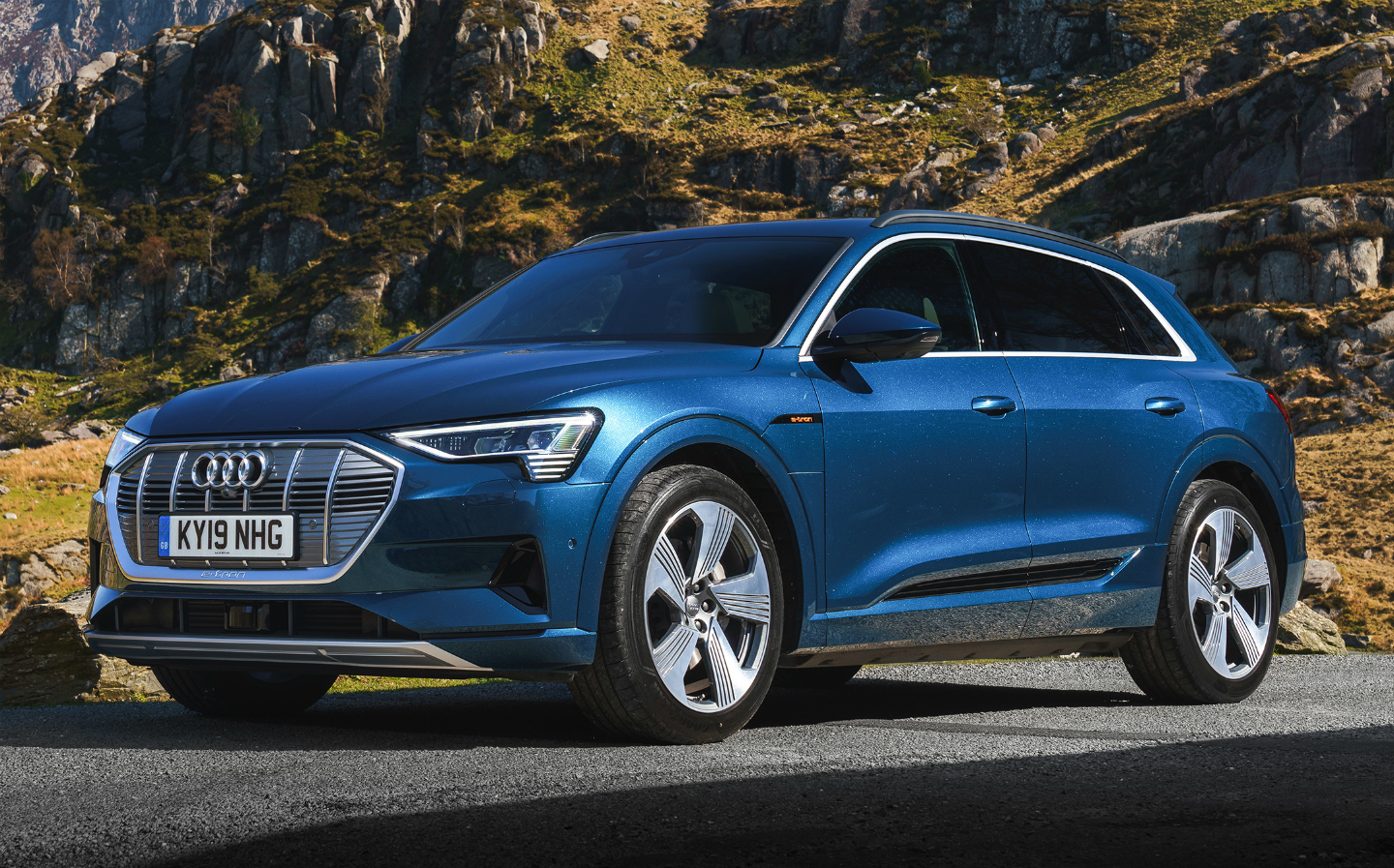 By 2025, though, Audi will have four platforms reserved for its battery-powered vehicles. Audi's mass-production electric cars will make use of a modular setup called "MEB, which is shared with other Volkswagen Group brands including VW and Seat. However, the high performance electric models that Audi has in the works will be based on the J1 architecture that has been developed in conjunction with Porsche.
Sitting in-between will be cars based on an all-new Premium Platform Electric (PPE) base, which again has been developed with help from Porsche. According to Audi, the PPE platform will be reserved for "full-sized" models — meaning pure-electric cars that are the same size or larger than the Audi A6 executive saloon.
In the long term, PPE will also eventually replace the MLB Evo architecture: when Driving.co.uk asked if this new setup would supersede the Audi e-tron's platform, an Audi representative responded with a very resolute "yes".
e-tron legacy
While the e-tron's underpinnings will eventually be retired, that doesn't necessarily mean the MLB Evo architecture will be imminently phased out: an Audi spokesperson told Driving.co.uk the e-tron "still has a long way to go on" before production comes to an end.
The e-tron SUV range is also destined to grow in the near future. We already know a coupé-styled "Sportback" version will be unveiled in November 2019, ahead of an expected launch in the first half of 2020, and Audi has now begun dropping hints it may have another, more "emotional" (i.e. performance-oriented) e-tron SUV variant on the way.
Speaking of new models, we also have a far more fleshed out idea of what to expect from Audi in the coming years. As all-but-confirmed earlier, a large SUV based on the PPE architecture is on the cards, and a smaller SUV is likely on the way too, as Porsche has already said it will make a PPE-based pure-electric version of the next Macan.
Behind closed doors, Audi also showed us its first PPE-previewing concept car: an as-yet-unnamed saloon that's around the same size as the Audi A8. However, while the design looked virtually production-ready to us, Audi says its first PPE-based electric cars won't be launched until around 2023.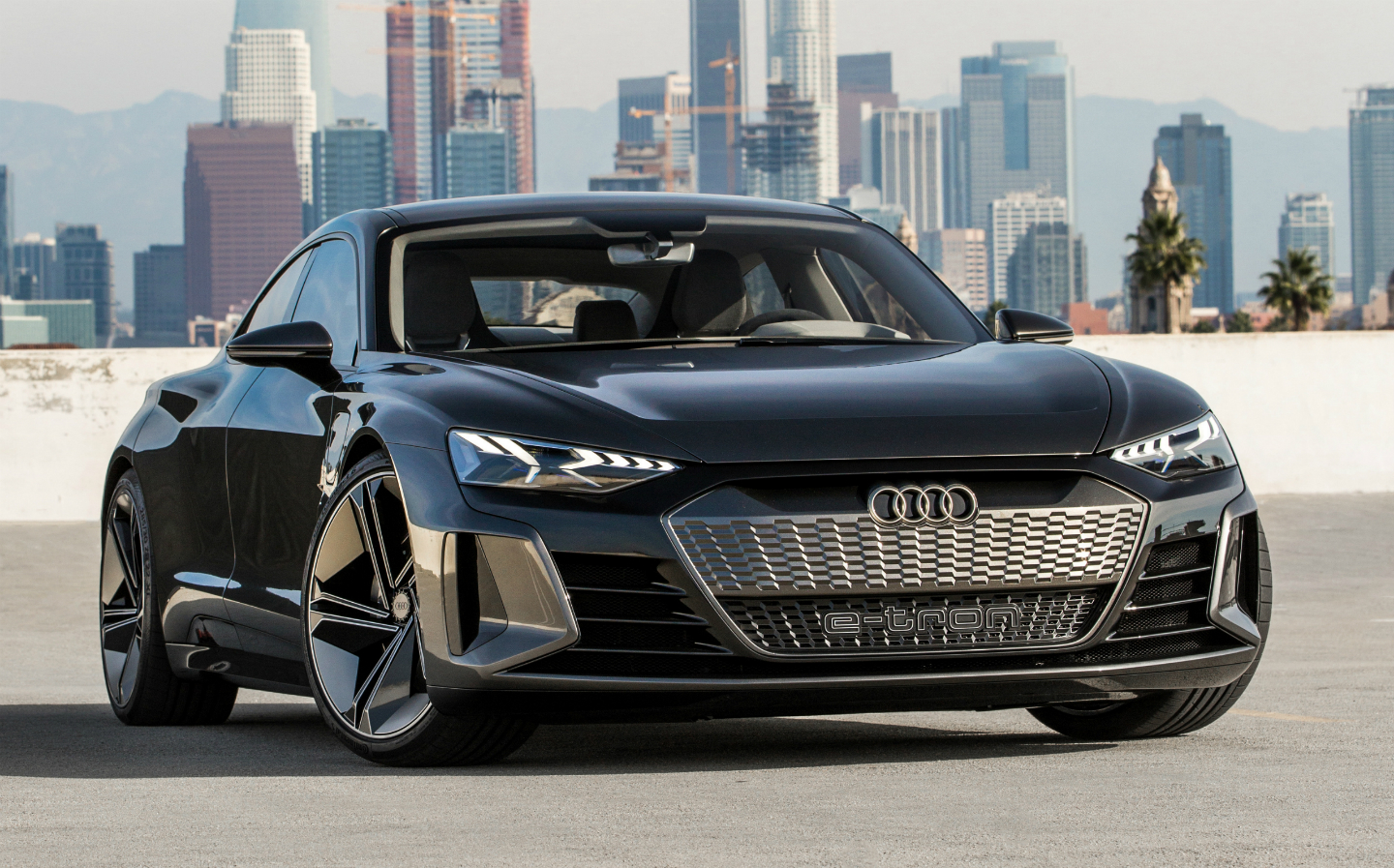 Between now and then, Audi's new electric car offerings will consist of the J1-based Audi e-tron GT high performance four-door sportscar (e-tron GT concept pictured, above), which will enter production in late 2020, and the due-in-2021 Q4 e-tron compact crossover that will pave the way for more MEB-based mass market electric models.
However, while we were told the MEB architecture could underpin a range of SUVs and smaller saloon models, Audi is remaining coy over which cars it currently makes will get an electric doppelganger. We were told the modular platform "offers lots of options, but we can't say right now what those options will be".
Updated battery and charging tech
As interesting as the platforms will be, the battery technology they feature is arguably more relevant to car buyers. After all, what good is an electric car if it has a poor range and takes an age to recharge?
Audi is aware of this, of course, and is claiming some fairly impressive statistics for its future pure-electric vehicles. The car maker claims its upcoming PPE-based models will be able to go around 310 miles on a single charge — putting them on par with comparable cars from Tesla.
Because the PPE cars' electrical system will be able to handle up to 800 volts (for reference, the Audi e-tron SUV can only take half that power), Audi says it won't take long to recharge the batteries. No timeframes were disclosed, however, outside of the claim it will be possible to replenish the battery packs during a short coffee break. Assuming you can find ultra-rapid chargers capable of delivering that much power.
It appears those fast charging speeds won't be reserved for the PPE models, either. During a presentation on the Q4 e-tron compact crossover, we noticed references to charging at around 125kW, which is quite impressive for a pure-electric car of this size — its closest current rival, the DS 3 Crossback E-Tense, accepts charging power at up to 100kW. It's half what Tesla's V3 Superchargers are capable of, though: their peak power rate of 250kW means they have the potential to add 1,000 miles of range to compatible Tesla cars every hour, and 75 miles in 15 minutes.
Rear-wheel drive
While all of Audi's pure-electric cars to date have been all-wheel drive, that's set to change once the Q4 e-tron and the PPE-based cars arrive in the coming years, as they'll come out of the box with rear-wheel drive. An all-wheel drive system will be available as an option, though we were told the MEB-based models like the Q4 e-tron will only send power to the front wheels "when needed".
Plugging the gap with petrol-electric hybrids
Audi's electrification strategy may be dominated by pure-electric cars, but plug-in hybrid (PHEV) models also have a big part to play in its plans. By 2025, the car maker expects to have 10 new PHEVs on sale, of which seven should be available before 2021.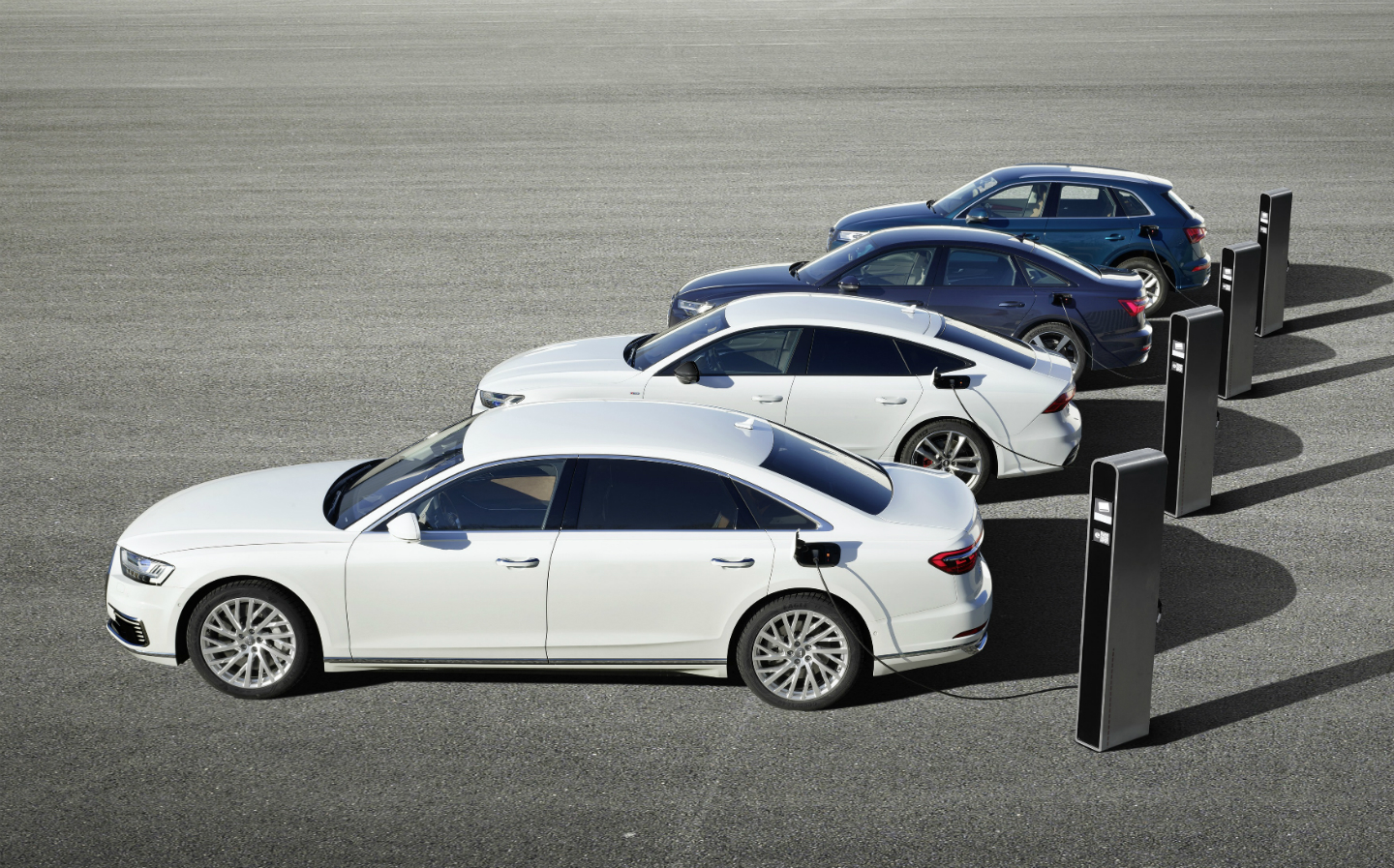 By the end of this year, Audi says petrol-electric "TFSI e" variants of the Audi A6, A7, A8, Q5 and Q7 will be available to order from UK showrooms. By the end of 2020, the plug-in portfolio will also include TFSI e versions of the A3 and Q3.
Full details will be revealed closer to the cars' respective launches, though Audi is claiming its plug-in cars will have enough range to cover "most everyday driving distances" on electric power alone. According to the car maker, most of the PHEVs can be driven around 25 miles using just the battery, while the Audi A6 TFSI e can cover up to 31 miles before the engine needs to kick in.
While the plug-in hybrid models won't be the most affordable options (according to an Audi UK spokesperson, Q7 TFSI e prices will likely start at around £67,000), they are anticipated to be popular. Depending on the model, Audi is expecting the new plug-in hybrid models to account for between 20 and 30% of their respective model's sales.
Tweet to @J_S_Allen Follow @J_S_Allen