James May: Yellow Ferraris are still cool, right?
The Grand Tour presenter reviews the new F8 in this week's Sunday Times Magazine
FOR SO long it was so simple: the sky was blue, rain fell at the most inconvenient times, and two-seater yellow V8 Ferraris were cool.
Now it seems, says James May in this weekend's Sunday Times Magazine, that all of that has been turned on its head. As he was driving the new Ferrari F8 Spider, in yellow, with the roof down, he stopped at a zebra "to let a group of young lads cross".
As they were crossing, writes May, "One of them paused midway, his face a mask of astonishment, and proclaimed to his mates: "Hey, look, a yellow Ferrari convertible! That's shit!" He continued to the other side and said it again. "That's so shit!" I had the roof down and I think I was meant to hear."
Despite being perhaps as out of touch with modern teenagers as anyone could be, even May could tell that "shit" was not a new iteration of "sick", "wicked" or "bad". It seems, he says, that yellow Ferraris are no longer the in vogue thing. And they have been for so long: in the nine-model history of the two-seater V8 Ferrari, since the 308 kicked it off in the seventies, every model has looked "top banana" in yellow.
Moving on unperturbed, May describes what exactly the F8 is. Although he knows Ferrari might not appreciate the description, he reckons that it is essentially an "elaborate facelift" of the very well received 488, the track focused Pista version of which Jeremy Clarkson named his favourite supercar of the year at the 2019 Sunday Times Motor Awards. It's also May's "favouritest Ferrari".
The F8 actually gets the V8 from the 488 Pista, meaning that it's something of a "more civilised route to owning that car". To call the F8 civilised, however, might be a stretch. Despite Ferrari's best efforts to electronically keep a handle on the torque, the delivery is "brutal".
"What I'm trying to say is that I'd be wary of giving it maximum wellington in the damp at something like the exit to a small roundabout — as I did — because then you will arrive at another usage of "banana", as a verb, oft heard in the discussion of penalty shoot-outs." That's a football reference — to a banana kick, which curves wildly from its predicted destination.
Once you've got to terms with that, though, it adds to the enjoyment of the F8. The delivery of power is immediate, linear, and doesn't suffer from any of the general issues that high-performance turbo petrol engines do.
It also looks incredible, with a sharp, angular nose. May also singles out the "concave rear light lenses, which invoke some forgotten confectionery and which I fondled, unwaveringly, for a good five minutes." Improvements have also been made to the interior, and the complexity of the Formula One-style steering wheel has alluring exclusiveness to it, he says.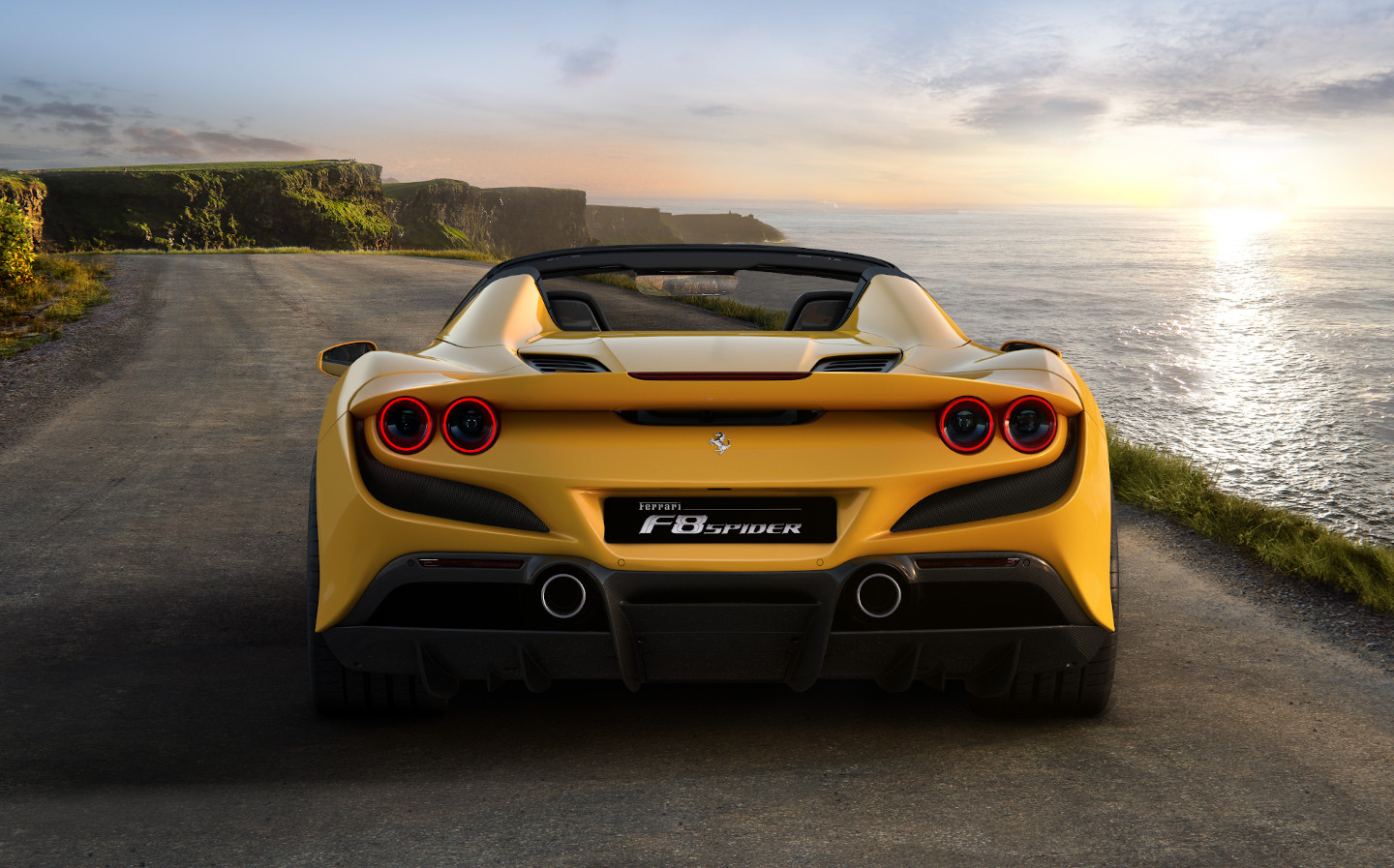 However, the "reverse of origami" style roof is a bit annoying, and the F8 suffers from some of the same problems as nearly all convertible Ferraris: a bad sound system, and the "little shudder through the aluminium chassis and the squawks from the upholstery are, in a surgically honed instrument of driving precision, a bit like fitting a fresh scalpel blade to a rubber handle".
"I'm unmoved in my long-held view: you should have a convertible, or you should have a Ferrari. I'd have the latter."
There's also the issue of width: since the first two-seat V8 Ferrari was released, every subsequent model has got an inch or two wider, meaning that the current model takes up more than just a bit of the road.
Does it matter, though? "This is still a yellow mid-engine Ferrari, one of the most enticing artefacts humankind has produced," says May, despite what the youth of today might believe.
To read James May's full thoughts on the Ferrari F8 Spider, head to the Sunday Times Website, or grab a copy of this weekend's Sunday Times Magazine.
James May's new driving theory test app helps learners get into top gear