Vauxhall Mokka petrol and Mokka-e electric car 2021 review
Double-shot of Mokka leaves pleasant aftertaste
THE VAUXHALL Mokka has, in the past, been a less-than-inspiring crossover — a teaspoon of supermarket own-brand instant coffee mixed with water from the hot tap, rather than a frothy concoction from the local Italian coffee shop.
Well, that's all changing with the new version, which comes with petrol, diesel and electric drivetrains, a refreshingly bold new look and impressive amounts of technology.
Design and rivals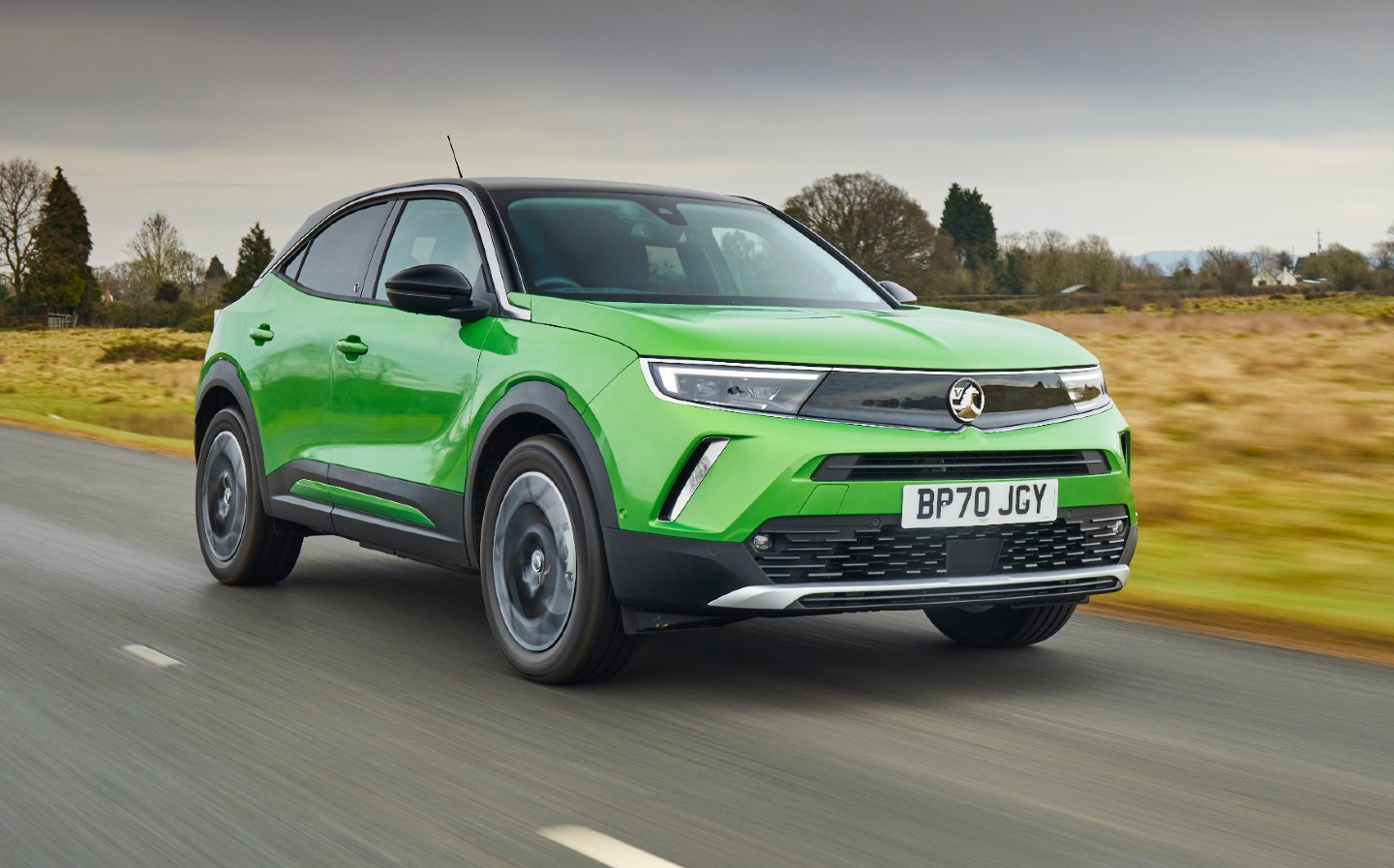 What's this? A Vauxhall that stands out from the crowd? In fact, dare we say, it looks rather … good.
The sleek exterior design of the 2021 Mokka (the Mokka-e, shown in our pictures, is almost identical, save for some badging) is likely to turn a few heads away from its rivals, which include the Renault Captur, Ford EcoSport, Nissan Juke and Peugeot 2008 (with which it shares the same underpinnings and powertrains).
The new Mokka is actually a fair bit shorter than before (by 124mm), though the front and rear axles are 2mm further apart, which helps improve interior space as well as give the car a sportier "wheel in each corner look".  The dynamic potential is enhanced by being 10mm wider.
The striking exterior design is a bit slipperier through the air, too, with drag reduced by 16% at motorway speeds. That helps with fuel economy — and how far it can travel between charges, when considering the electric version.
The front end is perhaps the talking point, though, with Vauxhall's new "Vizor" design that first featured on the Crossland and will be rolled out across other models in the range. It's smart.
Interior and practicality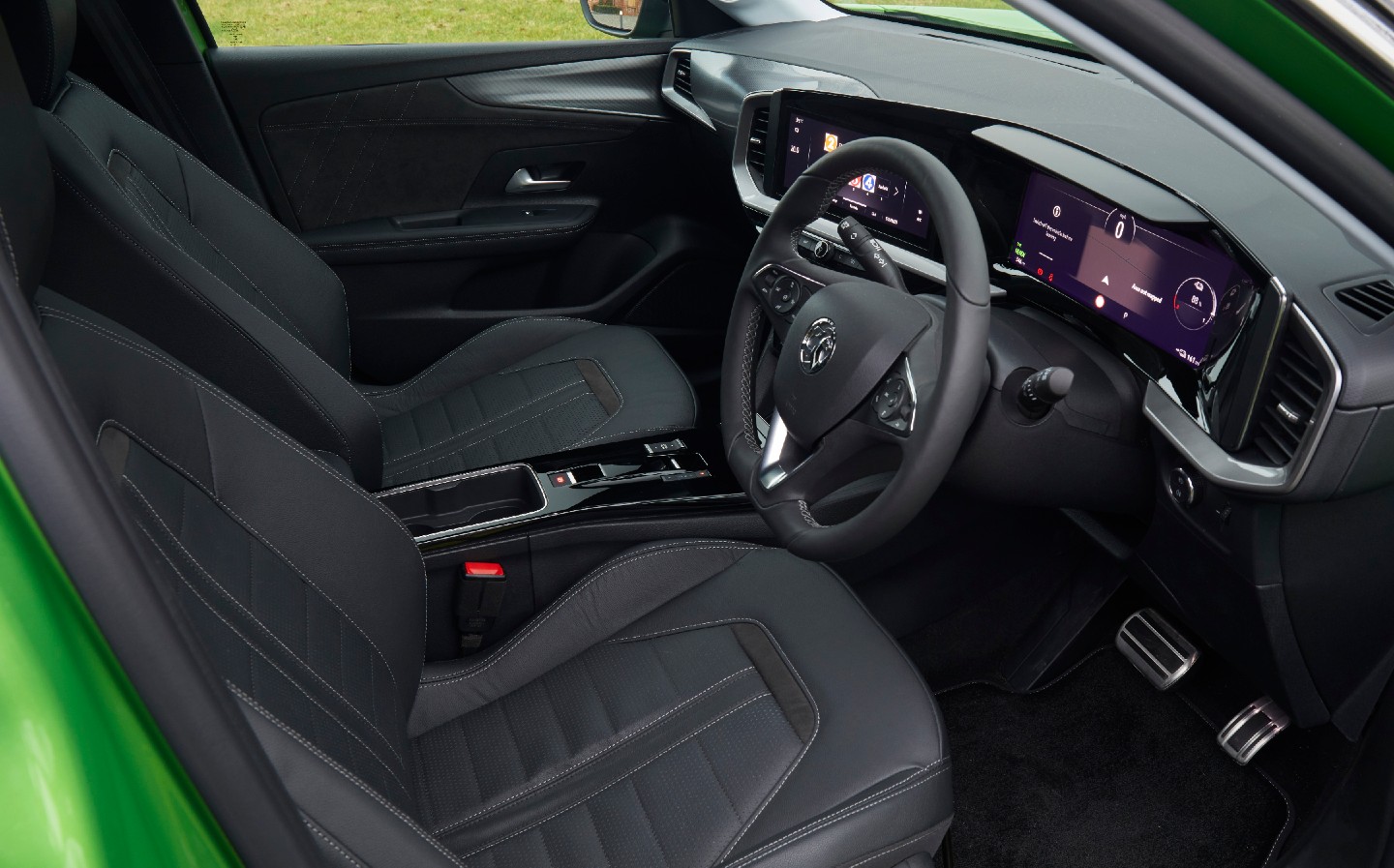 In my review of the Vauxhall Grandland X, I said that its painfully drab interior and outdated technology made it clear where Vauxhall fits into new owner PSA Groupe (now rebranded as Stellantis) pecking order. That is to say, the bottom. God, it was awful, especially compared with the smart, modern, high-tech cabin of recent Peugeots.
Perhaps someone was listening because the new Mokka is a completely different story. While some of the materials and switchgear don't look or feel especially expensive, it's a modern, chic and sophisticated design.
It's the first Vauxhall to feature what the brand has labelled a "Pure Panel" dashboard, with the touchscreen infotainment system and fully-digital driver's display housed within a single, curved frame.
Entry-level versions include a 7in digital instrument panel with 7in central touchscreen but opt for a higher spec version and you get an upgraded 12in digital instrument panel along with a 10in central colour touchscreen.
The touchscreens have a fairly basic menu system compared to some competitors' systems (e.g. VW Group brands such as Skoda and Seat), but it's a decent upgrade on Vauxhalls of the past and actually responds quicker to the touch than those I've tried in Citroëns recently, which is another Stellantis marque. The new higher-riding Citroën C4 and e-C4 could now be considered direct competitors of the Mokka and Peugeot 2008, and of the three sister cars, the Vauxhall's touchscreen seems to have the least lag.
The Mokka's dash layout is more attractive than the C4's, too, and Vauxhall claims its minimal design, with fewer buttons, is less distracting for drivers than the cabin of the outgoing model. Many people will still be pleased that Vauxhall has retained dials for the temperature controls, though.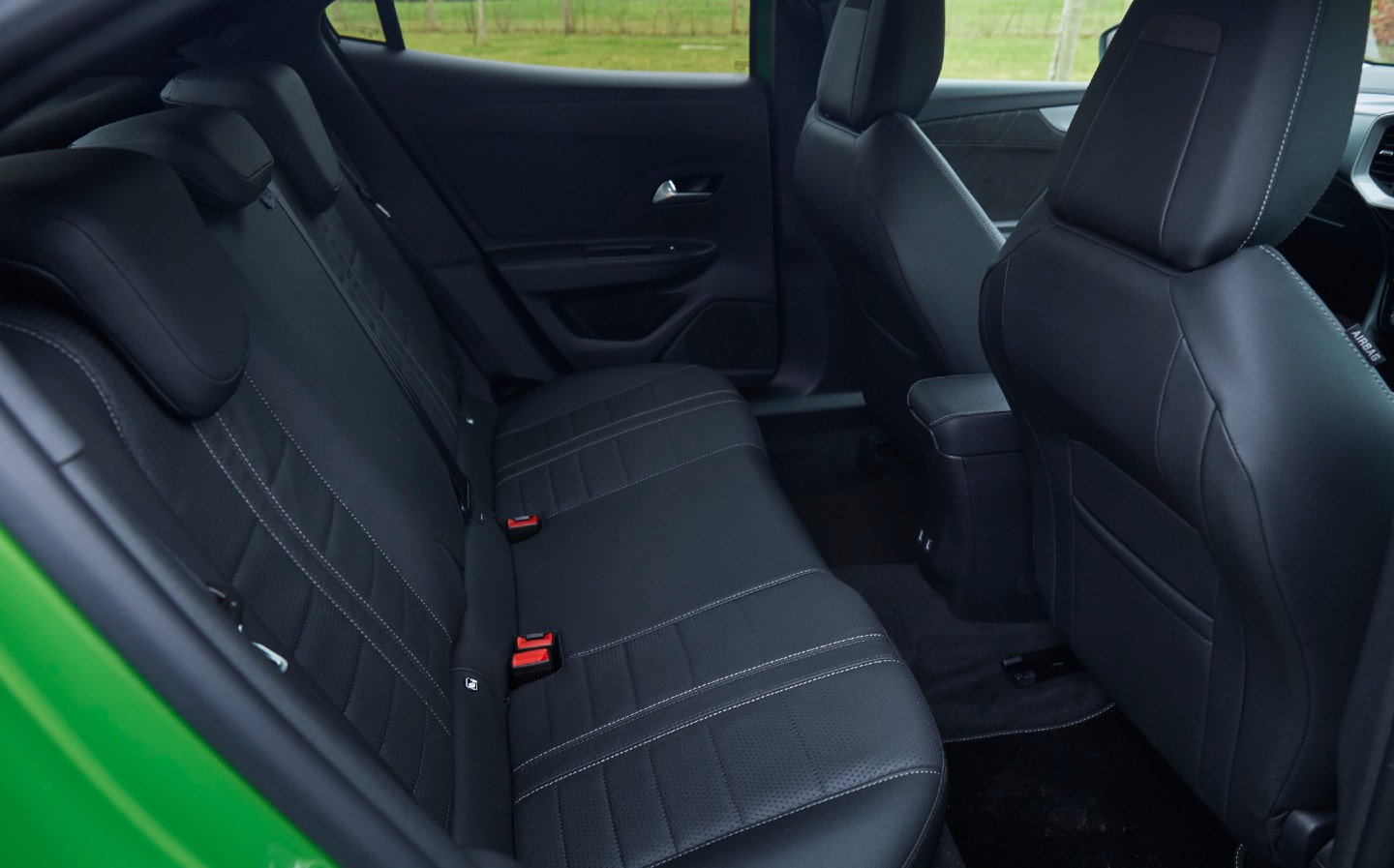 The front seats are comfy and supportive, and top spec versions come with either Alcantara or leather upholstery, as well as heated front seats. The driver's seat can also be specified with a massage function — if you'd have suggested to someone a few years ago that such a feature would one day be found on a Mokka, they'd have laughed in your face.
In the back, space is surprisingly decent for a compact SUV, including in terms of head room, and Vauxhall says boot capacity remains nearly identical to the previous Mokka (350 litres with the rear seats in place, or 1,105 litres with them folded flat).
Technology and safety
Along with the touchscreen and digital driver's display, the new Mokka and Mokka-e come standard with driver aids including automatic emergency braking, cruise control with lane departure warning and lane keeping assist (which isn't overly intrusive, thank goodness), speed limiter and speed sign recognition.
Optional extras include adaptive cruise control and steering assist, reversing camera and parking assistant, and keyless entry and start.
All Mokkas come with LED lights front and rear but the Ultimate Nav Mokka and Launch Edition Mokka-e models gain Vauxhall's IntelliLux LED Matrix headlight technology, which project more light onto the road, dip automatically around other cars and react to weather conditions.
Ride and handling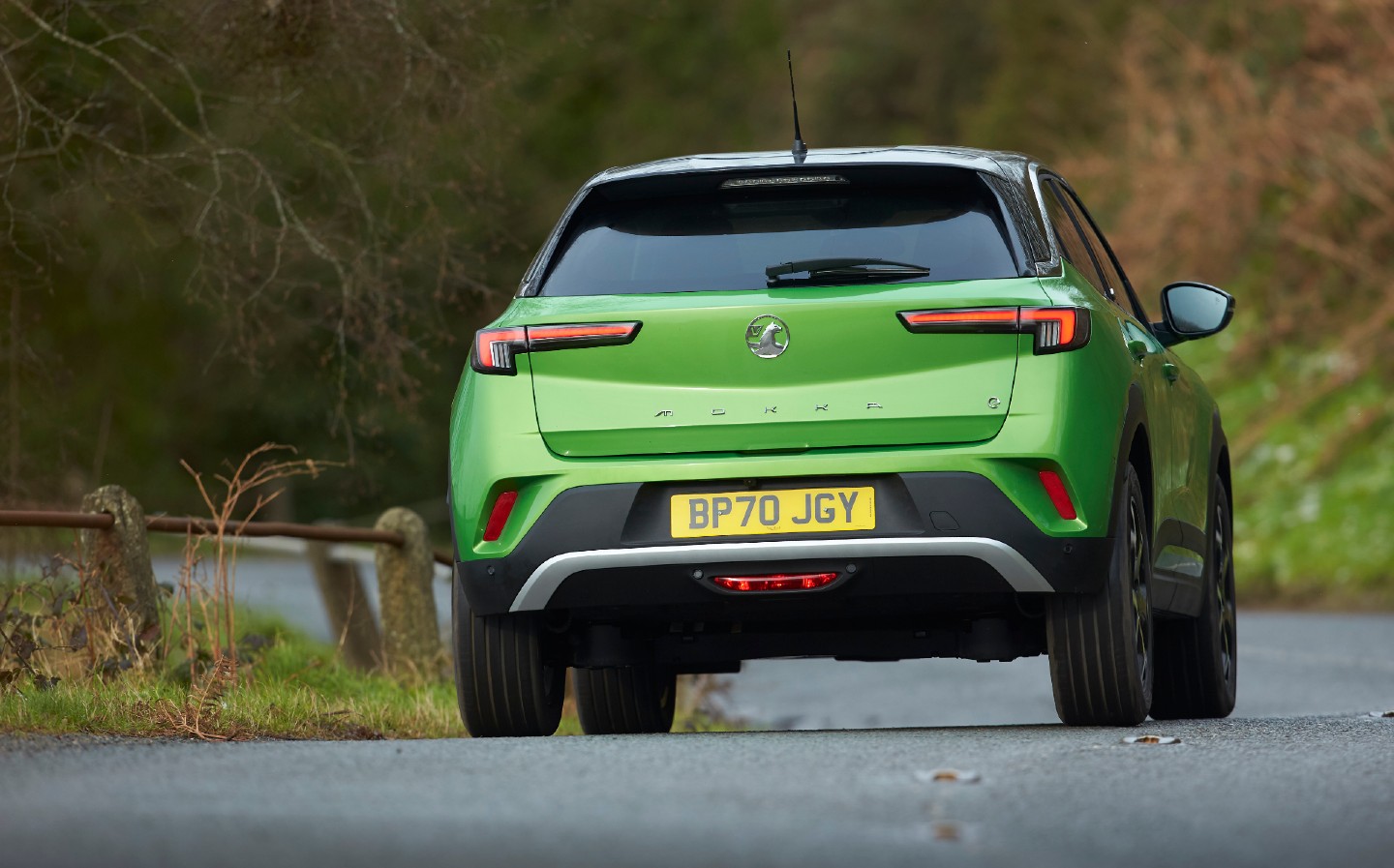 The new Vauxhall Mokka is up to 120kg lighter than the old one, Vauxhall says, which helps improve driving dynamics and fuel economy.
In addition, body rigidity has been increased by 15% on petrol and diesel variants, and by up to 30% on the electric Mokka-e. A stiffer body doesn't result in a firmer ride — that's all determined by the suspension set-up. What it means is more responsive handling; the stiffer the chassis, the better, essentially.
The new Mokka is certainly feels like a very different car from the version it replaces, though you can't really compare the petrol and diesel models with the Mokka-e, which is heavier (due to the extra mass of the battery pack) and has a different suspension set-up as a result.
The petrol car I tested, fitted with the 130PS (128bhp) engine and eight-speed automatic gearbox, actually had a harsher ride than the Mokka-e. Over bumpy country roads it felt sportier, the weight advantage quite obvious when braking into corners, with less body roll through the turns (despite the Mokka-e having a noticeably lower centre of gravity) and a front end more eager to comply with swift changes of direction.
The disadvantage compared with the electric version, other than the less relaxing thrum from the 1.2-litre turbo engine, was a more jiggly ride quality, and increased vibrations through the cabin. The Mokka-e manages to iron out bumps in the road better, though.
Neither version has sports car handling, by any means, but the communication through the wheel is good and fun can be had. The petrol model is the more "dynamic" and scores decent points for driver engagement.
Engines, economy, emissions and performance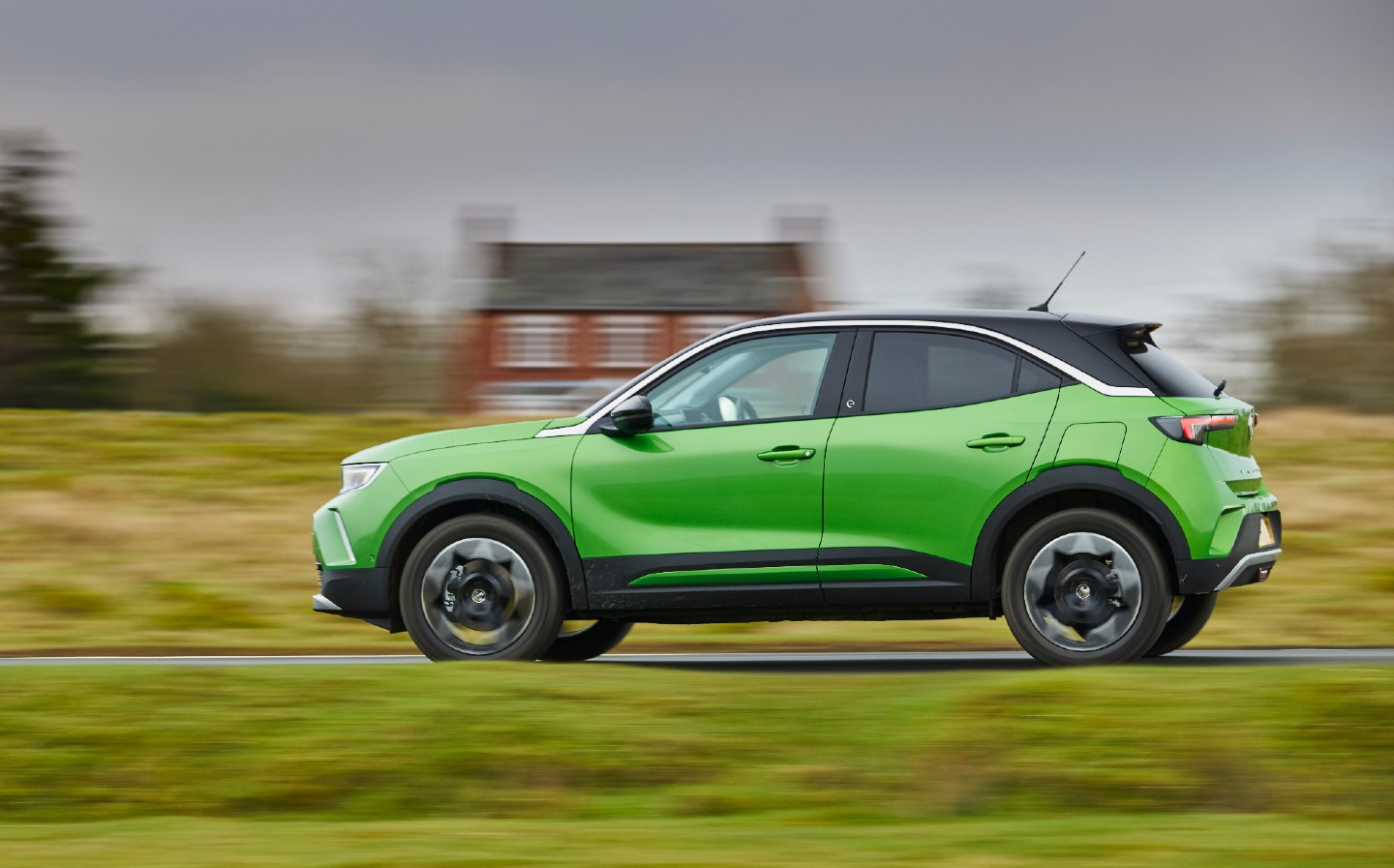 We've established there's a flavour of Mokka for almost everyone (assuming they don't want a hybrid), but what petrol, diesel and electric powertrain options are there?
The three-cylinder, 1.2-litre turbocharged petrol engine comes in two states of tune: 100ps (99bp) and 130ps (128bhp). Peak power for both comes in at 5,500rpm, which is pretty high up the rev range; that's where the joy is to be found.
Pull from the 128bhp model proved decent even at low revs, though, as max torque arrives as low as 1,750rpm, and above 4,000rpm the car comes more alive. Again, it's not a performance car but there are smiles to be found nearer the red line.
In theory, the economy for both petrol options is around the 50mpg region, though a less-than-hypermiling drive over 47 miles of mainly A- and B-roads resulted in 38.1mpg.
CO2 emissions of up to 128g/km (100ps) and 126g/km (130ps) mean that whichever you go for, you'll fork out £180 in VED (road tax) for the first year (or £220 if you get the slightly more polluting automatic transmission) and £155 per year after that.
Being electric, the Mokka-e attracts zero VED, of course. It's also a bit punchier than the petrol models, with a 0-62mph time of 8.7sec versus 9.1 or 10.6sec for the petrols. It feels especially perky up to 40mph, thanks to the instant torque provided by the electric motor.
Experienced electric car drivers may be interested to note the official efficiency figure of 3.49-3.57 miles per kWh and, the actual figure achieved during my 42-mile test drive of 3.3m/kWh. More important to newcomers will be the official range figure of up to 201 miles per charge, along with the fact that the Mokka-e can be rapid charged at 100kW DC charging stations. Doing so would take the battery from flat to 80% charge in 30 minutes, Vauxhall says.
In the real world I found the battery reduced to 68% full after 42 miles, with an indicated range of 108 miles remaining. I was driving it rather more enthusiastically than most owners are likely to, however — you should expect north of 150 miles per charge under most circumstances, unless you plan to spend most of your time on motorways (which drains the battery).
The sole diesel option, which we didn't test, would certainly be a better option for motorway drivers. The 1.5-litre turbo, mated to a six-speed manual transmission, is rated at up to 65.7mpg, with CO2 emissions of 114g/km. Although it produces 110PS (109bhp), it's is the slowest from zero to 62mph, at 10.8sec.
All of Vauxhall's diesel engines are fully RDE2 compliant, making them exempt from the current 4% surcharge on Benefit-in-Kind (BIK) rates. It also includes AdBlue technology and special filters to reduce NOx emissions as well as particulate matter.
Vauxhall Mokka and Mokka-e 2021: The verdict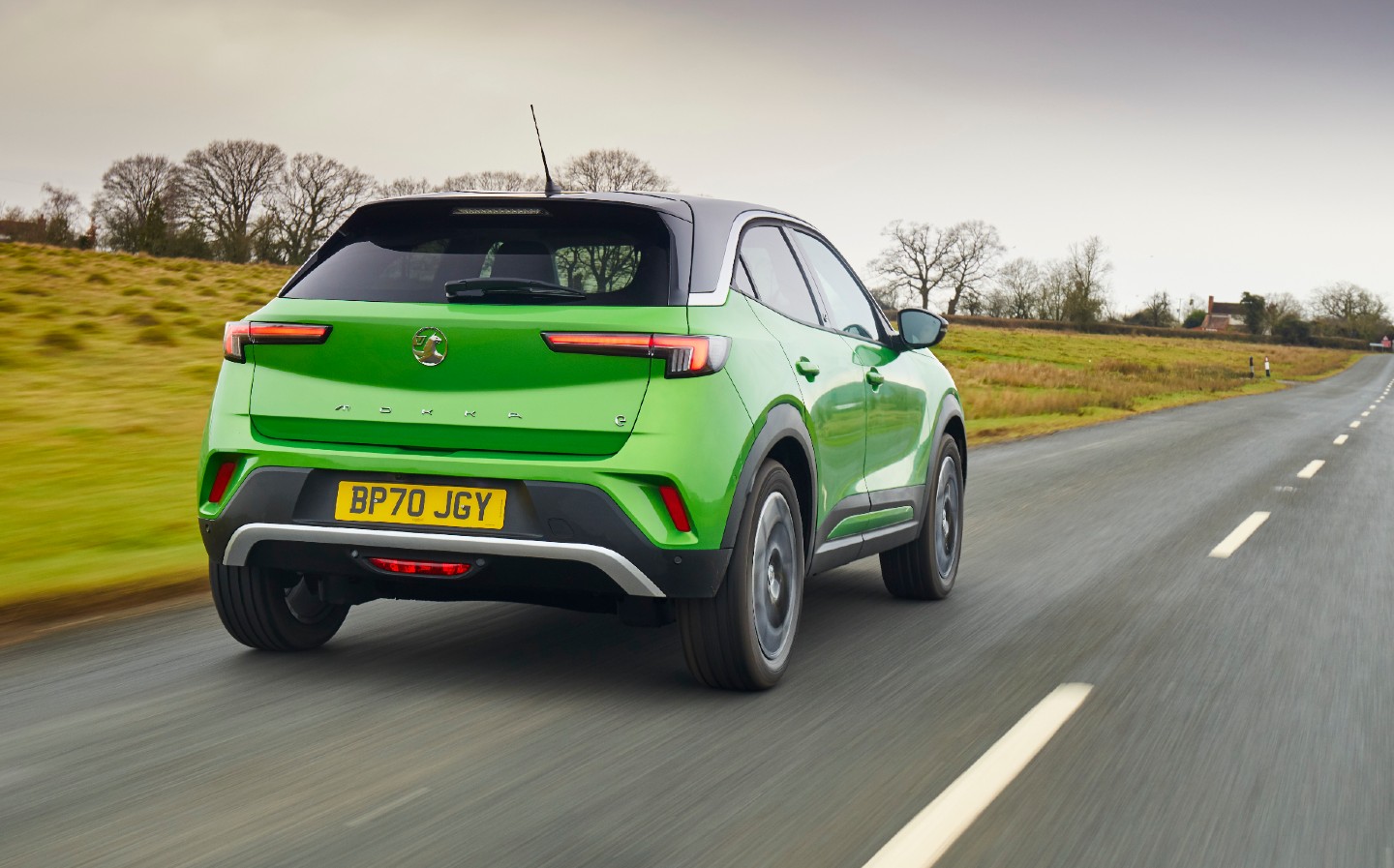 The new Mokka is impressive, and not just because we had low expectations. It looks great, drives well and is a match for any other compact crossover in terms of practicality.
Picking a powertrain option is a tough call. Based on comfort and performance, the Mokka-e would be my preference. It's quieter and more refined, and fuel costs would be much lower, too, though insurance is likely to be higher.
But with prices starting at nearly £31,000, it's around £10,000 dearer than the entry-level petrol model. True, the Mokka-e is more highly-specced in its base SE Nav Premium trim, but even like-for-like you're looking at a £5,500 premium (approximately) for the electric version.
Ultimately, though, Vauxhall has produced a great little crossover. It's the first Vauxhall for a long time that I'd consider buying myself, and that is probably all you need to know.
– If you enjoyed this review of the 20201 Vauxhall Mokka and Mokka-e, take a look at our reviews of other compact and mid-size SUVs by clicking here.
– Take a look at Will Dron's recent review of the new Citroen C4 and e-C4 here.
– The government recently reduced its subsidy for electric cars. These are the cars still eligible for the £2,500 grant (it includes the Mokka-e).