Mazda MX-30 R-EV 2023 review: A revolution in plug-in hybrids?
Spinning around in Mazda's latest crossover
---
Published 18 October 2023
Mazda isn't like most car companies. The Japanese brand has never been one to go with the crowd and these days it is one of the few household car names that isn't part of a global conglomerate. There are both pros and cons to that: on one hand, Mazda doesn't have to compromise on its design or engineering to fit in and share components with other brands, but equally it doesn't have a deep engineering pool of pre-developed technologies and underpinnings to dip into.
That latter point isn't holding Mazda back from forging ahead with new models that are… interesting. For example, earlier this year it introduced a newly-developed 3.3-litre six-cylinder diesel engine for its range-topping CX-60 SUV, at a time when downsizing and switching to electrification is the order of the day. It was good enough to win Large SUV of the Year at the 2023 Sunday Times Motor Awards.
Meanwhile its first pure-electric car, the quirky-looking MX-30, didn't receive the warmest of welcomes. The carmaker was adamant that its titchy battery was sufficient for most buyers' needs, with the upshot being lower weight, an efficient package and less of the world's resources used in manufacturing. Unfortunately for Mazda, the buying public doesn't see it that way, and the MX-30's short range of just 130 miles has undoubtedly hampered the car's success.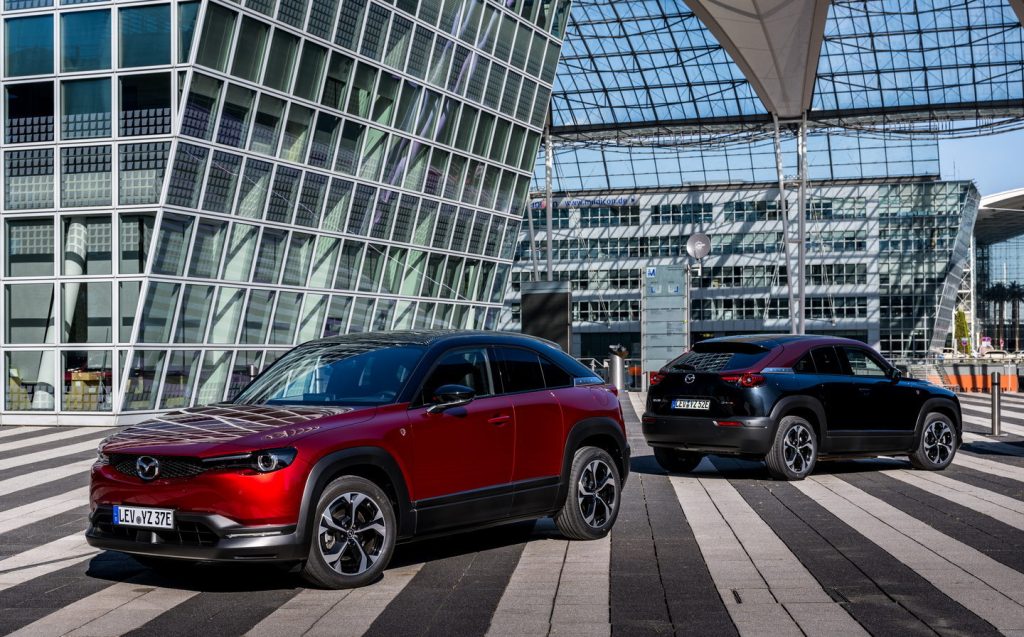 But that's nothing. Just two years after the MX-30's introduction, Mazda is fitting an even smaller battery to the MX-30 with an electric range of only 53 miles. You'd be forgiven for thinking that someone in the product planning department has completely lost the plot, but there's another element under the bonnet warranting the snappy new e-Skyactiv R-EV title: a rotary engine acting as an electricity generator. With a fully-charged battery and full tank of petrol, this car can theoretically cover over 400 miles without stopping.
The rotary engine itself is not new. It was invented in the 1950s by a German engineer named Felix Wankel (stop sniggering at the back) and other manufacturers including Citroën have dabbled with it in the past. Mazda is the brand most associated with the engine type, using it in various sports cars since the late 1960s, and it even won Le Mans in 1991 with a rotary-engined prototype.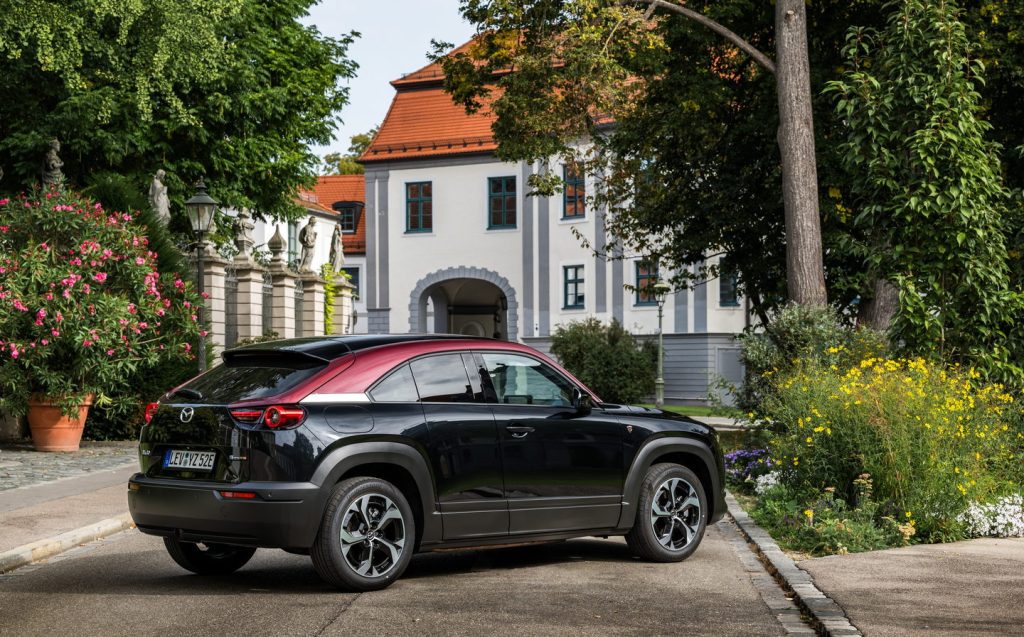 Indeed, the MX-30's design and layout take inspiration from the last of the rotary-engined Mazdas, the RX-8. It features small rear doors that are hinged at the back, the idea being a large single opening in each side of the car allowing front and rear passengers in without the need for full-size doors.
It's a clever idea on paper, but the implementation isn't very practical. As with the similar system on the BMW i3, the front doors have to be opened before the rears can be, so dropping off a passenger seated in the bijou rear seats requires a group effort. That could make it particularly mortifying for any teenagers being collected from the school disco.
There's decent space back there, at least. Two grown-ups will fit into the rear in relative comfort, though the presence of three seat belts is a tad optimistic.
Premium cabin with quirky touches
Mazda oddities continue throughout the cabin where you'll find a centre console that is partially covered in cork, a nod to the company's distant past when it produced the material for sale. It certainly looks good and feels pleasant to the touch — better than regular old plastic — though we wonder how well it would deal with spilt coffee.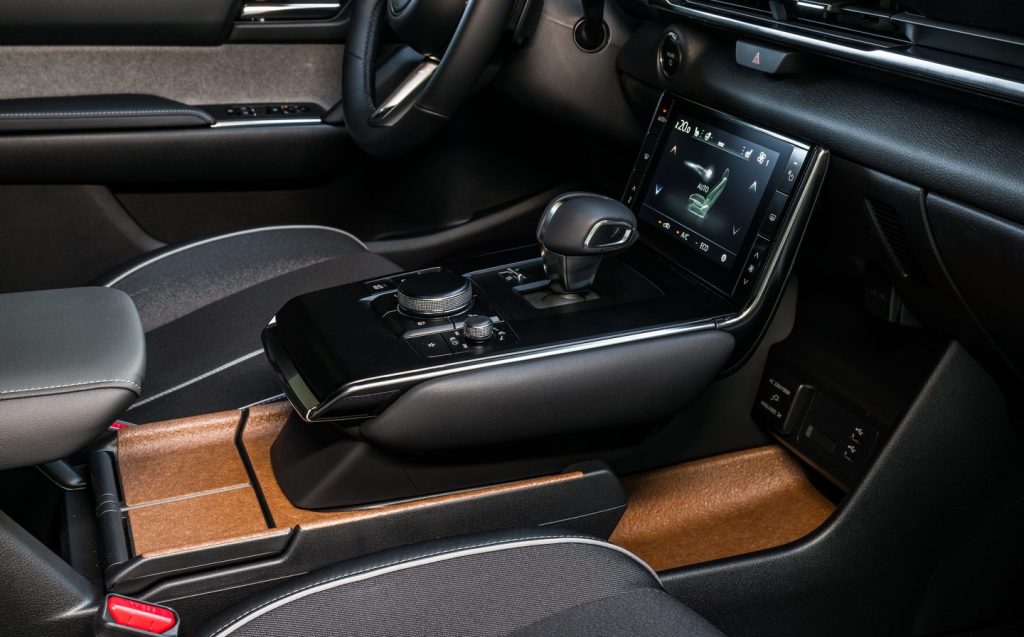 On the technology side, the cabin features three digital screens, which is one more than it needs. There's a partially digital instrument display for a start, and a low-rise wide-screen unit perched on top of the centre console controlled via a rotary dial (no relation to the engine), akin to how BMW did it for so long with its iDrive system.
The lower touchscreen for the climate controls is where things get overly elaborate. It's placed a touch too close to the chunky drive selector and is flanked by physical buttons that can more or less do everything the touchscreen does. A slim bank of buttons would have done the job perfectly well and freed up more storage space in the middle. That aside, Mazda's efforts result in a cabin that feels every bit as well made as a premium German marque's, and that's no small feat.
Not especially sporty
On the road, the MX-30 has a slight edge over most plug-in hybrids (the jury is out on whether this car technically qualifies as one of those) as the official battery range is 53 miles. We saw an indicated 32 miles starting off with an almost fully-charged battery, so add a pinch of salt to any official figures for your calculations.
Driving away in the MX-30 immediately demonstrates Mazda's approach to making it feel like a normal car. You won't find any break-neck acceleration in this PHEV, with 62mph arriving in 9.1 seconds from rest. The 167bhp electric motor drives the front wheels and is modest enough with its delivery so as not to corrupt the steering feel.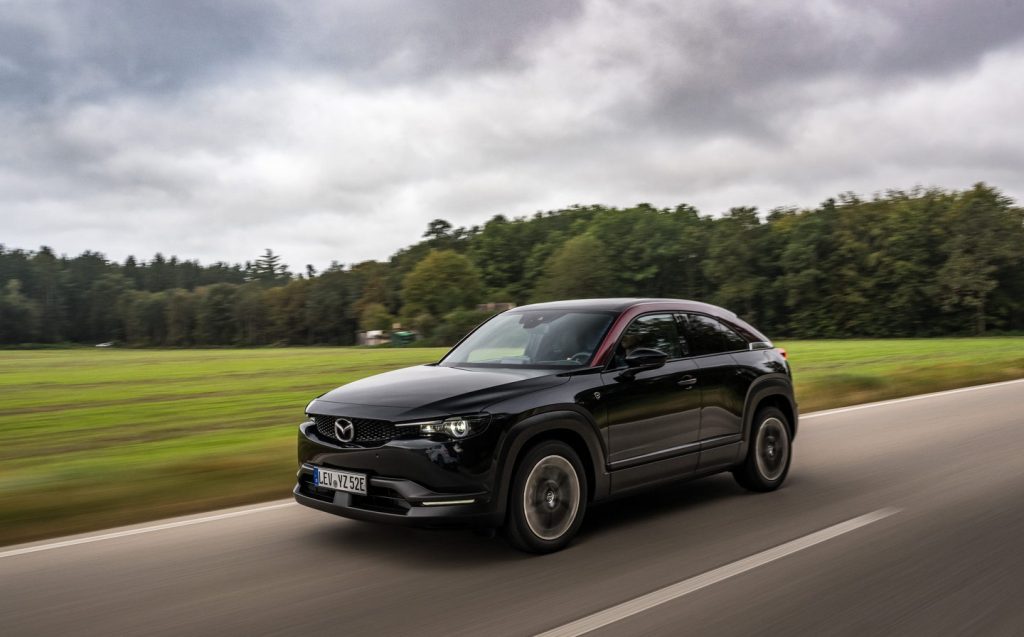 But how the Mazda drives is somewhat refreshing. These days cars wear increasingly bigger wheels with increasingly firmer suspension to keep all of their battery and associated hardware mass in check. Not so in the MX-30; as it glides into the bends there is just the right amount of body roll to let you feel that you're driving a real car rather than a rock-solid go-kart. The Mazda proves to be enjoyable to pilot.
You can up the MX-30's brake energy recuperation game by flipping the paddles behind the steering wheel, though it never quite gets to the point of "one-pedal" driving that can be so pleasing in some electric cars. But no matter how prudent you are with your right foot, it won't be all that long before the Mazda's battery expends itself and it's time to introduce the support act.
Not the rotary engine enthusiasts were hoping for
Fans of rotary engines past that delivered character and interesting engine noises may want to skip ahead a few paragraphs because the experience it delivers in the MX-30 isn't going to get pulses racing. The rotary engine now appears to be in the Las Vegas residency period of its career, churning out the goods but without any genuine enthusiasm. That is primarily due to the engine not being directly linked to the accelerator pedal.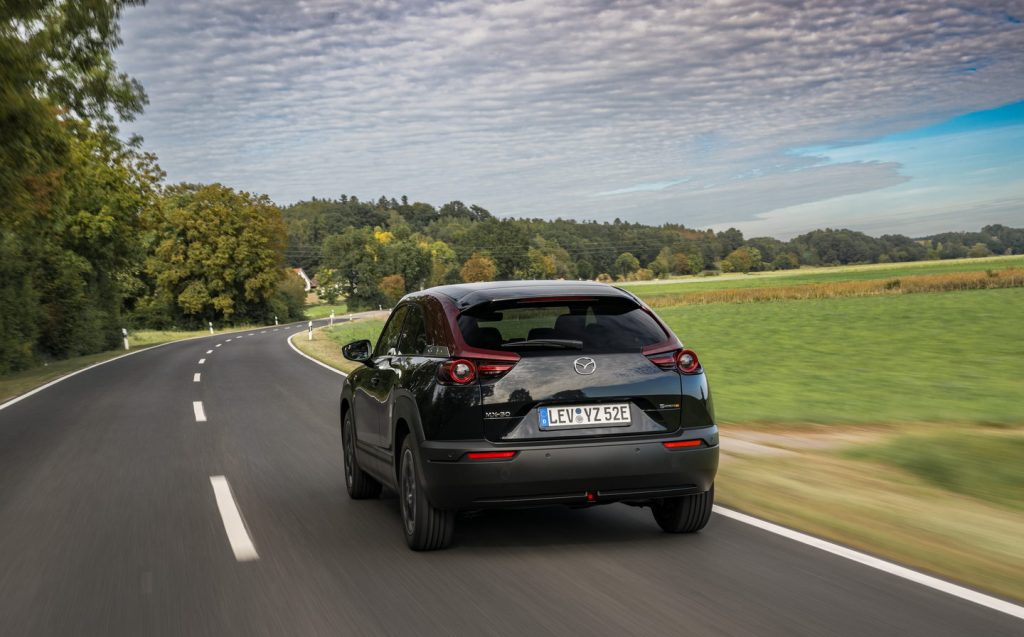 Generally in a PHEV, once the battery is drained of charge, the engine takes over and you have the behaviour of a conventional car, more or less. The MX-30 only uses the engine as a generator, so there are minimal adjustments to its speed, regardless of how much you push the accelerator pedal. The engine note isn't what you'd call evocative or emotional, either; it sounds more like an old fridge or air conditioning unit running nearby. When Mazda spoke of reviving the rotary engine, this is not what many people might have had in mind.
That aside, the lightweight engine provides sufficient energy to keep the battery charged and drive the electric motor. Drivers can choose to use all of the battery charge at once or drive in a normal (hybrid) mode, while a third 'charge' mode forces the engine to build up the battery charge. Start with a fully-charged battery and a brimmed 50-litre fuel tank and the MX-30 will officially do up to 422 miles (don't forget that pinch of salt) before needing to stop for some form of energy.
The upside to such a setup is that if you're on a long journey and can't find an available fast charger, rather than waiting, you can top up the petrol tank and carry on without losing much time.
Unconventional approach to PHEV motoring
Obviously, the point of a car such as this — as it is with all plug-in hybrids — is that you use the battery power as often as possible, and charge it from a greener electricity grid rather than depending on the petrol-fuelled rotary engine. This approach does at least provide more freedom and the reduction of "charging anxiety" when you do take on longer journeys.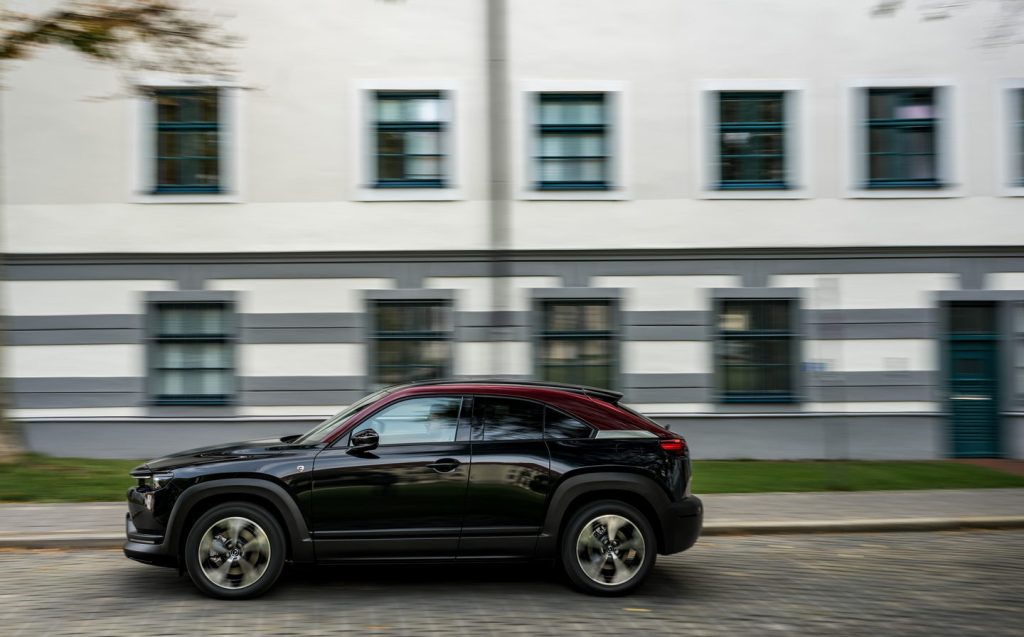 Mazda continues to offer the MX-30 as a pure-electric car, too, and both versions cost the same, so there's no financial penalty when choosing which powertrain is suitable for you.
But the paltry range offered by the electric MX-30 means that while it makes sense in many cases, only the minority of EV buyers see sense in buying a smaller-capacity battery. Reviving the rotary engine in a plug-in hybrid should broaden the MX-30's appeal, though it remains at heart an odd car.
Few companies plough their own furrow as Mazda does, and the new MX-30 is further evidence of that. The addition of a rotary engine as a generator might be a less-than-conventional approach to electrification, but to some, that unapologetic quirkiness is what gives the Mazda MX-30 its appeal.
Related articles
Latest articles