Mazda CX-60 e-Skyactiv D 2023 review: Gasp... a new diesel SUV
Diesel isn't dead yet
Mazda is a car manufacturer that prefers to chart its own course rather than going with the flow. It remains one of the few brands that isn't part of a conglomerate, and throughout its history has set numerous milestones in automotive history, including creating the first production car with built-in GPS and the world's most successful roadster.
However, at a time when so many brands are transitioning to fully electric line-ups, Mazda is introducing a new range of large capacity diesel engines for its flagship SUV, the CX-60. Does developing a new 3.3-litre diesel engine in 2023 make sense? More importantly, is the car any good to drive? Read on.
Exterior design and rivals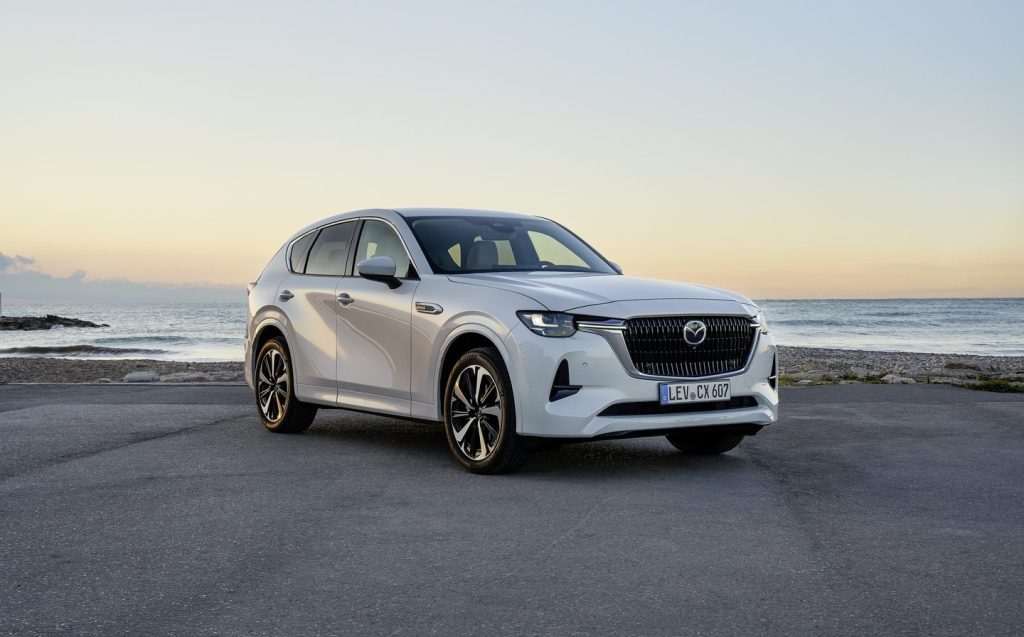 At a time when polarising and divisive design seems to be the trend, Mazda's reductive and somewhat organic surfacing has resulted in an attractive range of cars.
The CX-60 is the brand's largest model — though a three-row version called the CX-80 is coming — and from some angles there's a certain slab-sidedness to its appearance.
That look is also dependent on which of the three specification grades you choose. The entry-level Exclusive-Line does without body-coloured exterior trim and sits on to 18in wheels (as opposed to 20in rims on Homura and Takumi grades) to give it a more genuine SUV look — not to mention likely added comfort from having deeper tyre sidewalls.
Mazda has been far from shy about its intentions to move upwards into the premium space, and it lists well-known German models such as the BMW X3 and Mercedes-Benz GLC as rivals for the CX-60. How many customers of those cars also have Mazda on their radar is debatable, but you have to at least admire Mazda's ambition.
The big grille and bluff front end do add to the CX-60's presence, and it has that in common with most of its rivals. Perhaps it's a fitting look with such a large engine installed behind it. The 'Inline 6' badging on the front wings distinguish this car from the CX-60 plug-in hybrid and in side profile its cab-rearward design does give it a hint of BMW, accentuating the long bonnet.
Interior, technology and practicality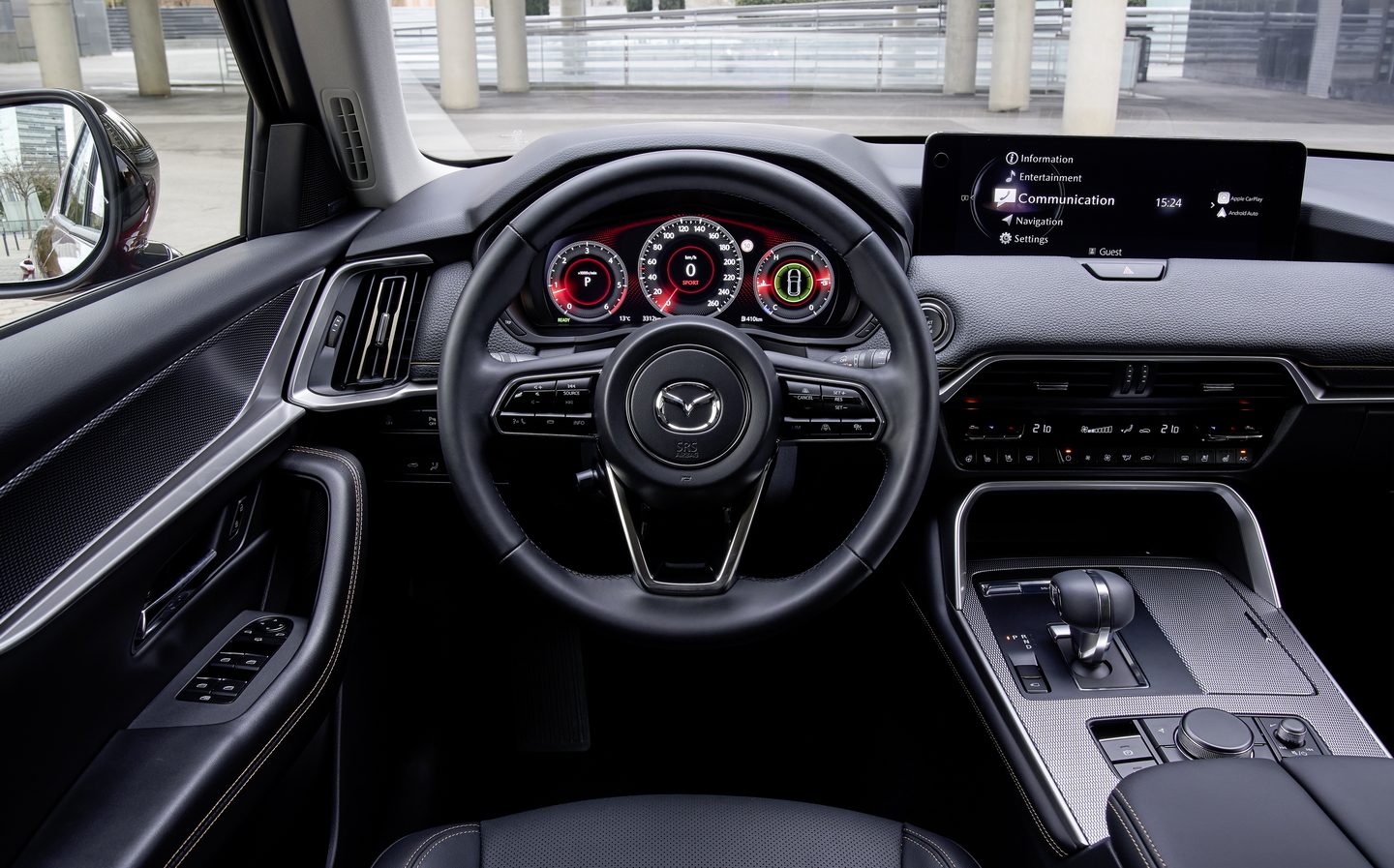 Sit inside and you do start to see where Mazda's premium aspirations are coming from.
The layout is refreshing simple and uncluttered, with a healthy mix of physical buttons and digital real estate.
There is an actual touchscreen this time — previously Mazda has only used display screens — though you can still use the BMW iDrive-like rotary controller on the centre console if you prefer.
Mazda's native infotainment system is on the basic side, though you can connect your phone easily to run Android Auto or Apple CarPlay and have access to your favourite apps, music or podcasts.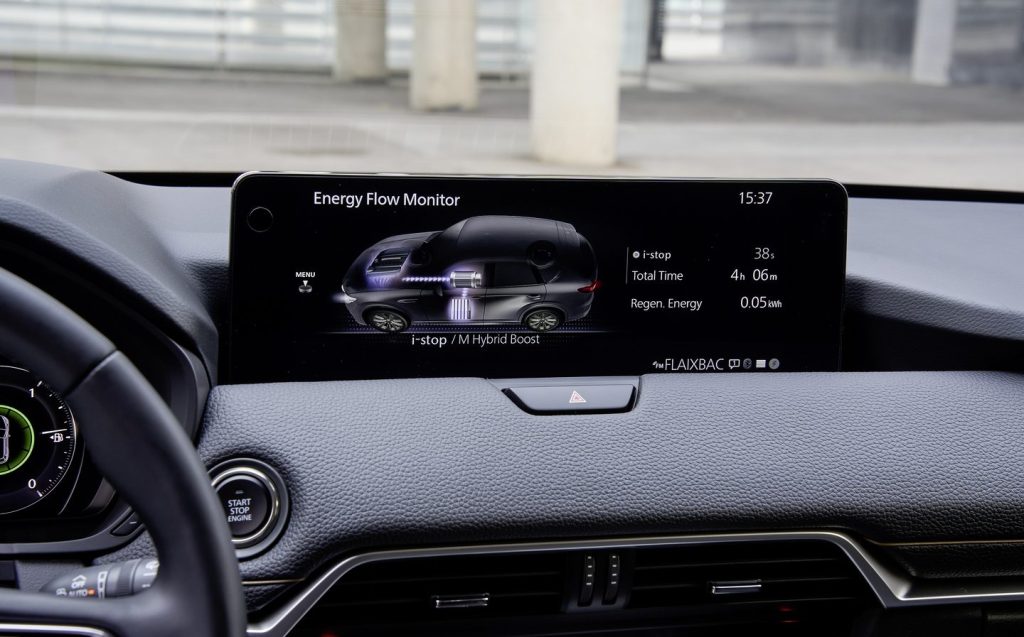 Interestingly, there's a pre-programmed system that puts you in the optimal driving position for ergonomics and comfort. You input your height into the car's menu and it will electrically adjust the steering column and move the driver's seat to what Mazda engineers deem to the best position.
What's more, this can also be achieved via face recognition, once initially set, thanks to a camera mounted on the side of the touchscreen, which means if you share a car with a partner or anyone else, it can automatically adjust the seating position to each person's individual setting when they get in.
Material quality inside the CX-60 is to a premium grade standard. The switchgear and buttons have a solid feel, and details such as the fine stitching across the dashboard fascia on Takumi versions is genuinely different from what the competition offers.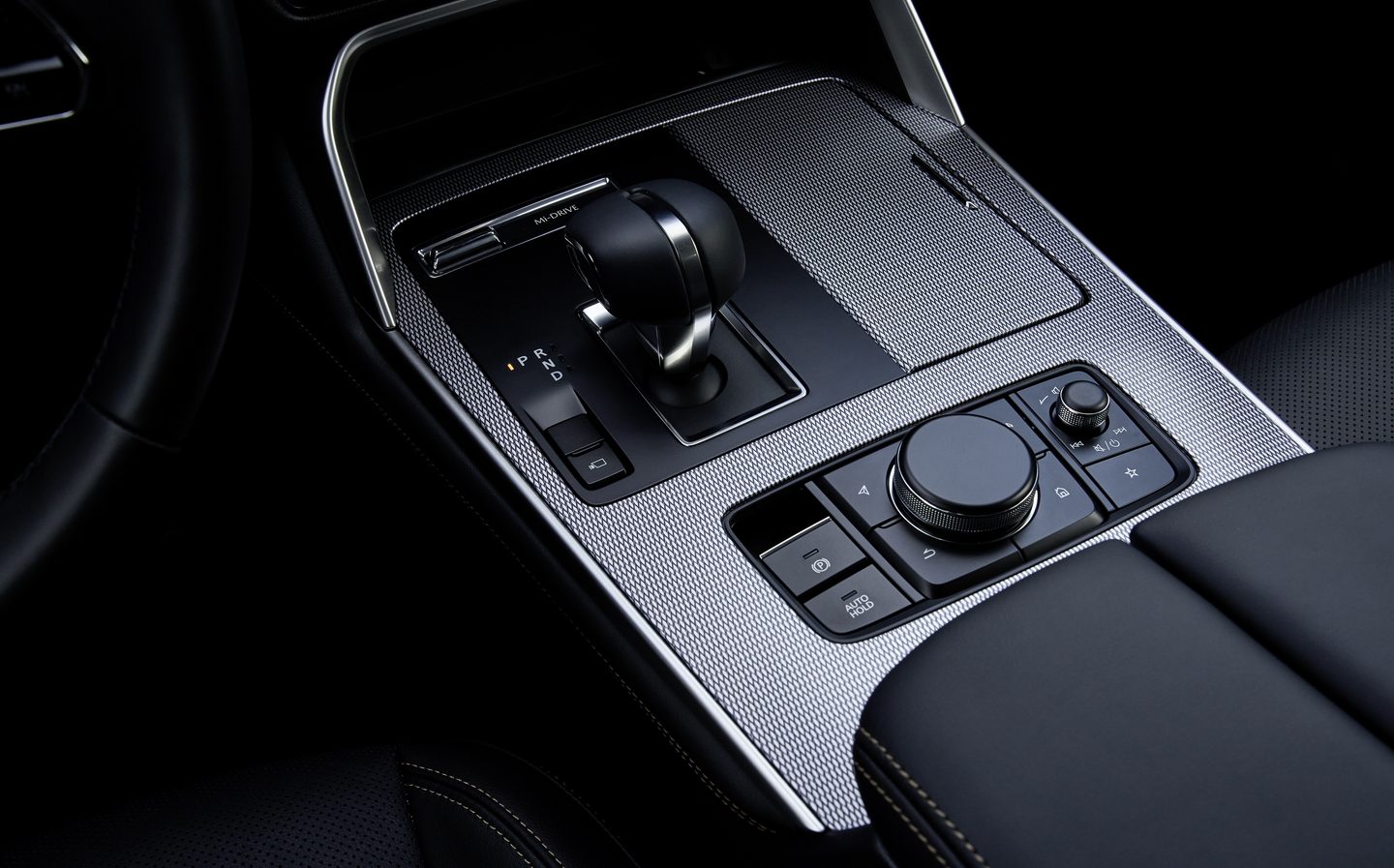 Space is also in abundance thanks to a low-set centre console that's relatively wide, so you won't be banging elbows with the person sitting beside you. Equally, there's a good degree of room in the rear seats.
The boot of the CX-60 is capable of swallowing up 570 litres of luggage normally, which is 20 litres more than a BMW X3 can manage, and as much as 1,726 litres when the rear seats are folded down. A maximum towing capacity of 2,500kg with a braked trailer is possible, too, which means the Mazda could be very popular at quaysides and campsites.
How Mazda integrates the CX-60's in-car technology is best described as subtle. Rather than bamboozle you with flashy screens and haptic touchpads, the Japanese brand prefers to keep things simple and somewhat intuitive to use.
We've already mentioned the driver personalisation system that sets up the ideal seating position, but Mazda also equips the CX-60 with a full-colour head-up display that puts all of the relevant driving and navigation data directly in your eye-line, appearing as if it's floating above the bonnet in front of the car.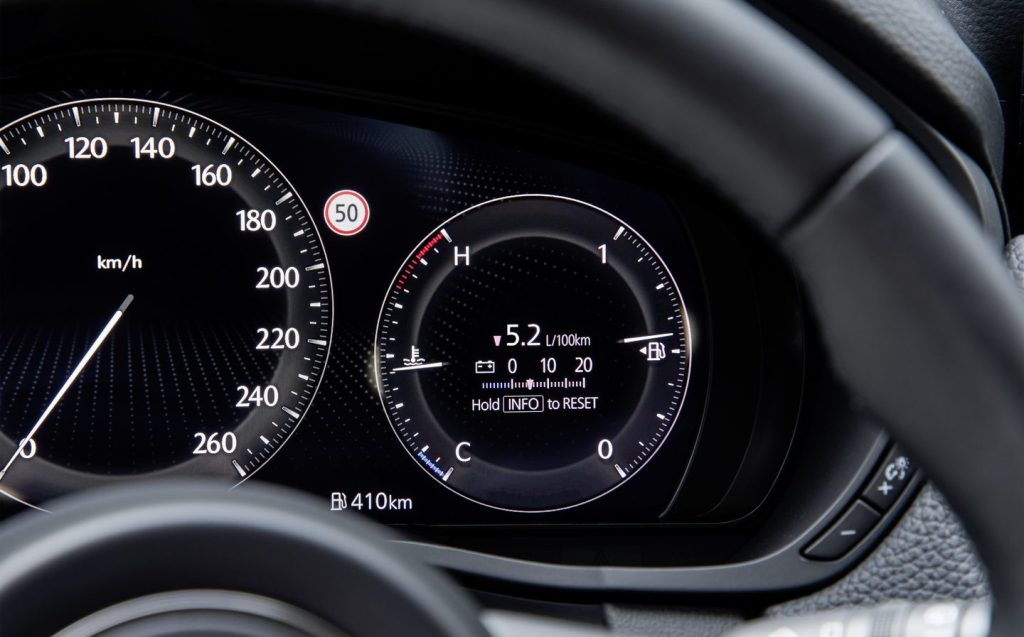 There is a fully digital instrument display, too, though it surprisingly sticks to a very traditional instrument clock look.
A suite of the usual driver assistance systems is present in the CX-60, such as traffic sign recognition that can work in tandem with the cruise control system to mitigate speeding. Its automatic braking system can detect both cyclists and pedestrians in urban settings and over longer journeys the driver-facing camera can detect drowsiness and mobile phone use, alerting the driver to pay attention.
Performance, power output and acceleration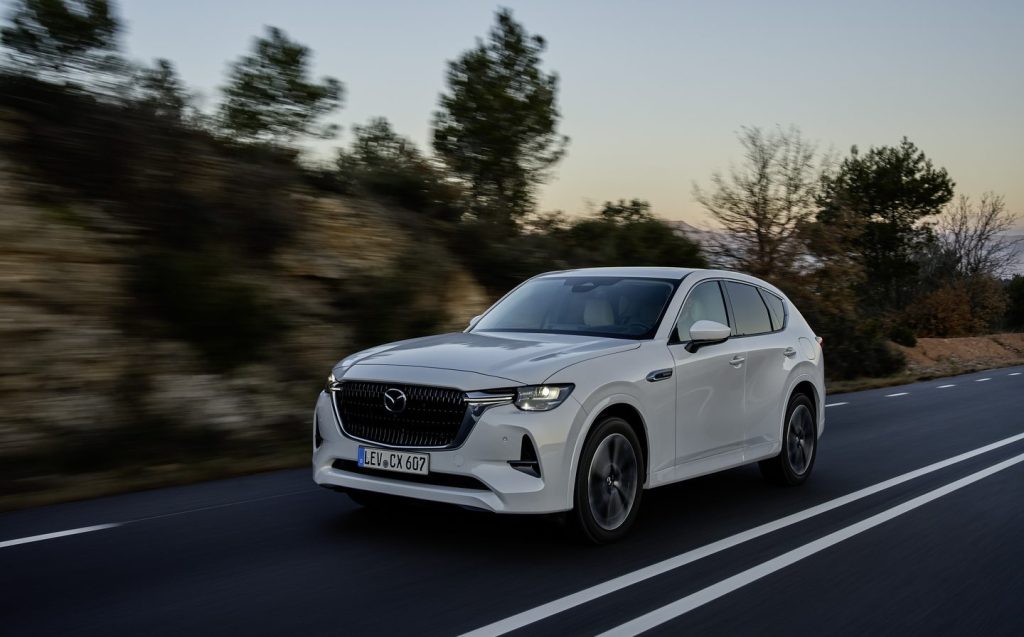 You might expect a 3.3-litre engine to be absolutely brimming with horsepower and performance, but this newly developed in-line six-cylinder unit has been built for efficiency more than anything else, which is partly why it only produces 250bhp.
It is supplemented by a 12.4kW electric motor as part of its mild-hybrid system, though it's the 405lb ft of torque, or twisting force, that is perhaps the most relevant and important stat, and it arrives at just 1,500rpm.
Despite all that low-down grunt to pull the Mazda along, it isn't the fastest of SUVs, taking 7.4 seconds to reach 62mph from rest, though once it gains momentum the CX-60 doesn't feel sluggish.
Under harder acceleration it is a surprisingly vocal engine. Making a diesel engine sound good isn't an easy task, and while it lacks the sonority of BMW's six-cylinder diesel, it's not a bad effort on Mazda's part. You do always have some background rumble, even when cruising on the motorway, which is only interrupted by the intervention of the mild-hybrid system as it occasionally deactivates the engine for brief periods. The transition could be a lot smoother.
A less powerful version with 197bhp and rear-wheel drive is also available. 
Ride and handling
The plug-in hybrid CX-60's driving experience left an awful lot to be desired, so it was refreshing to find how differently the diesel variant drives. Shedding the weight of the high voltage battery and associated hardware immediately helps; through a series of bends and faster corners the Mazda feels less like it's fighting excess mass, and seems more surefooted.
Its all-wheel-drive transmission also helps and can distribute powers to each wheel according to conditions.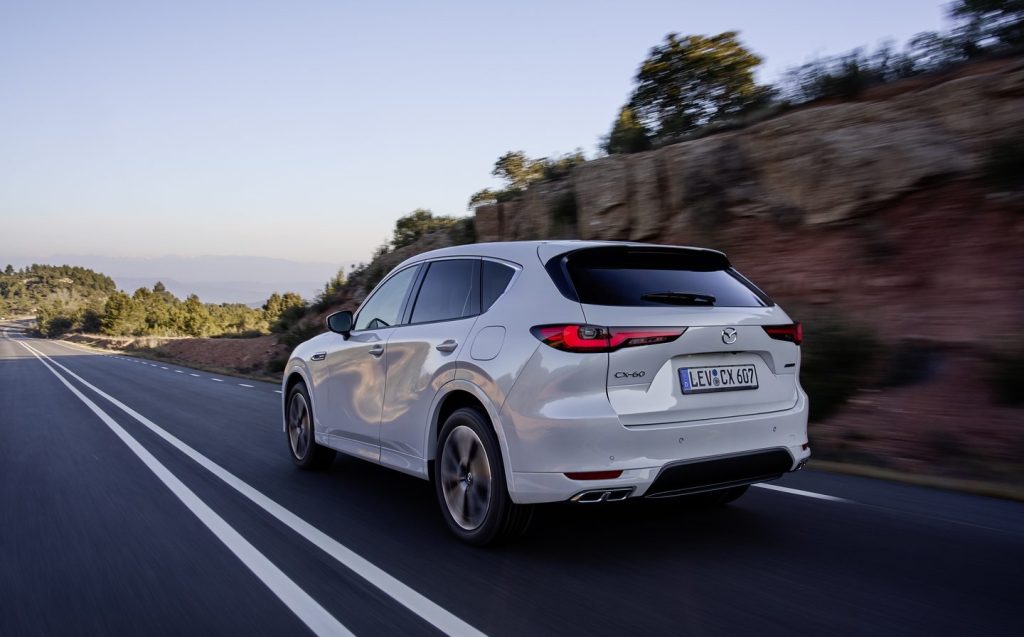 Some improvement could be made when it comes to steering feel, especially if Mazda wants to be ranked alongside brands such as BMW. There's plenty of manoeuvrability and it does respond to driver inputs keenly, but the feedback and steering weight conspire to ensure that the CX-60 isn't as involving as it could be.
With the 20in wheels on our test car the ride did seem on the firm side ,too. At the same time it's unlikely to rattle any fillings lose, unlike some of Mazda's German rivals that try to instil a sense of dynamism in their SUVs.
Pricing and on-sale date
The Mazda CX-60 e-Skyactiv D is available to order now at a starting price of £45,630 for the 250bhp version tested here. The less powerful 197bhp rear-wheel-drive variant costs from £42,990, which undercuts the plug-in hybrid (which starts at £45,420). Three specification grades are available called Exclusive-Line, Homura and Takumi.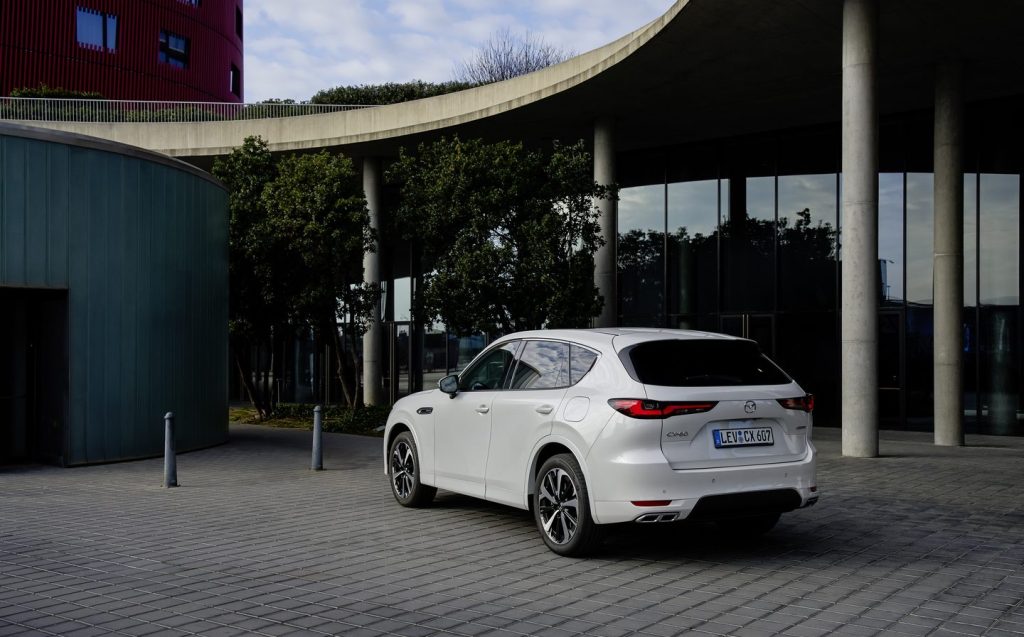 Verdict: Mazda CX-60 e-Skyactiv D review
We ought to commend Mazda for sticking to its guns and doing what it feels is right, rather than following the crowd. Of course, whether introducing a big diesel engine right now is the right approach to take in the longer term remains to be seen.
Nevertheless, this CX-60 has a lovely interior, plenty of space and is a genuine alternative in quality terms at least to the usual premium suspects.
Related articles
Latest articles