BYD Seal 2023 review: Chinese Tesla Model 3 rival is fast, frugal and rather fetching
This Seal will make a splash
---
Published 13 September 2023
The name BYD might be very new to British buyers but you could be hearing it a lot more in the coming years. It stands for Build Your Dreams, and the company divided opinion by emblazoning the phrase across the boot of the Atto 3, its first model in Europe, and the follow-up Dolphin hatchback. The cringe-inducing wordmark has been dropped from this latest model, the Seal, following feedback from dealers.
Going up against the hugely successful Tesla Model 3, BMW i4 and some newer rivals such as the Hyundai Ioniq 6 and incoming Volkswagen ID.7, the BYD Seal is aiming high. It comes with a generous helping of standard equipment and a refreshingly simple product offering — just two versions will be available at launch.
Exterior design and rivals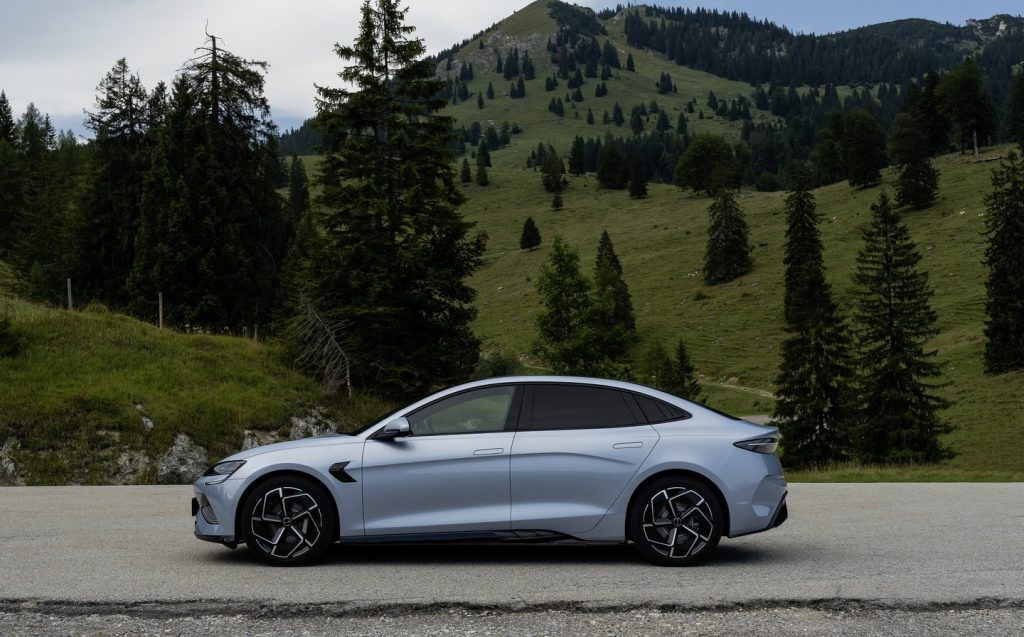 Shaping the BYD Seal's look and design is the need to glide through the air as efficiently as possible to deliver on its official driving range of up to 354 miles. A rounded nose, low bonnet and sloping roofline all contribute to an ultra-low 0.21 drag coefficient. Door handles that retract when locked to sit flush against the bodywork is just one of the measures BYD (and a growing number of car makers) uses to contribute to overall efficiency. But being a saloon rather than a bigger, bulkier SUV is the single biggest factor.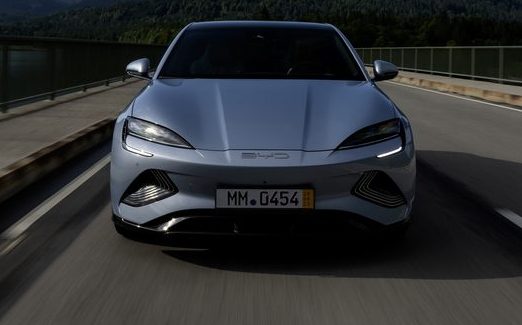 The aquatic mammal-inspired naming ties in with BYD's 'Ocean Aesthetics' design language incorporating crisp lighting details and gently flowing lines. There's nothing radical about the design of the Seal, but it is at least somewhat distinctive thanks in part to ripple-effect daytime running lights in the front bumper.
It's less visually divisive than Hyundai's Ioniq 6 streamliner approach and more interesting than the conservative Volkswagen ID.7, and while the Tesla Model 3 has just received a refresh, the American rival is unlikely to arrive in the UK anytime soon.
A set of 19in wheels for the Seal seems almost modest by today's trends but they contribute to the long range and ride comfort. A sloping roofline gives the impression that the Seal is a hatchback but sticks with the more traditional hinged boot lid. Its lights wrap around the car's rear and are joined by an illuminated bar spanning the back.
There's no more 'Build Your Dreams' badging but the "3.8" will undoubtedly cause many to think there's a large capacity engine inside. Instead, it signifies the 0-62mph time.
Interior and practicality
There are just two versions of the BYD Seal at launch, Design and Excellence, and the interior and standard equipment on both are almost identical.
In terms of hardware, the Seal borrows from the Atto 3, providing the driver with a 10.25in digital instrument display and a 15.6in touchscreen that can rotate through 90 degrees to switch to a portrait orientation. In some instances the map view for navigation is better to use in the upright mode. However, if you're mirroring your smartphone with Apple CarPlay, it'll only work in the landscape setting.
Unsurprisingly with such a large touchscreen, BYD uses it for most of the car's functionality, including climate control. A cluster of physical buttons surrounds the crystal-effect stubby drive selector on the centre console and, thankfully, there's a volume knob for the stereo. The buttons on the multifunction steering wheels are intuitive to use, too.
Upholstery choices are a sensible black or a more interesting 'Tahiti Blue'. It's relatively subtle and ties in nicely with the blue suede on the dashboard and door cards. Finding a comfortable driving position isn't difficult thanks to the electrically adjustable sports seats up front.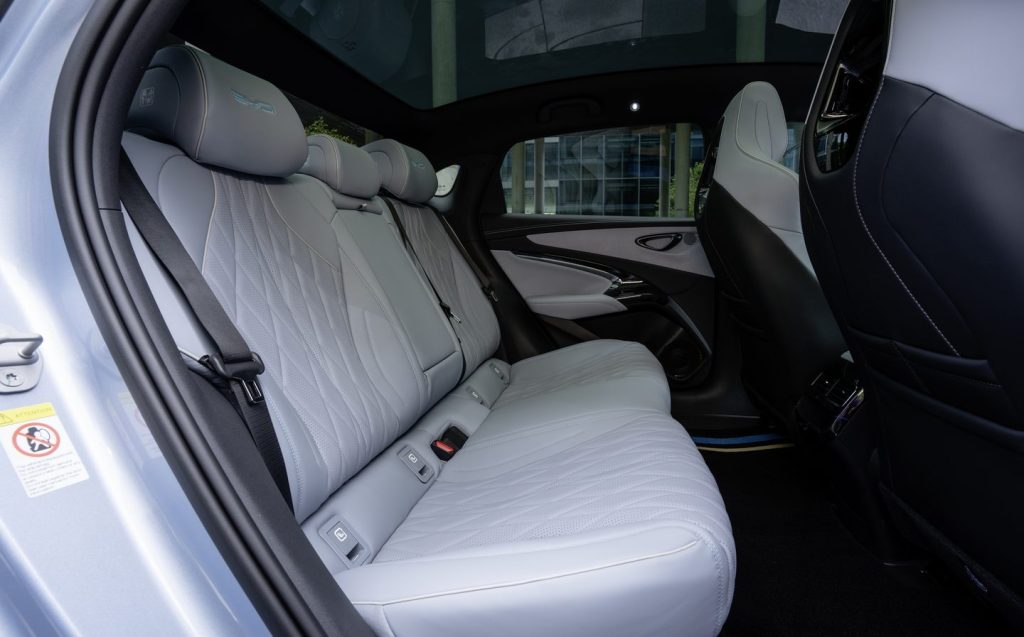 Seating in the rear is comfortable, too, and having a large panoramic glass roof as standard makes it feel spacious and airy inside. A flat rear floor helps with legroom, and there are two USB charge ports for those in the back.
The boot aperture isn't the largest, so bulkier items will require a little bit of manoeuvring, and the capacity of the boot isn't huge at 400 litres. A 53-litre storage area under the bonnet up front is useful for storing cables and smaller items.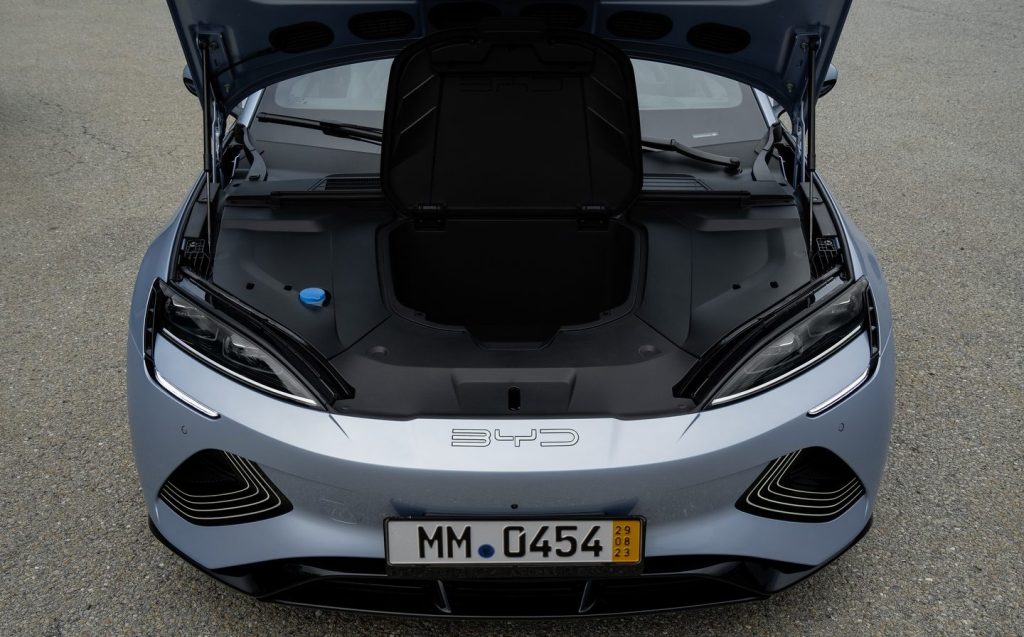 Technology and safety
All cars come with the 10.25in digital instrument display and 15.6in touchscreen but the Excellence specification adds a colour head-up display for the driver, too.
With an eye on achieving top marks in the Euro NCAP safety tests, BYD throws a lot of driver assistance features at the Seal as standard. These include forward collision warning, automatic emergency braking, lane keep assistance including emergency lane keep and a lane change assist function.
Watching your back are rear collision warning, rear cross-traffic alert and rear cross-traffic brake, all to prevent you from inadvertently reversing your way into a potential insurance claim.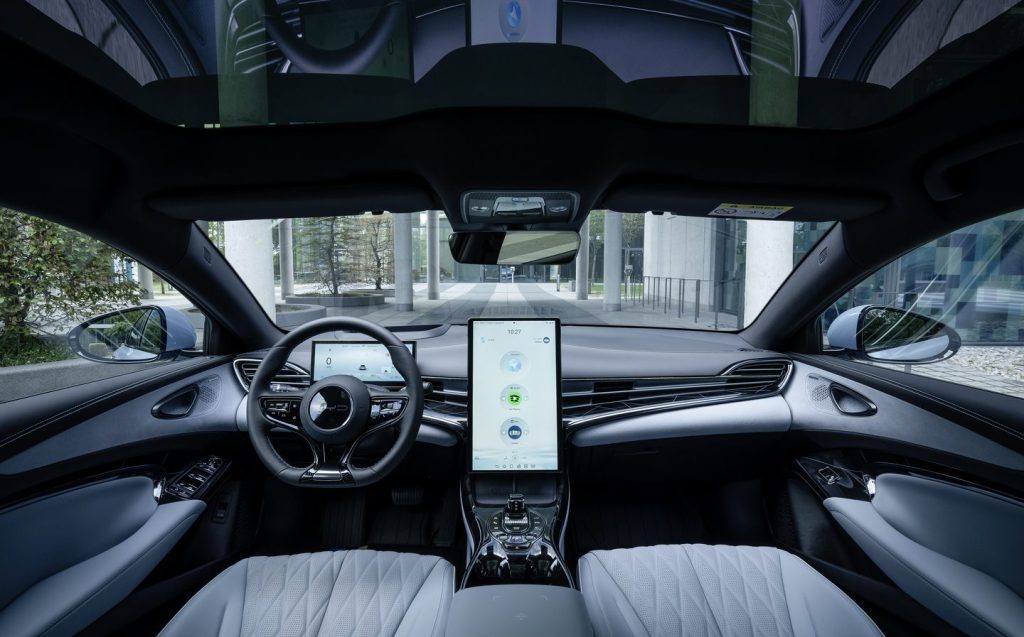 However, the implementation of some of these systems, in particular the lane-keeping aids, proved so inconsistent and intrusive in how they functioned that even BYD staff recommended we deactivate them on the international test drive.
On narrower roads and through motorway construction zones where temporary lane markings were present the assistance features went into a tizzy as the car tugged at the steering wheel to correct something that didn't need correcting. Whether these systems can be improved with an over-the-air software update remains to be seen.
Performance, battery range and charging speeds
Two powertrain options are available for the BYD Seal from launch, both using the same battery that has an 82.5kWh capacity.
The Design specification will likely be the popular choice from the outset as it uses a single-motor, rear-wheel-drive set-up with the longest driving range at 354 miles.
Its performance is more than adequate with a 230kW (308bhp) output, which is enough to get to 62mph from a standing start in 5.9 seconds. The top speed for both versions is 112mph.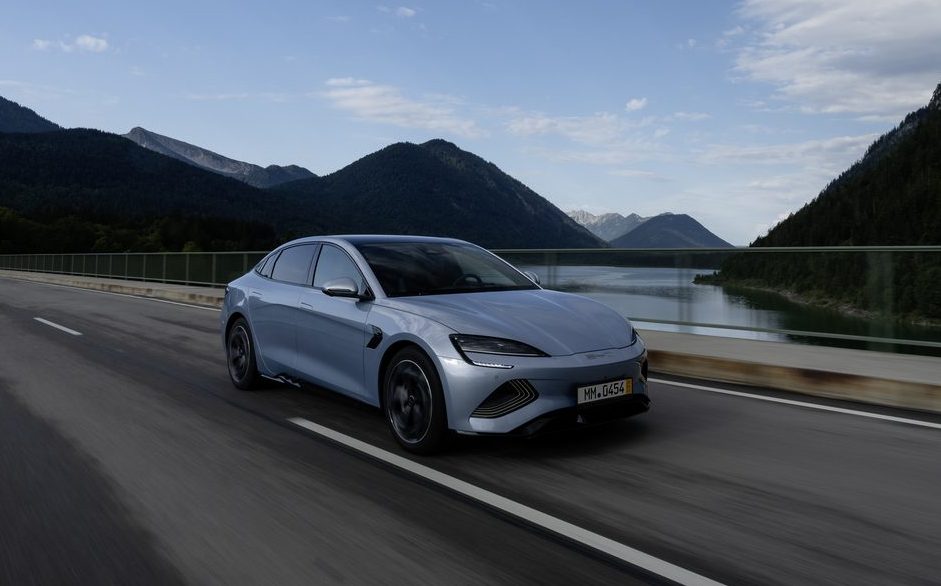 The higher-spec Excellence variant comes with the dual-motor arrangement providing all-wheel drive and a boost in performance. Acceleration time to 62mph reduces to 3.8 seconds thanks to a total power output of 390kW (522bhp).
Despite that extra power, BYD claims the total driving range for the Seal Excellence only reduces to 323 miles. But of course, you'll see that figure reduce further if you plan on exploiting all of its performance.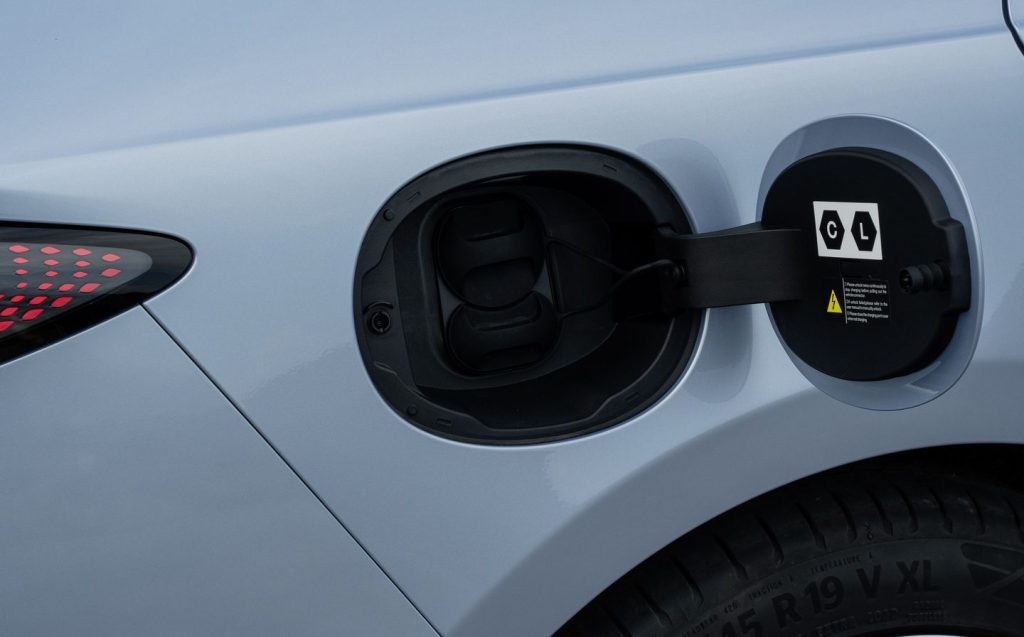 When it comes to charging, a peak DC rate of 150kW means as little as 26 minutes elapsing when getting from 30 to 80 per cent. Both models can charge on three-phase AC outlets at up to 11kW, and they feature a heat pump to help boost efficiency.
Ride and handling
We've only had the opportunity to drive the more powerful dual-motor BYD Seal Excellence, and it didn't disappoint. From the outset it is clear that this car has a polished chassis set-up, using a race-bred double-wishbone arrangement on the front and a sophisticated five-link suspension for the rear axle.
Helping matters further is the standard fitment of variable frequency dampers. These adapt to the surface underneath, helping to soften the impact of more severe bumps and improving composure and handling without the complexity of fully-adaptive items.
This builds on the inherently stiff chassis, which doesn't mean the ride is harsh… the more rigid the structure the more the the suspension is able to do its job predictably and consistently. Like many EV manufacturers, BYD is able to increase structural rigidity by making its "blade" battery pack an integral part of the car. As it's under the floor, as with most rivals, the centre of gravity is low, too, helping with stability.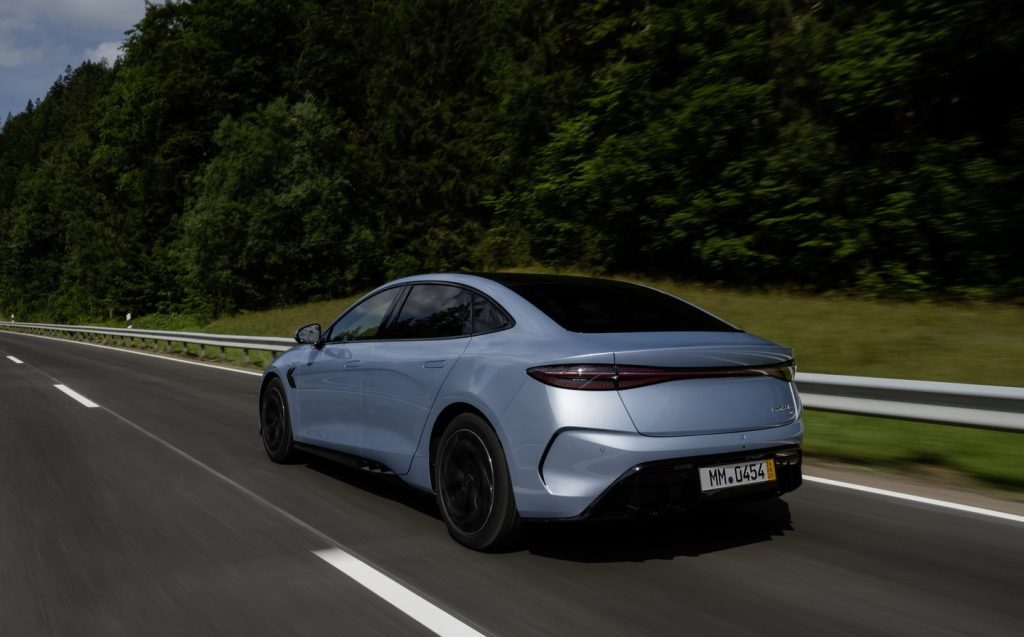 The result is a car that feels very solidly built without demonstrating any harshness or excessive stiffness in how it handles. In its Eco or Normal settings, there is a sensible rate of power delivery, so despite its high output, the Seal remains a docile car unless you seek to exploit its full potential.
Spinning the knurled mode controller to Sport adds a flash of red to the driver's display and unlocks the Seal's maximum power. Whether in a straight line or through bends, the surge of instantaneous electric torque comes like a thump in the back and you'll not doubt the 3.8-second 0-62mph time. 
Pricing and on-sale date
Pricing for the BYD Seal Design (RWD) will start at £44,990, which undercuts the Hyundai Ioniq 6 and Tesla Model 3 Long Range. [Chinese car makers, some argue, have an unfair competitive advantage when it comes to keeping costs down – Ed.]
BYD's approach to its grade structure is a refreshingly simple one. There is no optional extra equipment to choose from, only exterior colour (there are six) and interior trim, of which there are two.
If you want more performance, the Seal Excellence (AWD) provides a higher power output thanks to its second motor, and it costs £47,990. Along with all-wheel drive, the Excellence version adds a colour head-up display for the driver.
BYD provides a six-year manufacturer's warranty and eight years of coverage for the battery and electric motor.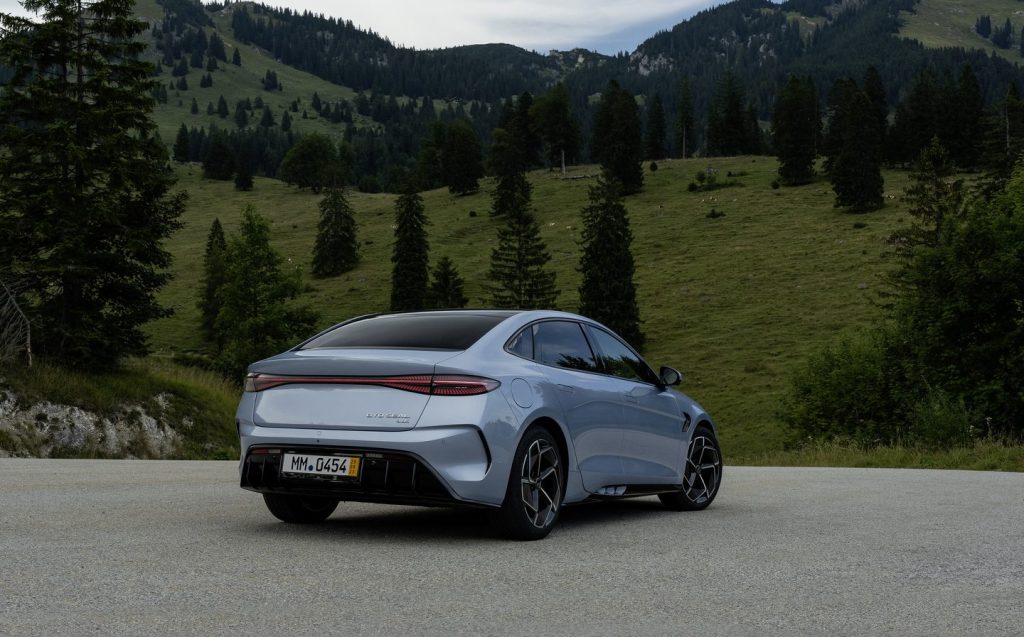 Verdict: BYD Seal review
On price and equipment alone, the BYD Seal is an attractive proposition so it's a welcome bonus that it also drives mostly with a similar degree of quality and finesse as its closest rivals, though some improvement is required in its driver assistance systems.
Still, on the whole, the Seal is nothing short of impressive given its performance, specification and pricing, and it will be a challenge for many rival car makers to match.
Chinese car makers
Buyers ought to be aware that Chinese car makers, however independent they claim to be, have been criticised for receiving an unfair advantage through WTO rule-breaking state support, from a regime that Amnesty International reports carries out torture, genocide and routine suppression of dissent. 
Related articles
Latest articles