First Drive review: 2015 Ferrari 488 Spider
The look of luxury, a whiff of the common
---
Published 18 October 2015
Ferrari 488 Spider £204,400
THERE ARE a few things wrong with Ferrari's latest drop-top, but that's unlikely to put off buyers. This car could be built in North Korea, fitted with a Volkswagen diesel engine and lined with the hides of 101 dalmatian puppies. As long as it carried the Ferrari badge, customers would be queuing up to pay their £204,400.
---
View the used Ferraris for sale on driving.co.uk
---
Cynics say Ferrari is now a marketing company with a manufacturing arm, and there is no doubt its success owes as much to sales strategy as it does to engineering. It is, above all, a luxury brand, although the popular claim that most of its income is from branded luggage and theme parks isn't true. More of that later; first you should know that the 488 Spider is a five-star car and that its faults are really niggles.
Its turbocharged 3.9-litre engine is a straight lift from the coupé. It will power the car from standstill to 62mph in three seconds, making it Ferrari's fastest drop-top yet and a good second quicker than the F430 Spider, which had a naturally aspirated 4.3-litre engine. The extra grunt is thanks to turbo technology — something from which purists and Ferrari itself recoiled in the past. There's an occasional whine from the turbo but no hint of lag; the company has survived its "Judas" moment.
Likewise, advances in transmission technology have made manual gearboxes a thing of the past. Ferrari doesn't offer a manual option because no human could match the speed of its dual-clutch, seven-speed gearbox. The 488's chassis is stiffer and lighter than that of its predecessor, the 458 Spider — so light, the car weighs no more than a Ford Mondeo. The brakes borrow bits from the top-of-the-range LaFerrari, and they are lighter, with better stopping power.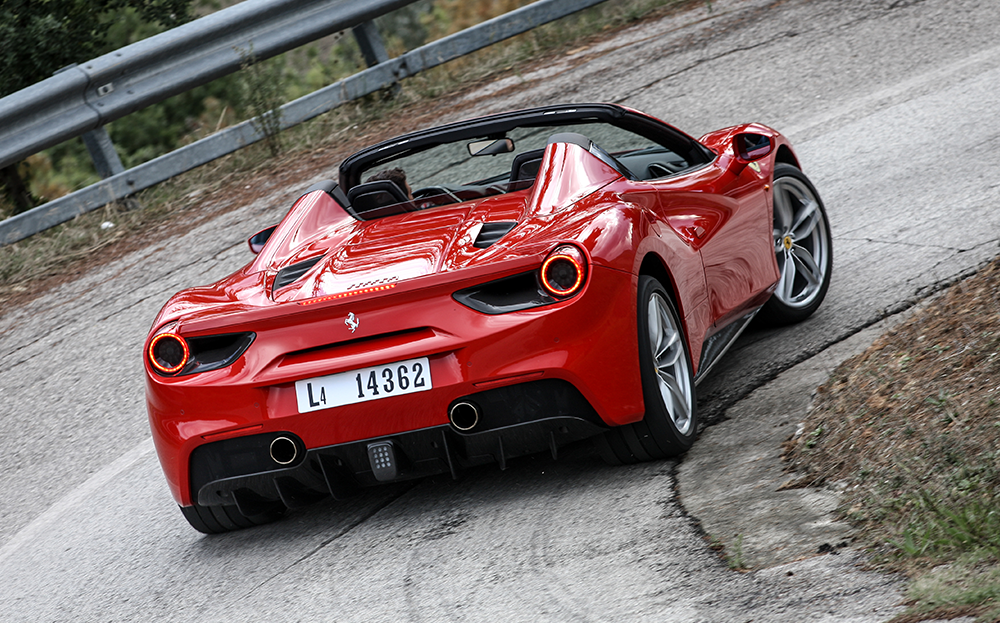 All said, the company is being modest when it describes the 488 as a 458 "modificato" — a modified version of the 458 — when really it is much more. Perhaps it is a little embarrassed on behalf of those who recently bought the £199,006 458 Spider, only to find that it has been superseded by an improved car that's hardly changed in price. In the past there's been an 18-month gap between coupé and convertible, but with the 488 the drop-top version has arrived in a quarter of that time.
Ferrari says it can't control the dizzying speed at which automotive technology is moving and it would be foolish not to build developments into its cars as soon as it can. This is especially true of the arms race in engine power, with mainstream models from Audi and BMW tailgating supercars in the performance stakes, just as they do on motorways.
Ferrari might have added that regulators are breathing down its neck — as they are with other manufacturers — to reduce emissions. The 488's carbon dioxide output is 260g/km, compared with 275g/km for the 458 — not a big reduction in overall terms but as a proportion of engine power it's significant.
Perhaps Ferrari is embarrassed on behalf of those who recently bought the 458 Spider, only to find that it has been superseded by a better car at a similar price
The 488 Spider's cockpit is similar to its predecessor's, with a central rev counter and two dashboard panels giving, separately, readouts on performance and infotainment. If you have an iPhone you can see your apps reproduced on the screen and use Siri's voice control.
The retractable hard top opens or closes in 14 seconds and will do so at driving speeds of up to 28mph. It's essentially unchanged from the 458 Spider but you never tire of watching it peel away and pirouette into a compartment behind your head — as balletic as anything on stage at Sadler's Wells.
All of this is included in the "basic" price — but wait: this is a Ferrari. If you can afford £204,400 (or about £495,000 in Denmark, with tax), you can stretch to a few extras. Two-tone diamond-finished rear wheels cost £3,000 each, including fitting, though if you are prone to kerbing, it might be wise to stick to the standard ones — a snip at £924 each. You can also have your name inscribed on a silver plate on the dashboard (£432).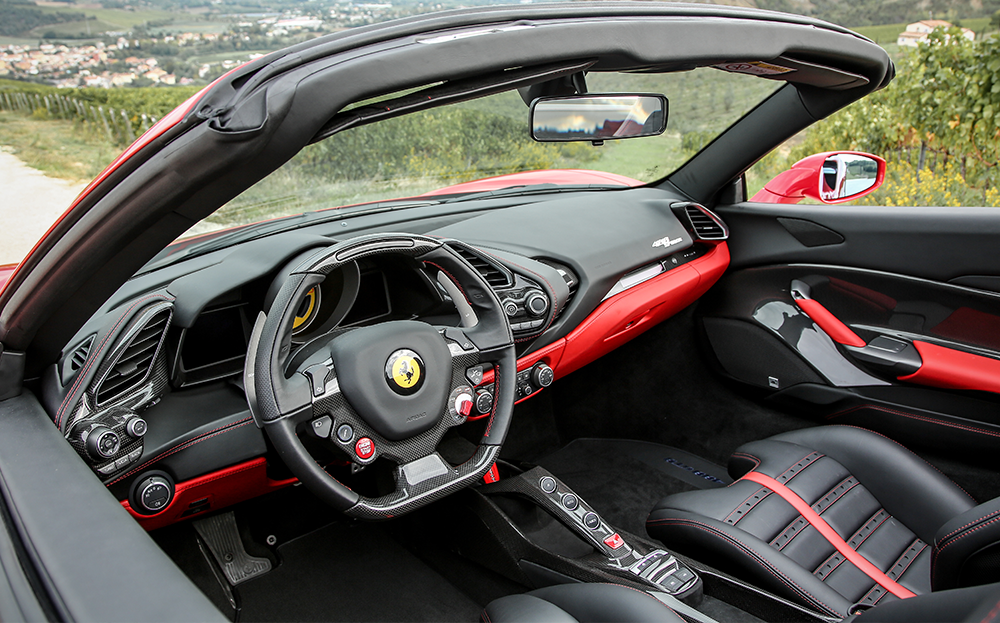 If money really is no object, Ferrari's bespoke division can customise the car to your lifestyle (minimum spend: £37,000). If you want the car to match, say, your spouse's eyes or the stone in their ring, Ferrari will deliver it in the same colour. And the upholstery, made by Poltrona Frau, an Italian furniture maker, can be ordered in the colour of your choice, with the dashboard instrument backdrop to match.
Do these prices reflect the true cost of the extras? Of course not. If you specify a pair of Daytona carbon-fibre racing seats (the 488 is strictly a two-seater — the rear bench is for luggage), for example, it will set you back a faintly ludicrous £6,144. But, as Ferrari admits, its aim is to maintain exclusivity. It sells 7,000 cars a year worldwide — a figure that has remained steady. Limited-edition models are sold out in advance to customers selected by Ferrari.
---
Related: James May drives the 2015 Ferrari 488 GTB (review and exclusive video)
---
Restricted supply and high resale values reinforce one another in a virtuous circle. That's the way the bosses at Maranello want it to stay. In February a rusted wreck with a prancing horse on its bonnet sold for £10.5m, proving them right. That's why, expensive as it may seem, the 488 will be seen by most customers as an investment.
A word of warning, though. In preparation for its imminent planned flotation, which will allow the public to buy shares in the "luxury brand", Ferrari has issued a preliminary prospectus to the US Securities and Exchange Commission. It reveals a plan to raise production by 29%.
Already, there's a Ferrari theme park in Abu Dhabi, and you'll soon be able to visit one at PortAventura, on Spain's Costa Dorada. Could a jump in the supply of cars and relentless merchandising of caps, T-shirts and sunglasses (not to mention bikes, surfboards and children's toys) threaten the revered prancing horse?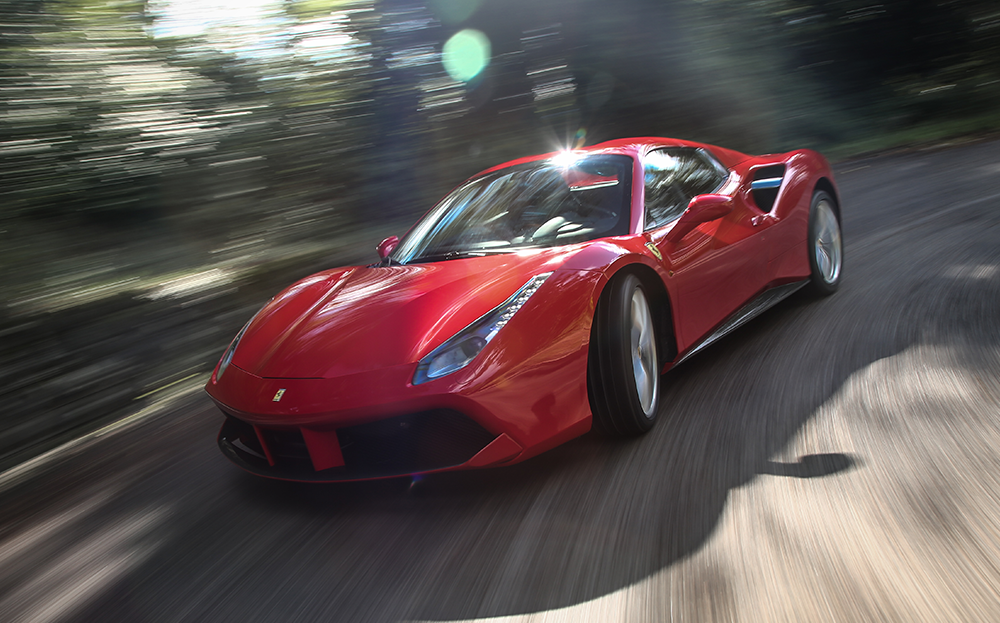 Questions such as these are deftly sidestepped by the company and referred to Fiat Chrysler, the conglomerate behind the planned £6.5bn spin-off of Ferrari. At the time of going to press, it was still thinking about them.
And now the faults with the 488. Top of the list is the sat nav. If you can imagine driving through the Italian countryside and stopping to get directions from bystanders who offer to help but actually haven't a clue, that's what it's like. It will guide you into the middle of nowhere until you reach a dead end, and then take you back to where you started an hour earlier. The kindest thing that can be said is that it comes as standard. On the 458 Spider it was a £2,170 option and just as bad. Ferrari owners, do yourself a favour and get a £100 Garmin or TomTom.
The sat nav will guide you into the middle of nowhere until you reach a dead end, and then take you back to where you started an hour earlier
Second is the fact that the driver's foot is pushed uncomfortably to the right (or to the left in right-hand-drive cars) by the intrusion of the wheel housing into the footwell.
Third, over-the-shoulder visibility is restricted to the point where — with the roof down — the driver has to stretch their back and neck to see over the top of the double humps in the rear deck when pulling out or reversing.
These complaints should be seen in context: the 488 is about as unfussy as a supercar can be. In full auto mode it's a model of good behaviour, and when you take charge it's eager to please.
Its engine note has been tuned so that it hums through quiet villages and howls through the hills. In striving for aerodynamic efficiency, for an ever smoother shape and sweeter curves, Ferrari's designers have kept the 458's elegance but somehow made it better. The "modifications" have kept it comfortably ahead of the competition; for the money, it's the only car to have.
2015 Ferrari 488 Spider specifications
PRICE: £204,400
ENGINE: 3902cc, V8, turbo
POWER: 661bhp @ 8000rpm
TORQUE: 561 lb ft @ 3000rpm
TRANSMISSION: 7-speed dual-clutch
ACCELERATION: 0-62mph in 3sec
TOP SPEED: 203mph
FUEL: 24.7mpg
CO2: 260g/km
ROAD TAX BAND: M (£1,100 for first year; £505 thereafter)
RELEASE DATE: On sale now
Ferrari 488 Spider rivals
Aston Martin Vanquish Volante, £207,950 (view cars for sale)
For Everybody loves it;

big, 

bellowing V12 engine; two (tiny) back seats
Against Feels like a climbing boot whereas the Ferrari is a sprinter's shoe
For Staggeringly fast acceleration; impressive roadholding; good brakes
Against Cabin is functional, not frivolous; lacks the wow factor of Italian rivals
---
View the used Ferraris for sale on driving.co.uk
---