BMW 2 Series Active Tourer 2022 review: Smart, even if the die-hard BMW fans hate it
Get off the SUV bandwagon
---
Published 22 February 2022
BMW is confident enough as a carmaker to know that you don't always have to go with the crowd. That's evident in the "La-la-la, we can't hear you" attitude when people tell them its recent trend for enormous grilles and unconventional designs (have you seen the iX?) is, to put it bluntly, awful.
But with the new BMW 2 Series Active Tourer, reviewed here, it's also clear that people carriers (now more commonly referred to as MPVs) remain part of its offering, alongside multiple saloons and estates, despite the fact that most people now want an SUV.
The Munich-based brand broke the mould with the introduction of its first-generation 2 Series Active Tourer in 2014. Resolutely an MPV, and a front-wheel-drive one at that, it should have come with a trigger warning for BMW die-hards.
It found traction, though, and since then BMW has shifted more than 430,000 examples, crucially to sought-after "conquest" customers — people who move to BMW from other brands — which is justification aplenty for green-lighting a second generation.
The new-for-2022 2 Series Active Tourer is designed to provide more practical features, more efficient engine options and a plethora of in-car tech in an attempt to keep up with modern family life.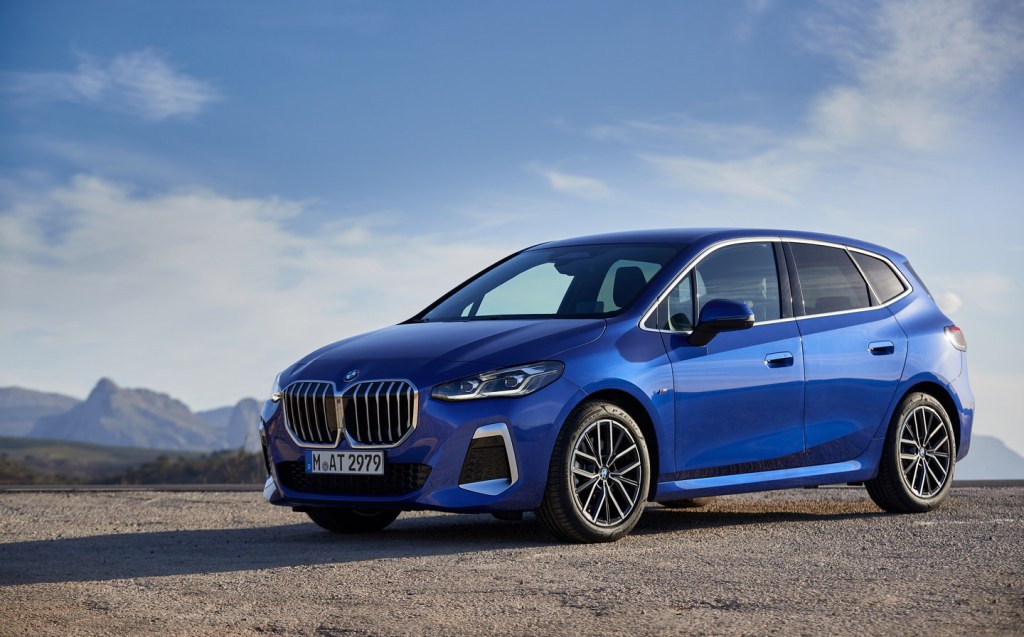 Exterior design and rivals
Compact MPVs by their very purpose tend to have a pretty standard shape and the new 2 Series Active Tourer doesn't deviate a great deal from that, at least in profile. Compare it to its predecessor and it looks dramatically different, but the overall proportions haven't changed a great deal. Length, height and width have all increased, but not to any noticeable amounts.
What is much larger is BMW's signature kidney grille on the front, however. A significant part of it is purely design-led, though there is function, too: sections open automatically when cooling for the engine is required. Every bit as bold as the equivalent items on the BMW iX or X7, the big grilles are the most polarising aspect of BMW's recent design choices. Like it or not, it does at least have the effect of making its nearest rival, the Mercedes-Benz B-Class, seem rather vanilla. 
Clean lines give the 2 Series Active Tourer a uniform appearance with taut bodywork and door handles that sit flush with the car, similar to the BMW i4's.
Model specification plays a part too; stick with the entry-level Sport version and it wears modest 17in alloy wheels, along with black window surrounds and matching roof rails, along with the most discreet version of those grilles.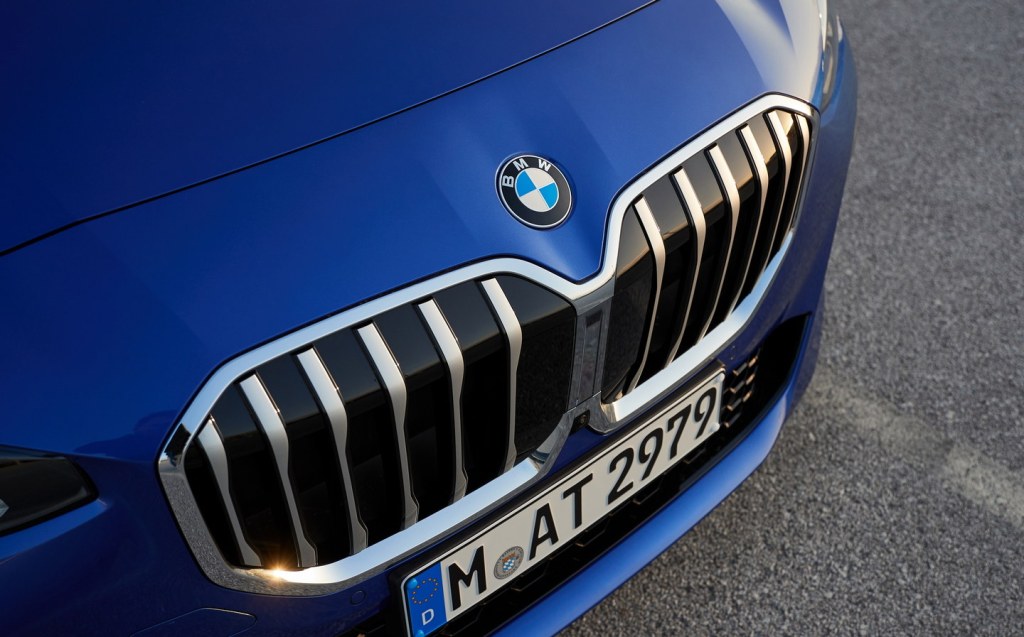 The Luxury Active Tourer adds lashings of shiny bits, notably some chrome vertical strakes on the grille and metallic inserts in the front and rear bumpers.
But if you want to be the cool parent parking at the school gates, you will need to spring for the M Sport spec for the snazzier adaptive LED headlights, sportier body kit and 15mm drop in ride height. And don't forget to opt for the 19in alloy wheels. 
Interior and practicality
Whatever criticisms we could level at the exterior of the car, inside, the Active Tourer is quite the premium experience and worthy of the BMW badge and price tag. It's almost too nice to imagine various foods being mashed into the seat upholstery and muddy football boots depositing half the pitch into the carpet of the rear.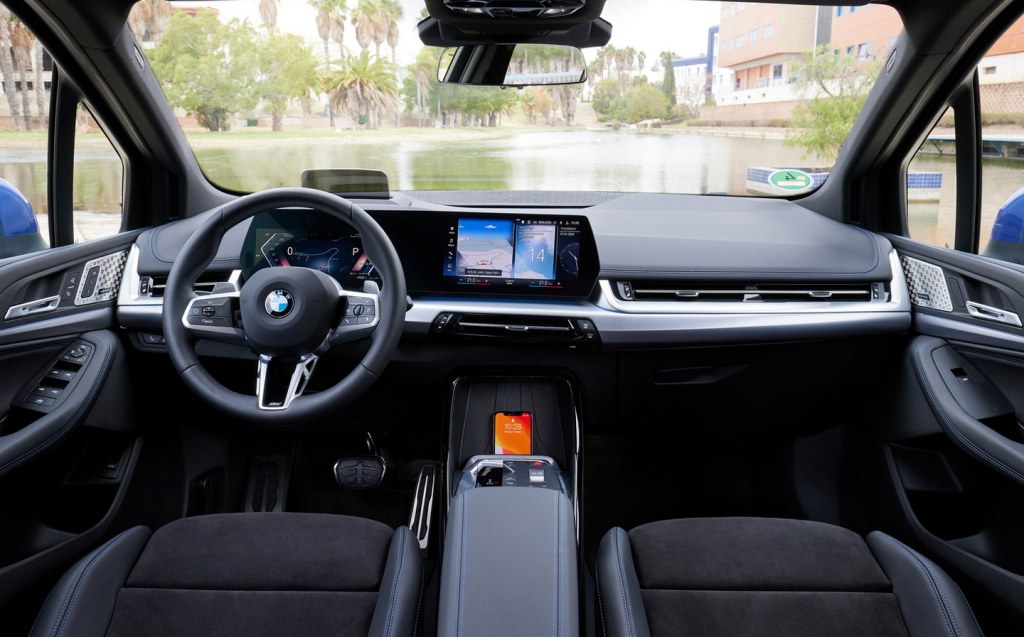 It is roomy in the back, even for adults, so the little ones will feel like they're in a big car. A flat floor across the rear is one of the pluses of BMW going with a front-wheel-drive layout, and the rear seat bench can split and slide forward or back depending on whether more passenger or boot space is required.
Adjustable seats in the rear can come in handy for getting more comfortable on a longer trip and the front seats are mounted high so that adults in the back will be able to get their feet under them when stretching out. 
Alternatively, the rear seats can also be set to a cargo mode, where they are vertical to accommodate boxier items behind.
Boot space ranges between 415 and 470 litres depending on which model you buy, as the hybrid gubbins take away some of the storage space. Dropping the 40:20:40 rear seats down bumps up cargo capacity to as much as 1,455 litres.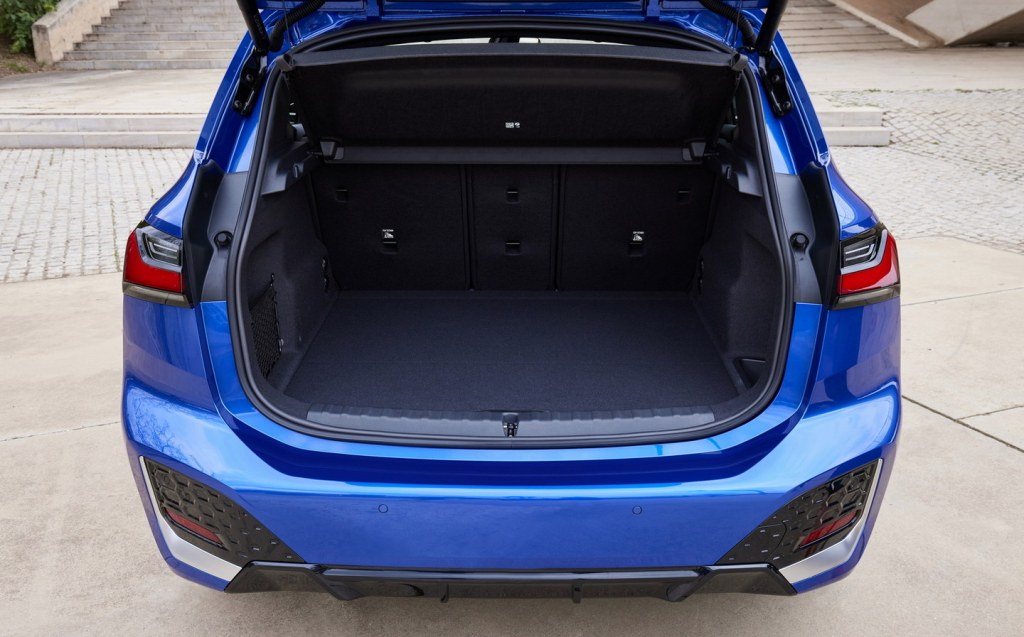 Up in the front of the cabin is where the Active Tourer flexes its premium muscles, such as borrowing the curved dual-screen display from the electric iX. Bringing it closer to the driver has made the iDrive rotary controller — a stalwart of BMW cabins for two decades — redundant as the 10.7in touchscreen falls within easy reach, and BMW's digital voice assistant can help with simple tasks such as adjusting the cabin temperature. or turning on heated seats.
Stowage space between the front seats includes USB-C charge ports, cupholders and a useful open-sided section for larger items. A floating armrest extends out to hold the gear selector, volume control and other drive-related functions.
Technology and safety
Even before you get into the car the tech begins working. The Digital Key Plus system can detect you approaching the car and at a 3m distance will illuminate its lights, then unlock the doors when you're within 1.5m.
Personalised settings stored to your profile via your smartphone can ensure that everything is set to your liking by the time you press the engine-start button. BMW will also allow for digital keys to be created and shared with family and friends via Apple Wallet (if you're an iPhone user). 
As well as looking pretty, the curved display runs BMW's Operating System 8 that is more like a mobile operating system in many ways. We're unconvinced that it is as intuitive to use as older BMW setups, but it does at least look quite stylish as you try to navigate your way through the menus.
If you'd rather stick with the familiarity of your phone, both Android Auto and Apple CarPlay come with wireless connections, so you can use your phone's native system while it rests in the inductive charger at the base of the centre console.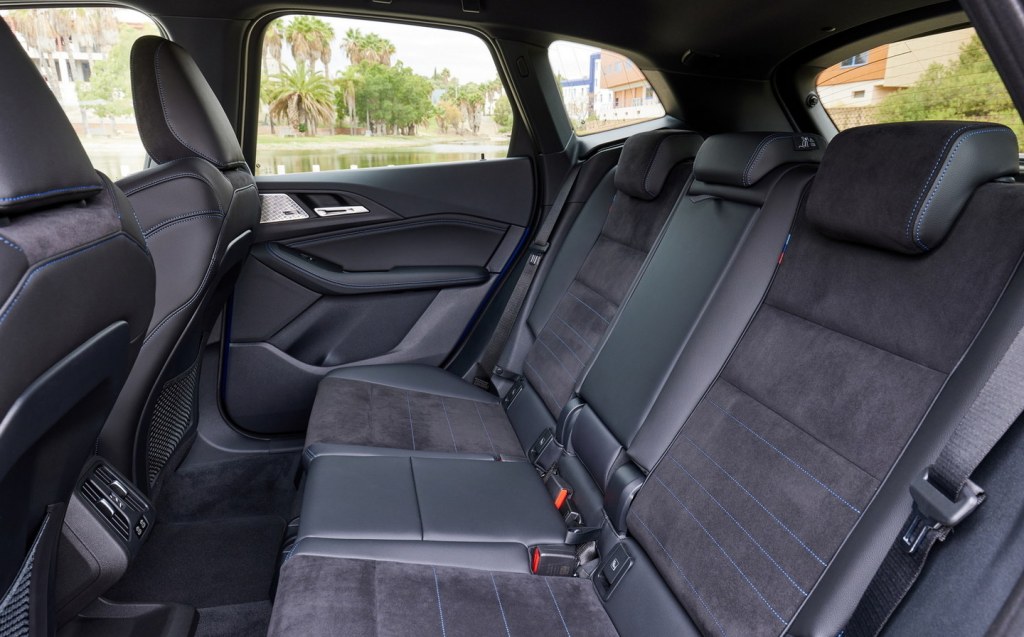 One neat feature is the use of augmented reality to aid with navigation. With your destination inputted, as you approach any tricky junctions the system will activate a live feed from the front-facing camera and dynamically overlay directional arrows to help guide you along the right path, helping make second laps of a roundabout a thing of the past.
As part of the My Modes element, which is BMW's new way of saying driving modes, the menu screens, ambient light and, in the case of the plug-in hybrid model, engine sounds, all change accordingly.
Safety doesn't take a back seat either and BMW offers its Active Guard as standard, which includes lane departure warning and collision avoidance, while cruise control with brake function is standard. Further, more elaborate assistance technology is optionally available such as steering and lane control assist.
A nifty reversing assistant can remember how you drove into a parking space and repeat your precise steering movements to help reverse back out, too. 
Performance, power output and acceleration
Initially, the 2 Series Active Tourer will be available with a choice of two petrol engines, both equipped with 48-volt mild-hybrid tech, and a single diesel. All come exclusively with seven-speed automatic transmissions and front-wheel drive.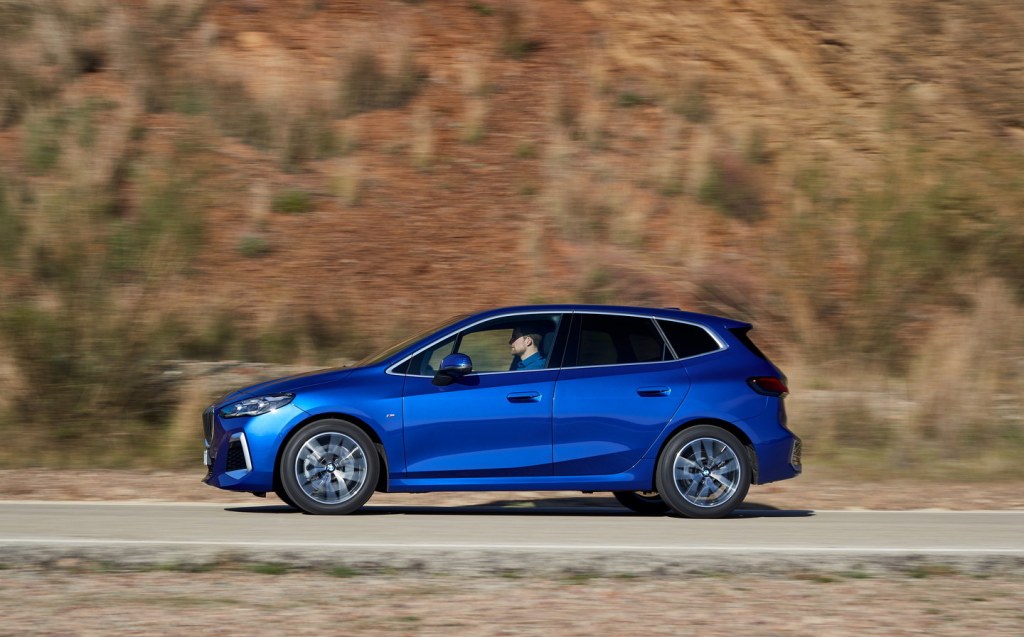 The 220i uses a 1.5-litre three-cylinder turbocharged engine producing 167bhp, with 19bhp of that coming from the mild-hybrid system. This engine offers a satisfactory level of performance, getting from a standstill to 62mph in 8.1 seconds and emitting a characterful thrum as it goes.
While the mild-hybrid system doesn't propel the car purely on battery power, it does allow for some engine-off coasting when the driver's foot comes off the accelerator, contributing to official figures of around 45mpg on average.
A more expensive option is the 2-litre four-cylinder engine that powers the 223i. That extra cylinder not only adds more power, now up to 215bhp, but also brings an additional layer of refinement to proceedings. Under acceleration the engine is smoother and will better suit those that see a few more motorway miles in their typical journey. 
In time there will also be a pair of plug-in hybrids that will be capable of up to 56 miles of electric driving thanks to a 14.2kWh (usable) battery that can be charged in around 2 hours 30 minutes.
A brief drive in a pre-production 230e xDrive Active Tourer PHEV revealed an impressively hushed driving experience matched with healthy electric motor performance driving the rear wheels. Calling upon both motors simultaneously results in all-wheel drive and up to 321bhp and a 0-62mph sprint that is done in 5.5 seconds.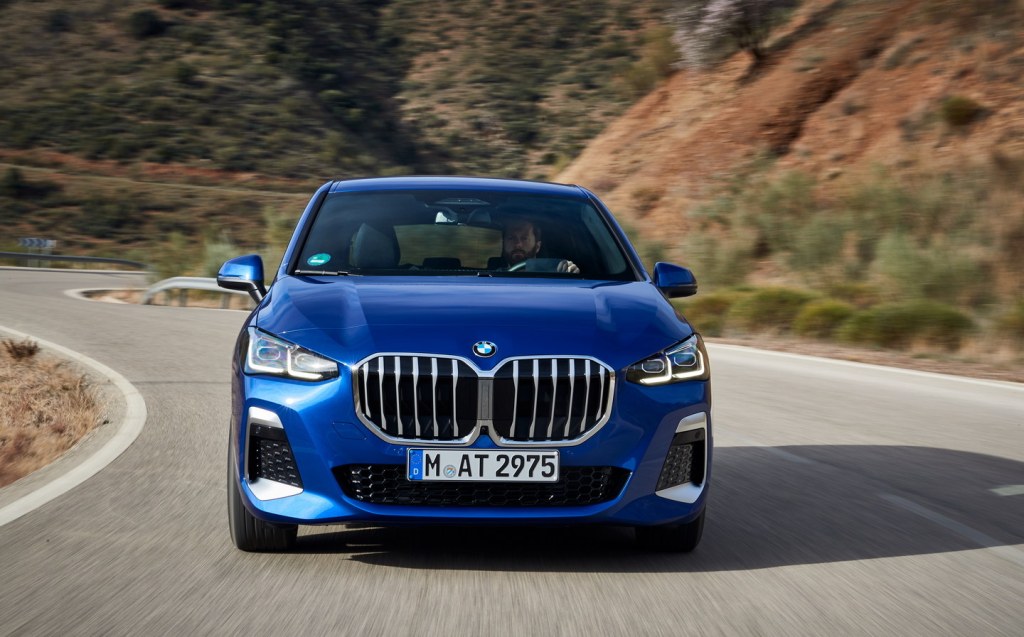 Ride and handling
The 2 Series Active Tourer is a compact MPV and therefore devoid of any driving enjoyment whatsoever. Right? Well, not exactly, this is a BMW after all. While you're unlikely to want to sneak off to a cheeky track day after you've dropped the kids at school, the BMW does provide a polished chassis setup that centres on refinement and comfort. 
The Sport and Luxury models are the more softly sprung versions and, with smaller diameter wheels adding to the BMW's bump absorption abilities, these side more on comfort but are no less enjoyable to drive.
With the M Sport version, the ride height is lowered by 15mm and it has a firmer suspension setup that uses frequency selective damping. What that means is that it can theoretically tune out certain lumps and bumps to give a smooth ride while retaining a sportier feeling.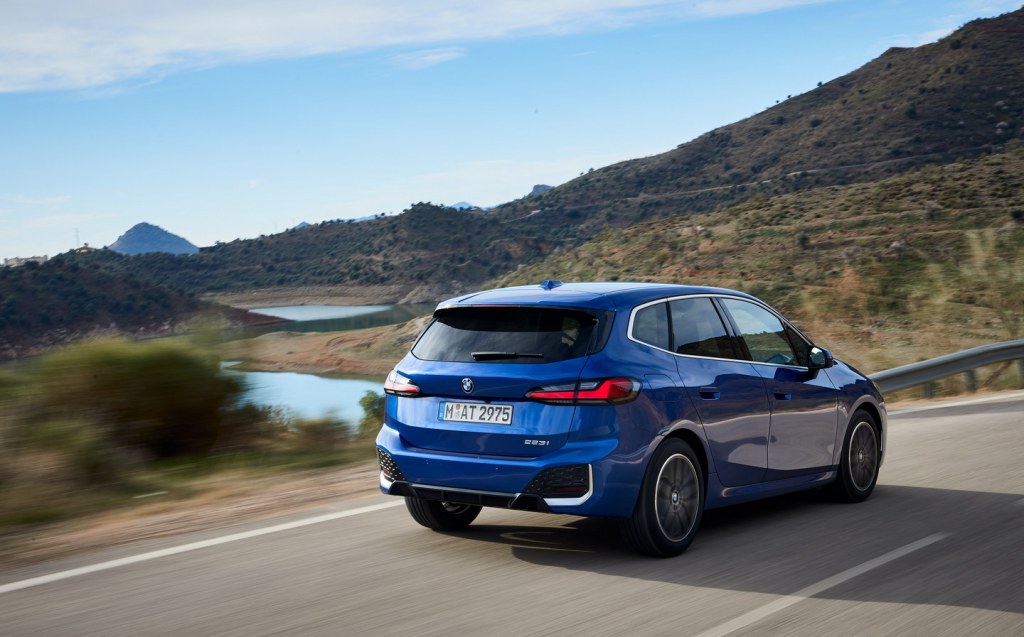 Whichever version you choose, the BMW does a thorough job of soaking up surface imperfections without any sensation of busyness or jarring. Composure is the name of the Active Tourer's game, and it executes it with aplomb.
Better still is the plug-in hybrid as it adds all the plusses of electric vehicle silence and smoothness with a healthy dollop of performance from its secondary engine. Having its larger battery sandwiched into the floor does little to detract from its dynamic abilities in the bends and a futuristic interior soundtrack courtesy of famed movie composer Hans Zimmer makes it seem like one very modern MPV.
Pricing and on-sale date
The 2 Series Active Tourer is available to specify and order now on BMW's online configurator with prices starting at £30,625 for the 220i Sport. That's the base model, and it is also available with a choice of the larger 223i petrol or 218d diesel engines.
From there the range divides in more of a Y-shape than two higher tiers. On one side is the Luxury model that adds more equipment for a starting price of £32,085, again available with the same trio of engines, while the M Sport costs from £33,940. That version benefits from more performance-themed styling and a lowered ride height as mentioned above.
BMW will introduce the plug-in hybrid models later this year, with pricing for those expected to be announced closer to that time.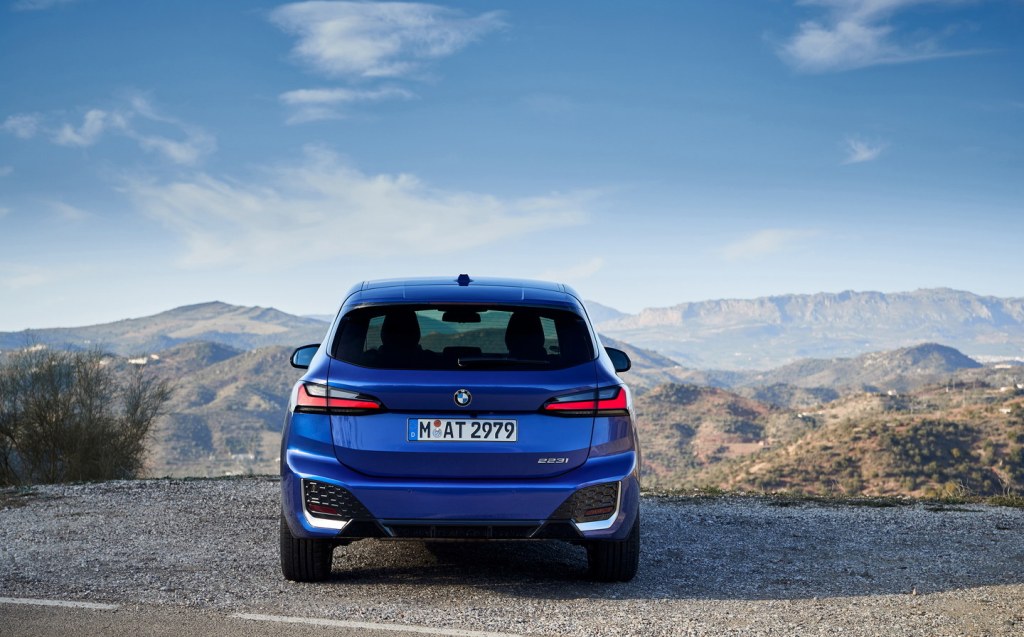 Verdict: BMW 2 Series Active Tourer review
You're unlikely to be buying a 2 Series Active Tourer for its outright performance, attractive design or to get a taste of BMW's 'Ultimate Driving Machine'; instead, it's more likely that you will be impressed by the interior and array of in-car tech that makes this family car feel ultra-modern.
On a practical level it serves a purpose, though there are more capacious cars available with smaller price tags. But if you prefer to enjoy the finer things in life, including a car that drives with genuine quality, then this BMW is unlikely to disappoint. 
Tweet to @LordHumphreys Follow @LordHumphreys
Related articles
Latest articles