2020 Volvo S60 T8 Polestar Engineered review
Volvo's executive saloon gets 400bhp sports upgrade — and a plug
---
Published 20 January 2020
YOU'D BE hard-pressed to find a more attractive saloon car than the current Volvo S60 — it really is a beautiful piece of design, exuding elegance inside and out. Volvo's been nailing the aesthetic excellence side of things for a number of years now, and we've been hammered over the head with the 'Volvo is safe' mallet since it introduced the three-point seatbelt in 1959.
It's not, however, the go-to premium brand if you're in the market for a sports saloon — the likes of BMW, Audi and Mercedes still have that corner of the market largely wrapped up. The fact that Volvo is serious about reducing the emissions produced by its models through electrification (it's aiming for half its cars to be pure electric by 2025, with the other half hybrids) surely means any such ambitions are very much off-message?
But hang on a minute: here's an S60 with 400bhp that can sprint from standstill to 62mph in a claimed 4.4 seconds. That's BMW M340i (and even M3) or Mercedes C43 territory, and makes it the fastest-accelerating production Volvo car ever. What's more, the chassis has been honed by Polestar, Volvo's performance arm, which suggests it should be fairly hustlable around corners, too. Not since the Tom Walkinshaw-engineered 850 Estate entered the British Touring Car Championship in 1994, and the 850 T5 went on sale, have steely-eyed wheelsmiths been this interested in a model from Gothenburg.
But don't think the S60 T8 Twin Engine AWD Polestar Engineered (yeah, it's a bit of a mouthful) ignores the company's climate-saving ambitions. In fact, it embraces them wholeheartedly, combining plug with petrol power in its potent alchemy. That means that, on paper, not only can it take on the more powerful executive saloons in its class but also the likes of the BMW 330e and Mercedes C 300 de plug-in hybrids, which both offer enough zero emission miles to cover most daily commutes.
So what has Polestar done, exactly? For one thing, boosted the power output of the S60's 2-litre four-cylinder petrol engine from 299bhp to 313bhp, before fitting an 87bhp electric motor to the rear axle for the combined output of 400bhp (which, incidentally, is more than offered by the entry-level Porsche 911 Carrera).
Open the bonnet and you'll notice the Polestar S60 gains a strut brace for extra rigidity and performance dampers from Ohlins, which can be adjusted via dials at the top of the turrets. They can be found at the rear, too, of course, though these can only be tinkered with by jacking up the back end and taking off the wheels. Depending on your point of view (and mechanical nous), this is either wonderfully old school or irritatingly stone-age, given rivals offer adaptive damping that can be adjusted electronically from the cabin.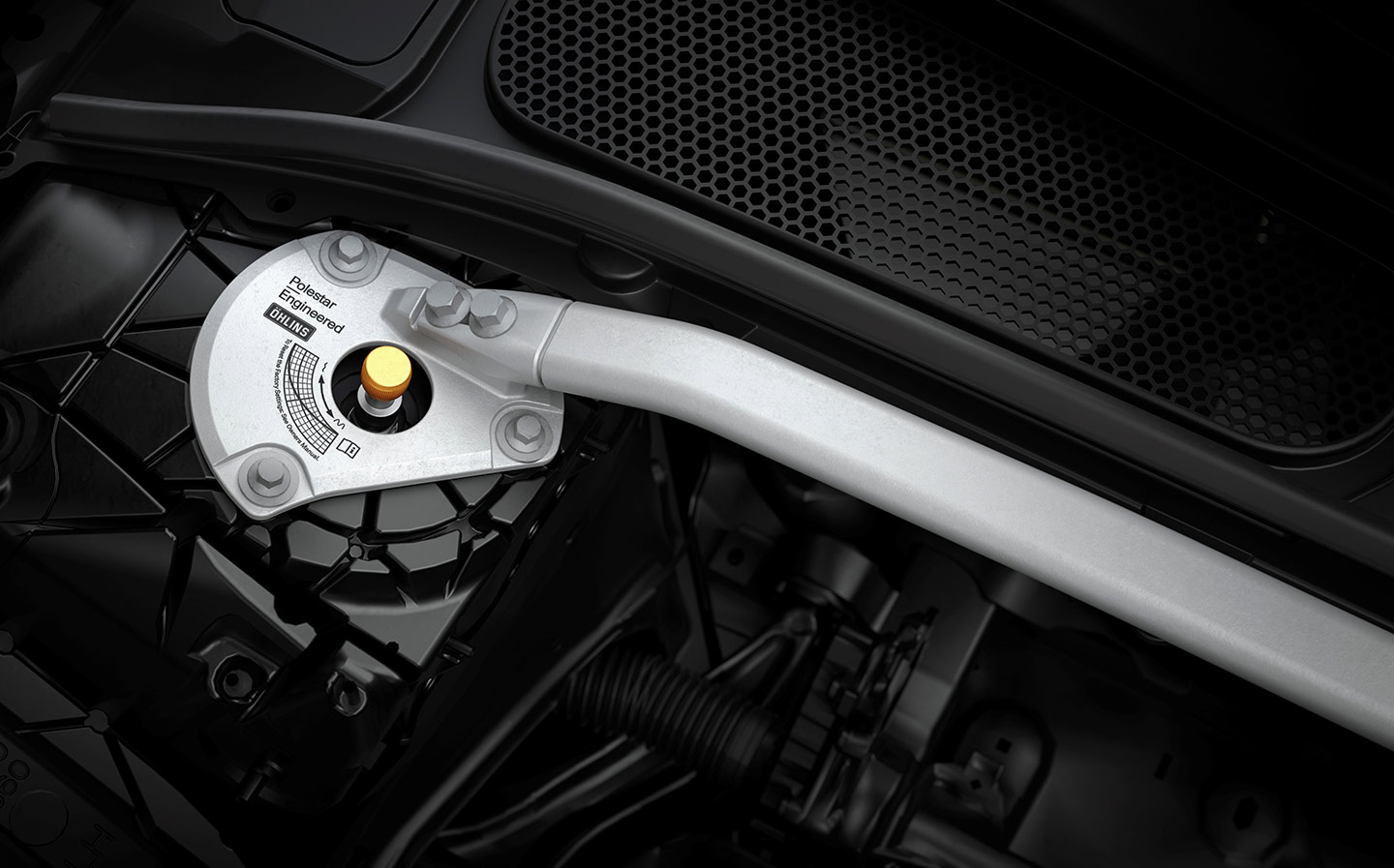 It does all sound quite hardcore, at least, though there are only has subtle styling updates to match. With the unique 19in alloy, a black front grille surround, black chrome exhaust tailpipes and "signature gold" coloured brake calipers, Volvo has managed to keep it looking pretty while adding a suggestion of muscle, rather than making it resemble a ruffian.
The interior is typical Volvo S60 fare, which is a very good thing, given its clean, minimalist layout and calming natural materials, though one might expect a few more signs that this is a hot version of the standard car. The clearest indication that you're inside something a little different from the norm are the Polestar-gold seatsbelts, to match the brakes.
The portrait-style touchscreen infotainment system was quite a revolution when it was introduced on Volvo models, and it's still an attractive-looking bit of kit, but the more you live with it the more you realise it's not quite as cleverly laid-out as those found in rival premium cars, and already it seems slightly antiquated.
Just trying to play media from a connected Bluetooth phone, for example, is not quite as obvious as it should be, and the settings menu is accessed by swiping down from the top of the screen, which again isn't completely conspicuous. And as James Mills found out during his long-term test of the V60 estate, the model's sat nav system isn't terrifically user-friendly, especially for zooming in and out.
To press this issue a little further, the wiping away of physical buttons also means that switching on the heated steering wheel (with three levels of heat, no less) has to be done via the touchscreen, and requires at least two presses to get going. Even the BMW 3 series — which has an infotainment system that can be controlled via touchscreen, i-Drive, voice command and gesture control — has a physical button for the heated steering wheel, located on the steering wheel itself, where you can find it without taking your eyes off the road.
Still, the S60 Polestar Engineered gets the Harmon Kardon stereo upgrade, which honestly delivers one of the best sonic experiences available in a car today. Such clarity, definition and richness of sound can only be described as heaven-sent.
The amount of headroom available is less impressive, though, with the sunroof adding depth to the roof lining, despite the glass opening upwards rather than tucking down inside body, as in some other cars — the BMW 3 Series Touring, for one. I'm 6ft 5in, so not exactly of average height, but I wouldn't expect my head to be touching the roof in this car, with the seat in its lowest position. With the 3 Series, there are no issues.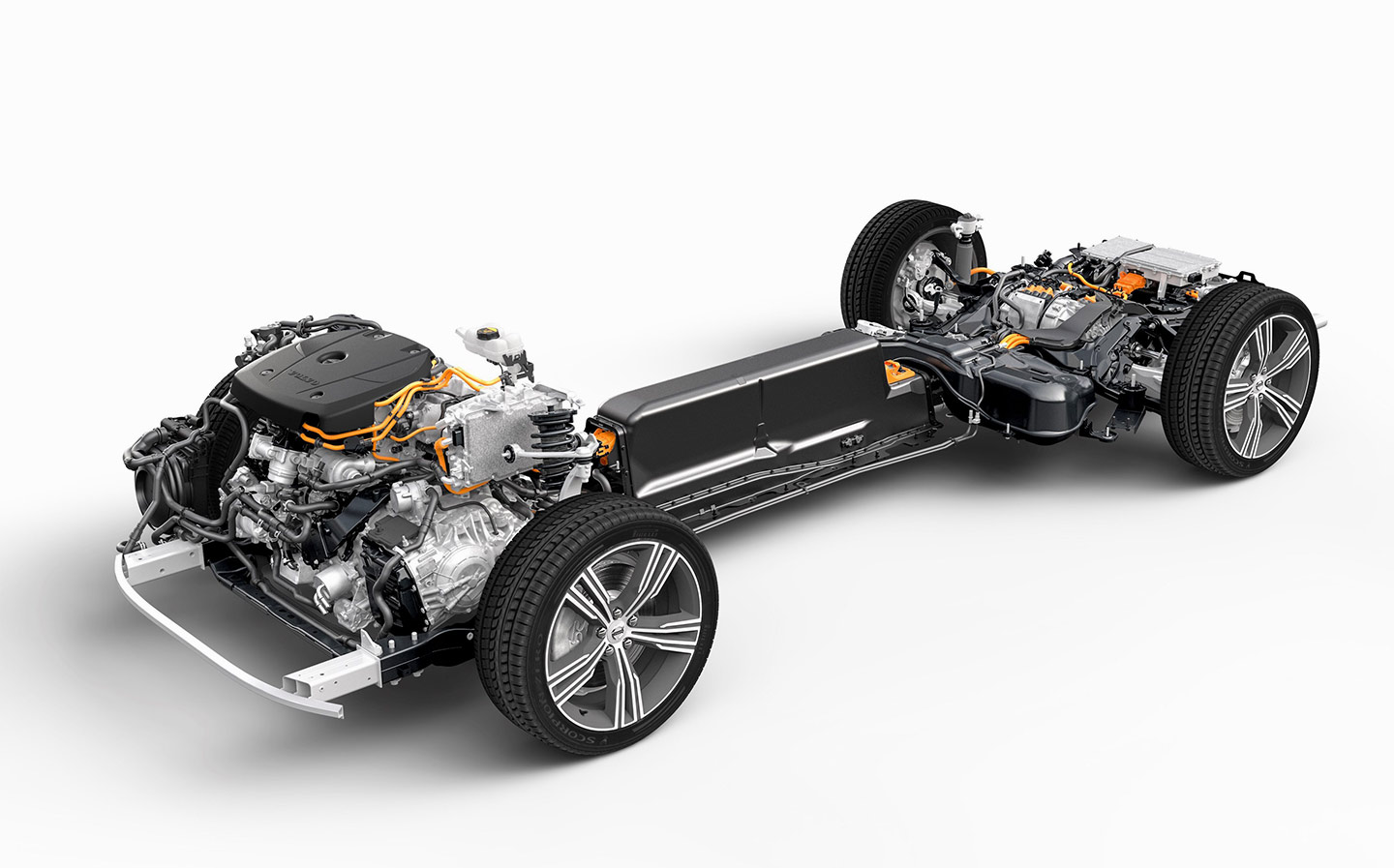 There's a decent amount of space in the back of the S60 Polestar Engineered, however, and I did manage to squeeze a nine-year-old between two child seats for a short journey, which resulted in no whinging whatsover, to her great credit. Fitting three adults back there would be a squeeze, though, and the slab of battery running front to rear between the front seats continues into the rear, meaning there isn't a flat floor across the rear.
The boot? There is one, and it will hold 392 litres of stuff.
The front seats look sporty and have good support either side, though they're not as figure-hugging as found in rival models with this sort of performance. In true Swedish car-style they are clearly still primarily designed for comfort and on long runs prove not to be a chore. They're rather cosseting, in fact, with an extension on the squab in addition to lumbar support, all electrically-controlled.
And there's more good news from the driver's seat: the steering is exceptionally sweet. At low speeds it's silky smooth, as if the steering column is linked to a paddle sunk in treacle, making the S60 Polestar Engineered a dream to manoeuvre around a car park. Out on the road it proves beautifully weighted, too, loading up nicely as your speed increases.
The performance upgrades ensure this S60 turns into corners crisply and precisely, while still enabling a relatively comfortable ride — even road humps aren't a chore, with the clever Ohlins dampers keeping the wheels glued to the asphalt without harshness or shock through the chassis. The wide Pirelli P Zero tyres ensure grip is exceptionally good in the dry, too.
However, a damp surface and a sharp turn will expose the fact that this car tips the scales at over two tons (around 300kg more than equivalent pure-petrol sports saloons), due to the combination of the large battery pack, 2-litre engine and fuel tank.
The resulting understeer forces the electronic stability system to deploy every trick it can muster to neutralise the slide, and continued pressure on the accelerator allows the the rear-mounted electric motor to help push the back end round and balance the handling. It can't disguise the fact that the S60 Polestar feels more front-biased and less razor-edged than lighter, traditional petrol-powered sports saloons, though.
Its power delivery is less satisfying, too. Mash the accelerator and there's a momentary delay while the transmission kicks down and the car's systems decide how best to work together to propel you forward. Think 1980s turbos.
It's marginally better when you switch up into Polestar Engineered mode, although there's still a bit of a lag, especially from low speeds, and the Volvo's horses seem to stumble rather than burst out of their starting gates. Conspicuous by its absence is also a soundtrack that for many buyers adds so much to the experience of driving a Mercedes-AMG C43 or BMW M340i.
This isn't to say the Volvo S60 T8 Polestar Engineered isn't an impressive bit of kit at any speed, and if you are commuting less than 27.3 miles in total (or each way, with a charge at the office), this is a beautiful four-door with a classy interior, and first-rate stereo that is capable of beating most other cars away from the lights. Yet it could also save you a packet at the pumps and won't gas pedestrians along the way. Fail to plug in and reap those rewards and you'll face sub-25mpg, though.
You can either think of it as best-of-both model that sits somewhere between the BMW 330e or Mercedes C300 de and the M340i or C43, or a mishmash that fails to be quite as good as either type of car. It is a marvellous effort, though, and a car with which you could impress both petrolheads and environmentalists at a dinner party, depending on how you spin the yarn.
Volvo S60 T8 Polestar Engineered vs rivals
| | | | |
| --- | --- | --- | --- |
| | Volvo S60 T8 Polestar Engineered | BMW 330e M Sport | Mercedes C 300 de AMG Line |
| Priced from | £56,105 | £39,980 | £43,715 |
| Fuel type | Petrol/ electric | Petrol/ electric | Diesel/ electric |
| Max. power | 400bhp | 288bhp | 312bhp |
| Torque | 494lb-ft | 310lb-ft | 516lb-ft |
| 0-62mph | 4.4sec | 5.9sec | 5.7sec |
| Weight | 2,050kg | 1,660kg | 1,895kg |
| Top speed | 155mph | 143mph | 155mph |
| Electric range | Up to 27.3 miles | Up to 41 miles | Up to 30.4 miles |
| Economy (WLTP) | 104.5mpg | 176.6mpg | 217.3mpg |
| CO2 | 48g/km | 38g/km | 38g/km |
The Clarkson Review: 2016 Volvo XC90 T8 Twin Engine Inscription