Top 100 cars 2013: We reveal the best new cars available to buy today
View the 100 best new cars of 2013
---
Published 20 October 2013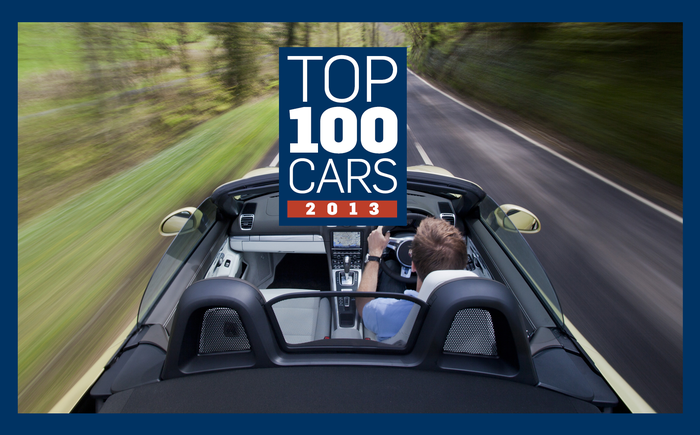 Top 100 Cars is compiled by Andrew Frankel, Joseph Dunn and Nick Rufford. Prices correct at time of going to press; fuel economy figures are for combined urban and extra-urban cycle (source: Newspress)
Foreword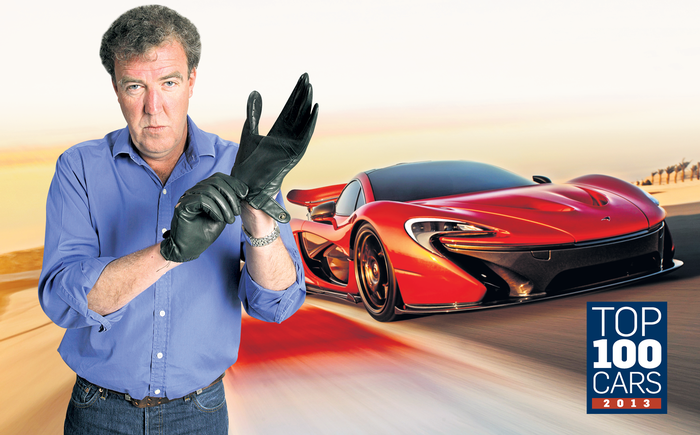 Our top 100 new cars, by category
 Top 100 cars index
Car buying tips and tricks
Buying a new car can be a big financial decision. But you won't get flustered if you follow our tips and guides, below.
Five haggling tips
You're British, so the idea of quibbling over, say, the newspaper bill gives you nightmares. Haggling for a new car is essential, though. There are few models whose price it is impossible to knock several hundred pounds off — money that stays in your pocket rather than going towards the salesman's teeth-whitening bill
Know your car's life cycle. Models are relaunched or replaced roughly every 6-7 years. There are often big discounts available on models just before they are updated, and on older cars still on the forecourt when a new version goes on sale.
Arm yourself with quotes from other dealers and online brokers. These will give you a realistic target price. Even if you don't want to buy online, give the impression that you will if the dealer doesn't get close to it. Walk out if you don't get what you want: there are plenty of other showrooms.
Ignore the spiel. You may be told the salesman's not making a profit on the deal, but take that with a pinch of salt. Remember: this is a simple financial transaction, and the sales staff aren't your friends.
Go at the right time. Dealers need to get rid of remaining stock before the new registration plates are introduced each March and September, so they offer bigger discounts in February and August. Mid-December is also a great time to buy. As bad weather and Christmas shopping keep car buyers away, salesmen offer bigger incentives to hit their targets.
Don't just negotiate on the basic price. You may be able to get a 0% interest deal on finance, a cheap three-year servicing package or extra equipment thrown in.
Five things to do on the test drive
The salesman may encourage you to floor the accelerator, zoom round the block and then seal the deal three minutes later. But this moment, just before you agree to splurge tens of thousands of pounds on a new motor, is the time to be sensible. Here's how to ensure you're making the right decision
Get as much time in the car as possible, ideally overnight, to see if you can live with it. Is there too much wind noise on the motorway? Can the boot accommodate all the luggage it needs to? Does it makes your children carsick? Is there a blind spot that means you can't reverse off your drive? And can your morning latte fit in the cupholders?
Make sure you know what you're testing. Is the engine more or less powerful than the one in the car you plan to buy? Are you looking at bigger wheels that could affect the ride (badly), and have you fallen in love with the optional 18-speaker stereo that's out of your price range?
Don't take fuel economy readings for granted. Independent tests show that cars generally fall short of the official mpg figures by between 10% and 20%.
Don't forget to make sure your gadgets are compatible: will your phone sync as expected? Is there a USB port, and will the kids' DVD player screens strap onto the back of the front headrests?
Check what's included in the price you are paying: some models attract substantially higher road tax for the first year (the so-called showroom tax). Factor in the cost of servicing and insurance too.
Financing the deal
For £69 a month, the cost of many phone contracts, you could own a new Skoda Citigo (with a £2,500 deposit). It's no surprise that British buyers took out £23.3bn of credit for cars last year — almost three in four new cars are bought on finance.
The most popular method is a personal contract plan, in which you pay monthly instalments over a set period but do not own the car in the end. With hire purchase, you pay the price of the car over a set period and do own it at the end. You usually pay a deposit — often subsidised by dealers. Alternatively, you can take out a bank loan and buy the car outright. Today's low interest rates make finance tempting.
Petrol or diesel?
This question takes a bit of maths. Diesel cars might promise the best fuel economy but they are also more expensive to buy and refuel. A simple rule of thumb is that diesels are worth the cost if you drive more than 11,000 miles a year but it's also worth comparing the lifetime cost of owning a petrol or diesel car, taking into account the list price and the annual amount of fuel you'll use. Websites such as confused.com can help you do this.
Also bear in mind that modern diesels are fitted with exhaust filters that require regular long, high-speed runs to clear them. Lots of town driving can cause problems.
Five ways to cut your insurance bill
You may groan at fuel costs, but the chances are you're paying more each year to your insurance company. No number of cuddly toys or nodding dogs will ease the pain of your annual insurance bill, so take some steps to reduce it.
Black box insurance Could you be swayed by a discount of up to 25% on your premium? Insurers offer "black box" policies to all ages, allowing big savings to be made with carerful driving.
Add a second driver "Fronting" (where a person who most uses the car is fraudulently insured as an "additional" driver) can lead to refused claims, but it's okay to add a second driver who occasionally drives the car.
Get a guaranteed quote Many insurers guarantee premium quotes for four weeks, so you may be able to save cash by getting one a month early.
Impose a mileage limit If you don't drive many miles you may be able to negotiate a low-mileage policy, but take care not to go over the mileage.
Install a video camera Some insurers give a discount if you fit a video camera that continuously records the view ahead of the car.
Slick silver favourite… car colours revealed
Silver is Britain's favourite car colour, chosen by almost one in three buyers. It looks good with the styled creases on modern bodywork and is easy to keep clean.
Black is the colour of almost one in four new buys: it might show up every speck of dirt, but is in demand.
Brown is currently the car industry's favourite colour: you'll find dozens of shades on stands at every motor show but it's still relatively rare on the roads.
Red, once one of the most popular colours, now appears on fewer than one in 10 new cars; buyers might have been put off by the sight of old red cars that have faded to salmon pink.
Five options you ought to go for
Don't get carried away with the options list  — the more outlandish ones can reduce your car's value. Choose these instead.
Air-conditioning/climate control This is now so commonplace on new cars that they can be difficult to sell second-hand without it. Not to mention that you'll also be sweating in every summer traffic jam.
Parking sensors These will add value to your car — if they cost £400, dealers reckon that you will get £200 back if you sell within a year. That's not to mention the costly scrapes they will help you avoid.
Sat nav A good sat nav will reduce your journey time more than any engine upgrade. Look for one with live traffic updates and ensure the map database can be updated regularly.
Leather interior If you are offered cloth seats with a premium car, don't be tempted. You will see its value plummet.
Towbar These can add value to 4x4s but beware of fitting them to other cars. Buyers may fear that suspension and brakes have been under strain, so remove it when you come to sell.
---
Now you have the know-how, buy your next car on driving.co.uk! Choose from more than 140,000 quality used vehicles
---